On the Portland Trail Blazers' very first offensive possession of their first-round series against the Oklahoma City Thunder, Damian Lillard strolled past half court, pulled up from the logo, and splashed a 32-footer. Even at the time, it felt like a statement. Maybe even a harbinger.
Nine days later, on what would prove to be the very last possession of the series, Lillard casually dribbled the ball at the edge of the logo just past midcourt, eyed the dying game clock while staring down Defensive Player of the Year candidate Paul George, waited until there were two seconds left, side-stepped, gathered, and let fly a 37-foot bomb over George's outstretched arm that dropped through the net as time expired, sending Portland to the second round as Lillard literally waved goodbye to the Thunder. The Blazers will move on to play either the Denver Nuggets or the San Antonio Spurs, which gives them a great chance to reach the Western Conference finals for the first time since 2000.
Either way, they've already accomplished a great deal.
Has anyone dispelled a narrative about themselves more emphatically than Lillard did in this series? All season, he and the Blazers were made to answer for their embarrassing first-round sweep at the hands of the New Orleans Pelicans last spring. Lillard, who was the most disappointing performer in that series, naturally bore the brunt of the criticism. Despite winning a series at the buzzer in the past, he'd since gained a reputation as a poor playoff performer.
George later called Tuesday's series-winning heave a "bad shot." If Lillard had missed, few would have disagreed. But it didn't miss. The structure and stakes of playoff basketball are such that heroes and scapegoats are separated by the narrowest of margins. The game can be cruel like that. It can be generous like that. If you're lucky, it might even give you a shot at redemption. You work your whole career to be prepared for that kind of moment without ever really knowing if the opportunity will present itself. All series, Lillard played with the calm assuredness of someone who knew his moment was coming.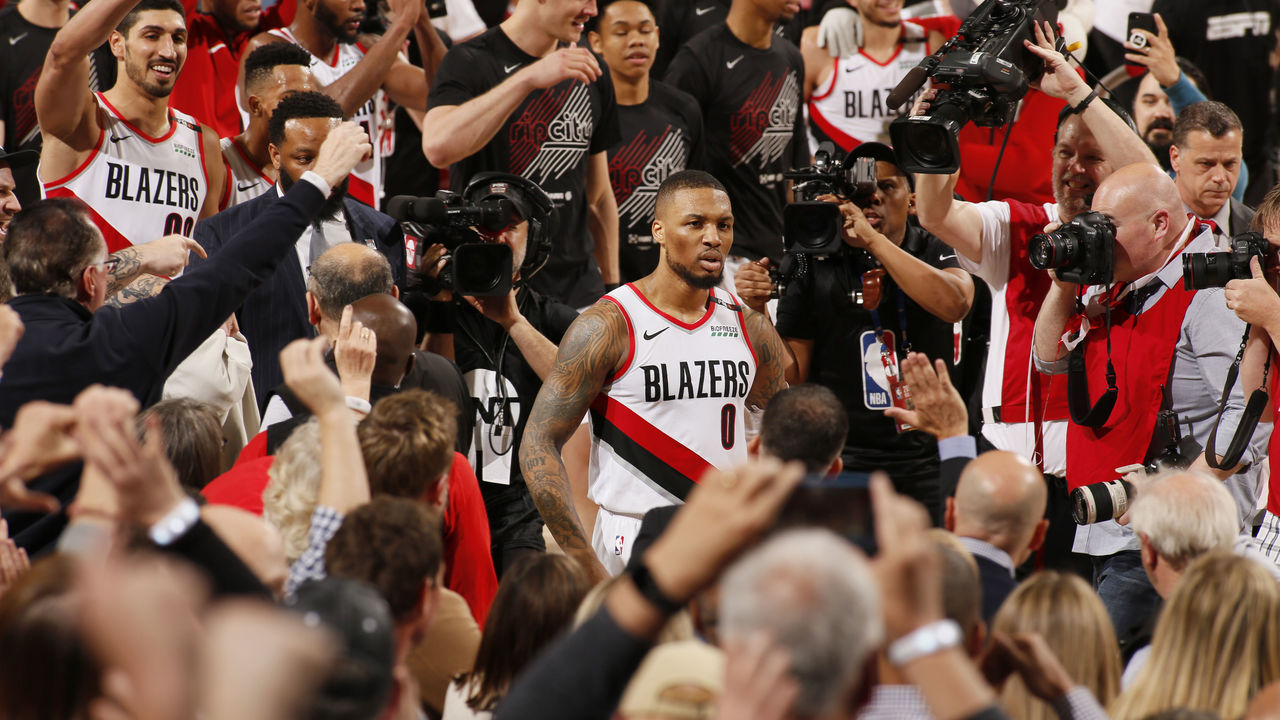 And the moment was what it was in large part because of what made it possible. Lillard scored 50 points in Game 5 while playing all but three minutes. He hit 10 threes, many of them heavily contested with a handful coming from several feet behind the arc. In a first half rife with preposterous shot-making, he kept his team in a game it had no business being in. The Thunder were playing inspired, unyielding basketball, and nobody else on the Blazers could score.
But Portland stayed close, opened up a nice lead in the second half, weathered a 30-6 Thunder run, and, with the series threatening to go back to Oklahoma City for Game 6, erased a 15-point deficit over the final seven-and-a-half minutes to set up Lillard's iconic dagger. During that comeback, after returning from his only bench breather of the game, Lillard hit a pull-up three, dished out four assists, drew a crucial charge on rival Russell Westbrook, and finished a driving reverse layup through traffic that tied the contest with 32 seconds to play.
The heroics also went well beyond what Lillard did in this game. For the series, he averaged a league-leading 33 points, shot 48.1 percent from 3-point range on more than 10 attempts per game, and played some of the best defense of his career. He even shot 10-of-18 from 30 feet and beyond, according to 538's Chris Herring. The Blazers were 41.7 points per 100 possessions better with Lillard on the floor. He thoroughly outplayed and embarrassed Westbrook, who'd invited a war of words and deeds between the two that he could not win.
"He said he's been busting my ass for years," Lillard told reporters after burying the Thunder, according to Blazers beat writer Casey Holdahl. "That wasn't true, for one, and this was the moment of truth. This was the perfect platform and opportunity for him to prove it and you see what happened."
Meanwhile, the Blazers have taken on Lillard's identity, and this was also a redemptive moment for the whole team, which features a roster that's almost identical to the one that got swept a year ago. C.J. McCollum had a near-perfect series as a secondary scorer and creator. Moe Harkless and Al-Farouq Aminu did a ton of unheralded dirty work at both ends, particularly in controlling the defensive glass and keeping George in check.
And let's hear it one time for Enes Kanter.
The same Kanter who'd become shorthand for the untenability of playing defensively limited bigs in the playoffs. The same Kanter who couldn't get minutes for the league-worst New York Knicks this season before getting waived and latching on with Portland, tasked with filling the enormous Jusuf Nurkic void.
Well, that same dude played through a separated shoulder in Game 5 to keep burning the Thunder on the glass, busting them in the post, making them pay for sticking smaller defenders on him, and proving himself more than capable of staying on the floor. Kanter posted a plus-11.3 net rating for the series and afterward tweeted a pithy, cathartic rebuttal to his former coach Billy Donovan's infamous assessment.
Part of what makes a team like these Blazers so compelling is that they provide such a tangible manifestation of progress. You can draw a straight line from last year's failure to this year's triumph. Their changes came almost entirely from within.
"We put the work in," Lillard said. "We really believe in what we do. We believe in ourselves."
No doubt that's true, but for every team like the Blazers and for every player like Lillard who works to better themselves through hard-earned lessons and self-assessment and belief, there are dozens of others who take those same steps and still fall short of the vindication they seek. One need only look at the Blazers' vanquished opponent for an example.
The Thunder suffered their own bitterly disappointing first-round loss last year, and came back a better team. Paul George improved in just about every facet of the game. He shot the ball better, at a higher volume, while becoming a more polished ball-handler and a more effective driver and finisher. He even improved his already-smothering defense, getting that much better at tracking, disrupting, deflecting, and enveloping opponents.
Westbrook, even amidst a disastrous shooting season, made meaningful changes and concessions for the greater good - specifically less ball domination, more deference to others in crunch time, and greater attention to detail defensively. Jerami Grant, already a four-position defender, made himself invaluable by developing a functional 3-point shot. Steven Adams honed his touch and developed his post game to become a more viable offensive weapon.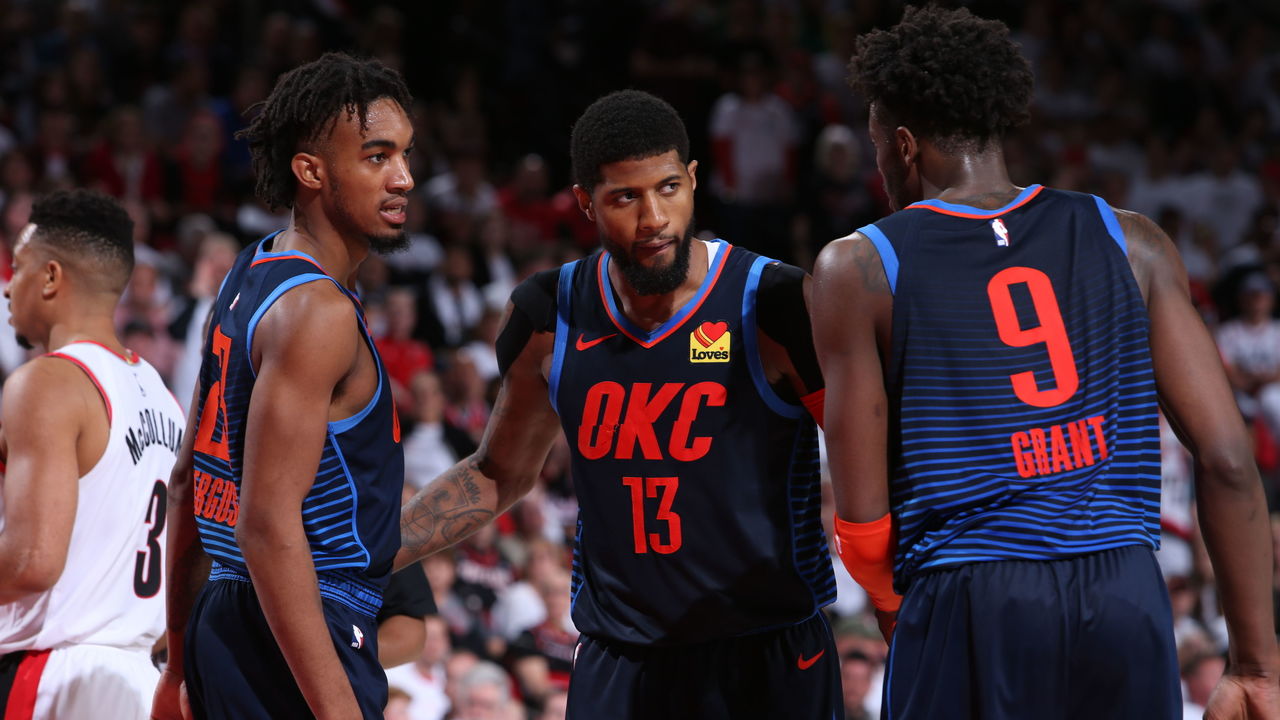 This Thunder team was better than last year's, but at the worst possible time, George messed up his shoulder, Adams started to break down, and Westbrook forgot how to finish at the rim. So they wound up in the same spot: bounced in the first round, with one less win to show for it. What are you supposed to do with that?
One of the hardest things to reckon with in life is the knowledge that you'll never be as good as you want to be. But one of the most comforting things is knowing you have the capacity to learn, adapt, and grow.
When it comes to sports, though, there's a pretty firm time limit on one's physical evolution. All the hard work and grit and clarity of purpose in the world can't slow the inexorable churn of time, or the destruction it wreaks on your body. You only get so many chances, and this iteration of the Thunder - with its bloated payroll and declining superstar and limited means of adding complementary talent - may not have many left.
But you still have to try, right? Growth, after all, is an end in itself.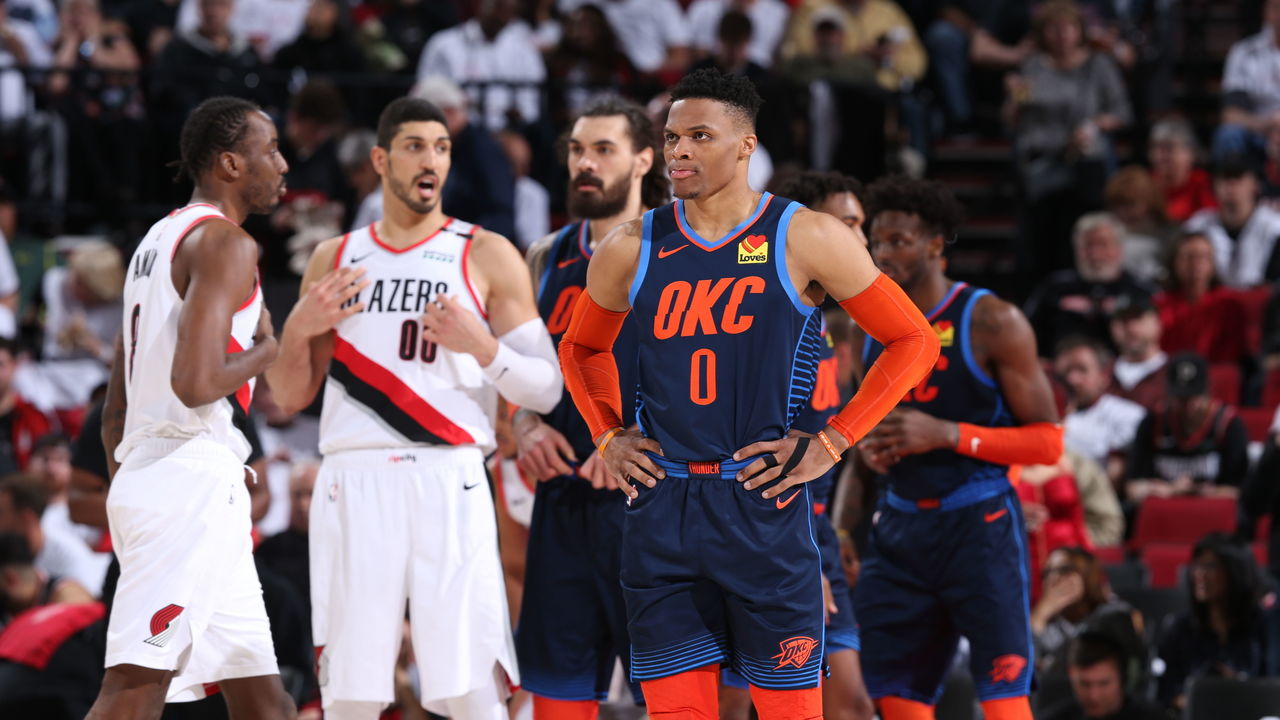 George, who's two years younger than Westbrook and trending in the opposite direction, ostensibly has plenty of time to write a more fortuitous chapter in his playoff legacy, whether it's in OKC or elsewhere. The path looks more complicated for Westbrook, who appears to be deteriorating before our eyes. But even if he's not the player he once was, he's still capable of being more than this. His window for physical improvement may have closed, but there are other ways to grow.
He could commit to mastering the art of off-ball utility; screening and cutting and ditching a bunch of his pull-up jumpers in exchange for spot-ups. He could commit to even greater attentiveness on defense. He could loosen his grip on the steering wheel even more than he already has. He'd probably also just look a whole lot better with a different roster that's actually designed to highlight his strengths and paper over his weaknesses.
It may pain them to do so, but the whole Thunder organization, from management on down, should take a long look at the Blazers' bounce-back success this season, and take heart. The Thunder are an older team, but not so old that internal improvement is out of the question. They just need to own their failures and keep working to address them. Westbrook needs to find a more productive way to channel his on-court fury than engaging in personal squabbles. Adams needs to figure out how to preserve his body for the spring. The front office needs to do whatever it can with its limited wiggle room to add more shooting and build out the bench.
Of course, even if they do all that, circumstances may conspire to deny them another shot at redemption. All they can do is be prepared to take advantage of that moment - if and when it arrives.