As NBA teams are officially eliminated from title contention, theScore NBA freelance writer Andrew Unterberger takes a look back at the highs and lows of their season, along with the biggest questions ahead of 2018-19. The 22nd edition focuses on the Toronto Raptors.
The Good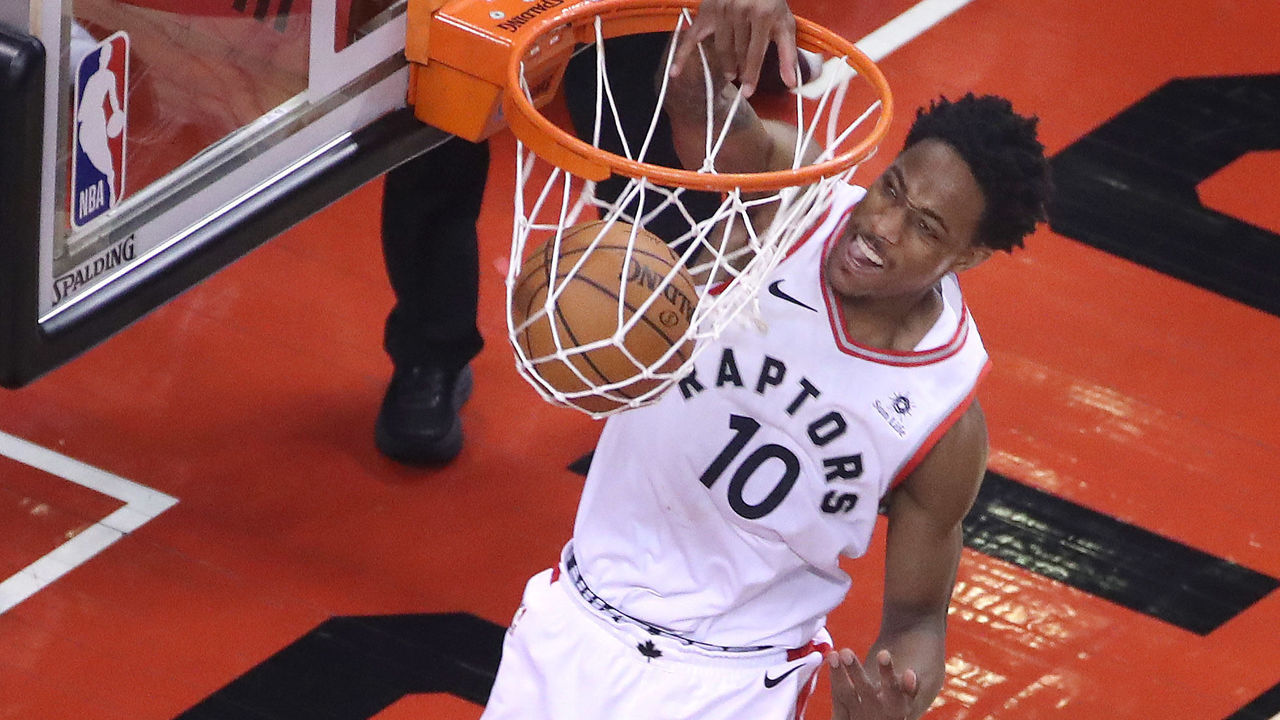 DeMar DeModernized. Not like he totally reinvented his game or was essentially a James Harden clone in 2017-18 - his forte will likely always be mid-range and in - but DeMar DeRozan made the necessary tweaks to his game to help unlock the Raptors' improved offense this year. He shot and made more threes - averaging over one make per game for the first time in his career - and averaged a career-high 5.2 assists without seeing his usage percentage or his turnover rate spike. If it wasn't his best season then it was certainly the most encouraging, the one most liable to convince you that a championship-contending team could theoretically be built around his offensive skills.
OG Anunoby, rookie starter. He didn't make the most headlines from this loaded rookie class, but OG Anunoby was a huge late-first-round pickup for the Raptors. Anunoby started 62 games for the Raptors this season as a quintessential 3-and-D guy, shooting 37 percent from deep and helping the Raps post better numbers on both sides of the ball. He was even better in the playoffs, and hit what could've ended up being the biggest shot of Toronto's season, a transition three with under 10 seconds left to tie Game 3 in Cleveland, if only that other guy didn't make it such a goddamn moot point immediately afterward. Still, OG seems like a keeper, certainly.
Top-5 offense, top-5 defense. Hard to define an elite team much more cleanly than this: In a sport where no real third phase exists, the Raptors were a top-five team on both sides of the ball. They rated a stunning second on offense with their 113.8 ORtg (up from sixth the year before) and fifth on defense with their 105.9 DRtg (up from 11th), the only team besides the Golden State Warriors to rate top-five in each. It was a combination that led to the Raps winning an East-best 59 games, and - briefly, anyway - convincing even hardened fans that things would be different this postseason. More on how that turned out, later.
Bench depth. Like few other teams this season, the Raptors went at least 10 deep in their rotation this year, with a set of reserves who proved more effective than lots of other teams' first units. The team's second five of Fred VanVleet, Delon Wright, C.J. Miles, Pascal Siakam, and Jakob Poeltl actually posted a better net rating - plus-18.5 per 100 possessions - in their 333 regular-season minutes together than the team's starting lineup of Kyle Lowry, DeRozan, Anunoby, Serge Ibaka, and Jonas Valanciunas. That's rare, and also serves as a good sign for Toronto's future prospects, as all of those players besides Miles are 26 and under, with the potential to slot in for the appropriate starters if and when they get too old and/or expensive.
The Game 1 curse finally lifted. Feels like a really long time ago now, but the Raptors were able to get at least one monkey off their backs this postseason by actually winning a Game 1, in their Round 1 series against the Washington Wizards - their first such victory in a series opener since Stephen Curry's father was still on the squad. It was a hard-earned 114-106 victory, in which six Raptors players scored in double figures, led by Ibaka's 23 and 12. "It's out of the way now," said an unimpressed and likely annoyed DeRozan after the victory. "Worry about Game 2."
The Bad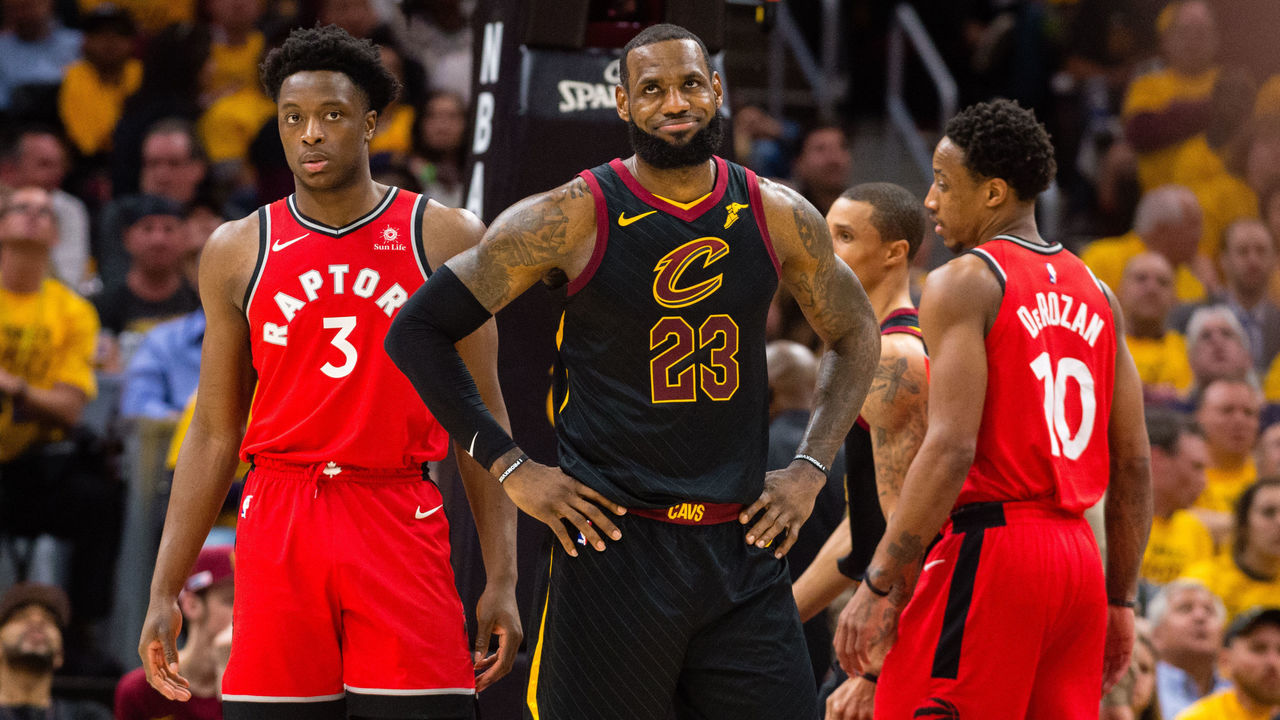 LeBron, LeBron, LeBron, the Cavs, and LeBron. Is it worth pretending anything else really went wrong for Toronto this year, besides running into perhaps the greatest player in NBA history for the third straight postseason? Otherwise, the Raps enjoyed a dream season: a franchise-best 59 wins, an elite offense and defense, a retooled roster playing a revamped style, the top seed in the East, a likely Coach of the Year campaign for Dwane Casey, good luck with health - hell, Drake has even held the No. 1 spot on the Billboard Hot 100 for the majority of 2018. The Raptors could not have asked for much more to go right for them this year.
And still, it wasn't nearly enough to balance the equation of the Cleveland Cavaliers having LeBron James, and the Raptors ... not. LeBron was downright mean in Cleveland's four-game sweep of Toronto, averaging a hilarious 34-8-11 on 55 percent shooting, with a handful of the most demoralizing makes in modern NBA playoff history - including, of course, a running one-handed, one-footed banker to seal Game 3 at the buzzer, a play so great they devoted an entire SportsCenter top-10 to it. The Raps had an opportunity - several, actually - to seal the series opener. Once they missed out, LeBron essentially shrugged, muttered "had your chance," and put the series in his back pocket from there.
Of course, with all the deserved focus on LeBron, the Raptors did also have the misfortune of matching up with a Cavs roster that seemed to finally be waking up from a long slumber. All-Star forward Kevin Love scored just 80 points across Cleveland's seven games against Indiana; he put up 82 combined in just four games against Toronto. J.R. Smith shot just 32 percent in the Indy series; against Toronto, he upped that by a whopping 30 percent, including a perfect 6-for-6 in the closeout game. George Hill, Jeff Green, Kyle Korver - go down the line, everyone on the roster raised their game significantly from the first playoff series to its second. Part of that is Indiana's more aggressive defense, but a large part is just a talented, underperforming team finally playing close to its potential - just in time to serve as the Raptors' total ruination.
But in the end, it was once again LeBron James who proved Toronto's doom, the veritable missile exploding the only bridge out of town for the Raptors' postseason. The Raps can take some comfort in knowing that there is truly no shame in getting beaten by the very best, perhaps - though that minimal comfort is no doubt undercut by the much more severe chill that comes from knowing that LeBron will never die, and should he ever decline in any way, his son will undoubtedly step in to continue Pops' legacy of torture north of the border. America's punishment for Nickelback, perhaps - sorry, Lucas Nogueira.
The Questions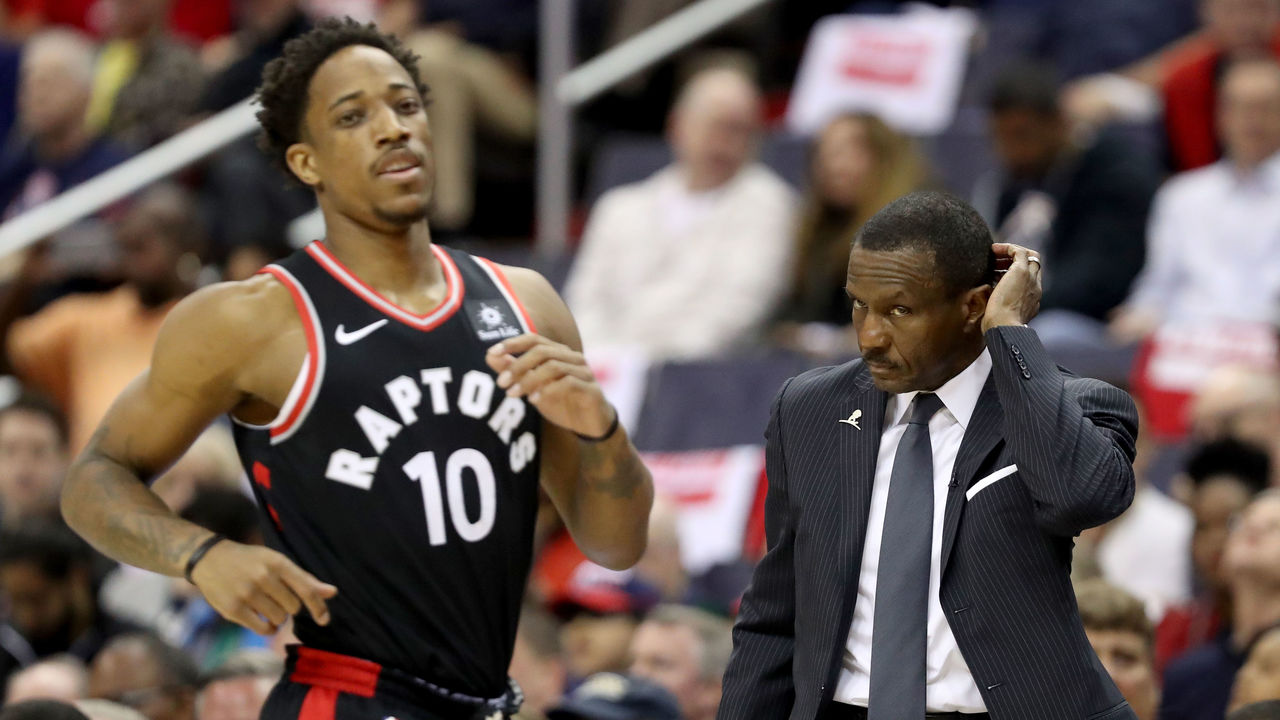 Is there another level left for this team to reach? To be fair to the Raptors, the "Can this team get any better from here?" conversation is one we've had about them after what feels like every year of the Lowry-DeRozan-Casey era. They never seem like they should have a higher ceiling than they've already shown, yet they keep reaching new heights - in the regular season, anyway. But it still probably needs to be asked: Was this Toronto's 2014-15 Hawks moment? Did they maximize their roster's potential, for a year they'll never be able to match again, only to still not be able to even claim a game off LeBron in the playoffs? If so, it might be hard for president Masai Ujiri and Co. to just run it back again in good conscience, and more dramatic changes might finally be in order.
How much will retaining VanVleet cost? The Raptors have a whole lot of money tied up in their core - $128 guaranteed in player contracts for 2018-19, already well over the luxury tax - which will make external improvement tricky for this team in the offseason. But more pressing will be merely retaining a player who became surprisingly essential to their rotation in 2017-18: VanVleet, who despite being undersized and relatively unheralded as a prospect out of Wichita State, became critical to their on-court identity last season - particularly on the defensive end, with his toughness and tenacity. He's a free agent this summer, and due for a raise, but his payday would be a costly one for the Raptors: Will Toronto be invested enough in the point guard, and this team in general, to do what it takes to keep him?
Is Serge Ibaka's deal becoming an albatross? The Raps had almost no choice but to retain Serge Ibaka after dealing for the defensive-minded, sweet-shooting forward midway through the 2016-17 season, giving him a pricy but short three-year, $65-million contract. But with the first of those three years in the books, the rest of that contract is looking pretty tough for Toronto: $20 mil a year for a player who is no longer an elite shot-blocker or floor-stretcher, and who scored in double figures in just four out of 10 postseason games, shooting about 40 percent from the field and looking almost unplayable for stretches. He can be useful but is in decline, and if money needs to be shaved off the Raptors' books, his deal will be the first place they look.
Is Casey's job really in jeopardy? It seems impossible that Casey could really be at risk of getting the ax at the end of a year in which he was largely given the credit for reinventing the team's on-court identity, making for Toronto's improvement from a very good Eastern Conference squad to an elite one. But an immolation like the one Toronto received from Cleveland this postseason comes with inevitable casualties, and Casey made himself an easier target with his team's inability (or unwillingness) to adjust to LeBron's dominance in Games 2 and 3, or to even trap or deny him on the decisive final possession of the latter. Indeed, Kevin O'Connor of The Ringer reports that "executives around the league anticipate that the Raptors will make a coaching change" - which, while a stunning development, would at least make the off-season coaching carousel a lot more interesting.
Will the King go West in the offseason? Toronto better offer to proofread and give notes for the Lakers' and Rockets' presentations to LeBron over the summer.
(Photos courtesy: Getty Images)