Top 100 NHL players: 100-81
Debora Robinson / National Hockey League / Getty
Leading up to the start of the 2022-23 season, theScore is counting down the top 100 players in the game today, as voted on by our NHL editors. Injuries have been taken into consideration. We'll reveal 20 players every day until the top 20 are unveiled Oct. 11.
100-81 | 80-61 | 60-41 | 40-21 | 20-1
100. Anthony Cirelli, Tampa Bay Lightning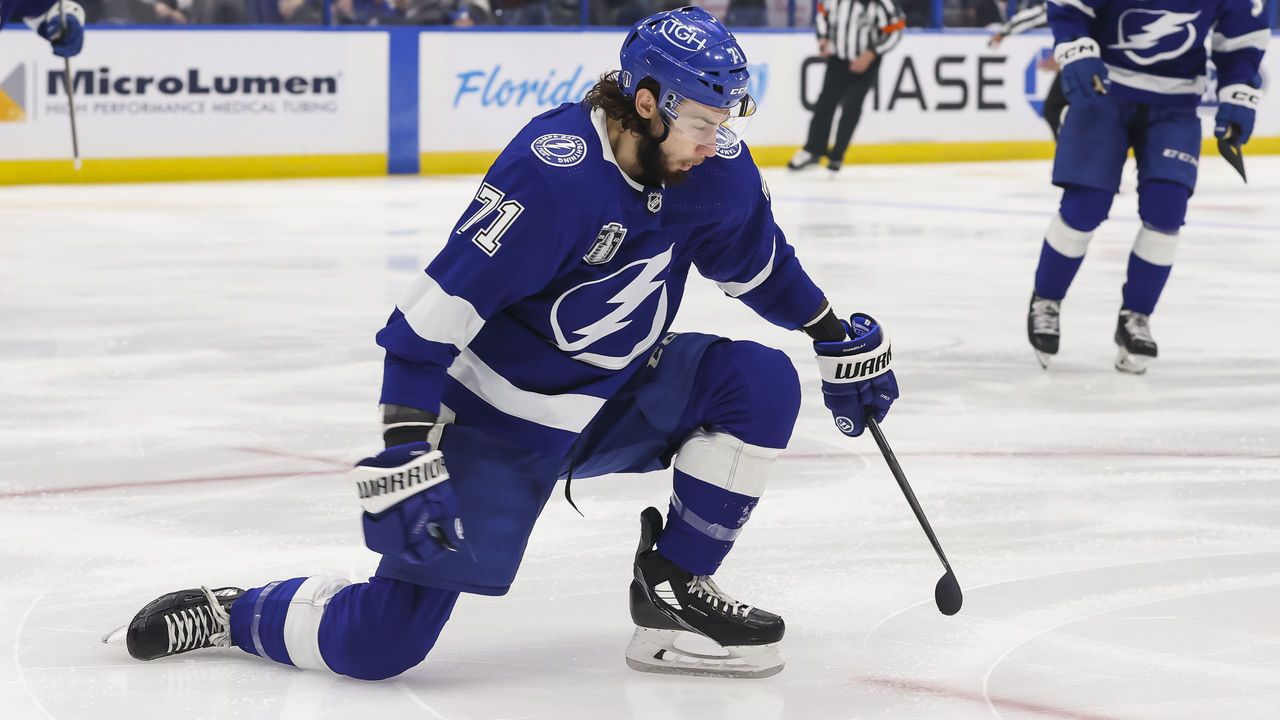 Cirelli had a modest 17 goals and 43 points in 2021-22, totals that may not indicate he's a top-100 player at first glance. However, there's far more to the Lightning forward's game than providing secondary scoring. Cirelli is one of the premier defensive forwards in the league, finishing top five in Selke voting last season for the second time in his career. Don't underestimate Cirelli's impact on Tampa Bay.
99. Bo Horvat, Vancouver Canucks
Horvat chipped in with a career-high 31 goals in 2021-22. He should be extra motivated this season given that he can become an unrestricted free agent in the summer. The Canucks captain also got more productive once head coach Bruce Boudreau took over midway through the last campaign, so we'll see what a full 82-game slate can bring.
98. Nico Hischier, New Jersey Devils
It's not just that Hischier established career bests in goals (21), assists (39), points, and average ice time (19:21) over 70 games last season. The Swiss center is finally showing the potential on a nightly basis that inspired the Devils to draft him first overall in 2017. It helps that the 23-year-old now has more talent around him, but Hischier earned this spot on his own merit.
97. Valeri Nichushkin, Colorado Avalanche
Nichushkin broke out in a big way in 2021-22, proving to be a dominant two-way player and a key cog in the Avalanche's championship squad. He racked up 52 points in 62 regular-season games before finding the scoresheet 15 times in the playoffs while maintaining stellar defensive metrics. It's hard to believe Nichushkin is the same player as the one who looked to be a bust during a rocky four seasons in Dallas.
96. Sean Couturier, Philadelphia Flyers
Couturier's had some bad luck with injuries. At 29 years old, he was limited to 45 games last campaign and is already hurt to begin this season. However, when healthy, the 2020 Selke winner is still one of the game's premier two-way centers.
95. Jesper Bratt, New Jersey Devils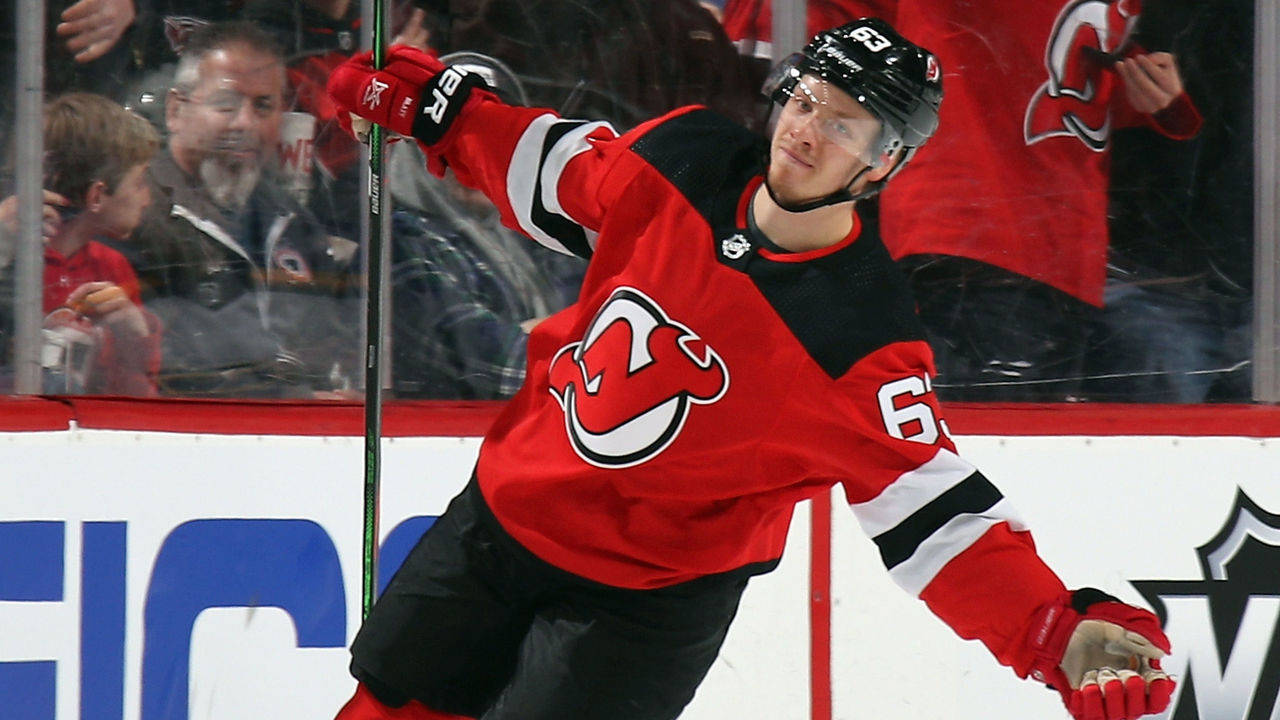 A breakout 26-goal, 73-point season for Bratt put him on the map as one of the bright young wingers in the game. Despite his stellar campaign, he only signed a one-year extension with the Devils. Another near point-per-game season from the 24-year-old would cement his place in the top 100 and have him in line for quite the raise from his $5.45 million cap hit.
94. Claude Giroux, Ottawa Senators
After spending the first 1,000 games of his career with the Flyers, Giroux signed with his third NHL team, the Senators, as an unrestricted free agent in July. The veteran forward was a key part of the organization's extremely active offseason. He'll undoubtedly bear more than his fair share of the pressure as the buzz builds in Ottawa.
93. Matt Duchene, Nashville Predators
Duchene had one of the quietest 43-goal seasons in recent memory. It was even more surprising that the Predators forward produced personal bests in tallies and points (86) after he turned 31 in January. But don't overlook Duchene because of his age or team. The 13-year veteran still has plenty of skill.
92. Darnell Nurse, Edmonton Oilers
Nurse is the heart and soul of the Oilers' blue line. He may soon be usurped by Evan Bouchard as Edmonton's top offensive rearguard, but Nurse is worth his weight in gold when it comes to eating minutes and providing physicality and leadership. He's averaged over 25 minutes of ice time per game over the past two seasons.
91. MacKenzie Weegar, Calgary Flames
Weegar is one of the rare right-handed blue-liners who often plays on the left side. That may change now that he's in Calgary. But regardless of where he's playing, Weegar has proven to be one of the more underrated defensemen in the league. He defends well, is excellent in transition, and can chip in offensively.
90. Dylan Larkin, Detroit Red Wings
The young stars in Detroit have gotten lots of attention over the past year, but don't forget about Larkin. The Red Wings captain tallied 31 goals and 69 points in 71 games to lead Detroit in both categories last season. A big campaign is ahead as Larkin enters a contract year looking to bring the Red Wings back into playoff contention.
89. Pavel Buchnevich, St. Louis Blues
By any measure, Buchnevich enjoyed a breakthrough season during his first campaign with the Blues. The former New York Ranger ranked second on the team with 30 goals and third with 76 points in 73 games. If he keeps up the flashy production, he can continue to make the Sammy Blais trade look really, really good for his new squad.
88. Vladimir Tarasenko, St. Louis Blues
Tarasenko returned to his old ways in 2021-22 after a couple of injury-plagued campaigns. Buchnevich's teammate and countryman is on the wrong side of 30 now, but Tarasenko has proven he can still be a game-changer when healthy.
87. Jared Spurgeon, Minnesota Wild
It seems as though Spurgeon will fly under the radar his entire career. Minnesota's quiet captain, soon to be 33, is fresh off his most productive offensive season while posting a sterling expected goals rate of 56.9%.
86. Seth Jones, Chicago Blackhawks
The analytics aren't overly kind to Jones, but 6-foot-4 defensemen who skate like he can are few and far between in the NHL. He may be better suited as a No. 2 D-man, but we probably won't see him in that role during the prime of his career as he enters the first season of an eight-year contract with the rebuilding Blackhawks.
85. Darcy Kuemper, Washington Capitals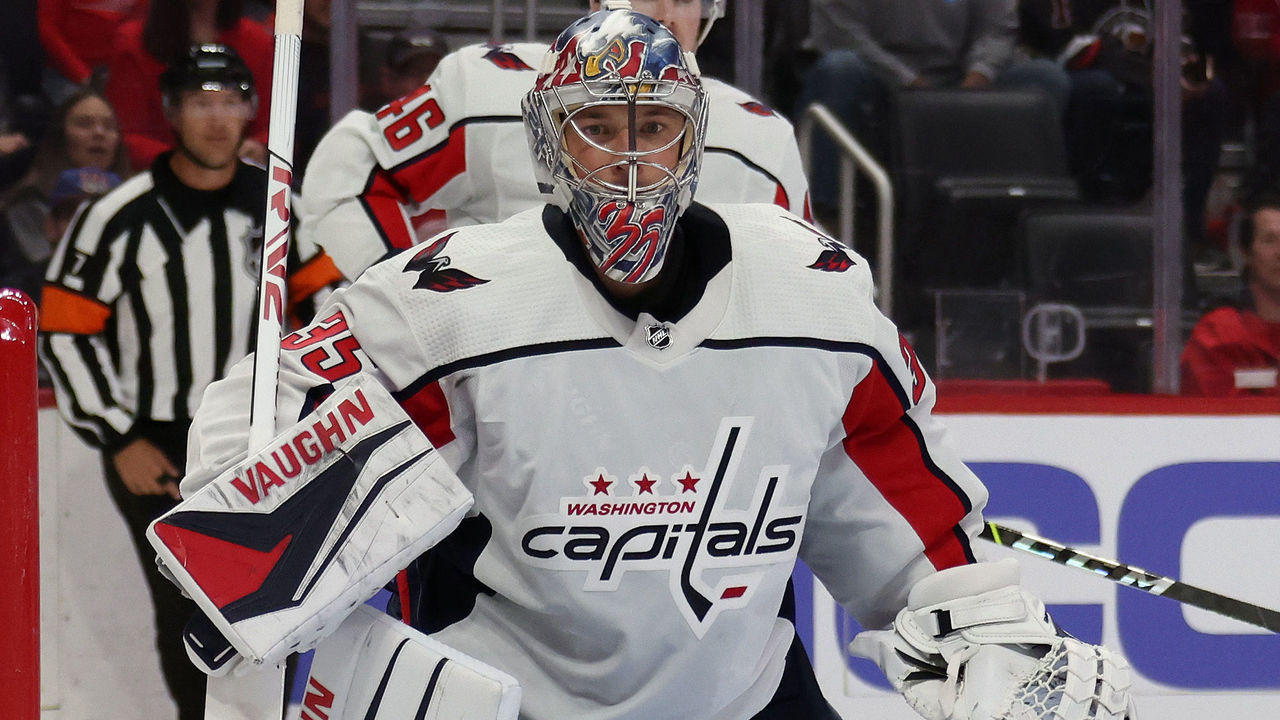 Kuemper was exactly what Colorado needed in the 2021-22 season, posting a .921 save percentage in 57 games. The scary eye injury he suffered in the playoffs is cause for some concern as he starts a five-year pact with the Capitals. If Kuemper is healthy, he's one of the top goaltenders in the league. He's recorded a .920 save percentage or better in four of the past five campaigns.
84. Jordan Kyrou, St. Louis Blues
Kyrou's emergence in 2021-22 was something to behold. He was one of nine 20-goal scorers for the Blues, and he posted career highs in tallies (27) and points (75) in 74 games. St. Louis rewarded Kyrou for his effort with an eight-year, $65-million extension that kicks in during the 2023-24 campaign. It'll be up to him to continue to prove he's worth the investment this season.
83. Zach Werenski, Columbus Blue Jackets
Werenski has been one of the most dependable defensemen in the NHL since entering the league in 2016-17. The Blue Jackets rearguard averaged a whopping 25:40 of ice time last season and is a true anchor on Columbus' back end. No matter who his partner has been on the blue line, the 25-year-old has long provided stability and offensive production.
82. Trevor Zegras, Anaheim Ducks
If this were a "Most Entertaining Player to Watch" list, Zegras would arguably be in the top spot. For now, the Ducks' creative catalyst will remain on the opposite end of our rankings as he continues growing into a superstar.
81. Drew Doughty, Los Angeles Kings
Doughty seemed to be rejuvenated last season while the Kings returned to the playoffs - it's a shame he wasn't healthy in time for the postseason. He may not be who he was in his heyday, but he's still one of the game's most competitive players and proven winners.
(Analytics source: Natural Stat Trick)
Comments
✕
Top 100 NHL players: 100-81
  Got something to say? Leave a comment below!