Top 100 NHL players: 80-61
Mark Blinch / National Hockey League / Getty
Leading up to the start of the 2022-23 season, theScore is counting down the top 100 players in the game today, as voted on by our NHL editors. Injuries have been taken into consideration. We'll reveal 20 players every day until the top 20 are unveiled Oct. 11.
100-81 | 80-61 | 60-41 | 40-21 | 20-1
80. Connor Hellebuyck, Winnipeg Jets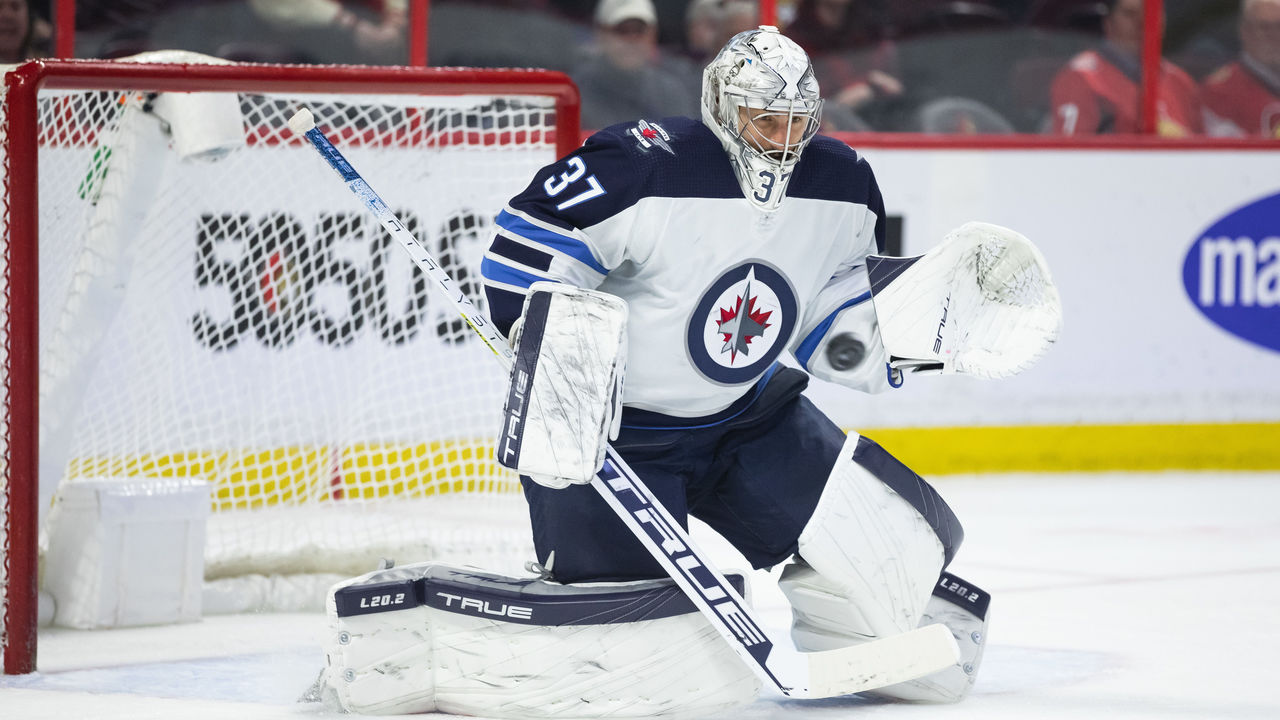 Hellebuyck has faced the most shots in the NHL in each of the past four seasons, and that's unlikely to change in 2022-23. The Jets workhorse had a slight dip in performance in 2021-22 with a .910 save percentage, his lowest since his sophomore campaign in 2016-17. Still, Hellebuyck's incredible workload and consistent play keep him among the league's top netminders year in, year out.
79. Dougie Hamilton, New Jersey Devils
Hamilton's first season with the Devils was derailed by injuries - including a broken jaw - that prevented the defenseman from looking quite like himself. However, he did show some of his typical pop and potted 15 points in his first 19 games. The Devils will need a healthy Hamilton to help boost their playoff hopes.
78. Roope Hintz, Dallas Stars
Hintz's career was frequently slowed by injuries until last season when he broke out with 37 goals and 35 assists while playing all but two regular-season games. The Finn, who turns 26 in November, deservedly centers the Stars' top line. It was only a matter of time before he truly arrived after posting over a point per game in the abbreviated 2021 campaign.
77. Kevin Fiala, Los Angeles Kings
Fiala is the new star attraction in Hollywood after racking up an impressive 85 points - 67 at even strength - this past season. The talent has always been there, but Fiala will need to build off his breakout year to be truly considered one of the league's elite wingers.
76. Timo Meier, San Jose Sharks
Meier is a modern-day power forward. He isn't massive (6-feet, 210 pounds), but he's an excellent short-area player who loves to play the body and potted a career-high 35 goals last season.
75. Patrik Laine, Columbus Blue Jackets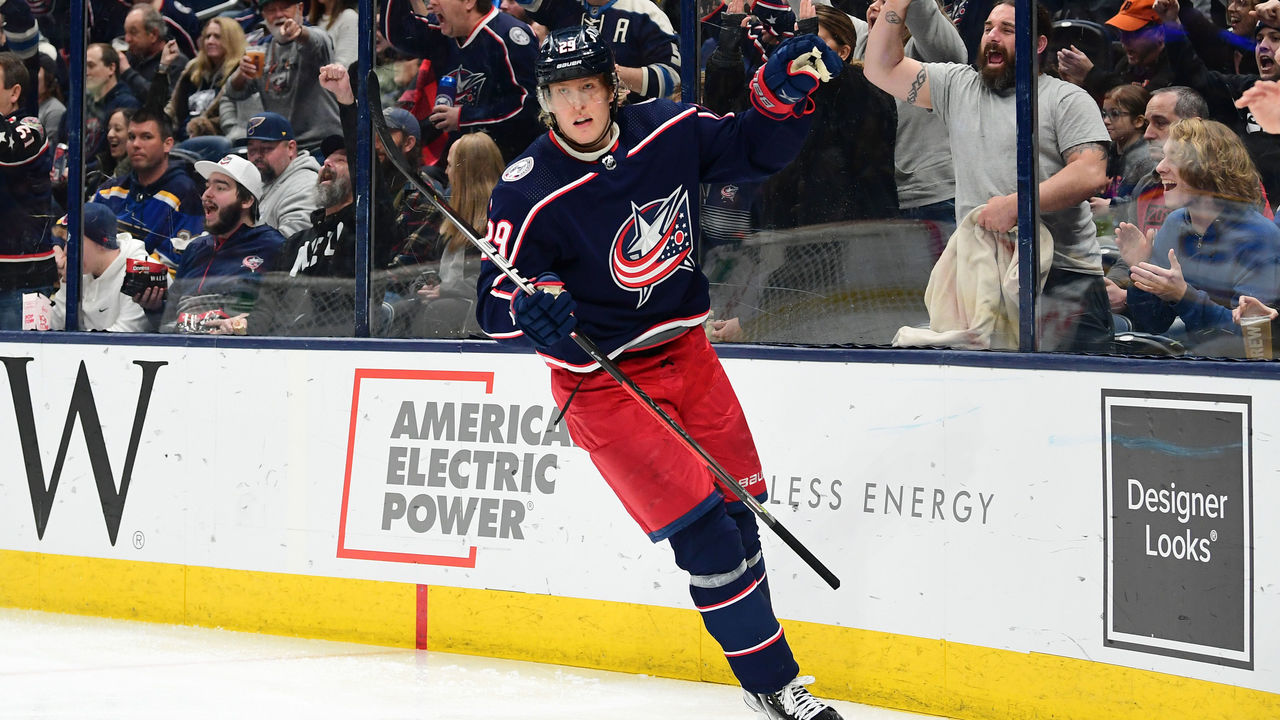 Laine flew under the radar with the Blue Jackets in 2021-22 as he posted his first point-per-game campaign. With 26 goals and 56 points in 56 games, he returned to the offensive form that made him a budding star early in his Winnipeg tenure. Laine, if he can remain healthy, could be in for a career year with new linemate Johnny Gaudreau arriving in Columbus.
74. Frederik Andersen, Carolina Hurricanes
Andersen was spectacular in his first campaign with the Hurricanes. He ranked fourth in Vezina Trophy voting after posting a 2.17 goals-against average and .922 save percentage in 52 appearances. Unfortunately, the netminder wasn't able to exorcise all his demons from his time in Toronto, as an injury held him out of the playoffs.
73. Brady Tkachuk, Ottawa Senators
Few were surprised when the Senators named Tkachuk captain in November. The 23-year-old scored 30 goals last season while racking up his customary hundreds of hits (270) and even winning more than 50% of the 435 faceoffs he took despite not being a natural center. He's not quite elite yet, but he can impact a game in many ways.
72. Rasmus Dahlin, Buffalo Sabres
The hype associated with being a potentially generational No. 1 pick makes it feel like Dahlin has been around for ages, but the Sabres stalwart is only 22. The swift-skating Swedish defender registered a career-high 53 points last season and should continue to get better as he gets older. There's no question his ascension will considerably accelerate Buffalo's rebuild.
71. Alex Pietrangelo, Vegas Golden Knights
Pietrangelo is getting up there in age (33 in January) but is still one of the game's premier defensemen. He's a rare blend of size (6-foot-3, 210 pounds), smooth skating, soft hands, and excellent intangibles. He received some down-ballot Norris votes last year after registering 13 goals and 44 points.
70. Robert Thomas, St. Louis Blues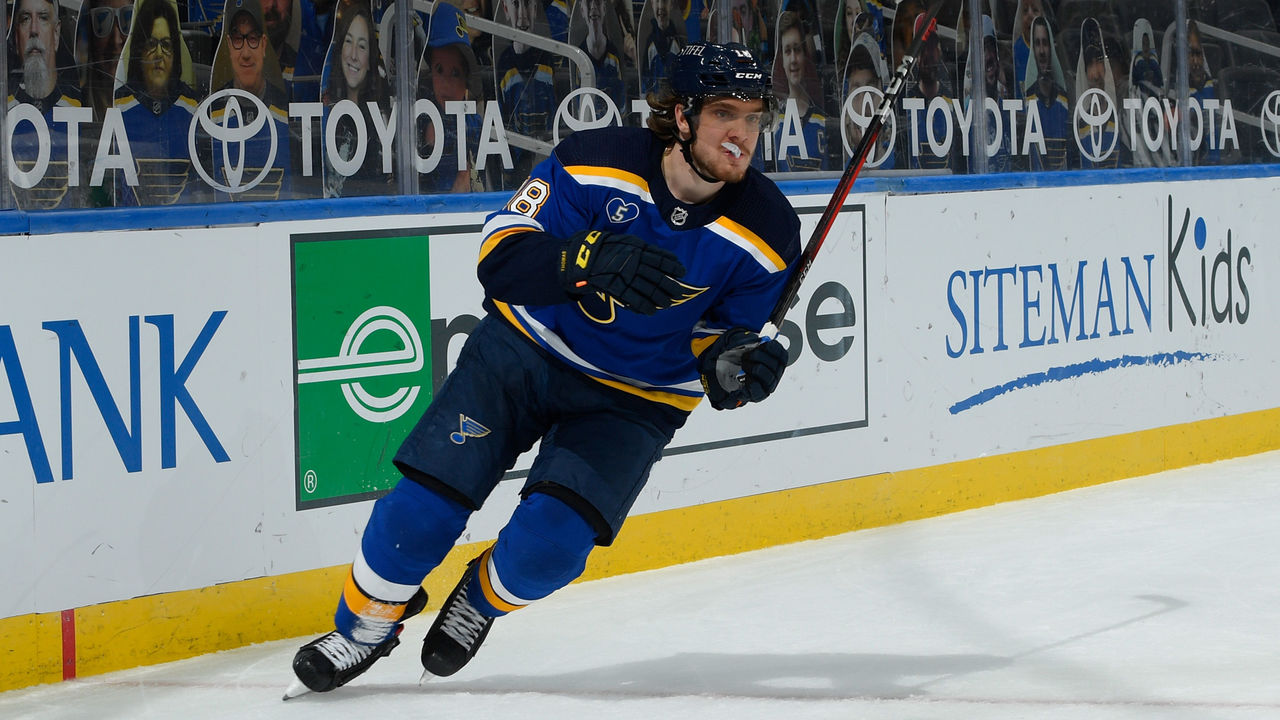 Thomas enjoyed a breakout 20-goal, 77-point season with the Blues last season, leading the team with 57 assists. St. Louis rewarded him handsomely with an eight-year, $65-million extension that begins in 2023-24. The 23-year-old will be looking to prove the Blues' decision was more than worth it in 2022-23.
69. Mark Scheifele, Winnipeg Jets
Despite all of Winnipeg's struggles in 2021-22, Scheifele managed to produce at a point-per-game rate for the sixth straight season by potting 70 in 67 contests. The longtime Jets servant cast doubt on his future with the franchise after missing the playoffs, but he later expressed his excitement for a fresh start with the team in 2022-23.
68. Joe Pavelski, Dallas Stars
Pavelski keeps defying conventional wisdom and disproving doubters. The 38-year-old led the Stars in assists (54) and points (81) last season. If that's not remarkable enough, how about the fact that the 16-year veteran played all 82 games? The fact that he's still among the NHL's best forwards at this stage of his career is nothing short of impressive.
67. Mathew Barzal, New York Islanders
Barzal hasn't matched the offensive production of his rookie year in four seasons since, but his skill set is so tantalizing that the hockey world kind of just universally accepts he could light the league on fire at any time. He's too good not to break out eventually. Perhaps this is the year, as he's got a new coach and is now locked in long term.
66. Nikolaj Ehlers, Winnipeg Jets
Ehlers is one of the fastest skaters on the planet. The 2021-22 campaign was his most productive on a per-game basis, as he tallied 55 points in 62 contests. If he plays on the top line this season, don't be surprised if the 26-year-old Dane breaks out with 90-plus points.
65. Shea Theodore, Vegas Golden Knights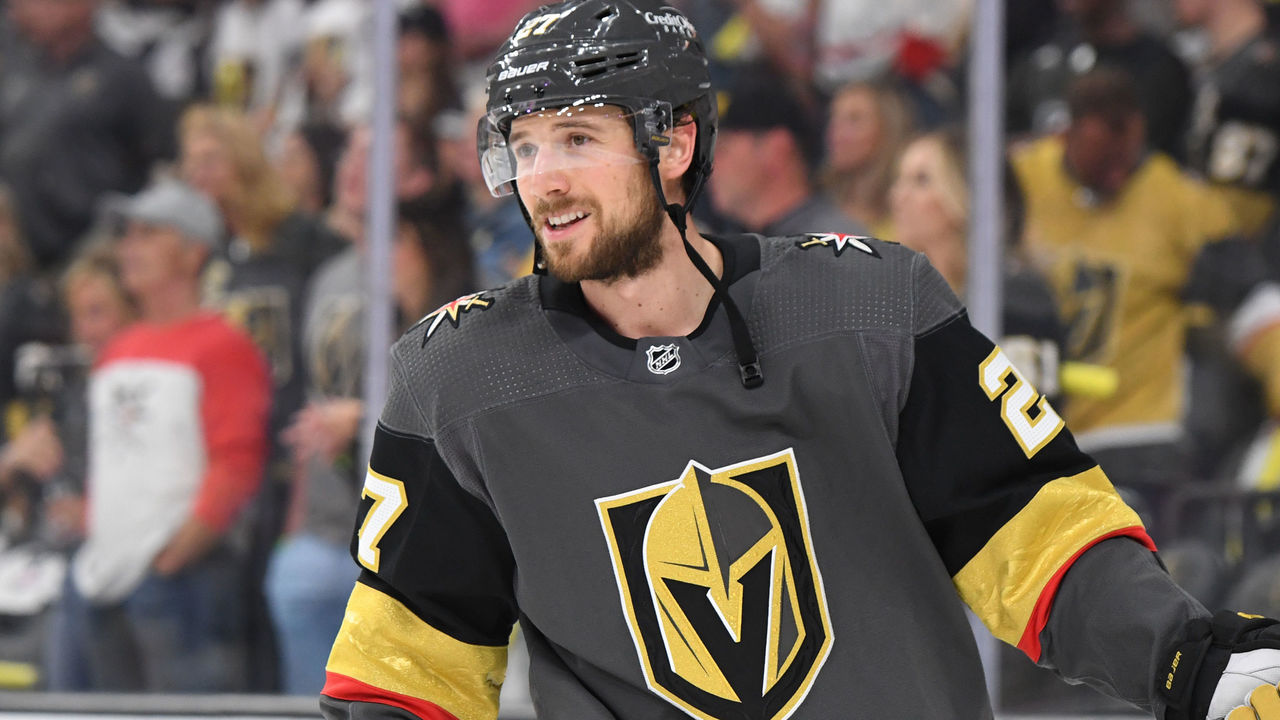 Amid all of the chaos that was the Golden Knights' season, Theodore was just about the only constant presence. The 26-year-old defenseman set career highs in goals (14), points (52), and average time on ice (23:08) in 2021-22. Despite this, he didn't receive any Norris votes for the first time since 2018-19. A healthy Vegas lineup could put him right back into that conversation.
64. Anze Kopitar, Los Angeles Kings
Kopitar may be 35, but the timeless center is still bringing it for the Kings. The captain paced his squad with 67 points in 81 contests last season while leading all Los Angeles forwards in average ice time (20:46). His threat level will only increase if Fiala rides on his wing. The Kings made the playoffs under Kopitar's veteran leadership, and he's a key reason why they're the best team in California right now.
63. John Tavares, Toronto Maple Leafs
Much like Pavelski and Kopitar, Tavares isn't slowing down as he ages. The 32-year-old Maple Leafs captain racked up nearly a point per game once again last season while winning a career-high 60.6% of his faceoffs. He may be unfairly criticized if the Leafs flounder yet again in the playoffs, but last season's failure wasn't his fault, as he notched three goals and three assists in seven games.
62. Morgan Rielly, Toronto Maple Leafs
Rielly's exploits tend to get lost behind the Maple Leafs' cast of star forwards, but Toronto wouldn't be the same team without its top blue-liner. The 28-year-old ranks sixth in points among all defensemen over the past five seasons, and has led the club in average ice time in all but one of those years.
61. Nazem Kadri, Calgary Flames
Kadri is one of the sport's most fiery competitors, and he has the skill to go with it. He came through with a career year at age 31 in 2021-22, racking up 87 points in 71 games. Repeating that may be a tall task, but Kadri proved this past spring that he's a player you can count on when the lights shine brightest.