NFL trade-deadline primer: Assessing 50 players rumored to be on the block
L to R (Getty Images): Icon Sportswire/M. Meyer/R. Leiter/Icon Sportswire
Trade winds are blowing as the NFL's Nov. 3 deadline for deals approaches. Below, we assess the likelihood of a move for 50 players potentially on the block.
Quarterback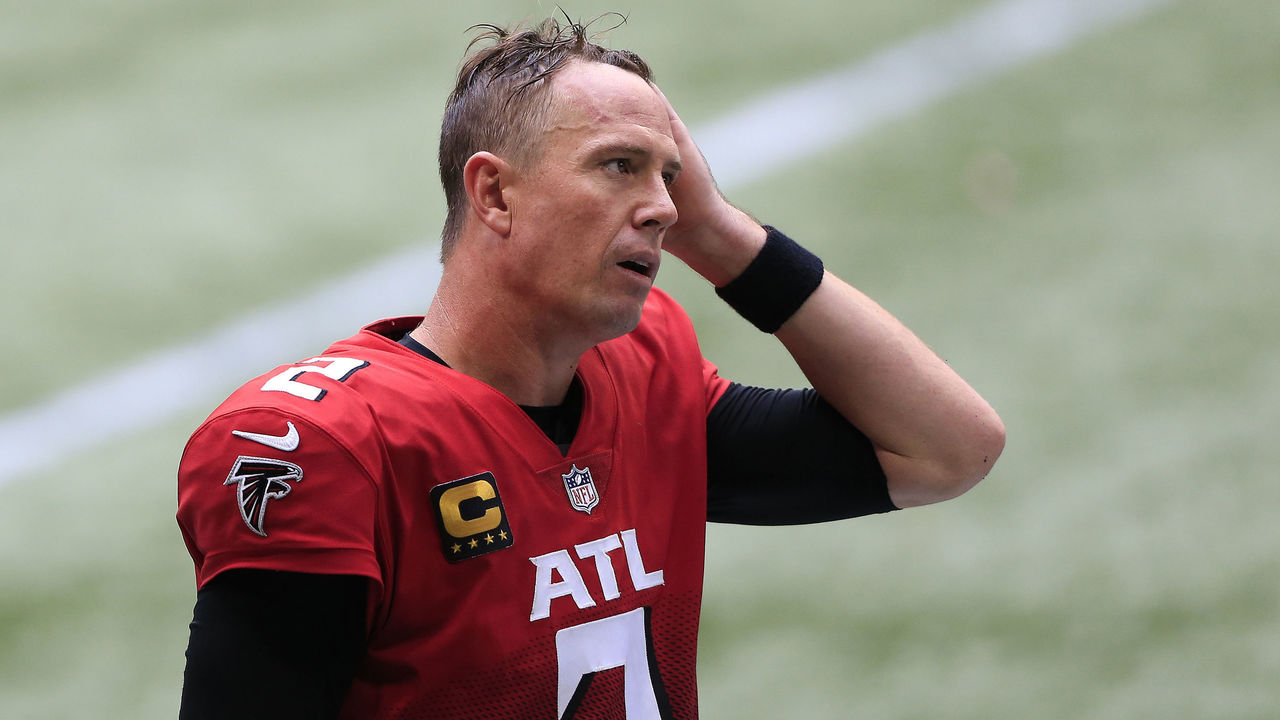 Matt Ryan, Falcons
Ryan's name was floated as a trade possibility with Atlanta in free fall and seemingly on the verge of a total rebuild, but the salary cap ramifications of such a deal make it extremely unlikely.
Trade potential: 0/5
Sam Darnold, Jets
If the Jets are truly committed to tanking for the right to draft Clemson's Trevor Lawrence first overall, it would make sense to get anything they can for Darnold now. That said, it's far more likely that the Jets wait until after the season when they have their draft slot guaranteed.
Trade potential: 1/5
Dwayne Haskins, Washington
Haskins' days as Washington's franchise passer might be over for good, but there's no point in selling him off at his value's nadir. Washington would be wise to rebuff any offers and give Haskins a few late-season starts to rehabilitate his value before trading him in the offseason.
Trade potential: 1/5
Ryan Fitzpatrick, Dolphins
It's Tua time in Miami, which makes Fitzpatrick expendable. Though the journeyman would presumably jump at the opportunity to start for a record ninth team, the Dolphins will want to keep him around to guide their rookie through his first months of pro action.
Trade potential: 1/5
Tyrod Taylor, Chargers
One wonders if Taylor might still be starting in L.A. had a team doctor not accidentally punctured his lung and opened the door for breakout rookie Justin Herbert. As is the case in Miami, it makes far more sense for the Chargers to ask their veteran to play mentor rather than look to trade him away for pennies on the dollar.
Trade potential: 1/5
Running Back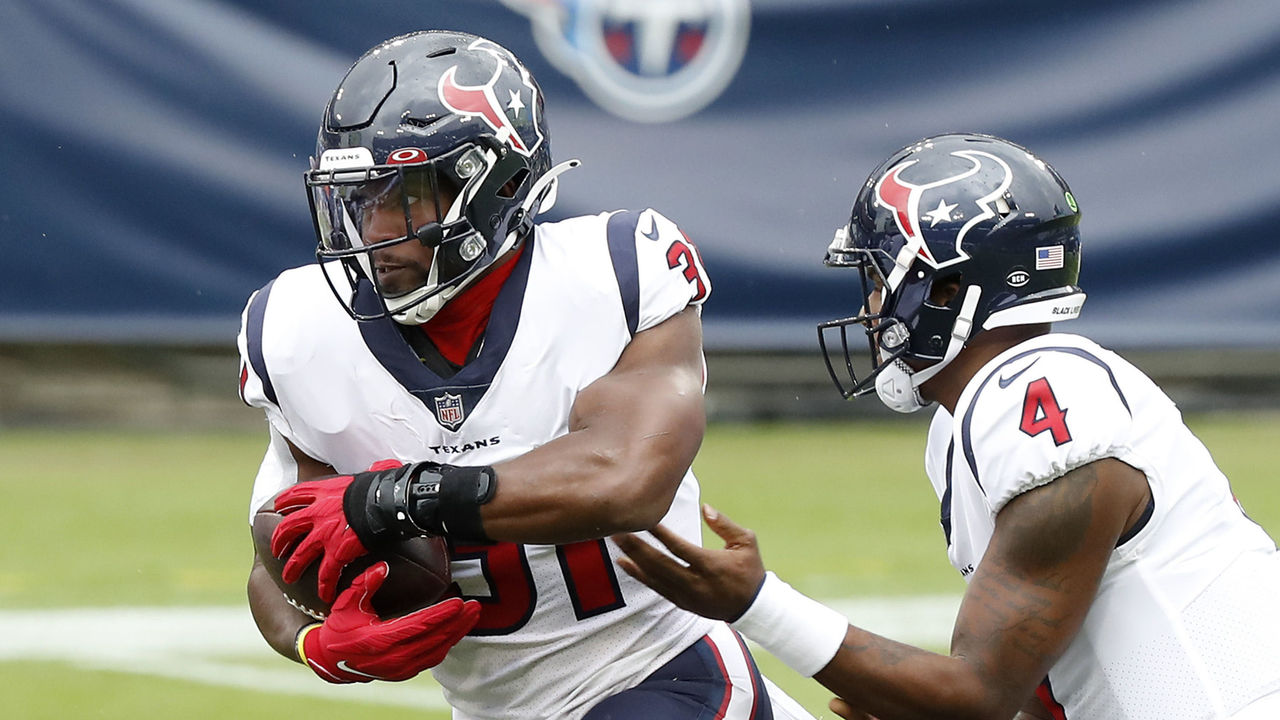 David Johnson, Texans
Johnson hasn't exactly been reborn in Houston, and it probably doesn't help that he carries the stigma of being the player DeAndre Hopkins was traded for. Another fresh start would be good for the 28-year-old tailback, and the Texans are so draft-poor that they would probably do a deal for any mid-round pick.
Trade potential: 2/5
Jordan Howard, Dolphins
Howard has been a healthy scratch as the Dolphins turn their backfield over to Myles Gaskin. Miami would happily trade Howard, but no team is going to come calling.
Trade potential: 1/5
Kerryon Johnson, Lions
The third wheel in a backfield that features rookie D'Andre Swift and the immortal Adrian Peterson, Johnson is perhaps the most appealing running back prospect on the trade block. Still just 23 years old, a suitor might decide there's untapped upside in the former second-round pick.
Trade potential: 2/5
Jaylen Samuels, Steelers
The versatile Samuels has fallen out of favor in Pittsburgh with James Conner handling the bulk of the backfield work and both Benny Snell and Anthony McFarland Jr. looking good in relief roles.
Trade potential: 2/5
Wide Receiver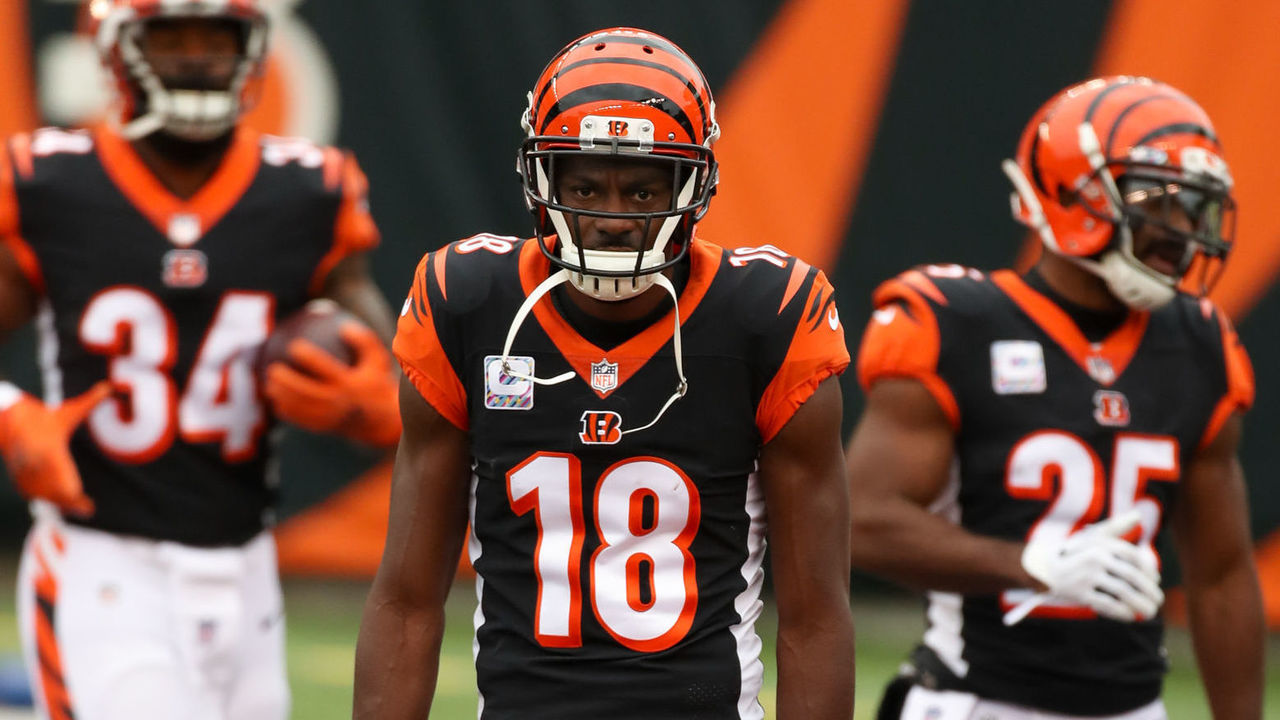 A.J. Green, Bengals
Green is thought to have quietly desired a clean break from Cincinnati for several years now, but his sudden re-emergence as a receiving threat (15 catches on 24 targets in his last two games, following just 14 catches on 34 targets over his first five) might lead the Bengals to keep him around to earn the rest of his $18-million franchise tag and assist with Joe Burrow's development.
Trade potential: 2/5
Michael Thomas, Saints
There are rumblings that Thomas' antics behind the scenes, which caused him to get benched for a game, have caused him to fall out of favor in New Orleans and begin planning his own exit strategy. But the Saints can't trade Thomas without incurring a dead-cap hit of $26 million, so there's no chance he's shipped out of town this season.
Trade potential: 0/5
Julio Jones, Falcons
Like Matt Ryan, Jones' name has come up based purely on the notion that the Falcons will look to shed salary and get younger as they embark on a complete rebuild. It won't happen before the deadline.
Trade potential: 0/5
Alshon Jeffery, Eagles
Jeffery can't stay healthy, and the only way for the Eagles to get his cumbersome salary off the books is by sweetening any potential trade with a draft pick of their own.
Trade potential: 1/5
Will Fuller, Texans
Multiple teams have reportedly inquired about Houston's speedy No. 1 wideout, but it's almost impossible to imagine the Texans following up their wildly unpopular DeAndre Hopkins deal by shipping out Deshaun Watson's next-best weapon.
Trade potential: 1/5
Kenny Stills, Texans
Stills is in a contract year and has fallen behind Fuller, Brandin Cooks, and Randall Cobb on the depth chart. All four Houston wideouts are trade candidates, but Stills is the most likely to go.
Trade potential: 4/5
Golden Tate, Giants
Tate was shipped from the Lions to the Eagles before 2018's deadline and could be on the move once again.
Trade potential: 2/5
Marvin Jones, Lions
If the Lions don't see themselves as contenders, it would make sense to try to get a late draft pick for Jones and his expiring contract.
Trade potential: 2/5
DaeSean Hamilton, Broncos
Denver's 2018 fourth-round pick has just five catches this season. He needs a fresh start in a new locale.
Trade potential: 1/5
John Ross, Bengals
Ross is a bust, but it's more owing to his inability to stay healthy than his performances in limited action. He's not worth anywhere near the ninth overall pick that the Bengals used on him, but Ross could be a useful deep threat in a new environment.
Trade potential: 4/5
Dante Pettis, 49ers
Were it not for a slew of injuries to the 49ers' other receivers, Pettis might already be wearing new colors.
Trade potential: 2/5
J.J. Arcega-Whiteside, Eagles
A case could be made that Arcega-Whiteside is the worst receiver in the NFL. Why would anyone trade for him?
Trade potential: 0/5
Tight End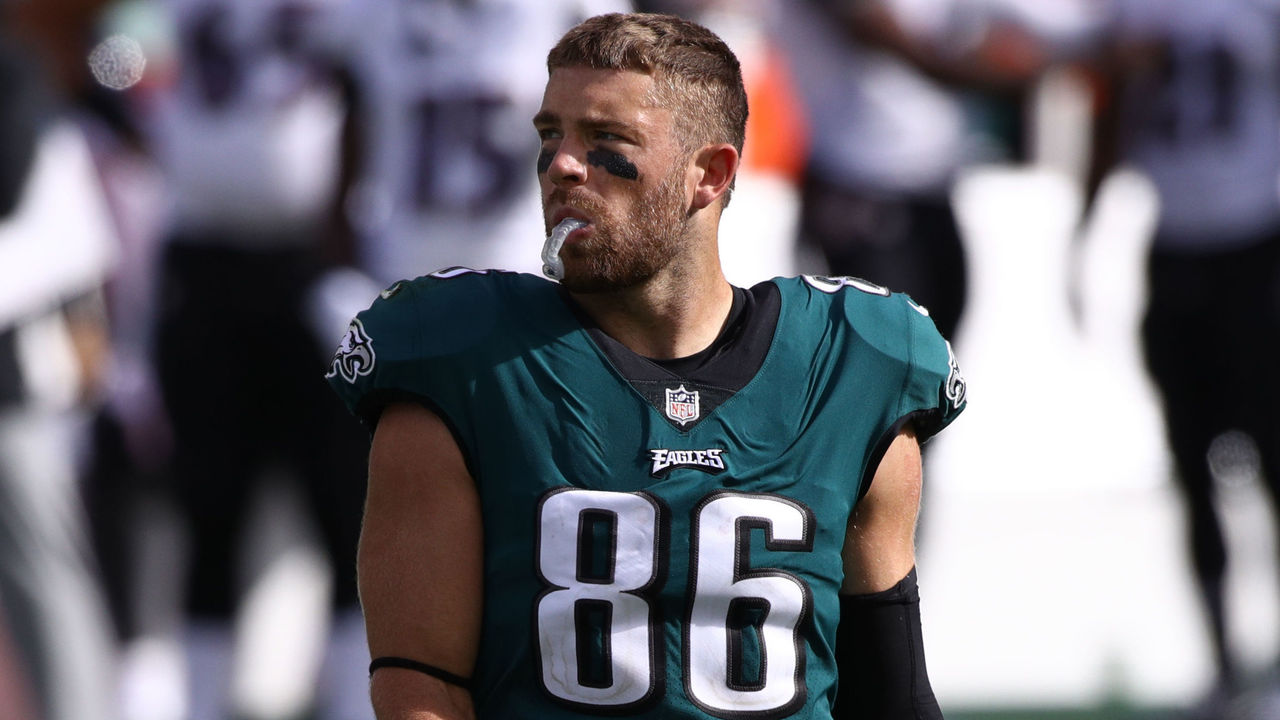 Zach Ertz, Eagles
Ertz was a prime trade candidate before he landed on IR with an ankle injury. The Eagles likely will be hard-pressed to get enough value in return to pull the trigger on a deal.
Trade potential: 3/5
*Note: Ertz being designated for short-term injured reserve by the Eagles has made him ineligible for a trade before the deadline.
Evan Engram, Giants
For whatever reason, the Giants haven't figured out how to fully integrate Engram into their offense. The 26-year-old might have lost the few believers he had left in the organization after dropping a potential game-clinching catch versus the Eagles in Week 7. If the Giants are offered a third-round pick or better, they should take it.
Trade potential: 4/5
David Njoku, Browns
Njoku has made it very clear that he wants out of Cleveland, but Austin Hooper's recent bout of appendicitis might prevent Njoku from getting his wish. That said, the Browns seem enamored with rookie Harrison Bryant, so they could still deem Njoku expendable.
Trade potential: 2/5
Kyle Rudolph, Vikings
It's time for the Vikings to rebuild, and a tight end on the wrong side of 30 is just about the last thing they need.
Trade potential: 1/5
Chris Herndon, Jets
A popular breakout pick among fantasy football prognosticators before the season, Herndon has been a major dud in New York. The possibility that he could break out after being freed from Adam Gase - as so many others already have - might inspire a team to ask about Herndon's availability.
Trade potential: 1/5
Offensive Line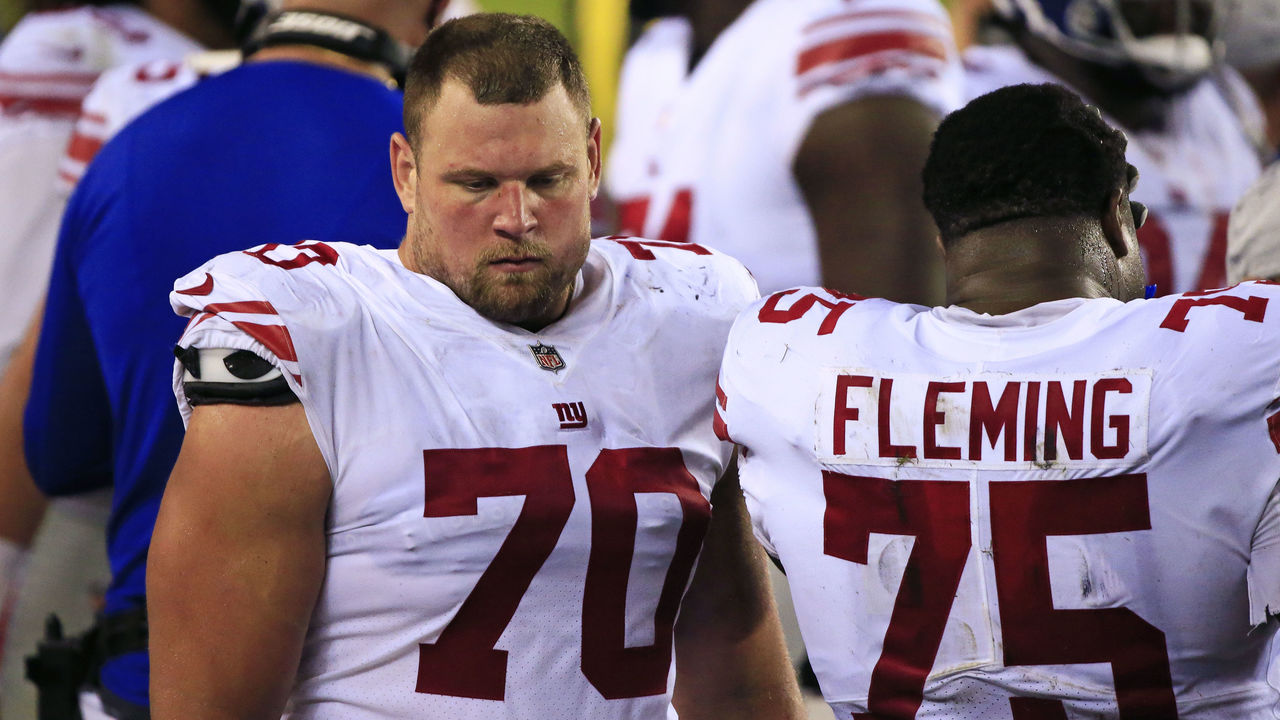 Kevin Zeitler, Giants
Zeitler has frequently been mentioned in trade talks, and there are countless teams in need of offensive line reinforcements. A deal appears likely unless the Giants' asking price is unreasonable.
Trade potential: 4/5
Cameron Fleming, Giants
Like Zeitler, Fleming is easy to connect to several contenders with holes on the O-line.
Trade potential: 3/5
Joe Thuney, Patriots
Thuney is the best player on the Patriots' offensive line, but if Bill Belichick doesn't plan to lock him up in 2021 (Thuney's making almost $15 million on the franchise tag this season) then it makes sense to flip him for a future asset.
Trade potential: 2/5
Riley Reiff, Vikings
The Vikings could get a nice return for their left tackle considering the demand that seems to exist around the league.
Trade potential: 3/5
Edge Rusher
Already traded: Carlos Dunlap (Bengals to Seahawks), Everson Griffen (Cowboys to Lions), Yannick Ngakoue (Vikings to Ravens), Markus Golden (Giants to Cardinals), Jordan Willis (Jets to 49ers)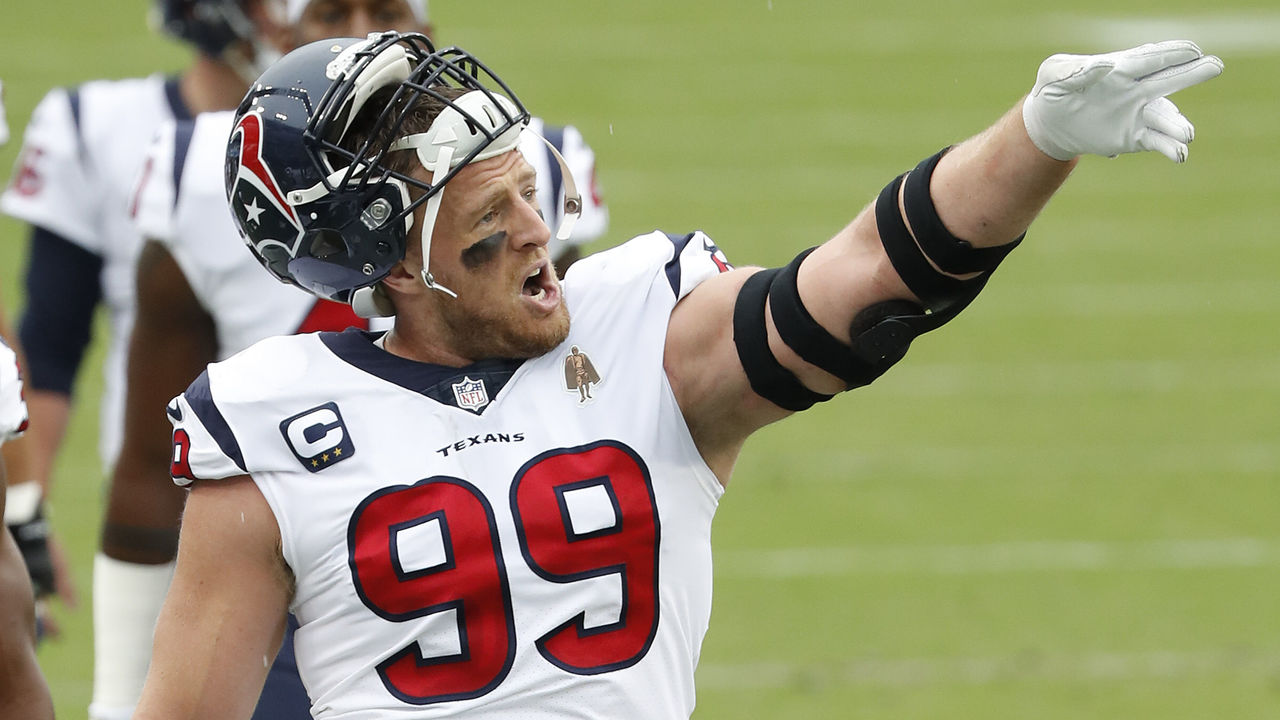 J.J. Watt, Texans
Watt has repeatedly made it known that he won't be happy in Houston until the Texans start winning again, but shipping out the greatest player in franchise history would send a bad message to players and fans alike. Unless the Texans can somehow convince a contender to swap a first-round pick, a trade is highly unlikely.
Trade potential: 1/5
Whitney Mercilus, Texans
The Texans would probably give Mercilus away for free just to get his four-year, $54-million contract off the books. It's doubtful they'll find any takers.
Trade potential: 2/5
Ryan Kerrigan, Washington
Nearly every playoff contender could use a player like Kerrigan, and he probably won't be too pricey to obtain as a rental. The only potential impediment to a deal could be if Washington decides to push to win the dismal NFC East instead of continuing a slow build for the future.
Trade potential: 4/5
Melvin Ingram, Chargers
Fresh off injured reserve, Ingram is an appealing option for teams seeking pass-rush help. He's overpaid for what he produces, but his contract expires at the end of the season, so the financial risk is minimal.
Trade potential: 3/5
Haason Reddick, Cardinals
The Cardinals could look to sell high on Reddick, who's having a career year but has largely been a disappointment since the team selected him in the first round in 2017.
Trade potential: 2/5
Takk McKinley, Falcons
The Falcons are reportedly shopping their 2017 first-round pick, whose play has fallen off in recent seasons. They appear highly motivated to make a deal happen.
Trade potential: 5/5
Trent Murphy, Bills
The Bills recently made the veteran Murphy a healthy scratch. He could probably be had for cheap if any team wants him.
Trade potential: 1/5
Defensive Interior
Already traded: Steve McLendon (Jets to Buccaneers)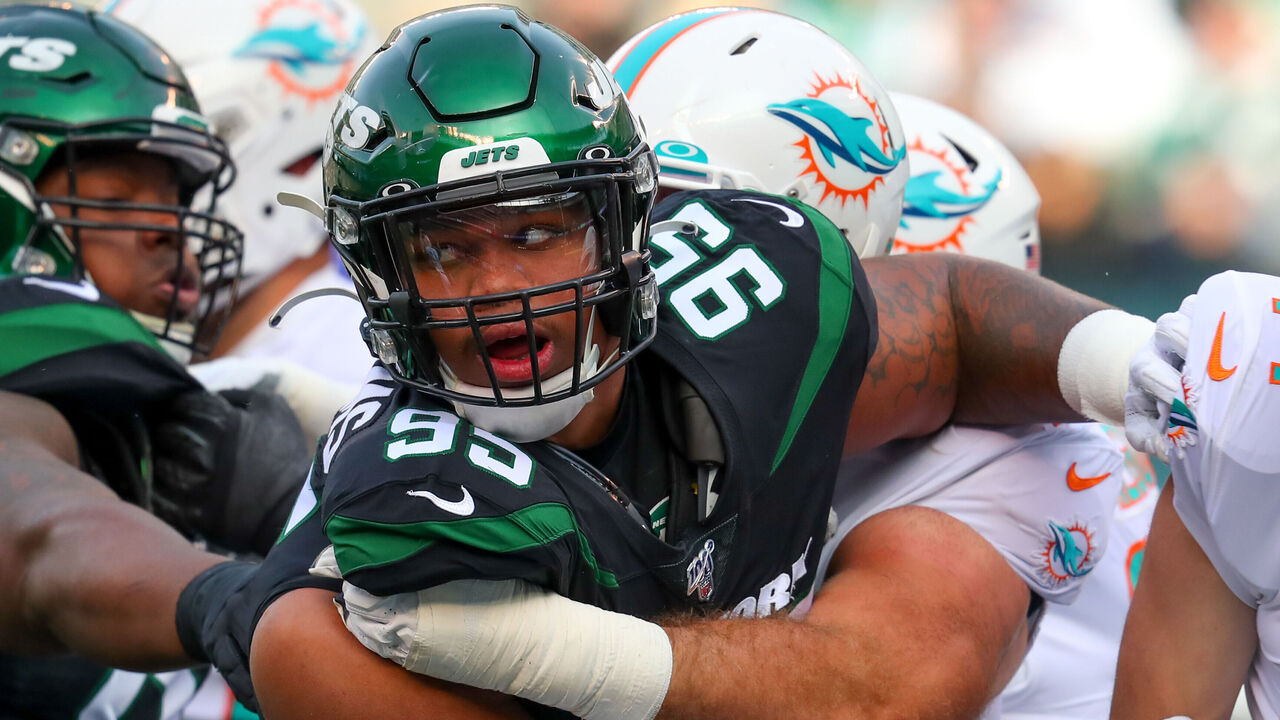 Quinnen Williams, Jets
The Jets appear to be floating the name of 2019's No. 3 pick to see if they can get a king's ransom in return. They will be hard-pressed to land more than a second-rounder, so a deal probably won't happen.
Trade potential: 2/5
Geno Atkins, Bengals
It's difficult to say whether the Bengals' trade of Carlos Dunlap to Seattle makes it more or less likely that Atkins will also be sent packing. The Cowboys initially seemed like an ideal trade partner, but they suddenly look like sellers instead of buyers.
Trade potential: 2/5
Linebacker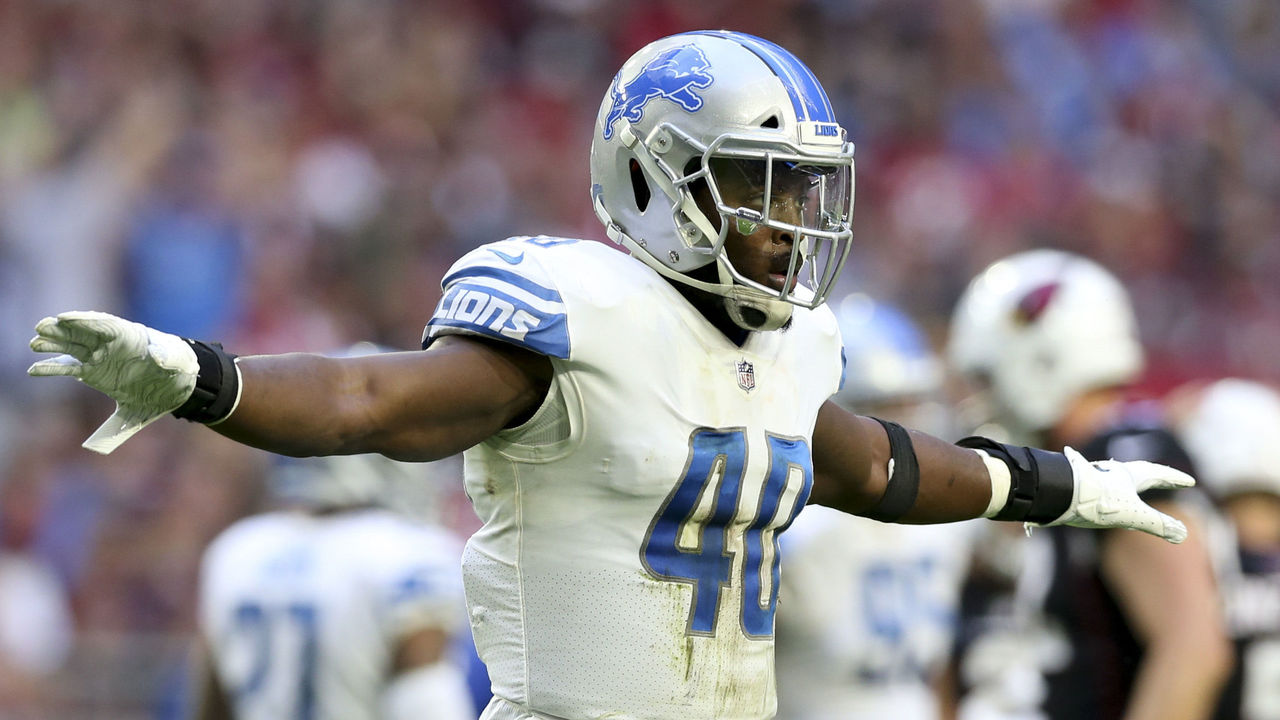 Jarrad Davis, Lions
Davis has been linked to the Steelers, who lost star sophomore Devin Bush to a torn ACL, but it's difficult to say if there is any substance to those rumors. Davis has seen his snap count dwindle the season, so it's apparent that he's not in the Lions' plans.
Trade potential: 2/5
Avery Williamson, Jets
Every player on the Jets is conceivably for sale. Williamson is another player who's been connected to the Steelers.
Trade potential: 2/5
Denzel Perryman, Chargers
Perryman isn't getting much playing time with the Chargers and would surely welcome a change of scenery. The question is whether any team wants to trade for a two-down thumper of a linebacker - a dying breed in 2020.
Trade potential: 1/5
Cornerback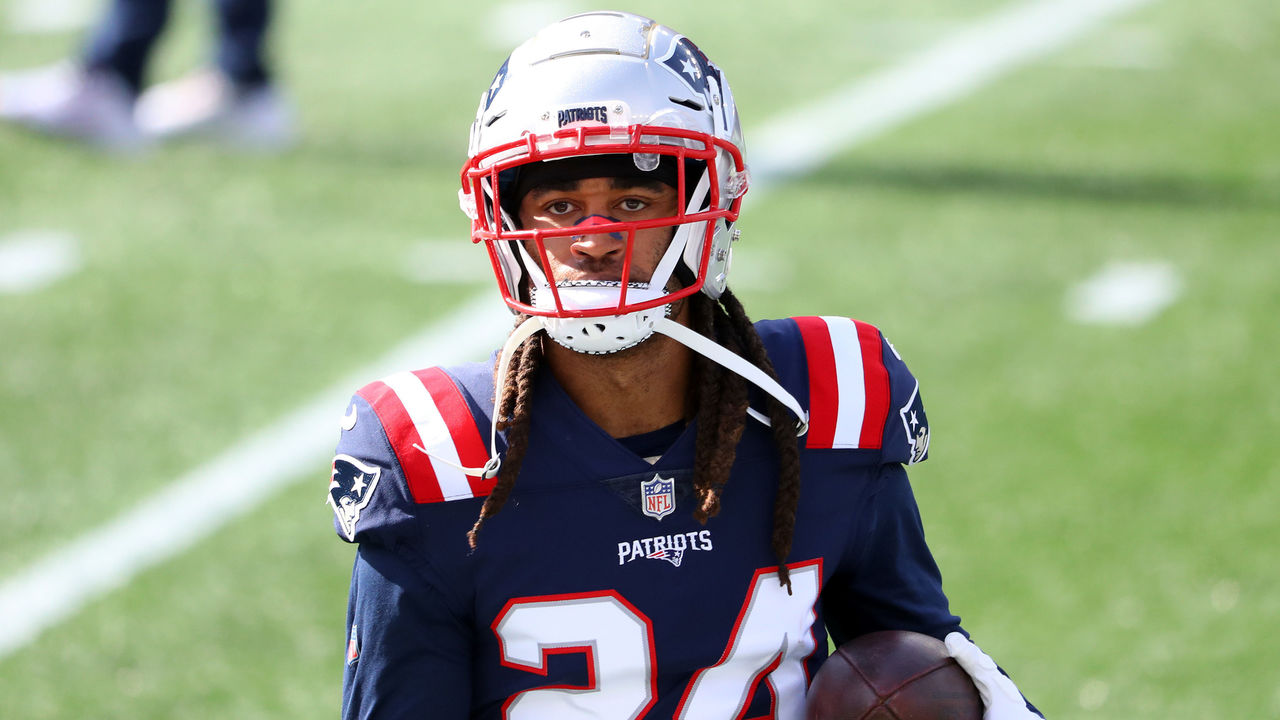 Stephon Gilmore, Patriots
Could the 2-4 Patriots be sellers at the deadline? If so, Gilmore would likely be their prime chip. The reigning Defensive Player of the Year's deal expires after the 2021 season, and the Patriots reportedly shopped him before the draft and in camp. Gilmore's house is rumored to be for sale, adding even more intrigue. If there's a blockbuster deal before the deadline, this is probably it.
Trade potential: 4/5
William Jackson, Bengals
The Bengals reportedly rebuffed offers for their former first-round pick before last season's deadline but might be more open to a trade now given that Jackson's contract expires at the end of the year.
Trade potential: 2/5
Brian Poole, Jets
Brian Poole is a top-five slot corner, which means he's an upgrade for most teams. If the Jets don't ask for the moon, Poole is as good as gone.
Trade potential: 4/5
Pierre Desir, Jets
Desir is far from a star, but he's a competent cover corner and should come pretty cheap on an expiring contract. He's the type of player who's easy to swing a deadline deal for.
Trade potential: 3/5
Safety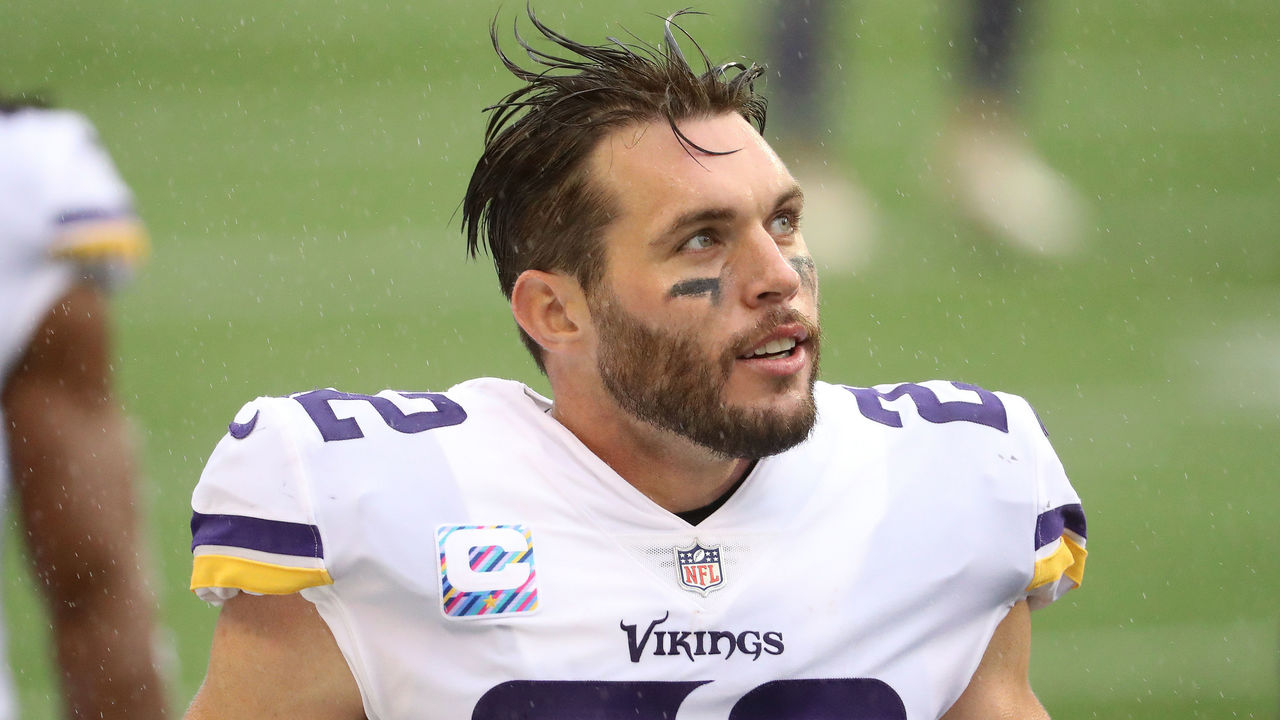 Harrison Smith, Vikings
Smith is rumored to have unfollowed the Vikings' social media accounts, which could suggest a trade is likely. It's becoming harder to see where the 31-year-old fits into Minnesota's plans.
Trade potential: 2/5
Anthony Harris, Vikings
Harris is earning $11.4 million on the franchise tag this year and has been frequently linked with a trade to the Browns. Unless the Vikings are willing to give him away for a swap of late picks, it's difficult to envision any team being motivated to make a deal happen.
Trade potential: 1/5
Marcus Maye, Jets
Adam Gase has reportedly sought to trade Maye since the time he was hired, so it shouldn't surprise anyone if a deal happens. However, a case can be made that Maye is one of the few building blocks that the Jets should keep around.
Trade potential: 1/5
Bradley McDougald, Jets
Noticing a trend yet? Every starter in the Jets' secondary is potentially available.
Trade potential: 1/5
Comments
✕
NFL trade-deadline primer: Assessing 50 players rumored to be on the block
  Got something to say? Leave a comment below!