theScore's Mike Alessandrini is assembling all-decade lineups and ranking all 32 teams based on those rosters. Contributions from 2010 to 2019 were taken into account, with player selections based on peak production, longevity, and overall impact. Those who spent only one season with a club didn't qualify.
Our series continues with a look at the NFC East.
AFC (June 22-25)
East | North | South | West
NFC (June 29-July 2)
East | North | South | West
Final rankings
See how all 32 rosters stack up
Dallas Cowboys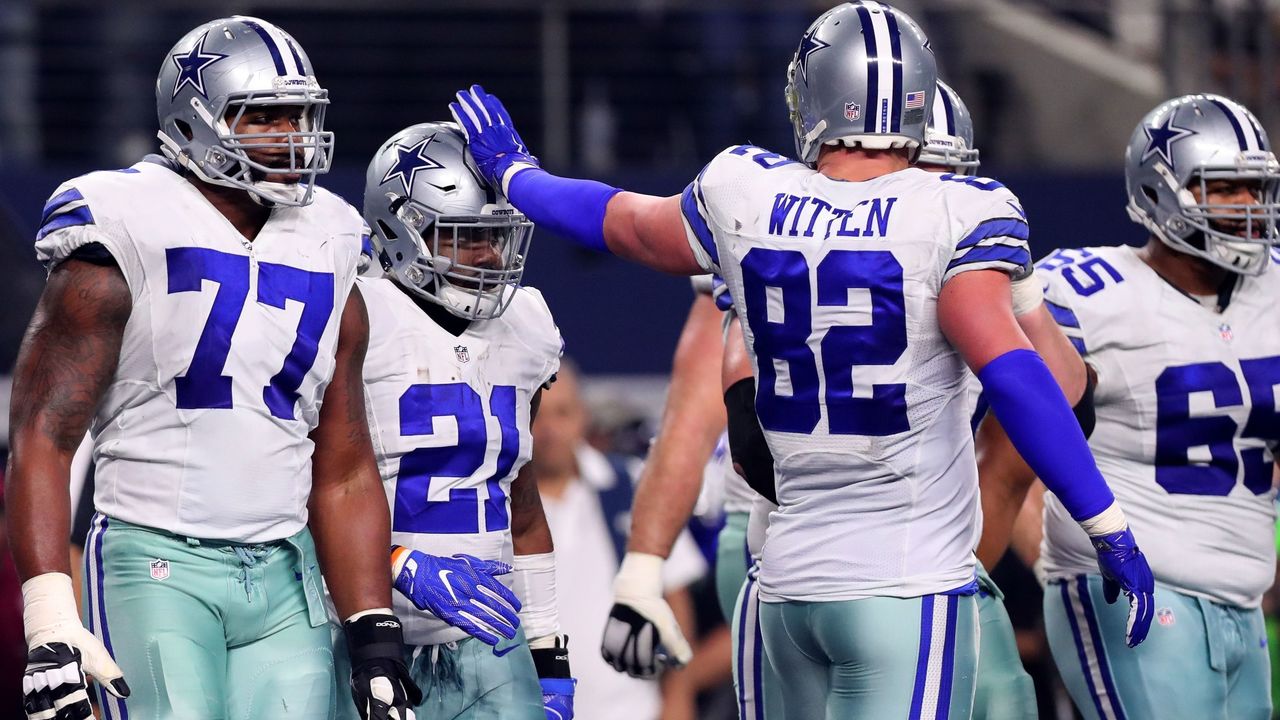 Head coach: Jason Garrett
| POS. | Player | POS. | Player |
| --- | --- | --- | --- |
| QB | Tony Romo | DE | DeMarcus Lawrence |
| RB | Ezekiel Elliott | DT | Jay Ratliff |
| WR | Dez Bryant | DT | Jason Hatcher |
| WR | Miles Austin | DE | DeMarcus Ware |
| Slot | Cole Beasley | LB | Sean Lee |
| TE | Jason Witten | LB | Anthony Hitchens |
| LT | Tyron Smith | CB | Byron Jones |
| LG | Ronald Leary | CB | Brandon Carr |
| C | Travis Frederick | NCB | Orlando Scandrick |
| RG | Zack Martin | FS | Barry Church |
| RT | Doug Free | SS | Jeff Heath |
| K | Dan Bailey | P | Chris Jones |
We wouldn't blame you for wondering how the Cowboys managed just three playoff appearances and two victories over the last 10 years with such a star-studded roster. Dallas' lineup combined for an incredible 44 Pro Bowls and 12 All-Pro selections. That's underachieving, to say the least.
Dak Prescott's career is off to a strong start, but he wasn't able to supplant Romo and his productive six years at quarterback last decade. The former passer has plenty of weapons at his disposal. Witten was among the league's premier tight ends from 2010-2015, and Bryant's resume speaks for itself. Few defenders could stop Dez in his prime - he averaged 91 receptions, 1,312 yards, and 14 touchdowns per season from 2012-2014.
The Cowboys field a versatile passing attack, but their offense would unsurprisingly run through Elliott and the offensive line. No tailback has amassed more rushing yards than Zeke since he entered the league in 2016, and only Todd Gurley has scored more touchdowns. Meanwhile, America's Team features one of the top blocking units in this entire exercise. You'd be hard-pressed to find better players at their positions than Smith, Martin, and Frederick. The unmatched trio is the primary catalyst behind Garrett's offense.
On the other side of the ball, Ware and Lawrence form a dynamic duo off the edge. The former was particularly dominant, accumulating 62.5 sacks from 2010-2014. Lee was a mainstay at linebacker when healthy, while Jones and Carr man the perimeter. Scandrick was a crafty slot defender during his tenure, too. Safety is the weakest position on Dallas' roster, as there weren't many quality options outside of Church and Heath. A suspect downfield pass defense may be what holds this squad out of the top tier.
New York Giants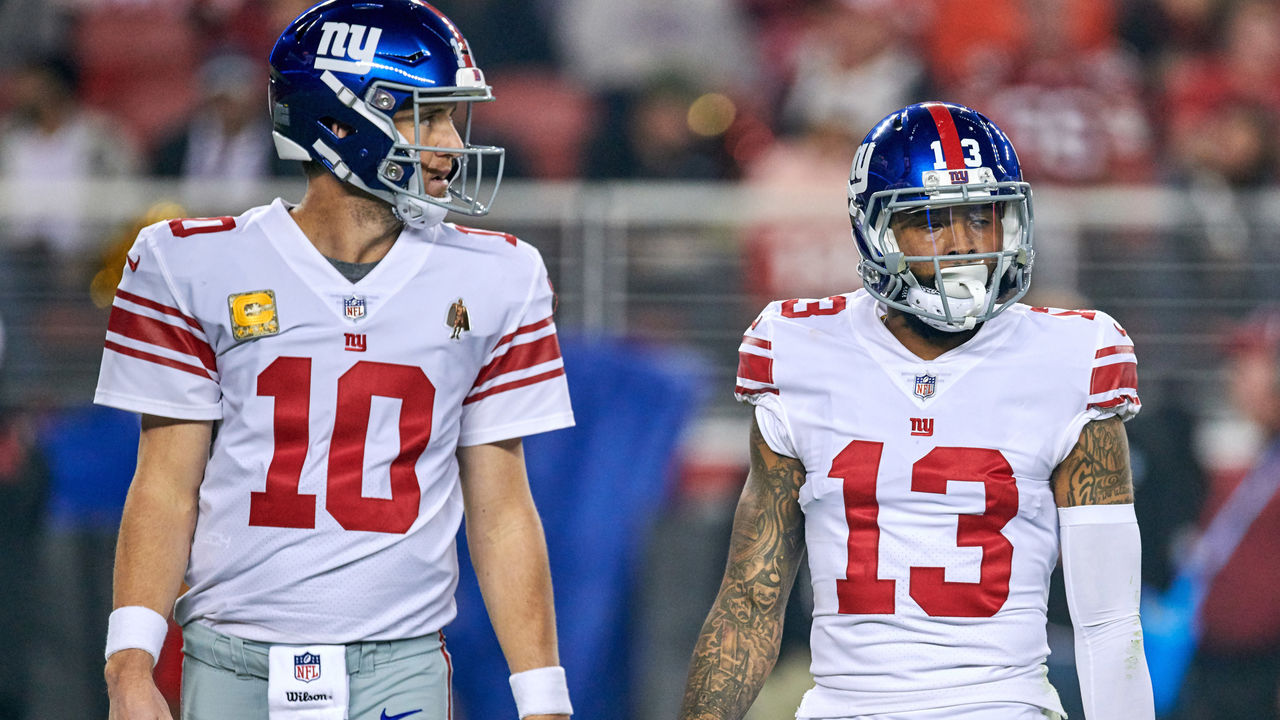 Head coach: Tom Coughlin
| POS. | Player | POS. | Player |
| --- | --- | --- | --- |
| QB | Eli Manning | DE | Jason Pierre-Paul |
| RB | Saquon Barkley | DT | Damon Harrison |
| WR | Odell Beckham Jr. | DT | Johnathan Hankins |
| WR | Hakeem Nicks | DE | Justin Tuck |
| Slot | Victor Cruz | LB | Michael Boley |
| TE | Evan Engram | LB | Jacquian Williams |
| LT | Will Beatty | CB | Dominique Rodgers-Cromartie |
| LG | Justin Pugh | CB | Janoris Jenkins |
| C | Weston Richburg | NCB | Corey Webster |
| RG | Chris Snee | FS | Antrell Rolle |
| RT | Kareem McKenzie | SS | Landon Collins |
| K | Josh Brown | P | Steve Weatherford |
Manning endured his fair share of criticism but certainly performed well overall and led his team to a fourth Super Bowl title. Beckham, Nicks, and Cruz each offer a unique skill set to lead a talented group of pass-catchers for their polarizing signal-caller. OBJ's first three years with the G-Men were truly special.
Barkley was a fairly easy selection at running back despite playing only two seasons. Nothing Ahmad Bradshaw or Brandon Jacobs achieved in any two-year span matched the 2018 Rookie of the Year. Snee headlines a deep offensive line thanks to his four strong campaigns, though the unit lacks true difference-makers.
New York's defense features a handful of recognizable names, including Tuck, Pierre-Paul, and Harrison along the front four. The two edge rushers, along with Osi Umenyiora, played vital roles during the club's 2012 championship run. Rolle and Collins form a top-tier duo at safety, possessing advanced skills against the pass and run, respectively. The linebacker group represents a major weakness on this roster, but at least Rodgers-Cromartie, Jenkins, and Webster would solidify the pass defense.
In order for Coughlin's squad to succeed, Manning and Beckham would have to be on the same page to complement Barkley's big plays in the run game. It's a solid game plan, though shortcomings along the offensive line and parts of its defense may ultimately result in New York being ranked below its NFC East rivals.
Philadelphia Eagles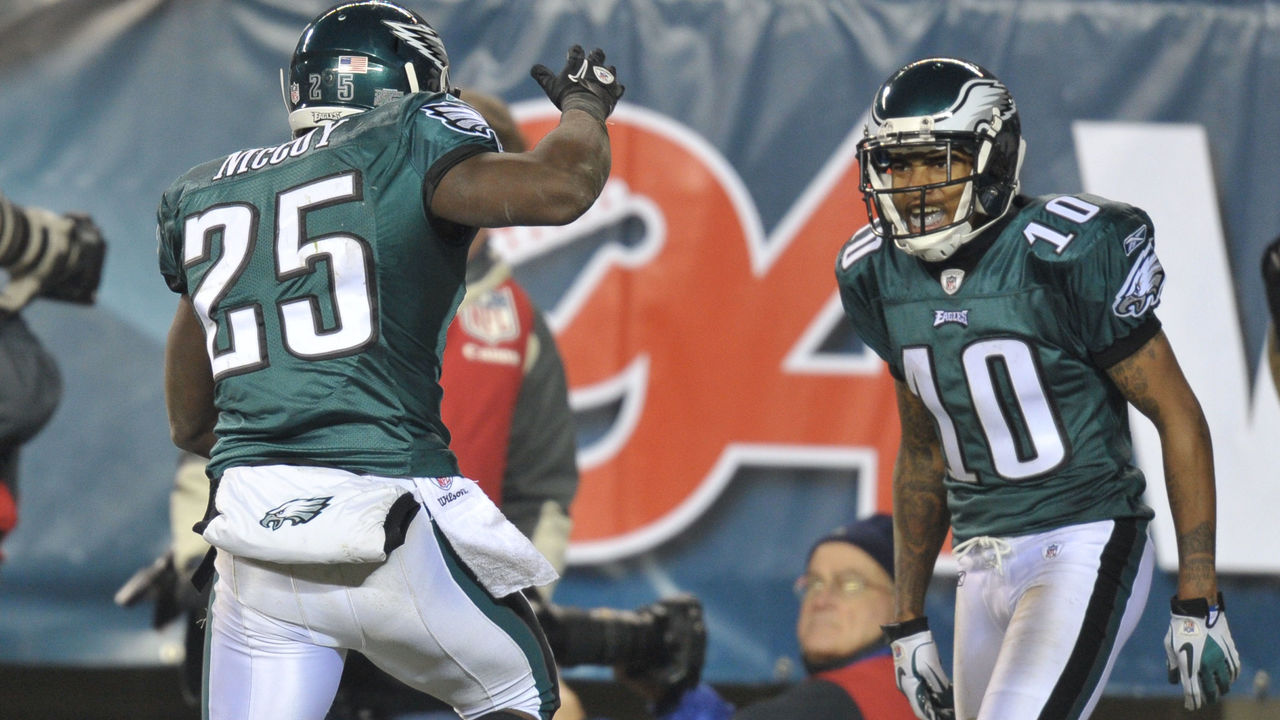 Head coach: Doug Pederson
| POS. | Player | POS. | Player |
| --- | --- | --- | --- |
| QB | Carson Wentz | DE | Brandon Graham |
| RB | LeSean McCoy | DT | Fletcher Cox |
| WR | DeSean Jackson | DT | Bennie Logan |
| WR | Jeremy Maclin | DE | Trent Cole |
| Slot | Jordan Matthews | MLB | Jordan Hicks |
| TE | Zach Ertz | WLB | Nigel Bradham |
| LT | Jason Peters | SLB | Mychal Kendricks |
| LG | Evan Mathis | CB | Asante Samuel |
| C | Jason Kelce | CB | Jalen Mills |
| RG | Brandon Brooks | FS | Rodney McLeod |
| RT | Lane Johnson | SS | Malcolm Jenkins |
| K | Jake Elliott | P | Donnie Jones |
Ripe with players who helped capture the city's first Lombardi Trophy, Philadelphia would give plenty of other squads trouble by deploying potential mismatches all over the field.
The Eagles' offense looks extremely fun on paper. McCoy was last decade's leading rusher thanks to his incredible vision and cut-on-a-dime quickness. Only Adrian Peterson has scored more rushing touchdowns since 2010. Speed is the identifying mark out wide as Jackson and Maclin possess the explosiveness to run by any defender and make a big play. Ertz and slot receiver Matthews complement the rest of the scoring unit as reliable pass-catching options over the middle. The talented tight end could wind up as the franchise's all-time receptions leader.
The offensive line is this roster's biggest strength. Philly's starting blockers were unmatched when assembling this series. Peters, Mathis, Kelce, Brooks, and Johnson combined for an incredible 17 Pro Bowls and five All-Pro nods. Each of the five was arguably the premier player at his position at some point over the last 10 years. Not many franchises had one lineman on that level.
Unfortunately for Pederson, his pass defense would face more issues. The selections of Samuel - who played just two seasons for the club - and the often-burned Mills at cornerback speaks to Philadelphia's inability to sign or draft impact players at the position. The Eagles at least field a formidable pass-rush duo in Cole and Graham - the latter is as complete a defensive end as you'll find and perennially underrated. Jenkins and McLeod are two key pieces to this stop unit, pitching in against the pass and run. Finally, Hicks, Bradham, and Kendricks form a quality linebacker trio that could help compensate for deficiencies in the secondary.
Washington Redskins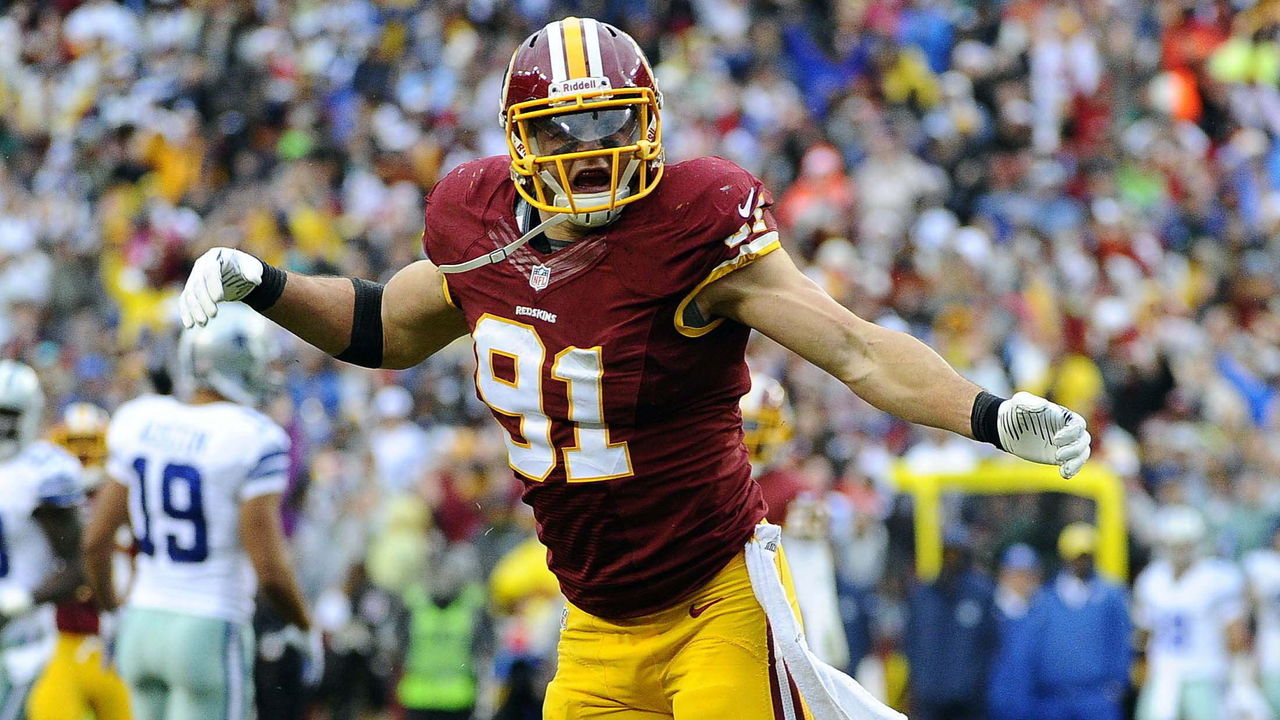 Head coach: Jay Gruden
| POS. | Player | POS. | Player |
| --- | --- | --- | --- |
| QB | Kirk Cousins | DE | Chris Baker |
| RB | Alfred Morris | NT | Barry Cofield |
| WR | Pierre Garcon | DE | Matthew Ioannidis |
| WR | Santana Moss | OLB | Ryan Kerrigan |
| Slot | Jamison Crowder | ILB | London Fletcher |
| TE | Jordan Reed | ILB | Mason Foster |
| LT | Trent Williams | OLB | Brian Orakpo |
| LG | Chris Chester | CB | Josh Norman |
| C | Will Montgomery | CB | DeAngelo Hall |
| RG | Brandon Scherff | FS | Brandon Meriweather |
| RT | Morgan Moses | SS | D.J. Swearinger |
| K | Dustin Hopkins | P | Tress Way |
The 2010s won't go down as the most successful decade in Redskins history, and the lack of star power in their starting lineup may indicate why. Gruden would have to get the most out of a squad that lacks pedigree at key positions.
In a battle of 2012 draftees, Cousins beat out Robert Griffin III for the starting quarterback spot. RG3 was arguably superior at his peak, but Cousins enjoyed sustained success and stayed healthy. Morris enjoyed a torrid start to his career before slowing down, while Reed was a matchup nightmare at tight end when not injured (which, admittedly, wasn't often). Garcon leads a receiving corps that pales in comparison to most other franchises, though he was quite reliable in Washington. His 113 catches even led the league in 2013. Rounding out the scoring unit, Williams - one of the game's top tackles - and Moses bookend a stout offensive line alongside the versatile Scherff.
The Redskins' stop unit is highlighted by a pair of crafty outside linebackers adept at attacking the quarterback. Kerrigan and Orakpo dominated opponents en route to notching 119 combined sacks with the organization last decade. At the second level, Fletcher and Foster are adept run defenders at linebacker - the former averaged 138 tackles from 2010-2013.
Behind a stout run defense is a less effective pass coverage group. Hall and Norman made a number of plays on the ball at cornerback, though aggressive styles led to deep receptions at their expense as well. Similar to other division rivals, Washington's roster doesn't feature a pair of high-quality safeties. Merriweather and Swearinger combined for just five seasons with the club. The Redskins would need to consistently pressure the quarterback for this team to be successful.