With this season presenting what looks like the most level NBA championship field since The Decision, we're assessing the bona fides of eight legitimate 2019-20 contenders. What will propel them to the title this year? What will prevent them from winning it? Let's examine both sides.
Previous entries in the series: Milwaukee Bucks | Golden State Warriors | Utah Jazz | Philadelphia 76ers | Houston Rockets | Denver Nuggets
Today: Los Angeles Clippers
Why they'll win the championship
Simply put, the Clippers have by far the best wing corps in the NBA, and recent history tells us that elite wings win championships. No Western Conference team has the perimeter defense to handle the combined shooting, ball-handling, and punishing physicality of Kawhi Leonard and Paul George. Philadelphia is the one East team that might have the goods, but the Sixers have way more questions to answer about the tenability of their playoff offense than the Clippers do.
At full throttle, Leonard's as dominant as any player in the league and capable of controlling the game in virtually every way: as a pull-up or spot-up shooter; as a perimeter or interior defender; as a rim-runner, a post bully, a fastbreak orchestrator, a foul-drawer, and a rebounder. George, on top of being a suffocating defender in his own right, is a sweet-shooting, smooth-handling, serpentine-driving scorer, who at 6-foot-9 can get his shot off over any defender.
Leonard manages to elevate his already towering level each spring. He was utterly undeniable in last year's playoffs for the NBA champion Raptors, scoring over 30 points a game, averaging nine free-throw attempts, and posting 62% true shooting on 32% usage. And even with an extremely flawed roster around George, the Thunder outscored opponents by 8.2 points per 100 possessions with him on the floor last season. Good luck dealing with both of them.
Then there's the dynamic supporting cast. Patrick Beverley is a human full-court press who fits snugly alongside Leonard and George because of how well he works as an off-ball guard, routinely hitting more than 40% of his catch-and-shoot threes while making plays off the catch in a pinch. Lou Williams is not only a microwave scorer and a virtuosic foul-baiter who can get to the rim or create the separation required to hoist his leaning jumper at will, but he's also an ace pick-and-roll creator who can run the offense for extended stretches (he averaged 7.3 assists per 36 minutes last year). Williams will torch opposing second units for the nine-billionth season in a row, but he can also be part of the Clippers' closing lineups thanks to Beverley's ability to slide up to the two defensively.
Williams' preferred pick-and-roll dance partner, Montrezl Harrell, is a paragon of relentlessness who's a handful for opposing teams to deal with as a finisher, an offensive rebounder, and a garbage-bucket scavenger. He even has a functional post game and a deceptively nice touch around the hoop. JaMychal Green gives the Clippers some frontcourt flexibility as a career 37% 3-point shooter who can defend capably in space and check fours or fives as needed. Landry Shamet is entering his second season and is already one of the best shooters and off-ball movers in the league. He connected on 42% from deep as a rookie, and he's about to be the beneficiary of all the extra attention the Clippers' new superstars will draw.
Really, the only West team capable of matching up with the Clippers is the Clippers, who, between Leonard, George, Beverley, and Moe Harkless, should have the league's most unyielding perimeter defense. That should help mask a somewhat soggier situation on the interior.
Up and down the roster, there's shooting, ball-handling, defense, strength, intelligence, and positional versatility. The Clippers can score inside or out. They can go small or big or a hybrid of the two. They're able to play defense-focused lineups that can still score and offense-focused lineups that can still defend. They can play nasty, switchy, tri-wing units with Leonard, George, and Harkless. There are no mismatched parts.
Overall, this team has so few holes and so few ways to be exploited at either end of the floor, especially compared to the flawed contenders it will be jockeying with this season. Certainly, no other roster can boast the same combination of top-end talent and depth. It's very hard to see anyone beating the Clippers four times out of seven.
Why they won't win the championship
Among the biggest concerns for this team are its lack of traditional big men and its flimsy defense in the middle. Harrell is undersized as a center and a bit too jumpy to effectively anchor the back line. Ivica Zubac can handle himself near the rim in a drop coverage, but he struggles defending in space. Green is the best and most pliable defensive option of the bunch, but he's not some elite stopper. That trio will collectively be overextended when trying to check the game's best bigs in the playoffs.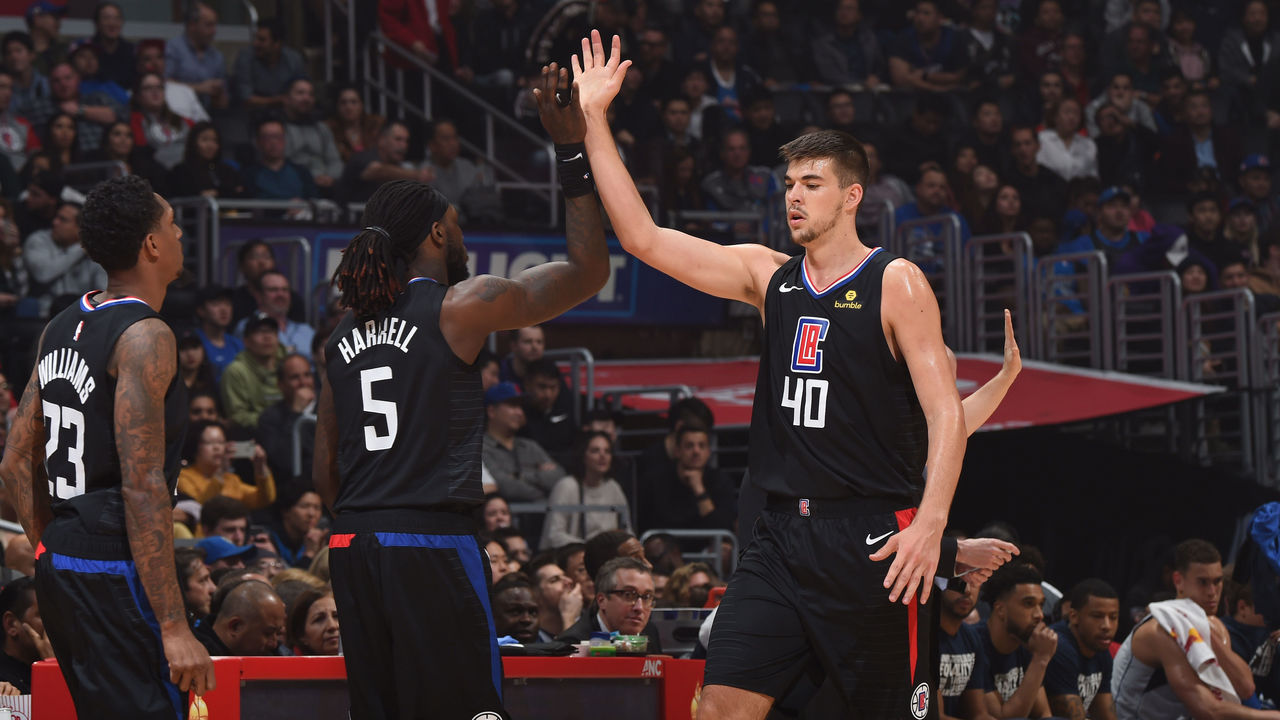 So, how will they manage against, say, Anthony Davis, Nikola Jokic, or, if the Clippers get that far, Joel Embiid? Those stars can all feast in the post, on the roll, or even in isolation off the dribble. Going small might be a Band-Aid solution for L.A., but while Leonard and George are strong enough to occasionally wrangle with bigs on switches, having them do so for long stretches would be asking an awful lot of them physically.
There's also a dearth of high-end passing here. The Clippers don't really have a conventional point guard and appear likely to run an iso-heavy offense that could alienate their role players. Leonard and George are as good as anyone at creating for themselves, but when it comes to creating for others, they swim in the shallow end of the high-usage-player pool. Both are capable of coaxing extra defenders onto the strong side, but neither is an expert at making the snap reads that put the ball in the hands of open weak-side shooters. Leonard, particularly, can fall victim to tunnel vision. Williams offers plenty of pick-and-roll playmaking juice, but he's a considerable defensive liability and it's unclear if Los Angeles will be able to keep him on the floor in the highest-leverage moments.
Finally, health has to be a concern for the Clippers' two best players. Leonard, coming off a season in which he was selectively deployed and proactively rested, may no longer have that luxury. This year, he'll be playing in a far tougher conference alongside a co-star in George who will miss the start of the season due to surgeries on both shoulders, and who may need to be eased back to a regular workload once he returns. While he was exceptional in the postseason, Leonard was hobbled by a knee injury and his persistent quad issue. George was a shadow of his regular-season self by the time he got to the playoffs.
Having each other to share the load should help, in theory, but there's certainly no guarantee that either one of them is going to be operating at the peak of their powers come spring. If they aren't, the Clippers can be had.
Joe Wolfond writes about basketball and tennis for theScore