Eyes on the prize: How the Jazz can win or lose the NBA title chase
Photo illustration by Nick Roy / theScore
With this season presenting what looks like the most level NBA championship field since The Decision, we're assessing the bona fides of eight legitimate 2019-20 contenders. What will propel them to the title this year? What will prevent them from winning it? Let's examine both sides.
Other entries in the series: Milwaukee Bucks | Golden State Warriors | Philadelphia 76ers | Houston Rockets
Today: Utah Jazz
Why they'll win the championship
Their win-loss record didn't reflect it, and their five-game loss in the first round of the playoffs obscured it, but the Jazz were a borderline elite team last season. They ranked second overall in defensive efficiency and fourth in net rating. They were also well-coached, had the league's Defensive Player of the Year patrolling the paint, and featured a dynamic sophomore guard quarterbacking an equal-opportunity offense.
Offseason additions who take a team from good to great usually have higher profiles than Mike Conley and Bojan Bogdanovic. Conley is a master of point-guard subtlety whose NBA resume might read, "Best current player who's never been an All-Star." Bogdanovic is coming off a breakout age-30 season in which he completed his transformation from a 3-point specialist to a well-rounded scorer. To date, Bogdonovic's biggest claim to fame is that he helped keep the Victor Oladipo-less Pacers afloat by taking the reins of an offense that ranked 23rd in the league after losing its best player to injury.
In short, there were splashier acquisitions around the league this summer. But, for an already sturdy Jazz roster that had very few specific holes to patch, Conley's and Bogdanovic's skill sets should provide exactly the right kind of plaster.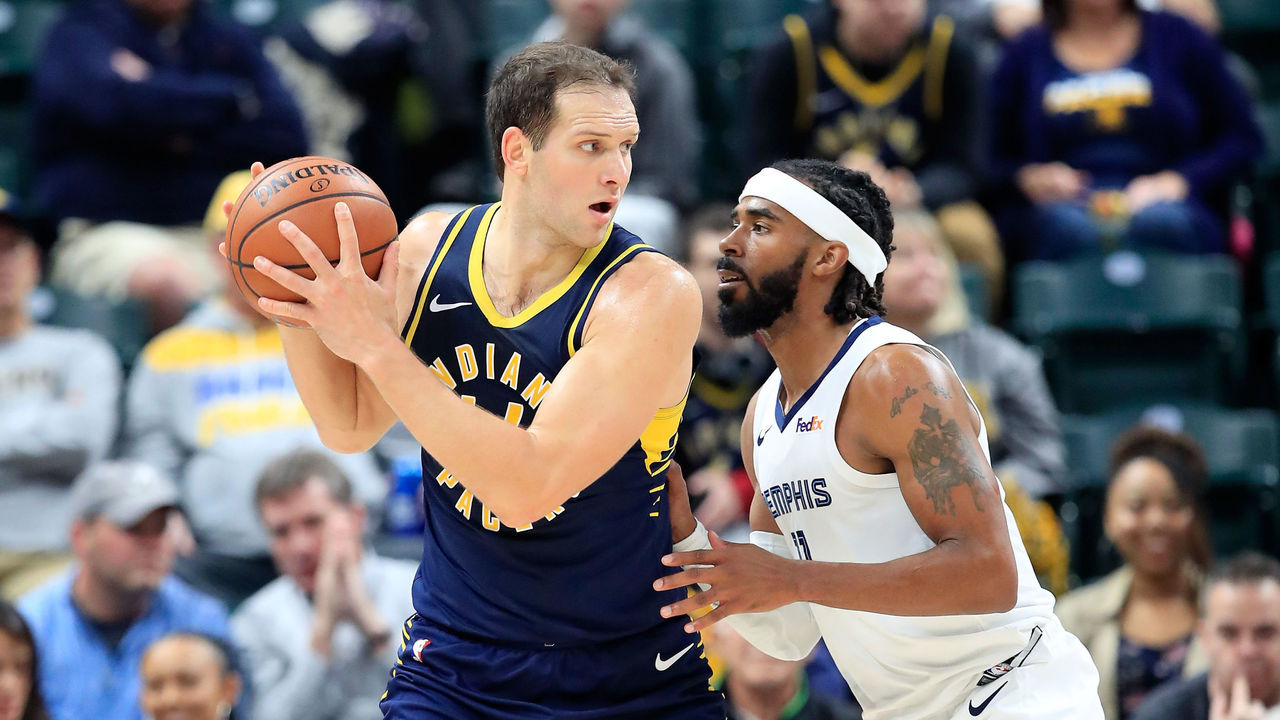 Utah teams of recent vintage have needed to scheme around a dearth of individual scoring ability by relying on the cutting, screening, ball reversals, and running head starts in coach Quin Snyder's "advantage basketball" system. But in playoff series against the Houston Rockets' physical, switching defense the past two years, those advantages disappeared. Utah's offense devolved into an overextended Donovan Mitchell repeatedly trying to create in one-on-one matchups because shots weren't falling and nobody else could initiate. So, the front office went out and added one of the league's best floor generals along with a deadly 3-point shooter with some dribble-drive chops and an effective in-between game.
The Jazz have long coveted a stretch forward like Bogdanovic, who can log heavy minutes at the four alongside Rudy Gobert after Gobert's awkward paring with Derrick Favors (who was traded to New Orleans this offseason) finally ran its course. The ultra-judicious Conley, meanwhile, will help allay the Jazz's turnover issues after a season in which they coughed the ball up more frequently than all but three other teams.
Put it all together, and this has the makings of a deadly pick-and-roll team. Though Conley's more accustomed to working with a short roller like Marc Gasol, pairing him with a lob-catching dive man in Gobert should be plenty productive. Whether it's Conley or Mitchell running those pick-and-rolls, they'll have a ton of room to breathe, as they'll be flanked by multiple elite shooters who can also put the ball on the floor - namely Bogdanovic and Joe Ingles (the latter of whom has turned into a dynamite secondary creator). Going four-out is now the Jazz's default mode. All of their lineups will feature two or more ball-handlers and high-end playmaking from at least three positions.
Mitchell, by the way, is still just 22, with superstar upside and two seasons under his belt as the No. 1 offensive option on a playoff team. His sophomore year hit plenty of bumps in the road, but he managed to increase his usage, free-throw, and assist rates while lowering his turnover rate. Conley will take some ball-handling responsibilities off his shoulders and will also be exceedingly more effective than Ricky Rubio was at spacing the floor when Mitchell does have the ball. Their minutes will be staggered to keep one of them on the floor at all times, but when they share the backcourt they're going to make each other's lives a whole lot easier. The Jazz ranked 14th in offense last season; health permitting, they should jump into the top 10.
Utah will complement its revamped scoring attack with a defense that should remain elite, even without Favors. Conley is every bit the point-of-attack defender Rubio is. Bogdanovic won't take much, if anything, off the table at that end. Ingles is capable of checking most teams' top perimeter threats. Gobert will still be manning the middle. And the Jazz even managed to nab cost-effective backup center Ed Davis, who ranked second in the NBA (behind Gobert) in Defensive Real Plus-Minus last year while also having by far the best on/off differential on the Nets. Utah's bench still has question marks, but it goes 11 deep with legitimate NBA players.
While the roster may not have that one silver-bullet superstar who's capable of putting the team on his back in the playoffs, Utah is balanced, tough as nails, and one of a tiny handful of teams that might realistically boast three top-30 players (in flashier terms, a Big Three) with Conley, Mitchell, and Gobert. At a time when the league's competitive hierarchy has effectively been razed, that can absolutely be enough to win it all.
Why they won't win the championship
There's no doubt that Utah can rack up plenty of regular-season wins, but the playoffs will be a different story. Conley and Bogdanovic will make the team more versatile, but they aren't flamethrowing one-on-one scorers who can bail the Jazz out when postseason defenses stymie their screening actions. Conley is a solid switch-buster, but not a great one. Bogdanovic can initiate the offense in a pinch, but he's far better served as an off-the-catch creator.
Meanwhile, the Jazz sacrificed a significant part of their defensive identity to try and goose the offense, and they may come to rue dumping Favors - who was, by opponent field-goal percentage, the most impactful rim-protector in the league last season. Davis is the best replacement you could ask for at his $4.77-million salary, but he still represents a significant downgrade.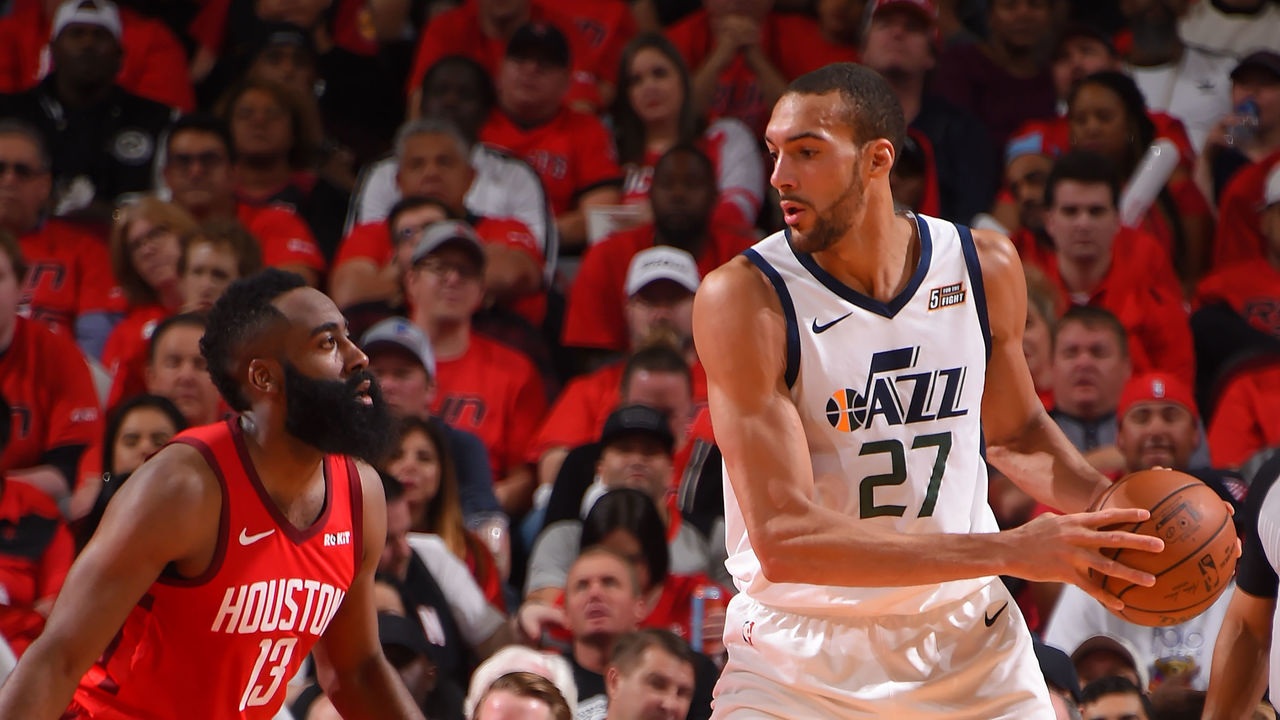 Conley is an injury risk, and the Jazz don't have a whole lot of insurance for that. Dante Exum has always been far better in theory than in reality, and while Emmanuel Mudiay made strides as a shooter last season, the next time he makes a tangible contribution to winning will be the first. The bench as a whole is going to struggle to score.
Bogdanovic fills the team's power-forward vacuum in theory, but in practice, his ability to handle that position full time - particularly at the defensive end - is far from a certainty. He doesn't offer a satisfying answer to perhaps the biggest question Utah will face come spring: Who's going to guard power wings like LeBron James, Kawhi Leonard, Paul George, and (if Utah makes it through that gauntlet) Giannis Antetokounmpo? You could do worse than splitting those duties between Bogdanovic, Ingles, Royce O'Neale, and maybe Exum, but that's still a potential Achilles' heel for a team expected to hang its hat on its defense.
Then there's Gobert, whose value has historically been tempered in the playoffs. His struggles against the Rockets last season may have been overstated due to a miserable Game 1, but there's a blueprint for any team that doesn't heavily rely on interior scoring to mitigate his impact by pulling him away from the basket. On offense, his complete lack of a post game has also been a significant contributor to Utah's struggles against switching defenses. The Rockets, Warriors, and Clippers will all be capable of exploiting Gobert at one end or the other.
Ultimately, Utah's outlook may boil down to this: It's historically rare to win a title without a tentpole star who ranks among the NBA's 10 best players. The Jazz are a well-built team that can do a bit of everything, but when it comes to top-end talent, they're operating at a deficit compared to their rival contenders. Similar teams have won championships in the past, but those are very much the exception to the rule. If you're expecting the Jazz to win it all, you're either banking on a mega-breakout from Mitchell or a generational anomaly.
Comments
✕
Eyes on the prize: How the Jazz can win or lose the NBA title chase
  Got something to say? Leave a comment below!