Eyes on the prize: How the Rockets can win or lose the NBA title chase
Photo illustration by Nick Roy / theScore
With this season presenting what looks like the most level NBA championship field since The Decision, we're assessing the bona fides of eight legitimate 2019-20 contenders. What will propel them to the title this year? What will prevent them from winning it? Let's examine both sides.
Other entries in this series: Milwaukee Bucks | Golden State Warriors | Utah Jazz | Philadelphia 76ers
Today: Houston Rockets
Why they'll win the championship
The Rockets are flush with top-end talent, have perhaps the best offensive player in the league, and employ a formula that's proven successful against everyone but the apex Warriors (against whom failure is relative, anyway). Houston was plainly the second-best team in the West last season, and it arguably improved over the summer by swapping out a fraying Chris Paul for Russell Westbrook - a younger, more propulsive, more durable point guard.
In terms of total points created via scoring and assists, James Harden (54.5) and Westbrook (49.4) ranked first and second in the league last season. There will obviously be plenty of overlap this year with the pair assisting each other's baskets, and both players will likely see those numbers come down now that they're splitting possessions. Still, seeing it written out is pretty eye-popping: 103.9 points. Created by two guys. Who are now on the same team.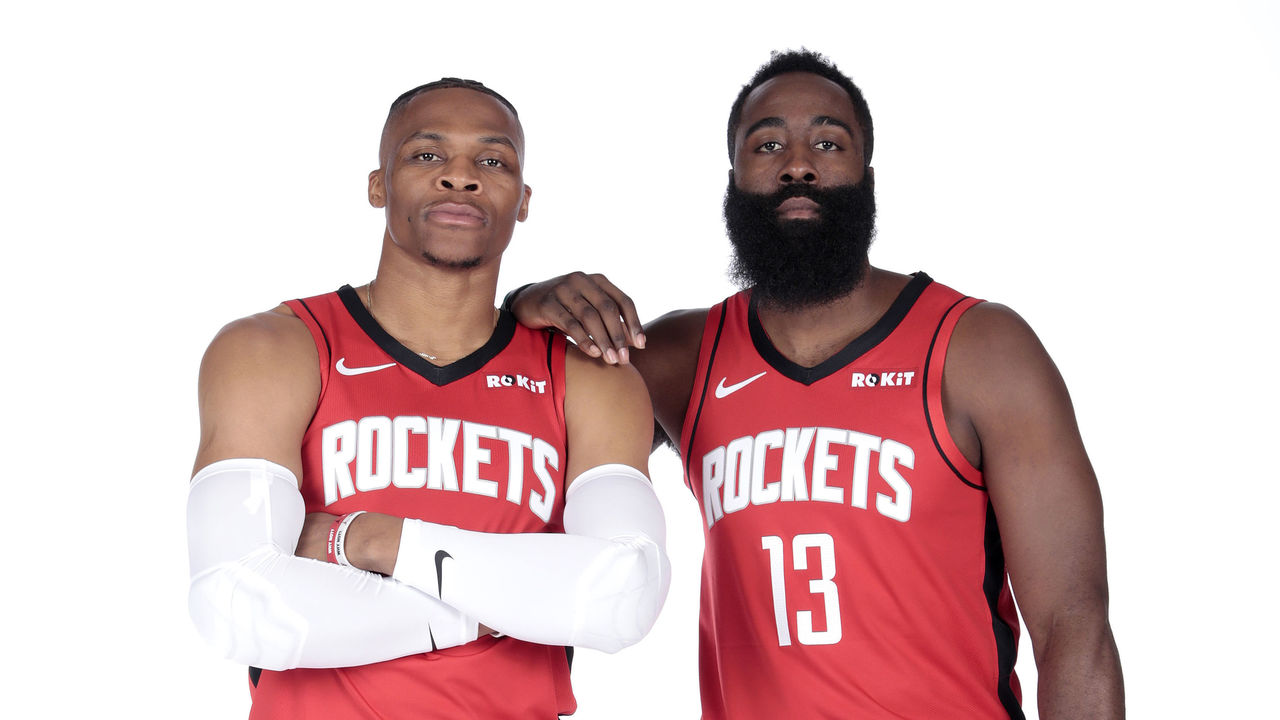 Westbrook will inject new life into the Rockets' transition game, something coach Mike D'Antoni - who historically favored playing up-tempo before slowing things down the past two seasons to suit Harden and Paul - will appreciate. The Rockets were one of the league's most efficient open-court teams last year, but they were just middling in terms of fast-break frequency. Houston ranked 27th in possession speed following a defensive rebound and dead last following an opponent's live-ball turnover, per Inpredictable. Westbrook, a grab-and-go missile who led the league in transition possessions per game in 2018-19, gives the Rockets some change-of-pace dynamism; a 101-mph fastball they simply didn't have in their repertoire before.
In the half court, Harden is an elite offense unto himself. He's coming off a season in which he used 40.5 percent of his team's possessions and converted them into points at a 61.6 percent true shooting clip, with virtually none of that production relying on his teammates. He hoisted 1,028 3-pointers, by far the most ever attempted in a season, with 958 of them coming off the dribble. Only 13 percent of his made field goals were assisted - a historic level of self-creation.
D'Antoni will heavily stagger the minutes of his two stars, and given how durable both have been, you shouldn't expect to see much meaningful time without at least one of them on the court. The edict will be the same regardless of who's running the offense: Spread the floor, maybe bring a high screen, have the lead guard handle up top, and let him dance.
Last season, Harden and Westbrook ranked first and third in drives per game and fourth and first in assists per game off of drives, respectively. And even as he led the league in the latter category, Westbrook's teammates in Oklahoma City left plenty of his dimes on the table. He averaged 10.8 assists compared to 20.8 potential assists, easily the biggest discrepancy in the league. Now surrounded by better shooters in Houston, that gap should narrow.
The supporting pieces will be crucial to tying everything together. Clint Capela provides vertical gravity as a dive man and deterrence as a back-line defender. Eric Gordon can space out and drag defenders well beyond the arc while working as an ace secondary creator. P.J. Tucker has the ability to hit corner threes and handle any position defensively, giving the Rockets the flexibility to toggle between lineup iterations and go five-out as needed.
In sum, the ingredients are all here. It's just a question of finding the proper amounts, the best combinations, and the right cooking process. With 82 games in the test kitchen, the Rockets ought to be able to hone a championship recipe.
Why they won't win the championship
Doubts about the Rockets have to start with the questionable fit of their two best players. Harden and Westbrook own the two highest single-season usage rates in NBA history and four of the top nine. A regular-season stagger pattern is all well and good, but in the playoffs, they'll need to play together a ton. The Rockets' championship prospects hang on the efficacy of that pairing - and skepticism is warranted.
Neither star has historically been effective as an off-ball player. Both tend to favor standing around the arc watching and waiting, rather than cutting and screening and relocating. Harden, at least, possesses off-ball magnetism. Westbrook does not, at least while his default mode without the rock is chilling near midcourt with his hands on his knees. If that's going to continue, as it seems destined to after 11 years of experience, he must at least improve on his 31.4 percent mark on catch-and-shoot jumpers from last season.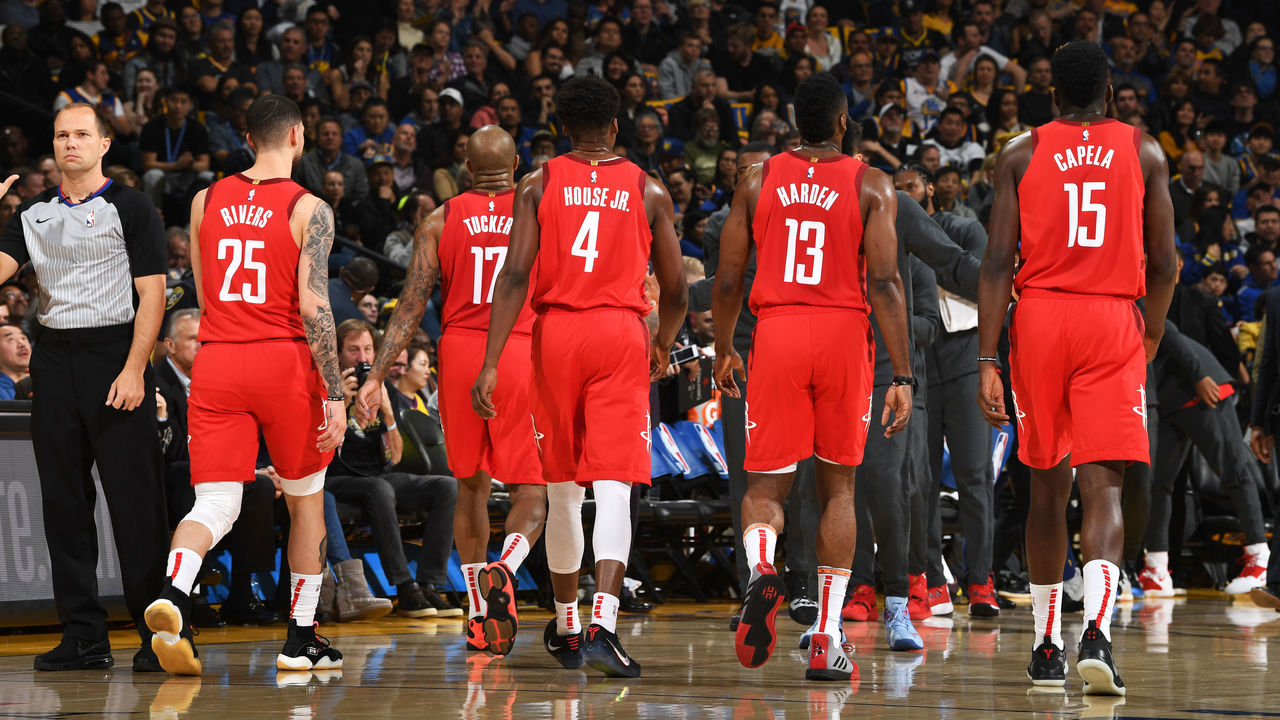 Westbrook may nudge that percentage up to a respectable level, but smart defenses still aren't going to guard him beyond the arc. If he's hitting 35 percent of wide-open threes as a consequence of an extra defender constantly stunting into the lane to muck up pick-and-rolls or divert drives by Harden or Gordon, that's a trade-off any opponent will be willing to make. Paul was ball-dominant, too, but at least he still garnered attention as a spot-up guy.
The off-ball stuff wouldn't matter as much if Westbrook was the on-ball terror he used to be, but that just isn't the case. His mid-range pull-up has gone (literally) sideways. His free-throw rate last season was the lowest of his career, and his accuracy on those freebies suddenly resembled that of a center. Overall, his true shooting was an abysmal 50.1 percent.
His usage rate hasn't come in below 30 percent since 2009-10, even as he's been flanked by elite wing scorers. In a lot of ways, that's been the product of necessity: It made more sense to leverage Westbrook's on-ball gravity and the threat of Kevin Durant's or Paul George's spot-up shooting than to have one of those guys trying to create while Westbrook's defender strayed 20 feet off him. Why would this situation be any different? Harden being the exponentially better shooter suggests Westbrook will be the one who ends up controlling the ball more regularly. That is worrisome.
The Thunder won 49 games last year on the strength of their fourth-ranked defense, to which Westbrook was mostly ancillary. Their offense, in which he obviously played a central role, ranked 17th. That framing is admittedly reductive - the Thunder's roster construction was a few degrees south of optimal - but put it this way: If a player is using nearly a third of his team's possessions, turning the ball over on 16 percent of those possessions, and scoring at a rate that's 10 percent less efficient than league average, he may be more a part of the problem than the solution.
Even if the Westbrook-Harden reunion goes smoothly, the supporting cast is cause for concern. Capela, Tucker, and Gordon are solid complementary pieces, but the rest of the roster gets very dicey very fast, especially when it comes to the spot-up shooting that Houston's offense so heavily relies on. Sure, the Rockets will jack up a ton of threes, but will they hit them at a respectable rate or engender enough respect from opposing defenses to unclutter the middle of the floor?
The idea of the Harden- or Westbrook-run spread pick-and-roll sounds nice in theory, but the Rockets will be relying on the likes of Austin Rivers, Gerald Green, Gary Clark, Danuel House, Ben McLemore, Isaiah Hartenstein, and Thabo Sefolosha to provide the spread. It's not the most trustworthy crew of gunners. You see that list and start to understand why the Rockets felt the need to extend Gordon at $18 million a year.
There's also the defense to consider. It was a weakness last season, when certain personnel losses compromised Houston's switch-everything system. Exchanging Paul for Westbrook and signing a 35-year-old Sefolosha doesn't really address the issue (though Westbrook should actually help the woeful defensive rebounding). The Rockets' perimeter group doesn't profile as one that will offer much resistance at the point of attack.
Once again, this figures to be a particularly glaring issue in the postseason, when Harden and Westbrook will share the backcourt frequently and give opponents two places to attack. Having one weak defensive link is challenging enough to scheme around; having two can undo even the mightiest offensive juggernaut. Tucker can only do so much while covering for everyone else, especially in his age-35 season. If Capela flops in the playoffs the way he did last year, the Rockets will be vulnerable in just about any Western Conference matchup.
Joe Wolfond writes about basketball and tennis for theScore
Comments
✕
Eyes on the prize: How the Rockets can win or lose the NBA title chase
  Got something to say? Leave a comment below!