Find positional rankings, additional analysis, and subscribe to push notifications in the NFL Fantasy News section.
Considering the amount of in-depth NFL coverage available, a true fantasy sleeper can be difficult to find. But in this exercise, we aim to identify players who should be available later in drafts, yet could still emerge as significant assets.
Average draft position data courtesy of Fanball, since best-ball ADP tends to be ahead of the curve at this point in the year. It's based on 12-team leagues with PPR scoring.
More in this series
Drew Lock, QB, Broncos
For an offense originally expected to be built around their backfield duo of Melvin Gordon and Phillip Lindsay, the Broncos have gone out of their way to add playmakers in the passing game.
That's great news for Lock, who performed well as a rookie despite not seeing the field until December. The second-round pick completed 64.1% of his passes while throwing seven touchdowns and three interceptions, helping the team to a 4-1 record down the stretch with Courtland Sutton and Noah Fant as his only real pass-catching threats.
Recognizing the need to upgrade the depth of the supporting cast, the front office used its top two picks on receivers Jerry Jeudy and KJ Hamler, then drafted tight end Albert Okwuegbunam in the fourth round. Now the Broncos have a complete set of weapons with a ton of speed to facilitate a sophomore leap for their young arm.
Denver's offensive line is also on the rise after grading out as PFF's 12th-best blocking unit in 2019. Heading into their second year under veteran O-line coach Mike Munchak, the Broncos will be even better thanks to the return of injured right tackle Ja'Wuan James and the arrivals of free agent Graham Glasgow and rookie center Lloyd Cushenberry on the interior.
If you're among the fantasy managers who wait to draft a quarterback - as you should be - make sure Lock is on your list of late-round, high-upside passers to target.
Overachiever potential: ★★★★☆
ADP: 14th round (QB22)
Sony Michel, RB, Patriots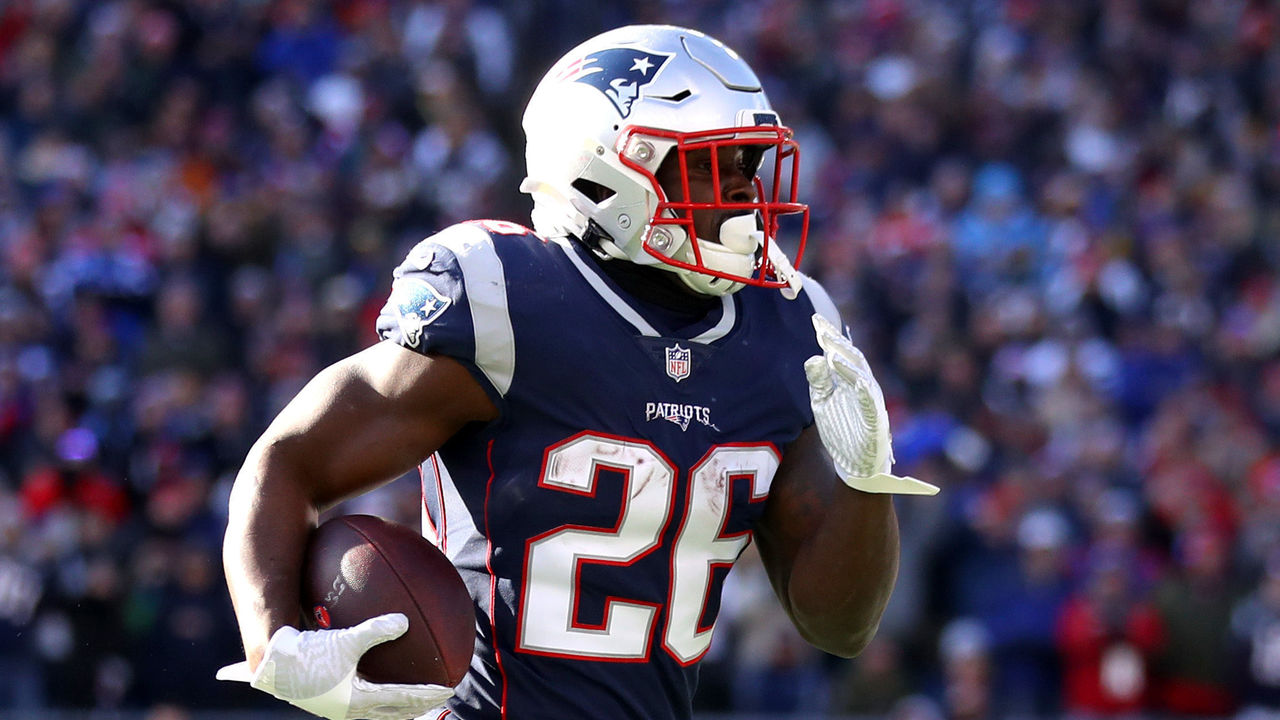 My initial inclination following the departure of Tom Brady was to view Michel as a bust candidate in a Patriots offense likely to regress, but his ninth-round ADP forces us to reconsider his fantasy outlook.
Getting a starting running back that late in fantasy drafts is almost unheard of, let alone one who's rushed for 1,843 yards in his first two seasons. Even with limited passing-down work, the former first-round pick was the RB27 in PPR leagues over the final 15 contests last year.
With Brady gone and the defense operating as the strength of the team, it's conceivable that Bill Belichick and Josh McDaniels will lean on their ground game more than ever.
In the club's most recent extended stretch without Brady, his four-game suspension in 2016, the Patriots averaged 135.5 rushing yards per outing. That average would have placed them fifth in the NFL last season.
This is important because we're not investing in Michel solely based on talent. In fact, he comes up short in several efficiency metrics. But volume is crucial for running back production, and the Pats have ranked among the top 12 in rushing attempts for eight consecutive seasons.
Solid offensive line play is equally imperative for Michel's success. The retirement of legendary O-line coach Dante Scarnecchia will be offset by the return of a healthy David Andrews and a full season of Isaiah Wynn. While each of them missed significant time in 2019, the group as a whole still finished in PFF's top 10.
in 2020, they'll likely be protecting sophomore Jarrett Stidham - the source of the public's uncertainty regarding the Patriots' offense. Stidham is more capable than people are giving him credit for, but it's also possible the Patriots could sign free agent Cam Newton once COVID-19 restrictions are scaled back and a proper medical check can be completed. If that were to occur, Michel's stock would increase sharply.
For now, take the value you're getting and toss Michel on your roster as a volume-dependent asset with a ceiling well inside the top-24 fantasy backs.
Overachiever potential: ★★★★★
ADP: 9th round (RB38)
Jordan Howard, RB, Dolphins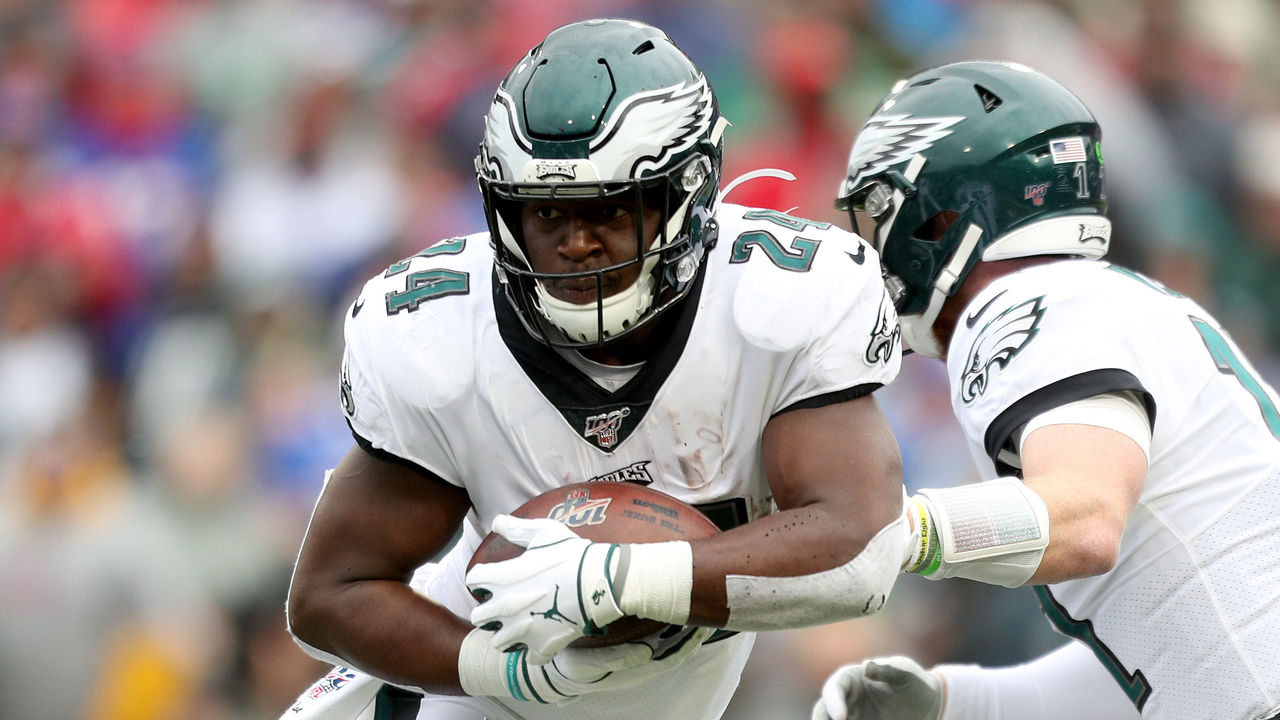 Howard isn't a sleeper in the traditional sense; he posted top-20 fantasy stats in PPR formats over his first three NFL campaigns as a starter with the Bears, as well as during his injury-shortened half-season in Philadelphia in 2019. But fantasy owners still aren't giving him a chance, evidenced by a 10th-round ADP.
Entering his fifth year as a pro, Howard joined a Dolphins offense in desperate need of backfield help after moving Kenyan Drake midway through last season. When Howard signed, the assumption was that Miami would draft a young rusher to pair with him. Instead, the Dolphins found his new running mate by trading a fifth-round pick to the 49ers for Matt Breida, which is a better outcome for Howard than being asked to keep the seat warm for a star rookie.
Breida flashed like all backs do during his three seasons with the Niners, but he never saw more than 180 touches and was a regular on the injury report.
Is it possible Breida explodes in his new opportunity in Miami? Absolutely. He's dynamic with the ball in his hands, he averaged over 5 yards per carry for two straight years, and he profiles as the pass-catching option in this duo. However, Breida's resume is short and lacks the high-end production Howard delivered over multiple seasons.
Howard eclipsed 1,000 yards from scrimmage three times and was on pace to do it again before getting hurt last year. He still managed to score seven touchdowns - a mark he's reached in all four NFL campaigns.
Whether you're a Howard supporter or a Breida truther, we're likely moving toward a two-headed committee, with Howard getting goal-line work and Breida capturing the bulk of the receiving-down usage.
With their upgrades to the offensive line and an influx of talent on both sides of the ball, the Dolphins are in position to contend in far more games in 2020. At their current price, you'd be foolish not to place a chip on one of these backs in hopes they emerge with the lead role. My bet is on Howard, who has proven he can sustain a rushing attack over a longer period and comes with double-digit touchdown upside if the offense advances.
Overachiever potential: ★★★★★
ADP: 10th round (RB42)
Darius Slayton, WR, Giants
Slayton was a revelation as a rookie, giving the Giants more than they anticipated from the fifth-round pick.
After seeing the field for the first time in Week 3, the 23-year-old was the WR27 in fantasy the rest of the way.
Casual fans will remember his two massive spiked weeks with stat lines of 10-121-2 and 5-154-2, but he posted at least 50 yards and/or a touchdown in eight of his 14 appearances. He ended his debut campaign with 48 receptions, 740 yards, eight touchdowns, and the promise of more to come.
Detractors will point to the absences of other members of the pass-catching corps: Sterling Shepard missed six games, Golden Tate five, and Evan Engram eight. However, Shepard's concussion history, Tate's age, and Engram's foot issues put their durability in question as well.
Slayton brings a field-stretching element to the Giants' offense and showed a good rapport with quarterback Daniel Jones, who should have more time to throw thanks to first-round tackle Andrew Thomas.
Becoming Jones' top wideout is well within Slayton's range of outcomes as early as 2020, and at his current ADP, there's no risk involved for fantasy managers.
Overachiever potential: ★★★★★
ADP: 10th round (WR43)
Allen Lazard, WR, Packers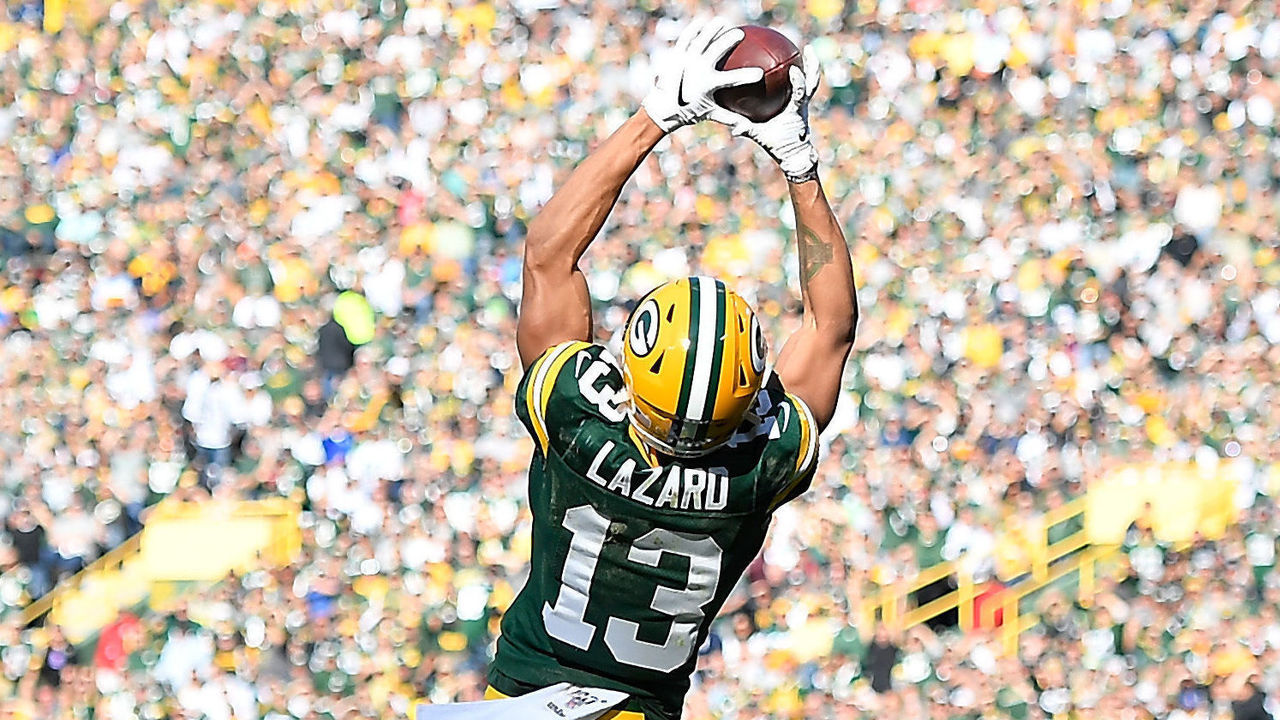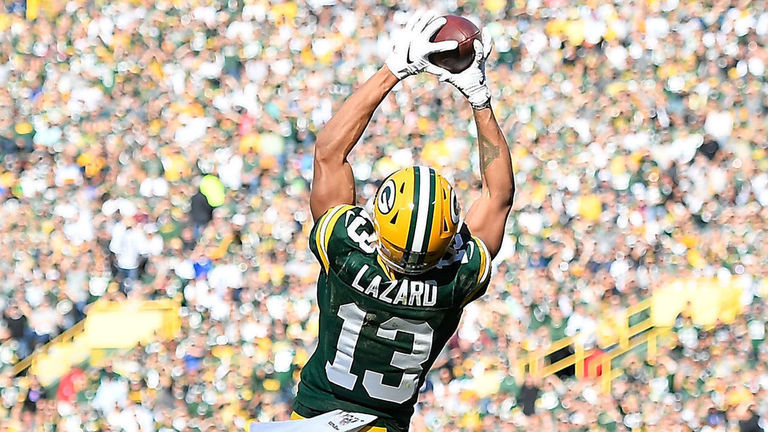 Few players saw their fantasy stock rise after the NFL draft as much as Lazard. For some reason, the Packers passed on selecting a wideout despite one of the deepest draft classes ever and their glaring need across from Davante Adams.
Their only notable pass-catching addition this offseason is Devin Funchess, a big-bodied target on the outside who's joining his third team in three seasons. The 6-foot-4, 232-pound Funchess is a nice complementary piece around the red zone, but through five years in the NFL, he's cracked 550 yards once.
Lazard has similar size at 6-foot-3 and 225 lbs with a little more speed, plus a head start on working with Aaron Rodgers.
After being signed as an undrafted free agent in 2018, Lazard's first real extended run came in Week 6 of 2019 when he saw a 23% snap share and turned it into four grabs, 65 yards, and a score. The increase in playing time came at the request of Rodgers himself.
From then on, Lazard was a regular part of the offense, with the highlights being a 3-103-1 line against the Giants in Week 13 and a 4-69-1 line versus the Lions in Week 17. Though he didn't play much in the first five outings, Lazard still finished second on the team in receiving yards with 477.
The front office's surprising offseason approach means Lazard is entrenched as the No. 2 receiver in Matt LaFleur's offense. If he can continue to build off the opportunity he's being given, Lazard could be a sneaky WR3 in fantasy.
Overachiever potential: ★★★★☆
ADP: 15th round (WR65)
Miles Boykin, WR, Ravens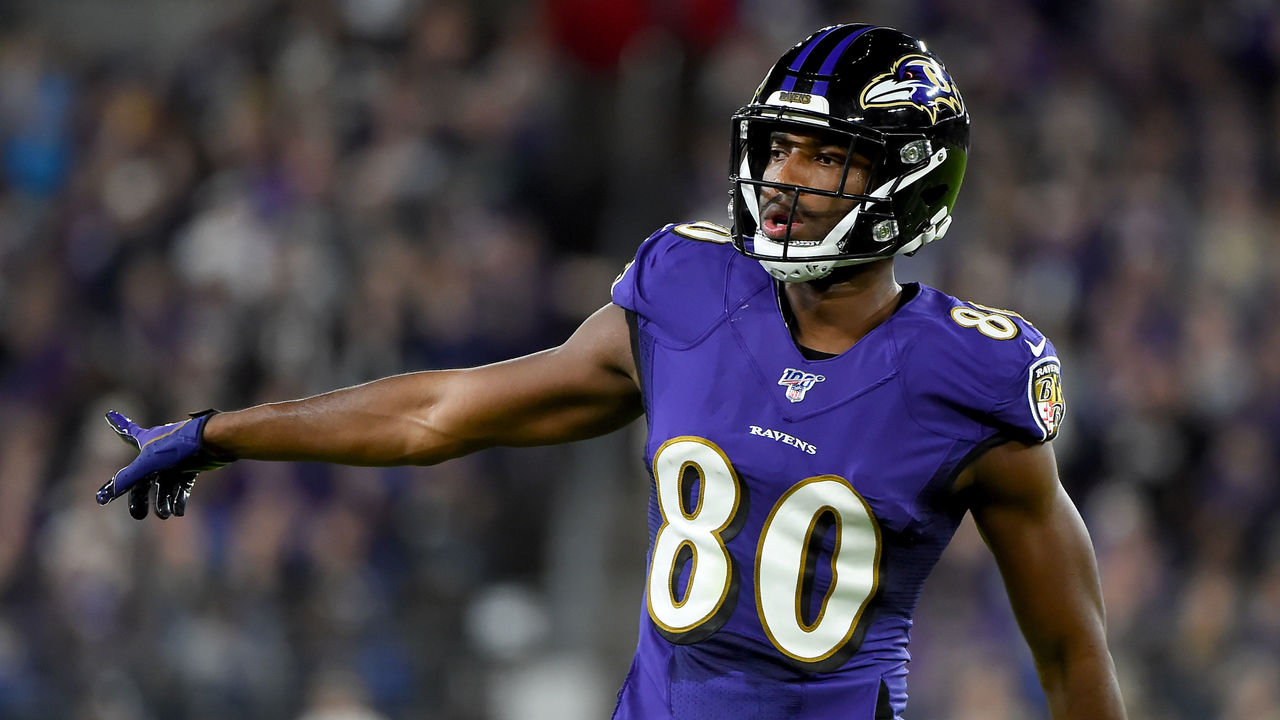 As a rookie, Boykin was a third-round selection with an off-the-charts athletic profile for a man who stands 6-foot-4, 220 lbs. His raw ability earned him a part-time role in one of the league's most prolific offenses, but in his first year with the Ravens, his contributions were limited.
Boykin was held to three or fewer targets in every game, making it almost impressive that he was able to put up a pair of 50-yard efforts and find the end zone three times.
However, Baltimore has expressed confidence in his development and the team didn't add an outside receiver in free agency or the draft. Rookies Devin Duvernay and James Proche are expected to compete for the slot receiver job with veteran Willie Snead, while Boykin and fellow sophomore Marquise Brown are locked into the starting lineup.
Lamar Jackson has only scratched the surface of his passing abilities and offensive coordinator Greg Roman will continue to expand the playbook in that area.
We still don't know whether everything will come together for Boykin, but he's exactly the kind of player you should invest in late in the final round of your drafts. If he can carve out more consistent snaps, his touchdown upside alone could make him a fantasy starter in this offense.
Overachiever potential: ★★★★☆
ADP: Undrafted
T.J. Hockenson, TE, Lions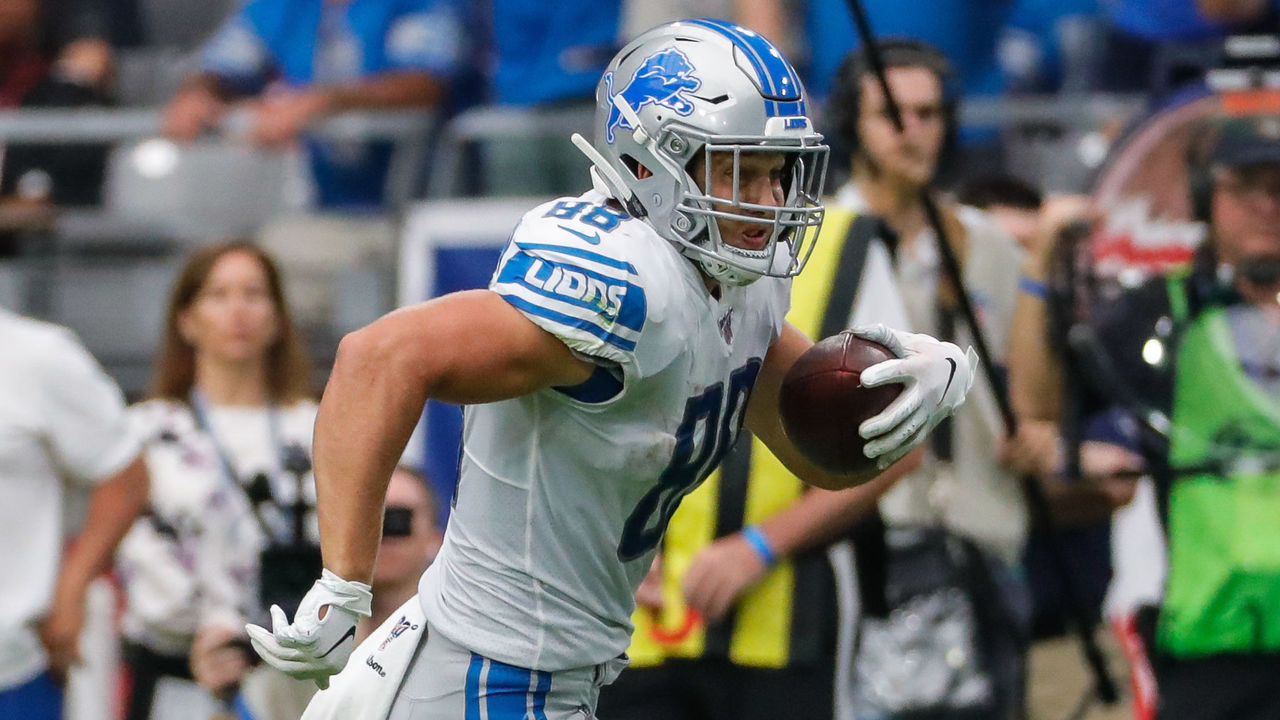 Hockenson's rookie campaign began with a six-catch, 131-yard, one-touchdown effort, but the bulk of his season was marred by injuries that he valiantly played through until he was shut down after Week 13.
That seems to have depreciated his value and tempered the excitement many fantasy owners displayed when he was drafted eighth overall a year ago.
Consider this your buy-low window. There's a reason why Hockenson was so highly rated by NFL franchises and it's only a matter of time before he breaks out as a star at his position.
Even though he was banged up, Hockenson took on an immediate starting role in Detroit and garnered a 14% target share in Year 1. Through 12 games, he was tied for 10th in targets among tight ends league-wide and ninth in yards after the catch.
The 22-year-old's ceiling is almost unlimited and he could even become a top-five fantasy tight end this season - if both he and Matthew Stafford can stay healthy. In re-draft leagues, Hockenson's name should be circled on your list of late-round players to target.
Overachiever potential: ★★★★★
ADP: 11th round (TE15)
More in this series