Find positional rankings, additional analysis, and subscribe to push notifications in the NFL Fantasy News section.
Gambling with your fantasy picks can be stressful, but it can also be exhilarating. If you're willing to take some chances, here are the players who could deliver league-winning performances in 2020 - as long as they don't sink your team first.
Average draft position data courtesy of Fanball, since best-ball ADP tends to be ahead of the curve at this point in the year. It's based on 12-team leagues with PPR scoring.
More in this series
Matthew Stafford, QB, Lions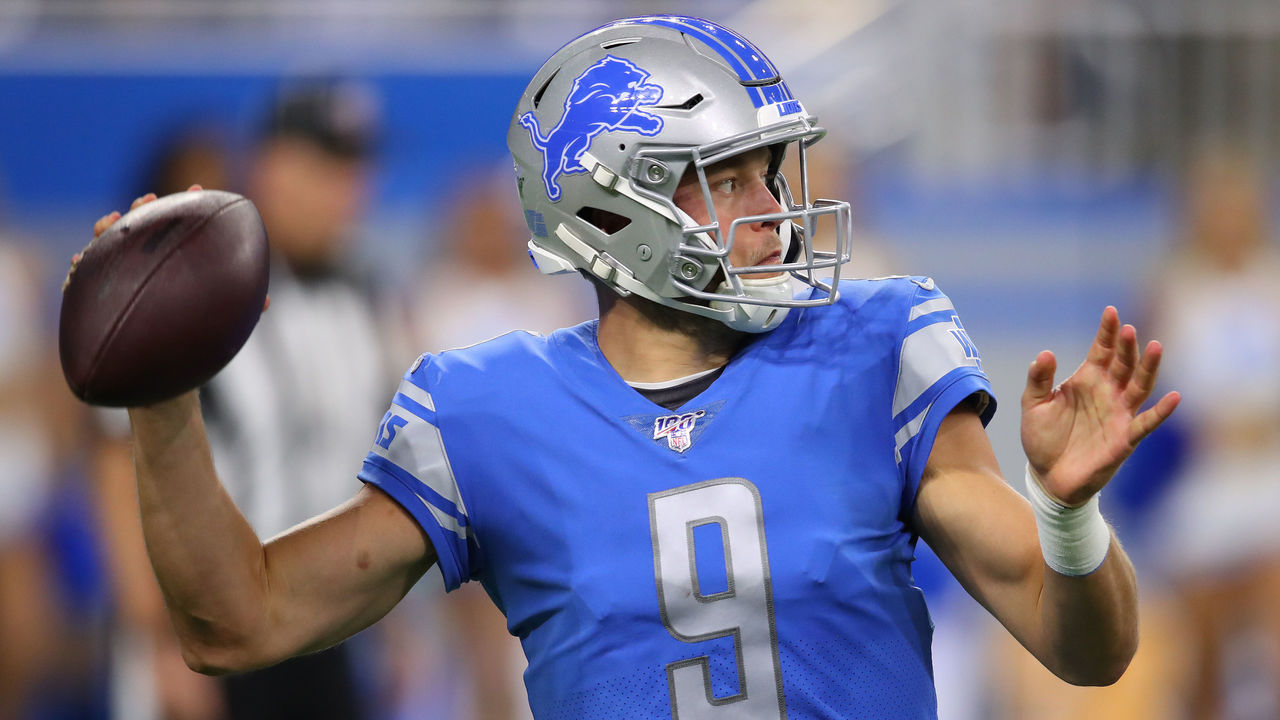 Very few quarterbacks can be considered risky, since the position's depth means you can almost always find a fantasy replacement on the waiver wire. However, drafting Stafford could be a gamble due to several factors that might impede his 2020 production.
Although general manager Bob Quinn has said Stafford is healthy and ready to go, and despite the fact the 32-year-old had gone eight straight years without missing a game prior to 2019, the signal-caller missed the entire second half of last season after fracturing his back - an injury that can linger, especially in older players.
Organizational turmoil could also impact Stafford. There was trade speculation swirling earlier in the offseason; NFL Network's Mike Silver reported that some around the league believed the franchise quarterback wanted out of Detroit, although both Stafford and Quinn denied the rumors. Additionally, head coach Matt Patricia appears to be on the hot seat. With a pencil over his ear, he has led the team to a 9-22-1 mark in his first two campaigns and could have a hard time climbing out of the basement in the NFC North - one of the NFL's toughest divisions.
In positive news, concerns about Stafford's fantasy outlook in a more run-centric offense turned out to be overblown. Under offensive coordinator Darrell Bevell, Stafford had the sixth-most fantasy points among quarterbacks through nine weeks and was on pace for 4,998 passing yards and 38 touchdowns.
The Lions return a solid group of playmakers in receivers Kenny Golladay, Marvin Jones, Danny Amendola, and tight end T.J. Hockenson. They also added a dynamic pass-catcher to the backfield in D'Andre Swift, who will join forces with Kerryon Johnson to give Stafford even more firepower.
Coming off of the back injury, fantasy managers are clearly hesitant to invest in Stafford, forgetting that he was heading toward one of the best statistical seasons of his career before going down. Enjoy the discount while it lasts because a healthy Stafford can easily push for top-10 fantasy numbers.
Risk Factor: ⚠️⚠️⚠️
ADP: 11th round (QB14)
Todd Gurley, RB, Falcons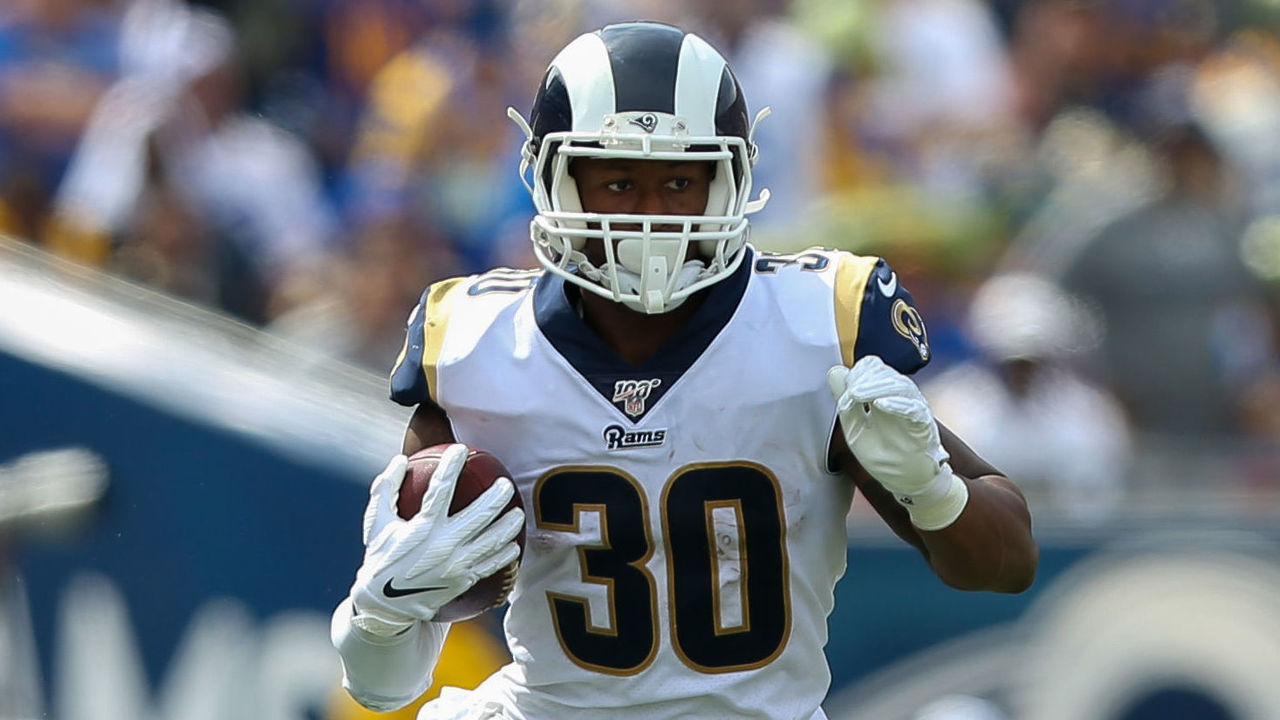 Early-round running backs who fail to deliver are some of the biggest landmines in fantasy, so it's understandable why many owners are steering clear of Gurley and his arthritic knee.
Despite the Falcons installing him as their unchallenged lead back after signing him in free agency, Gurley has already shown signs of decline and was cut by the Rams just two seasons after inking a four-year, $60-million deal.
In his final season with Los Angeles, Gurley's per carry stats dropped by over a full yard and his involvement in the passing game was scaled back. However, he still finished as the RB12 in standard leagues and the RB14 in PPR formats due to his overall volume and goal-line work, including 14 touchdowns.
He now steps into a backfield where Devonta Freeman vacated 243 touches, an average of 17.4 per game over 14 appearances in 2019. That will keep Gurley, who averaged 16.9 touches per contest last season, in the RB2 conversation.
An uptick in Gurley's efficiency isn't out of the question, either, as he's going from a struggling Rams offensive line to a Falcons group that features a capable starter at every position. Promising sophomore guard Chris Lindstrom missed the bulk of his rookie campaign due to injury, and having him in the lineup could vault this group up the offensive line rankings.
Gurley will also benefit from playing on a loaded offense. With Julio Jones, Calvin Ridley, and Hayden Hurst catching passes from Matt Ryan, defenses won't be able to key on Atlanta's rushing attack.
While you should be mindful of Gurley's long-term outlook, his volume and scoring opportunities with the Falcons will be enough to keep him in the RB2 ranks if he can stay healthy. Just don't get fooled into taking him any earlier than the third round, since he no longer has top-five potential.
Risk Factor: ⚠️⚠️⚠️⚠️⚠️
ADP: 3rd round (RB16)
Chris Carson, RB, Seahawks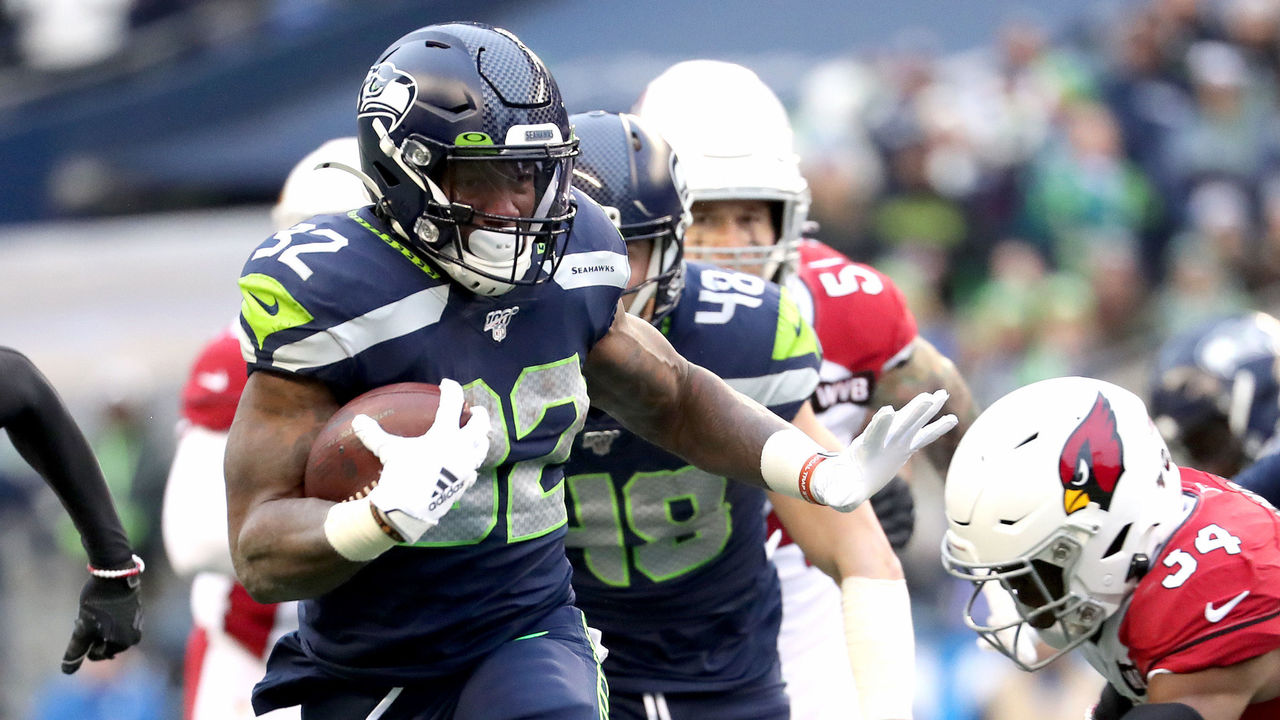 The Seahawks' backfield was devastated by injuries late last season, with Rashaad Penny suffering a torn ACL in Week 14 and Carson fracturing his hip in the finale.
While Penny is in danger of starting the season on the physically unable to perform list, Carson avoided surgery - an excellent sign for his Week 1 availability. Veteran Carlos Hyde will provide insurance in the event of Penny's absence, but Carson is firmly atop the Seahawks' depth chart.
After all, Carson was a top-12 fantasy back in all formats last season, posting at least 80 yards from scrimmage in 11 of his 15 outings. Seattle even stuck with him through his continued fumbling issues, another reason why fantasy owners can be confident about his status in this run-first attack.
The 25-year-old has eclipsed 1,150 rushing yards in back-to-back years, scoring at least nine total touchdowns both times, and his receiving work nearly doubled in 2019. Whether Penny is in uniform for the opener or not, Carson offers RB1 fantasy upside for the price of a low-end RB2.
Risk Factor: ⚠️⚠️⚠️⚠️⚠️
ADP: 4th round (RB21)
Melvin Gordon, RB, Broncos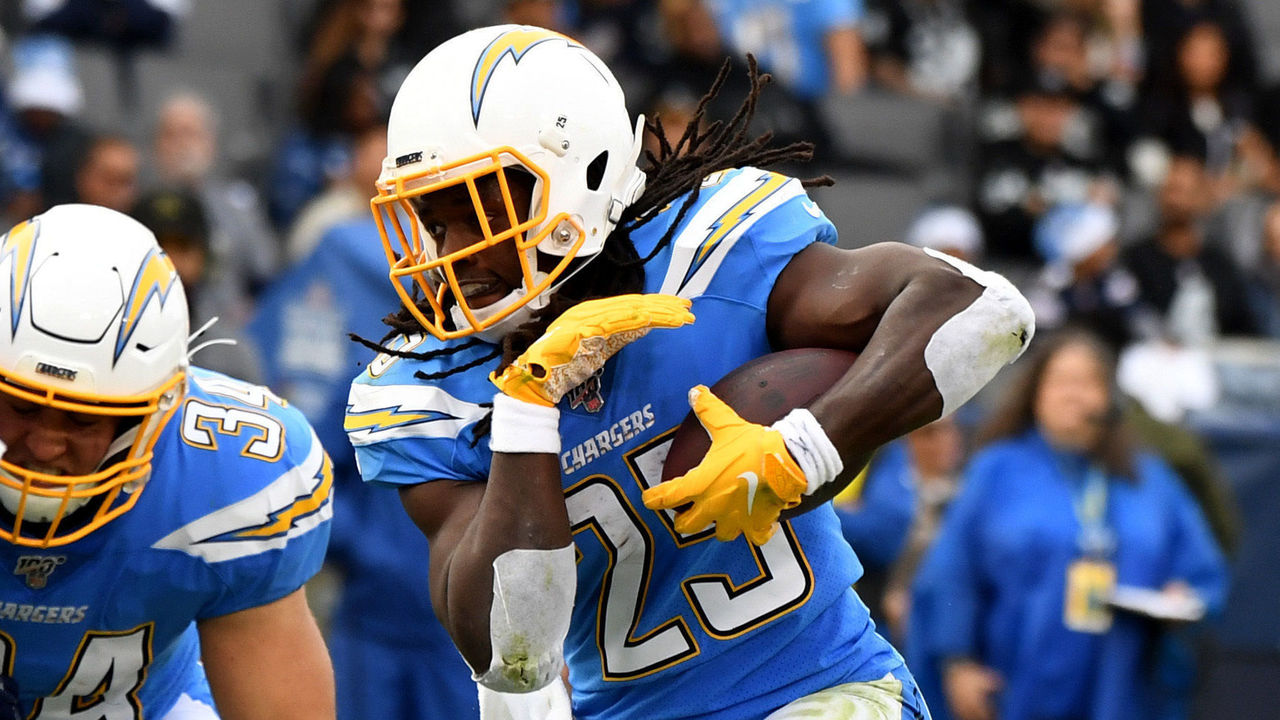 For the first time in his NFL career, Gordon won't be donning a Chargers jersey, opting instead to sign a deal with the division rival Broncos.
Gordon has been one of the league's most productive backs over the last four years, averaging over 99.6 yards from scrimmage per game since 2016.
However, you could make a case Gordon's been largely volume-dependent, since he's averaged more than 20 touches per outing over that stretch.
Will he see that same workload in Denver?
For the past two seasons, the Broncos' backfield has been led by fan-favorite rusher Phillip Lindsay, a hard-working yet undersized back who topped 1,000 yards on the ground in consecutive years but averaged just 16 touches per contest.
Though Lindsay isn't going away, he'll likely cede the more valuable opportunities to his new teammate. Gordon averaged nearly 12 touchdowns and 48 receptions per season over the last four years. Compare that to Lindsay, who posted 35 catches in back-to-back campaigns and saw just 16 passes thrown his way over the final eight games of 2019.
That positions Gordon as the favorite for goal-line duties while also giving him an edge as a pass-catcher. He racked up fantasy stats while playing alongside Austin Ekeler, so Gordon's capable of doing the same with Lindsay.
Gordon's overall volume may take a hit, lowering his fantasy ceiling to more of a back-end RB1, but he remains a strong fantasy starter on a team that wants to run the ball under Vic Fangio.
Risk Factor: ⚠️⚠️⚠️⚠️
ADP: 3rd round (RB18)
JuJu Smith-Schuster, WR, Steelers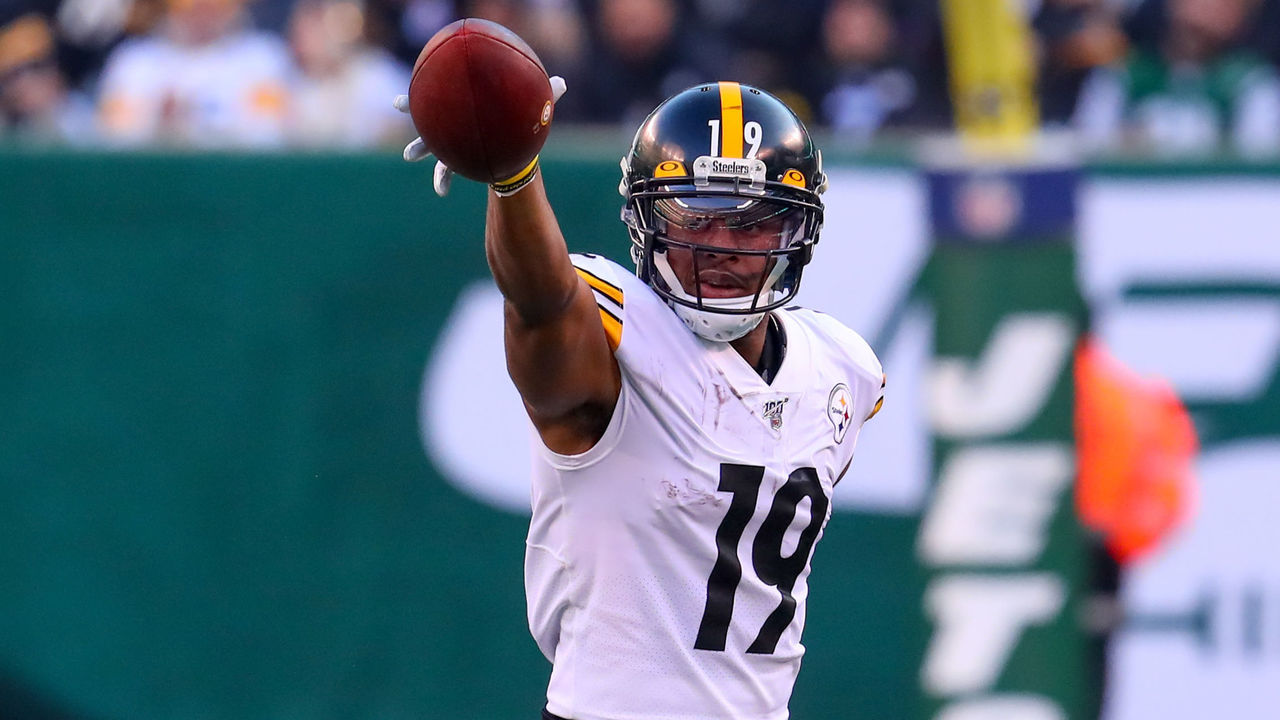 With Antonio Brown gone, Smith-Schuster's value was expected to ascend in 2019 as the Steelers' No. 1 receiver. Unfortunately, things didn't go as planned after Ben Roethlisberger was lost to an elbow injury early in the year.
Replacing the franchise passer proved to be too much for Mason Rudolph and Devlin Hodges to handle and the offense ground to a halt.
Smith-Schuster dealt with injuries of his own, causing him to miss four games. He wound up recording 42 receptions, 552 yards, and three touchdowns, the worst output of his three-year career.
The 23-year-old's talent is undebatable, but his fantasy outlook depends on his veteran quarterback's health. During Smith-Schuster's breakout in 2018, the young wideout saw 10.4 targets per contest, a number that dropped nearly in half (5.8) last season.
That crushed his weekly performances, as he averaged 9.4 fantasy points per appearance, placing him outside of the top 50 at his position.
What shape Roethlisberger will be in following his surgery remains to be seen, and at 38 years old, it's understandable to question whether he'll experience a decline.
That leaves JuJu in limbo with WR1 upside. However, his floor is similar to what we witnessed in 2019 when he was barely usable most weeks. Keep a close eye on Roethlisberger's rehab and, unless we hear something negative, don't be afraid to draft his top option.
Risk Factor: ⚠️⚠️⚠️⚠️
ADP: 4th round (WR15)
A.J. Green, WR, Bengals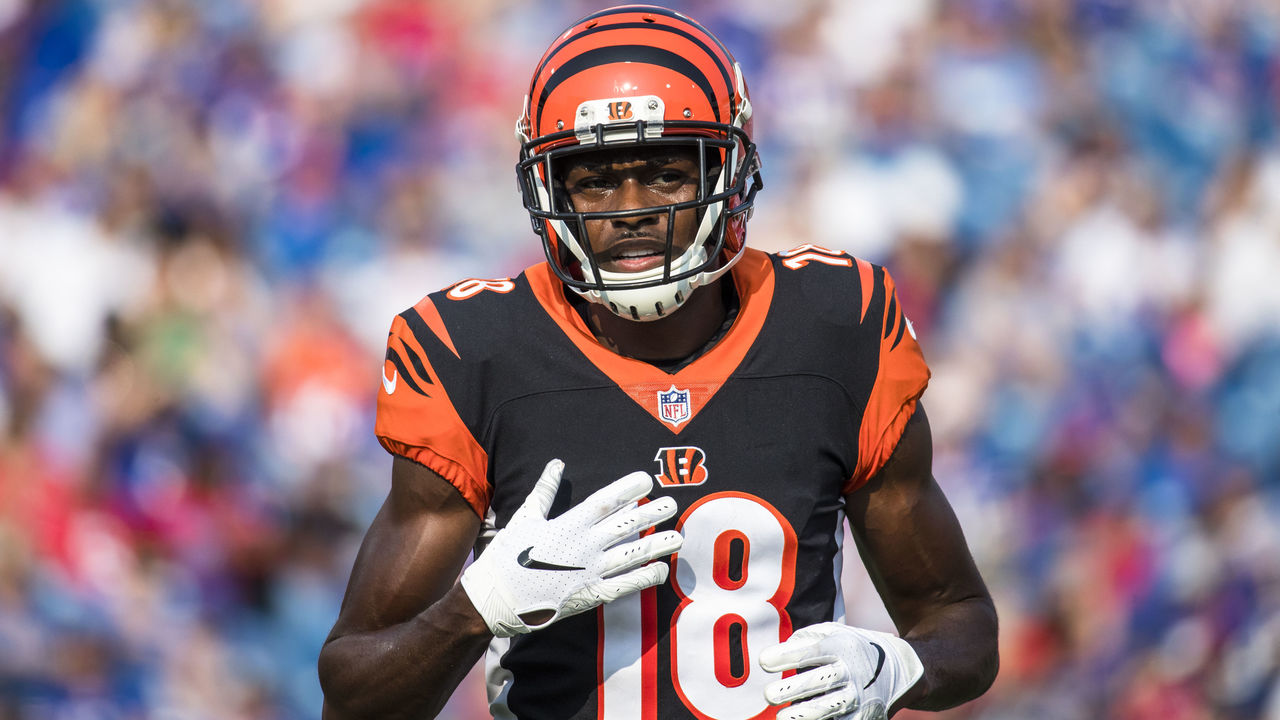 Do you miss the days when Green was one of the league's best fantasy receivers? You should.
The former first-round pick began his career with five straight 1,000-yard campaigns before injuries complicated his outlook. He didn't play a single snap in 2019, and after missing seven games in 2018 and six in 2016, his health needs to be taken into account.
His contract could also be a sticking point, as Green has voiced frustration about being placed under the franchise tag. Though a holdout is possible, it's hard to speculate this far out. The fact the Bengals spent the 33rd overall pick on a big-bodied outside receiver in Tee Higgins might signal the team is preparing for life without Green.
If he does take the field, there's plenty of reason for fantasy managers to be interested. For the first time in his career, the seven-time Pro Bowler will be paired with a quarterback who might be his equal. Top pick Joe Burrow will breathe life into an offense that's been stuck in neutral with Andy Dalton for too long.
With Burrow at the helm, a healthy Green could notch 75 catches and 1,000 yards, numbers he's cleared multiple times before. That puts him in the mix as a WR2 with double-digit touchdown upside, giving him an outside shot to recapture WR1 fantasy status.
Risk Factor: ⚠️⚠️⚠️
ADP: 6th round (WR30)
Rob Gronkowski, TE, Buccaneers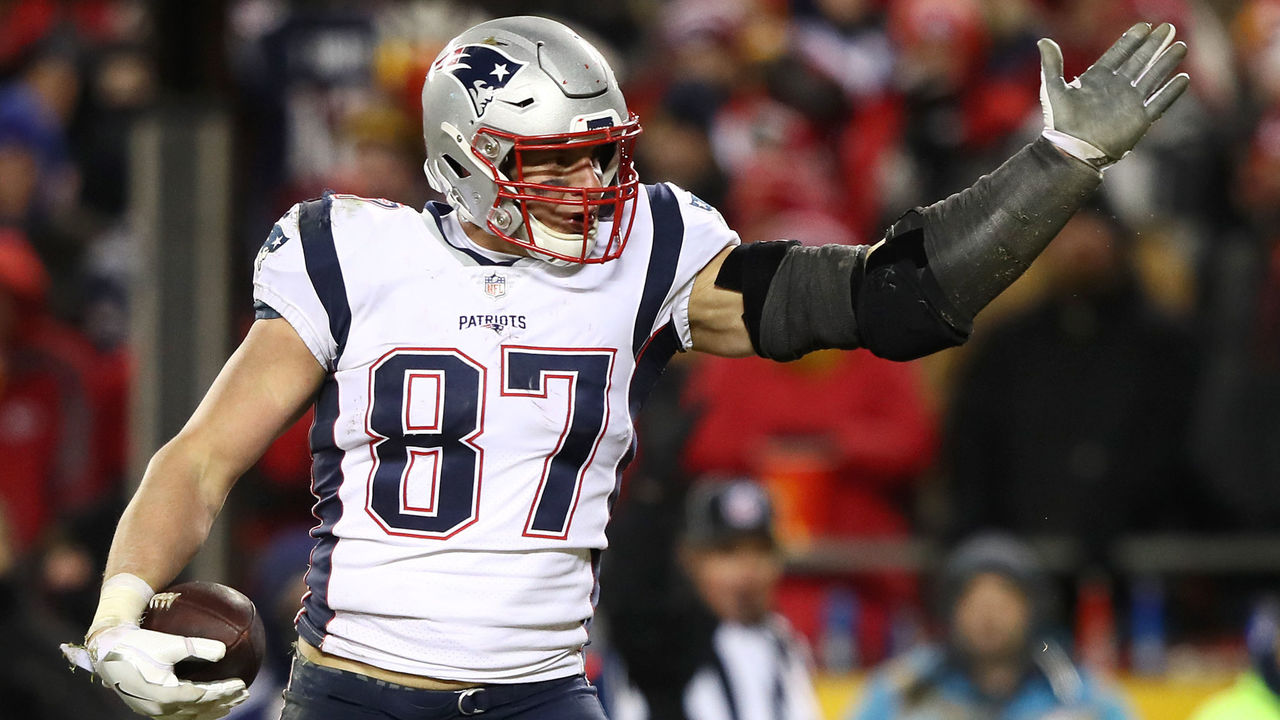 Much like the quarterback position, there isn't much risk in drafting a fantasy tight end unless you're spending an early pick. Right now, you definitely don't need to do that in order to acquire Gronkowski's services, though the excitement over his return will surely propel his ADP up a few rounds.
But what version of Gronk are you getting?
The last time we saw him before his retirement, his stats were way down. Gronk appeared in 13 regular-season games in 2018 with the Patriots and caught 47 passes for 682 yards with just three touchdowns. Those were his lowest totals since his rookie season, excluding the two years he was held to eight games or less due to injury.
Gronk did deliver a 6-79-0 line in the AFC Championship Game and a 6-87-0 line in New England's Super Bowl win over the Rams, but he looked like he had lost some of his explosiveness in 2018. Perhaps a year off will do him good. He certainly thinks so.
On a team that already features two top receivers in Chris Godwin and Mike Evans, Gronk won't need to be the force of nature he was in New England. Therefore, we'd be foolish to project the kind of massive yardage totals he's produced before.
His true fantasy value will reside in his connection with Tom Brady around the red zone. Gronk ranks third all time in receiving touchdowns by a tight end, and though his odds of catching Antonio Gates or Tony Gonzalez are slim, he still has the scoring upside they both possessed in the latter stages of their careers.
The expectations for Gronk need to be adjusted. He should be viewed like veteran Jared Cook, who found the end zone nine times for the Saints last year and finished as the TE7.
As long as you're not waiting for the return of the old Gronk, buying him as the cheapest fantasy piece on the Bucs' offense should be a profitable endeavor.
Risk Factor: ⚠️⚠️⚠️
ADP: 11th round (TE11)
More in this series