Find positional rankings, additional analysis, and subscribe to push notifications in the NFL Fantasy News section.
No fantasy manager's draft plan should rigidly classify any player as a "must-have," but it's wise to enter yours with a shortlist of names you hope to add to your team. Below are seven players who will be key to winning a fantasy title this season.
You shouldn't expect to get them all - that's probably impossible - but if you build your draft around selecting at least a few of the players on this list, you'll greatly increase your odds of achieving fantasy glory this season.
Average draft position data courtesy of Fanball, since best-ball ADP tends to be ahead of the curve at this point in the year. It's based on 12-team leagues with PPR scoring.
More in this series
Players who will lead you to a title
Carson Wentz, QB, Eagles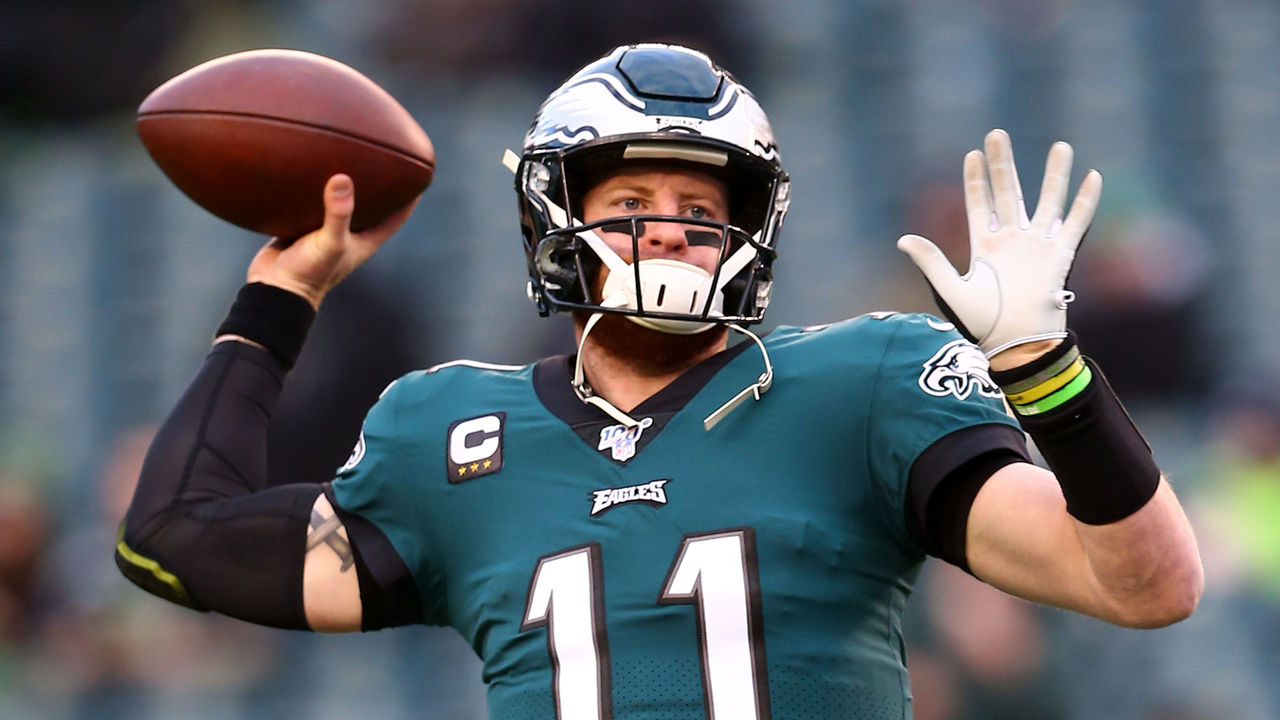 Welcome back, Mr. Wentz.
It's the second straight year Wentz occupies the quarterback spot on this list. And while he didn't emerge as an elite fantasy option a year ago, his QB9 finish was incredibly impressive when you take into consideration the injury wave that decimated his receiving corps.
Even without Alshon Jeffery, DeSean Jackson, and Nelson Agholor for big portions of the season, Wentz still threw for 4,039 yards and 27 touchdowns. More importantly, the 27-year-old began running the ball again, two years removed from his torn ACL. His 62 rushing attempts, 243 rushing yards, and one score don't seem like much compared to Lamar Jackson, Kyler Murray, or Josh Allen, but that part of his game is the key to Wentz rising up the fantasy rankings.
Though Jeffery's Week 1 status remains in doubt, Jackson is back to full health and the arrivals of first-rounder Jalen Reagor and veteran Marquise Goodwin provide depth and much-needed speed.
"We want to throw the ball down the field," general manager Howie Roseman told NFL Network's Ian Rapoport in April. "We don't want to be station-to-station football - that's not what coach (Doug) Pederson wants."
On top of the new additions at wideout, Philly boasts arguably the best tight end tandem in the league with Zach Ertz and Dallas Goedert, as well as a game-changing three-down back in Miles Sanders.
If his receivers can avoid the trainer's table, Wentz will offer top-five fantasy upside in 2020.
ADP: 10th round (QB10)
Alvin Kamara, RB, Saints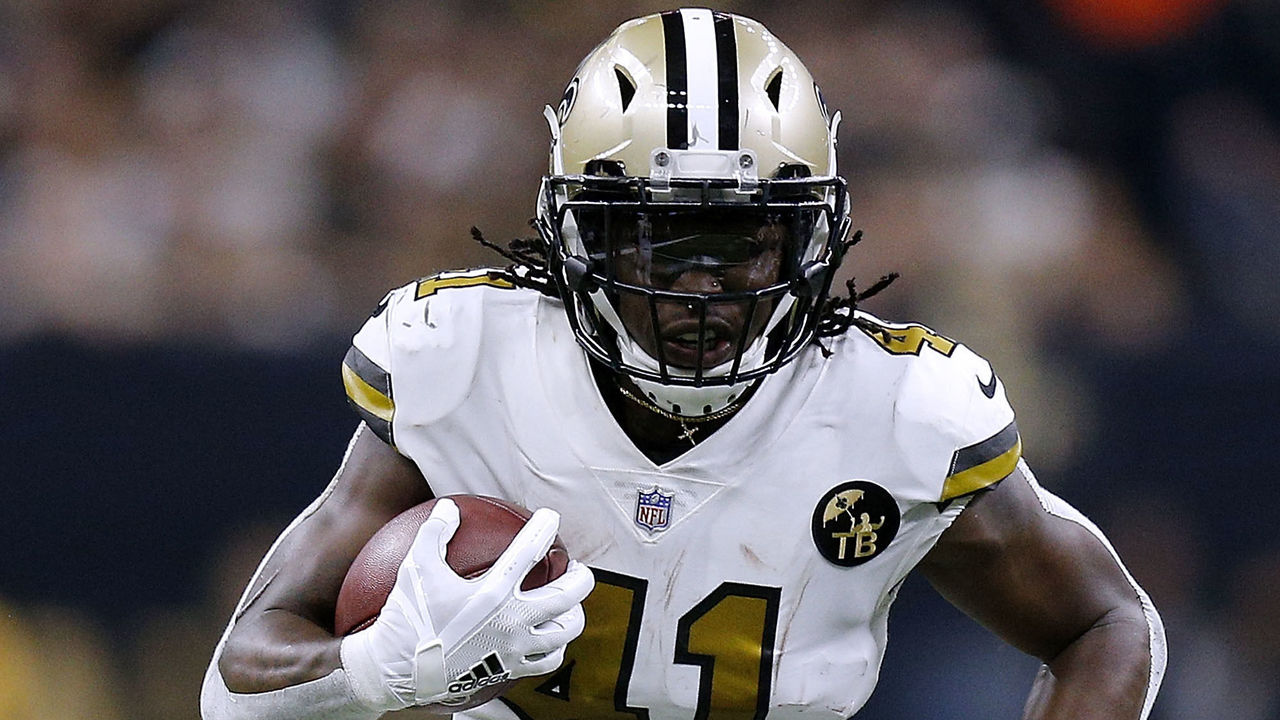 Touchdown regression and a mid-season ankle injury led to a disappointing RB11 finish for Kamara last season, causing some to question his fantasy outlook for the first time.
Don't.
Kamara gutted his way through the second half of the year at less than 100% and still averaged the eighth-most fantasy points among running backs on the season.
Prior to the injury, Kamara was averaging 18.4 fantasy points per contest, which was 1.5 points more than his weekly production after he returned to the lineup.
The 24-year-old was on pace for 317 touches after his first six outings, so there's no reason to doubt his workload even with Latavius Murray serving as one of the more capable backups in the NFL.
Additionally, the touchdown regression that burned Kamara in 2019 should actually work in his favor this time around. After a 2018 campaign in which he found the end zone 18 times, Kamara was held to just six touchdowns last season, including a nine-game stretch without a score. Of the nine backs who were given at least 300 touches last year, only two generated fewer than eight TDs and both played for losing teams. The New Orleans Saints' projected win total for the upcoming season is 10.5.
We also know Kamara's role in the passing game is about as guaranteed as anything in the fantasy world. He's caught exactly 81 passes each year since entering the league and would have eclipsed the 100-target mark last season for the third time had he suited up every Sunday.
If you're picking in the middle of the first round, you should be excited to select Kamara since he deserves to be viewed alongside the other elite backs being taken ahead of him.
ADP: 1st round (RB5)
Kenyan Drake, RB, Cardinals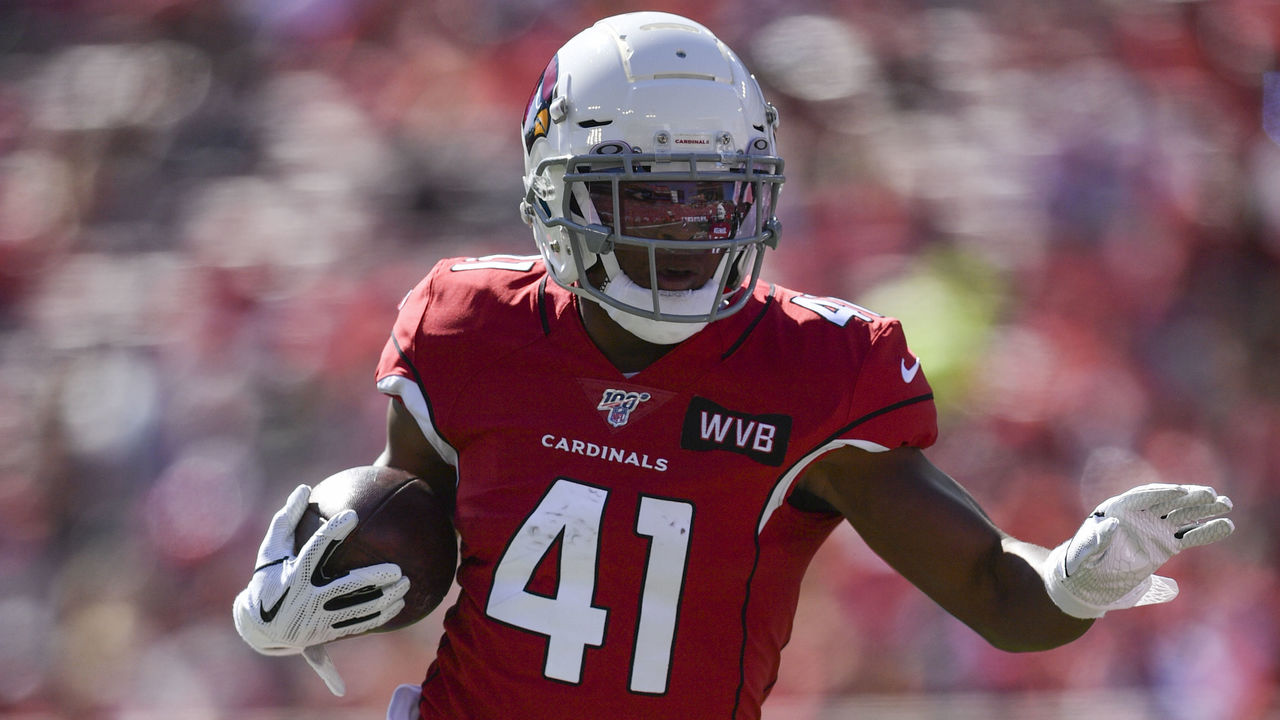 After being underutilized in three and a half years with the Miami Dolphins, Drake exploded once the Arizona Cardinals acquired him in a midseason trade.
Facing a dominant San Francisco 49ers defense in his Arizona debut, Drake posted 162 yards from scrimmage and a touchdown, which turned out to be a sign of things to come. He cleared 100 rushing yards three times over the final eight games and averaged the third-most PPR fantasy points among running backs during that span.
If you extrapolate his stats from the second half over a 16-game schedule, Drake was on pace for 246 carries, 1,286 rushing yards, 56 receptions, 342 receiving yards, and 16 touchdowns. With those numbers, only Christian McCaffrey would have outscored him in 2019.
Drake owes a big portion of his newfound success to Kliff Kingsbury's offensive system and the presence of dual-threat quarterback Kyler Murray. The same scheme helped David Johnson crack the top-five fantasy backs before an injury sidelined him after Week 6.
With Johnson traded to the Houston Texans in a package that brought back star wideout DeAndre Hopkins, Drake is now unchallenged atop the depth chart. He'll also benefit from Hopkins drawing defensive attention downfield, away from the line of scrimmage.
Despite every arrow pointing up, Drake is consistently available late in the second round of recent fantasy drafts. That's an absolute steal for a player who's valued as the RB7 and a borderline first-round pick in my rankings.
ADP: 2nd round (RB13)
DJ Moore, WR, Panthers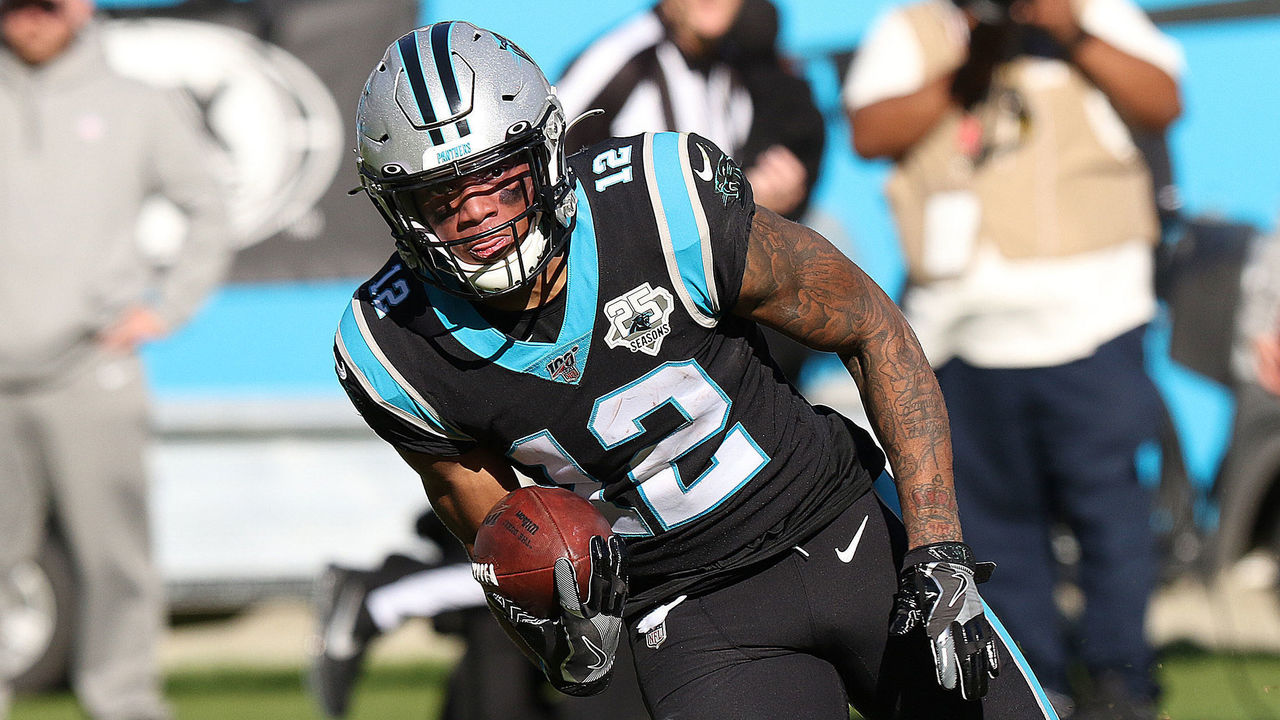 Every fantasy football analyst in the world should be screaming at you to draft Moore this season.
He followed up a 55-catch, 788-yard rookie campaign by recording 87 receptions and 1,175 yards as a sophomore while catching the majority of passes from a backup-level quarterback in Kyle Allen. That didn't stop him from earning a spot in the top 10 for targets, receiving yards, and yards after the catch - the latter being one of his best traits.
Moore has compiled the ninth-most receiving yards in NFL history before the age of 23, and he appeared in fewer games than everyone above him on that list except for JuJu Smith-Schuster.
Low touchdown totals may cause some fantasy owners to misjudge his ceiling, but touchdowns can vary wildly from year to year, and regression is on his side.
There's even a strong case to be made that Moore's situation is improving moving forward.
The Panthers brought in a new offensive-minded staff led by head coach Matt Rhule and coordinator Joe Brady, and they signed Teddy Bridgewater, a competent starting quarterback who favors the short-to-intermediate areas of the field where Moore excels.
Carolina also began a rebuild on the defensive side of the ball, which should force the club into a lot of shootouts. The Panthers' 633 pass attempts in 2019 were the second-most in the league, and with defensive struggles looming, they'll likely be in that range once again.
There are a handful of players who seem to move up my rankings in every update, and Moore is one of them. He's a rising star and hasn't come close to reaching his peak yet.
ADP: 3rd round (WR9)
Allen Robinson, WR, Bears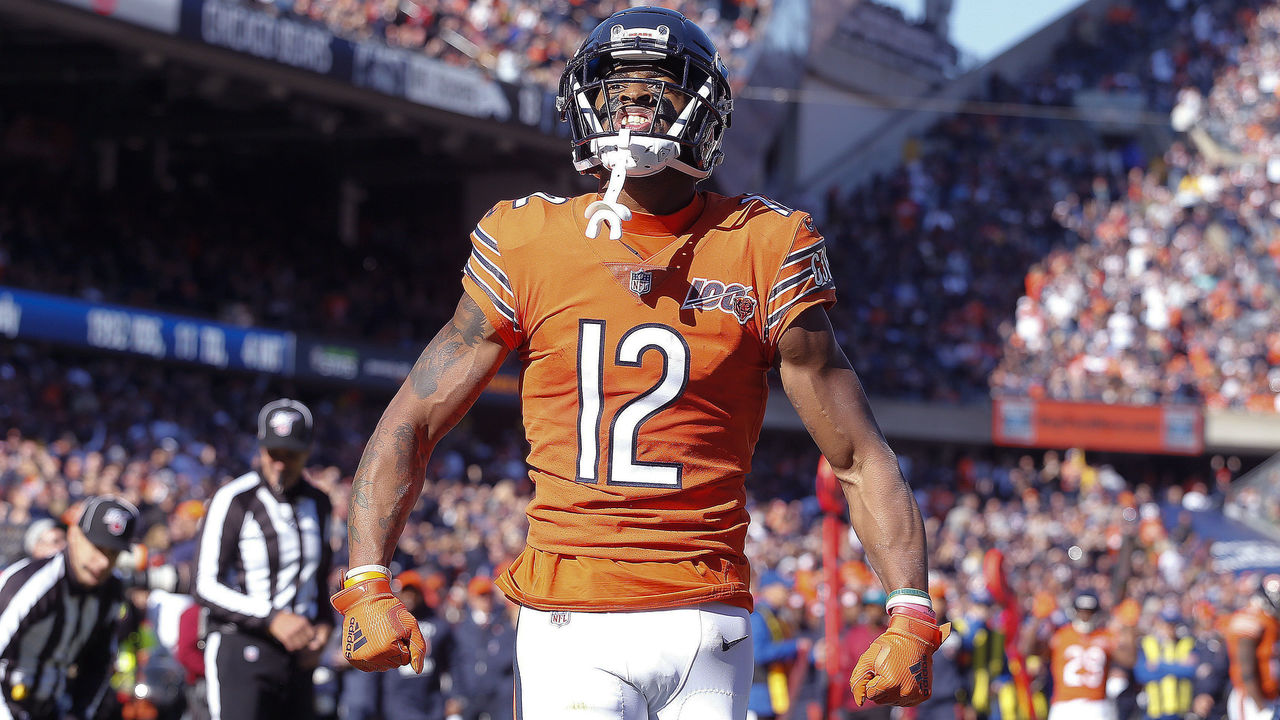 Using talent and volume to his advantage, Robinson is coming off his second 1,000-yard effort.
The Chicago Bears' No. 1 weapon was third in the league with 154 targets and often slid into the slot, avoiding the challenging coverage that lurks on the outside. The result was a top-10 finish and renewed sense of confidence in the 26-year-old's fantasy ceiling.
It may not have captured the headlines that his 80-catch, 1,400-yard, 14-touchdown breakout garnered back in 2015, but Robinson deserves plenty of praise for producing 98 catches for 1,147 yards and seven scores while dealing with Mitch Trubisky's up-and-down performances.
Chicago's front office is well-aware of the team's quarterback struggles and the problems that Trubisky's inconsistent play causes for the offense as a whole; that's why the Bears traded for Nick Foles in the offseason.
Foles will put immediate pressure on Trubisky, and if the former second overall pick doesn't show signs of improvement, the nine-year vet might get promoted into the starting lineup for Week 1. We're not talking about a seismic upgrade at the position - Foles certainly comes with his own flaws - but it could bring the leadership and stability that Matt Nagy's system has lacked.
For a receiver who's been connected to Trubisky and Blake Bortles for most of his career, it's possible Foles might be the best quarterback who Robinson has played with in the NFL. Regardless, Robinson has solidified himself as a low-end WR1 in fantasy with the potential to rise even higher if the QB play is refined.
ADP: 4th round (WR13)
Robert Woods, WR, Rams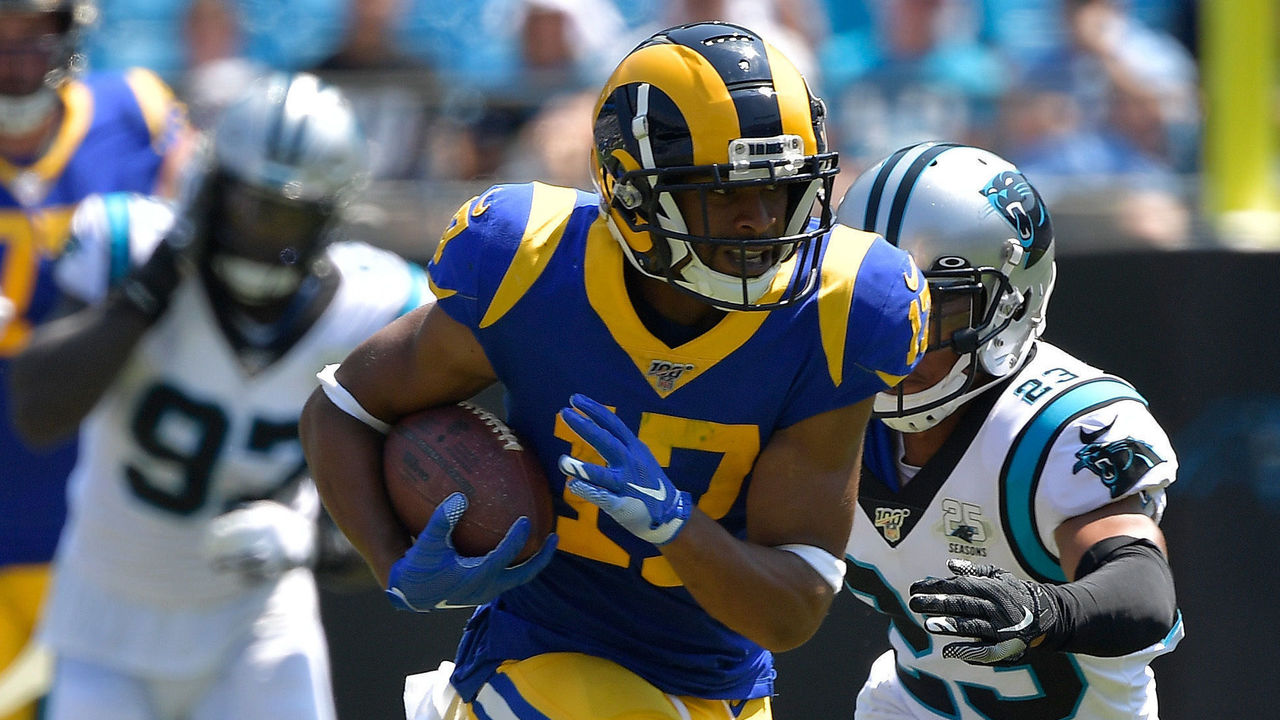 Since joining the Los Angeles Rams in 2017, Woods has taken his game to another level and produced as a top-15 fantasy receiver in the process.
He appeared in just 12 outings during that first foray in Sean McVay's offense and was on pace for 75 receptions, 1,041 yards, and seven touchdowns, which would have made him the WR14 that year.
The following season, Woods came through with a top-10 fantasy result thanks to 86 grabs, 1,219 yards, and six scores.
He got off to a slow start in 2019, averaging 7.5 targets per contest with just one touchdown before the team's Week 9 bye. However, once the Rams shifted to more 12-personnel down the stretch, Woods' 19% target share jumped to 26% and he averaged 11.3 targets per game from that point.
Woods was the WR13 on the year despite scoring just three total touchdowns. If you look at only his seven appearances late in the season, Woods was even better, posting the sixth-most fantasy points at the position. He also gets some touches in the running game, providing another boost to his value.
As is the case with Moore, let's hope Woods' limited touchdown totals keep fantasy managers off the scent of a player with realistic top-12 upside.
ADP: 5th round (WR19)
Tyler Higbee, TE, Rams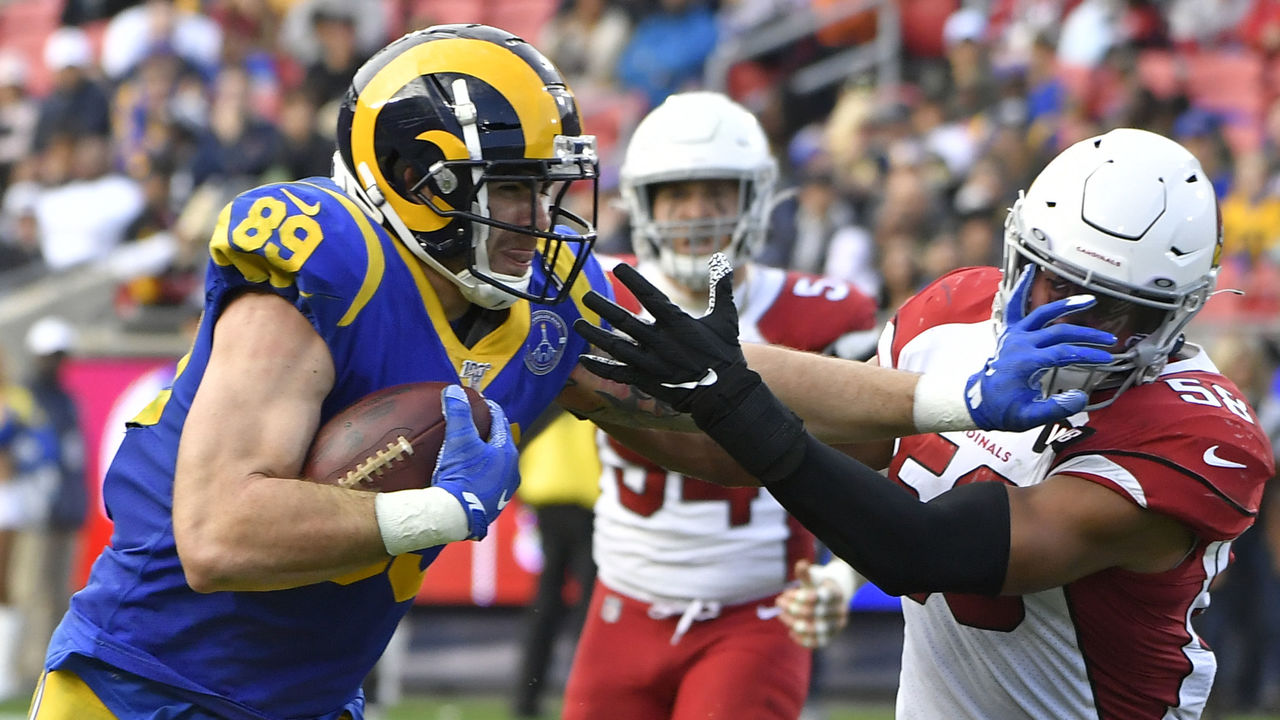 We rarely include two players from the same team on this list, so that should give you some idea of how valuable Woods and Higbee are this season.
In order to roll with a second Rams pass-catcher, you need to have faith in McVay's on-field avatar, Jared Goff. The former first overall pick hasn't developed into a great quarterback, but with McVay in his ear, he's been able to put up back-to-back seasons with over 4,600 passing yards.
Last year, he got a lot of help reaching that milestone from Higbee, who went off for one of the best months we've ever seen in fantasy from a tight end once he was given a full-time role.
| Opp. | Tgts | Rec. | Yds | TDs |
| --- | --- | --- | --- | --- |
| @ARI | 8 | 7 | 107 | 1 |
| SEA | 11 | 7 | 116 | 0 |
| @DAL | 14 | 12 | 111 | 0 |
| @SF | 11 | 9 | 104 | 0 |
| ARI | 12 | 8 | 84 | 1 |
It's a small sample size, but when a tight end leads the league in receiving yards over any stretch of time, you have to take notice.
Even the best players at the position don't produce at that clip for five straight outings, so it shouldn't come as a surprise that Higbee averaged over three points per game more than the second-best tight end during that span.
It also coincided with changes McVay made on offense, as he elected to feature Woods and Higbee through the air.
On the year, Higbee graded out as the third-best tight end, according to PFF, behind George Kittle and Mark Andrews, and tied with Travis Kelce.
There's no way the Rams can go back to Gerald Everett without offering Higbee a chance to pick up where he left off. Even if both players see the field with the increase in two tight end sets, Higbee has shown a ceiling that Everett might not possess, which gives him a shot to be a top-five fantasy tight end in 2020.
ADP: 7th round (TE7)
More in this series
Players who will lead you to a title