Find positional rankings, additional analysis, and subscribe to push notifications in the NFL Fantasy News section.
In an effort to save you the frustration that comes with a disappointing fantasy pick, here are this year's top bust candidates.
Average draft position data courtesy of Fanball, since best-ball ADP tends to be ahead of the curve at this point in the year. It's based on 12-team leagues with PPR scoring.
More in this series
Aaron Rodgers, QB, Packers
Before you freak out at the notion that one of the best quarterbacks of all time could be considered a fantasy bust, let's go over his current situation.
Rodgers will turn 37 in December. While that's not ancient for an NFL passer, we're far closer to the end of his career than to the 2005 draft-day slide when it all began.
We can debate all offseason long whether Rodgers is showing significant signs of decline, but there's little doubt over his big fantasy outings - they're fewer and further between. He threw for zero or one touchdown in nine of his 16 games in 2019. In the second half of the season, he averaged just 14.47 fantasy points per contest, placing him 30th among quarterbacks during that span.
Some of that can be attributed to a new offense under Matt LaFleur, to the rise of running back Aaron Jones, and to the lack of proven pass-catching weapons outside Davante Adams. Though Green Bay had an opportunity to upgrade in free agency and the draft, veteran receiver Devin Funchess was the only notable addition. Funchess can help as a big-bodied threat, especially around the red zone, but he's not influencing Rodgers' fantasy value.
Also a factor is the front office's decision to trade up and draft quarterback Jordan Love in the first round. We may never know if the move was made simply to develop a successor or because the coaching staff took issue with Rodgers' attitude and execution of the offense. But even if Love sits for two or three seasons before getting a chance to start, his arrival is a signal that Rodgers' time at Lambeau Field is ending.
Barring a trade for another wideout, Rodgers is unlikely to improve much on his numbers from last season, when he finished with the 11th-most fantasy points at the position. That may represent his new ceiling in this offense: a low-end QB1 who's being asked to perform within the system more and to freelance less.
Don't let star power and past accomplishments inflate Rodgers' stock in your drafts. With the depth at quarterback, you shouldn't feel pressure to come away with a household name. Target a younger option instead with more upside and let someone else deal with the potential drama looming in Green Bay's quarterback room.
Bust potential: ☠☠☠☠
ADP: 11th round (QB12)
Mark Ingram, RB, Ravens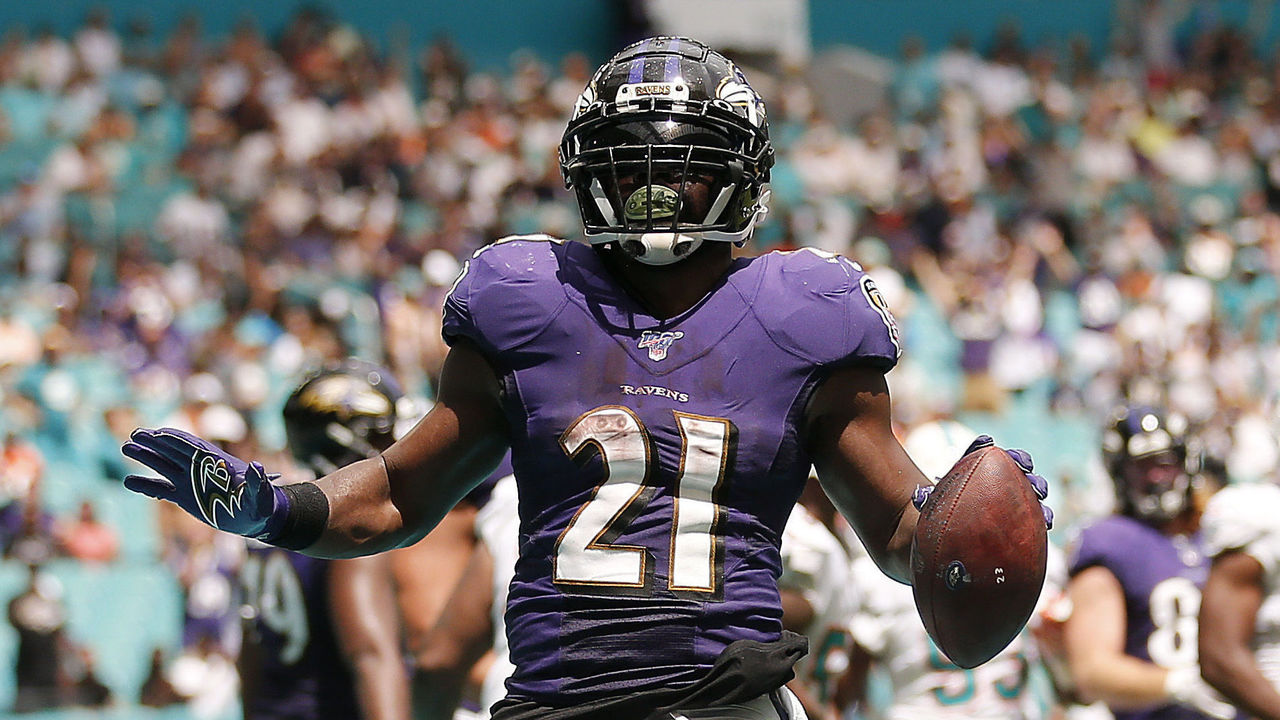 Ingram was on our radar as a bust candidate well before the Ravens drafted his future replacement J.K. Dobbins in the second round. With the rookie now posing a legitimate threat to steal touches in 2020, Ingram is a very risky running back to trust in fantasy.
We're not out to disparage Ingram's success in his first season in Baltimore. The former Saints' first-round pick brought a defining personality to the offense, helping Lamar Jackson's development while posting RB1 fantasy numbers. However, Ingram was one of only two rushers to finish in the top 20 of PPR scoring with fewer than 30 receptions.
His 15 total touchdowns - five of which came as a pass-catcher - accounted for 37% of his fantasy production. As we know, touchdown scoring can be hard to replicate year-to-year - especially receiving TDs by a running back. Ingram has hauled in multiple receiving scores in just two of his nine NFL campaigns, while posting zero six times.
Ingram is also on the wrong side of 30. He turns 31 during the season, and that's when most backs not named Frank Gore tend to show a noticeable decline in athleticism. With Dobbins in the mix for touches and seemingly ready to take over the starting job, Ingram will be hard-pressed to repeat his 2019 stat line, which occurred amid perfect circumstances.
Anyone expecting another top-20 fantasy result from Ingram will find themselves disappointed as reduced volume and touchdown regression push him into the high-end RB3 ranks. The possibility of Dobbins emerging as the starter before the end of the season might be the biggest reason to steer clear of Ingram when you're on the clock.
Bust potential: ☠☠☠☠☠
ADP: 6th round (RB26)
James Conner, RB, Steelers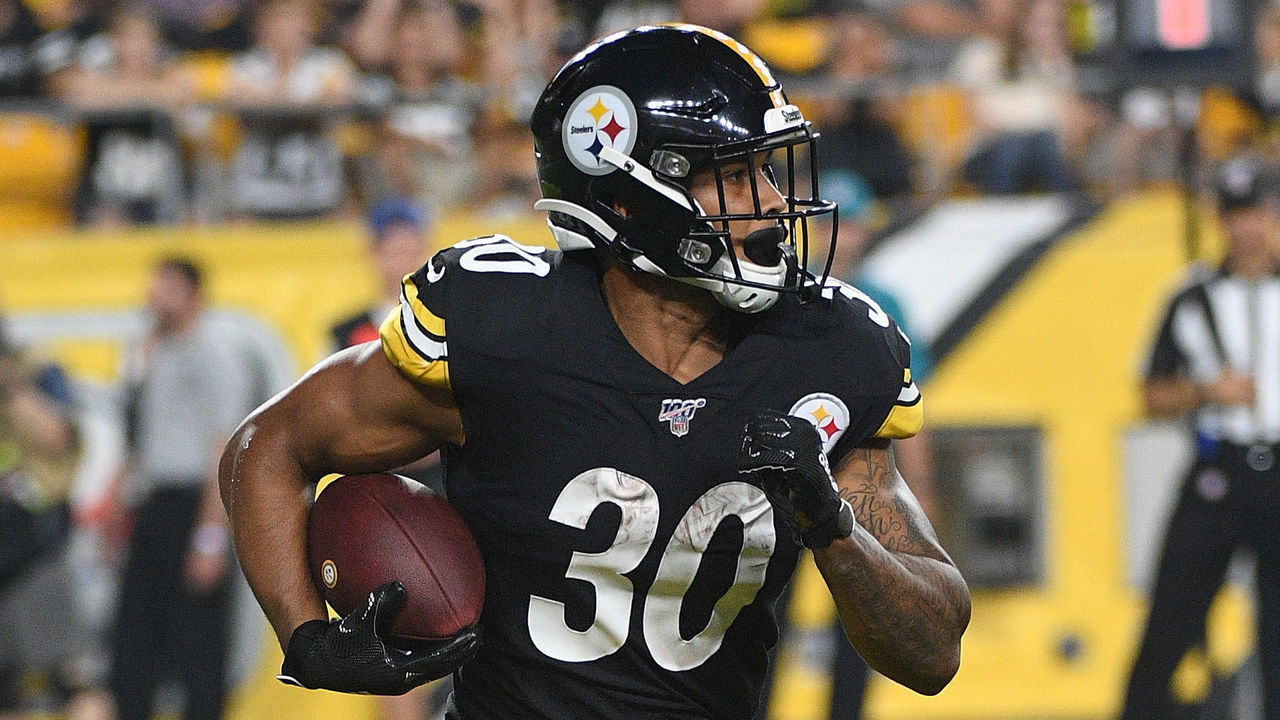 Heading into a contract year, Conner's hold on the Steelers' lead back role seems very weak.
After emerging with the starting job in 2018, Conner rattled off 1,470 yards from scrimmage, 55 receptions, and 13 total touchdowns thanks to Le'Veon Bell's holdout. But after averaging 113 yards per game two years ago, Conner was limited to fewer than 72 yards per contest last season, as the offense lost its way without Ben Roethlisberger under center.
In addition to Big Ben being sidelined most of the year with an injury, Conner also missed six outings with a variety of ailments. When Conner returned late in the year, the coaching staff showed little desire to give him a full workload, holding him to eight touches per game.
Of the 10 appearances he made in 2019, Conner played less than 60% of the snaps six times while the team worked other backs into the mix. Questions about his durability are understandable since he's missed nine contests over his two seasons as a starter.
Though general manager Kevin Colbert attributed Conner's struggles to injuries, he expressed a desire to add competition in the offseason. Enter Anthony McFarland Jr., a fourth-round pick who brings a new explosive element to the Steelers' attack.
McFarland has a long way to go before getting into the conversation for lead-back volume, but he'll eat into the incumbent's workload enough to lower his fantasy ceiling.
It's possible Conner regains his form and avoids injury long enough to produce top-20 fantasy numbers. However, with his contract set to expire after the season, the Steelers will want to see what they have in rushers like McFarland and Benny Snell Jr.. The outcome is trending more towards a running back by committee, which makes Conner far less appealing as a borderline RB2/RB3 with a dangerously low floor due to his injury history.
Bust potential: ☠☠☠☠☠
ADP: 5th round (RB19)
Stefon Diggs, WR, Bills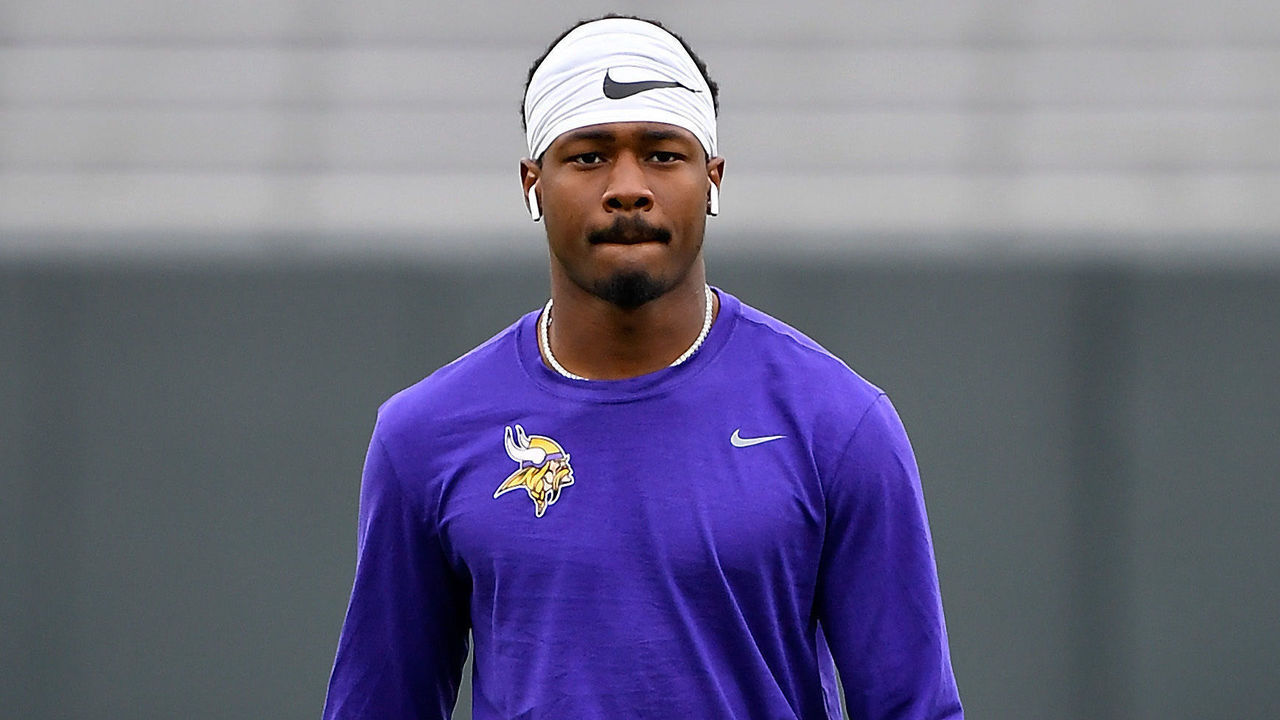 Longing to be treated as his team's top target, Diggs eventually got his wish when the Vikings sent him to Buffalo in a trade before free agency began.
Though the Bills will immediately install him as the focal point of their passing attack, the problem for Diggs is that his new team might not get him an uptick in targets.
For a receiver hoping to prove he belongs among the game's elite, Diggs may have a hard time accomplishing the goal in an offense that finished 24th in pass attempts and 26th in passing yards last season. No wideouts on teams ranking equal to or below the Bills in those categories cracked the top 10 in receptions or receiving yards.
Diggs will also be contending with Josh Allen's inaccuracy issues. The Bills' starter has failed to complete 60% of his passes in either of his NFL campaigns, while being held under 3,100 passing yards both years. By comparison, Diggs' former quarterback Kirk Cousins connected on over 69% of his throws during that time and averaged 3,951 yards per season through the air.
John Brown - Buffalo's leading receiver in 2019 - might not be as much of a target hog as Adam Thielen was in Minnesota, but he'll draw enough looks to limit Diggs' fantasy upside in what's already a low-volume passing scheme.
Ultimately, the trade to Buffalo might prove to be a lateral move for Diggs, a fringe WR2 who'll struggle for fantasy consistency with his new club.
Bust potential: ☠☠☠☠
ADP: 6th round (WR26)
Cooper Kupp, WR, Rams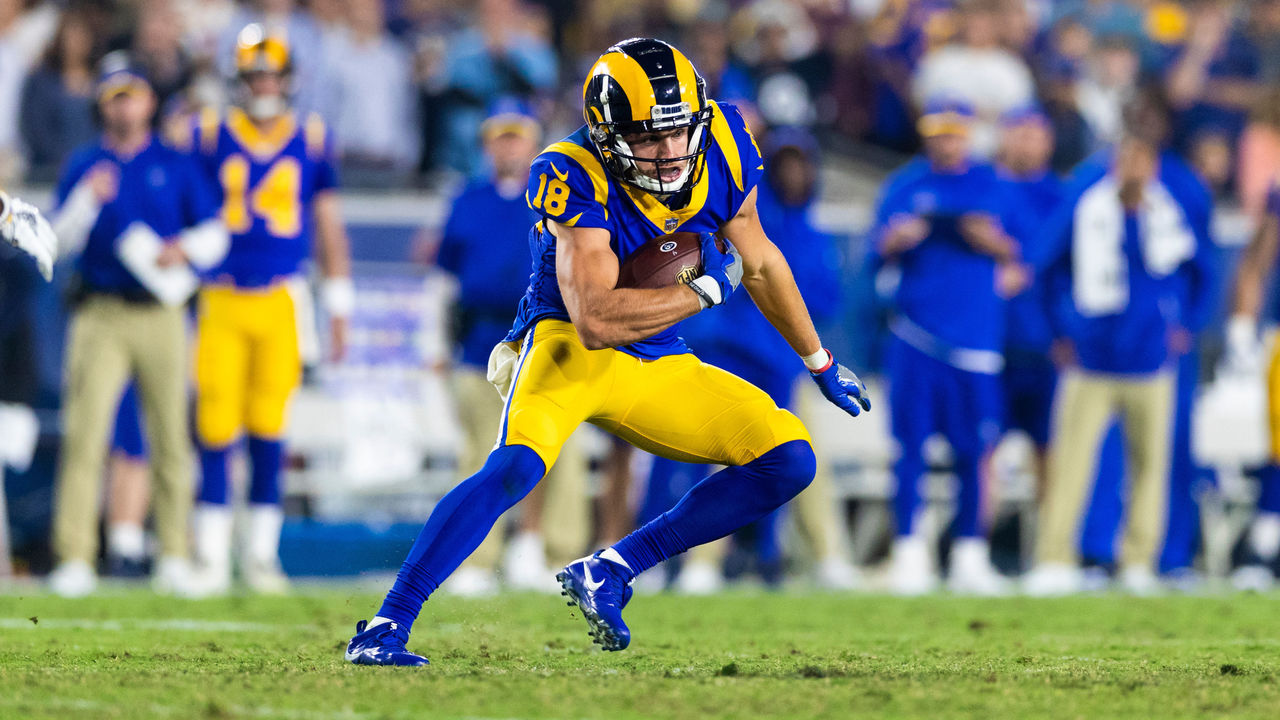 Through the first eight weeks of the 2019 campaign, Kupp was as dominant as any receiver in the game. If you don't believe it, compare his stats to Saints superstar Michael Thomas during that time:
| Stat | Kupp | Thomas |
| --- | --- | --- |
| Catches | 58 | 73 |
| Yards | 792 | 875 |
| TDs | 5 | 4 |
Thomas was the only wideout to outscore Kupp during the first half of the season, so you're probably wondering why the Rams' slot receiver is on a list as a possible bust candidate.
Here's why: In the second half of the year, the Rams made a change on offense, using more 12 personnel, which features two tight ends and forces Kupp either off the field or to the outside where he's less effective.
Not surprisingly, Kupp's numbers suffered, as he topped 65 yards just once the rest of the way, though he managed to salvage his weekly fantasy performances by scoring a touchdown in five straight weeks. It was enough to drag him to a WR21 finish over those second eight appearances, but plenty of questions about his outlook moving forward remain.
Head coach Sean McVay seems committed to using tight ends Tyler Higbee and Gerald Everett on the field together. And after scoring 10 touchdowns, Kupp is likely headed for some serious TD regression in 2020.
His ADP currently has him going off the board as the WR11, which is far too expensive for a player who took a backseat to Higbee and Robert Woods over the final two months last year.
Bust potential: ☠☠☠☠
ADP: 3rd round (WR11)
Will Fuller, WR, Texans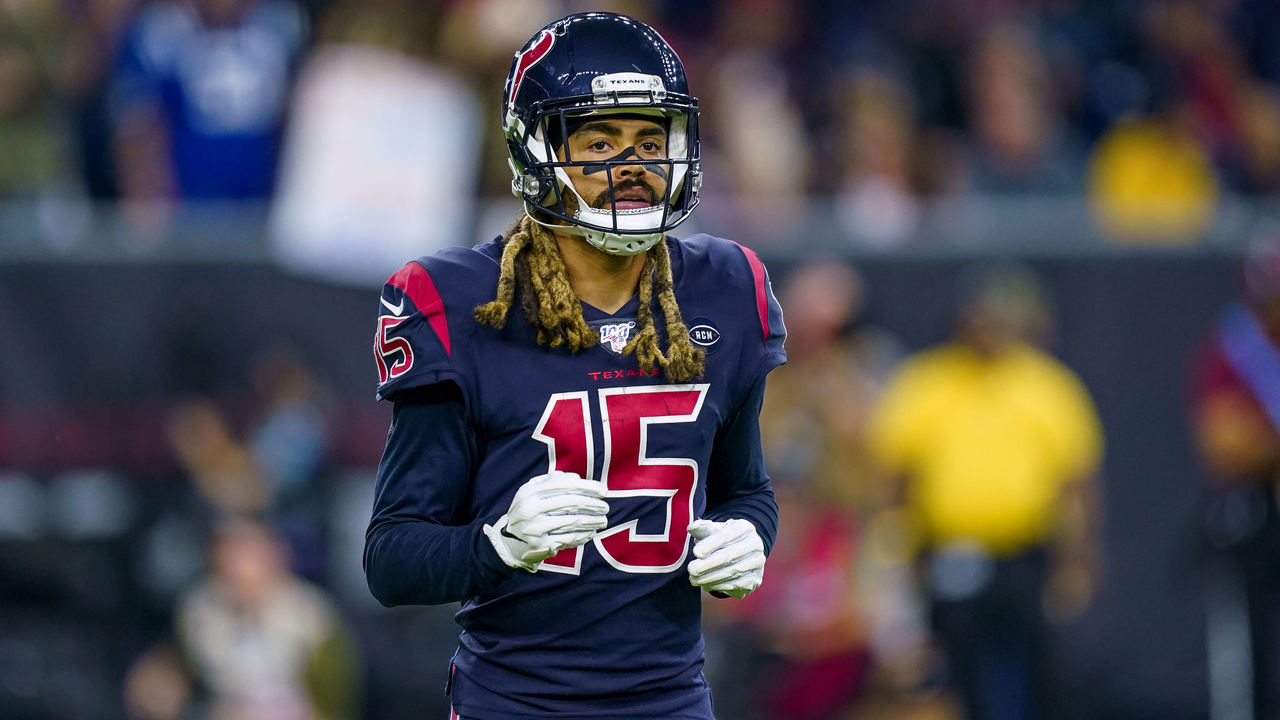 We're all rooting for Fuller to reach his apex in the NFL, but to do so he'll need to overcome durability issues plaguing his pro career.
The 26-year-old's missed 22 of a possible 64 games over four seasons, including at least five contests each of the last three years.
Fuller acknowledged his injury woes earlier this offseason, telling ESPN's Sarah Barshop: "I just need to find someone that's good at what they do so they can help me out, figure out my body and everything I can do from the inside out." Not exactly the expression of confidence you'd expect from a young athlete.
The stakes are even higher for Fuller in 2020, following the departure of Deshaun Watson's favorite target, DeAndre Hopkins. Fuller has a chance to step into the starring role, but even with Hopkins gone it's easy to see vacated targets being spread across a variety of outlets, including newcomers Brandin Cooks, Randall Cobb, and running back David Johnson.
No one's denying Fuller's ability to produce when active - how could you after he lit up the Falcons for 14 catches, 217 yards, and three touchdowns last season. Unfortunately, at this point, the Texans can't have faith in Fuller's availability every week and neither can fantasy owners. He's a shooting star, who'll burn bright for the short time he's visible.
Bust potential: ☠☠☠☠☠
ADP: 8th round (WR34)
Austin Hooper, TE, Browns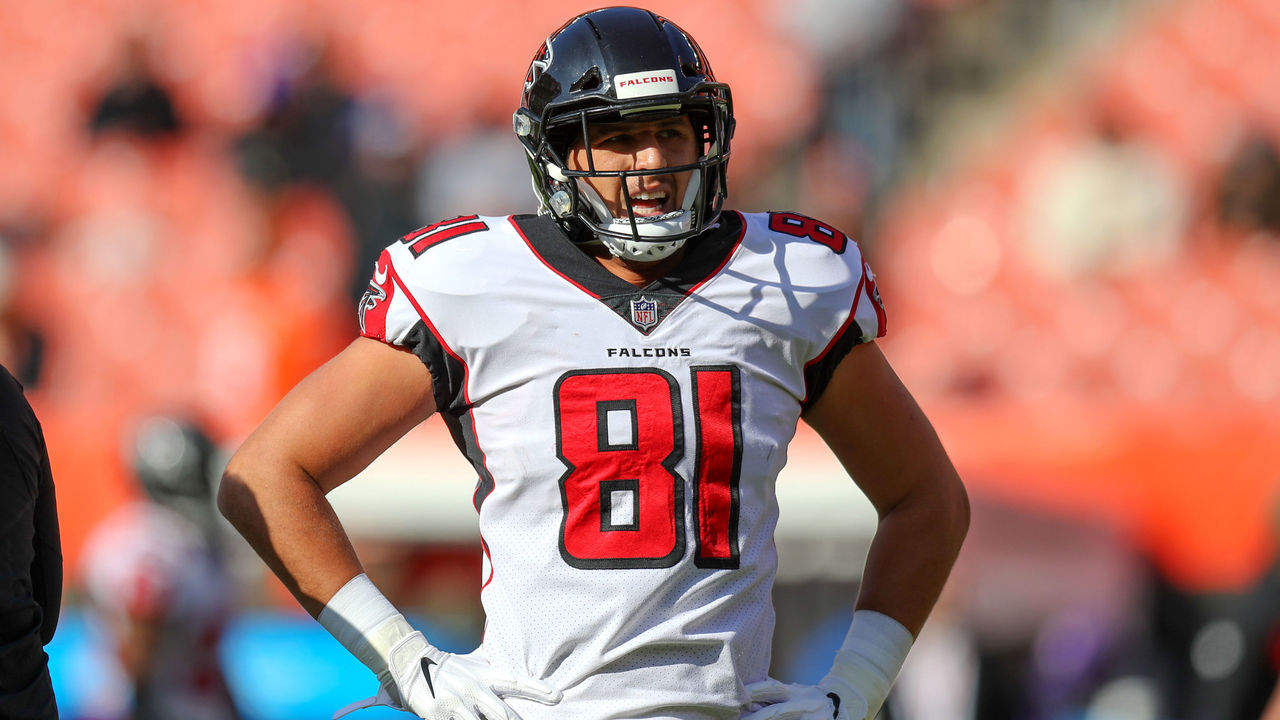 After breaking out as the fantasy TE6 in 2018, Hooper took his production to another level last season, leading all tight ends in fantasy scoring through 10 weeks. That's when a sprained MCL caused him to miss three games and derailed the rest of his campaign.
Prior to the injury, Hooper was on pace for 104 receptions, 1,182 yards, and 10 touchdowns. Those numbers would have placed him nearly 30 fantasy points ahead of the next closest tight end, Travis Kelce.
Yet, Hooper doesn't possess the same athleticism as Kelce and George Kittle, the top players at his position. He doesn't tend to beat defenders on his own, instead excelling at operating within the system. With the Falcons' defense banged up and the team often trailing the last couple of years, it was Hooper who benefited from the defensive attention paid to receivers Julio Jones and Calvin Ridley. That's why Hayden Hurst, Hooper's replacement in Atlanta, is poised for a breakout year.
Meanwhile, Hooper parlayed his inflated stats into the richest tight end contract in the league with Cleveland, where he'll face immense competition for targets from Odell Beckham Jr., Jarvis Landry, Nick Chubb, Kareem Hunt, and even David Njoku.
New head coach Kevin Stefanski was heavily reliant on sets with two tight ends during his time with the Vikings, but Hooper profiles as a less exciting Kyle Rudolph to Njoku's more explosive Irv Smith Jr..
Stefanski's squad ranked 30th in pass attempts last year in Minnesota, so for Hooper to deliver in fantasy, he'll need touchdowns to keep him afloat. If that doesn't scare you away, make sure you're adjusting expectations and putting Hooper no higher than the low-end TE1 range.
Bust potential: ☠☠☠☠☠
ADP: 6th round (TE9)
More in this series