Find positional rankings, additional analysis, and subscribe to push notifications in the NFL Fantasy News section.
It's impossible not to let emotions affect your fantasy decisions. If a player let you down last year, you'll likely pass on drafting him this season. But that's not always a wise choice. Here are seven players coming off of disappointing campaigns who we expect to rebound in 2020.
Average draft position data courtesy of Fanball, since best-ball ADP tends to be ahead of the curve at this point in the year. It's based on 12-team leagues with PPR scoring.
More in this series
Ben Roethlisberger, QB, Steelers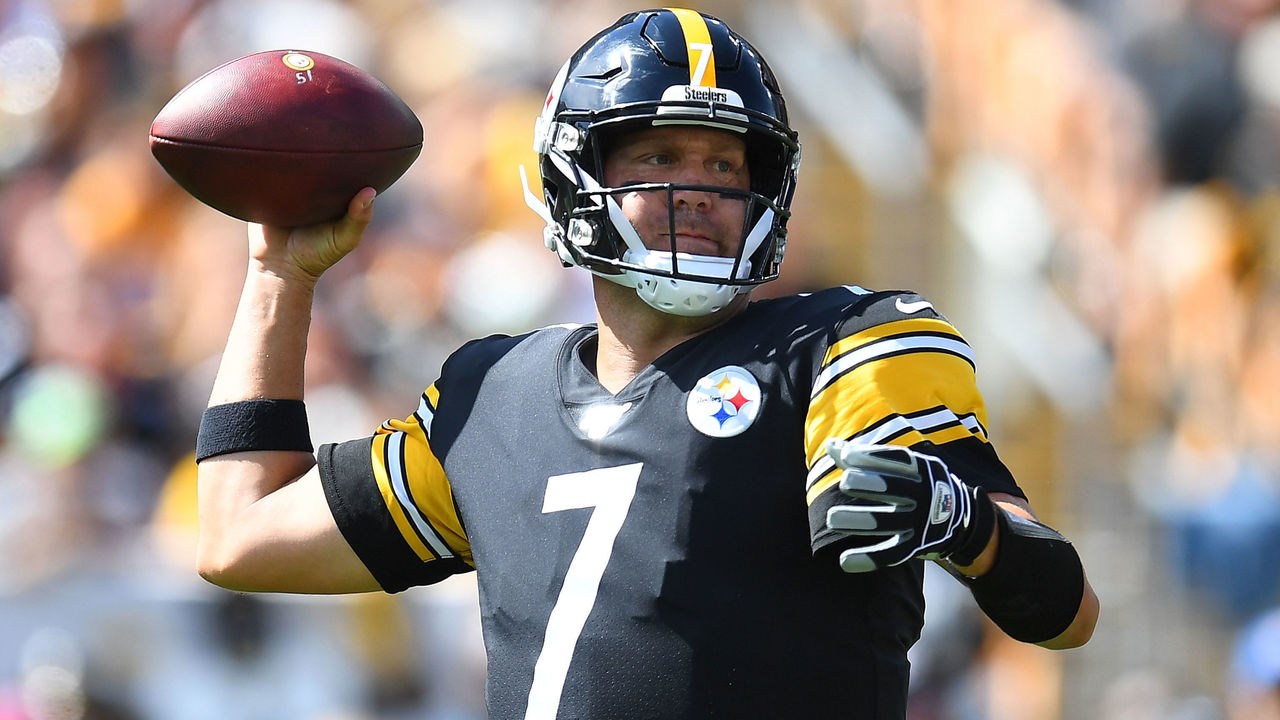 It's been a minute since we've seen Roethlisberger in an NFL game. All reports indicate the 38-year-old - who sat out the majority of the 2019 season - underwent successful elbow surgery and that his recovery is on schedule, evidenced by the Steelers' recent hype video.
Pittsburgh's offense crumbled without Big Ben in the lineup, as Mason Rudolph and Devlin Hodges failed to provide even adequate production. As a result, the Steelers recorded a bottom-five finish in almost every major passing stat and ranked 30th in Football Outsiders' passing offense DVOA.
That makes it easy to forget that Roethlisberger is just one year removed from leading the league in passing yards (5,129), attempts (675), and completions (452).
Though the supporting cast has changed with the departure of Antonio Brown, the Steelers have a potential breakout candidate at receiver in Diontae Johnson, and they spent a second-round pick on wideout Chase Claypool. With veteran tight end Eric Ebron offering another reliable red-zone threat, Roethlisberger has plenty of weapons to work with.
If he can return to form, Roethlisberger still has top-10 fantasy upside.
Bounce-back potential: ★★★★☆
ADP: 12th round (QB17)
David Johnson, RB, Texans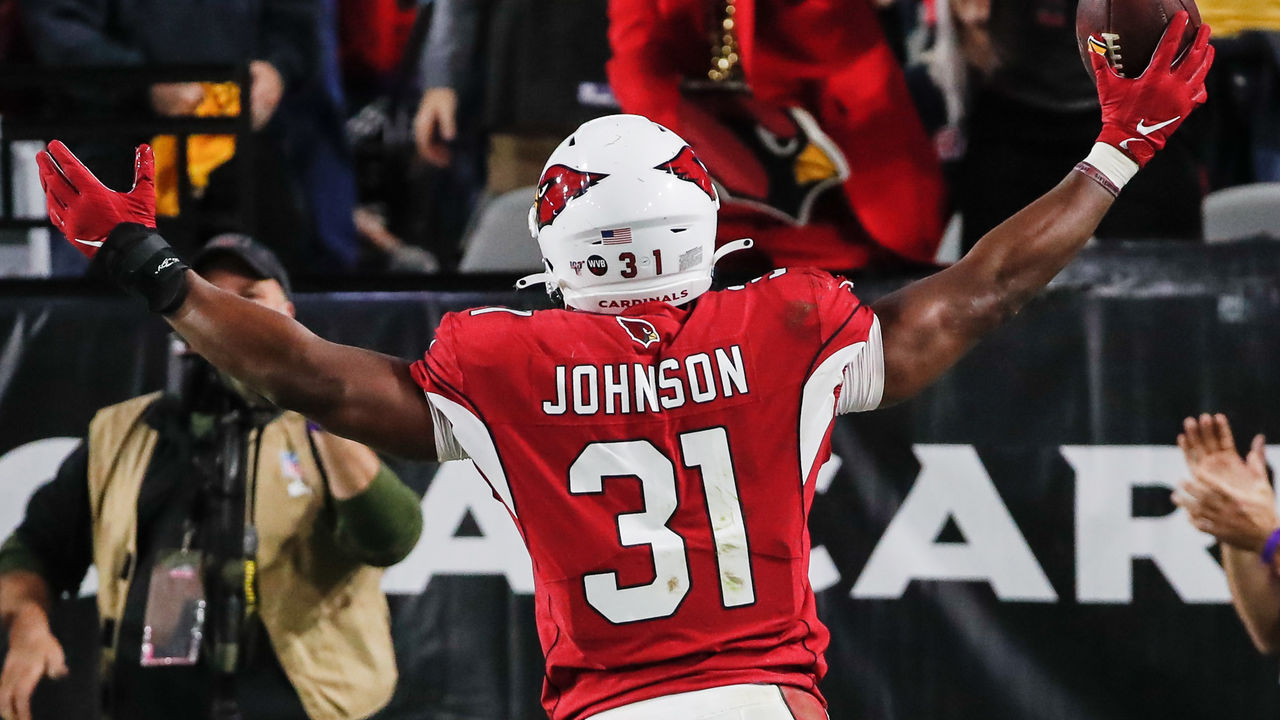 It's odd how much impact a single negative highlight can have. When a clip of Johnson moving sluggishly surfaced after Week 10, fantasy owners were quick to write him off.
Does Johnson look like an offensive lineman trying to carry the ball on that play? Absolutely. But this was also his first game back after suffering an ankle injury in Week 7.
Prior to going down, Johnson was a top-five back in PPR formats through six weeks, averaging 20.2 fantasy points per game. In 2018, he appeared in all 16 contests and ended the year as the RB9 in fantasy.
It's possible he rushed his return to the lineup in an attempt to fend off Kenyan Drake, who ultimately stole his starting job anyway. Regardless, Johnson didn't look like the same player in the second half of the season, and with Drake on the roster, the Cardinals were happy to trade him away in March.
If the 28-year-old had remained in Arizona, his fantasy stock was set to take a major hit in what would have been, at best, a timeshare. However, in Houston, Johnson will enter the season as the new lead back on an offense that helped journeyman Carlos Hyde reach 1,000 rushing yards for the first time in his career.
Not only can Johnson replicate Hyde's work on the ground, but he's also one of the most skilled pass-catching running backs in the league. With the volume available in the Texans' backfield, a healthy Johnson has an excellent chance to get back into the RB2 ranks.
Bounce-back potential: ★★★★☆
ADP: 4th round (RB24)
Le'Veon Bell, RB, Jets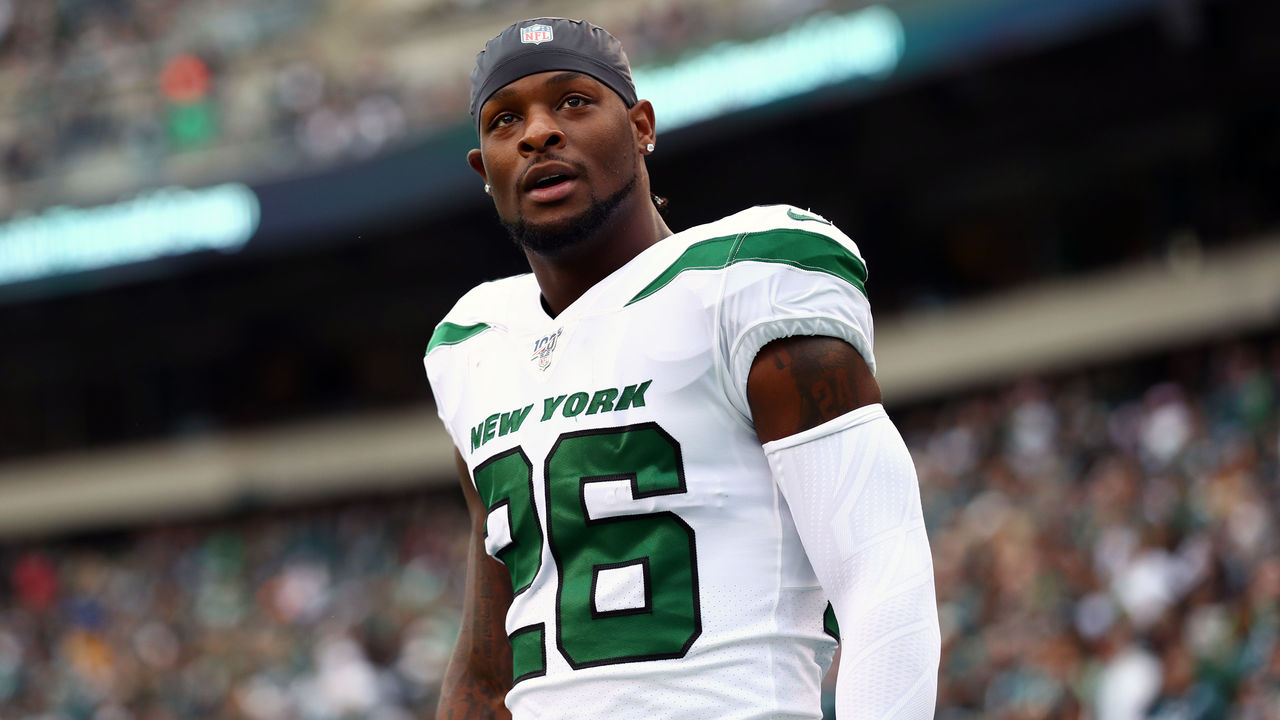 Bell is another 28-year-old ball carrier hoping to restore his fantasy stock. Unfortunately, he could have a few more obstacles in his path.
Head coach Adam Gase had a bizarre disdain for Bell from the moment the team signed him last offseason. However, for all of Gase's missteps, he's probably right about this one. The Jets were foolish to sign Bell to a four-year, $52.5-million contract following his 2018 holdout as a member of the Steelers.
But once Bell inked the deal, it became Gase's job to put his running back in a position to succeed - a task he's fell short of on almost every NFL team he's coached for.
However, Bell still managed to produce during his first year in New York, amassing 1,250 yards from scrimmage, 66 receptions, and four total touchdowns. It was well off the numbers he'd delivered in years past, but also good enough to be an RB2 in fantasy despite having to deal with a bad offensive line and a young quarterback who missed part of the year due to mono.
Those last two issues should be addressed with Sam Darnold at full strength and the offensive line getting a major upgrade with the arrival of first-round tackle Mekhi Becton while also adding George Fant and Connor McGovern.
Bell's new hurdle comes in the form of veteran Frank Gore, a Gase favorite dating back to their time together with the Dolphins. Even at 37 years old, Gore is a dependable depth piece and a perfect mentor for younger backs like fourth-rounder La'Mical Perine. Gore's ability to be a difference-maker on the field is waining, though. He's coming off of his worst season as a pro, as he eventually watched Devin Singletary emerge as the lead back in Buffalo.
While Gore can vulture valuable carries on occasion, he's not a threat to Bell's status on the depth chart. In fact, having a back capable of alleviating some of Bell's burden could make him more effective in an offense that should finally take a step forward. With better blocking and more consistent quarterback play, expect Bell to improve on his 2019 marks and push for high-end RB2, or even low-end RB1, fantasy results.
Bounce-back potential: ★★★★☆
ADP: 4th round (RB21)
T.Y. Hilton, WR, Colts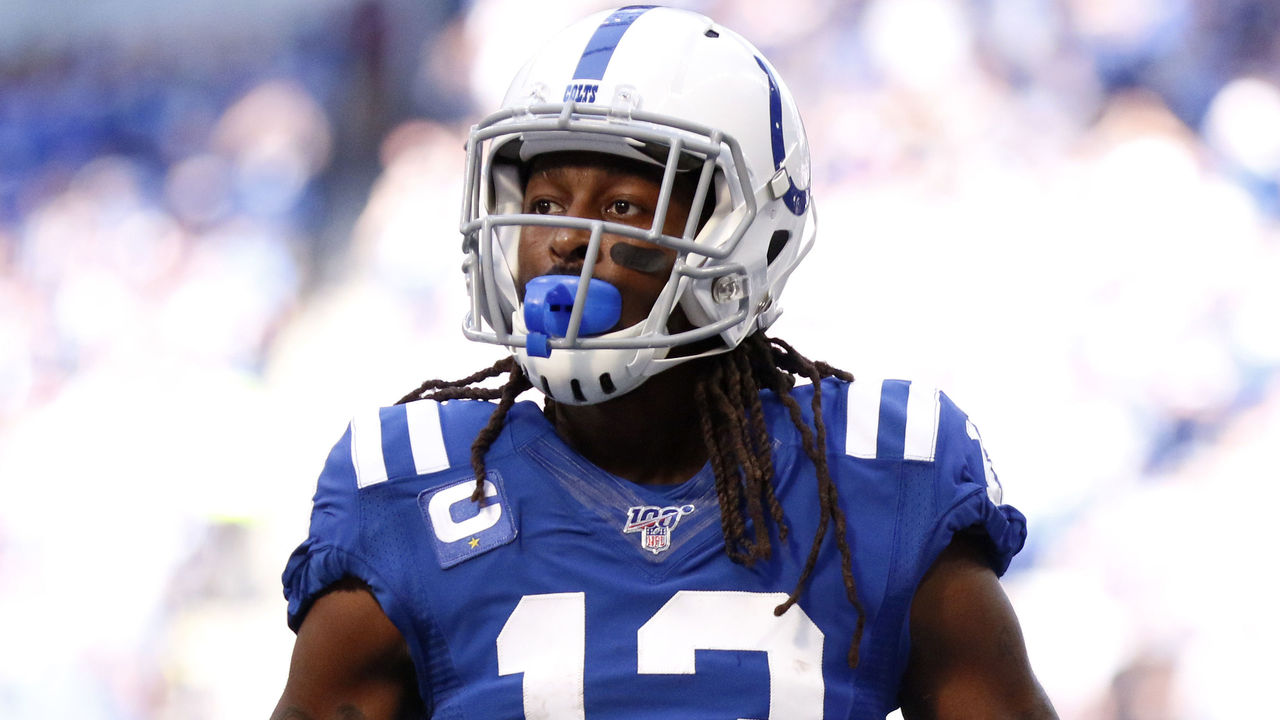 Hilton battled injuries en route to a 45-catch, 501-yard, five-touchdown stat line over 10 appearances in 2019.
Jacoby Brissett did an admirable job as a last-minute replacement at quarterback, but the drop-off from Andrew Luck was evident. Hilton was still able to get off to a strong start last season, averaging the 15th-most fantasy points per contest over the first half before injuries sapped his effectiveness.
It's encouraging that Hilton was on pace for 123 targets during that early-season stretch after totaling 120 the year before. His yards per catch took a major hit, though, falling 5.6 yards to a career-low 11.1.
With Philip Rivers taking over under center, we should see that number creep back up. Hilton joining forces with a savvy veteran who - at worst - can help sustain drives and increase scoring opportunities is another plus. And while a pair of second-rounders - Parris Campbell (2018) and Michael Pittman Jr. (2019) - may eventually challenge him for Indy's No. 1 receiver job, it's not currently a concern.
Sell your Hilton shares in dynasty, but for re-draft leagues, he can be fired up as a low-end WR2 once again.
Bounce-back potential: ★★★★★
ADP: 6th round (WR28)
Brandin Cooks, WR, Texans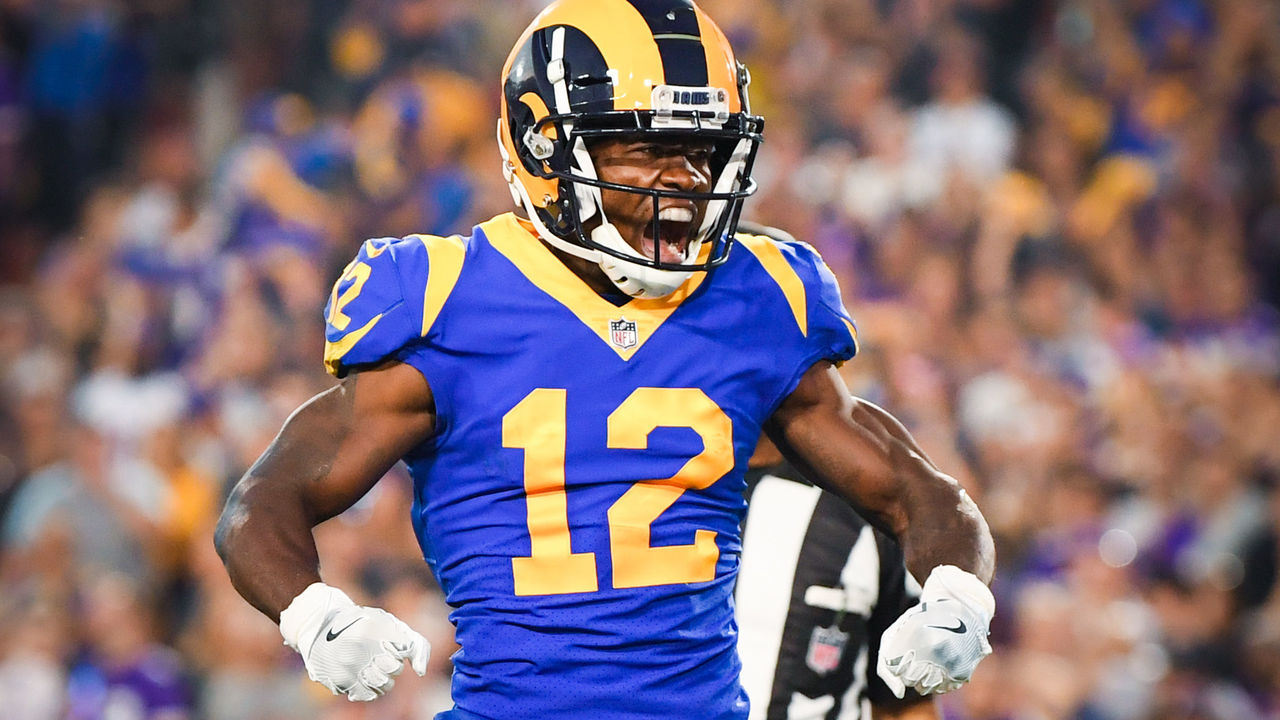 It wasn't long ago that Cooks was a fantasy stud.
Before turning into an afterthought in the Rams' offense last season, Cooks put up four straight 1,000-yard seasons while playing for three different teams.
Following his last two trades, Cooks averaged 73 receptions, 1,143 yards, and six touchdowns in his debut campaigns for the Patriots and Rams.
While Allen Robinson has had to adjust to poorly thrown balls from Blake Bortles and Mitch Trubisky his entire career, Cooks has caught most of his passes from Drew Brees and Tom Brady, with Deshaun Watson next up on that list.
Watson needs Cooks, too, as the wideout will be asked to help fill the void left by DeAndre Hopkins. In addition to the 167 vacated targets in the Texans' passing attack, Cooks could steal some of Kenny Stills' work since he provides a similar skill set as the speedy field-stretcher. The volume is available for Cooks if he can stay on the field.
Sadly, the 26-year-old does come with risk. His five documented concussions should cause concern for fantasy managers, even if they don't worry his new head coach Bill O'Brien.
"I've been asked about concussions," O'Brien told reporters on a conference call in April. "Yes, he's had concussions, but he's only missed two games since 2015."
Cooks' history of production, combined with an ADP outside the first seven rounds, gives him intriguing upside. Even if you only get half a season from him, Cooks could be worth it thanks to his proven WR2 ceiling.
Bounce-back potential: ★★★★☆
ADP: 8th round (WR36)
DeSean Jackson, WR, Eagles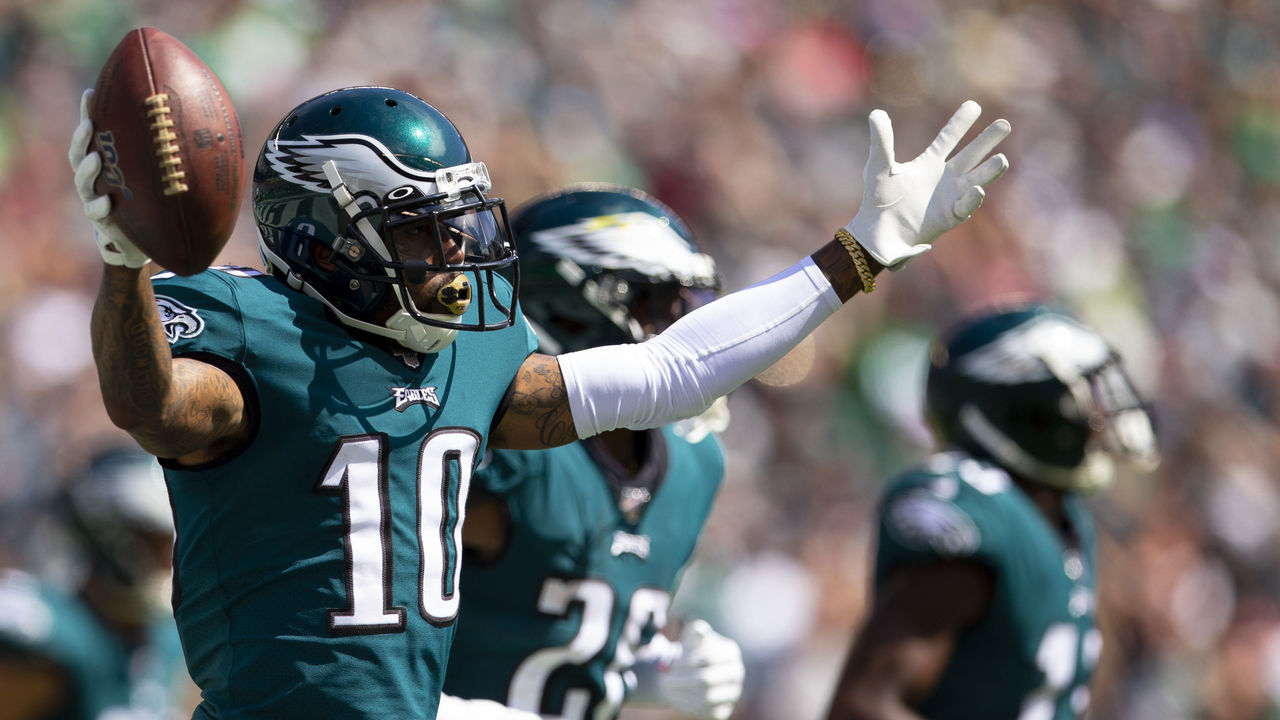 Jackson has started each of the last two seasons like he was shot out of a cannon.
With the Bucs in 2018, D-Jax posted three 100-yard games in the first month, leading to the second-most fantasy points among receivers during that stretch. He remained the WR17 in PPR after the first eight weeks before tailing off due to injuries and quarterback changes.
In his return to the Eagles in 2019, Jackson went off for eight catches, 154 yards, and two touchdowns in Week 1. A core muscle injury limited him to just two more appearances after that and eventually required surgery.
If those performances showed us anything, it's that Jackson is still one of the game's most explosive wideouts and exactly what the Eagles need to keep defenses honest.
There's also plenty of opportunity in the receiving corps, as Alshon Jeffery's future with Philly is unknown and Jalen Reagor is a first-rounder who will need time to acclimate in the pros.
Similar to Cooks, you may have to accept the fact Jackson won't be in your lineup for the full fantasy season, but he'll carry week-winning upside when he suits up.
Bounce-back potential: ★★★★☆
ADP: 13th round (WR59)
Evan Engram, TE, Giants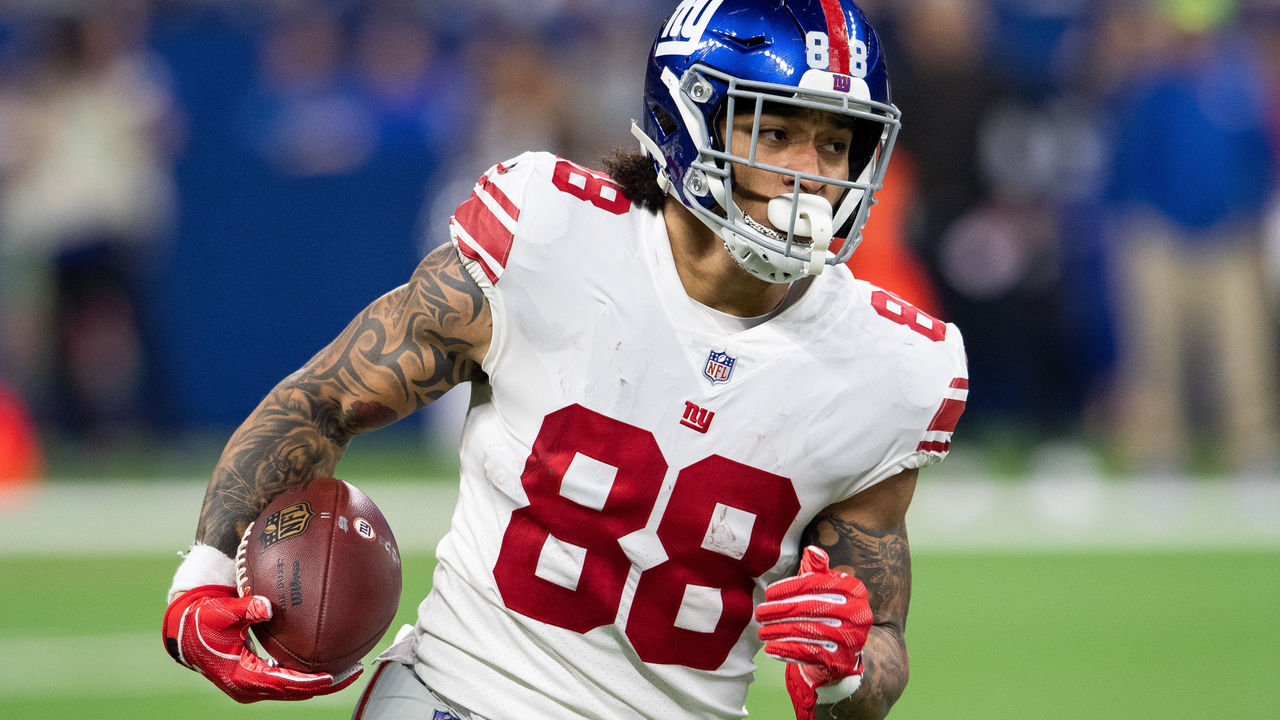 Engram has produced when healthy, but the third-year pro has missed 13 games over the last two seasons and is currently rehabbing after Lisfranc surgery.
However, it's worth noting that Engram was the TE6 through nine weeks last season before missing the rest of the year. So, his ceiling remains intact if the foot issues can be resolved.
Target hog Odell Beckham Jr. is no longer in the picture, but the Giants' arsenal has expanded in the last two years to include Sterling Shepard, Golden Tate, Darius Slayton, and star running back Saquon Barkley, all of whom will be vying for targets.
There's also a new offensive coordinator in town, as former Cowboys head coach Jason Garrett gets ready to calls plays for the first time since 2012. Having one of the NFL's most athletic tight ends is a much different scenario than watching Jason Witten lumber over the star in Dallas. Hopefully, Garrett recognizes Engram as the matchup nightmare he can be.
Based on his early-career success, the former first-round pick should be viewed as a solid TE1 in fantasy whenever he's active. Though his floor has lowered due to injuries, he offers as much upside as anyone outside of the top five at his position and should be drafted accordingly.
Bounce-back potential: ★★★★☆
ADP: 7th round (TE6)
More in this series