With the 2020 season on pause, theScore's MLB editors graded each team's front office by the moves made since Nov. 1, 2017. For executives hired following that date, only the moves they made after taking over were graded. Only the most notable transactions were considered. We finish with the National League West.
AL: EAST I CENTRAL I WEST
NL: EAST I CENTRAL I NL WEST
Arizona Diamondbacks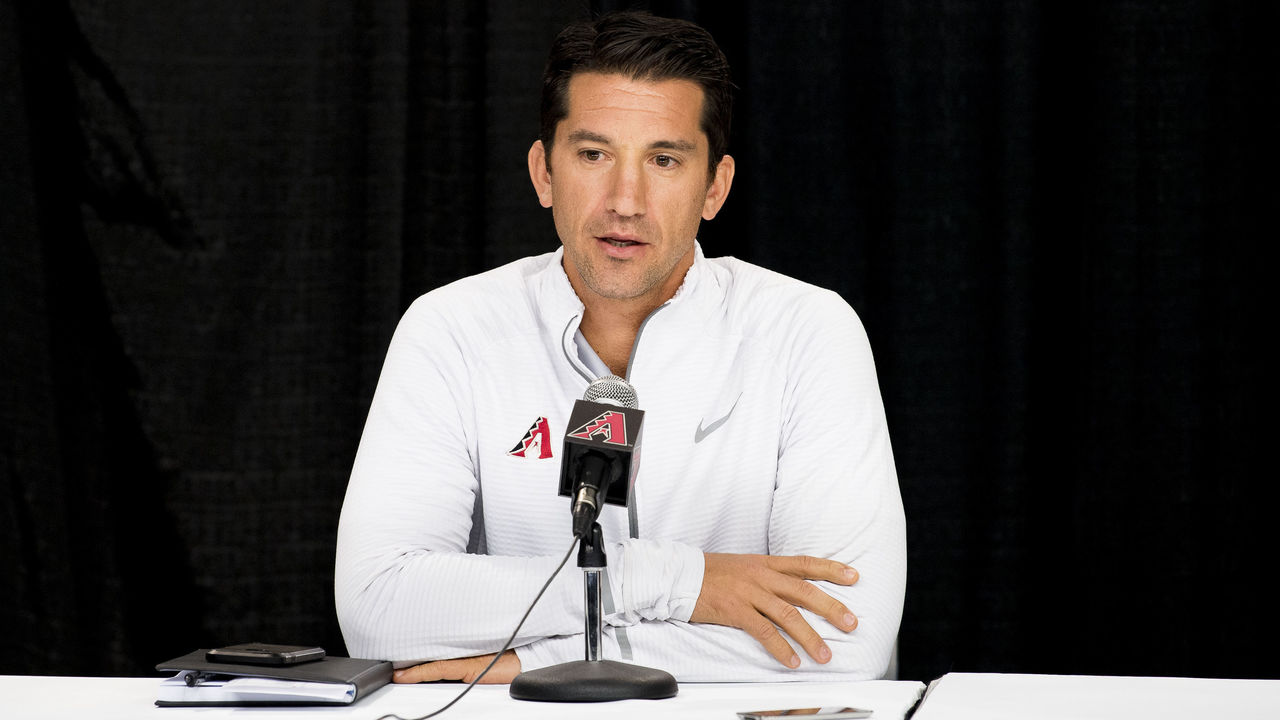 Executive: Mike Hazen
Title: Executive vice president and general manager
Hired: Oct. 16, 2016
The D-Backs haven't made the playoffs since 2017, the first year of Hazen's tenure. But he's kept them on the edge of contention ever since. Though he's made some mistakes in free agency, playing the market has proven to be a strength. Signing Ketel Marte to a below-market extension before his breakout season looks like a stroke of genius.
But with the notable exception of acquiring Eduardo Escobar, Hazen's trade record hasn't been fantastic. The big three-team trade to land Steven Souza Jr. blew up in his face when the outfielder played 72 games over two years, and the pieces Arizona sent away began contributing elsewhere. Several of Hazen's midseason acquisitions netted the D-Backs minimal big-league production while costing them solid prospects.
However, the jury is still out on many of Hazen's bigger moves. The controversial blockbuster trades of Paul Goldschmidt and Zack Greinke might end up better than was initially thought. Madison Bumgarner and Starling Marte haven't played for the D-Backs yet, while last summer's swap of top prospects with the Marlins remains an intriguing coin flip.
Those moves will make or break Hazen's legacy in Arizona, and he deserves the chance to see them through.
The good 👍:
Eduardo Escobar acquired from Twins for Ernie De La Trinidad, Jhoan Duran, Gabriel Maciel
Ketel Marte signed five-year, $24M extension
Eduardo Escobar signed three-year, $21M extension
Yoshihisa Hirano signed two-year, $6M deal
Alex Avila signed two-year, $8.25M deal
Jarrod Dyson signed two-year, $7.5M deal
Wilmer Flores signed one-year, $4.25M deal
Adam Jones signed one-year, $3M deal
Stefan Crichton acquired from Orioles for PTBNL or cash
Clay Buchholz signed one-year, $1.6M deal
Brad Ziegler acquired from Marlins for Tommy Eveld
Tim Locastro acquired from Yankees for Ronald Roman, cash
The bad 👎:
Steven Souza Jr., Taylor Widener acquired in three-team trade for Brandon Drury, Anthony Banda, Sam McWilliams, Colin Poche
Merrill Kelly signed two-year, $5.5M deal
Greg Holland signed one-year, $3.25M deal
Deven Marrero acquired from Red Sox for Josh Taylor
Jon Jay acquired from Royals for Elvis Luciano, Gabe Speier
Jake Diekman acquired from Rangers for Wei-Chieh Huang, Joshua Javier
Matt Andriese acquired from Rays for Michael Perez, Brian Shaffer
Blake Swihart, bonus money acquired from Red Sox for Marcus Wilson
Brad Keller lost to Royals in 2017 Rule 5 Draft
Victor Reyes lost to Tigers in 2017 Rule 5 Draft
TBD 🤔:
Paul Goldschmidt traded to Cardinals for Carson Kelly, Luke Weaver, Andy Young, 2019 competitive balance pick
Zack Greinke traded to Astros for Seth Beer, J.B. Bukauskas, Corbin Martin, Josh Rojas
Madison Bumgarner signed five-year, $85M deal
Starling Marte acquired from Pirates for Brennan Malone, Liover Peguero, bonus money
Zac Gallen acquired from Marlins for Jazz Chisholm
Mike Leake acquired from Mariners for Jose Caballero
Stephen Vogt signed one-year, $3M deal
Junior Guerra signed one-year, $2.65M deal
Kole Calhoun signed two-year, $16M deal
Hector Rondon signed one-year, $3M deal
Matt Andriese traded to Angels for Jeremy Beasley
Curtis Taylor traded to Rays for Brad Boxberger
David Peralta signed three-year, $20M extension
Nick Ahmed signed four-year, $32.5M extension
Grade: B+
Colorado Rockies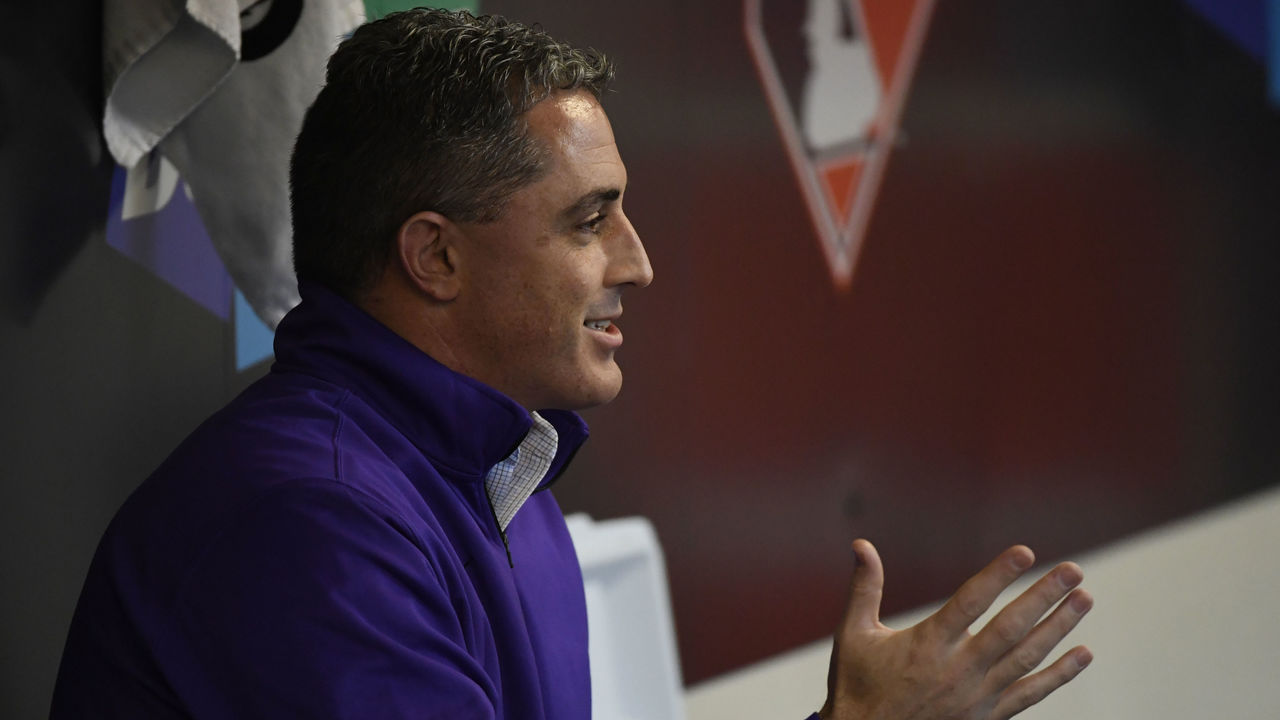 Executive: Jeff Bridich
Title: Executive vice president and general manager
Hired: Oct. 8, 2014
The Rockies were the only team that didn't sign a player to a guaranteed major-league contract this past offseason. Did Colorado's recent litany of high-priced free-agency failures lead to Bridich's winter of inaction? It's not out of the question.
Bridich's attempt to build a super-bullpen of Wade Davis, Jake McGee, and Bryan Shaw is his biggest recent blunder. Another is signing Daniel Murphy, who turned in the worst season of his career last year. As those four struggled, the free agents Bridich chose not to re-sign - DJ LeMahieu and Adam Ottavino - both made him look foolish with the Yankees.
Bridich's few trades have been questionable. The most notable misfire was sending outfielder Mike Tauchman to the Yankees - where he instantly morphed from an unknown depth piece into a slugging fan favorite - for reliever Phillip Diehl and his 7.36 ERA. The waiver wire also bit Bridich last spring when catcher Tom Murphy was claimed before turning in a solid 2019 for Seattle, leaving the Rockies with the worst production from catchers among NL teams.
While Bridich deserves credit for building playoff teams in 2017 and 2018, that run now seems like a bit of a fluke. Some of Colorado's bad contracts will be off the books soon, but there's no easy fix here - especially if the Nolan Arenado marriage can't be salvaged. Bridich has created quite the mess for himself, and he might not be the right person to fix it.
The good 👍:
Nolan Arenado signed eight-year, $260M extension
Trevor Story signed two-year, $27.5M extension
Drew Butera acquired from Royals for Jerry Vasto
Chi Chi Gonzalez signed minor-league deal
James Pazos acquired from Phillies for Hunter Stovall
Wes Parsons claimed off waivers from Braves
Tyler Kinley claimed off waivers from Marlins
The bad 👎:
Chris Iannetta signed two-year, $8.5M deal
Jake McGee signed three-year, $27M deal
Bryan Shaw signed three-year, $27M deal
Wade Davis signed three-year, $52M deal
Carlos Gonzalez signed one-year, $8M deal
Daniel Murphy signed two-year, $24M deal
Mike Tauchman traded to Yankees for Phillip Diehl
Tom Murphy lost to Giants on waivers
Brandon Brennan selected by Mariners in Rule 5 Draft
TBD 🤔:
Seunghwan Oh acquired from Blue Jays for Chad Spanberger, Forrest Wall, Bryan Baker
German Marquez signed five-year, $43M extension
Grade: D
Los Angeles Dodgers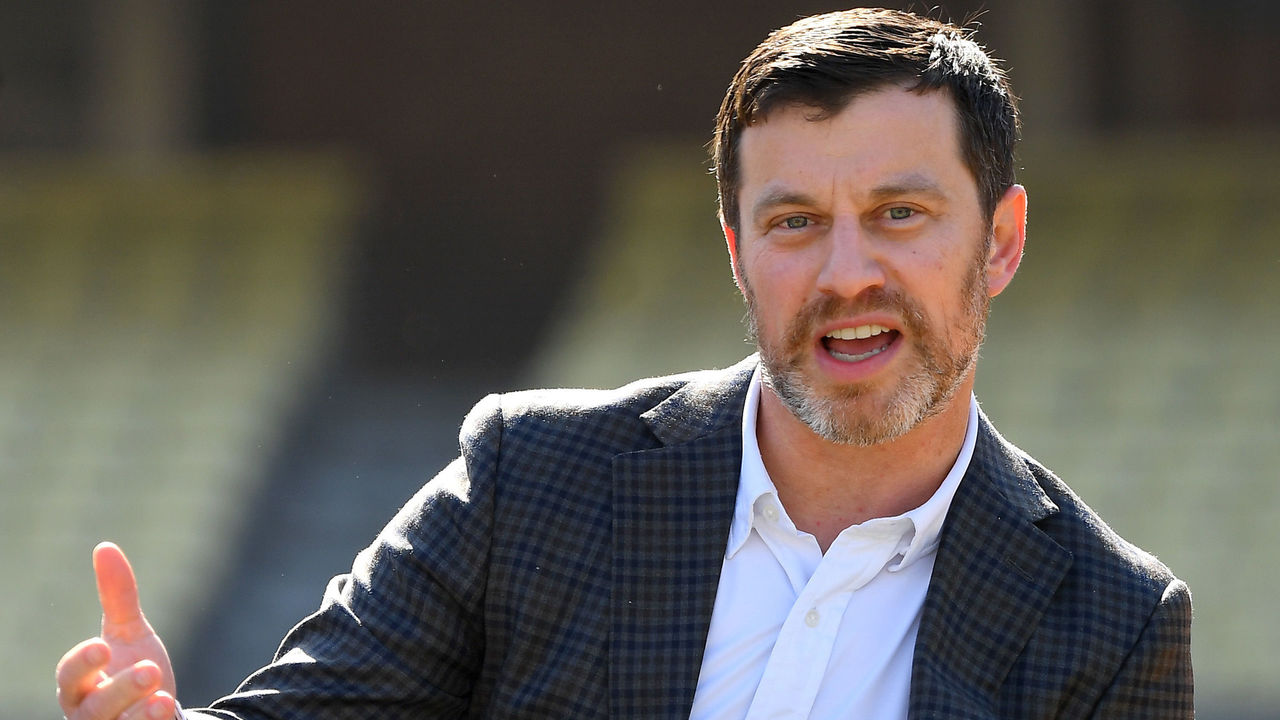 Executive: Andrew Friedman
Title: President of baseball operations
Hired: Oct. 14, 2014
Most of what Friedman's touched in L.A. has turned to gold. Even the Dodgers' often head-scratching salary-dump trades have somehow paid off.
Most notably, Friedman acquired Matt Kemp from Atlanta for a whole bunch of players on expensive contracts, then used the 35-year-old's comeback 2018 season to anchor yet another payroll-clearing swap containing pieces later used to land Mookie Betts. The depth and sustainability of his farm system allows Friedman to take huge trade risks, and to even acquire superstars while holding on to his best young talent.
Friedman's choices regarding marquee free agents are a source of valid criticism. Extending the likes of Clayton Kershaw and Max Muncy is great, as is the Dodgers' mostly solid work in the bargain bin. But why does baseball's second-richest franchise, that's located in a true destination city, settle for A.J. Pollock and Joe Kelly? Obviously, Los Angeles can swallow those expensive and disappointing deals, but choosing Pollock and Kelly over Manny Machado and/or Bryce Harper is an odd look for a team of the Dodgers' stature.
Friedman's decisions this offseason can't be properly judged amid the pandemic shutdown. If the Dodgers don't pony up for Betts next winter, everything may change in a hurry. For now, the club remains a model for how to build a sustainable winner in the modern era, even if it does confound during free agency.
The good 👍:
Matt Kemp acquired from Braves for Charlie Culberson, Adrian Gonzalez, Scott Kazmir, Brandon McCarthy, cash
Kyle Farmer, Matt Kemp, Yasiel Puig, Alex Wood traded to Reds for Jeter Downs, Josiah Gray, Homer Bailey
Clayton Kershaw signed three-year, $93M extension
Max Muncy signed minor-league deal
Max Muncy signed three-year, $26M extension
Adam Kolarek acquired from Rays for Niko Hulsizer
David Freese acquired from Pirates for Jesus Valdez
Russell Martin acquired from Blue Jays for Ronny Brito, Andrew Sopko
Scott Alexander, Jake Peter acquired in three-team trade for Luis Avilan, Erick Mejia, Trevor Oaks
Chase Utley signed two-year, $2M deal
JT Chargois claimed off waivers from Twins
Dylan Floro, Zach Neal, bonus money acquired from Reds for James Marinan, Aneurys Zabala
Chris Taylor signed two-year, $13.4M extension
The bad 👎:
A.J. Pollock signed four-year, $55M deal
Joe Kelly signed three-year, $25M deal
Brian Dozier acquired from Twins for Luke Raley, Logan Forsythe, Devin Smeltzer
Ryan Madson acquired from Nationals for Andrew Istler
Tom Koehler signed one-year, $2M deal
Tim Locastro traded to Yankees for Drew Finley
TBD 🤔:
Mookie Betts, David Price, cash acquired from Red Sox for Alex Verdugo, Jeter Downs, Connor Wong
Brusdar Graterol, Luke Raley, 2020 competitive balance pick acquired from Twins for Kenta Maeda, Jair Camargo
Manny Machado acquired from Orioles for Rylan Bannon, Yusniel Diaz, Dean Kremer, Zach Pop, Breyvic Valera
Jedd Gyorko, bonus money acquired from Cardinals for Tony Cingrani, Jeffry Abreu
Blake Treinen signed one-year, $10M deal
Jimmy Nelson signed one-year, $1.25M deal
Edubray Ramos signed minor-league deal
Alex Wood signed one-year, $4M deal
Casey Sadler traded to Cubs for Clayton Daniel
Kyle Garlick traded to Phillies for Tyler Gilbert
Logan Salow acquired from Athletics for Wilmer Font
Grade: A-
San Diego Padres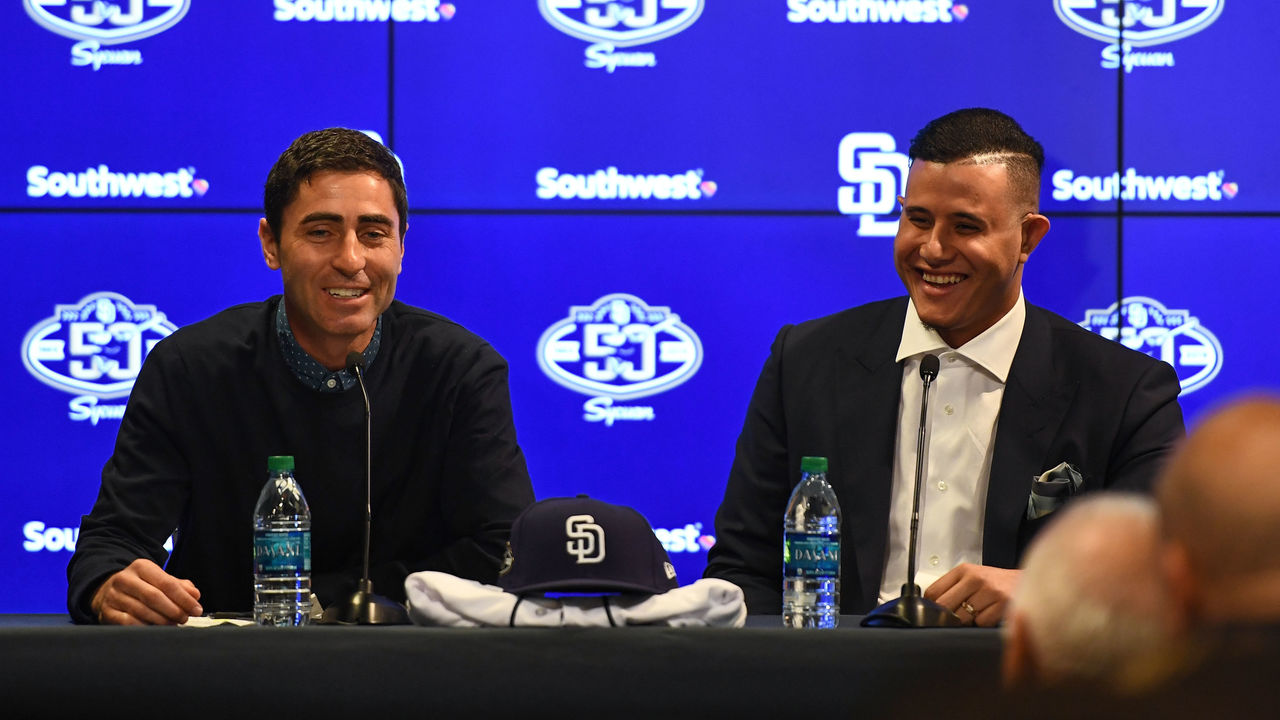 Executive: A.J. Preller
Title: Executive vice president and general manager
Hired: Aug. 5, 2014
Preller made some shrewd signings while navigating the Padres' rebuild, like inking injured pitcher Garrett Richards to a two-year deal, and taking on Phil Hughes' contract to essentially buy a draft pick. His biggest score, the surprise signing of Machado, was the move the rebuild needed at the perfect moment. By contrast, Eric Hosmer's $144-million deal has yielded a 93 wRC+ and minus-0.5 WAR through two years. At least that contract is front-loaded.
Preller's done a decent job managing assets on a rebuilding club. Claiming Greg Garcia netted the team a controllable bench piece, which is vital for an NL squad. One of Preller's better under-the-radar deals was turning Yangervis Solarte into Edward Oliveras, who went from organizational fodder into a top-20 prospect under San Diego's watch. Preller hasn't handled every asset smoothly, but there's been more good moves than even questionable ones overall.
Even if there are a few holes that still need to be filled and some trades to be evaluated over time, Preller has quieted the doubters over the last two years by rebuilding the Padres to the cusp of contention. Whatever happens, it will at least be fun watching his creation play out.
The good 👍:
Manny Machado signed 10-year, $300M deal
Jordan Lyles signed one-year, $1M contract
Tyson Ross signed minor-league deal
Craig Stammen signed two-year, $4.5M deal
Craig Stammen re-signed two-year, $9M deal
Greg Garcia claimed off waivers from Cardinals
Yangervis Solarte traded to Blue Jays for Jared Carkuff, Edward Olivares
A.J. Ellis signed minor-league deal
Phil Hughes, competitive balance pick acquired from Twins for Janigson Villalobos
Garrett Richards signed two-year, $15.5M deal
Ian Kinsler signed two-year, $8M deal
The bad 👎:
Eric Hosmer signed eight-year, $144M deal
Jabari Blash traded to Yankees for Chase Headley, Bryan Mitchell, cash
Enyel De Los Santos traded to Phillies for Freddy Galvis
Kazuhisa Makita signed two-year, $3.8M deal
Brett Nicholas acquired from Rangers for Emmanuel Clase
Jordan Lyles lost to Brewers on waivers
Tyson Ross lost to Cardinals on waivers
Aaron Loup signed one-year, $1.4M deal
Adam Warren signed one-year, $2.5M deal
Matt Wisler acquired from Reds for Diomar Lopez
Alex Dickerson traded to Giants for Franklin Van Gurp
Carl Edwards Jr. acquired from Cubs for Brad Wieck
TBD 🤔:
Francisco Mejia acquired from Indians for Adam Cimber, Brad Hand
Victor Nova, Logan Allen, Franmil Reyes traded for Taylor Trammell in three-team deal
Tommy Pham, Jake Cronenworth acquired from Rays for Hunter Renfroe, Xavier Edwards, Esteban Quiroz
Eric Lauer, Luis Urias, PTBNL traded to Brewers for Zach Davies, Trent Grisham
Drew Pomeranz signed four-year, $34M deal
Jurickson Profar acquired from Athletics for Austin Allen, Buddy Reed
Pierce Johnson signed two-year, $5M deal
Emilio Pagan acquired from Rays for Manuel Margot, Logan Driscoll
Colten Brewer traded to Red Sox for Esteban Quiroz
Walker Lockett traded to Indians for Ignacio Feliz
Rowan Wick traded to Cubs for Jason Vosler
Phil Maton traded to Indians for bonus money
Juan Lagares signed minor-league deal
Brian Dozier signed minor-league deal
Grade: B+
San Francisco Giants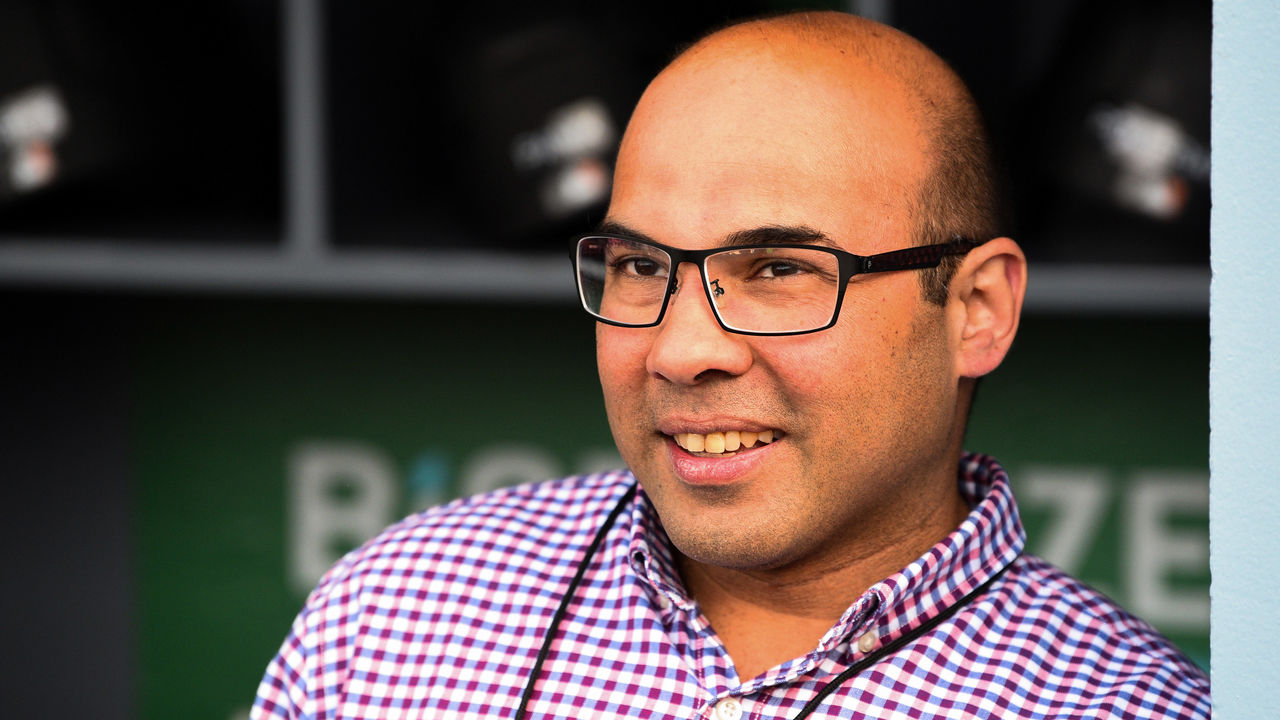 Executive: Farhan Zaidi
Title: President of baseball operations
Hired: Nov. 6, 2018
Zaidi is in a tough spot. He took the Giants' job knowing that his task - rebuilding an aging roster and dried-up farm system - wouldn't be completed overnight. He's acquitted himself well so far.
Zaidi made a couple of shrewd acquisitions early in his first season, nabbing Mike Yastrzemski from Baltimore and Kevin Pillar from Toronto for little of substance. Yastrzemski was a steal, as the career minor leaguer unexpectedly broke out as a 28-year-old rookie.
Last summer, Zaidi turned some veteran assets into sorely needed young blood. Drew Pomeranz, Mark Melancon, and Sam Dyson brought back six prospects, and those moves gave the club additional financial flexibility. He also took on Zack Cozart's onerous contract from the Angels as the cost of essentially buying top-10 prospect Will Wilson. Zaidi's tools are limited right now, but the Giants have money, and he's wisely using that to his advantage.
Time will tell if Zaidi's failure to trade Madison Bumgarner for prospects prior to last July's deadline will haunt the Giants. Unless the pandemic alters how this year's trade deadline plays out, a lot will ride on what return Zaidi gets for offseason signings (and presumed midseason trade chips) Kevin Gausman and Drew Smyly, among others.
While there's much to be decided still, Zaidi has done fine for now, and the Giants appear to be in good hands.
The good 👍:
Mike Yastrzemski acquired from Orioles for Tyler Herb
Mark Melancon traded to Braves for Tristan Beck, Dan Winkler
Mauricio Dubon acquired from Brewers for Ray Black, Drew Pomeranz
Zack Cozart, Will Wilson acquired from Angels for Garrett Williams
Kevin Pillar acquired from Blue Jays for Juan De Paula, Alen Hanson, Derek Law
Sam Dyson traded to Twins for Jaylin Davis, Prelander Berroa, Kai-Wei Teng
Derek Holland signed one-year, $7M deal
Drew Pomeranz signed one-year, $1.5M deal
Donovan Solano signed minor-league deal
Jandel Gustave signed minor-league deal
Trevor Gott purchased from Nationals
Stephen Vogt signed minor-league deal
Alex Dickerson acquired from Padres for Franklin Van Gurp
Scooter Gennett acquired from Reds for PTBNL
The bad 👎:
Erik Kratz acquired from Brewers for C.J. Hinojosa
Tom Murphy traded to Mariners for Jesus Ozoria
Derek Holland, cash traded to Cubs for cash
TBD 🤔:
Tyler Anderson signed one-year, $1.78M deal
Kevin Gausman signed one-year, $9M deal
Drew Smyly signed one-year, $4M deal
Wilmer Flores signed two-year, $6.25M deal
Hunter Pence signed one-year, $3M deal
Billy Hamilton signed minor-league deal
Nick Vincent signed minor-league deal
Jarlin Garcia selected off waivers from Marlins
Jerry Blevins signed minor-league deal
Tyson Ross signed minor-league deal
Darin Ruf, Yolmer Sanchez signed minor-league deals
Pablo Sandoval signed minor-league deal
Trevor Cahill signed minor-league deal
Kevin Pillar non-tendered
Grade: A-