With the 2020 season on pause, theScore's MLB editors graded each team's front office by the moves made since Nov. 1, 2017. For executives hired following that date, only the moves they made after taking over were graded. Grades are relative to what the team is trying to accomplish, and only the most notable transactions were considered. We continue with the National League Central:
AL: EAST I CENTRAL I WEST
NL: EAST I CENTRAL I WEST
Chicago Cubs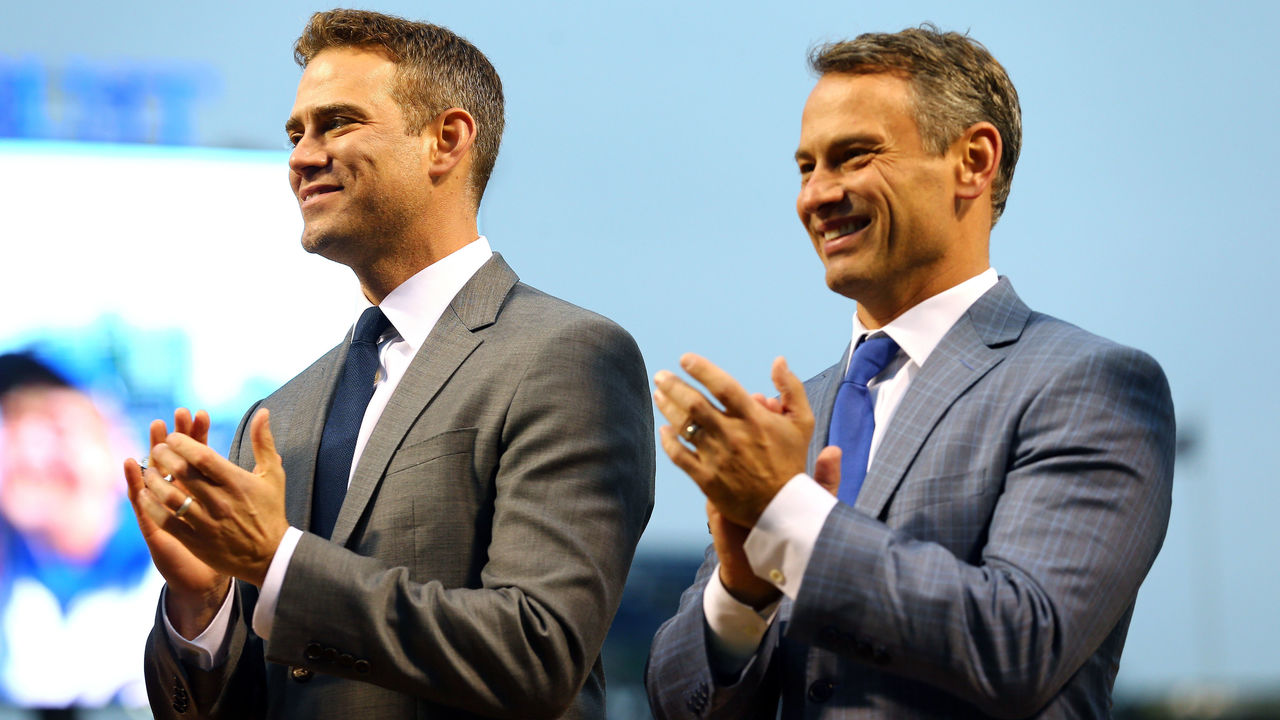 Executive: Theo Epstein, Jed Hoyer
Title: President of baseball operations, general manager
Hired: Oct. 19, 2011
After a lengthy rebuild, the group assembled by Epstein finally delivered a World Series to the North Side of Chicago for the first time in more than a century in 2016. Since then, the Cubs haven't lived up to expectations. The team has cried poor since giving right-hander Yu Darvish a lucrative six-year deal and missed the postseason in 2019.
The Darvish deal could pan out - he was outstanding in the second half of last season - and so could Craig Kimbrel's three-year pact. Neither is a sure thing, though, and after draining their farm system through major-league promotions and big trades, the Cubs have taken a step back. Cole Hamels and Nick Castellanos were great short-term acquisitions, but that's been the order of the day for the last couple of offseasons.
Slowly sinking while trying to tread water has made the Cubs' championship glory a distant memory in short order.
The good 👍:
Cole Hamels acquired from Rangers for Eddie Butler, Rollie Lacy, Alexander Ovalles
Nick Castellanos acquired from Tigers for Alex Lange, Paul Richan
Jesse Chavez acquired from Rangers for Tyler Thomas
Steven Souza Jr. signed one-year, $1M deal
Brad Wieck acquired from Padres for Carl Edwards Jr.
Steve Cishek signed two-year, $13M deal
The bad 👎:
Tyler Chatwood signed three-year, $38M deal
Brandon Morrow signed two-year, $21M deal
Tommy La Stella traded to Angels for Conor Lillis-White
Drew Smyly signed two-year, $10M deal
Martin Maldonado acquired from Royals for Mike Montgomery
Martin Maldonado traded to Astros for Tony Kemp
Derek Holland acquired from Giants for cash
Carlos Gonzalez signed minor-league deal
TBD 🤔:
Yu Darvish signed six-year, $126M deal
Craig Kimbrel signed three-year, $43M deal
David Phelps acquired from Blue Jays for Thomas Hatch
Tony Kemp traded to Athletics for Alfonso Rivas
Brandon Kintzler acquired from Nationals for Jhon Romero
Grade: D
Cincinnati Reds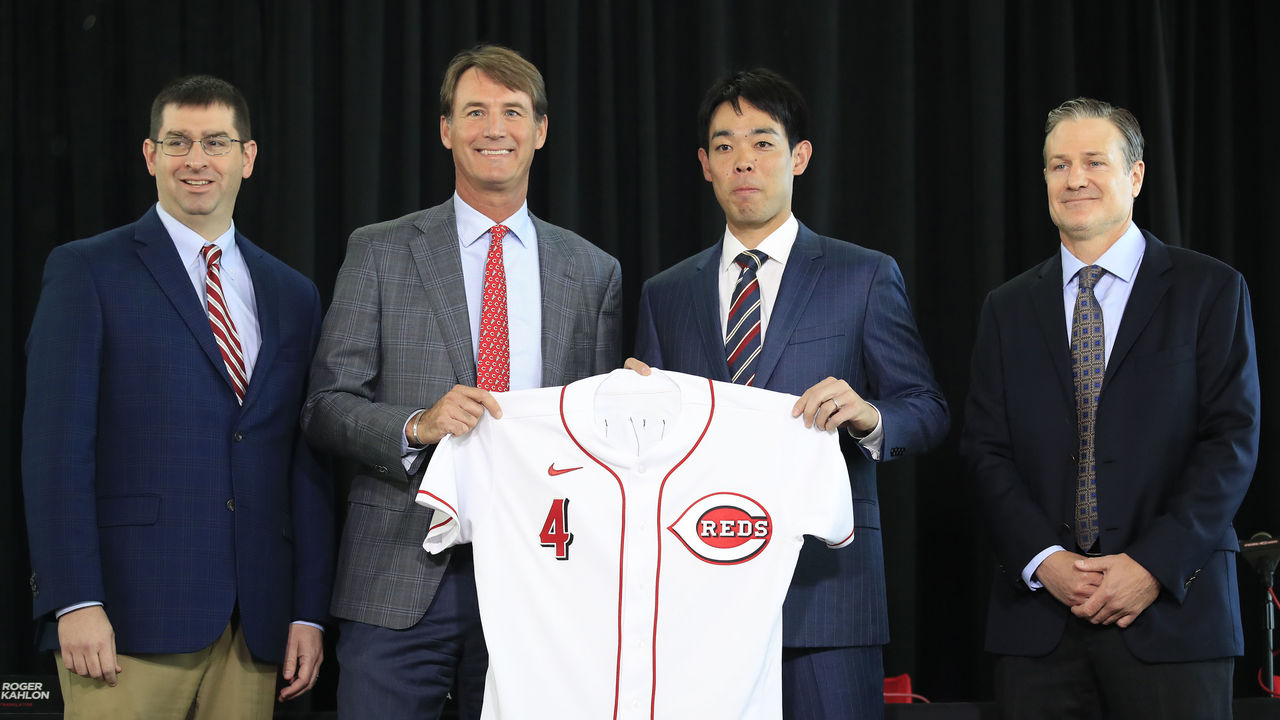 Executive: Dick Williams, Nick Krall
Title: President of baseball operations, general manager
Hired: Dec. 28, 2016/May 10, 2018
A lot hinges on how Nick Castellanos, Mike Moustakas, and Shogo Akiyama perform when baseball returns. On paper, each of those multi-year signings makes sense, and together they could push the Reds back to the postseason for the first time since 2013. All three players are well-positioned to produce positive results, but it would be premature to dub their contracts wins or losses before any of them plays a single game with the club.
The Reds smartly plucked Sonny Gray from the Yankees at his lowest, and he subsequently put together one of his best seasons. Flipping Yasiel Puig for Trevor Bauer - even with the added cost of prospect Taylor Trammell - was a coup, though the preceding deal with the Dodgers involving the Wild Horse was not great. Matt Kemp was eventually released and Alex Wood barely played in 2019; the inclusion of Jeter Downs, one of the players the Dodgers sent to Boston to acquire Mookie Betts, cements it as a bad trade.
You can't blame the front office for taking a flyer on Matt Harvey. He was fine in Cincinnati (1.7 WAR), but that was short-lived and he ultimately couldn't rediscover his old self.
The good 👍:
Sonny Gray acquired from Yankees for Shed Long
Sonny Gray signed three-year, $30.5M extension
Trevor Bauer acquired from Indians in three-team deal for Yasiel Puig, Scott Moss, Taylor Trammell
Jose Iglesias signed one-year, $2.5M deal
Freddy Galvis selected off waivers from Blue Jays
Jose De Leon acquired from Rays for PTBNL
Kevin Gausman selected off waivers from Braves
Travis Jankowski acquired from Padres for international bonus pool money
The bad 👎:
Yasiel Puig, Matt Kemp, Alex Wood acquired from Dodgers for Jeter Downs, Josiah Gray, Homer Bailey
Matt Harvey acquired from Mets for Devin Mesoraco
Adam Duvall traded to Braves for Preston Tucker, Lucas Sims, Matt Wisler
Tanner Roark acquired from Nationals for Tanner Rainey
Brad Keller traded to Royals for PTBNL or cash
TBD 🤔:
Nick Castellanos signed four-year, $64M deal
Mike Moustakas signed four-year, $64M deal
Shogo Akiyama signed three-year, $21M deal
Wade Miley signed two-year, $15M deal
Dylan Floro, Zach Neal traded to Dodgers for James Marinan, Aneurys Zabala
Tanner Roark traded to Athletics for Jameson Hannah
Grade: B
Milwaukee Brewers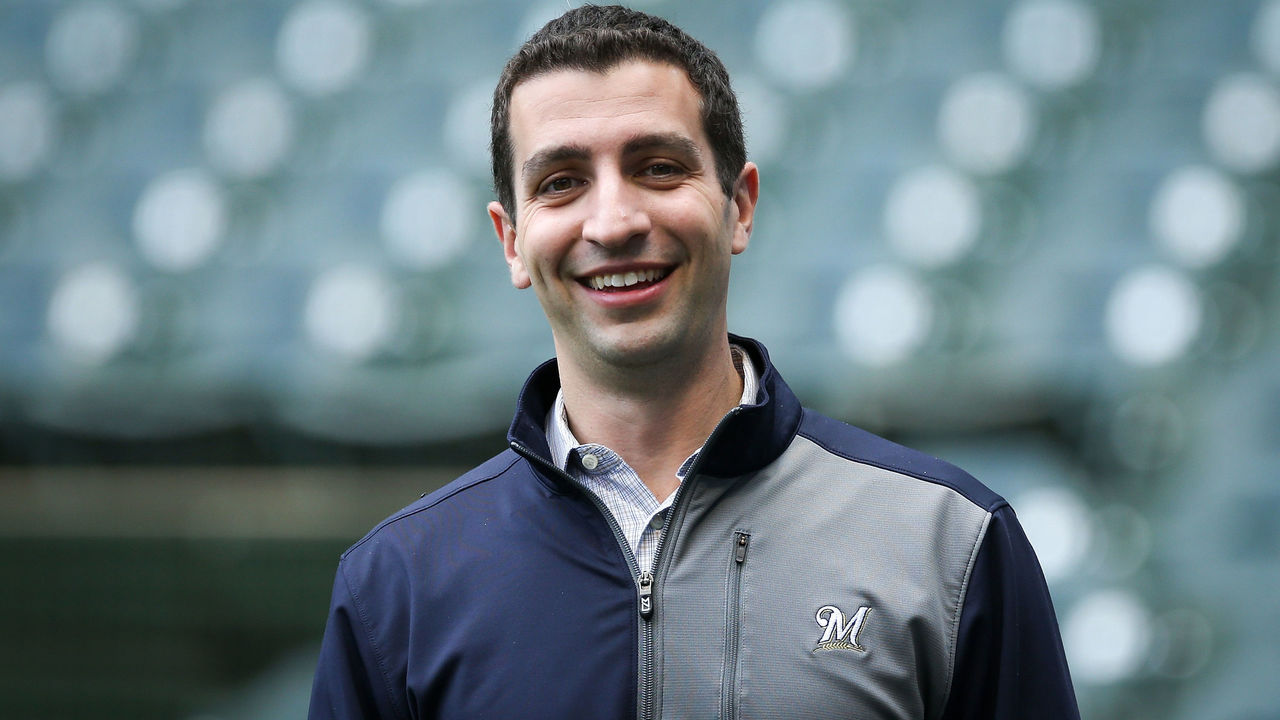 Executive: David Stearns
Title: President of baseball operations and general manager
Hired: Sept. 21, 2015
The Brewers made Stearns their general manager at the ripe age of 30, and the club has done quite well since, with three winning records in four seasons culminating in back-to-back postseason berths for the first time since the early 1980s. Stearns pulled off possibly the best high-profile trade in recent memory by landing Christian Yelich for a bushel of prospects and, more recently, signing him to a lengthy extension.
Though the Brewers weren't able to keep Yasmani Grandal or Mike Moustakas long term, they were savvy and productive additions whose acquisition costs were hardly prohibitive. But Stearns has failed to appropriately address the starting rotation. With the club in dire need of an upgrade at the front of the pitching staff in 2018, Milwaukee instead acquired Jonathan Schoop from the Orioles for Jonathan Villar and others. Blips aside, the Brewers have performed at a high level thanks to a well-constructed lineup and a top-tier bullpen. If the rotation doesn't show vast improvement soon, though, Stearns' grade could dip.
The good 👍:
Christian Yelich acquired from Marlins for Lewis Brinson, Jordan Yamamoto, Isan Diaz, Monte Harrison
Christian Yelich signed nine-year, $215M extension
Yasmani Grandal signed one-year, $18.25M deal
Lorenzo Cain signed five-year, $80M deal
Mike Moustakas acquired from Royals for Brett Phillips, Jorge Lopez
Mike Moustakas re-signed one-year, $10M deal
Avisail Garcia signed two-year, $20M deal
Omar Narvaez acquired from Mariners for Adam Hill
Gio Gonzalez acquired from Nationals for KJ Harrison, Gilbert Lara
Gonzalez signed one-year, $2M deal
Jordan Lyles claimed off waivers from Pirates
Justin Smoak signed one-year, $5M deal
Brock Holt signed one-year, $3.25M deal
Keon Broxton traded to Mets for Adam Hill, Felix Valerio, Bobby Wahl
Domingo Santana traded to Mariners for Ben Gamel
The bad 👎:
Jonathan Villar, Jean Carmona, Luis Ortiz traded to Orioles for Jonathan Schoop
Ji-Man Choi traded to Rays for Brad Miller
Matt Albers signed two-year, $5M deal
Curtis Granderson acquired from Blue Jays for Demi Orimoloye
TBD 🤔:
Eric Lauer, Luis Urias acquired from Padres for Trent Grisham, Zach Davies
Josh Lindblom signed three-year, $9.13M deal
Jesus Aguilar traded to Rays for Jake Faria
Chase Anderson traded to Blue Jays for Chad Spanberger
Grade: A-
Pittsburgh Pirates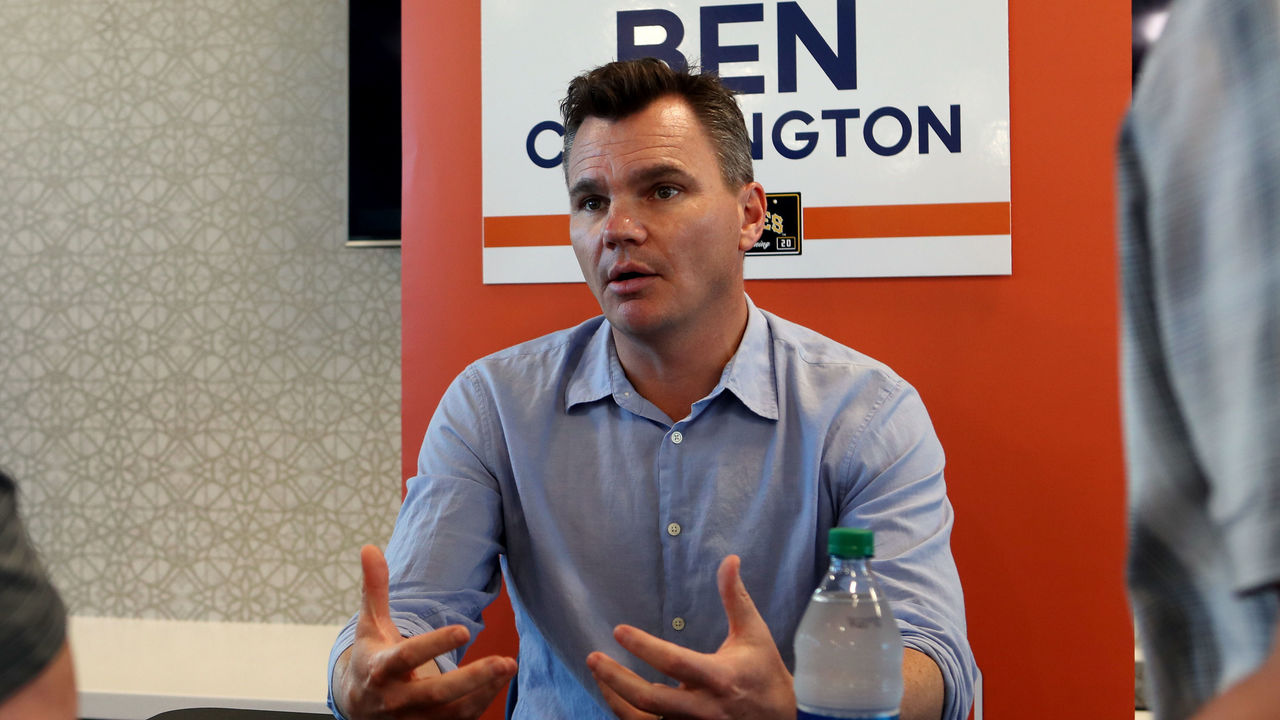 Executive: Ben Cherington
Title: General manager
Hired: Nov. 18, 2019
Cherington's tenure guiding the Pirates is far too young to be fully assessed. After all, the team hasn't even played a game with him at the helm. Other than dealing All-Star outfielder Starling Marte to the Diamondbacks for a pair of far-away prospects - both of whom already rank fairly high in Pittsburgh's system - his moves have been low-impact and low-risk.
That's not a bad space to occupy after the former regime dealt Gerrit Cole to the Astros immediately before he became one of the best pitchers on the planet and grabbed Chris Archer in exchange for Tyler Glasnow, Austin Meadows, and Shane Baz. Those two lopsided trades reflect especially poorly on the Pirates, but this franchise has been flailing since failing to deliver on the potential of the early Andrew McCutchen days. With the Neal Huntington era over, Cherington will have the opportunity to deliver a proper rebuild.
The good 👍:
Guillermo Heredia signed one-year, $564K deal
Jarrod Dyson signed one-year, $2M deal
The bad 👎: N/A
TBD 🤔:
Starling Marte traded to Diamondbacks for Brennan Malone, Liover Peguero
Grade: Incomplete
St. Louis Cardinals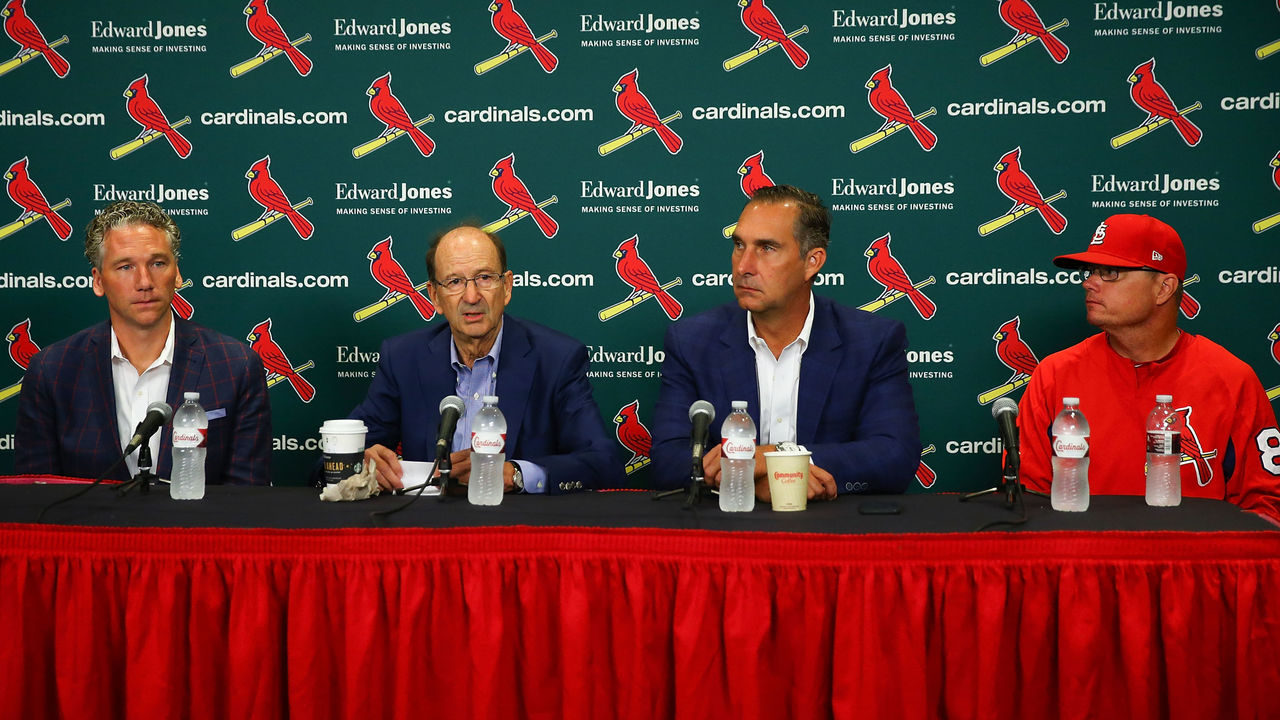 Executive: John Mozeliak
Title: President of baseball operations
Hired: Oct. 30, 2007
The last couple of years in St. Louis have been decidedly up-and-down. Some of the front office's biggest albatrosses - Dexter Fowler, Brett Cecil - predate the 2017 offseason. While Mozeliak and Co. have since been busy on the trade block, the Cardinals have shied away from long-term contracts beyond the extension given to Paul Goldschmidt. There is absolutely no buyer's remorse for pulling the trigger on that trade, regardless of how Luke Weaver and Carson Kelly turn out. But if Goldy continues to decline, that extension may look more similar to Fowler's contract than Cardinals fans had hoped. Likewise, the Ozuna trade was a necessity and can't be considered a loss, even if the outfielder was a mixed bag overall.
Then there's the Tommy Pham trade. The pieces returning to St. Louis may be fine, but trading a fan favorite like Pham stings no matter what, especially since he wasn't even a full year removed from his 2017 breakout. Luke Voit enjoyed a breakout of his own in the Bronx, but that one's easier to swallow for two reasons: Voit simply didn't have a path to playing time in St. Louis, and Giovanny Gallegos has emerged as the team's top reliever.
The good 👍:
Paul Goldschmidt acquired from Diamondbacks for Luke Weaver, Carson Kelly, Andy Young
Marcell Ozuna acquired from Marlins for Sandy Alcantara, Zac Gallen, Magneuris Sierra, Daniel Castano
Luke Voit traded to Yankees for Giovanny Gallegos, Chasen Shreve
Adam Wainwright signed one-year, $2M deal
Bud Norris signed one-year, $3M deal
The bad 👎:
Tommy Pham traded to Rays for Justin Williams, Genesis Cabrera, Roel Ramirez
Stephen Piscotty traded to Athletics for Yairo Munoz, Max Schrock
Randal Grichuk traded to Blue Jays for Dominic Leone, Conner Greene
Greg Holland signed one-year, $14M deal
Andrew Miller signed two-year, $25M deal
Luke Gregerson signed two-year, $11M deal
TBD 🤔:
Paul Goldschmidt signed five-year, $130M extension
Jose Martinez, Randy Arozarena traded to Rays for Matthew Liberatore, Edgardo Rodriguez
Oscar Mercado traded to Indians for Conner Capel, Jhon Torres
Sam Tuivailala traded to Mariners for Seth Elledge
Grade: C