With the 2020 season on pause, theScore's MLB editors graded each team's front office by the moves made since Nov. 1, 2017. For executives hired following that date, only the moves they made after taking over were graded. Grades are relative to what the team is trying to accomplish, and only the most notable transactions were considered. We continue with the National League East.
AL: EAST I CENTRAL I WEST
NL: EAST I CENTRAL I WEST
Atlanta Braves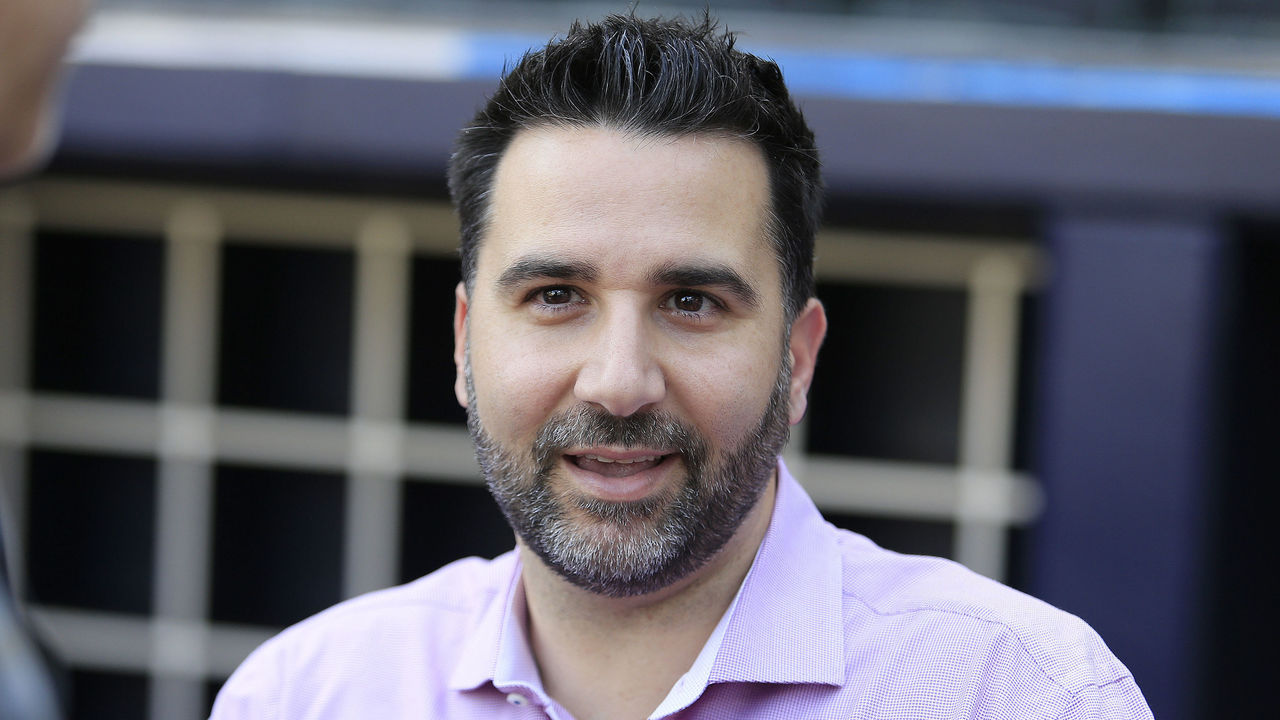 Executive: Alex Anthopoulos
Title: General manager/president of baseball operations
Hired: Nov. 13, 2017
Anthopoulos gets high marks after the Braves earned back-to-back NL East titles under his watch for the first time since winning 11 in a row from 1995-2005.
The now-42-year-old executive pulled off his first big move with Atlanta when he dealt outfielder Matt Kemp to the Dodgers in a five-player trade in December 2017. The deal allowed the club to make room for future superstar Ronald Acuna Jr. on the major-league roster. Acuna's and Ozzie Albies' team-friendly extensions set the Braves up to be major players in free agency and on the trade market for years. Giving Josh Donaldson a lucrative one-year contract despite injury concerns worked out nicely for both sides.
A few minor hiccups for Anthopoulos: the Jose Bautista experiment failed horribly after the six-time All-Star hit .143 in 12 games with Atlanta, Kevin Gausman was awful in 2019 before being placed on waivers, and Shane Greene lost his closer job following a trade with the Tigers. All of those moves came without any real consequences, however.
The good 👍:
Matt Kemp traded to Dodgers for Charlie Culberson, Adrian Gonzalez, Scott Kazmir, Brandon McCarthy
Anibal Sanchez signed one-year, $1M deal
Josh Donaldson signed one-year, $23M deal
Josh Tomlin signed minor-league deal
Ronald Acuna Jr. signed eight-year, $100M extension
Ozzie Albies signed seven-year, $35M extension
Nick Markakis signed one-year, $4M deal
Dallas Keuchel signed one-year, $13M deal
Mark Melancon acquired from Giants for Tristan Beck, Dan Winkler
The bad 👎:
Jose Bautista signed minor-league deal
Kevin Gausman, Darren O'Day acquired from Orioles for Evan Phillips, Jean Carlos Encarnacion, Brett Cumberland, Bruce Zimmerman
Shane Greene acquired from Tigers for Joey Wentz, Travis Demeritte
TBD 🤔:
Chris Martin signed two-year, $14M deal
Travis d'Arnaud signed two-year, $16M deal
Will Smith signed three-year, $39M deal
Marcell Ozuna signed one-year, $18M deal
Cole Hamels signed one-year, $18M deal
Grade: A
Miami Marlins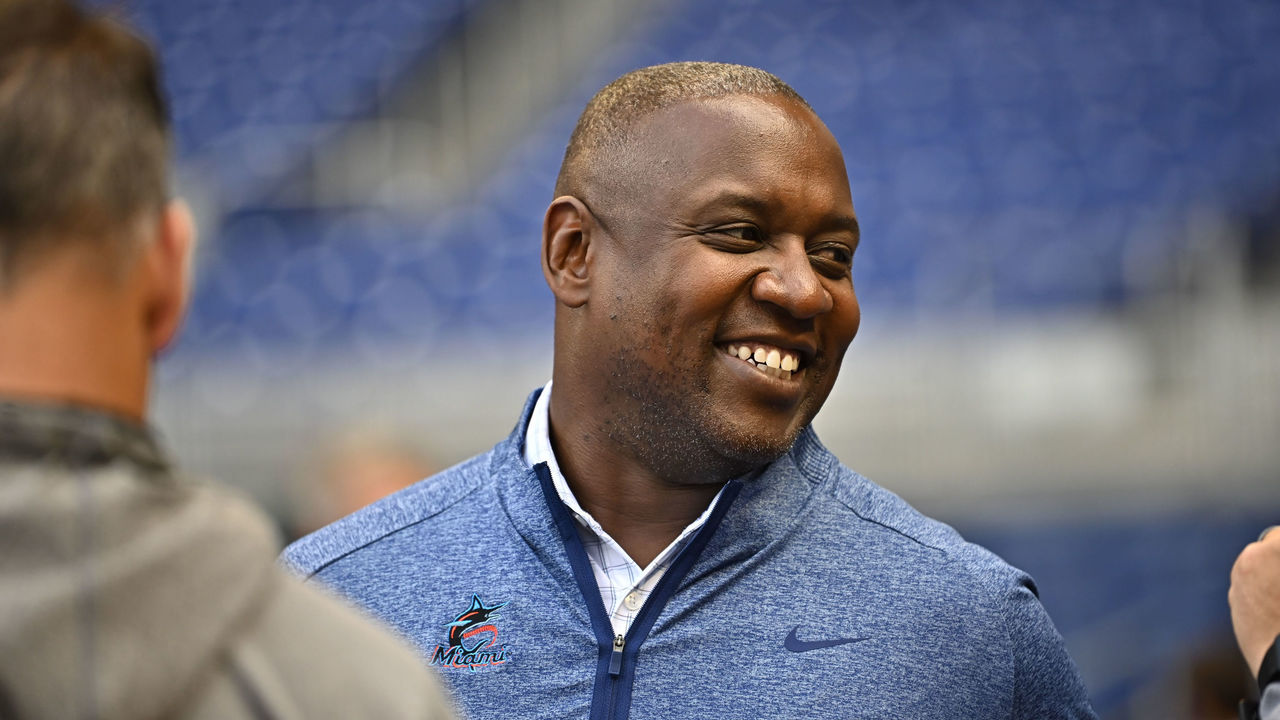 Executive: Michael Hill
Title: President of baseball operations
Hired: Sept. 29, 2013
The Marlins haven't had a winning record in any year since Hill became the president of baseball ops in September 2013, and the club has averaged 101.5 losses per season over the last two campaigns.
Hill has a track record of shipping big stars out of town and not getting a whole lot in return. The prospects acquired in the Christian Yelich, Giancarlo Stanton, and Marcell Ozuna trades haven't blossomed into impact players yet. Another total head-scratcher was the Zac Gallen-Jazz Chisholm deal. Chisholm, baseball's No. 66-ranked prospect, according to MLB Pipeline, might turn into a solid major leaguer. However, Miami needs starting pitching and Gallen is coming off an outstanding rookie season that saw him post a 2.81 ERA with a 10.8 K/9 across a combined 15 starts between the Marlins and Diamondbacks.
The jury is still out on the J.T. Realmuto deal only because Sixto Sanchez is an elite pitching prospect. If he doesn't pan out, trading arguably the best catcher in the majors would be just another example of a bungled blockbuster deal by the Marlins' front office.
The good 👍:
Sergio Romo, Chris Vallimont to the Twins for Lewin Diaz
Jonathan Villar acquired from Orioles for Easton Lucas
Harold Ramirez signed to minor-league deal
Neil Walker signed one-year, $2M deal
Dee Gordon traded to Mariners for Nick Neidert, Christopher Torres, Robert Dugger
The bad 👎:
Giancarlo Stanton traded to Yankees for Starlin Castro, Jose Devers, Jorge Guzman
Marcell Ozuna traded to Cardinals for Sandy Alcantara, Zac Gallen, Daniel Castano, Magneuris Sierra
Christian Yelich traded to Brewers for Monte Harrison, Lewis Brinson, Isan Diaz, Jordan Yamamoto
Zac Gallen traded to Diamondbacks for Jazz Chisholm
Nick Anderson, Trevor Richards traded to Rays for Ryne Stanek, Jesus Sanchez
TBD 🤔:
J.T. Realmuto traded to Phillies for Sixto Sanchez, Will Stewart, Jorge Alfaro
Jesus Aguilar claimed off waivers from Rays
Corey Dickerson signed two-year, $17.5M deal
Brandon Kintzler signed one-year, $3.25M deal
Matt Joyce signed one-year, $1.5M deal
Francisco Cervelli signed one-year, $2M deal
Victor Victor Mesa, Victor Mesa Jr. signed minor-league deals
Grade: F
New York Mets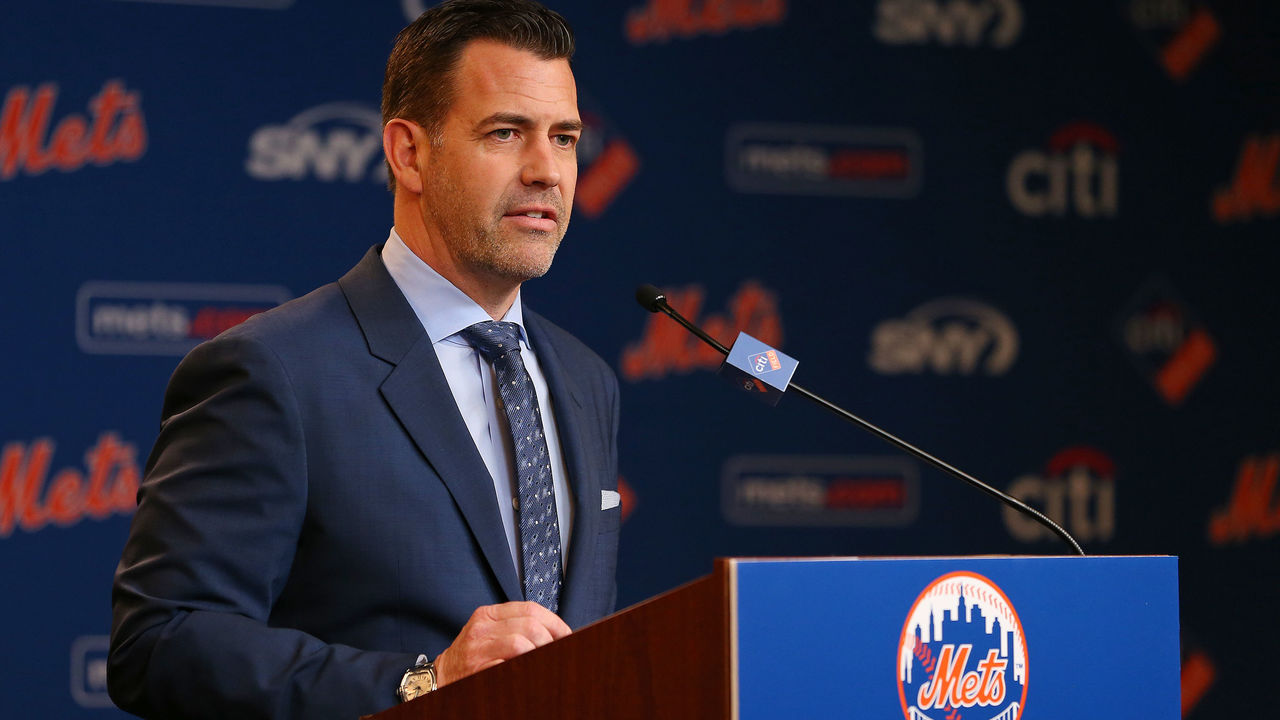 Executive: Brodie Van Wagenen
Title: General manager
Hired: Oct. 29, 2018
The Mets finished with a respectable 86 wins in Van Wagenen's first campaign with the club. The former agent hasn't been afraid of making a splash in his first two offseasons in Queens.
Lets start with the good - Jacob deGrom's five-year deal looks like a total steal for a reigning two-time Cy Young winner after seeing what Gerrit Cole and Stephen Strasburg got in free agency. Some might say it's too early to call the Marcus Stroman trade a win, but with the injured Noah Syndergaard out for the 2020 campaign, the team will lean on him to eat up innings as the No. 2 in the rotation. Acquiring J.D. Davis looks like a coup, as the now-27-year-old broke out last season with 22 homers and an .895 OPS in 140 contests.
Van Wagenen has also had his fair share of whiffs. The Mets-Mariners blockbuster looks like a fail after Robinson Cano and Edwin Diaz didn't live up to the hype in 2019. It doesn't help that Jarred Kelenic is one of the top prospects in baseball. Spending a combined $69 million on Jeurys Familia, Wilson Ramos, and Jed Lowrie is a tough pill to swallow, too.
The good 👍:
Jacob deGrom signed five-year, $137.5M extension
J.D. Davis, Cody Bohanek acquired from Astros for Ross Adolph, Scott Manea, Luis Santana
Justin Wilson signed two-year, $10M deal
Marcus Stroman acquired from Blue Jays for Simeon Woods Richardson, Anthony Kay
Jason Vargas traded to Phillies for Austin Bossart
Keon Broxton traded to Orioles for slot money
Matt Adams signed minor-league deal
Brad Brach signed one-year, $800K deal
The bad 👎:
Robinson Cano, Edwin Diaz acquired from Mariners for Jay Bruce, Anthony Swarzak, Jarred Kelenic, Gerson Bautista, Justin Dunn
Jeurys Familia signed three-year, $30M deal
Wilson Ramos signed two-year, $19M deal
Jed Lowrie signed two-year, $20M deal
Travis d'Arnaud released
Wilmer Font traded to Blue Jays for cash
TBD 🤔:
Michael Wacha signed one-year, $3M deal
Rick Porcello signed one-year, $10M deal
Dellin Betances signed one-year, $10.5M deal
Grade: C
Philadelphia Phillies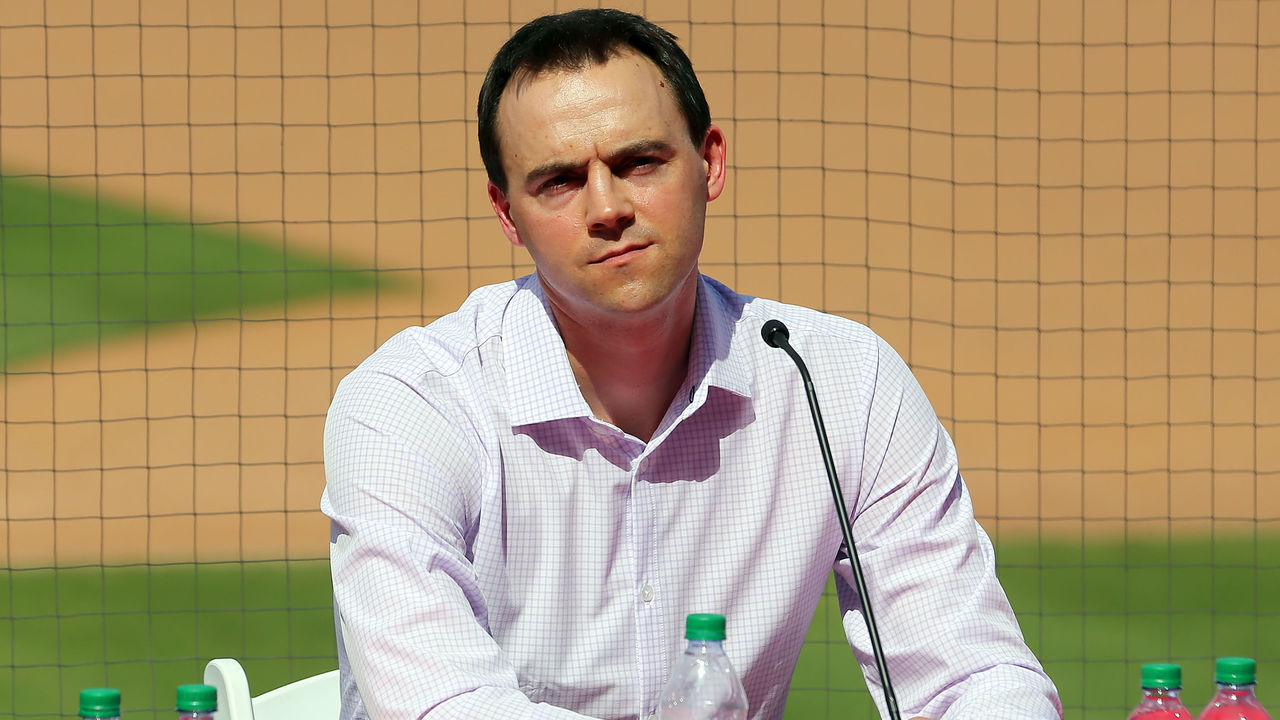 Executives: Matt Klentak, Andy MacPhail
Title: General manager, president of baseball operations
Hired: Oct. 24, 2015, June 29, 2015
Klentak and MacPhail have seen the Phillies go 298-350 since the beginning of the 2016 season, and the team is one game under .500 over the last two campaigns despite spending over half a billion dollars in free agency.
Philadelphia's front office has invested an insane amount of money on a team that looks like a World Series contender on paper. Harper's deal could turn into an albatross one day, but for now the former NL MVP will spend his prime years in the middle of a loaded lineup. The Realmuto trade would look even better for the Phillies if the All-Star catcher decides to sign a long-term deal. Meanwhile, Andrew McCutchen could be an X-factor if he returns to form after his ACL injury.
Both executives have blemishes on their resumes, too. Jake Arrieta owns a 4.24 ERA in two seasons with the Phillies since signing a three-year, $75-million pact. The former Cy Young winner's 2019 campaign ended prematurely following elbow surgery last August. The team also struck out on free-agent relievers like David Robertson and Tommy Hunter. The Carlos Santana signing ended up being a mistake as the Dominican slugger had one of the worst years of his career with Philadelphia before posting an incredible season after returning to the Indians in a three-team trade.
The good 👍:
Wilson Ramos acquired from Rays for cash
Aaron Nola signed four-year, $45M extension
Jose Alvarez acquired from Angels for Luis Garcia
J.T. Realmuto acquired from Marlins for Sixto Sanchez, Will Stewart, Jorge Alfaro
Bryce Harper signed 13-year, $330M deal
Freddy Galvis traded to Padres for Enyel De Los Santos
Drew Smyly signed 1-year deal
Brad Miller acquired from Yankees for cash
Jared Hughes claimed off waivers from Reds
Corey Dickerson acquired from Pirates for international bonus money, PTBNL
The bad 👎:
Aaron Loup acquired from Blue Jays for Jacob Waguespack
Jake Arrieta signed three-year, $75M deal
David Robertson signed two-year, $23M deal
Tommy Hunter signed two-year, $18M deal
Carlos Santana signed three-year, $60M deal
Pat Neshek signed two-year, $16.25M deal
TBD 🤔:
Andew McCutchen signed three-year, $50M deal
Zack Wheeler signed five-year, $118M deal
Didi Gregorius signed one-year, $14M deal
Jean Segura, Juan Nicasio, James Pazos acquired from Mariners for J.P. Crawford, Carlos Santana
Grade: B-
Washington Nationals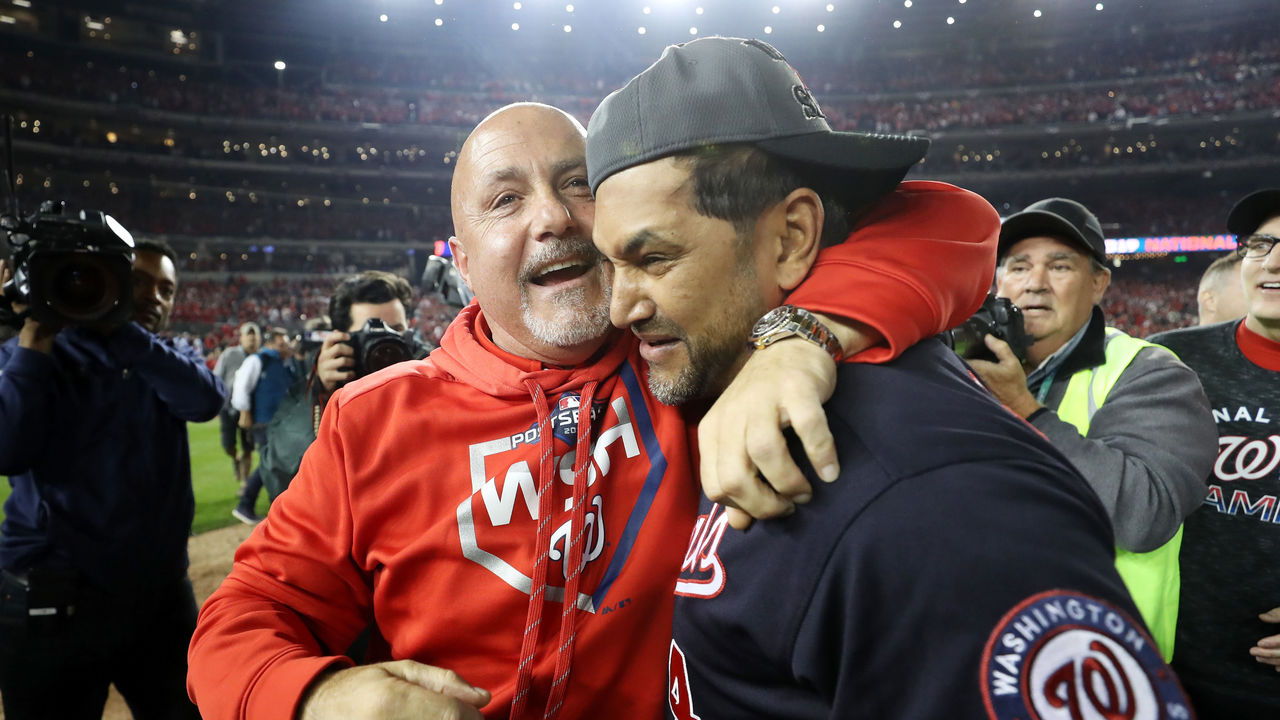 Executive: Mike Rizzo
Title: General manager/president of baseball operations
Hired: Aug. 20, 2009
Rizzo receives the best grade for winning the division's first World Series in years. The longtime GM's shrewd moves led the Nationals to their first championship in franchise history after beating the Astros in seven games last season.
It's doubtful many in baseball were thinking that Howie Kendrick would be providing clutch at-bats during the 2019 playoffs when he signed a modest two-year contract in January 2018. Washington also got the best out of veterans Anibal Sanchez, Asdrubal Cabrera, and Daniel Hudson. Meanwhile, pairing Patrick Corbin with Max Scherzer and Strasburg gave the team three aces to lean on during the regular season and postseason.
Adding relievers has been tough at times for Rizzo, though. The Kelvin Herrera trade didn't work out for the club in 2018, and the five-player deal that sent Roenis Elias and Hunter Strickland to the Nationals in 2019 ended up being a dud. Trevor Rosenthal was also one of the worst hurlers in baseball history while with the team.
It remains to be seen if picking Strasburg over Anthony Rendon was the right decision. $245 million is a lot of money to give to a 31-year-old pitcher who's only thrown over 200 innings in a campaign twice in his 10-year career.
The good 👍:
Matt Adams signed one-year, $4M deal (twice)
Howie Kendrick signed two-year, $7M deal
Jeremy Hellickson signed minor-league deal
Greg Holland signed minor-league deal
Daniel Murphy traded to Cubs for Andruw Monasterio
Gio Gonzalez traded to Brewers for KJ Harrison, Gilbert Lara
Brandon Kintzler traded to Cubs for Jhon Romero
Kurt Suzuki signed two-year, $10M deal
Yan Gomes acquired from Indians for Daniel Johnson, Jefry Rodriguez, Andruw Monasterio
Patrick Corbin signed six-year, $140M deal
Tanner Roark traded to Reds for Tanner Rainey
Anibal Sanchez signed two-year, $19M deal
Fernando Rodney signed minor-league deal
Asdrubal Cabrera signed one-year deal
Daniel Hudson acquired from Blue Jays for Kyle Johnston
Eric Thames signed one-year, $4M deal
Ryan Zimmerman signed one-year, $2M deal
The bad 👎:
Brandon Kintzler signed two-year, $10M deal
Kelvin Herrera acquired from Royals for Yohanse Morel, Blake Perkins, Kelvin Gutierrez
Kyle Barraclough acquired for slot money
Trevor Rosenthal signed one-year, $7M deal
Roenis Elias, Hunter Strickland acquired from Mariners for Elvis Alvarado, Aaron Fletcher, Taylor Guilbeau
TBD 🤔:
Stephen Strasburg signed seven-year, $245M deal
Yan Gomes signed two-year, $10M deal
Howie Kendrick signed one-year, $6.25M deal
Will Harris signed three-year, $24M deal
Starlin Castro signed two-year, $12M deal
Daniel Hudson signed two-year, $11M deal
Grade: A+