The NHL offseason is officially in progress and the draft begins Friday night. The question being asked around the league is: How can general managers use late June and early July to improve their clubs? What kind of tasks are on their to-do lists and how might they get creative?
On Wednesday, we focus on the Pacific Division. Others in this series:
Calgary Flames
In 2018, it was the Dougie Hamilton swap. The year prior, it was the Travis Hamonic deal. And, in 2016, it was the Brian Elliott acquisition.
Flames general manager Brad Treliving loves using the draft as a backdrop for notable trades. With James Neal, Michael Frolik, and TJ Brodie being a few names floating around the NHL rumor mill, and the 26th overall pick in his back pocket, it feels like Treliving could continue the trend this week in Vancouver. Frolik, who butted heads with head coach Bill Peters over ice time and his role this past season, seems the most likely to change addresses.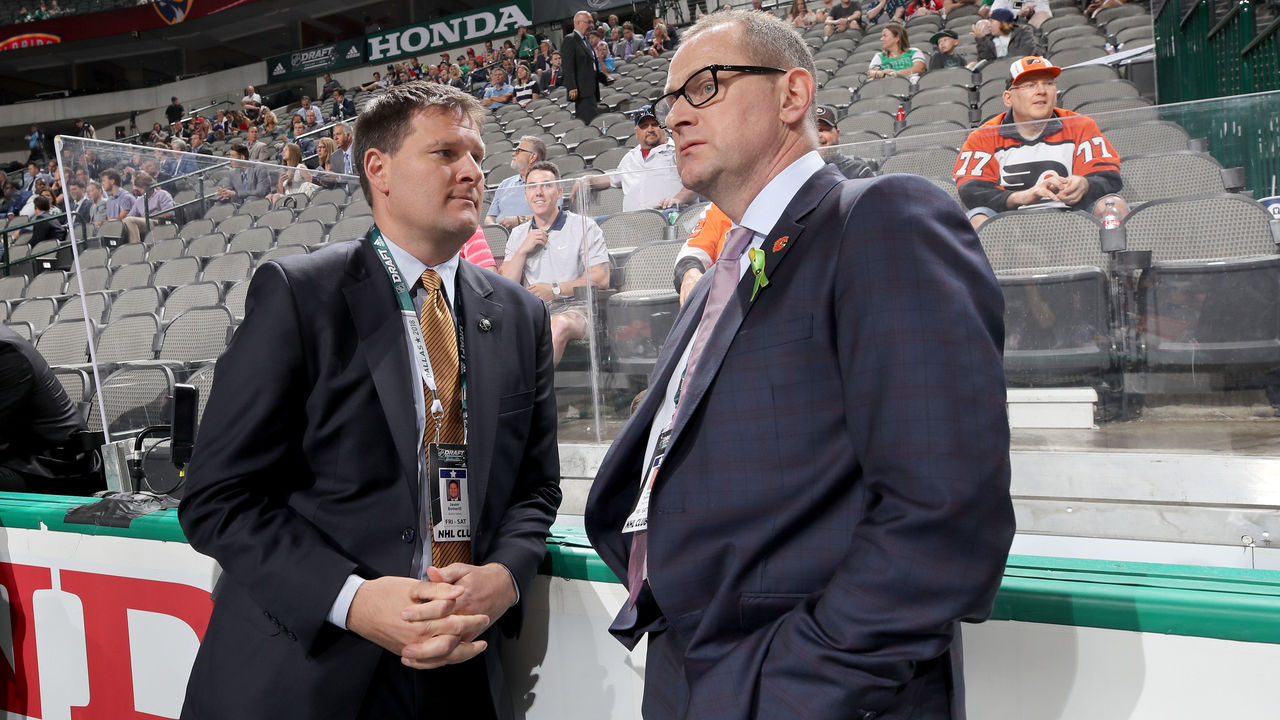 Trades aside, priority No. 1 for Calgary is getting Matthew Tkachuk's signature on a new deal. The 21-year-old co-headlines the offseason's stacked restricted free-agent class. Tkachuk - an agitating power forward, fan favorite, and 34-goal scorer in his contract year - will almost certainly arrive at training camp this fall as the highest-paid player on the roster. On a long-term pact, he's looking at cashing in somewhere between $8 million to $10 million per season.
Priority 1B is solidifying the goaltending situation. Mike Smith is 37 and, as an unrestricted free agent, is most likely gone. RFA David Rittich, the presumptive goalie of the present and future, should be re-signed without too much fuss. As for the second shot-stopper, should the club explore the UFA and/or trade markets to find someone new, or try out third-stringer Jon Gillies? Platooning Rittich alongside a quality veteran might be the best-case scenario.
The front office has three RFA forwards to attend to. Former fourth overall pick Sam Bennett appears destined for arbitration. He's due for a small raise - $1 million, probably - over his $1.95-million salary in 2018-19. Alan Quine also has arbitration rights, while Andrew Mangiapane doesn't. These three valuable depth guys should combine to eat up less than $5 million in cap space.
Calgary only has $68.5 million wrapped up in 19 players for 2019-20, which leaves them in a comfier spot than most contenders. There's some wiggle room for Treliving, even if he's unable to move on from Neal ($5.75 million per season over the next four years) and Tkachuk's deal clocks in at the higher end of projections. - Matisz
2019 draft picks
| Round | 1 | 2 | 3 | 4 | 5 | 6 | 7 |
| --- | --- | --- | --- | --- | --- | --- | --- |
| Pick | 26 | - | 88 | 116 | 150 | - | 214 |
Los Angeles Kings
Jets GM Kevin Cheveldayoff told reporters on Monday that he has "a lot of balls in the air" in the leadup to the draft. That soundbite could have easily been from the mouth of Rob Blake, Cheveldayoff's counterpart in Los Angeles - although for opposite reasons.
While Winnipeg shuffles the deck for another crack at a deep playoff run, L.A. will get worse before it gets better. The 2012 and 2014 Cup champions are in full rebuild mode and, as the offseason ramps up, Blake's phone will be buzzing 24/7. Expect plenty of Kings-related news in the near future.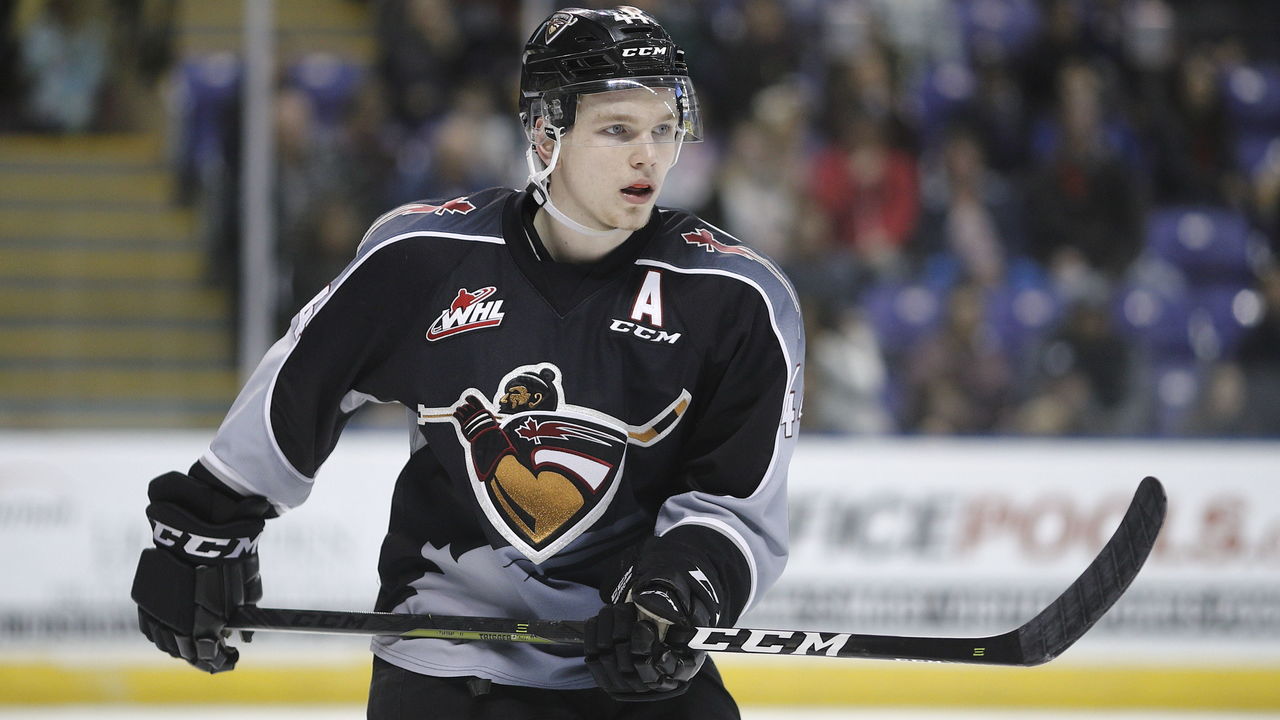 Which top prospect will the Kings will call to the draft stage with the fifth overall pick? Bowen Byram? Alex Turcotte? Cole Caufield? Dylan Cozens? Kirby Dach? Peyton Krebs? Blake must make another key decision at 22nd overall, plus he has eight selections in Rounds 2-7.
Next, the mystery pieces on the Kings' current NHL roster. What happens with Ilya Kovalchuk? His first year back in North America went horribly and a divorce with L.A. seems inevitable. At which point does Blake deal Jeff Carter? While the 34-year-old's production has tailed off recently, he's appealing as a four-time 30-goal scorer making just over $5 million a year. And what about Dustin Brown? His stock has recovered over the past two years thanks to seasons of 51 and 61 points. Defenseman Alec Martinez, who's been linked to his fair share of rumors, is another name to monitor.
The Kings have only $68.2 million committed to 18 players in 2019-20 and are more than a few moves away from contending again. L.A. is a prime landing spot for castaway contracts. If potential deals are sweetened by an asset or two, and the players are compliant, perhaps Patrick Marleau of the Maple Leafs and David Clarkson of the Golden Knights could be of interest?
Blake, who in April hired Todd McLellan as the club's next coach and on Tuesday announced the addition of Trent Yawney to McLellan's staff, is already picking away at his to-do list. He recently bought out the last two years of Dion Phaneuf's contract and, according to local reporter John Hoven, has started negotiating with restricted free-agent forwards Adrian Kempe and Alex Iafallo. Oh yeah, Blake has balls in the air. - Matisz
2019 draft picks
| Round | 1 | 2 | 3 | 4 | 5 | 6 | 7 |
| --- | --- | --- | --- | --- | --- | --- | --- |
| Pick | 5 / 22 | 33 | 64 / 87 | 95 / 119 | 126 | 157 | 188 |
Edmonton Oilers
Ken Holland has his work cut out for him in his first summer as Oilers GM and president of hockey operations. Aside from Connor McDavid, Leon Draisaitl, and a small handful of other valuable assets, all Peter Chiarelli left behind was a complete mess.
Holland is faced with some tough decisions this summer, including what to do with Milan Lucic - the expensive and ineffective forward who has four years remaining on his deal at $6 million per season. If a change-of-scenery trade - perhaps flipping Lucic to his hometown Vancouver Canucks for Loui Eriksson - doesn't pan out, a buyout may be the best course of action. He needs to move on.
The other substantial task will be the handling of former fourth overall pick Jesse Puljujarvi. The RFA could possibly threaten to leave for the KHL if he isn't guaranteed an NHL job, but he's yet to prove he can play at the highest level. Trading the young Finn would seem to be the best solution, but getting anything of value in return won't be easy.
With $73 million already committed to nine forwards, eight defensemen, and a goalie, Holland isn't in a position to make a major splash in free agency. Instead, he should target high-upside, low-risk players to fill out the roster.
Tyler Ennis, an Edmonton native, would probably jump at the opportunity to play alongside McDavid or Draisaitl, and should come cheap after toiling away on the Toronto Maple Leafs' fourth line last season. In goal, Holland needs to find a cheap veteran to compete with Mikko Koskinen. Perhaps Curtis McElhinney? - Wegman
2019 draft picks
| Round | 1 | 2 | 3 | 4 | 5 | 6 | 7 |
| --- | --- | --- | --- | --- | --- | --- | --- |
| Pick | 8 | 38 | 85 | 100 | - | 162 | 193 |
Vancouver Canucks
The first order of business for Canucks GM Jim Benning should be locking up forward Brock Boeser. With ample cap space available, agreeing to a long-term extension in the $7 million-to-$8 million range shouldn't be an issue. The Canucks have a handful of other RFAs to retain, but none are in Boeser's stratosphere.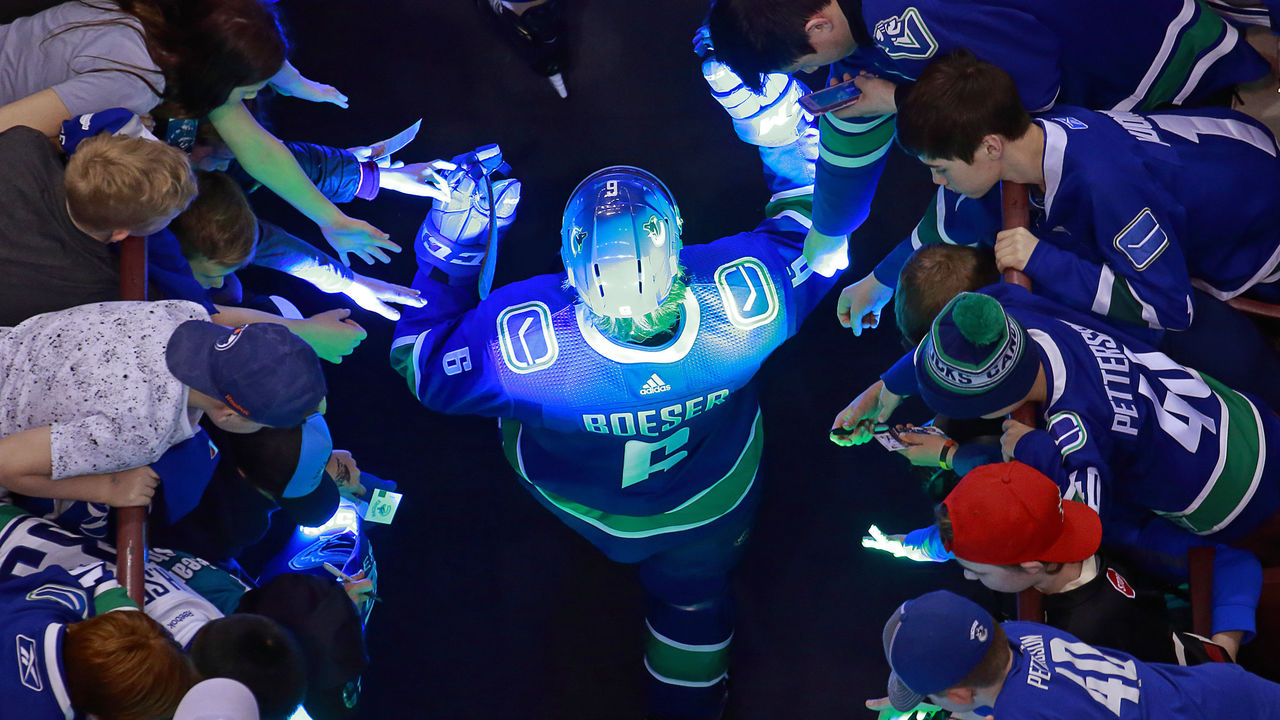 The club's only key pending UFA is veteran blue-liner Alex Edler. He's made it clear he wants to stay in Vancouver, so Benning shouldn't have much trouble re-signing the 33-year-old to a short-term deal.
Trading or extending defenseman Chris Tanev should also be on Benning's to-do list, but with one year remaining on the 29-year-old's contract, a decision doesn't need to be made imminently.
After taking care of some housekeeping, the Canucks will have roughly $15 million in cap space. With a young core and a team that isn't far off from competing, Benning should take a swing at coveted UFA Artemi Panarin. If he whiffs, he should target Jake Gardiner, who is arguably the top defenseman on the market. - Wegman
2019 draft picks
| Round | 1 | 2 | 3 | 4 | 5 | 6 | 7 |
| --- | --- | --- | --- | --- | --- | --- | --- |
| Pick | 10 | 40 | 71 | 102 | 133 | 156 / 164 / 180 | 195 |
Vegas Golden Knights
It's incredible that after only two seasons of existence, the Golden Knights already find themselves in cap trouble. They're already over the projected limit for next season, but that includes Clarkson - who's been on long-term injured reserve for the last three seasons - and his $5.25-million cap hit.
Regardless, someone needs to go. It doesn't necessarily have to be a core piece; perhaps two-way center Cody Eakin, fan favorite Ryan Reaves, and Erik Haula - who was limited to just 15 games last season - could all be on the move. All three are entering the final year of their deals and removing the trio from the roster would clear a combined $9.375 million in cap space.
Vegas has four RFAs in need of new deals: William Karlsson, Nikita Gusev, Tomas Nosek, and Malcolm Subban.
The Golden Knights' offseason isn't so much about making additions as it is just trying to fit everyone under the cap. - Wegman
2019 draft picks
| Round | 1 | 2 | 3 | 4 | 5 | 6 | 7 |
| --- | --- | --- | --- | --- | --- | --- | --- |
| Pick | 17 | 48 | 79 / 82 / 86 | 110 | 135 / 139 / 141 | - | - |
Anaheim Ducks
This summer is all about getting younger and faster for the Ducks. Corey Perry has been bought out. It looks like they may be able to get LTIR relief for Ryan Kesler's contract, with the former Selke Trophy winner's playing career in jeopardy.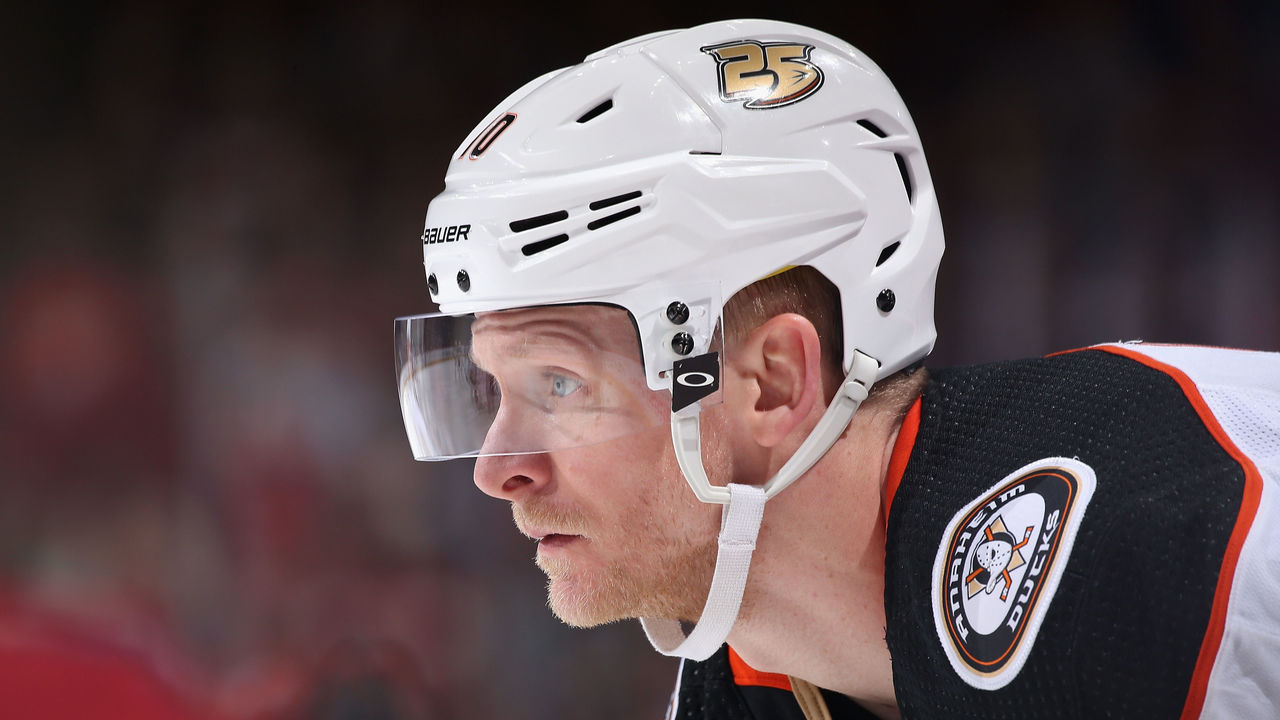 The Ducks aren't going to compete in 2019-20, so if general manager Bob Murray is able to clear some cap room, he could take on a bad short-term contract in exchange for picks or prospects that can help speed up the rebuild. Otherwise, Murray should sign players to one-year deals and look to flip them as rentals at the trade deadline. - Wegman
2019 draft picks
| Round | 1 | 2 | 3 | 4 | 5 | 6 | 7 |
| --- | --- | --- | --- | --- | --- | --- | --- |
| Pick | 9 / 29 | 39 | - | 101 | 132 | 163 / 186 | - |
San Jose Sharks
Never underestimate Doug Wilson. Not only was the Sharks' savvy GM able to convince Erik Karlsson to re-sign, but by trading Justin Braun, he's already begun clearing the necessary cap space to keep the rest of the core together.
That core, of course, includes captain Joe Pavelski, who's set to hit unrestricted free agency. But before Wilson can hand him a blank check, he has to factor in how much two of his key RFAs will cost. Timo Meier seems primed for a long-term deal at around $6.5 million per season, while Kevin Labanc could sign bridge deal in the $3.5-million range.
Forward Melker Karlsson ($2 million) and defenseman Brenden Dillon ($3.27 million) are on contracts that expire after next season, and Wilson could trade the pair to clear a bit more cap space, if necessary.
Joe Thornton, the team's heart and soul, announced he's returning for another season, and it wouldn't be surprising to see him take a generous pay cut.
UFA forwards Gustav Nyquist and Joonas Donskoi appear unlikely to stay, but with any leftover cap space, Wilson should be able to add some depth throughout the lineup. It may be worthwhile to find an upgrade over backup goalie Aaron Dell, one who could push Martin Jones for playing time. - Wegman
2019 draft picks
| Round | 1 | 2 | 3 | 4 | 5 | 6 | 7 |
| --- | --- | --- | --- | --- | --- | --- | --- |
| Pick | - | - | 91 | 122 | 133 | 184 | |
Arizona Coyotes
It's time for the Coyotes to get over the hump. But in order to do so, the club needs a large injection of offense. Arizona boasts one of the league's best goaltending tandems and a deep blue line, but it desperately needs a high-end forward. With enough cap space and few players to retain, GM John Chayka should go all-in on Matt Duchene in free agency. The team reportedly intends to target him.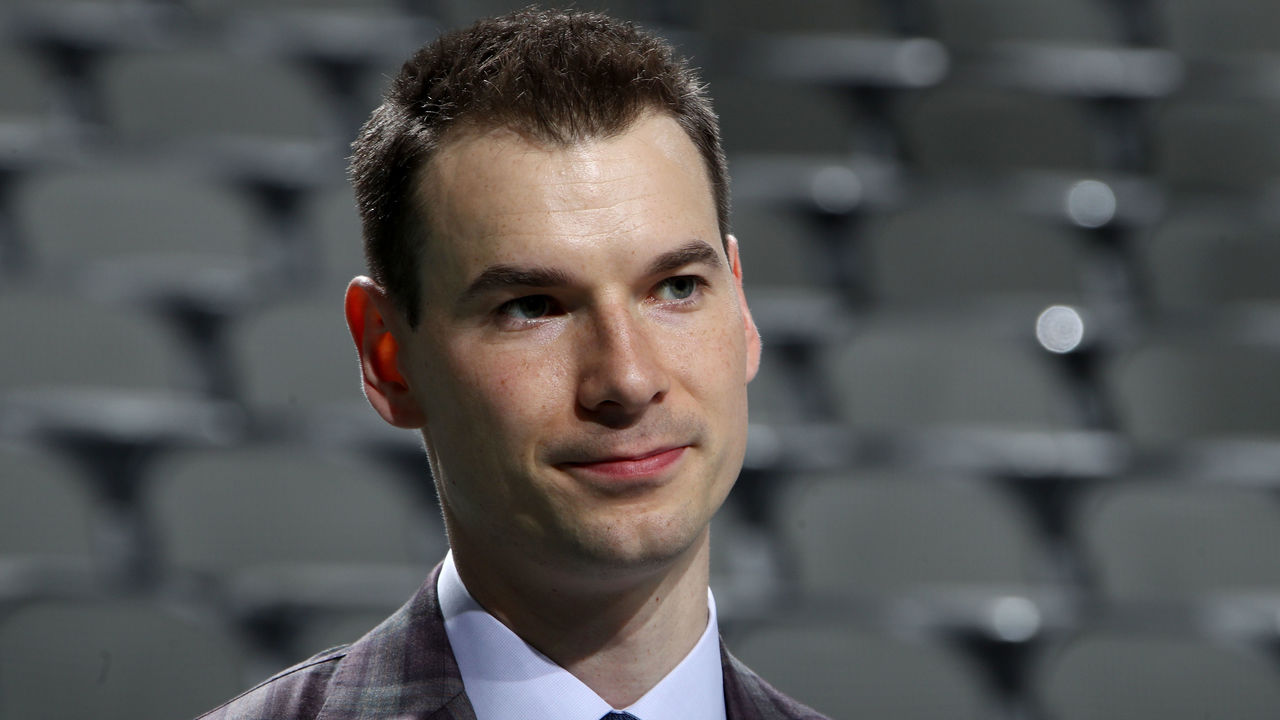 After Duchene, Panarin, and Pavelski, there aren't any UFA forwards who would qualify as true difference-makers. Nyquist, Ryan Dzingel, Mats Zuccarello, and Anders Lee would be welcome additions, but forwards in this tier are often overpaid in free agency.
Chayka could explore the trade market for forwards. He has two defensemen - Alex Goligoski and Jason Demers - that he can dangle in talks.
The Coyotes suffered an inordinate number of injuries in 2018-19 and only missed the playoffs by four points. They might be just one piece away from snapping their seven-year postseason drought. - Wegman
2019 draft picks
| Round | 1 | 2 | 3 | 4 | 5 | 6 | 7 |
| --- | --- | --- | --- | --- | --- | --- | --- |
| Pick | 14 | 45 | 74 / 76 | 107 | - | 174 / 176 | 200 |