Projecting Brock Boeser's next contract
Jeff Vinnick / National Hockey League / Getty
Throughout June, theScore will be projecting contracts for the star-studded restricted free-agent class. In this edition, we project Brock Boeser's new deal.
The player
The Vancouver Canucks have collected the young core pieces they hope to build a successful team around, and now it's time to start paying them. The process begins with a new contract for sharpshooting winger Brock Boeser, the first of the club's building blocks to require a new deal.
| Season (Age) | GP | G | A | P |
| --- | --- | --- | --- | --- |
| 2016-17 (19) | 9 | 4 | 1 | 5 |
| 2017-18 (20) | 62 | 29 | 26 | 55 |
| 2018-19 (21) | 69 | 26 | 30 | 56 |
Drafted 23rd overall by Vancouver in 2015, Boeser has already established himself as one of the league's premier shooters. Since his first full season, he sits 18th among all NHL skaters with 1.1 goals per 60 at five-on-five, ahead of some major names like Jamie Benn, Brad Marchand, Sean Monahan, and Mark Stone.
Boeser doesn't drive play for his linemates particularly well, but he's an elite finisher who's bound to earn a handsome payday even as a winger. The 22-year-old's resume already includes a runner-up finish in Calder Trophy voting and All-Star Game MVP honors, so he has lots to work with on his side of negotiations.
The team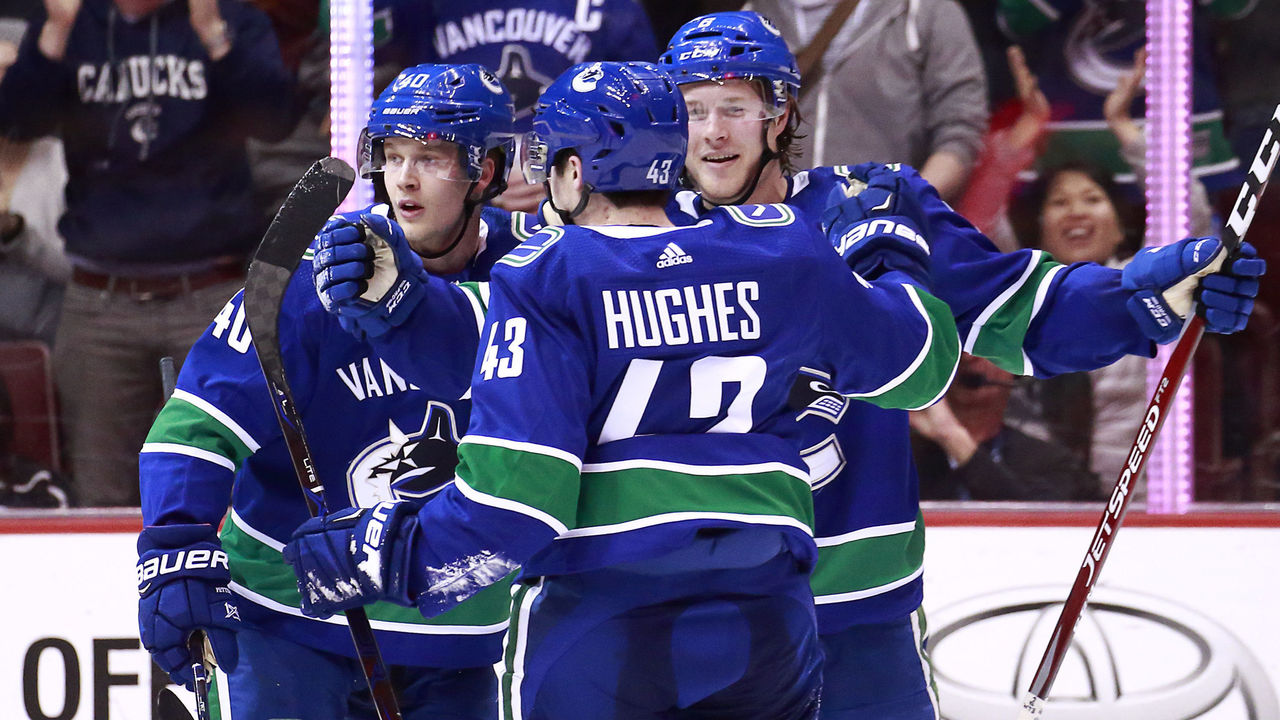 As mentioned above, Boeser is a key component of the Canucks' promising young core alongside Elias Pettersson and Quinn Hughes. His upcoming contract will be crucial for Vancouver's long-term salary cap picture as all three players track to make big money down the road. General manager Jim Benning can get a head start this offseason by working out a reasonable deal for Boeser.
The Canucks are projected to have over $30 million in cap space for the 2019-20 season, according to CapFriendly. Though Boeser headlines Vancouver's list of players due for new contracts, he's not alone. Tyler Motte, Josh Leivo, Nikolay Goldobin, and Markus Granlund are all RFA forwards as well, while Ben Hutton and Derrick Pouliot are up for new deals on the blue line. Of those six players, only Goldobin enters the offseason without arbitration rights. Vancouver also has decisions to make on veteran UFA defensemen Alex Edler and Luke Schenn. Schenn joined the club in January and it seems the Canucks want to bring him back.
Boeser won't be the only player looking to get paid this summer, but he'll undoubtedly be priority No. 1.
The comparables
Here's a list of notable wingers to recently sign long-term contracts coming out of their ELCs:
| Player (Team) | P/GP* | AAV | CH% | Length | Year signed |
| --- | --- | --- | --- | --- | --- |
| Johnny Gaudreau (CGY) | 0.98 | $6.75M | 9.25 | 6 years | 2016 |
| Filip Forsberg (NSH) | 0.78 | $6M | 8.22 | 6 years | 2016 |
| David Pastrnak (BOS) | 0.93 | $6.66M | 8.89 | 6 years | 2017 |
| Jake Guentzel (PIT) | 0.92 | $6M | 7.55 | 5 years | 2018 |
| William Nylander (TOR) | 0.74 | $6.9M** | 8.67 | 6 years | 2018 |
CH% = Cap hit as a percentage of the cap ceiling when the contract was signed
* - In contract year
** - Nylander's cap hit in 2018-19 was prorated to $10.2 million based on time missed due to negotiations
Boeser missed time with injury this season but still put up 0.81 points per game over 69 contests, putting him on par with the comparables above. Working in Boeser's favor, though, is the increasing salary cap, projected at $83 million for next year. That increase could slide him ahead of all the players listed above in terms of AAV. He also outscored everybody on this list over the duration of their respective ELCs with 0.42 tallies per game, and there's no better stat than goals to build a case for a sizeable payday.
His new contract could also largely depend on which of his RFA contemporaries puts pen to paper first. Boeser is just one of numerous superstar wingers scheduled to secure a huge payday this summer along with Mitch Marner, Mikko Rantanen, Patrik Laine, Kyle Connor, and Matthew Tkachuk - all of whom will play a role in setting the market.
The projection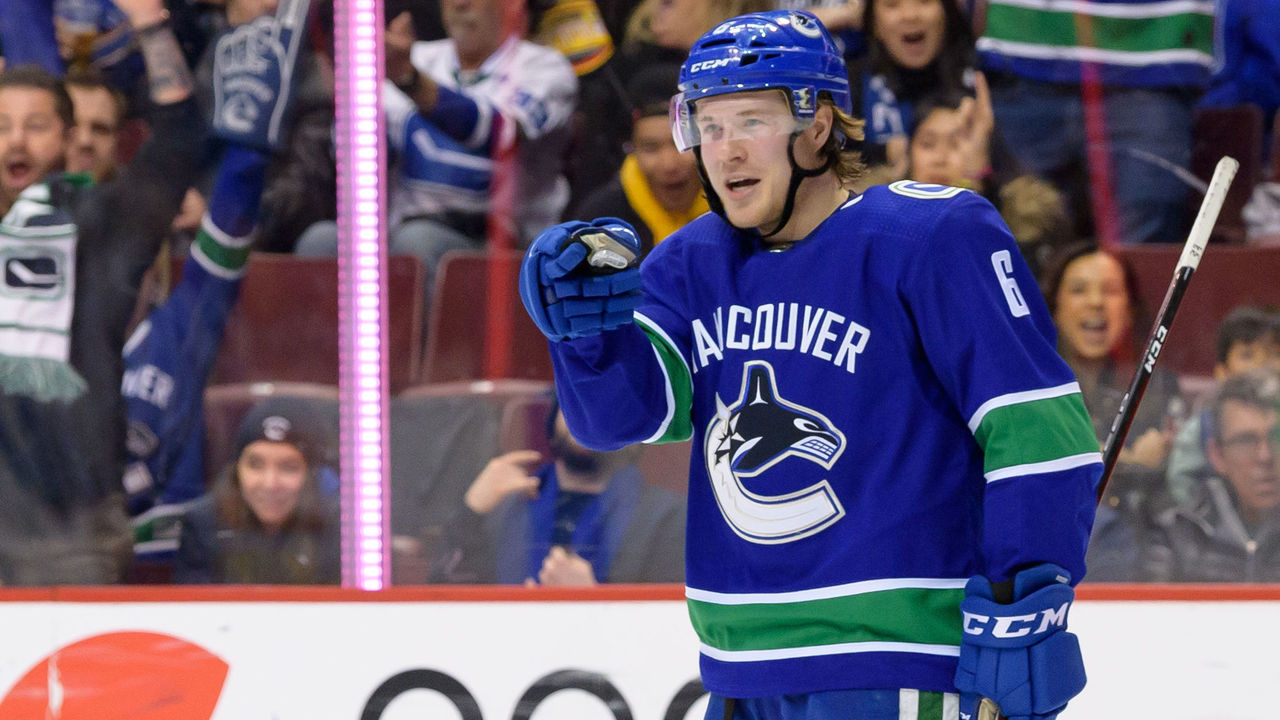 Boeser isn't as multidimensional as some of his RFA peers, but excelling at scoring goals at the sport's highest level is an outstanding way to earn a hefty paycheck. Given his prowess when it comes to lighting the lamp, a cap hit in the range of $7 million to $8 million would be reasonable for both sides.
From the Canucks' standpoint, there's little incentive to bridge Boeser. He's proven himself as a producer, and delaying a long-term commitment could backfire big time once it's time to pay Pettersson and Hughes two years from now.
Verdict: 7 years, $51.45 million ($7.35 million AAV)
Advanced Stats Courtesy: Natural Stat Trick
Others in this series:
Comments
✕
Projecting Brock Boeser's next contract
  Got something to say? Leave a comment below!