Heisman Rankings: Pac-12 arms dazzle through 1st act
The Heisman race is in full sprint after the first month of the season. theScore's updated rankings feature a few shake-ups following a pivotal week in the college football calendar. Nobody is striking a pose yet, but let's take a look at the stars jockeying for position.
Honorable Mentions: Sam Hartman, Shedeur Sanders, Jayden Daniels, Quinn Ewers
5. Cameron Ward, QB, Washington State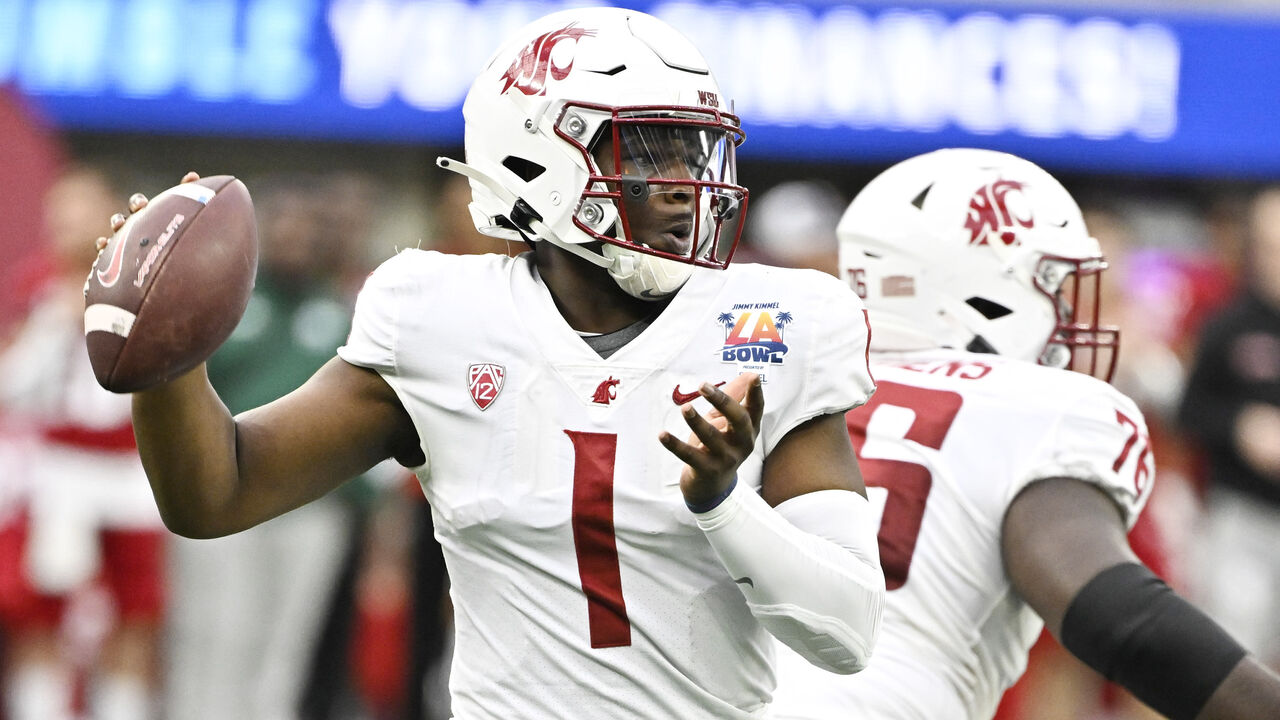 1,389 passing yards, 74.5% completion, 16 total touchdowns, 0 INT
We're granting Washington State coach Jake Dickert's request for more publicity for Ward. The quarterback racked up 404 yards and five total touchdowns in a hotly contested victory over Oregon State. Ward's performance was par for the course, as the Cougars have thrived with the former Incarnate Word transfer under center.
Ward sits third in the Pac-12 with 347.3 passing yards per game to go along with 16 total scores (13 passing, three rushing). The Cougars have a bye week before they resume a conference slate that includes road games at UCLA and Oregon a couple weeks later. The 6-foot-2, 223-pound junior is seemingly flying under the radar in a conference that features numerous quarterback stars.
4. Jordan Travis, QB, Florida State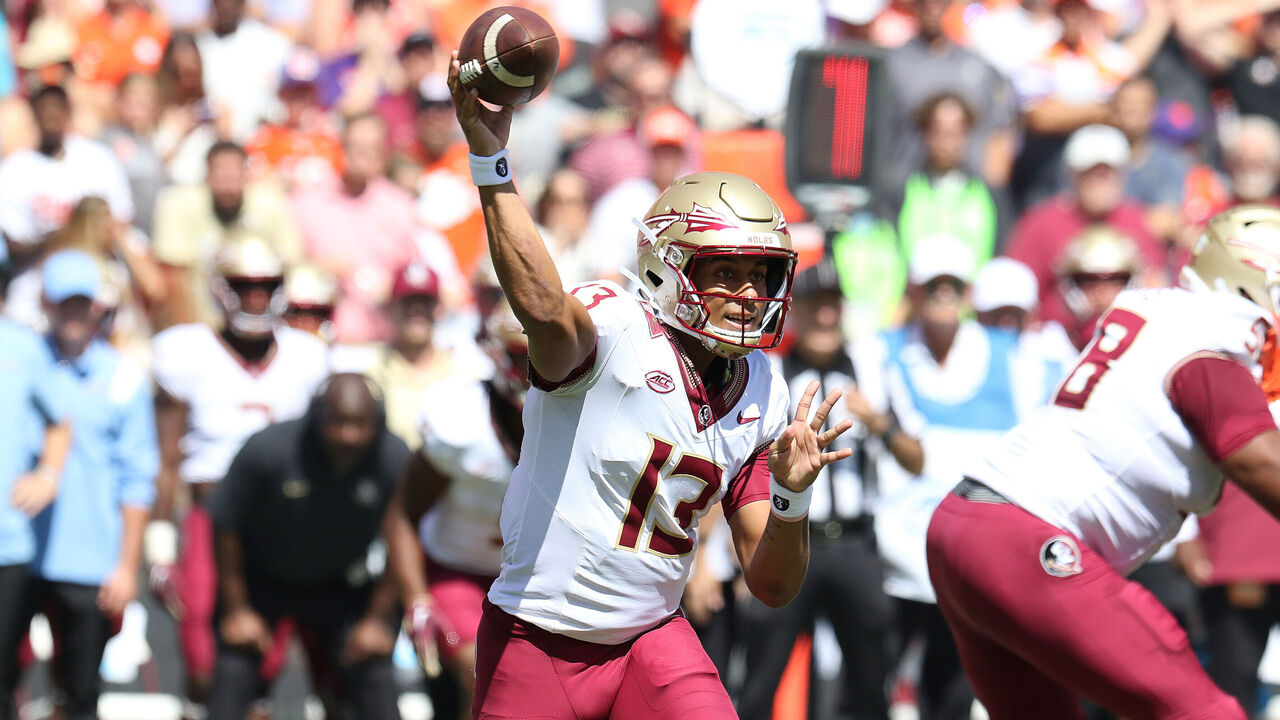 1,028 passing yards, 61.2% completion, 12 total touchdowns, 1 INT
Florida State sprang out of the gate with a sensational showing in its season opener against LSU. Travis made a statement with his performance against a touted SEC defense, accounting for 342 yards and five total touchdowns. The 23-year-old also displayed his grit after sustaining an injury but remaining in the Seminoles' win against Boston College.
The sixth-year passer again illustrated his value with national attention in a battle between two perennial ACC powers; Travis connected with Keon Coleman in overtime to help snap FSU's seven-game losing streak to Clemson. He led the way with 289 passing yards and accounted for three total touchdowns (two passing, one rushing) while playing through a nagging shoulder issue. The Noles will enjoy some home cooking at Doak Campbell Stadium following a bye next week, which includes a matchup against an upward-trending Duke on Oct. 21.
3. Bo Nix, QB, Oregon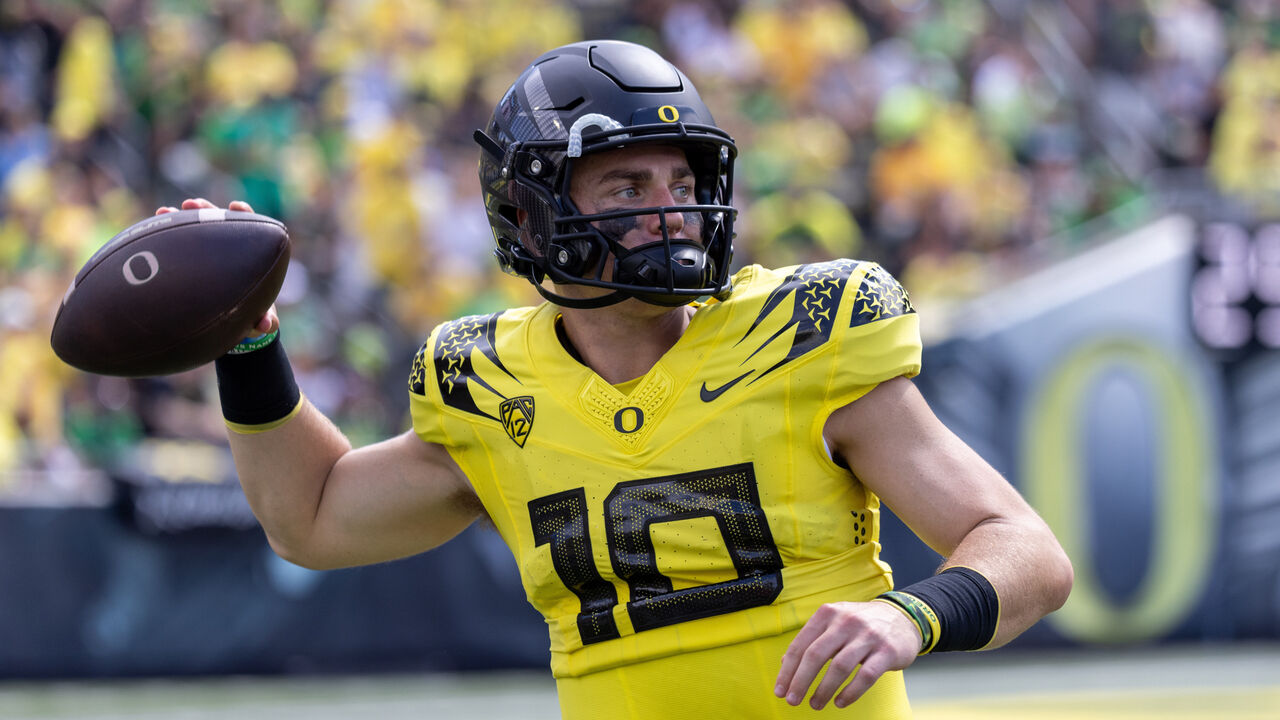 1,169 passing yards, 79.4% completion, 12 total touchdowns, 1 INT
Nix entered the Heisman conversation in emphatic fashion. Oregon halted the Colorado hype train with a dominating victory, and the 23-year-old completed 28 of 33 passes for 276 yards and four total touchdowns. The Ducks star has provided consistency through the team's four outings, leading the Pac-12 with a 79.4% completion rate.
Head coach Dan Lanning emphatically stated Oregon prefers wins over clicks, and the Ducks' slate will pick up next month after closing September out versus Stanford. After back-to-back matchups against Washington and Washington State, the Ducks will end October against Utah's stifling defense.
2. Michael Penix Jr., QB, Washington
1,636 passing yards, 74.6% completion, 16 total touchdowns, 2 INT
Washington has been pouring it on opponents through the first month of the season. Its star under center deserves credit as the Huskies ascend into the top-25 rankings. Penix leads the nation with 409 passing yards per game to go along with 16 passing touchdowns. The 23-year-old completed 20 of 25 passes for 375 yards and four TDs in the first half of a blowout victory over Michigan State.
Penix is one of the most prolific passers and boasts video game numbers in multiple categories such as passer rating (209.58) and yards per attempt (11.9). The Huskies dispatched Cal to little fanfare last weekend as Penix ranked up 304 yards and four scores in the win. The Huskies will face off against a scrappy Arizona squad Saturday and will be well-rested for a looming battle with Oregon in a matchup that will have major implications for the Pac-12.
1. Caleb Williams, QB, USC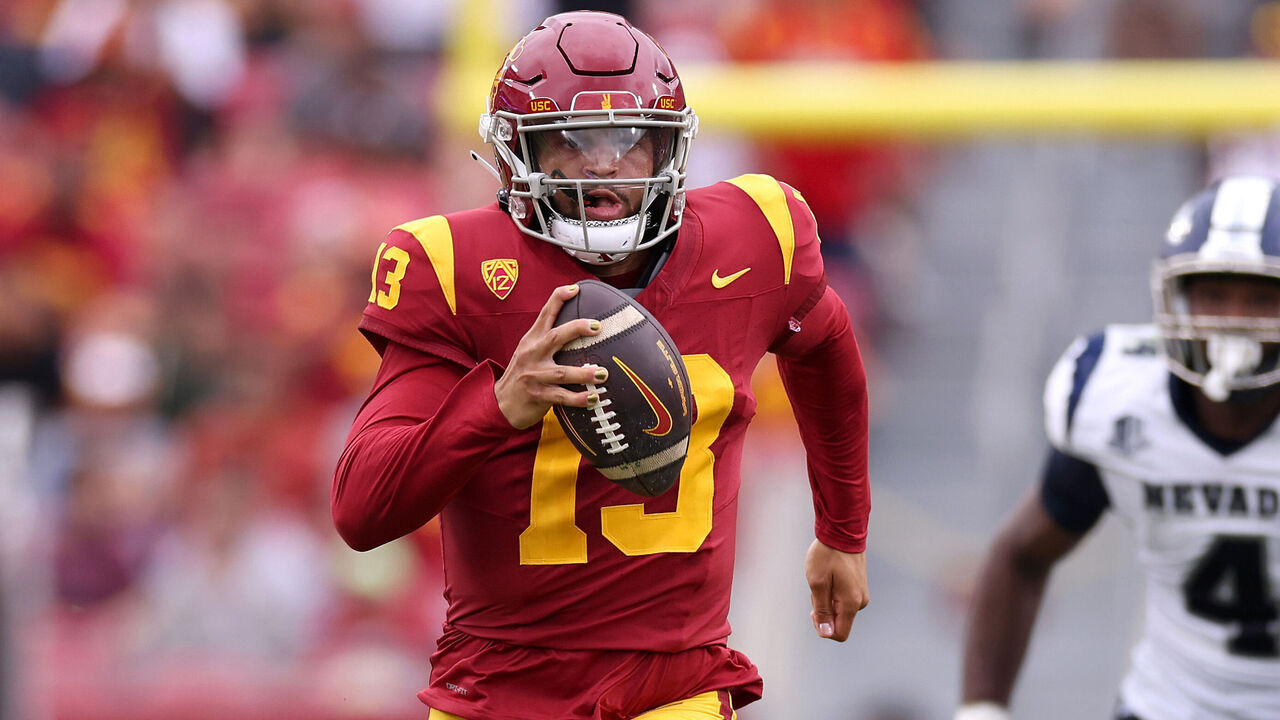 1,200 passing yards, 74.3% completion, 18 total touchdowns, 0 INT
Pro wrestling icon Ric Flair once said, "To be the man, you've gotta beat the man." So far nobody has been able to slow down Williams. The reigning Heisman Trophy winner has dazzled against lackluster competition to begin USC's 2023 schedule. The Trojans find themselves in cruise control after their first four outings thanks to Williams' mastery of the offense. The superstar junior is a more polished version of the player who won the trophy last year. With a receiving corps headlined by Tahj Washington, Brenden Rice, and dynamic freshman Zachariah Branch, Williams' improvement is evident with each outing.
Williams passed for 1,054 yards and nine total touchdowns through his first four games in 2022. The junior signal-caller has exceeded those marks with 1,200 yards and 18 scores and leads the country with a 223.07 QB rating in the same number of contests to begin 2023. A game pitting two of the most recognizable faces in college football in Williams and Colorado's Deion Sanders should be entertaining. The tests will only increase for USC in the coming weeks with back-to-back matchups against Notre Dame and Utah looming in the distance.