The T-Wolves found an identity without KAT. Now they have to build on it
David Sherman / NBA / Getty Images
If you want to make the basketball gods laugh, tell them about your plans. Isn't that how the saying goes? Consider the Minnesota Timberwolves. Last season, they secured just their second playoff berth in the last 18 years, and this season, they dared to plan big, both figuratively and literally. Oh my, did the gods have a hearty laugh at their expense.
Minnesota made a massive win-now bet on a two-center frontcourt of Rudy Gobert and Karl-Anthony Towns, which hinged on the theory that they'd complement one another because each excelled in exactly the areas the other was deficient. The plan was for Gobert to reinforce the team's already improved defense without diminishing the explosive offense helmed by Towns and burgeoning star Anthony Edwards. That plan was waylaid almost immediately.
Towns missed all of training camp after being hospitalized with a throat infection, and he and the T-Wolves subsequently stumbled out of the gate. They started the season 10-11 as their big men struggled to work around each other's limitations. The roster shift was a major adjustment for the entire team, but everyone figured to get more comfortable with more reps. Before that could happen, Towns suffered a calf injury, which was projected to keep him out four-to-six weeks but instead shelved him for almost four months.
For a team that had so much riding on this season and at the very least needed to do some serious information-gathering about the viability of its personnel group, the Wolves have learned frustratingly little about what they are at full strength. But with eight games left in the regular season, is there hope for them yet? Towns finally returned to action Wednesday, dropped 22 points in 26 minutes, sank the game-winning free throws with three seconds left, and finished plus-13 in a one-point win over the Hawks. Edwards didn't play, missing his third straight game with an ankle sprain, but he's due back this weekend, which will make Minnesota whole for the first time since November.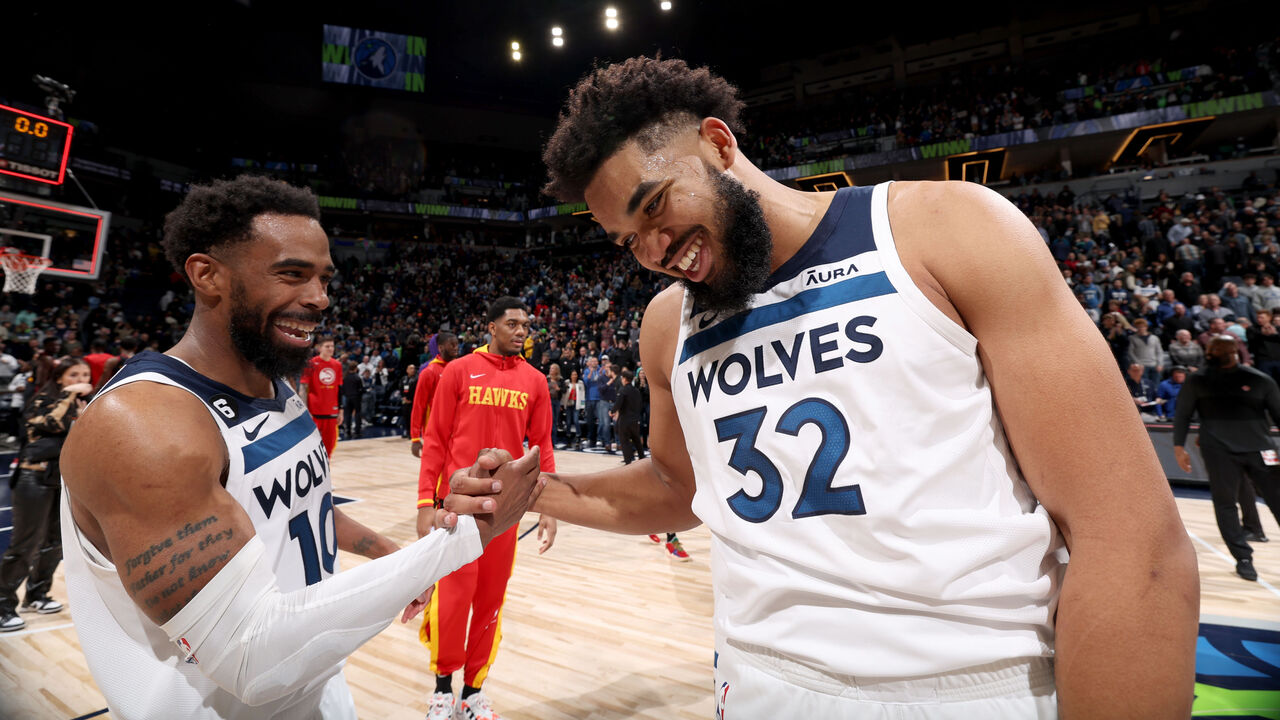 With Towns in street clothes, the Wolves had to craft a new identity on the fly, which mainly involved unleashing Edwards as a high-usage primary initiator and surrounding him with connective playmakers and stout defenders. They didn't set the world on fire but stayed afloat for 52 games without one of their two best players. The win over Atlanta pushed them to 37-37, which in this prairie-flat Western Conference landscape puts them in seventh, one game back of a guaranteed playoff spot and a half-game in the other direction from falling out of the play-in picture entirely.
After four months of tinkering without him, the Timberwolves are back where they started, trying to reintegrate Towns and figure out their identity with him. How much will the defense, which ranked eighth during his absence, slip now that he's back? Will the offense improve enough to overcome that slippage? What does his return mean for guys like Kyle Anderson and Naz Reid who stepped up while he was sidelined? Is there even enough time left to figure this out?
Skepticism is warranted, but considering some of the things the T-Wolves have worked out in the interim, there's reason to believe the fit will be more harmonious than it was initially. The struggles of Minnesota's starting backcourt played a big part in the team's clunkiness in the early going, but that shouldn't be an issue anymore thanks to Edwards' ascendence and a deadline-day deal that swapped out D'Angelo Russell for Mike Conley.
After starting the season in less-than-peak condition, Edwards played his way into shape and into his first All-Star Game, making massive strides as a self-creator and playmaker. With Towns on the shelf, he averaged 26-6-5 while shooting 51% from 2-point range and 38% from deep. The Wolves also found new and interesting ways to spring him, using scripted plays like this nifty split action to get him exploding downhill:
That play and others will look even deadlier with Towns as the screener capable of sowing panic by jetting out to the arc, or as the dribble-handoff hub capable of scoring on a keeper if the defense overplays the handoff.
The two meshed extremely well last season, and Edwards' ascendence should only make the pairing more dynamic. His enhanced ability to both attract and leverage defensive attention will create easier shots for a guy who often makes things harder than they need to be. Edwards is the biggest reason the Wolves rank first in the league in rim frequency, and Towns' presence will open up the floor more for Edwards' drives and help streamline the guard's decision-making as a passer.
It's been evident for a while that Towns' ideal role would be playing Robin to someone else's Batman, and Edwards has officially donned the cape. Towns, to his credit, has never had an issue adapting in order to accommodate others.
"I've been doing nothing but adjusting and changing," he told The Ringer's Rob Mahoney early this season. "I don't think there's any player in the NBA, let alone star, that's had to change their game as much as I've had to every single year to benefit the team."
Conley, for his part, might be the biggest key to facilitating Towns' reintegration. Head coach Chris Finch made a point of having him on the floor for all of Towns' minutes Wednesday, perhaps hoping to breed as much familiarity as possible between them during the short runway they have left. It worked out well, with Conley assisting on four of Towns' eight baskets and Minnesota racking up a 138.7 offensive rating with the two of them and Gobert all out there.
We've already seen Gobert reap the benefits of Conley's arrival and the duo's pre-existing pick-and-roll synergy. The big man has averaged 16.1 points per game on 18.6% usage with a 118.0 on-court offensive rating since the deadline, compared to 13.2 points on 15.7% usage with a 108.4 offensive rating beforehand. Part of the reason is that, despite hardly ever scoring at the rim himself, Conley is a more consistent paint presence and paint playmaker than Russell. He's more patient, less interested in pulling up for long twos, and more insistent on getting drop defenders to commit. Since arriving in Minnesota, Conley's average pass to a teammate at the rim travels 12.4 feet, compared to 17.6 feet from Russell, according to a source with access to Second Spectrum data.
Towns prefers to pop rather than roll, but Conley can also open up cleaner outside looks for him by dragging screen defenders into the paint. Conley also got very good in Utah at not only utilizing Gobert as a roll man but at leveraging his roll gravity into open catch-and-shoot threes for others, which Towns can benefit from. Conley's habits and instincts just make him a great fit with a dual-big setup, which is to say nothing of how his presence on the court turns one of the league's most turnover-prone teams into one of its most judicious.
On top of the revamped backcourt play, the Wolves now have a more solid frontcourt foundation than they did at the start of the season. Gobert has tapped into his defensive juice after a sluggish start, frequently demonstrating his underrated ability to contain ball-handlers on late switches and once again establishing himself as a fearsome rim deterrent who can spook drivers out of open layups just by lurking in the general vicinity:
Minnesota's rim rate on defense dips by 8.3 percentage points with Gobert in the game, the biggest such differential in the league, according to Cleaning the Glass.
Meanwhile, Jaden McDaniels has continued to establish himself as one of the NBA's best dual point-of-attack/back-line defenders, hounding star point guards one second and flying over from the help side to annihilate layup attempts the next:
We've also seen McDaniels build out his offensive game to the point that Minnesota can actually run some possessions through him and trust him not only to attack off the catch but to create for himself from a standstill.
Then there's Anderson, who didn't really find his groove until replacing Towns in the starting lineup but quickly proved to be the adhesive that the unit needed; a smart and rangy defender, a wickedly crafty interior passer, a disorienting driver, and an unpredictable off-ball mover who could stitch broken possessions together. He's even knocked down 42% of his threes this season, though his protracted windup and general 3-point aversion mean he's still functionally a non-spacer. When he plays with Gobert, Edwards, McDaniels, and Conley, Minnesota outscores opponents by 7.7 points per 100 possessions.
Despite the expected clunkiness of playing him next to another non-spacer in Gobert and a low-volume shooter in McDaniels, Anderson has made the fit work because he's a master at slipping into slivers of space and threading slick touch passes through the narrowest of corridors. His probing brand of playmaking pairs well with a traditional rim-roller, and he's now assisted Gobert more than any other player this season.
Anderson started in Edwards' place Wednesday but will soon get bumped back to the bench and hopefully bring that same mojo to a second unit that could use a boost on both sides of the ball. He'll also continue to see ample time with the starters in transitional lineups, and he should be able to foster comparable chemistry with Towns as he's done with Gobert.
All of those developments will allow Towns to inhabit a less onerous offensive role, one in which he can feast as a spot-up shooter, pick-and-pop weapon, and off-the-catch attacker with fewer static post-ups. He also should be better insulated defensively, but the offensive end is where the T-Wolves really struggled before his injury. Their original starting lineup allowed only 104.2 points per 100 possessions across 260 minutes, which, even with the caveat that leaguewide offense has gotten more efficient over the season, looks staggering when held up to Milwaukee's league-best mark of 109.8. On the flip side, that lineup's 108.4 offensive rating would come in a smidge below Charlotte's league-worst 108.5.
In spite of how the team has changed since then, there are still some offensive bugs to work out. And while the Wolves have defended well in the minutes Towns shares the floor with Gobert, it's been a different story when Towns shifts to center or plays next to Reid. In those configurations, Towns has to do more as a back-line helper, especially when Reid is involved in the action and hedging ball screens (as he typically does).
There were multiple instances Wednesday in the first quarter alone in which Towns simply failed to rotate as the low man behind that coverage, conceding uncontested looks at the rim despite Taurean Prince imploring him to slide over:
That feels particularly notable because Finch gave every indication that Reid - a gifted offensive center who has similar challenges to Towns defensively - will continue to be a rotation mainstay. This means Minnesota will play two bigs together basically at all times.
"It has to be who we are these last eight games," Finch told reporters postgame.
The Wolves can succeed by leaning into that identity, but only if they improve on the margins. On first-shot half-court possessions alone, they've actually been borderline elite this season, ranking 11th in offensive efficiency and seventh on defense, per Cleaning the Glass. Overall, though, they rank just 21st and 10th because they've been lousy on the glass and in transition at both ends.
Their transition game (which is always a challenge for big teams) was markedly worse with Towns healthy early in the year, especially on defense. Their rebounding was only marginally better, which is disappointing for a team built on size and vertical athleticism. Wednesday felt like a small step in the right direction, as the T-Wolves grabbed 58% of all available rebounds with Gobert and Towns on the floor.
So, where does all of this leave them? They can plausibly finish anywhere from fifth to 12th in the West, and six of their last eight games are against teams currently in playoff or play-in spots. That includes three contests against teams they're directly competing with for seeding, starting Sunday in Golden State.
For months the basketball gods have been cackling at the Wolves' foiled grandiose ambitions, and in reality, that's unlikely to change this season given their precarious position. But this is a young core with room to grow (Towns is still 27, McDaniels is 22, Edwards is 21), and every rotation player besides Reid is under contract through at least next season. Things are starting to percolate, and it's not out of the question that the Timberwolves get the last laugh in the end.
Comments
✕
The T-Wolves found an identity without KAT. Now they have to build on it
  Got something to say? Leave a comment below!