How can the Timberwolves get more out of Karl-Anthony Towns?
David Berding / Getty Images
The Minnesota Timberwolves are, by any measure, one of the feel-good stories of this NBA season. Riding a wave of internal development and a revamped defensive scheme, they made a 23-win leap, won an emotional play-in game to earn just their second playoff berth in 18 years, and promptly snatched home-court advantage from the heavily favored Memphis Grizzlies with a wire-to-wire Game 1 win.
But it's hard to maintain that sunny perspective after the T-Wolves squandered a 26-point lead and surrendered a 50-16 run to end Game 3, a game in which their best player finished with more fouls than field-goal attempts. The situation was especially exasperating because it marked the third time in four postseason games (counting the play-in) that Karl-Anthony Towns eschewed the hero's cape and donned an invisibility cloak. Given that Towns also had a rough go in his only other playoff appearance in 2018, it's worth exploring what's happening - and what he and the Timberwolves can do about it.
Towns is an extraordinary offensive talent. As a 7-footer, his combination of agility and versatile shooting ability - off the catch or off the dribble, stationary, or on the move - makes him a matchup nightmare for nearly every center in the NBA. Recency bias is a hell of a drug, but we don't even have to go back a week to see the gargantuan impact he can make. It took Towns exactly one game to play Steven Adams out of this series, dropping 29 points on 11-of-18 shooting (6-of-8 with Adams as his primary defender) in Minnesota's series-opening win.
That matchup-warping power shouldn't be overlooked. Adams' screening, rebounding, and high-post passing were important components of the Grizzlies' fourth-ranked offense this season; his absence was partly why the T-Wolves were able to keep Ja Morant in check and hold Memphis seven points per 100 possessions below its regular-season average in Game 3.
The problem is in the two games since the Grizzlies made their big adjustment and shelved Adams, the Timberwolves have slogged to an unsightly 95.5 offensive rating, thanks largely to Towns' inability to make his own counter-adjustments. He's scored just 23 points on just 16 total shooting possessions across those two games, with nine turnovers to two assists. In the second half of Game 3, as Minnesota watched its lead evaporate, he attempted one shot, earned zero free throws, and didn't record an assist in 14 minutes of action.
With fleeter-footed defenders now guarding him, the Grizzlies are comfortable switching most ball-screen actions involving Towns. That has erased many of the pick-and-pop looks and delayed rolls he feasted on in Game 1 and made it more difficult for the T-Wolves' guards to get downhill or find space to pull up out of the pick-and-roll. Those switches gift Towns significant size mismatches on the back end, but Minnesota hasn't been able to turn those mismatches into pressure points. There are a few reasons for that, some of which fall directly on Towns and some of which don't.
The Timberwolves rely on non-shooting defensive specialists like Jarred Vanderbilt and Jaden McDaniels to make their scheme work at the other end of the court, which means Memphis can have someone playing free safety on almost every possession. As such, the Grizzlies are either aggressively fronting Towns or running hard double-teams at him whenever he even threatens to gain the upper hand on the block.
Towns generally makes the right play and kicks the ball out of the trap, often creating an open shot one or two passes down the chain. It's not his fault his teammates clanked a bunch of those jumpers down the stretch in Game 3. It's not his fault that the T-Wolves occasionally messed up their floor balance on the back side of those doubles or that their spacing wasn't always optimized. This possession, for example, would have been far more threatening with Patrick Beverley in the corner (where he shot 47% this season) and Anthony Edwards above the break (36%), rather than with Beverley above the break (30%) and Edwards in the corner (35%):
But look at where Towns was standing when he caught the ball against the 6-foot-6 Dillon Brooks. It feels nitpicky to gripe about who fills which weak-side shooting slot when the player ostensibly pressing an advantage in the post is barely a step inside the 3-point line.
The T-Wolves got a good look out of that play, but Towns is generally making it easier for the defense to double him by constantly catching the ball 20-plus feet from the hoop; it means either a shorter recovery for the helper (if the double comes from the strong side) or a longer, more dangerous cross-court skip pass for Towns (if it comes from the weak side). That wouldn't be such an issue if Towns was as good at hitting the weak-side skip as some of his post-playmaking peers. As it is, though, he turned the ball over on nearly 22% of his used post-up possessions this year, in large part because of what he dubbed his "regular-season hero pass over the head," a pass he's vowed not to attempt in the playoffs.
Towns has let his catches get pushed out by smaller defenders all season. His shooting is a tremendous asset, but he tends to use that asset as a crutch. His instinct is to pop after nearly every ball screen, making it far more difficult to carve out deep position when the defense switches. One of the best ways to beat a switch is by slipping a screen and jetting to the rim, especially on empty-side pick-and-rolls like the one Minnesota ran on the possession above. It would be a welcome sight to see Towns - whose shooting prowess overshadows his elite athleticism - mix in some slips and hard rolls to keep the Grizzlies' defense on its toes. But he never seems interested in doing so.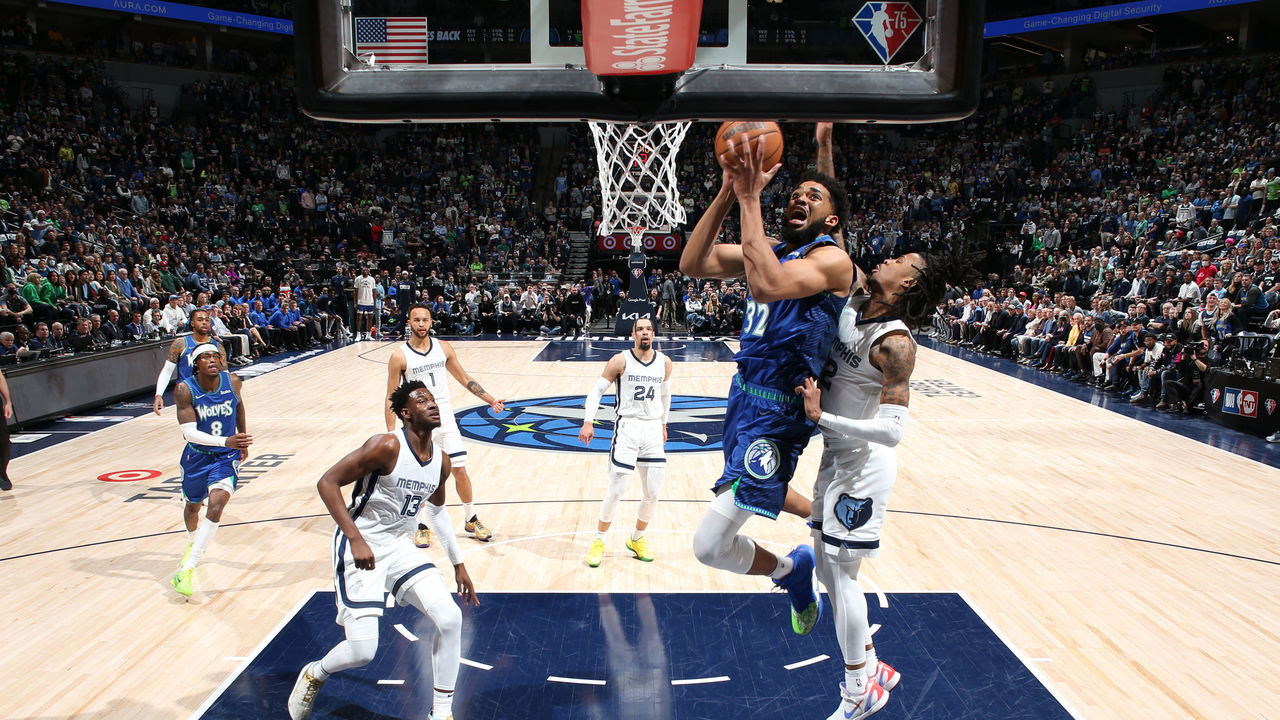 There is a rough blueprint for defending the T-Wolves, and it involves using a smaller forward as Towns' primary defender with a team's best rim-protector on Vanderbilt. In this matchup, that means Kyle Anderson or Brandon Clarke is guarding Towns, with the ever-disruptive Jaren Jackson causing havoc as a rover, springing doubles on the ball or lurking near the basket to challenge any driver who breaks through the first line of defense. The T-Wolves have shot just 8-of-17 at the rim with Jackson in the vicinity.
If Towns could dominate those individual matchups, he might force the Grizzlies to put Jackson on him, which would constitute a win for Minnesota. (Even if Towns were to stand behind the 3-point line never touching the ball, he'd help the T-Wolves' offense immensely simply by using the threat of his jumper to draw Jackson away from the rim.) But Anderson and Clarke have both fared quite well in that assignment so far.
Towns' teammates can probably do a better job delivering him the ball. They've been too easily dissuaded by the Grizzlies' fronts, too reluctant to throw entry passes over the top. And Minnesota's coaching staff could be doing more to help Towns start possessions closer to the basket. The Denver Nuggets run all kinds of interference to help Nikola Jokic slide into a comfortable spot on the block: back screens at the top of the floor, cross screens along the baseline, pin-downs to get him curling middle. The T-Wolves don't do nearly as much when it comes to establishing their would-be offensive hub. Towns starts and finishes too many of their possessions above the free-throw line with nary a screen set for him.
It would be nice to see more inverted pick-and-rolls and more corner sets like this one (an old Anthony Davis standby), with a shooter screening:
Of course, the easiest way for Towns to make a bigger impact is to avoid foul trouble, which ate into his minutes in Game 2 and Game 3 after knocking him out of the play-in contest entirely. That issue may not seem related to the matter of offensive process, but it is: Of the 10 fouls Towns committed in the last two games, five came at the offensive end. Several of those stemmed from him setting up at the top of the floor, allowing Memphis to load up on his drives, and not seeing the available pass until he'd already bowled into a planted defender.
More broadly speaking, if he's going to keep operating from the outside in, he needs to be a sharper and more proactive on-the-move playmaker:
The story of Game 3 should have been that Towns played one of the best defensive games of his career. He mixed up his coverages, hedging and recovering effectively while sprinkling in a bit of drop. He chipped in as a low man and stayed vertical at the rim, blocking five shots and altering several others. His presence both at the point of attack and on the back line was a huge part of the T-Wolves' successful game plan to limit Morant. No one will remember any of that. They'll only remember that Towns took four shots while his team squandered a 26-point lead.
But that doesn't have to be how Towns' postseason is remembered. There's still time. The Grizzlies haven't "solved" him. Couple his renewed defensive intensity with the offensive assertiveness he showed in Game 1, and there's a player who's more than capable of anchoring a series-winning team. It's up to Towns, his teammates, and the Timberwolves' coaching staff to access that player.
(All stats courtesy of NBA Advanced Stats)