It's up to the T-Wolves' backcourt to make their new frontcourt work
David Berding / Getty Images
There were plenty of good reasons for the Minnesota Timberwolves to invest heavily in a two-big frontcourt featuring Karl-Anthony Towns and Rudy Gobert, a yin-yang pairing of 7-footers who each excel in exactly the ways the other is deficient. The Wolves saw other teams succeed by going big amid the NBA's downsizing trend and surmised that they could do the same.
Things haven't quite gone as planned. The Wolves are 7-8 against a pillow-soft schedule, having experienced extended bouts of discombobulation on both sides of the ball. For all their defensive miscues, they actually rank a respectable 13th in points allowed during non-garbage-time possession, which is exactly where they finished last year. While that still registers as a disappointment given that Gobert was brought in (at immense cost) to improve the defense, the team's struggles on the other end of the floor are more notable.
The Wolves were built to pile up points and finished seventh in offensive efficiency a season ago. But before beating up on the rebuilding, shorthanded Magic on Wednesday, they ranked 19th. The starting lineup of Gobert, Towns, Jaden McDaniels, Anthony Edwards, and D'Angelo Russell has been particularly anemic, producing a 105.7 offensive rating that barely clears the Lakers' league-worst mark (105.4). Minnesota has scored much more efficiently when Towns plays without Gobert (117.3) but has bled points defensively in those minutes (119.1 compared to 110.6 with both on the floor), according to PBP Stats. The opposite problem has occurred when Gobert plays without Towns.
The defense in the Towns-only minutes will remain a challenge, but the offense with Gobert on the floor ought to be better. On one hand, even successful tall-ball teams often struggle to score because upsizing usually means sacrificing shooting and ball skill for rim protection and rebounding. But between Towns' passing, driving ability, and elite shooting, and Gobert's roll gravity and above-the-rim finishing, the Wolves' two-big frontcourt has more offensive juice than most. So why isn't that bearing out?
The Gobert-Towns fit itself, while far from seamless, hasn't been the problem. In fact, Towns has been better than anyone on the team, by far, at targeting Gobert and utilizing his finishing ability. Nearly half of Gobert's assisted baskets have come from his frontcourt mate, many of them off of high-low feeds but plenty more out of 4-5 pick-and-rolls and driving lobs to the dunker spot. The issue has been the lack of synergy between the frontcourt and the backcourt, particularly as it pertains to Gobert.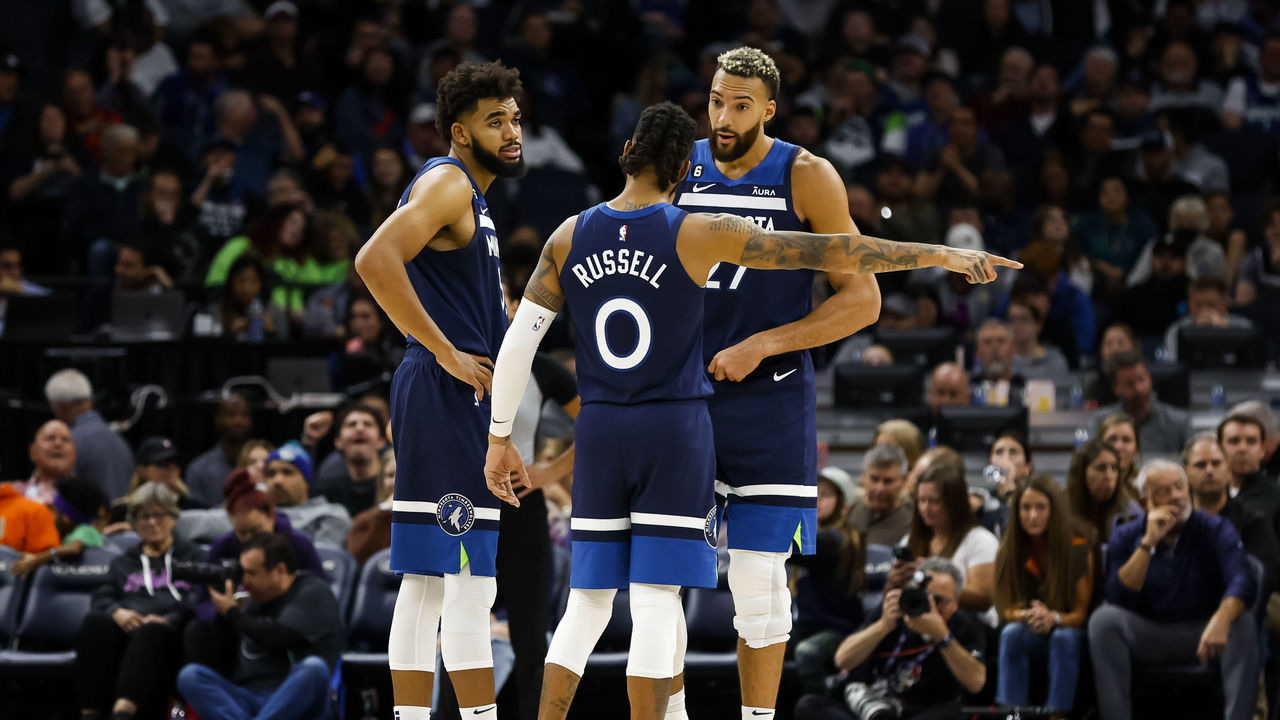 Making a two-big alignment work is usually contingent on elite guard play, or at least elite off-the-dribble shot creation. There's a reason things have looked more functional in Cleveland and Memphis than they have in Minnesota. Whether it's Darius Garland and Donovan Mitchell or Ja Morant and Desmond Bane, those teams' guards can mitigate spacing issues and offensive limitations around them thanks to their pull-up shooting, downhill juice, tight-window passing, and switch-busting ability.
The Wolves' two lead ball-handlers individually check some of those boxes, but collectively, they don't have remotely the same ability to harmonize an offense, at least not yet. Right now, neither Edwards nor Russell is doing much to make his teammates better.
The learning curve has been particularly steep for Edwards, the explosive third-year wing who hunts his own offense relentlessly and grew accustomed to doing so while playing with a perimeter-oriented, pop-happy big in Towns. There's a reason I spotlighted the importance of Edwards' development coming into the season. His lack of in-between craft and his limited playmaking vision stood as potential hindrances to Minnesota reaching its offensive ceiling with Gobert in the fold. And to this point, he's shown minimal growth in those areas.
To his credit, he continues to improve as a shooter and self-creator, and he's finishing 66% of his shots at the rim on massive volume despite navigating tricky spacing (as he's made a point of reminding everyone). But he's still only a two-level scorer, with a spotty pull-up mid-range stroke and no floater to speak of. He's shooting 30% on 2-pointers outside the restricted area, which is right in line with his career average and puts him in the 18th percentile among wings, according to Cleaning the Glass.
His vision, meanwhile, remains narrowly tunneled. Out of 52 players who've driven to the basket 10 times a game this season, he ranks 52nd in assist-to-turnover ratio on drives. (He finished last in that category last season, too.) He's also thrown just four assists to Gobert in 13 games.
It hasn't been for lack of opportunity. Despite his virtually nonexistent mid-range game, Edwards consistently draws nail help and engages the screen defender in pick-and-roll because of how threatening he is as a driver. He just hasn't been able to leverage that attention into high-value shots for his teammates, eschewing not only lobs to Gobert but also corner skips and kickouts when either he or Gobert draws weak-side help:
Edwards has complained about all the bodies he's seeing in the paint, but becoming a better and more willing passer would make it a lot more difficult for defenses to load up on him.
He hasn't exactly made a public show of support for the Gobert addition, and sometimes it feels like he's looking off his new teammate just to spite him: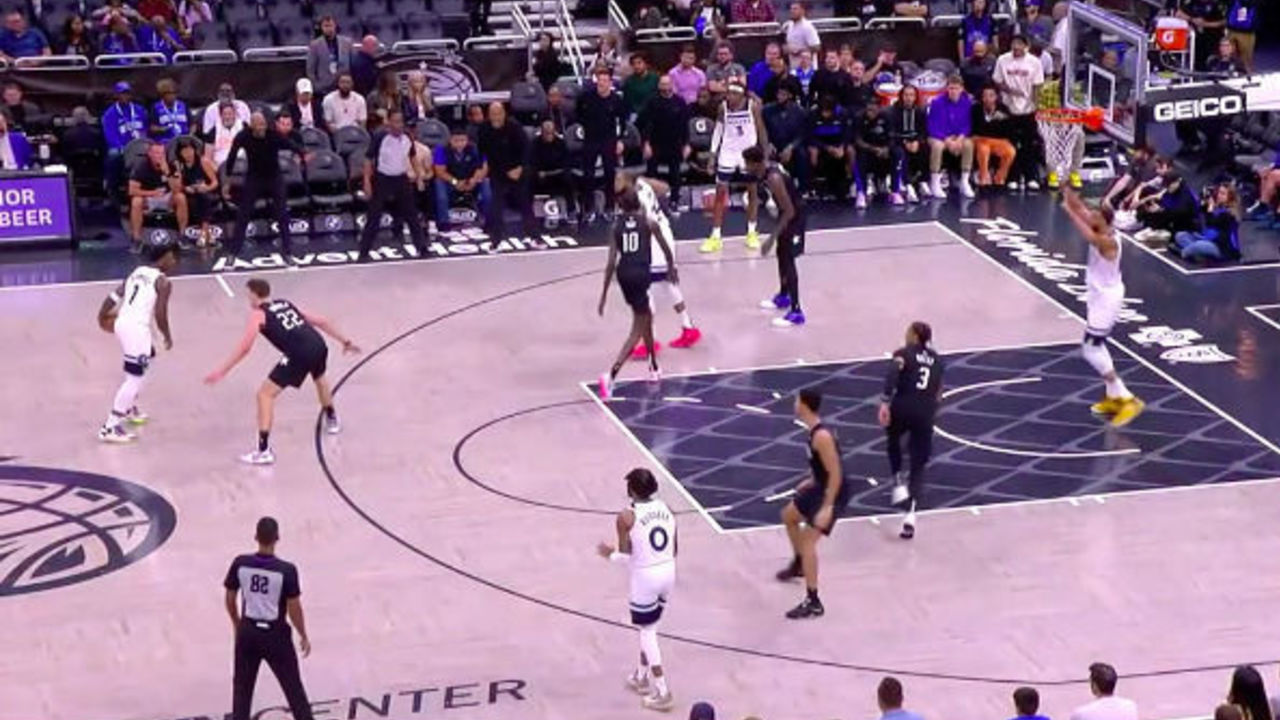 It also would be a major boon to the offense if he made a more concerted effort to move without the ball, not just as a means of getting it back into his own hands, but as a way of maintaining flow for everyone around him. His penchant for standing stock-still with his hands on his hips when plays don't directly involve him can be really damaging.
It was nice to see him finally pick some of the low-hanging fruit that Gobert's off-ball screening provides in Minnesota's most recent win:
That was just a beautifully choreographed bit of deception, with Gobert flipping his pindown into a flare screen and Edwards setting up his defender to run right into it.
Russell's struggles sit at the opposite end of the spectrum from Edwards'. He's actually a creative and often enthusiastic passer and can fall back on a credible floater. But where Edwards is neglecting to make certain reads, Russell doesn't have the same passing options because defenses are sending minimal help his way and daring him to be a scorer.
They'll overplay the lob, keep the weak side at home, and trust that Russell likely won't make his way to the rim. With Russell struggling badly as a pull-up 3-point shooter and having a hard time finding the range on his floater, that gambit has paid off for the defense. Even when Russell manages to get the screen defender to commit, he often misses his lob window:
Opponents are also much more willing to switch against Russell, knowing he lacks the straight-line burst to consistently beat a big man on the perimeter and is more likely to settle for a step-back jumper. (Gobert's inability to work the back end of switches is well documented.)
Russell's capable of being better, but right now, he's plagued by poor shot selection and hesitation. You can see the gears turning in his head as he tries to decide what kind of scoring/playmaking balance this reshaped roster demands of him. That sort of indecision is tough to overcome when it's infecting a team's would-be offensive organizer. It's no surprise that Russell's best and most confident game of the season coincided with Minnesota's best win, last weekend's victory over the Cavaliers.
All told, the Wolves are scoring just 0.81 points per possession on plays finished by the pick-and-roll ball-handler, which puts them 22nd in the league, according to NBA Advanced Stats. They rank second in scoring efficiency on possessions finished by the roll man, but they utilize their rollers as play finishers less frequently than all but eight teams.
Because Gobert is a complete non-playmaker, you don't want to hit him on the short roll; you want to either use him as a finisher or capitalize on his roll gravity and cut out the middleman by making a skip pass to the weak side. The Jazz were able to build top-three offenses around Gobert in each of the last two seasons because they got extremely good at doing that. Minnesota's current problem is that the guy capable of making the right passes is struggling to draw two to the ball, and the guy capable of drawing two to the ball is struggling to make the right passes.
Admittedly, those Jazz teams also had better spacing on the wing. McDaniels is a special defender who's making offensive strides, but he doesn't command much respect as a shooter. Ditto for his backup, Kyle Anderson. Having those guys spot up in the corners allows opposing defenders to pinch in aggressively and close off playmaking avenues in the middle of the floor while making the skip pass a less appealing play.
The most successful workaround the Wolves have discovered is using throw-ahead passes out of the pick-and-roll to set up Towns-to-Gobert connections. That negates the need for their guards to thread the needle in the pocket and instead makes use of Towns' ability to see and pass over the defense:
Minnesota probably runs that action more effectively than any team in the league, and Towns' versatility allows the Wolves to put variations on it. He can zip that pass from a stationary position or after popping out of a double ball screen or a Horns Flare set. He's also able to put the ball on the floor and attack a seam if the defense tilts toward the initial ball-handler.
The start to this season reinforces the fact that learning to play with and optimize Gobert on offense takes time. Mike Conley struggled badly in his first season in Utah as he tried to deprogram the habits he'd built over nearly a decade playing next to a short-rolling connector in Marc Gasol. By Year 2, he'd fully mastered the art of weaponizing his new rim-running companion. There's still plenty of runway for Russell and Edwards to figure things out.
Given the investment the Wolves made in the Gobert-Towns frontcourt, a whole lot is riding on their guards' ability to do so.
Comments
✕
It's up to the T-Wolves' backcourt to make their new frontcourt work
  Got something to say? Leave a comment below!