Is Ben Simmons the answer to the Nets' on-court problems?
Getty Images / Photo illustration by Nick Roy / theScore
With the 2022-23 campaign approaching, we're diving deep into some of the players we're most interested to watch in the season to come. Next up, one of the NBA's biggest enigmas who's looking to find himself amid a sea of uncertainty.
Previous entries: Tyrese Maxey, James Wiseman, Anthony Edwards, Kawhi Leonard/Zion Williamson/Jamal Murray
For a team that did almost nothing to change its personnel, the Brooklyn Nets sure had themselves a loud, chaotic offseason.
We needn't rehash the stalled contract negotiations and stymied sign-and-trade talks that led to Kyrie Irving daring to be different by exercising his player option. You likely don't need a refresher on the front office's monthslong standoff with a disillusioned Kevin Durant, which eventually ended with Durant backing off his trade demand (and his them-or-me ultimatum) in order to ostensibly recommit to the team he spent the whole offseason trying to ditch.
The upshot is that Brooklyn is bringing back virtually the identical roster and coaching staff that got swept out of the first round this past spring, with an added dose of tension and interpersonal dysfunction to spice things up.
The biggest on-court difference, apart from Irving likely being a more consistent presence following the dropped local vaccine mandate, is that Ben Simmons is actually going to be part of the fray. At least, that's the expectation. That was also the expectation last season when the Sixers sent Simmons to the Nets at the trade deadline after his five-month holdout. But Simmons remained sidelined due to a nagging back injury and desire to manage his mental health.
He's since undergone offseason back surgery, which should put him on track to be physically ready for opening night. Whether he'll be psychologically ready is another matter, and that's one of the most pressing questions in the league right now. If Simmons can work his way back into a good physical and mental place, he has the potential to slot in perfectly next to Durant and Irving who we now know will at least be starting the season in Brooklyn.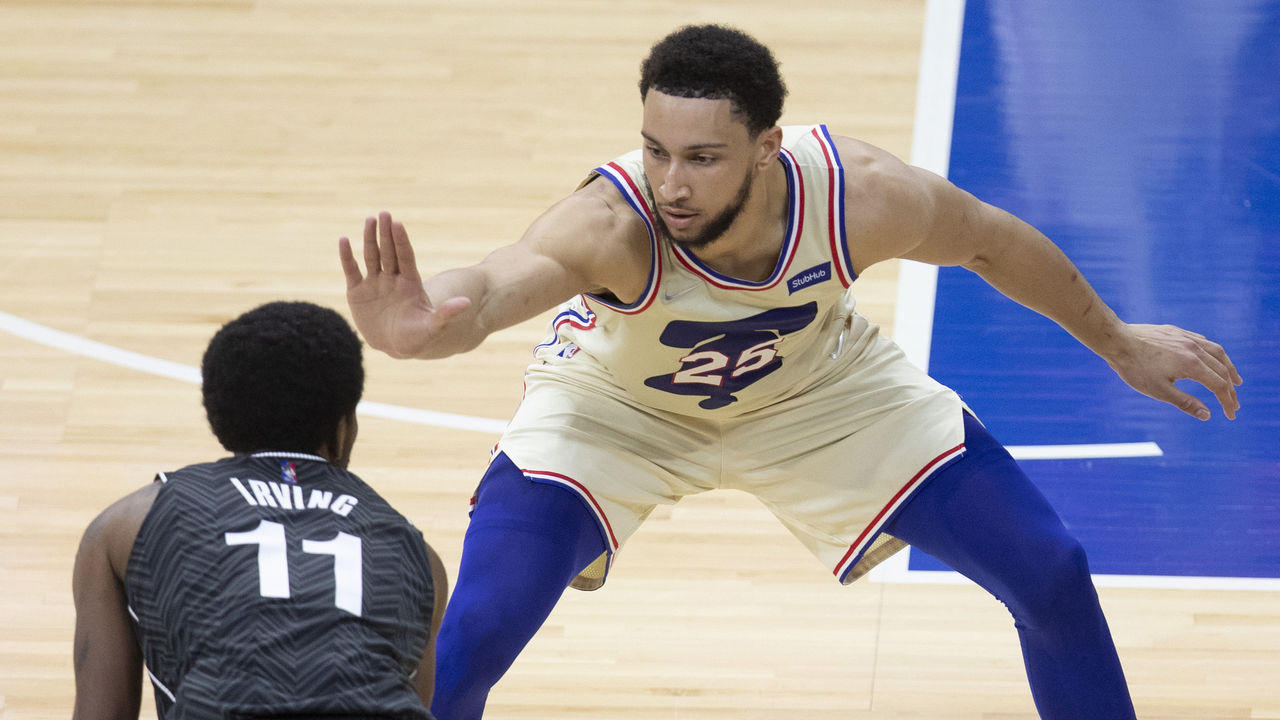 At the defensive end, Simmons will make the Nets a far better switching team that puts up significantly more resistance at the point of attack, and he'll help resolve the size and athleticism deficiency on the wing that became so apparent in their doomed first-round series against Boston. In theory, he'll also give them the option to play center-less more often. He's always been much better as a perimeter defender than an interior defender and has never engendered much success as a small-ball five, but having the 6-foot-11 Durant next to him in those alignments could make a big difference.
Simmons' ability to generate takeaways will be a boon to Brooklyn at both ends of the floor. It will aid a defensive unit that ranked 25th in opponent turnover rate last season while also goosing the transition attack for a group that thrives in the open floor but isn't always proactive about creating those opportunities. Transition is also where Simmons does the bulk of his damage, and for all his warts, he's been very effective at perpetuating that positive feedback loop over his career.
In the half court, Irving and Durant can handle the lion's share of initiating duties, which should free up Simmons to cut, screen, make short-roll plays in 4-on-3 scenarios, and scrounge for lobs, dump-offs, and putbacks in the dunker spot. Between Durant, Irving, Seth Curry, Joe Harris, and Patty Mills, Simmons will be surrounded by multiple all-time great shooters for basically every minute he's on the court, which will make the middle of the floor luxuriously spacious for him. Despite that abundance of shooting, the Nets had the league's sixth-lowest 3-point attempt rate last season. While Simmons himself obviously doesn't shoot threes, he's as good as anyone in basketball at creating them for teammates.
In short, Simmons couldn't ask for an offensive ecosystem more favorable to his particular strengths and limitations. But in order to really flourish within that ecosystem, he needs to be willing and able to actualize his theoretical off-ball skill set. This season is where the rubber will meet the road when it comes to the player Simmons is and the player he's long seemed capable of becoming.
To embody the "Draymond role" so many have envisioned for him, Simmons needs to show an appetite for screening he hasn't yet shown in his career and let go of whatever conception he once had of himself as a point guard. He wore that guise in Philly mainly because there was rarely anyone else there who was more capable of doing it. But when such a player did temporarily step in, it created conflict. Simmons won't be taking on-ball touches away from Durant and Irving in the halfcourt, and the quicker he makes his peace with that, the better for both him and his new team.
Due to a confluence of factors - from Irving's vaccine holdout, to Harris' season-ending injury, to James Harden's decline and disenchantment, to the trade that sent Harden to Philadelphia for a player who never took the court - the Nets' preseason status as 2022 championship favorites wound up completely disconnected from the mediocre mishmash they became. But as bad as the vibes seem in Brooklyn right now, this team still has the makings of a contender if it can just get its act together.
Despite the ugly net result, the Nets scored more efficiently against the Celtics' league-best defense than any other team throughout the postseason, putting 115 points per 100 possessions on a team that allowed only 104.6 the rest of the way. The problem was Brooklyn constantly had to juggle offensive and defensive priorities because other than Durant, the players who were integral to keeping its defense competent were offensive liabilities. Simmons doesn't exactly resolve that dilemma, but he'll certainly bring more offensive punch than Bruce Brown, DeAndre' Bembry, James Johnson, Jevon Carter, or anyone else the team tried to plug into the role of perimeter dam-holder.
All of this is to say, if Durant and Irving fully buy in again, the optimized version of Simmons is capable of being the connective piece that pulls the whole puzzle together. Of course, to do that, Simmons first needs to actually get on an NBA court, something he hasn't done since Game 7 of the 2021 East semis in Wells Fargo Arena - site of the passed-up layup heard 'round the world. Then he needs to shake off whatever cobwebs he's accumulated during his 16-month layoff and shed the emotional baggage he's been toting around since that disastrous Hawks series.
It feels like everything is on the table for the Nets this season. A championship, another first-round exit, a midseason teardown ... they're all eminently possible. How Simmons performs in his comeback season may not be the biggest variable in determining which way things go, but it's probably the most interesting.