A Tyrese Maxey star turn could be the Sixers' salvation
Getty Images / Photo illustration by Nick Roy / theScore
With the 2022-23 campaign approaching, we're diving deep into some of the players we're most interested to watch. First up, a rising star in a pressure-packed environment.
Given the limited resources available to them, the Philadelphia 76ers had a pretty tidy offseason. They retained James Harden on a short-term deal that came in well below the annual value of the 2022-23 player option Harden declined. That allowed them to use the full mid-level exception to sign P.J. Tucker. They also flipped the No. 23 pick in the draft for sticky-handed point-of-attack stopper De'Anthony Melton and used the bi-annual exception to sign 3-and-D wing Danuel House, deepening and fortifying the roster around reigning scoring champion and two-time MVP runner-up Joel Embiid.
But for all of those improvements, the Sixers' hopes of finally breaking through a top-heavy Eastern Conference rest heavily on the continued growth of an ascendent 21-year-old with a blinding first step. Tyrese Maxey's sophomore leap reframed Philly's short- and long-term outlook, breathing new life into a team that was reeling from the prior year's playoff catastrophe and the consequent Ben Simmons fallout.
Flipping the damaged and disgruntled Simmons to the Nets for Harden at the deadline initially looked like the Sixers' salvation. However, Harden largely disappointed by showing a troubling lack of off-the-dribble burst and interior finishing punch, especially in the playoffs. Now, Maxey stands as the Sixers' safety net as they hitch their wagon to a falling secondary star.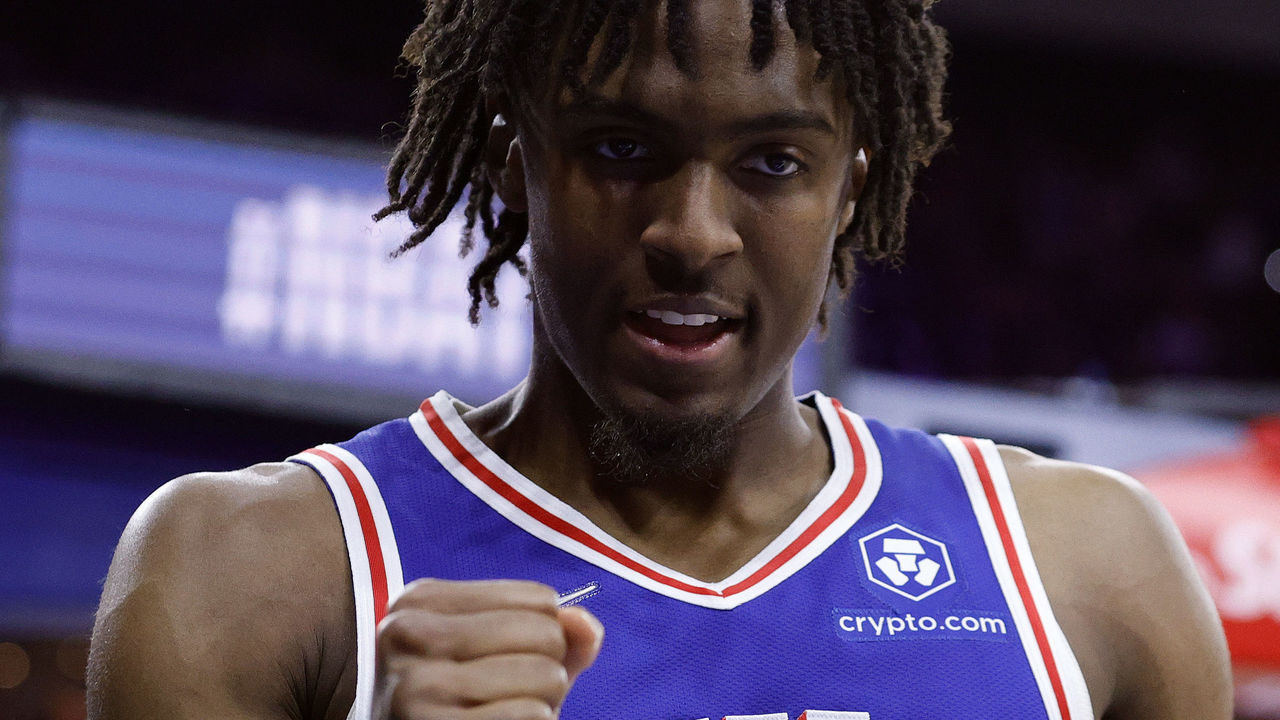 There's a neat symmetry to the way Maxey became a 76er. Philadelphia drafted him 21st overall in 2020 with the top-20 protected pick the team had acquired a year earlier (and held onto thanks to Sixers legend Mike Muscala) in exchange for Markelle Fultz. Maxey now has a chance to grow into the type of player Fultz was supposed to be for the franchise: a blazing-quick, downhill-attacking, three-level-scoring combo guard who can keep Philly's half-court offense churning when he isn't kicking the team into high gear in transition.
It's not a perfect comparison in terms of play style or situation. Maxey hasn't had to shoulder the burden of expectations Fultz did as a No. 1 overall pick, and the Harden acquisition streamlined his role somewhat. But his development will be no less central to the team's championship aspirations than Fultz's was once upon a time. A lot hinges on his ability to tie together the rest of Philly's talented but disparate pieces.
The extent to which Maxey can maintain his scoring efficiency (59.4% true shooting) while amping up his usage (19.9%) will be particularly important as Harden transitions into more of a playmaking role. Harden will rightly remain the Sixers' primary initiator, but it won't be a surprise if Maxey is their second-leading scorer as early as this coming season.
He's a terrific self-creator out of the pick-and-roll, and his explosiveness off the bounce also permits him to attack without a screen. That makes it more difficult for opponents to pressure him into mistakes at the top of the floor and allows him to frequently collapse the second layer of defense. He averaged 1.08 points per possession in isolation and 1.02 per possession as a pick-and-roll ball-handler last season, both elite marks that he sustained in the playoffs where he averaged about 21 points on 61% true shooting.
Maxey's speed and open-court instincts also inject a necessary dose of pace to a team that's long had a penchant for meandering into its sets. He pairs that speed with dexterous body control, allowing him to finish careening layups and sprint into stop-and-pop jumpers. Maxey ranked second in the league in transition points per game (7.4) during the playoffs, trailing only Giannis Antetokounmpo, and his 1.39 points per transition possession topped all players who finished at least 40 such plays.
He gets to the rim a ton, but he also has a sweet floater he can fall back on when he encounters too many trees around the basket. He dramatically increased his free-throw attempt rate last season as he grew more comfortable embracing contact.
The progression of Maxey's 3-point shot was one of the most important developments in the league last season. Not only did it force on-ball defenders into the impossible choice of whether to press up and take away his pull-up jumper or lay back to try and cut off his drive, but it also made him an exponentially more dangerous off-ball player and a far better complement to Embiid and eventually Harden.
Defenders who tried to gap Maxey - in order to double or stunt at Embiid on the block, or provide nail help to keep Harden out of the paint - were routinely burned on their closeouts, either by jump shots or catch-and-go drives. Maxey grew into one of the very best off-the-catch attackers in the game, which became especially evident in Philly's first-round win over Toronto.
The 2022-23 season will be a big proving ground for the legitimacy of that shooting leap, considering he shot just 29% from deep in his lone college season and 30% as an NBA rookie before skyrocketing to nearly 43% last year. For now, there's reason to believe in its staying power: Maxey tripled his total number of 3-point attempts from his rookie season and proved he could be nearly as effective firing off the dribble as he was off the catch (40% compared to 45%, on nearly identical volume). Those percentages mostly held up in the playoffs, where he hit 38% on nearly six 3-point attempts per game.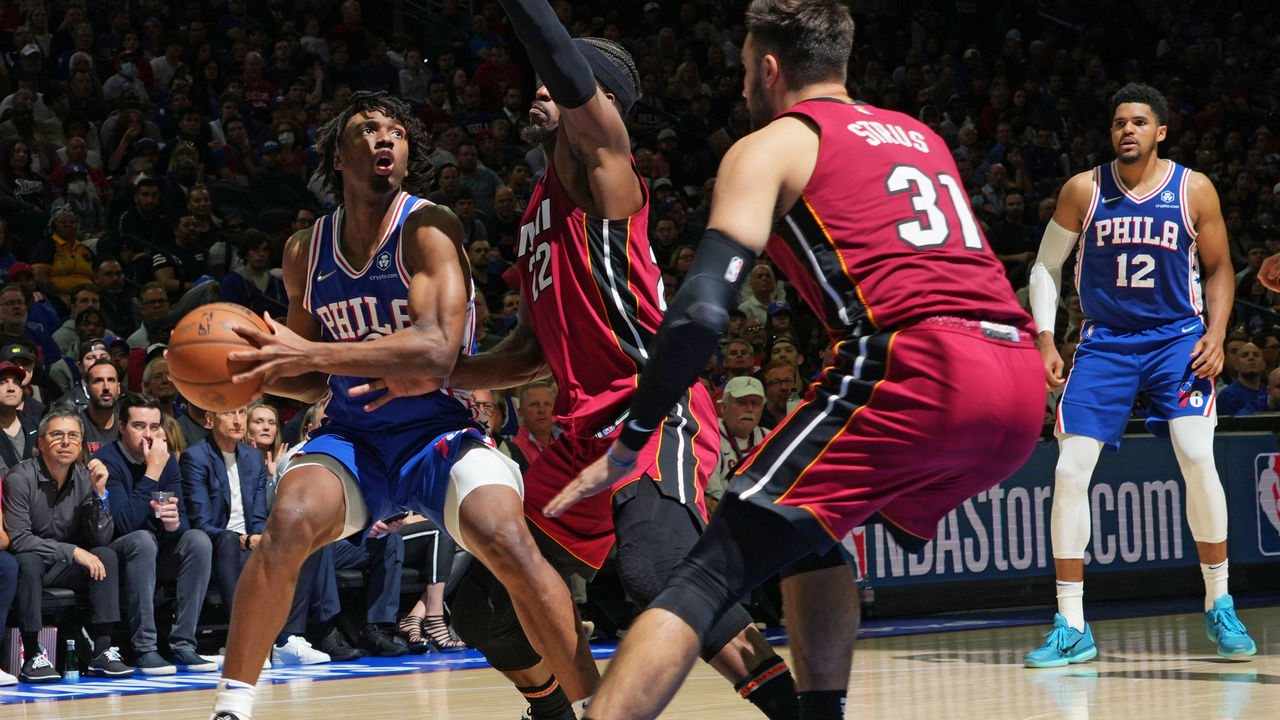 The next step for Maxey offensively is getting better at creating for others. Harden's table-setting chops remain elite, so his arrival made Maxey's limitations in that department much less of a concern. But Maxey's ability to punch gaps and break defenses down off the bounce will always provide him ample opportunities to generate premium looks for his teammates. In order to take advantage of that, he needs to improve as a floor-mapper and develop a keener sense of where help is coming from. Maxey made strides as last season went along, especially as an interior passer, but he continued to miss plenty of reads, inside and out.
Becoming a legitimate on-the-move playmaking threat could make him an even more devastating interior scorer because opposing defenses would have to think harder about showing him aggressive weak-side help. As things stand, those defenses can afford to load up on him as a driver. It's a tough balance to strike; the Sixers won't necessarily want Maxey to curb his aggressive approach, but a bit more patience and change-of-pace craft could go a long way if he's going to command more on-ball reps.
Perhaps more importantly, Maxey needs to improve defensively. Harden isn't capable of papering over his deficiencies at that end of the floor as he is with the playmaking. If anything, Harden will amplify those defensive problems. Despite standing just 6-foot-2, Maxey has the length (6-foot-8 wingspan) and lateral quickness to be effective at the point of attack, but his struggles with footwork, anticipation, and especially screen navigation have held him back.
The additions of Tucker and Melton provide an extra layer of insulation to a unit that last season was held together by only Embiid and sometimes Matisse Thybulle (who can't stay on the floor in the playoffs). The new recruits might relieve a bit of pressure from the first line of defense, but in crunch time, it'll still be Maxey and Harden patrolling the perimeter. And because we know exactly what Harden is on defense, it'll be incumbent on Maxey to get stouter if the team is to improve upon or even sustain its 12th-place defensive ranking.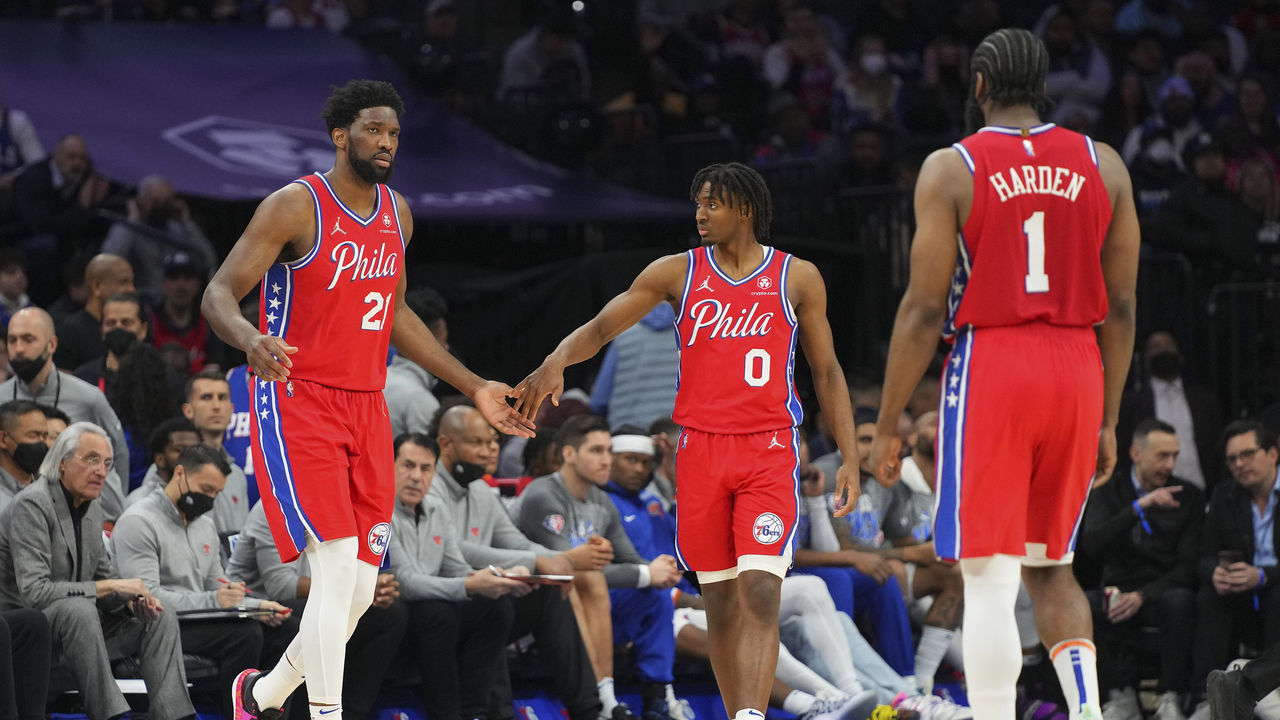 The good news is we've already seen Maxey, Harden, and Embiid work like gangbusters as a trio. With all three of them on the floor during the regular season, Philly outscored opponents by a gargantuan 15.1 points per 100 possessions. That number dipped to just 5.5 per 100 in the playoffs as Harden scuffled and Embiid played through myriad injuries, but it was clear the triumvirate clicked. The fit should only get smoother with a full season to jell in Year 2.
For the Sixers to max out their potential, though, they need Maxey to sustain his newfound long-range accuracy while layering in playmaking and defensive improvements. Those needs will be especially acute if Harden's last season proves to be his new normal (or worse, a harbinger of further regression), rather than a bump in the road in the aftermath of a debilitating hamstring injury.
Even in a best-case scenario, the Sixers don't have a ton of runway. Harden is about to turn 33, with about 38,000 NBA minutes on his odometer. Embiid's health is a constant source of consternation, and there's no telling how long his MVP-level peak might last. Even if Maxey blossoms into a superstar three or four years from now, it might already be too late to matter for Philly's title hopes.
That level of urgency isn't fair to Maxey, but it's the reality he and the Sixers are facing. It's also what makes him one of the most interesting players in the league going into the 2022-23 campaign.
Comments
✕
A Tyrese Maxey star turn could be the Sixers' salvation
  Got something to say? Leave a comment below!