Durant will get what he wants, one way or the other
Mike Stobe / NBA / Getty Images
The blows keep piling up for a Brooklyn Nets franchise trying desperately to salvage relationships, relevance, and what's left of a once-promising championship window.
This week, it was reported that Kevin Durant - who already requested a trade in late June - told team owner Joe Tsai he must decide between keeping Durant or the GM-coach duo of Sean Marks and Steve Nash.
Though none of the parties involved confirmed that report, Tsai reaffirmed his support for Marks and Nash on Twitter.
Despite that, it's likely Durant will get what he wants, one way or another.
It's easy for outsiders to say Tsai, who's worth more than $8 billion, shouldn't let Durant raise the stakes this way since the future Hall of Famer is only approaching the first year of a four-year extension. If Durant were to hold out and Tsai's Nets were to hold a hard line, perhaps KD would cave without his paychecks or his beloved basketball.
But that's easier said than done. Willfully allowing the Nets to be both without Durant and any incoming players acquired via trade could be catastrophic for Brooklyn.
The Nets improved this offseason with the additions of Royce O'Neale and T.J. Warren, plus the expected returns of Joe Harris and Ben Simmons, but Brooklyn performed like the NBA's 25th-ranked team (minus-5.5 points per 100 possessions) with Durant off the court last season.
In addition, Kyrie Irving is only under contract for one more year, and the Nets don't control their own first-round draft pick outright until 2028. Between now and then, Brooklyn owes the Houston Rockets multiple unprotected first-rounders, stemming from the 2021 James Harden trade. (The 2023 pick involves swap rights.) The Nets can feel things out to start the season, but at a certain point, playing hardball with Durant while without their own draft capital would be gross negligence.
Tsai may hate to admit it, but if Durant is actually willing to hold out, then the Nets' only options involve submitting to one of KD's demands; either trading the legend, or relieving Marks and Nash of their duties to keep Durant in Brooklyn.
That doesn't mean the Nets have to trade the soon-to-be 34-year-old to one of his preferred destinations. Brooklyn should still seek the best return imaginable for a superstar of Durant's caliber who's under long-term control. No team, though, will cave to the Nets' most outrageous demands.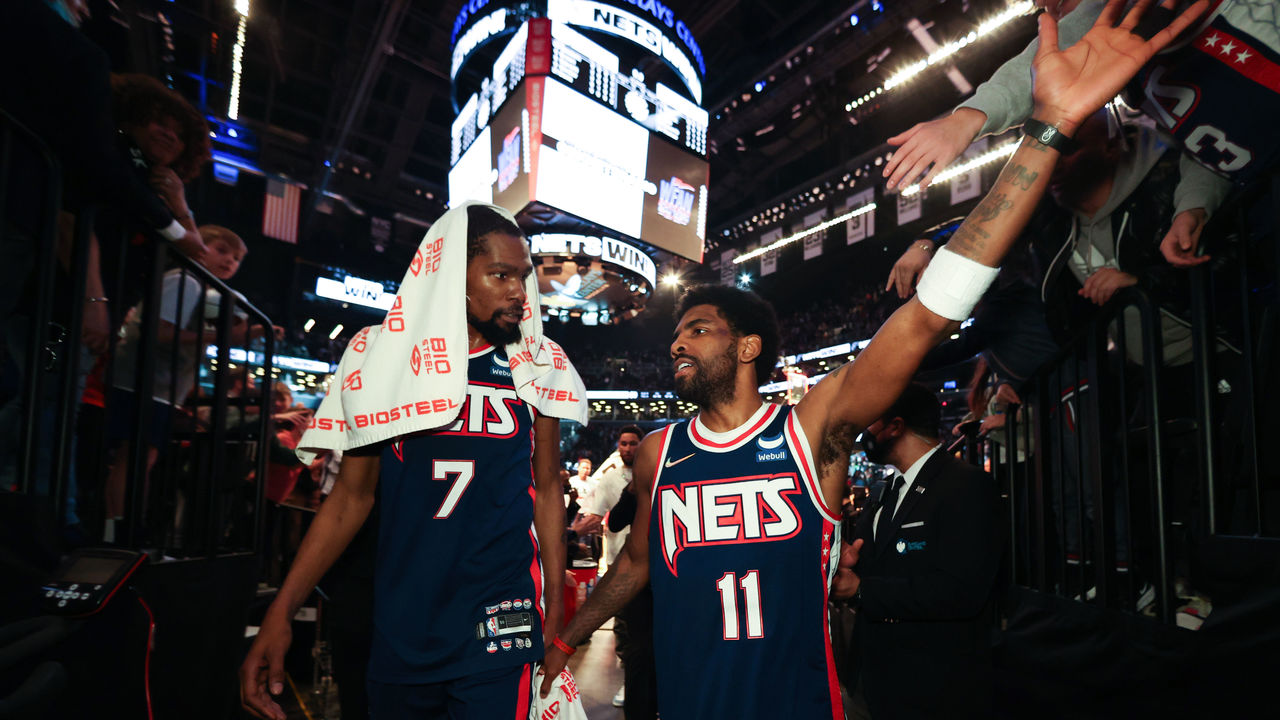 The irony here is that the Nets find themselves at this crossroads at least in part because of Durant's wishes over the years.
After Marks worked near-miracles to usher Brooklyn from one of the most depressing states any NBA franchise has ever faced to an upstart team that was suddenly a free-agent destination, Durant chose to hitch his wagon and on-court future to Irving and the Nets.
Despite all of the well-documented baggage the mercurial Irving carried with him, Durant pegged the dazzling point guard as his running mate. Given his reported stance on Marks and Nash, it appears Durant still doesn't recognize the drawbacks of that decision.
The hiring of Nash itself was seen as an olive branch from the organization to Durant, who worked with the Hall of Famer and reputed player's coach when both were members of the Warriors organization.
Nash replaced Kenny Atkinson, who never meshed with Durant and Irving. Most notably, Brooklyn's new, veteran stars preferred the aging and largely ineffective DeAndre Jordan at center, while Atkinson was partial to budding star Jarrett Allen. Allen, who became an All-Star this past season, landed in Cleveland as part of the four-team trade that brought Harden to Brooklyn.
With that trade, Durant, Irving, and the Nets now had the third superstar they craved at the expense of young players and draft capital.
When it became obvious the pieces wouldn't fit, whether due to Irving's vaccination-related and personal absences, or Harden's on-court regression, more blockbuster transactions followed. Enter Simmons from Philadelphia, who never even got on the court last season.
Aside from the decision to start Jordan over Allen, none of these moves were wrong at face value. Any team would've jumped at the chance to sign Durant and Irving in the summer of 2019, and most would've tried to keep Durant happy while doing whatever was necessary to maximize the team's immediate title hopes.
Marks successfully rebuilt the Nets from the ashes of the 2013 Celtics trade. That work made the team attractive to Durant and Irving, but the general manager's later moves meant to appease KD only put him in the superstar's crosshairs. It's not fair, but such is life in the unforgiving world of the NBA, where no executive, coach, or even secondary star will ever be worth the value of a superstar.
Durant's decision to play in Brooklyn, and his on-court excellence, elevated the Nets to a potential they couldn't have fathomed even just a few years ago. But Durant's whims and desires have also put the team in danger of plunging to those old, familiar depths.
And yet, it appears the Nets will have no choice but to once again give him what he wants.
Joseph Casciaro is a senior writer for theScore.