Offseason grades: Breaking down the moves in the Atlantic Division
The NBA offseason did not disappoint, and following a frenzy of draft-day movement and busy free-agency period, the 2021-22 season has started to shape up. Here, we look at the changes that each team made during the summer and what it means for the upcoming campaign.
We begin with the Atlantic Division, where four of five teams made the playoffs last season. On the surface, it looks like that should be the case once again despite a massive question facing each of the quintet's two best squads.
Be sure to check back in the coming days for the remainder of the divisions.

Atlantic | Central | Southeast
Northwest | Pacific | Southwest
Philadelphia 76ers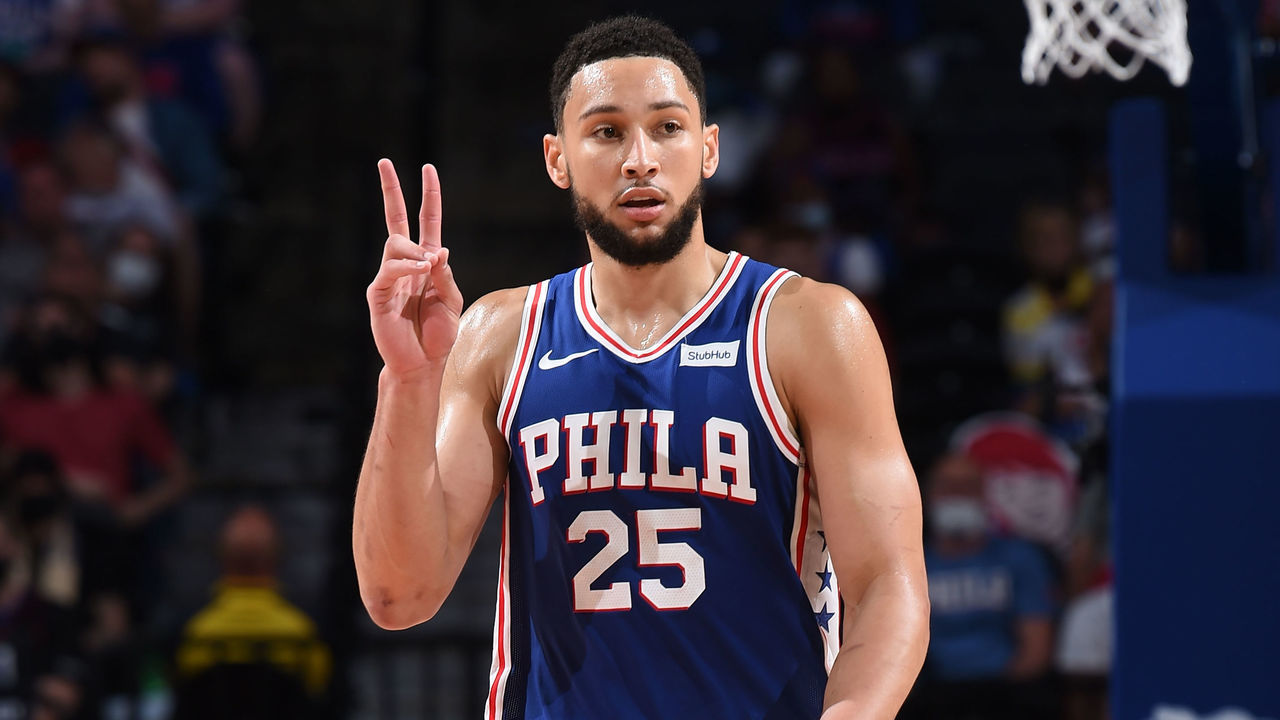 Last season: 49-23 (.681)
Departed: Anthony Tolliver (waived), George Hill (waived)
Drafted: Jaden Springer (No. 28); Filip Petrusev (No. 50); Charles Bassey (No. 53 via NOP)
Re-signed: Danny Green; Furkan Korkmaz; Gary Clark
Added: Andre Drummond (LAL); Georges Niang (UTA); Grant Riller (CHA)
Assessing the Philadelphia 76ers' offseason without a resolution to the Ben Simmons saga is ultimately an incomplete task. Simmons is not in training camp and has told the team he has zero intentions of playing in Philly, but that hasn't stopped Sixers president Daryl Morey and head coach Doc Rivers from publicly expressing optimism over the point guard's eventual return.
Assuming the stalemate endures and Morey doesn't reduce his starry-eyed trade demands for Simmons, Rivers has to address a vacancy in the starting five. Tyrese Maxey, who, like Simmons, is a Klutch Sports client and as such was linked with an exit on the Aussie's coattails, is not a natural point guard. Maxey measures 6-foot-2 - around 9 inches shorter than Simmons - and lacks the one-on-one chops of the two-time All-Defensive first-team selection. However, there's little doubt that Maxey is adept at penetrating and finishing at the rim, something Simmons shied away from in the postseason.
The roster that reported to training camp Monday could have a significantly different look in a few months depending on what happens with Simmons, but for the time being, it remains largely unchanged. The ceiling for this team could be the NBA Finals, though not without a solution to the Simmons impasse.
Grade: C
Brooklyn Nets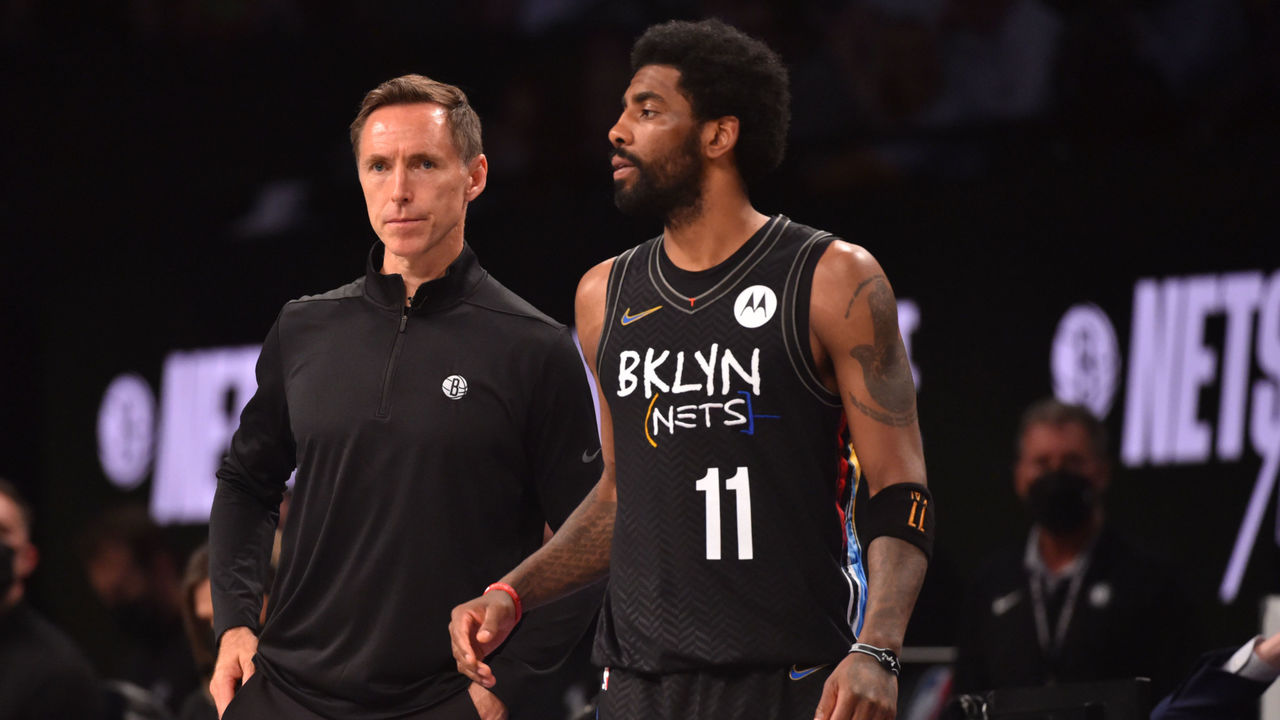 Last season: 48-24 (.667)
Departed: Jeff Green (DEN); Spencer Dinwiddie (WAS); Landry Shamet (PHX); Chris Chiozza (GSW); Timothe Luwawu-Cabarrot (FA); Tyler Johnson (FA); Reggie Perry (FA); Alize Johnson (waived); Mike James (Europe)
Drafted: Cameron Thomas (No. 27); Day'Ron Sharpe (No. 29 via PHX); Kessler Edwards (No. 44); Marcus Zegarowski (No. 49); RaiQuan Gray (No. 59)
Re-signed: Bruce Brown; Blake Griffin
Added: Paul Millsap (UTA); LaMarcus Aldridge (ret.); Patty Mills (SAS); DeAndre' Bembry (TOR); Jevon Carter (PHX); James Johnson (NOP); Sekou Doumbouya (DET); Devontae Cacok (LAL)
Even after a flurry of offseason activity, the Brooklyn Nets' title ambitions remain moored to the participation of their Big Three. As it stands, Kyrie Irving reportedly refuses to get vaccinated, meaning the seven-time All-Star is noncompliant with New York City's mandate. As a result, Irving can't play in any of Brooklyn's 41 home games and thus could lose $17.5 million in salary.
For the time being, Steve Nash could do a lot worse than have James Harden assume point guard duties, and in Olympics hero Patty Mills, the team has acquired a veteran ball-handler and floor-spacer who can coordinate the second unit. Elsewhere, LaMarcus Aldridge has been medically cleared to return and represents a marginal upgrade over DeAndre Jordan. Paul Millsap should be useful in a reduced role, while Blake Griffin is back on a one-year deal. Nicolas Claxton's continued development should complement a veteran frontcourt now boasting improved interior depth.
The Nets also drafted some intriguing talents in Cameron Thomas and Day'Ron Sharpe, among others, though the health and availability of Irving, Harden, and Kevin Durant is still the top priority. The trio appeared in just 13 games together last season, and more will be needed to foster some chemistry between them and the rest of the team. All eyes on Kyrie.
Grade: B+
New York Knicks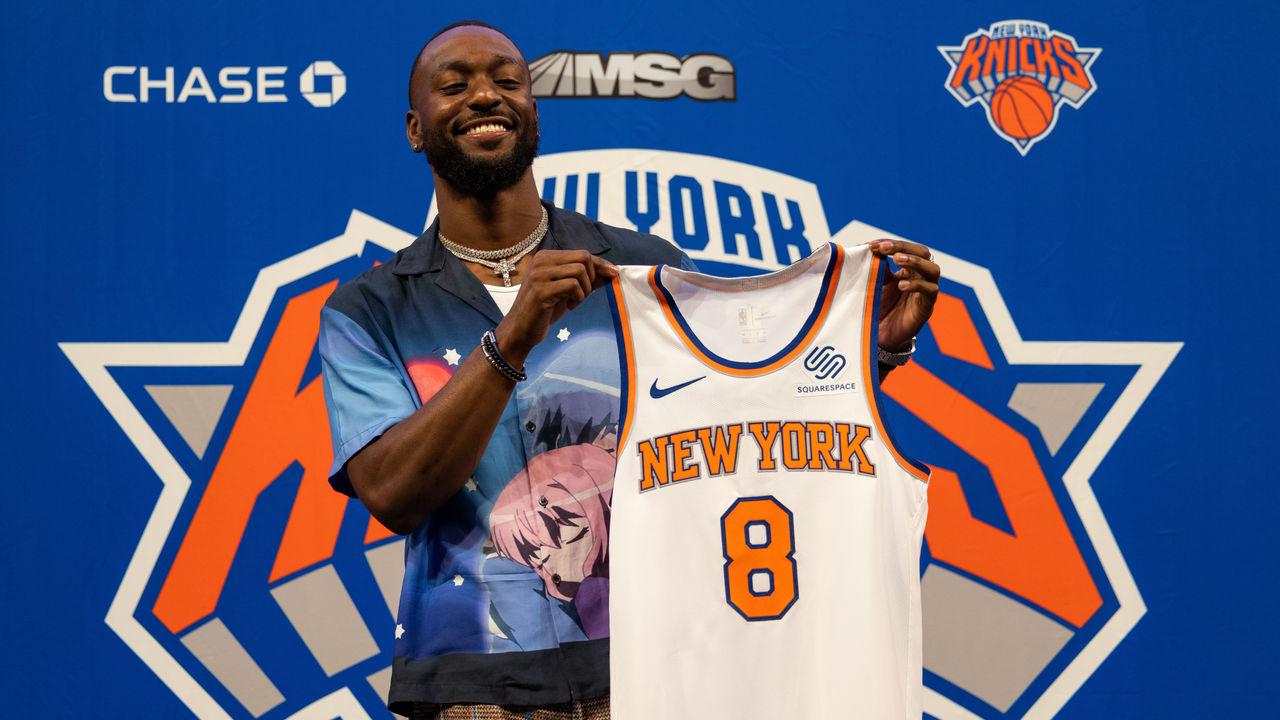 Last season: 41-31 (.569)
Departed: Reggie Bullock (DAL); Frank Ntilikina (DAL); Elfrid Payton (PHX); Theo Pinson (BOS); Norvel Pelle (waived)
Drafted: Quentin Grimes (No. 25 via LAC); Rokas Jokubaitis (No. 34 via OKC); Miles McBride (No. 36); Jericho Sims (No. 58)
Re-signed: Derrick Rose; Taj Gibson; Alec Burks; Nerlens Noel
Added: Kemba Walker (BOS); Evan Fournier (BOS); Dwayne Bacon (CHA); Wayne Selden (FA)
On the first day of free agency, the New York Knicks splashed a combined $105 million on three-year deals for Derrick Rose, Nerlens Noel, and Alec Burks, and nabbed Evan Fournier on a four-year, $78-million sign-and-trade. That's more than $54 million of cap space on three role-playing returnees and a shooting guard with a 37% field-goal percentage in 19 career postseason outings.
It was hardly a glamorous opener for a team looking to improve on last season's underwhelming first-round exit, nor did it address Tom Thibodeau's most glaring need: a point guard. Not so fast, because two days later, Bronx-born Kemba Walker penned a bargain-basement two-year, $18-million deal. A positional need was filled, and the addition could take some of the pressure off Julius Randle, who also agreed to a four-year, $117-million contract in August. The first-time All-Star could have signed an extension in the neighborhood of $200 million had he waited until next summer.
Walker, who with Fournier represents a significant backcourt upgrade over Elfrid Payton and Reggie Bullock, is on a low-risk, short-term deal, while the agreements with Rose, Noel, and Burks all include team options for the final year. The Knicks aren't a realistic title threat as currently constructed, but for once, the team's brass exercised some foresight in securing team-friendly deals for movable assets that could make the summer of 2023 an interesting prospect. In the interim, another top-six finish and avoidance of the play-in round remains the goal.
Grade: B
Boston Celtics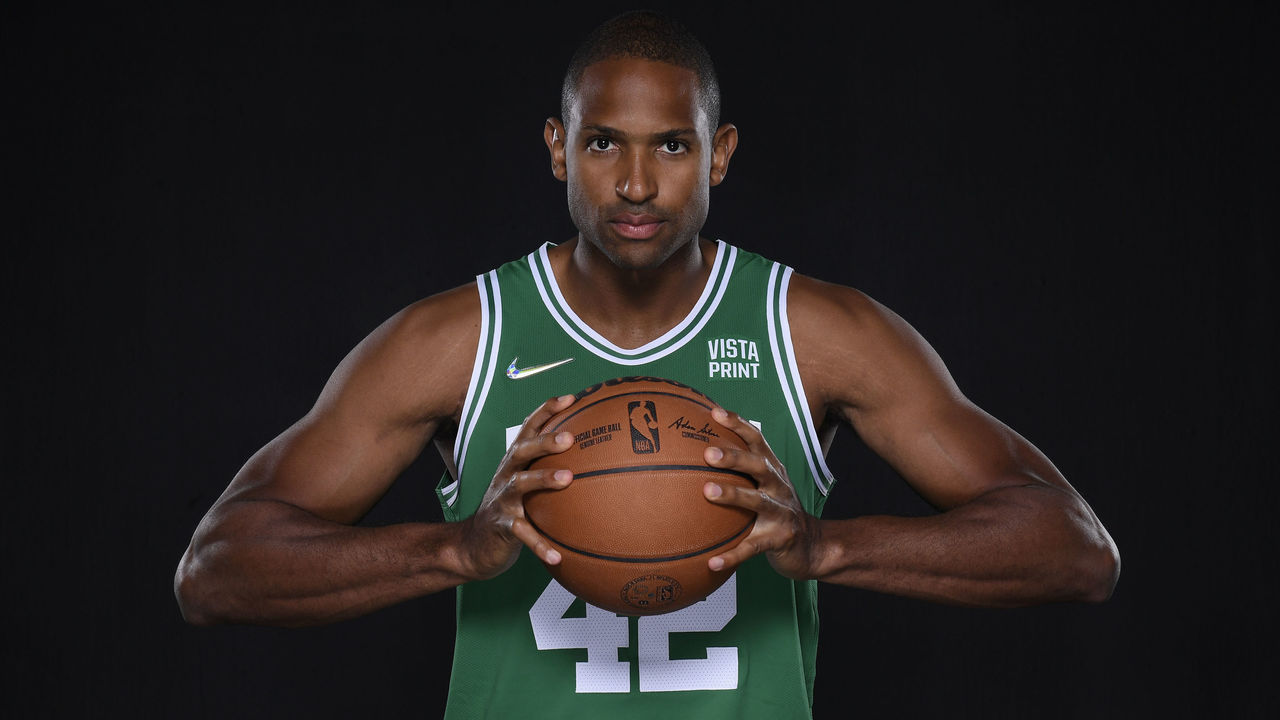 Last season: 36-36 (.500)
Departed: Kemba Walker (NYK); Tristan Thompson (SAC); Evan Fournier (NYK); Kris Dunn (MEM); Carsen Edwards (MEM); Semi Ojeleye (MIL); Tacko Fall (CLE); Tremont Waters (MIL); Luke Kornet (FA)
Drafted: Juhann Begarin (No. 45)
Re-signed: None
Added: Al Horford (OKC); Enes Kanter (POR); Dennis Schroder (LAL); Josh Richardson (DAL); Juancho Hernangomez (MEM); Bruno Fernando (ATL); Ryan Arcidiacono (CHI); Garrison Matthews (WAS); Theo Pinson (NYK)
The most notable personnel changes of the Boston Celtics' offseason were on the sidelines and in the front office. Brad Stevens replaced Danny Ainge as president of basketball operations after eight years as the team's head coach and Ime Udoka was named Stevens' successor on the bench.
Udoka will look to help the Celtics overcome a habit of slow starts. In 2020-21, the team ranked 20th with a first-quarter offensive rating of 109.7 points per 100, according to NBC Sports' Chris Forsberg. This is due in part to Stevens' tendency to tinker with the starting lineup at the expense of continuity, something Udoka will be tasked with solidifying.
Al Horford's return to Boston might be pivotal in that pursuit, and it's evident the team has improved its frontcourt core, which was a source of concern over the last few seasons. Horford's playmaking and floor-spacing should create attacking lanes for Jayson Tatum and Jaylen Brown. Marcus Smart is also expected to assume starting point guard duties from Walker, and Dennis Schroder has been brought in to deputize for Smart off the bench. It's up to Udoka whether he wants to go big by starting Horford or returnee Enes Kanter alongside Robert Williams in the frontcourt, or if he'll insert an extra piece on the wing in the form of Josh Richardson or Aaron Nesmith on occasion. Options abound for the rookie bench boss.
Grade: B
Toronto Raptors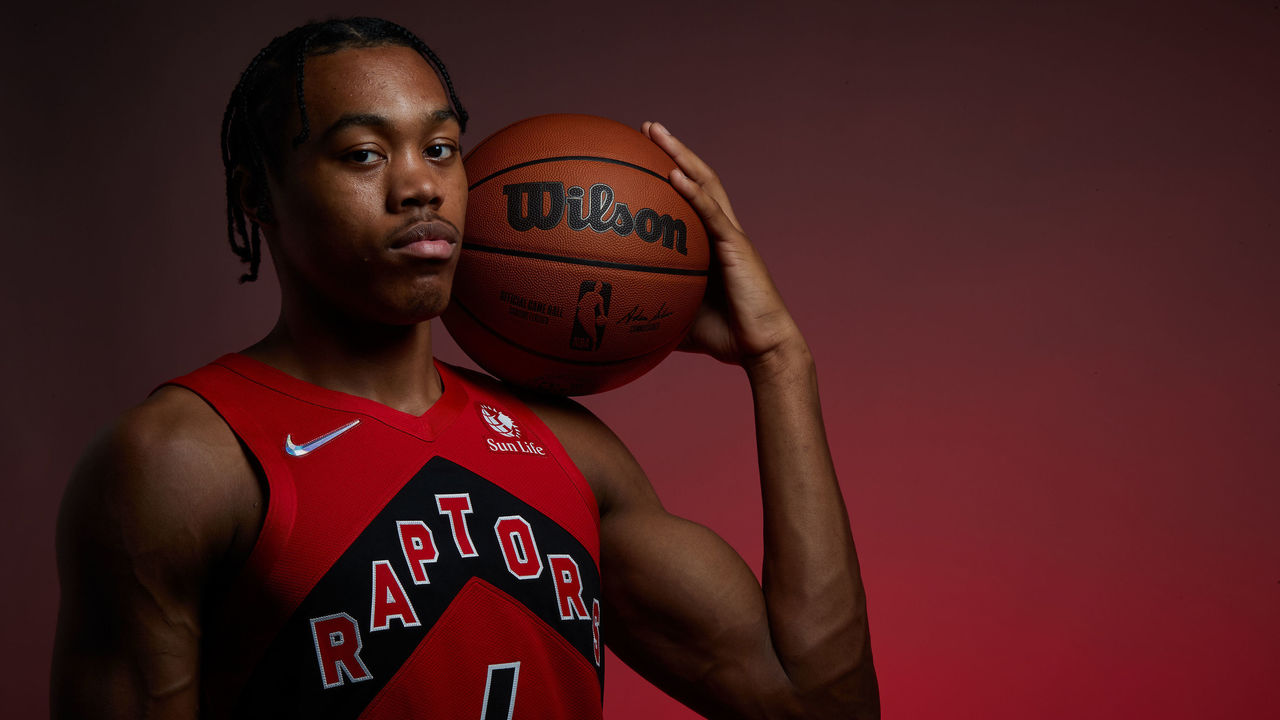 Last season: 27-45 (.375)
Departed: Kyle Lowry (MIA); Aron Baynes (waived); DeAndre' Bembry (waived); Rodney Hood (waived); Paul Watson Jr. (waived); Stanley Johnson (CHI)
Drafted: Scottie Barnes (No. 4); Dalano Banton (No. 46); David Johnson (No. 47)
Re-signed: Khem Birch; Gary Trent Jr.
Added: Goran Dragic (MIA); Precious Achiuwa (MIA); Svi Mykhailiuk (OKC); Isaac Bonga (WAS); Reggie Perry (BKN); Sam Dekker (Europe); Ishmail Wainright (Europe);
Kyle Lowry took his talents to South Beach, signaling the dawn of a new era of Toronto Raptors basketball. What now? After a season spent marooned in Tampa amid a string of significant absences due to injury and COVID-19, surely some better days are ahead.
Barring a disaster, the Raptors won't be as bad as last season, which was dotted by lopsided results and a 1-13 March that established a new franchise low. The offense might resemble a vacuous abyss at times - especially during primary scorer Pascal Siakam's recovery from shoulder surgery - though it's not all doom and gloom at the other end thanks to a resourceful offseason.
The arrivals of Scottie Barnes and Precious Achiuwa provide length and defensive versatility to a roster that already features both in rich supply. Masai Ujiri continues to collect 6-foot-9 athletes like they're Infinity Stones. The Raptors owned a 112.0 defensive rating last year - good enough for 15th in the league - and that should improve with the aforementioned additions, plus a full season of Khem Birch and increased minutes for Chris Boucher in Siakam's stead. Deflections, contested shots, and lightning-quick switches will be the calling card of a team that will be a nuisance to play against. And in the short term, Goran Dragic can be a veteran influence on a young squad and a potential trade chip down the road.
Grade: B-
Comments
✕
Offseason grades: Breaking down the moves in the Atlantic Division
  Got something to say? Leave a comment below!