Eyes on the prize: How the Bucks can win or lose the NBA title chase
Photo illustration by Nick Roy / theScore
With this season presenting what looks like the most level NBA championship field since The Decision, we're assessing the bona fides of eight legitimate 2019-20 contenders. What will propel them to the title this year? What will prevent them from winning it? Let's examine both sides.
First up: Milwaukee Bucks
Latest entries in the series: Golden State Warriors | Utah Jazz | Philadelphia 76ers | Houston Rockets
Why they'll win the championship
Giannis Antetokounmpo. It might really be that simple.
Giannis is 24, the league's reigning Most Valuable Player, and seemingly only getting better. He's a defensive system unto himself - an inescapable bramble of arms who can smother ball-handlers or be a roving, passing-lane-poaching, paint-protecting free safety with equal aplomb, all without compromising his ability to clinch a stop with a rebound. At the other end, the Bucks built a top-five offense around his on-ball gravity, playmaking vision, and battering-ram drives. Antetokounmpo possesses a singular ability to get to the basket, collapse the defense, and sling passes to open (and in Milwaukee's case, extremely willing) shooters.
With even a marginally more reliable jumper and a more advanced in-between game - two things he absolutely can improve given his work ethic - Giannis could very well be the league's best player at both ends of the floor. He's about as good a two-way foundation as a team could ask for, and the roster and system constructed around him are designed to optimize both him and his supporting cast.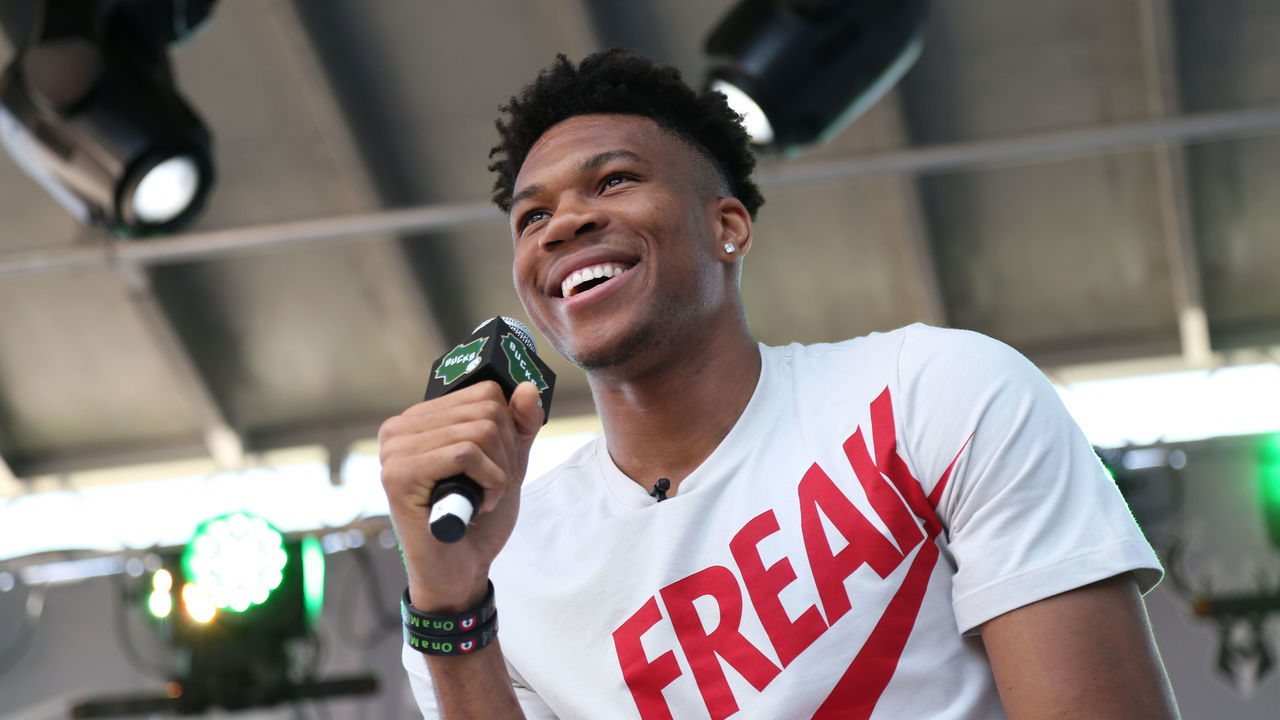 Last year, head coach Mike Budenholzer and the front office fostered an environment in which players embraced both specialization and a clear division of labor, with minimal overlap or redundancy. Aside from the not-insignificant loss of Malcolm Brogdon and some minor tweaks in the margins (goodbye, Thon Maker and Tony Snell; hello, Robin Lopez, Kyle Korver, and Wes Matthews), this is the same personnel group that won 60 games and came within a few breaks of making The Finals. More than any other contender, the Bucks know who they are, how they want to operate, and how effective their set of symbiotic skills can be when played in concert with their organizing principles.
They'll shoot a ton of threes and paint shots, go five-out to pry open space for their rim-running gazelle of an MVP, and be absolutely terrifying in transition, with Giannis leading the break flanked by shooters fanning to the corners or trailing above the break. On defense, they'll use their size in the middle and length on the wing to keep opponents out of the restricted area, dropping their center back and sending helpers stunting to the nail while their on-ball defender trails over the top. According to Cleaning the Glass, the Bucks were the league's stingiest team when defending the rim last season, in terms of both volume and efficiency. They also comfortably led the NBA in catch-and-shoot 3-point attempts, and they finished second in points scored in the restricted area.
That should be mostly repeatable. It's easy to forget in the wake of a second straight playoff meltdown, but Eric Bledsoe was one of the most impactful point guards in the league last season - a ball-pressuring menace who made the All-Defensive first team and shot an incredible 58.2% inside the arc. Brook Lopez provides the optimal modern big man dyad of 3-point shooting and rim protection, with some decent ball skills and plenty of post game sandwiched in between to help counter switching or downsized defenses.
The Bucks may have overpaid to lock up Khris Middleton, but don't let his bloated salary distract from his bit-of-everything skill set and snug fit next to Giannis. Again, the loss of Brogdon will hurt, and not everything he does has been replaced, but Milwaukee at least found a way to replicate his spot-up shooting by adding Matthews and especially Korver (the latter of whom will inject a new element of off-ball movement and gravity into the Giannis-orbiting solar system).
The Bucks may not have improved over the summer, but they didn't necessarily need to get better in order to win the title. They were mighty close last season, and the Eastern Conference has gotten worse, with the 76ers now standing as their only serious roadblock. The majority of teams in this year's crop of contenders have been anointed as such mostly in theoretical terms, whether their case for contention is based on splashy offseason additions or internal growth projections. But the Bucks have already proven that their stuff works. We've seen what it looks like, and it makes sense in more than just principle. In a wide-open field populated by unknowns, they're the closest we've got to a sure thing.
Why they won't win the championship
In broad strokes, the Bucks face the same questions they faced last year: Is there enough secondary talent here to go all the way? Can you win a championship when the gulf between your best and second-best players is this wide?
They're still probably the safest bet to finish first overall in the regular season, but there are red flags aplenty when it comes to their playoff prospects. The Raptors exposed the lack of diversity in Milwaukee's offense during last season's Eastern finals, and the unit losing a strong ball-handler and superb off-the-catch attacker in Brogdon will only exacerbate that issue. An underwhelming FIBA World Cup showed that Giannis still doesn't have enough counters against defenses that pack the paint when his teammates' threes aren't falling.
The backcourt suddenly looks perilously thin. What happens if Bledsoe acts like a deer in the headlights in the postseason again? Why should we expect George Hill to be the player he was this past May rather than the player he was during the last two regular seasons? Matthews' production has been trending the wrong way since he ruptured his Achilles four years ago; how much juice does he have left in his legs? Korver will be 39 come spring, and he won't be playable in the highest-leverage moments.
There also has to be at least some concern about Brook Lopez's ability to match his 2018-19 production, especially given how disastrously his Team USA stint went this summer, even with the shorter 3-point line.
Perhaps most worrisome, the Sixers have the personnel to stifle the Bucks' offense much like Toronto's roster did: guys with the length and speed to check Giannis at the point of attack, enough size across every position to build a wall or double-team him and still recover out to shooters, and a second wave of elite backline deterrence waiting for him at the rim any time he breaks through. The Bucks will need more variability this spring than they showed last time. They'll need to have more confidence in their pick-and-roll game, which could be a challenge given that Middleton is their only player who can consistently run them with the threat of a pull-up jumper.
On top of all that, the Bucks are under the gun in a way few other teams are. Last year was a feel-good breakthrough, and while falling short of The Finals was a letdown, it wasn't a do-or-die situation by any means. This year is different. They've already proven they can dominate a regular season. They've already tasted playoff disappointment. By season's end, Giannis will be a year away from hitting unrestricted free agency and being eligible to sign a super-max extension. Which of those paths ultimately appears more appealing will likely hinge on how far Milwaukee goes in the 2020 playoffs.
It's hard to trust the rest of the roster to rise to the occasion.
Joe Wolfond writes about basketball and tennis for theScore.
Comments
✕
Eyes on the prize: How the Bucks can win or lose the NBA title chase
  Got something to say? Leave a comment below!