The Raptors used a balanced attack to pick up a hobbled Kawhi Leonard and finally gain some separation from the Bucks in Game 4, defeating Milwaukee 120-102 to even the Eastern Conference finals at two games apiece.
Here are some takeaways from Toronto's victory:
Lowry leads the way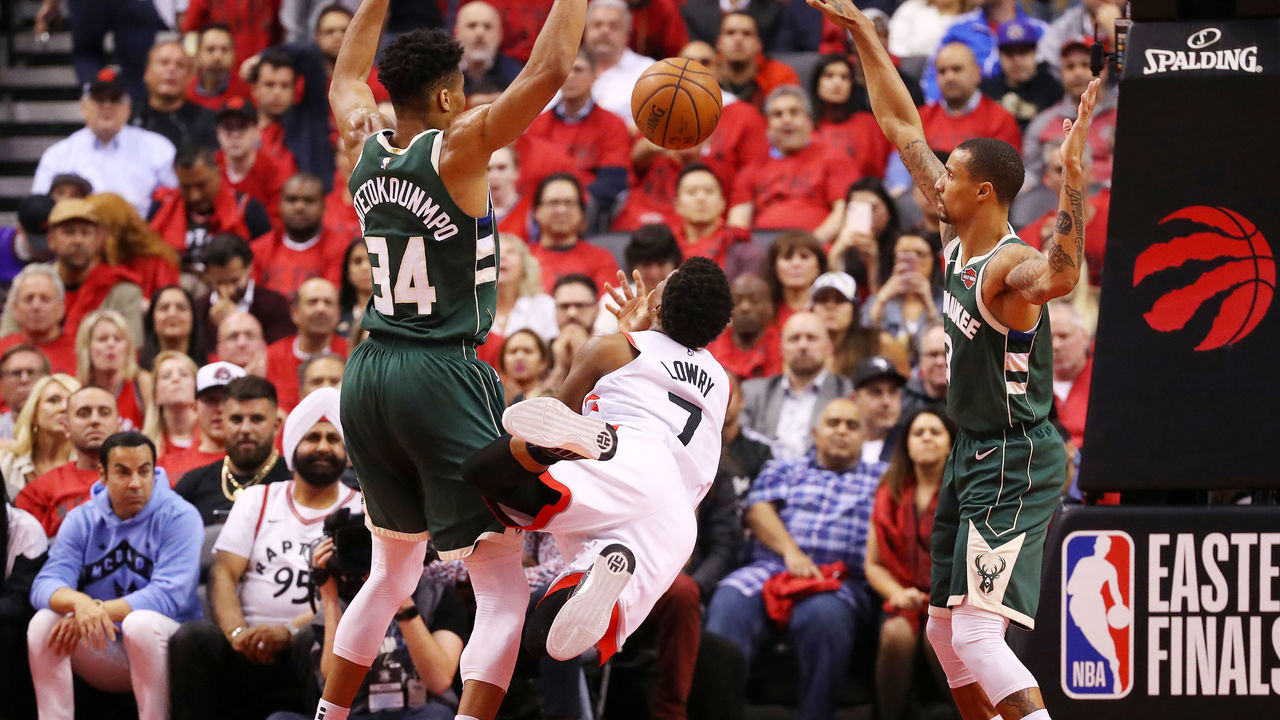 Giannis Antetokounmpo opened Game 4 with a predictable thirst for Raptors blood after one of his worst performances of the season in Game 3, and Milwaukee had Toronto on the ropes early.
Behind six quick points from the Greek Freak - including two thunderous dunks - the Bucks jumped out to a 12-5 lead less than three minutes into the game, temporarily silencing the Toronto crowd and leading to a Raptors timeout.
It was during this time that Kyle Lowry steadied the ship, pulling the trigger on even the slightest sliver of daylight behind the arc and attacking the paint when the Bucks took that perimeter space away. Within two minutes of that early Toronto timeout, Lowry exploded for nine quick points and the Raptors had evened the score at 17-17.
Toronto settled into the game from there, and Lowry finished with a team-high 25 points to go along with six assists and five rebounds while matching Antetokounmpo with nine drawn fouls in his 34 minutes of action, including one on Khris Middleton 80 feet from the basket to end the first half.
"This is one of the nights that we knew Kawhi was a little bit limited," Lowry told reporters postgame. "We had to come out and be aggressive for him."
Lowry's now averaging 20.3 points on 52-48-82 shooting for the series.
Raptors' bench comes through
The lack of production from Toronto's bench has been the team's undoing too many times to count during this playoff run, but on Tuesday night, the play of Norman Powell, Fred VanVleet, and Serge Ibaka helped the Raptors put the Bucks away while buying some sorely needed rest for Leonard.
Powell, who's struggled with wild bouts of inconsistency since breaking out during the 2016 and 2017 playoffs, is enjoying his best stretch of basketball in two years. He's handling and shooting the ball with confidence and is back to getting to the rim at will, even against Milwaukee's tremendous defensive length.
VanVleet ran the second unit better in Game 4 than he has in months, dishing out six assists compared to only one turnover while knocking down all three of his 3-point attempts.
Ibaka, meanwhile, helped the Raptors wrestle control away from the Bucks in the second quarter by feasting on the offensive glass and finishing the types of second- and third-chance opportunities that get a home crowd on its feet.
Remarkably, the Raptors were actually able to blow the game open early in the fourth quarter with all three of their reserves on the court without either of Leonard or Lowry to prop them up.
Swing of the game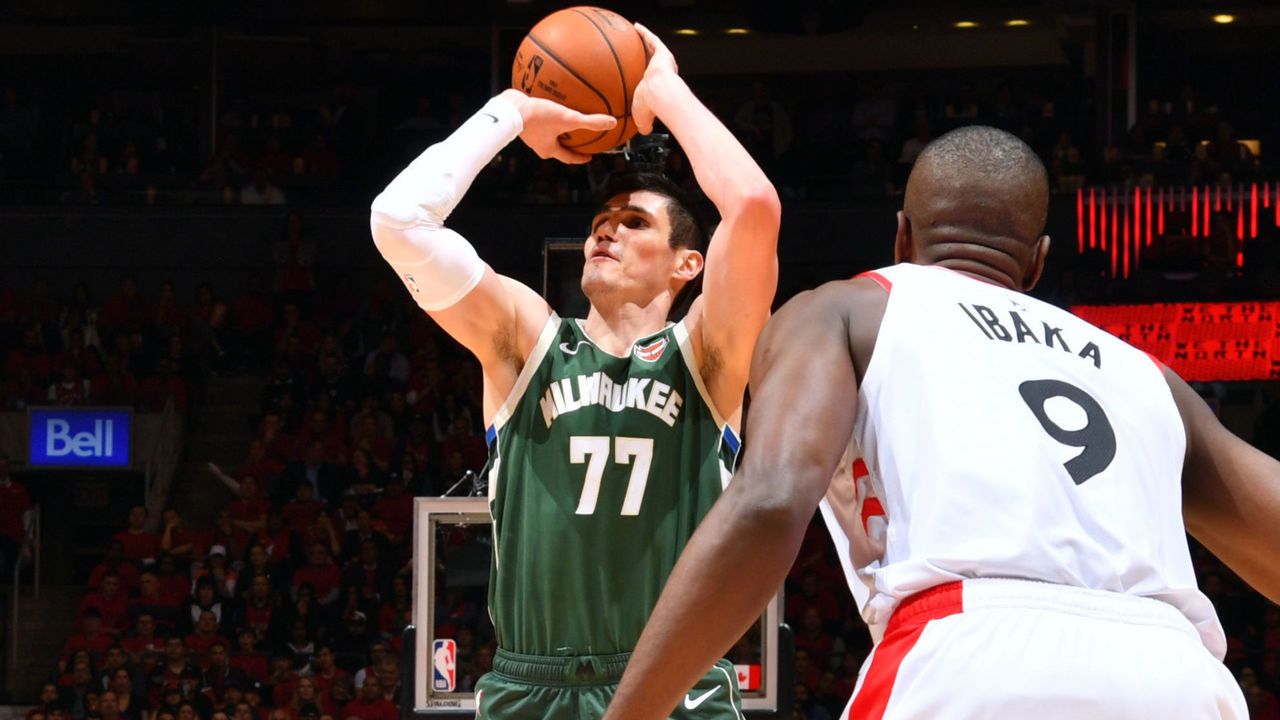 In an even series between two great teams with championship aspirations, the loser on any given night is always going to rue at least one play or wild in-game swing, even in a blowout. For the Bucks, that swing occurred late in the third quarter.
With Leonard slowing down, the Raptors starting to teeter, and the crowd growing antsy, Ersan Ilyasova missed an open 3-pointer with 3:50 remaining in the third quarter that would've brought the surging Bucks within four.
Thirty-five seconds later, the Raptors were suddenly back up 12 thanks to buckets from Leonard and Powell, and they'd never look back. Toronto carried a 13-point lead into the fourth quarter, and Milwaukee never got closer in the final period.
Even in what turned out to be an 18-point loss, Ilyasova has to wonder what might've been had he connected on that triple to continue the Bucks' run.
Does Coach Bud make a move?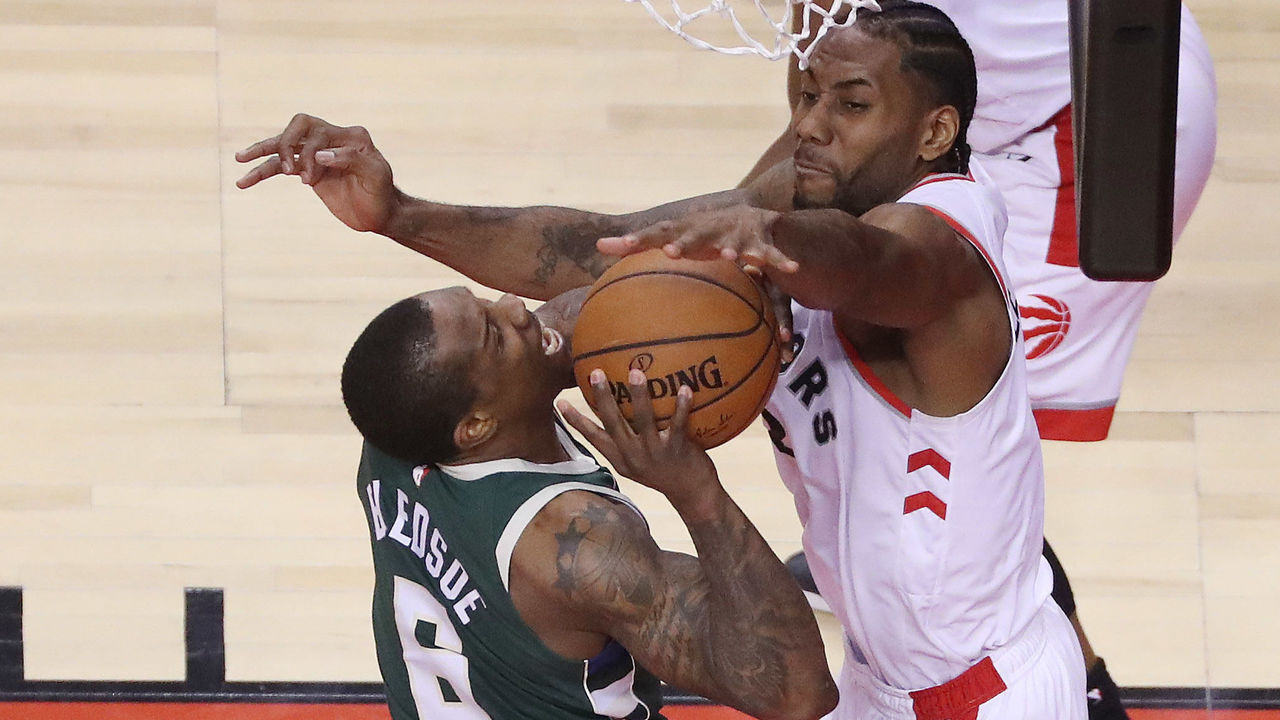 I mentioned after Games 1 and 3 that I assumed Malcolm Brogdon would replace Nikola Mirotic in the starting lineup at some point in this series, but now I wonder if head coach Mike Budenholzer considers replacing Eric Bledsoe instead.
Bledsoe's a borderline All-Star who's been the second- or third-best player on the league's best team this season, but he's not good enough to earn the type of immunity the league's stars receive when they struggle in the playoffs, and boy, is he ever struggling against Toronto.
The Raptors' usually suffocating defense is daring Bledsoe to let it fly, knowing that on a team with Antetokounmpo and shooters, the best result for them is often a Bledsoe jumper. After a Game 4 dud that saw him score five points on 2-of-7 shooting in just 20 minutes of action, Bledsoe's now averaging 8.3 points on 24 percent shooting in the series, which includes a 2-of-19 mark from behind the arc.
Toronto is doing a fantastic job finding a balance between containing Antetokounmpo's penetration and recovering to Milwaukee's marksmen, but that task would be a lot taller for the Raptors if they had another shooter to worry about instead of Bledsoe. Replacing him rather than Mirotic would also allow the Bucks to get Brogdon back in the starting lineup without sacrificing as much size.
"We're certainly going to look at the film and look at everything, consider everything," Budenholzer said when asked about potential lineup changes. "We've got a couple days between now and (Game 5), and we'll evaluate it."
Quote of the game
"The last 24 hours I've had have been pretty special." - VanVleet, revealing to reporters after his Game 4 performance that he welcomed a newborn son into the world Monday.
What to watch for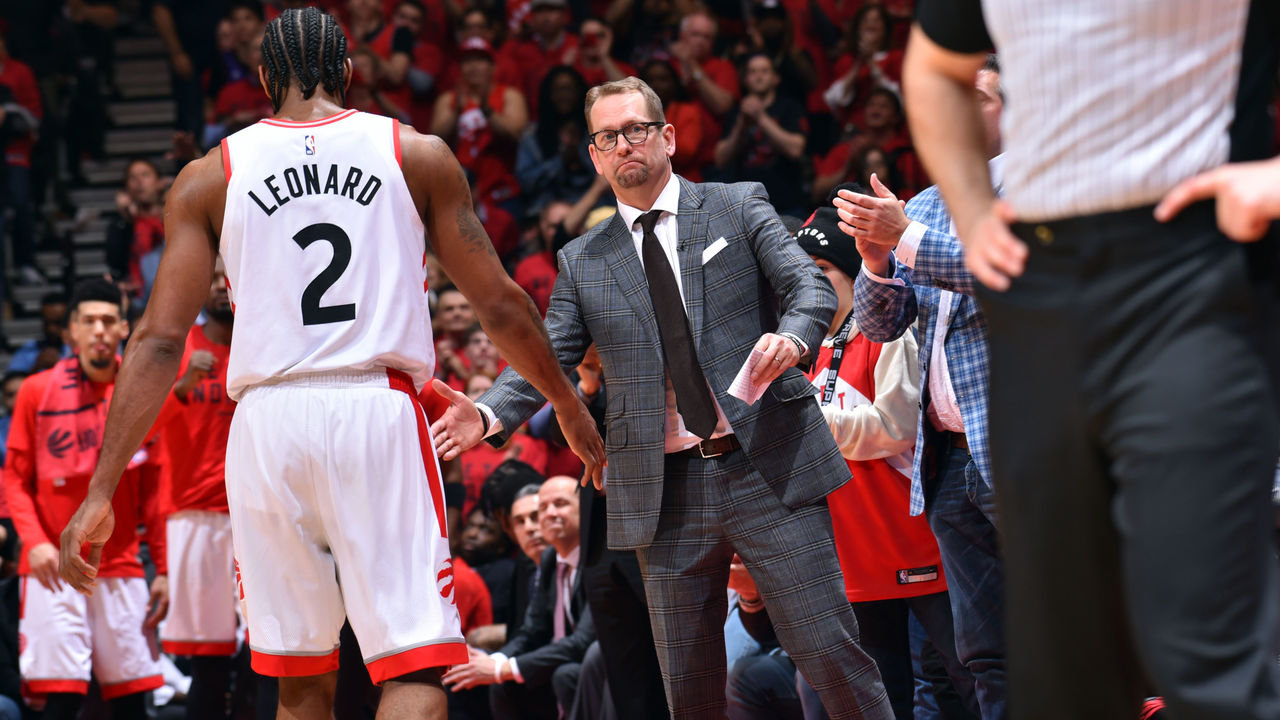 The obvious answer here is Leonard's health.
If his leg issue is merely the result of wear and tear from Sunday's double-overtime epic and it improves with some rest and a day off, the Raptors - who just managed to rout the Bucks with Leonard far from his best - are in good shape. If he's going to be hampered by the injury for the remainder of the series, however, it's tough to see the Raptors stealing a game in Milwaukee, which they'll need to do to win the series.
A positive sign for Toronto is that despite an obvious limp at various points during the last two games, Leonard isn't seeking out the training staff, receiving treatment, or heading to the locker room at all during timeouts or during his time on the bench. That would usually be the case if a player was playing through the type of concerning injury that could be made worse.
"He's got tremendous will. He's got tremendous desire," Raptors coach Nick Nurse said of Leonard after Game 4. "There was one time I was trying to give him an extended rest, and he didn't really want it, so he must be OK."