The Toronto Raptors survived a war of attrition on Sunday night, defeating the Bucks 118-112 in double overtime to cut Milwaukee's series lead to 2-1.
Here are some takeaways from Game 3 of the Eastern Conference finals:
Stealing one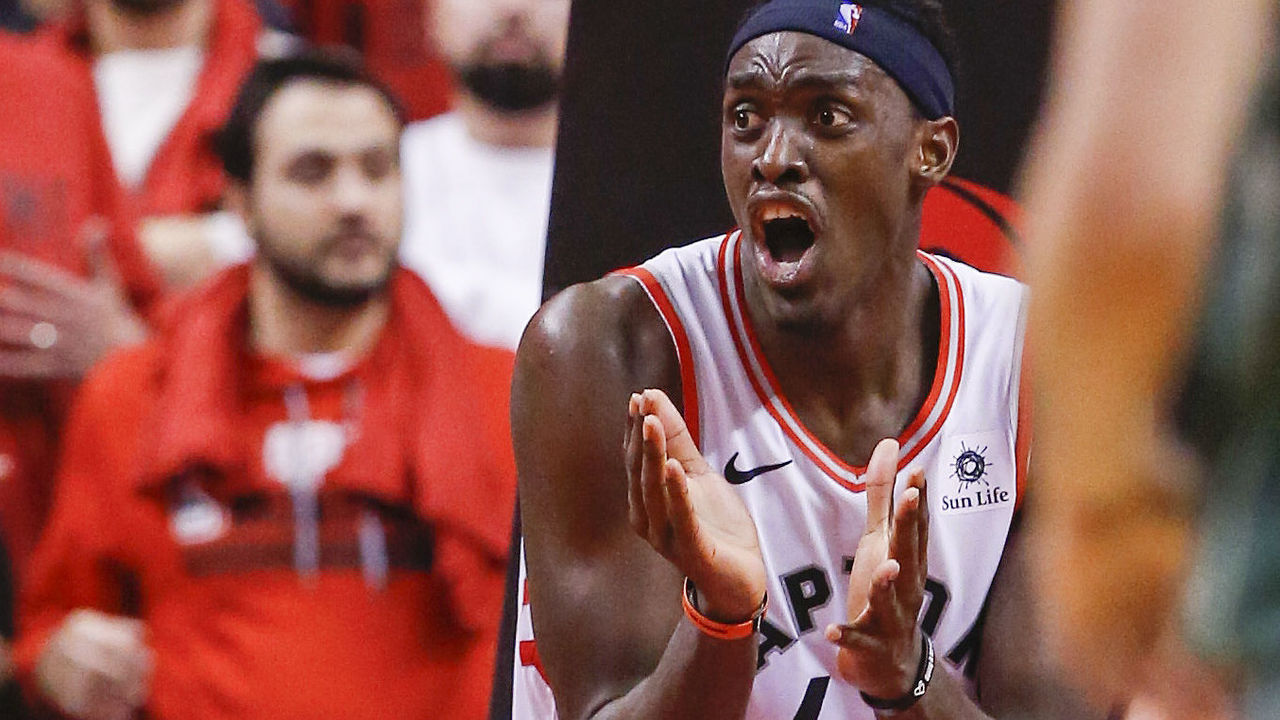 It's not often you're left feeling like the team that led for the majority of the game stole a win, but the Raptors did just that on Sunday night in Toronto.
Kawhi Leonard was clearly dealing with a leg issue and was limping at various points of the contest, and Kyle Lowry and Norman Powell both fouled out in the fourth quarter. Those disqualifications paved the way for Fred VanVleet and Danny Green to get crunch-time minutes, and they combined for a 2-of-20 shooting night. Meanwhile, Pascal Siakam missed two free throws with a chance to seal the game at the end of regulation.
"It's tough. Those are shots you practice and think about every day," Siakam said about composing himself for overtime after the misses. "At that moment, you're kind of mad at yourself. My teammates did a good job of calming me down, just talking to me and making sure that I stay in the game and understand that I've got to stay in the moment, and next-play mentality."
Giannis Antetokounmpo fouling out in the second overtime period helped the Raptors wrestle away control for good, but Game 3 even advancing to that point was a blessing for Toronto.
Kawhi on Giannis changes the game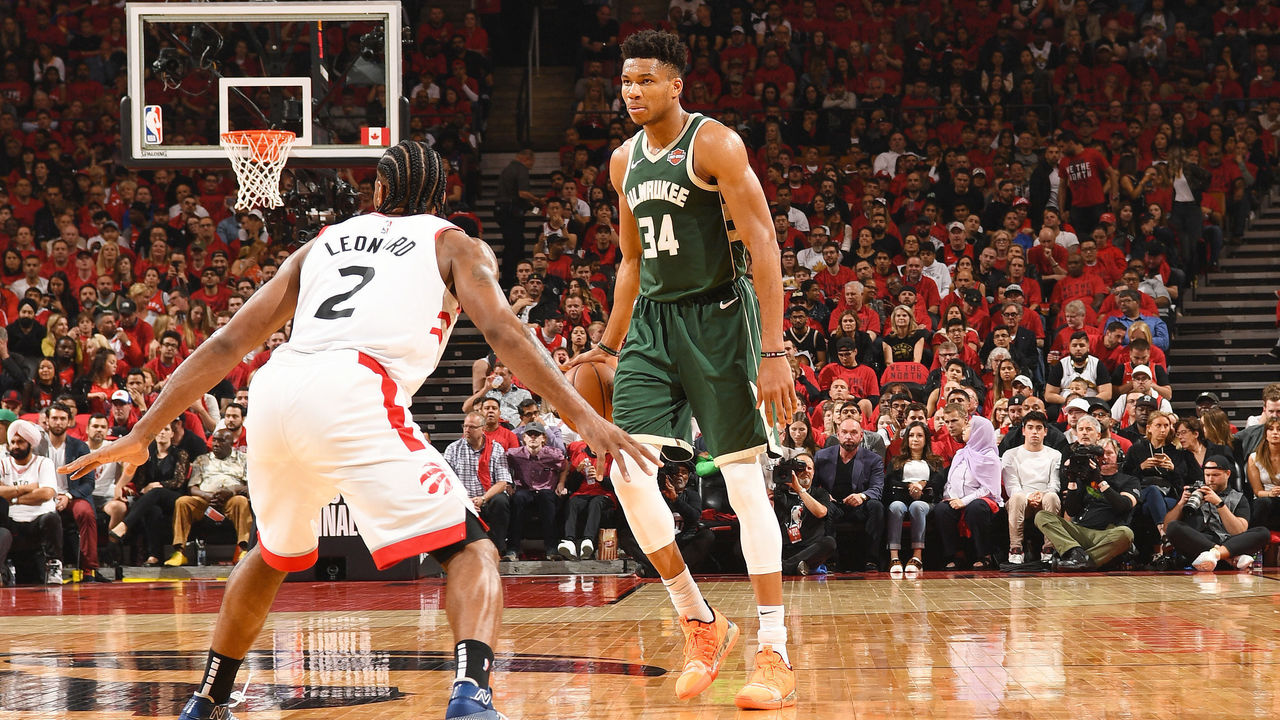 After teasing a lineup change that never came, Raptors head coach Nick Nurse did make one major adjustment between Games 2 and 3 when Leonard became Antetokounmpo's primary defender, and the results were obvious.
Leonard's physicality off the ball and his defensive presence on the catch had Antetokounmpo sweating just to make it to the double-team, let alone get his shot off.
Leonard's defensive work seemed to take a toll on The Greek Freak, who needed more late-game substitutions than a star player would usually receive down the stretch of a playoff game. On a couple of occasions during overtime, Antetokounmpo was extra slow to his feet after hitting the floor. The MVP favorite finished with only 12 points on 5-of-16 shooting, and he committed an astounding eight turnovers alongside seven assists.
Given his defensive workload over 52 minutes of hobbled action, Leonard's burst when the Raptors needed it most in the second overtime was remarkable. His late-game heroics took many forms, including throwing down a thunderous left-handed jam on the fast break, soaring for an offensive rebound, and beating Malcolm Brogdon to a loose ball that he pried free from Khris Middleton.
It can feel naive to chalk results up to effort and desire, but no one on the court wanted it more than Leonard in the final five minutes of this game.
Marc Gasol and playoff Powell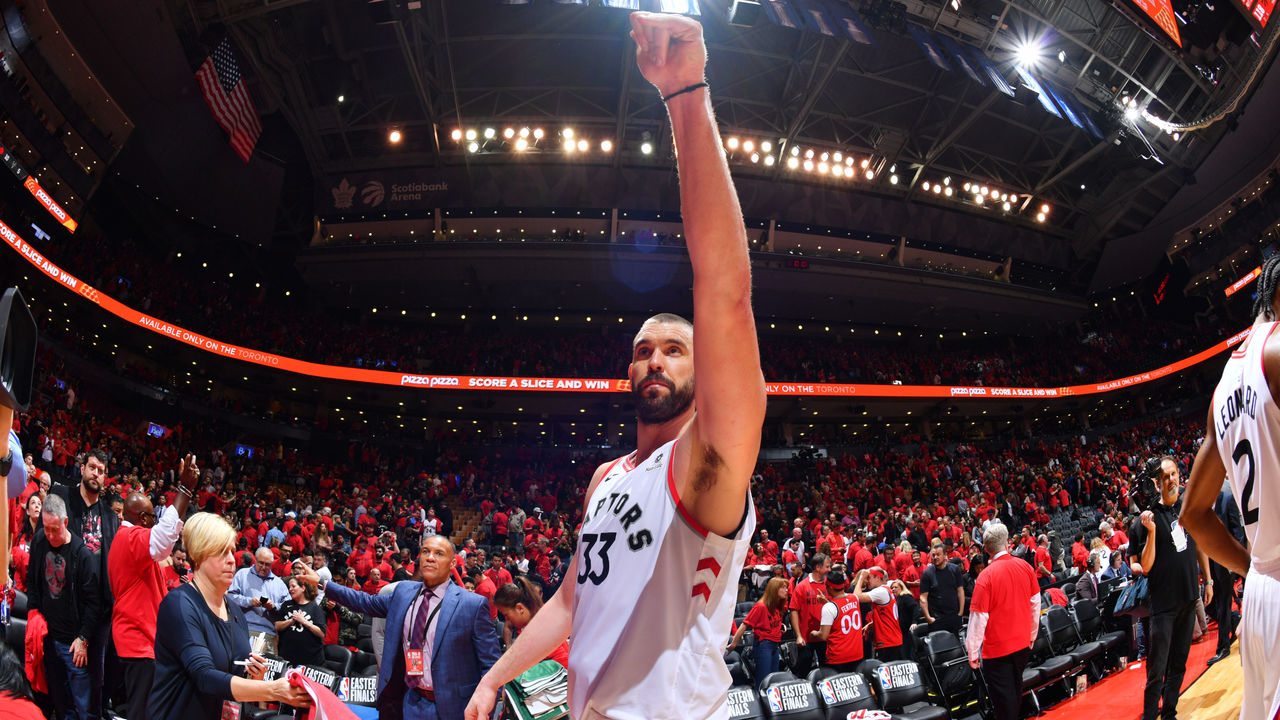 Leonard and Siakam led the Raptors in scoring, but the Game 3 contributions from Marc Gasol and Powell proved invaluable.
After quite possibly the worst performance of his illustrious career in Game 2, Gasol opened Sunday's contest with a noticeable pep in his step, and the swagger only increased after he drained his first two 3-point attempts. Those triples also forced the Bucks to close out harder on Gasol's perimeter touches rather than daring him to shoot, and the savvy big man then capitalized on Milwaukee's aggressive defense to get into the paint and start creating for others.
"The reads," Gasol told theScore when asked what he wanted to do better offensively without being able to control whether his shots fall. "Obviously, you want to make every shot, but the reads I was making (last game), I was rushing them, doing them wrong, and then I got frustrated with it. You feel pretty crappy for 48 hours, and then it's fun that you can channel all that energy into the next game."
Defensively, Gasol ran a master class in positioning and timing. He effectively corralled Bucks drivers like Antetokounmpo, poking the ball loose several times while also finishing the game with five blocks over nearly 45 minutes of action. Most impressively, Gasol managed to maintain his defensive effectiveness despite playing the last 15 of his minutes with five fouls.
As for Powell, the Raptors' reserve poured in 19 points on 7-of-13 shooting over 30 minutes of action, connecting on three of his five long-range attempts.
Powell's production was necessary because of Green and VanVleet's continued offensive struggles. At his best, Powell can give Toronto a combination of what the team needs from both of those slumping stars. He can handle the ball and even run the offense at times like VanVleet, and he can serve as a 3-point threat while guarding bigger wings, as Green normally would.
However, Powell can get to the rim more effectively than VanVleet, and he can create for himself off the bounce better than Green. He's also much more suited to get the Raptors going in transition.
Milwaukee's transition D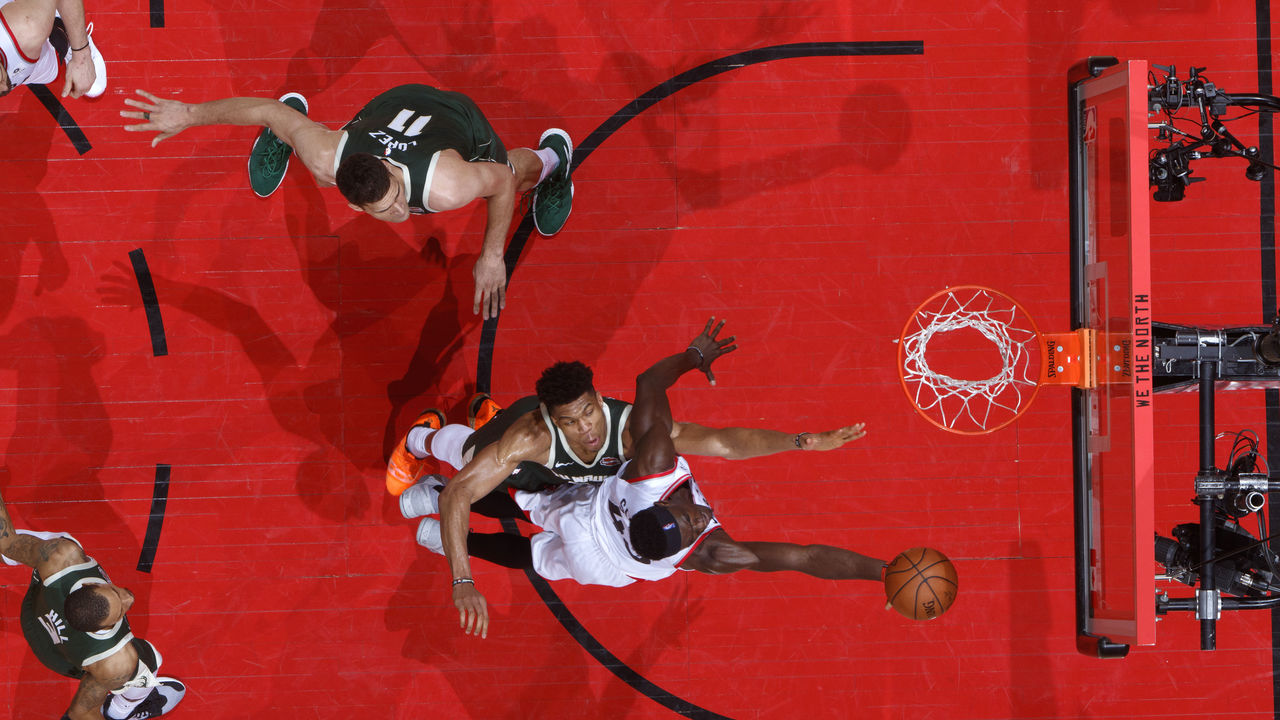 Speaking of transition, if there's one area in this series so far where Milwaukee's top-ranked defense has impressed me, it's the team's phenomenal work stymying Toronto's fast breaks.
The Raptors owned the league's most efficient transition offense this season. But against the Bucks, what initially appears to be a fast break often ends up with the paint walled off. No Raptor has fallen victim to that more than Siakam, his team's most important player in transition.
Quote of the game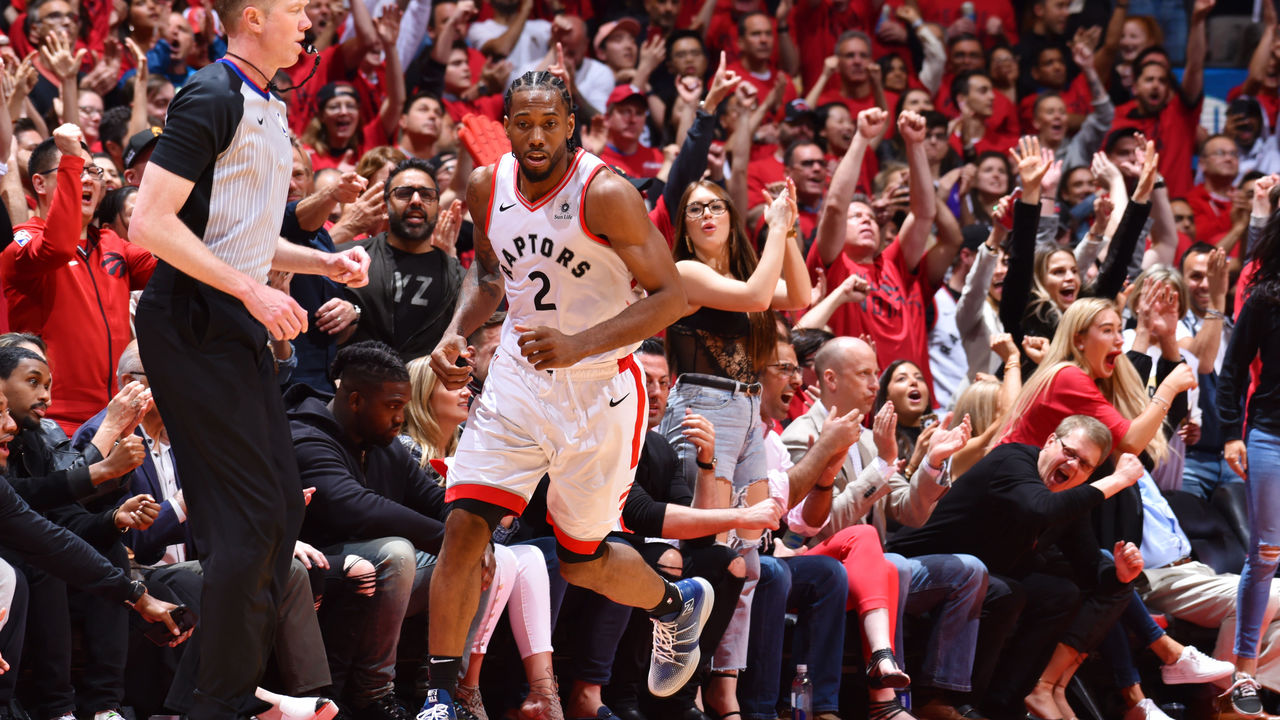 "I was like, 'Damn, I damn near played an hour tonight.' And he said, 'My bad, Kawhi. I'll make my free throws next time.'" - Leonard on his humorous exchange with Siakam, whose missed free throws led to overtime.
What to watch for next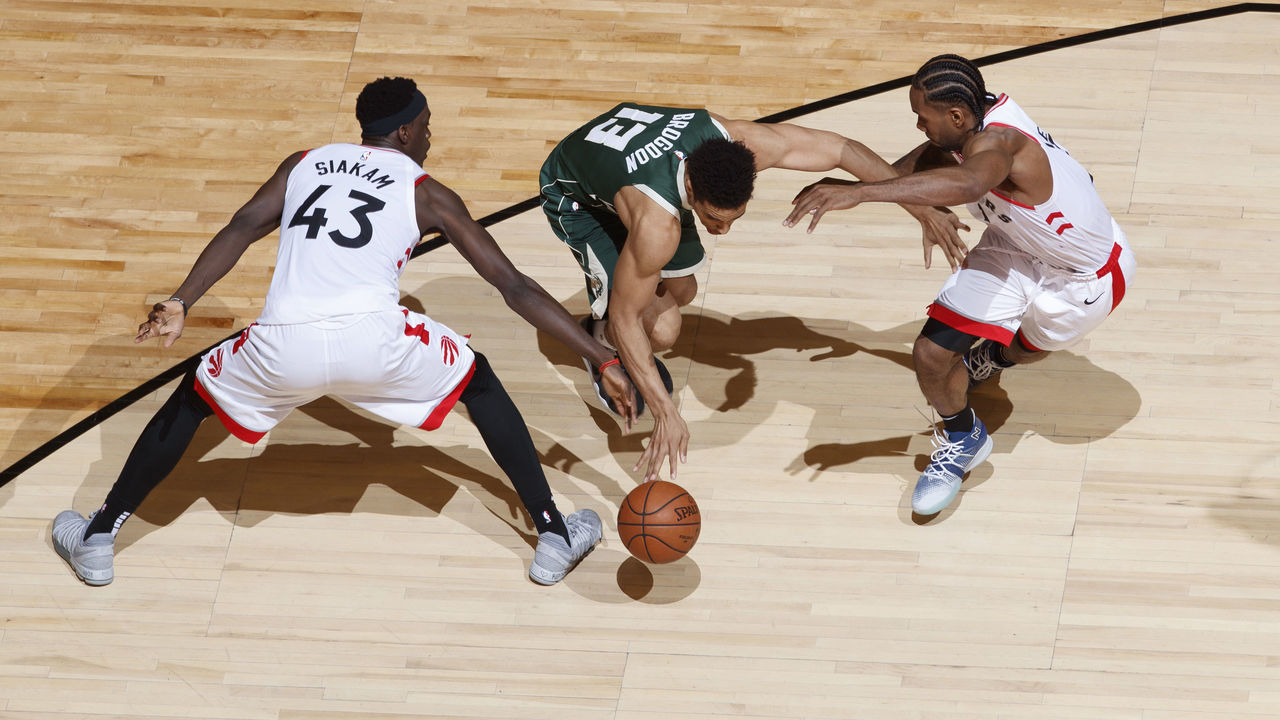 His teammates can hit their open looks and make it a moot point, but head coach Mike Budenholzer and the Bucks must find a way to get Antetokounmpo some separation from Leonard.
Every Raptors starter defends well, but the team is still vulnerable against a player with Giannis' freakish abilities. If Milwaukee can use screens and other actions to get literally anyone else but Leonard on Antetokounmpo, that's a win for the Bucks. If not, this series may have just turned.
It's also still worth monitoring whether Budenholzer puts Brogdon in the starting lineup, a potential move I mentioned after Milwaukee's Game 1 win. Brogdon continues to look better every game since returning from a two-month layoff, and he was the best Buck in Game 3 during his 36:41 of action.
For the Raptors, there's reason for confidence despite still trailing 2-1, as the Bucks have only led for 58 out of 154 minutes in this series. Toronto still has work to do on Tuesday night, but if the team can return to Milwaukee squared up, the Raptors will have largely controlled the series, aside from the abomination that was Game 2.