The Milwaukee Bucks pulled away from the Toronto Raptors down the stretch to win Game 1 of the Eastern Conference finals, 108-100.
Here are some takeaways from the series opener:
A wasted effort?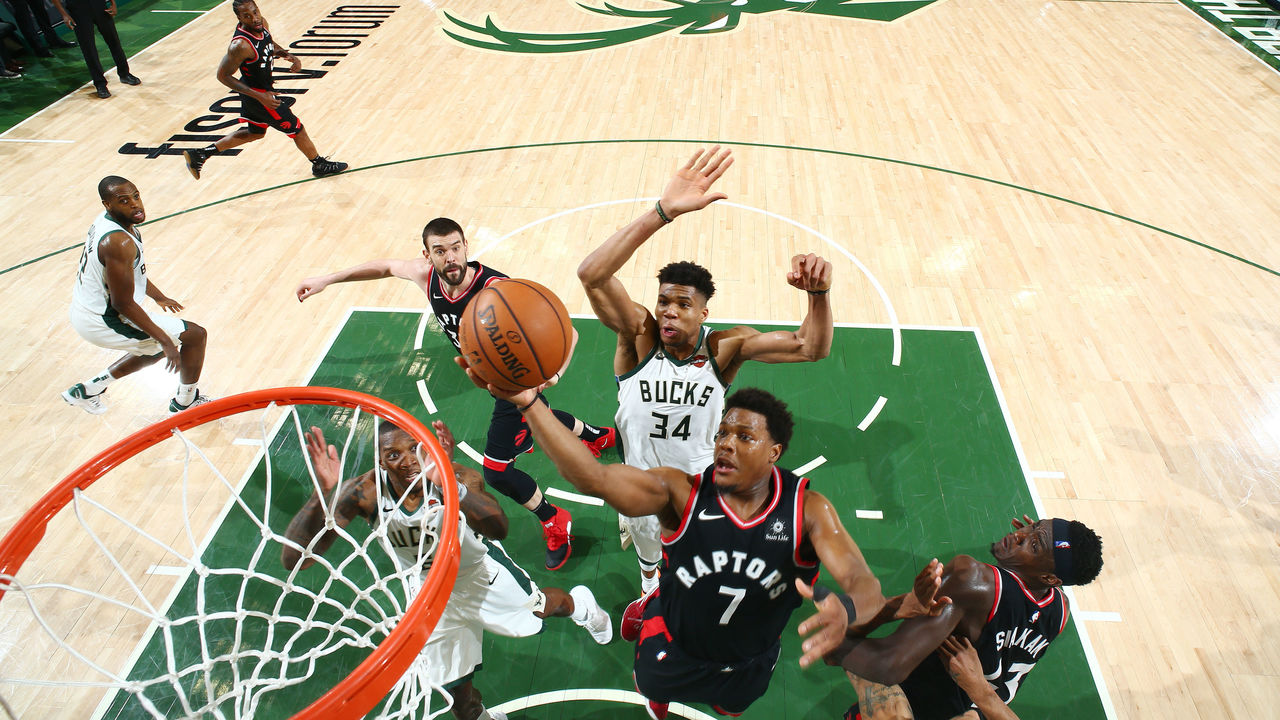 The Bucks shot 11-of-44 from deep, saw Giannis Antetokounmpo go 6-of-17 from the field, fell behind by a double-digit deficit on multiple occasions, and still escaped with a victory.
After losing the fourth quarter 32-17, and watching Milwaukee end the game on a 10-0 run over the final three minutes, the general consensus will be that the Raptors blew a golden opportunity to steal home-court advantage. But I'm not sure that tells the whole story.
Kyle Lowry was the only Raptor who played up to par on both ends, Toronto didn't do enough on the defensive glass, and even Kawhi Leonard played into the hands of Milwaukee's swarming defense while forcing the action rather than finding the open man. Leonard and Pascal Siakam combined for a 16-of-46 shooting night.
The Raptors did hold a lead for most of the game before fading in crunch time, but they failed in enough areas that the Bucks would've been equally kicking themselves had Toronto managed to open the series with a win.
Lowry and Lopez steal the show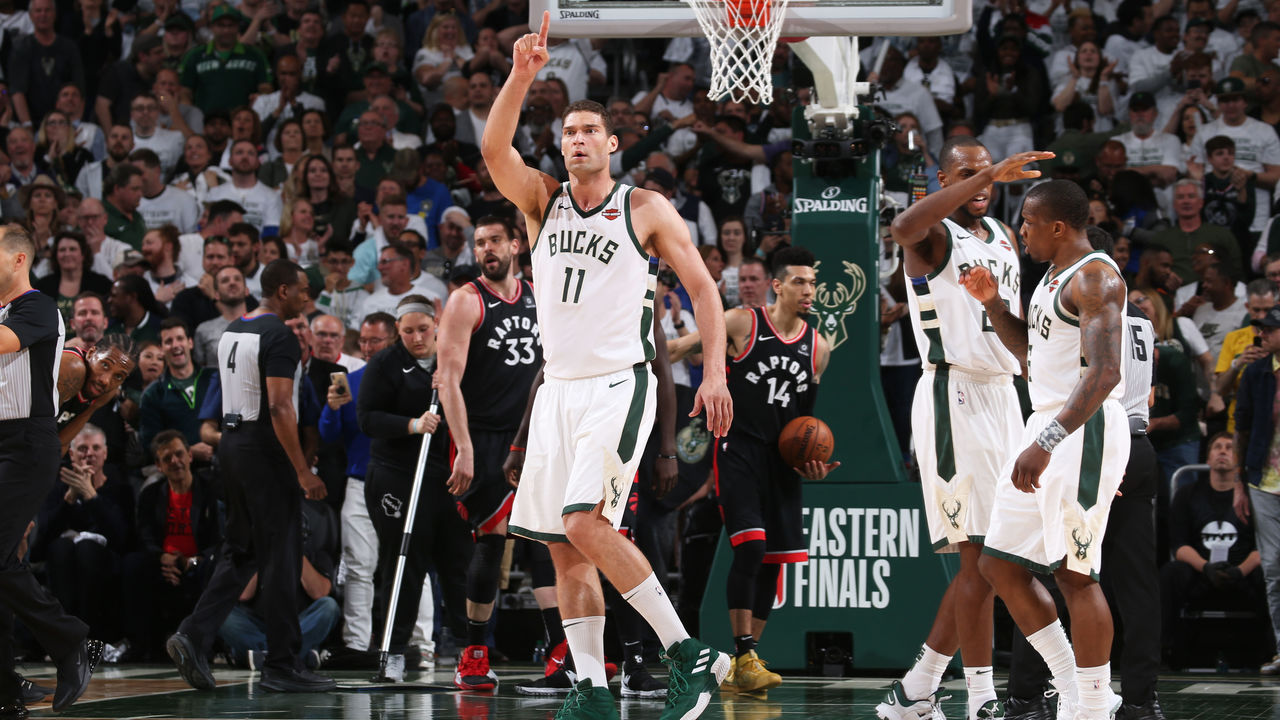 On a night when Leonard and Antetokounmpo combined for 16-of-43 shooting and eight turnovers, it was Lowry and Brook Lopez picking up the offensive slack for their respective teams.
Lowry, incredibly, was the only Raptor to make a field goal in the fourth quarter, finishing with 30 points, eight rebounds, two assists, and a steal while setting a new postseason career-high with seven made 3-pointers. The five-time All-Star also would have recorded at least four more assists if teammates like Norman Powell, Danny Green, and Marc Gasol didn't squander the easy scoring opportunities Lowry created for them.
Lopez, meanwhile, scored a team-high 29 points on 57 percent shooting along with 11 rebounds, four blocks, and two assists. The big man's rim protection, presence on the offensive glass, and fourth-quarter shot-making changed the game for Milwaukee.
Bucks win rebounding battle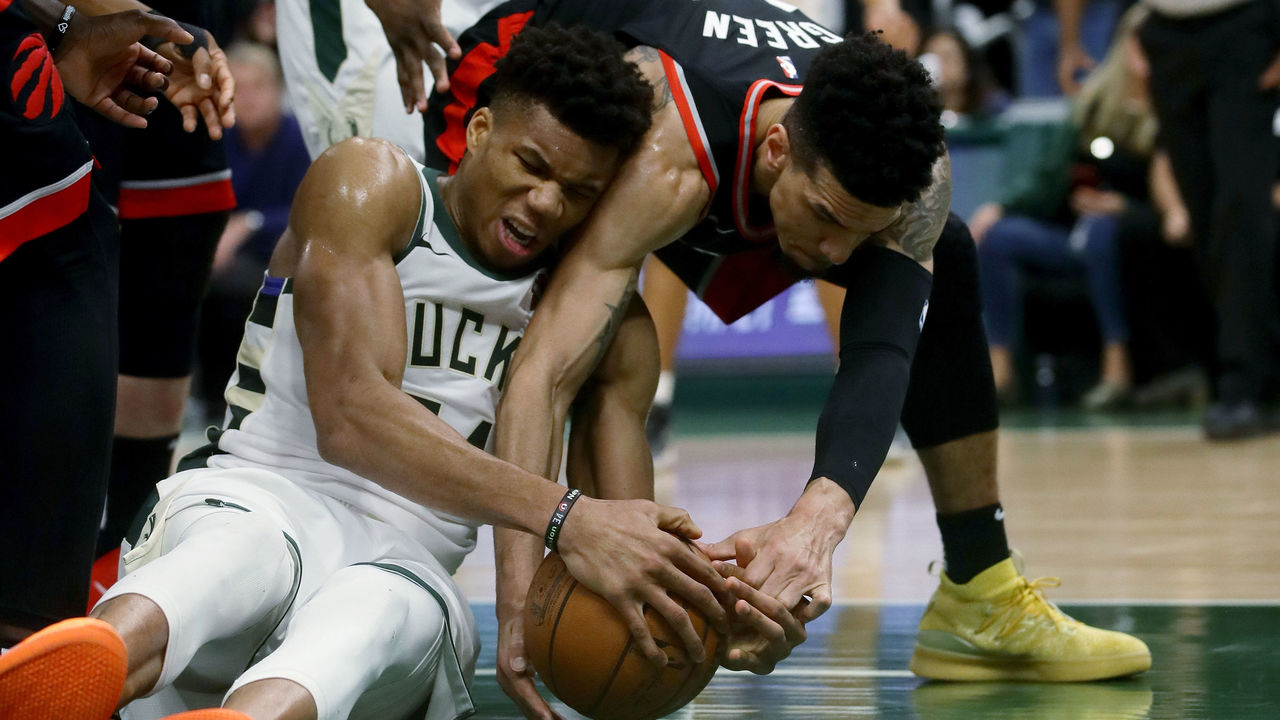 Speaking of Lopez's offensive rebounding, if there's one area where the Raptors should feel they wasted a valiant effort, it was their inability to close defensive possessions.
Toronto's base defense worked wonders. The Raptors walled off the paint, doing a good job of contesting Antetokounmpo's drives while also recovering to defend Milwaukee's bevy of shooters. Unfortunately, Toronto was manhandled on the glass, with the Bucks posting an offensive rebound rate of 32.8 percent, leading to a 24-13 victory in second-chance points for Milwaukee off 15 offensive boards.
The Raptors are playing on the road against the NBA's No. 1 overall seed. They can't allow the better team - and one that finished 26th in offensive rebounding this season - to create multiple-shot possessions as often as the Bucks did in Game 1.
Toronto's shooting struggles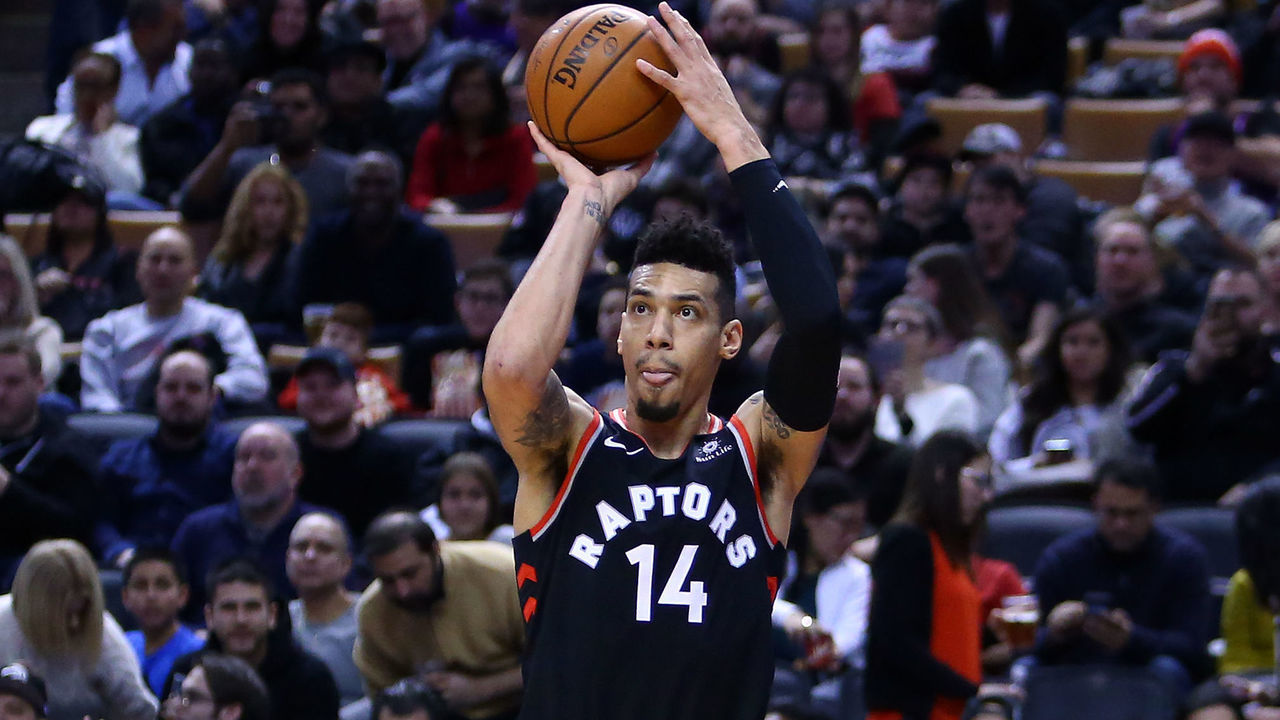 The Raptors' shooting will bounce back from a rough postseason so far against a Milwaukee defense that concedes a ton of jumpers. That's one of the main reasons why I predicted Toronto will hang around in this series.
The Raptors shot over 42 percent on open 3-pointers after acquiring Gasol, but they saw that number plummet to 32 percent throughout the first two rounds of the playoffs. The law of averages says good Raptors shooters will capitalize on their open looks with at least respectable efficiency in this series, but we still didn't see much of that on Wednesday in Milwaukee.
Take Lowry out of the equation, and the rest of the Raptors shot 8-of-33 from deep, with Leonard, Gasol, and Green combining for a 4-of-16 performance. At least Gasol and Lowry looked more willing to shoot than they have all spring.
Green's shooting, in particular, remains a mystery. The veteran sharpshooter, who converted on 45.5 percent of his long-range attempts during the regular season and often rises to the occasion in the playoffs, is shooting 35.8 percent this postseason. Frequently over the last month, Green hasn't even looked prepared to let it fly on the catch, which is out of character for him.
Reviewable plays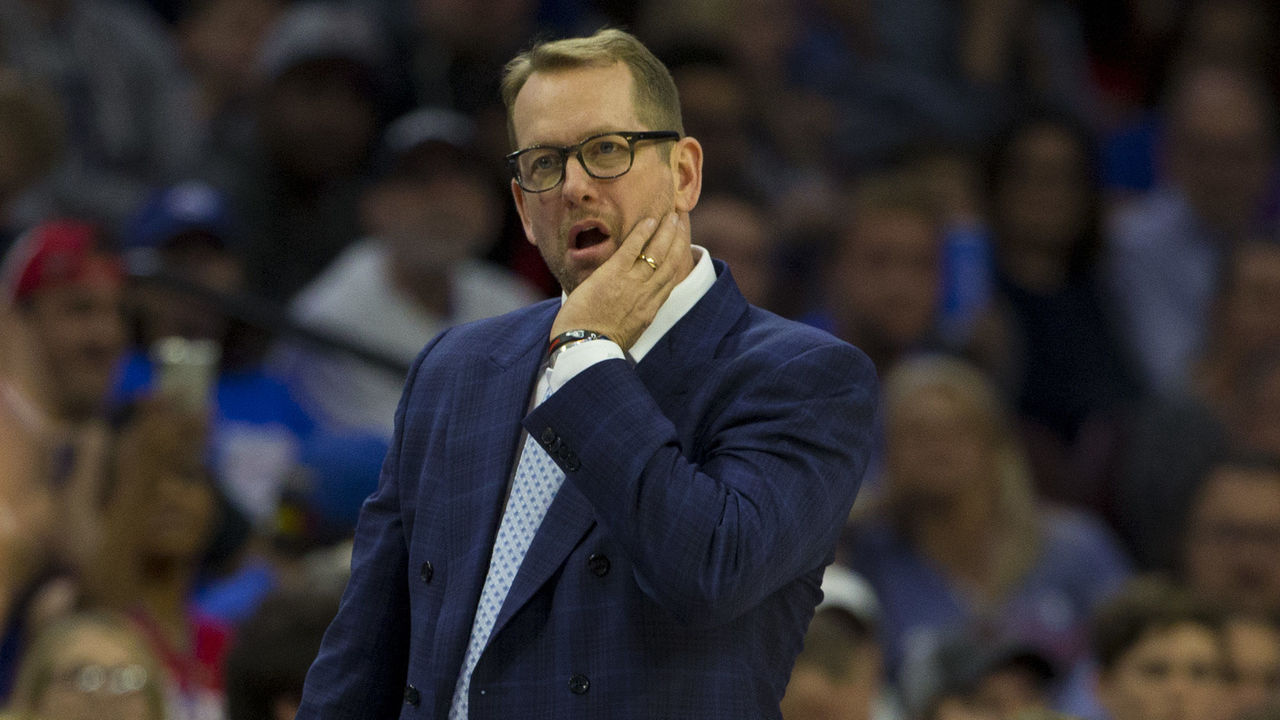 One of the silliest replay rules in the NBA is that a potential shot-clock violation on a field-goal attempt is only reviewable on a made basket. Therefore, if a team gets away with a shot-clock violation and secures an offensive rebound off that illegal field-goal attempt and scores, it's not a reviewable play.
That seems ludicrous because the end result remains the same - a team scored on a successful offensive possession that should've ended on a shot-clock violation. This odd part of the rulebook burned the Raptors in the first half Wednesday on a Lopez putback.
I understand the need to somewhat limit the use of replay, but a successful possession not being reviewable isn't the way to do it. The NBA needs to consider a change here.
Quote of the game
"It really doesn't matter. If it's a buzzer-beater and you lose, or if it's a 30-point blowout and you lose, that game's over. We saw that in that last series (against Philadelphia). We went and blew them out in the first game, and it looked like it was gonna be a cruise, but we know better than that. These teams are too good. I thought the Philly series was gonna be a long one, and there's a good chance this one will be, too." - Raptors head coach Nick Nurse on whether he'd rather lose a blowout, or lose a game his team had a chance to win.
What to watch for next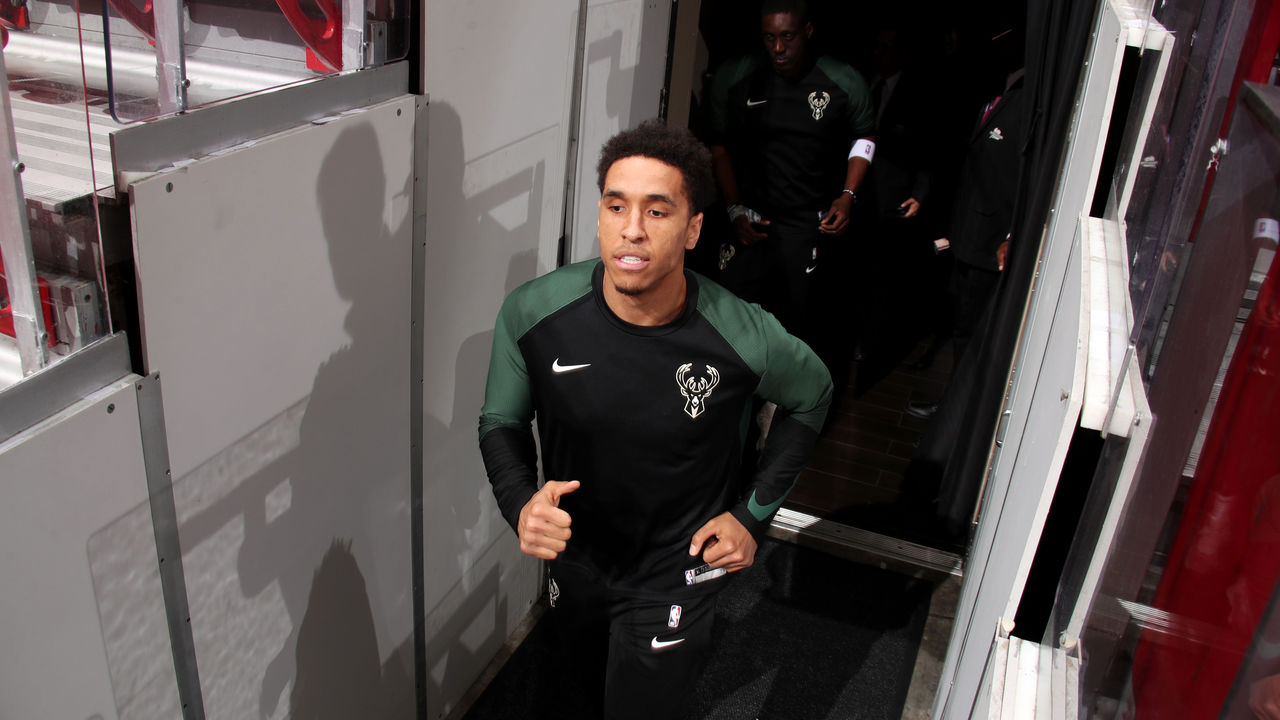 Will the Bucks start Malcolm Brogdon before the series is over?
Milwaukee's starting lineup for the majority of the team's 60-win season featured Brogdon, Antetokounmpo, Lopez, Khris Middleton, and Eric Bledsoe. But Nikola Mirotic replaced Brogdon to provide a larger starting five when the guard went down with a plantar fascia tear. Brogdon has come off the bench in the two games since his return, but he logged 26:39 of action in Game 1 against the Raptors, and the Bucks' old starting unit was by far their best lineup on Wednesday.
If Milwaukee maintains control of the series, head coach Mike Budenholzer may not feel a need to pivot. But it'll just take one Raptors road win to put pressure on the Bucks to adjust.