With the 2020 season on pause, theScore's MLB editors graded each team's front office by the moves made since Nov. 1, 2017. For executives hired following that date, only the moves they made after taking over were graded. Grades are relative to what the team is trying to accomplish, and only the most notable transactions were considered. We continue with the American League West.
AL EAST I AL CENTRAL I AL WEST
NL EAST I NL CENTRAL I NL WEST
Houston Astros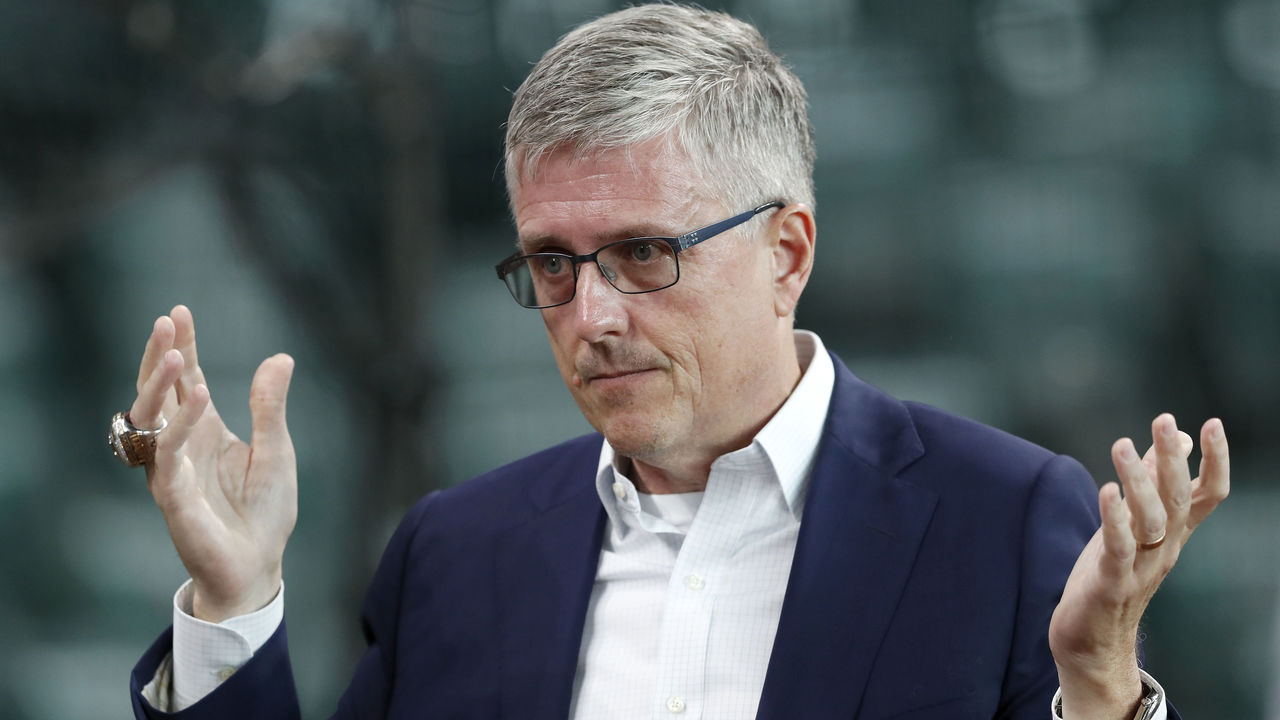 Executive: Jeff Luhnow
Title: General manager
Hired: Dec. 8, 2011
Fired: Jan. 13, 2020
Luhnow's bio will now always highlight the fact that he was fired for his role in the worst cheating scandal the sport has seen since the 1919 Black Sox. However, as far as baseball operations go, the executive made a bevy of astute moves that lifted the Astros out of the basement and into near-dynastic altitudes. The Gerrit Cole trade is one of the most lopsided possibly ever, and landing Michael Brantley on a two-year deal is one of the better free-agent bargains in recent memory.
That said, not all of Luhnow's deals were home runs, and his dismissal could represent a turning point for the franchise. Trading away significant prospect capital while taking on the vast majority of Zack Greinke's contract put the team in a precarious position, particularly if Houston is unable to retain George Springer, who hits free agency this winter. James Click and the rest of the new brain trust will have their work cut out to keep the ship afloat - on top of fixing the club's reputation.
The good 👍:
Gerrit Cole acquired from Pirates for Joe Musgrove, Colin Moran, Michael Feliz, Jason Martin
Roberto Osuna acquired from Blue Jays for David Paulino, Hector Perez, Ken Giles
Ryan Pressly acquired from Twins for Gilberto Celestino, Jorge Alcala
Alex Bregman signed six-year, $100M extension
Michael Brantley signed two-year, $32M deal
Hector Rondon signed two-year, $8.5M deal
The bad 👎:
J.D. Davis traded to Mets for Luis Santana, Ross Adolph, Scott Manea
Ramon Laureano traded to Athletics for Brandon Bailey
TBD 🤔:
Zack Greinke acquired from D-Backs for Corbin Martin, J.B. Bukauskas, Josh Rojas, Seth Beer
Aaron Sanchez, Cal Stevenson, Joe Biagini acquired from Blue Jays for Derek Fisher
Aledmys Diaz acquired from Blue Jays for Trent Thornton
Jake Marisnick traded to Mets for Blake Taylor, Kenedy Corona
Austin Pruitt acquired from Rays for Peyton Battenfield, Cal Stevenson
Grade: B+
Los Angeles Angels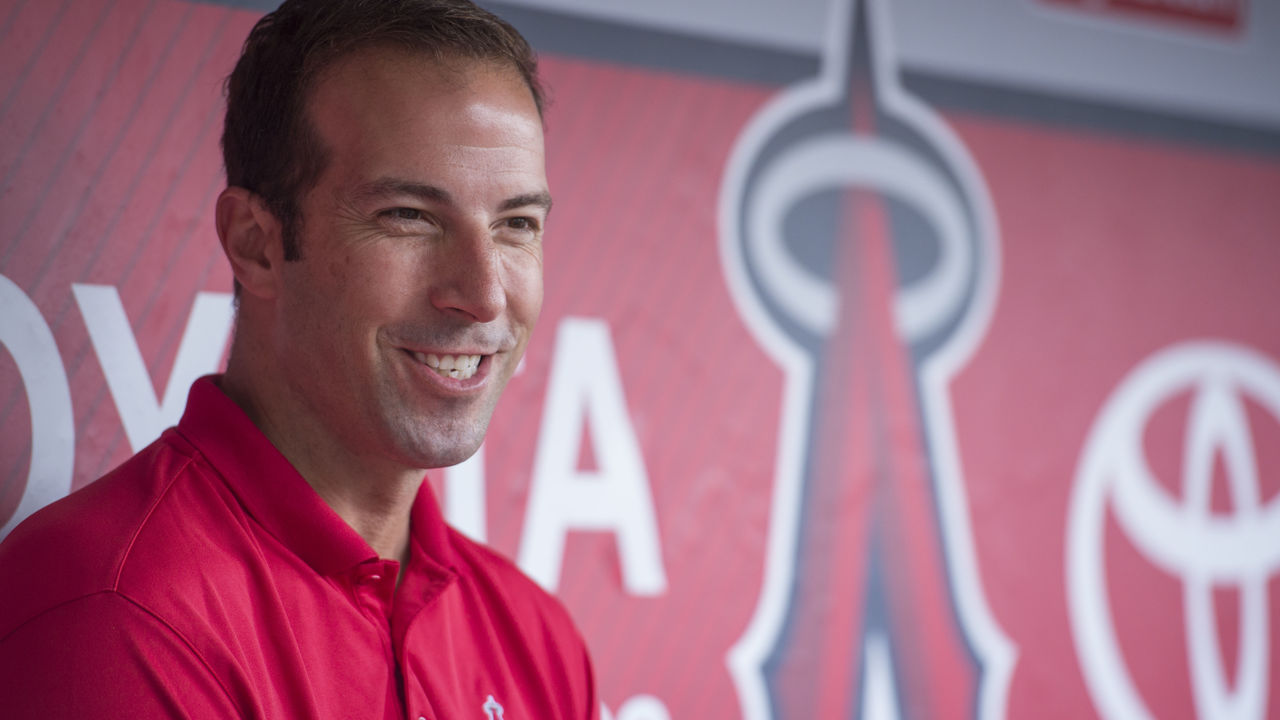 Executive: Billy Eppler
Title: General manager
Hired: Oct. 5, 2014
Eppler is in the unique position of running the team with the best player of a generation in Mike Trout and the player signed to perhaps the league's worst active contract in Albert Pujols. That combination has led to years of mediocrity; the team is too good to rebuild around Trout, and too bad to make the playoffs. As a result, Eppler has attempted to make savvy moves instead of splashy ones ... until recently.
Landing Shohei Ohtani was a coup almost no one saw coming and will pay incredible dividends when the two-way phenom is fully healthy once again. Going even bigger, the Angels landed Anthony Rendon this past winter, which will almost certainly be a boon. Investing in pitching might have been a more sound strategy, but pairing Trout with a legit superstar can't hurt.
It's a shame the acquisition of Ross Stripling and Joc Pederson was nixed (reportedly by meddlesome Angels owner Arte Moreno), but Eppler is trying, and with the division looking slightly weaker and Trout's 30s around the bend, it's crunch time.
The good 👍:
Shohei Ohtani signed as international amateur
Mike Trout signed 12-year, $430M extension
Ian Kinsler acquired from Tigers for Troy Montgomery, Wilkel Hernandez
Ty Buttrey, Williams Jerez acquired from Red Sox for Ian Kinsler
Tommy La Stella acquired from Cubs for Conor Lillis-White
Hansel Robles claimed off waivers from Mets
The bad 👎:
Zack Cozart signed three-year, $38M deal
Zack Cozart, Will Wilson traded to Giants for Garrett Williams
Matt Harvey signed one-year, $11M deal
Trevor Cahill signed one-year, $9M deal
Cody Allen signed one-year, $8.5M deal
Jonathan Lucroy signed one-year, $3.35M deal
Justin Bour signed one-year, $2.5M deal
TBD 🤔:
Anthony Rendon signed seven-year, $245M deal
Julio Teheran signed one-year, $9M deal
Dylan Bundy acquired from Orioles for Isaac Mattson, Kyle Bradish, Kyle Brnovich, Zach Peek
Matt Andriese acquired from Diamondbacks for Jeremy Beasley
Max Stassi acquired from Astros for Rainier Rivas, Raider Uceta
Grade: C+
Oakland Athletics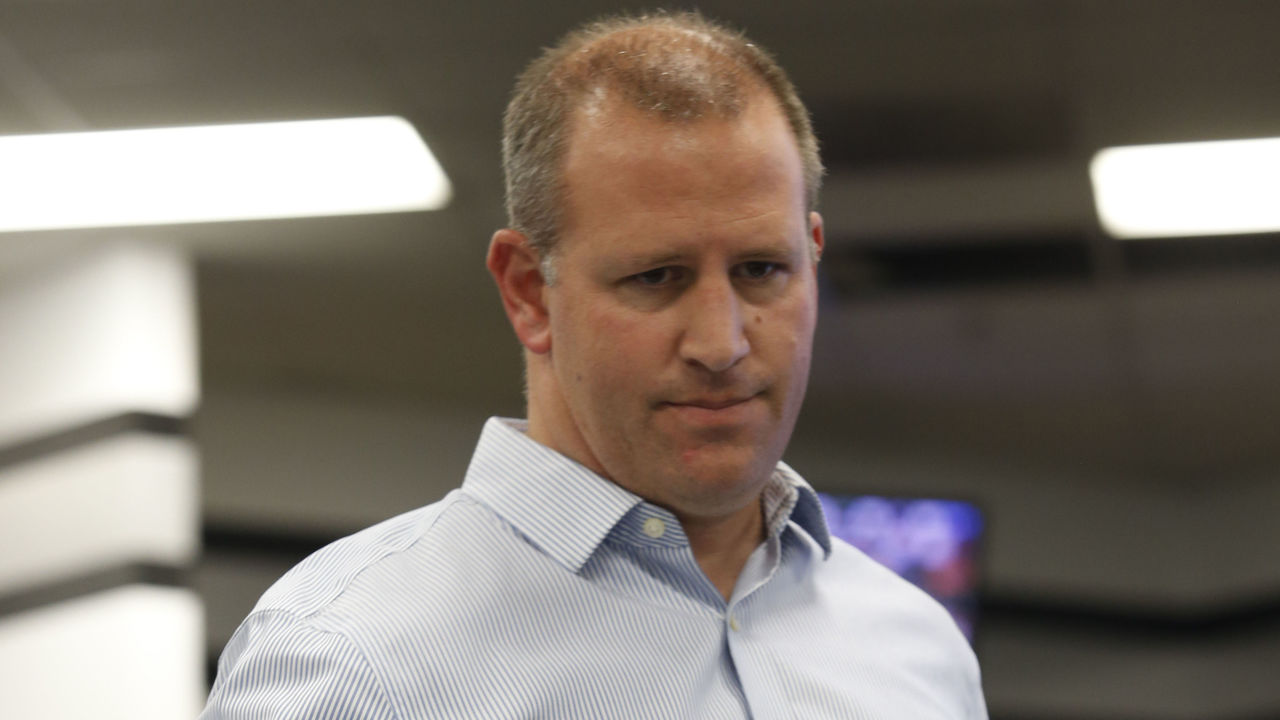 Executive: David Forst
Title: General manager
Hired: Oct. 5, 2015
Billy Beane was promoted from GM to executive vice president of baseball operations after the 2015 season, putting David Forst in his old chair. And while Forst isn't as recognizable a figure around the league, the rosters he constructs under Beane's tutelage are familiar: perennial wild-card contenders on a budget.
Oakland usually opts to do a bunch of small things to make the team marginally better, and it pays off because, if those moves backfire, they don't create a total collapse. The worst deals they've made since the end of 2017 involve trading away role players like Joey Wendle or relievers like Emilio Pagan, or giving one-year contracts to aging veterans like Marco Estrada. In other words, they're not that bad.
The good moves, though, have been pretty good. The club landed Stephen Piscotty for almost nothing at least partially due to the outfielder's desire to be near his family in California. Other than that, Forst has become a master of the one-year deal, getting dividends from Brett Anderson and Trevor Cahill as well as strong returns on other short-term deals to Mike Fiers and Joakim Soria.
The good 👍:
Stephen Piscotty acquired from Cardinals for Yairo Munoz, Max Schrock
Jeurys Familia acquired from Mets for Will Toffey, Bobby Wahl
Fernando Rodney acquired from Twins for Dakota Chalmers
Trevor Cahill signed one-year, $1.75M deal
Brett Anderson signed minor-league deal
Mike Fiers signed two-year, $14.1M deal
Emilio Pagan, Alexander Campos acquired from Mariners for Ryon Healy
Ramon Laureano acquired from Astros for Brandon Bailey
Joakim Soria signed two-year, $15M deal
Robbie Grossman signed one-year, $2M deal
Jonathan Lucroy signed one-year, $6.5M deal
Yusmeiro Petit signed three-year, $14.5M deal
The bad 👎:
Joey Wendle traded to Rays for Jonah Heim
Jurickson Profar acquired in three-team trade for Eli White, Emilio Pagan, slot money, draft pick
Kendrys Morales acquired from Blue Jays for Jesus Lopez, international bonus money
Tanner Roark acquired from Reds for Jameson Hannah
Marco Estrada signed one-year, $4M deal
Jake Diekman acquired from Royals for Ismael Aquino, Dairon Blanco
TBD 🤔:
Jurickson Profar traded to Padres for Austin Allen, Buddy Reed
Jake Diekman signed two-year, $7.5M deal
Tony Kemp acquired from Cubs for Alfonso Rivas
Grade: B-
Seattle Mariners
Executive: Jerry Dipoto
Title: General manager
Hired: Sept. 28, 2015
The biggest complaint about Dipoto's strategy has been his overzealousness in making marginal trades. A couple of them really backfired, too; Chris Taylor - now with the Los Angeles Dodgers - seems to be exactly the type of player the Mariners are attempting to target.
But that's not a legitimate criticism anymore. This past winter, Dipoto seemed to take a more measured look at his roster - and honestly, the club looks built for long-term success for the first time this millennium. The farm system is suddenly stacked, largely thanks to offloading Robinson Cano's contract on the Mets while getting back premium outfield prospect Jarred Kelenic.
It has been a bit of two steps forward, one step back for Seattle, however. Trading away James Paxton might have been necessary, but Justus Sheffield doesn't look like the pitcher the Mariners wanted to acquire, and their investment in Yusei Kikuchi has blown up spectacularly. There's still work to be done, though Dipoto seems to be a changed man with a changed roster.
The good 👍:
Alex Colome, Denard Span acquired from Rays for Tommy Romero, Andrew Moore
Omar Narvaez acquired from White Sox for Alex Colome
Jarred Kelenic, Jay Bruce, Justin Dunn, Anthony Swarzak, Gerson Bautista acquired from Mets for Edwin Diaz, Robinson Cano
J.P. Crawford, Carlos Santana acquired from Phillies for Juan Nicasio, Jean Segura, James Pazos
Evan White signed six-year, $24M extension
Wade LeBlanc signed one-year, $650K deal
Sam Tuivailala acquired from Cardinals for Seth Elledge
Roenis Elias acquired from Red Sox for Eric Filia
Shed Long acquired from Yankees for Josh Stowers
The bad 👎:
James Paxton traded to Yankees for Justus Sheffield, Erik Swanson, Dom Thompson-Williams
Yusei Kikuchi signed three-year, $43M deal
Emilio Pagan, Alexander Campos traded to Athletics for Ryon Healy
Mike Zunino, Guillermo Heredia, Michael Plassmeyer traded to Rays for Mallex Smith, Jake Fraley
Carlos Santana traded to Indians for Edwin Encarnacion, draft pick
Domingo Santana acquired from Brewers for Ben Gamel, Noah Zavolas
Dee Gordon acquired from Marlins for Nick Neidert, Christopher Torres, Robert Dugger
Juan Nicasio signed two-year, $17M deal
TBD 🤔:
Taijuan Walker signed one-year, $2M deal
Carl Edwards Jr. signed one-year, $950K deal
Kendall Graveman signed one-year, $1.5M deal
Nick Margevicius claimed off waivers from Padres
Yoshihisa Hirano signed one-year, $1.6M deal
Wei-Yin Chen signed one-year, $564K deal
Grade: B
Texas Rangers
Executive: Jon Daniels
Title: General manager
Hired: Oct. 4, 2005
He's come a long way since becoming the youngest general manager in MLB history, but Daniels still can't get the team to that elusive championship. However, the club seems to be just emerging from a bleak run where the only reason to watch the team was Adrian Beltre.
That all starts with the incredibly savvy signings of Lance Lynn and Mike Minor. Both immediately put up career years thanks, at least in part, to Jeff Mathis' elite game-calling. While we don't know how much Corey Kluber has left in the tank, adding a two-time Cy Young winner to help that rotation can only be good.
The only bad moves the Rangers have made in recent memory involve trading away an aging veteran on an expiring contract in Cole Hamels and giving Asdrubal Cabrera and Shelby Miller short-term deals. Cabrera and Miller were a sunk cost of roughly $5 million, which is nothing in the grand scheme of inexpensive gambles.
Having to settle for Todd Frazier this past winter instead of landing a big-name free agent like Anthony Rendon must sting, but Daniels has steered the ship very well.
The good 👍:
Corey Kluber acquired for Delino DeShields Jr., Emmanuel Clase
Lance Lynn signed three-year, $30M deal
Mike Minor signed three-year, $28M deal
Hunter Pence signed one-year, $3M deal
Jesse Chavez signed two-year, $8M deal
Jeff Mathis signed two-year, $6.25M deal
Jake Diekman traded to D-Backs for Wei-Chieh Huang, Joshua Javier
The bad 👎:
Asdrubal Cabrera signed one-year, $3.5M deal
Cole Hamels traded to Cubs for Rollie Lacy, Eddie Butler, Alexander Ovalles
Jurickson Profar traded in three-team deal for Eli White, Yoel Espinal, Kyle Bird, Brock Burke
Shelby Miller signed one-year, $2M deal
TBD 🤔:
Kyle Gibson signed three-year, $28M deal
Chris Martin traded to Braves for Kolby Allard
Nomar Mazara traded to White Sox for Steele Walker
Jordan Lyles signed two-year, $16M deal
Todd Frazier signed one-year, $5M deal
Keone Kela traded to Pirates for Taylor Hearn, Sherten Apostel
Nick Solak acquired from Rays for Peter Fairbanks
Greg Bird signed minor-league deal
Grade: A-