What we've learned during the NHL's restart
Photo illustration by Nick Roy / theScore
Four teams remain in the hunt for the Stanley Cup, and the storylines that contextualize those clubs' pathways through the NHL bubbles are plentiful.
The two secure zones have kept COVID-19 at bay, with no positive tests reported since teams gathered in Edmonton and Toronto six weeks ago. Now the Golden Knights and Stars are squaring off for the Western Conference title, while the Lightning and Islanders have joined them at Rogers Place to determine the Eastern Conference finalist.
Here's a rundown of six league-wide trends catching our attention this postseason.
Chaos has reigned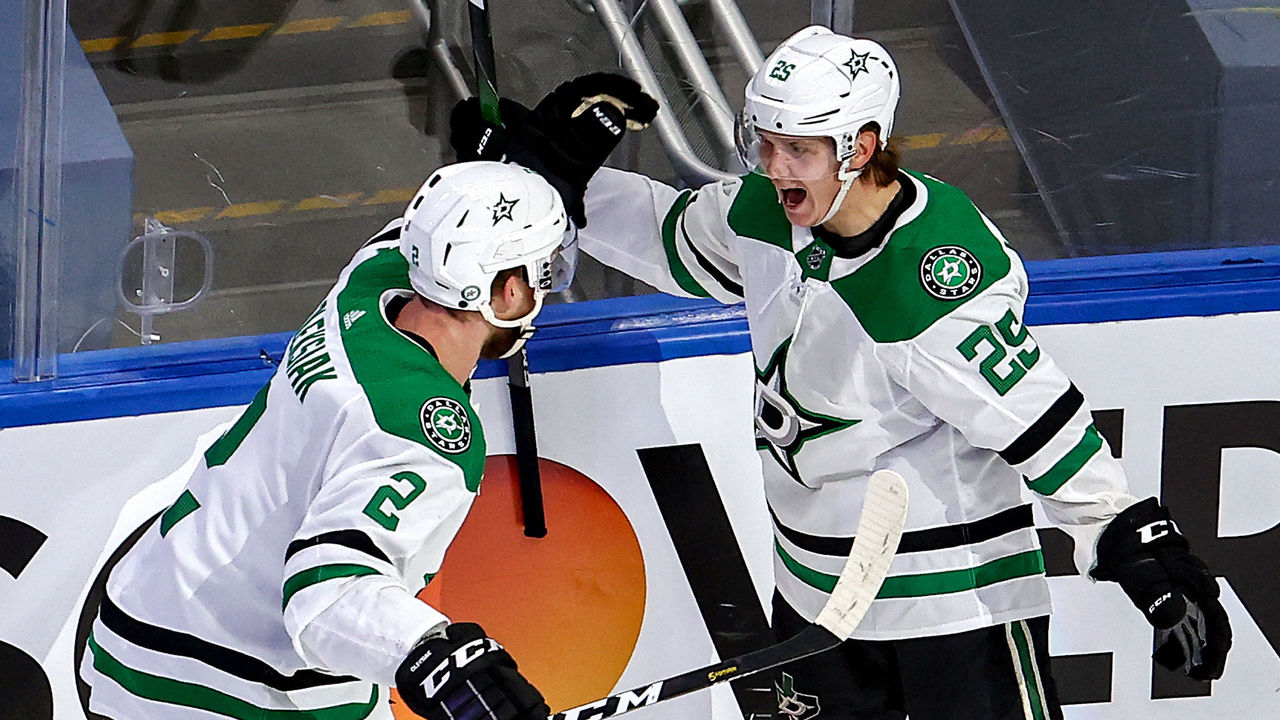 Counting the play-in and seeding stages, the events so far have made this much clear: Whichever club captures the Cup will deserve the honor not only for withstanding the mental strain of the bubble, but for also emerging triumphant from such a chaotic tournament.
Let's recap the weirdness chronologically. The unique format enabled each conference's lowest-ranked team, the Canadiens and Blackhawks, to qualify for the first round after seismic upsets - Montreal of Sidney Crosby, Evgeni Malkin, and the Penguins, and Chicago of Leon Draisaitl, Connor McDavid, and the Oilers. Both of those upstarts won on the first night of games. The second night featured Nazem Kadri winning the Avalanche-Blues seeding-round game from the foot of the crease at the last possible tenth of a second.
Only one play-in series went the distance, but that matchup was plenty hectic. Columbus and Toronto combined for three shutouts and two overtime games in which the losing side blew a 3-0 lead - the Blue Jackets in the last four minutes of what could have been a series-clinching Game 4 victory. They turned the tables on Toronto in Game 5, then immediately played the fourth-longest playoff game ever, a five-OT slog against the Lightning that set individual save and time-on-ice records.
No best-of-seven has concluded in a sweep so far, which is rare, and for a time it appeared this would be the first postseason of the salary-cap era to feature no Game 7s in Rounds 1 or 2. Instead, the Islanders, Stars, and Golden Knights blew 3-1 series leads concurrently before averting collapses in Game 7s, one of which was played as the second of back-to-back contests. Vegas-Vancouver advanced that far because Canucks backup goalie Thatcher Demko denied 123 of 125 shots over his first three starts since March.
Colorado's Game 7 defeat to Dallas was the only playoff contest in which Nathan MacKinnon didn't record a point. Meanwhile, there were zero points to Andrej Sekera's name before he assisted on Joel Kiviranta's OT winner - the finishing touch on the NHL's first Game 7 hat trick since Wayne Gretzky did it in 1993. Decent company for the Finnish rookie, who grabbed the spotlight in only his third game in the bubble.
And Tampa just dropped eight goals on the typically airtight Islanders, the most in a conference-final game since 1992. What twists and turns lay ahead? - Nick Faris
Defensive teams are winning, and scoring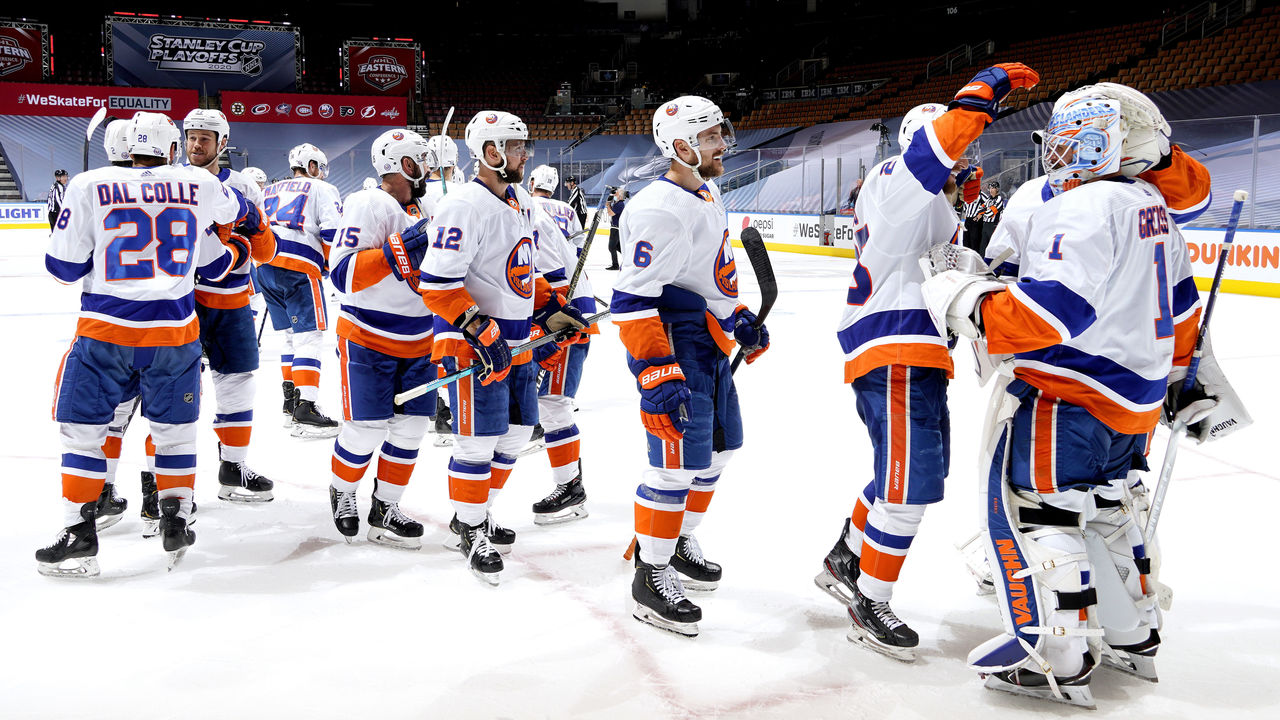 Heading into this unprecedented restart, many, including us, wondered what the on-ice product would look like and which types of players and teams would shine after nearly five months off.
You could talk yourself into the highly-skilled, star-driven squads - such as the Penguins and Maple Leafs - plowing through the competition since talent doesn't suddenly get rusty. You could also make the case for structured and disciplined teams - like the Coyotes or Blues - thriving in chaotic times.
Well, a few days into Round 3, the Stars and Islanders - two of the best defensive clubs in hockey, playing under Rick Bowness and Barry Trotz, respectively - are among the four squads still standing in a 24-team tournament. Supporters of the old adage "defense wins championships" can gloat.
Dallas, which trailed only the Bruins in regular-season defense, is exceptional at forcing opponents to shoot from the perimeter. New York, which ranked ninth, suffocates and frustrates the opposition with its tireless forechecking and backchecking. Both clubs crowd the front of the net to block shooting lanes, doing a tremendous job of insulating the goalie. And when pucks manage to squeak through all the bodies, rebounds are swept away.
(Side note: The Golden Knights and Lightning are strong defensively, too. But, in terms of playing style and team identity, both are under the "well-rounded, surefire Cup contender" label, and not in the "defense-first, fringe Cup contender" category.)
Interestingly, an unrelenting attack is propelling the Islanders and Stars to great heights since the restart (Game 1 of New York's series against Tampa Bay notwithstanding). The Islanders have bagged 3.3 goals per game (about half-a-goal better than their regular-season average) while scoring four-plus goals seven times in 17 playoff games. Dallas, meanwhile, has notched 3.0 tallies per game (also about half-a-goal better than the regular season), while scoring four-plus goals eight times in 18 contests.
In a league obsessed with flash and dash, a pair of blue-collar teams are excelling. - John Matisz
Depth has eclipsed star power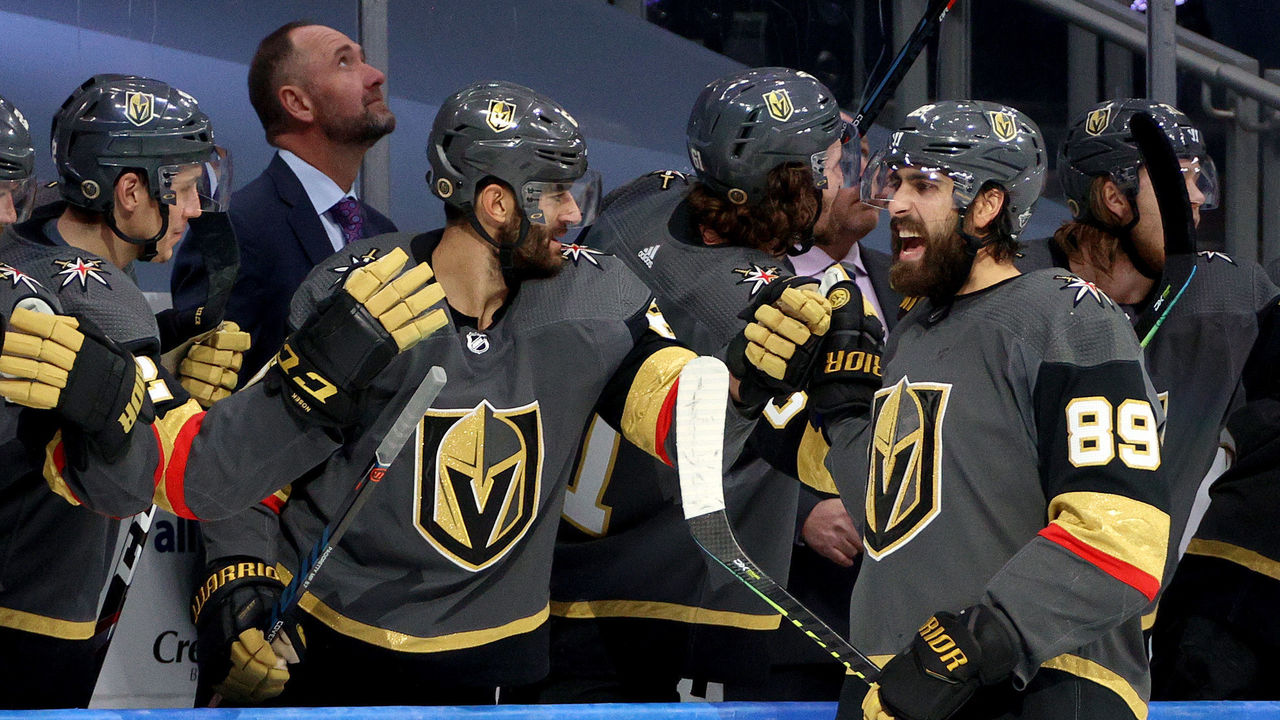 When the Avalanche, Canucks, and Bruins were eliminated, it meant that 22 of the league's top 25 regular-season scorers would be excluded from the conference finals. A 23rd player, Steven Stamkos, might miss the whole postseason because of injury.
Apart from Max Pacioretty, the only such stud who's healthy is Nikita Kucherov, a fitting exception given that the Lightning are the lone finalist who really buck this trend. Brayden Point, Victor Hedman, and Andrei Vasilevskiy are terrific players who drive Tampa's success. Though the prowess of Mark Stone, Shea Theodore, and Miko Heiskanen is undeniable, the Golden Knights, the Stars, and, certainly, the Islanders have won on the strength of collective contributions.
This phenomenon cuts two ways. On one hand, consider the reams of household names and perennial all-stars whose teams exited the playoffs early.
Crosby, Malkin, Draisaitl, McDavid, Artemi Panarin, Auston Matthews, Mitch Marner, Jonathan Huberdeau, Roman Josi, and Connor Hellebuyck didn't make it out of the qualifying round. Alex Ovechkin, John Carlson, Carey Price, Sebastian Aho, Patrick Kane, Jonathan Toews, and Ryan O'Reilly were gone before Round 2. The most recent eliminations included the David Pastrnak-Patrice Bergeron-Brad Marchand trio, Vancouver young guns Elias Pettersson and Quinn Hughes, fellow Calder Trophy favorite Cale Makar, and MacKinnon, who still tops the playoffs in scoring.
In their stead, unlikely names have shot up the goals leaderboard. Bo Horvat continues to lead the NHL with 10 markers in his 17 games. Kadri left the bubble with nine. Denis Gurianov and Joe Pavelski pace Dallas with eight apiece. Alex Tuch's eight are the most for Vegas. Anthony Beauvillier, Brock Nelson, Anders Lee, and Jean-Gabriel Pageau have each registered at least seven for the Isles.
For all but Pavelski and Pageau, these totals are significant career playoff highs that are benefitting their clubs greatly. - Faris
Goalies, goalies, goalies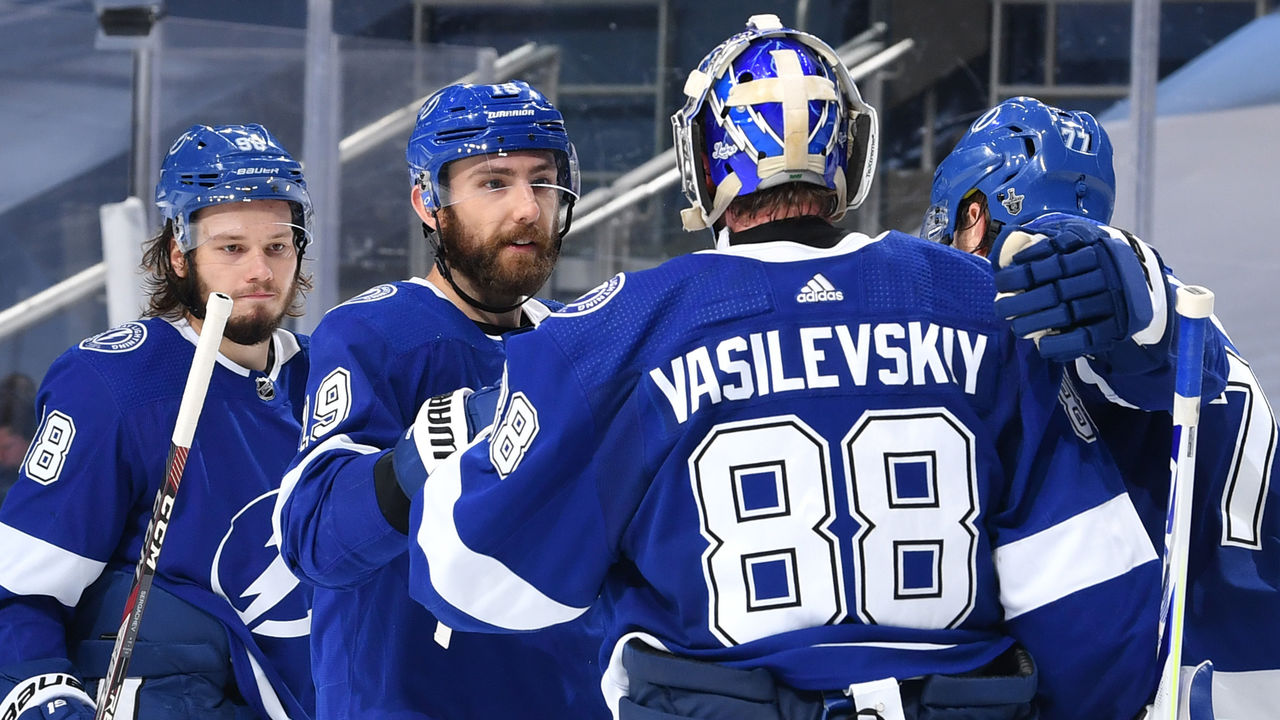 A piece of trivia to impress your hockey-loving friends: Tampa Bay is the only conference-final team to have used just one goalie during its 2020 playoff run.
Vasilevskiy's dominance in the Lightning's net is not without precedent, but it runs counter to what's unfolded elsewhere. Stars backup Anton Khudobin has already appeared in 16 games, filling in for Ben Bishop, who has been unfit to play for the majority of the tournament. The Islanders, meanwhile, have rotated between Semyon Varlamov (15 games) and Thomas Greiss (four games, including Game 1 of the Eastern final). And, of course, Robin Lehner has started 13 of 17 Golden Knights games, a controversial development that's relegated future Hall of Famer Marc-Andre Fleury mostly to backup duties.
The abundance of back-to-back games, several No. 1 and No. 2 options sidelined for various reasons, and Boston's star netminder Tuukka Rask leaving the bubble in the middle of a series combined to create some unexpected goaltending storylines.
In the 2019 playoffs, five of the final eight teams used two goalies, while the other three used one. This time around, four of the final eight teams have used two goalies, but three teams have used three. That's five extra playoff goalies in 2020, and there's still plenty of hockey left.
Goalie depth was really put to the test in the Western Conference's two second-round series, as 30-year-old journeymen Pavel Francouz and Michael Hutchinson started six of seven games for Colorado, and Demko almost single-handedly took Vancouver to the conference finals after Jacob Markstrom was ruled unfit to play.
Given all of this, perhaps Vasilevskiy should be garnering Conn Smythe Trophy buzz. - Matisz
No rest for the wicked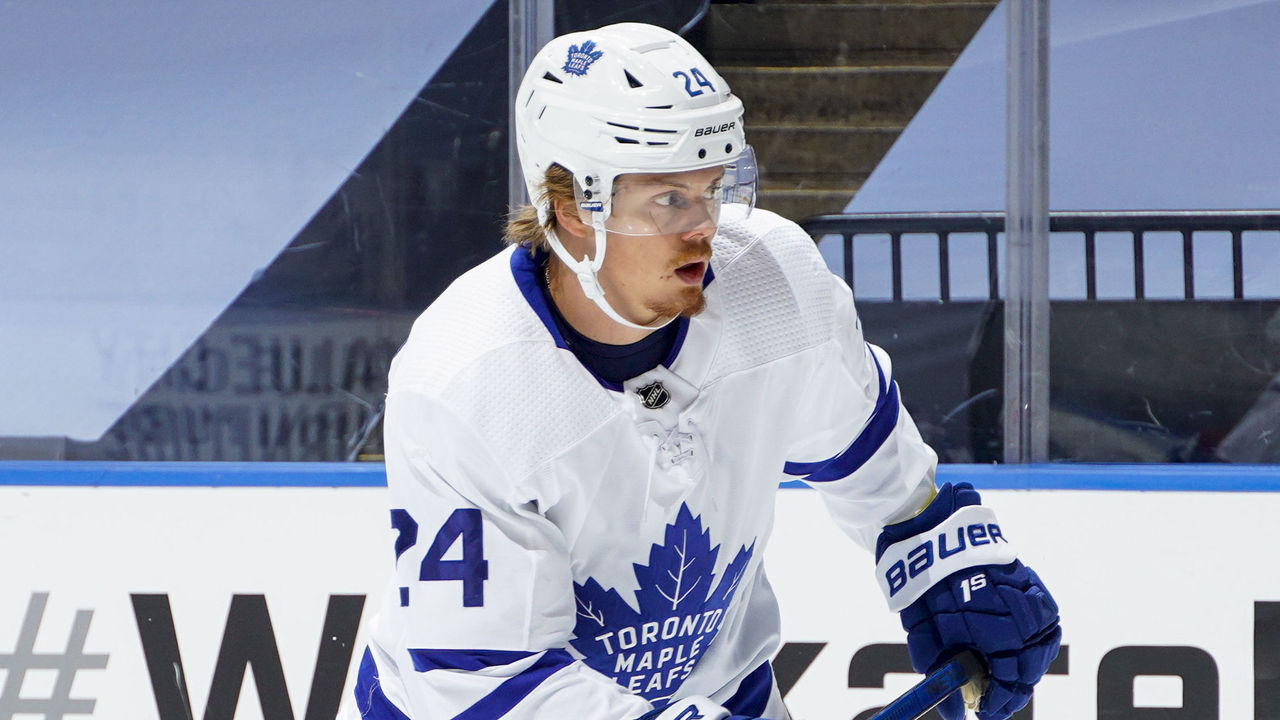 In the lead-up to Aug. 1, the first day of meaningful NHL games during the restart, there was this notion that some teams were playing with house money, and that decision-makers within certain front offices couldn't possibly take the results from this postseason at face value.
There had been a long layoff, and the postseason now featured 24 teams involved with this weird qualifying round. Some assumed the reality of participating in a pandemic postseason would reduce the typical offseason fallout.
Yet the last few weeks have proved the opposite. Teams were in fact taking the results very seriously.
Penguins general manager Jim Rutherford didn't brush off his team's poor showing in Toronto, which ended after a 3-1 series loss to the Canadiens. He fired three assistant coaches and then acquired Kasperi Kapanen in a seven-piece blockbuster with the Maple Leafs.
Washington fired head coach Todd Reirden after the Islanders dismantled the Capitals in five first-round games. The Caps had captured the Metropolitan Division title before the hiatus, yet they never seemed to find their groove in the bubble. GM Brian MacLellan clearly thought Reirden was at least partially responsible.
The Panthers pulled the plug on Dale Tallon's decade-long reign as GM following Florida's unceremonious exit. A four-game series loss to the Islanders, in which the Panthers scored seven goals, was apparently the last straw for ownership. Tallon may have been on a short leash coming out of the hiatus, but the disappointing result prompted a shake-up.
It'll be fascinating to watch the Bowness situation unfold in Dallas. Promoted from assistant coach to head coach last December, Bowness is still working under an interim tag. It's possible Stars GM Jim Nill is simply waiting for the end of the postseason to negotiate a proper deal. However, there's still a chance Bowness isn't brought back for 2020-21, despite the team's success since the restart. - Matisz
Quick hits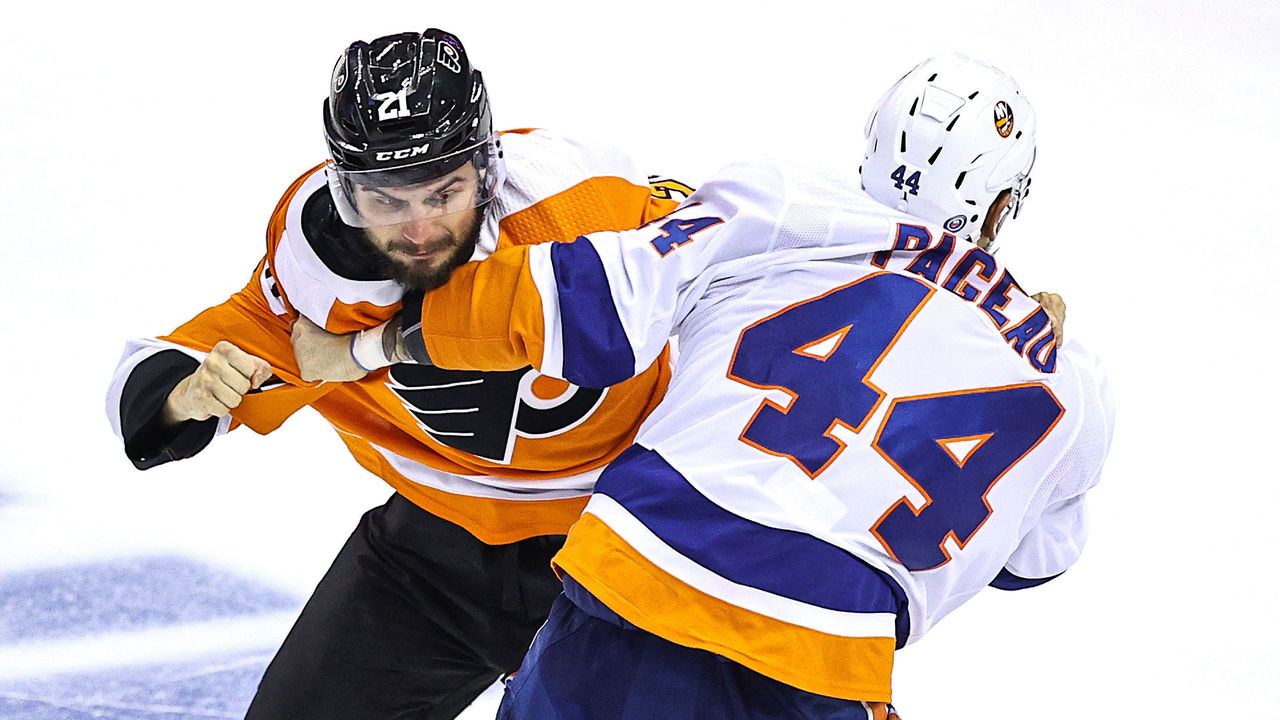 Here are a few statistical nuggets of note.
Goal scoring: One major question entering the playoffs was whether the abrupt return to play would give shooters or goalies an advantage. By now, any such built-in edge has evened out. These playoffs have featured 5.54 goals per game, down from 6.04 in the regular season. The 2018-19 playoffs yielded 5.57 goals per game, down from 6.03 that campaign. Scoring always declines this time of year, whether the Cup's awarded in June or September, and with or without fans.

"Home-road" splits: We can officially declare the home-visitor distinction a bubble nonfactor. The nominal host, whose coach gets to dictate line matchups through the last change, has won a mere 53 of 116 games (45.7%) through Tuesday's action. Some record distributions appear totally random, too. The Canucks went 7-2 as the away team and 3-5 at "home." All three of Tampa Bay's losses have come as the home club, and the Stars hold a losing record (3-4) as hosts. None of those squads were deterred from authoring standout runs.

Fighting: According to Hockey Fights, 14 sets of combatants have traded blows throughout the playoffs, the most of any postseason since 2013 (15), and nearly quintuple last year's total (three). Of those 14 fights, eight took place during the play-in and seeding stages, suggesting some players were inspired to cast aside the gloves following the restart in an attempt to provide an early spark. Matters have mostly cooled over time, with only three fights recorded since Aug. 14, a few days into Round 1. - Faris
Comments
✕
What we've learned during the NHL's restart
  Got something to say? Leave a comment below!