2021 NFL Draft prospect rankings: Offensive line
Photo illustration by Nick Roy / theScore
theScore's Mike Alessandrini breaks down the top offensive line prospects in the upcoming 2021 NFL Draft as part of a position-by-position series rolling out throughout April.
Top 50
QB | RB | WR | TE | OL
EDGE | DL | LB | CB | S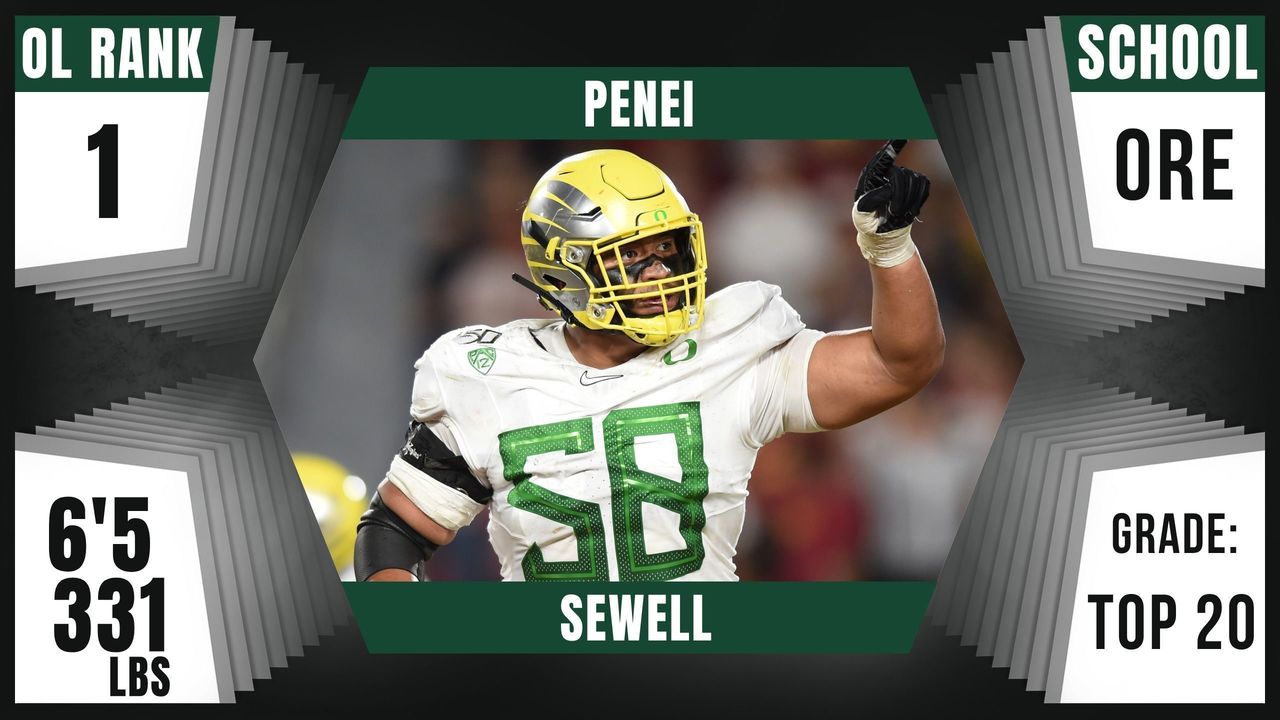 Ideal position: Left tackle
Sewell has garnered a significant amount of hype since his freshman season in 2018, and there's good reason for it. Weighing around 330 pounds, he's not supposed to move the way he does - defenders who meet him in the second level are dead in the water. Sewell's play strength is absurd, and it shows up in his effortless run blocking and dominance against the bull rush. While the Oregon product comes with some minor concerns - we didn't get to see him in 2020 after he opted out and speed rushers caught him off balance at times - he's still only 20 years old. Sewell is one of the safer prospects in the 2021 class, and his upside is massive.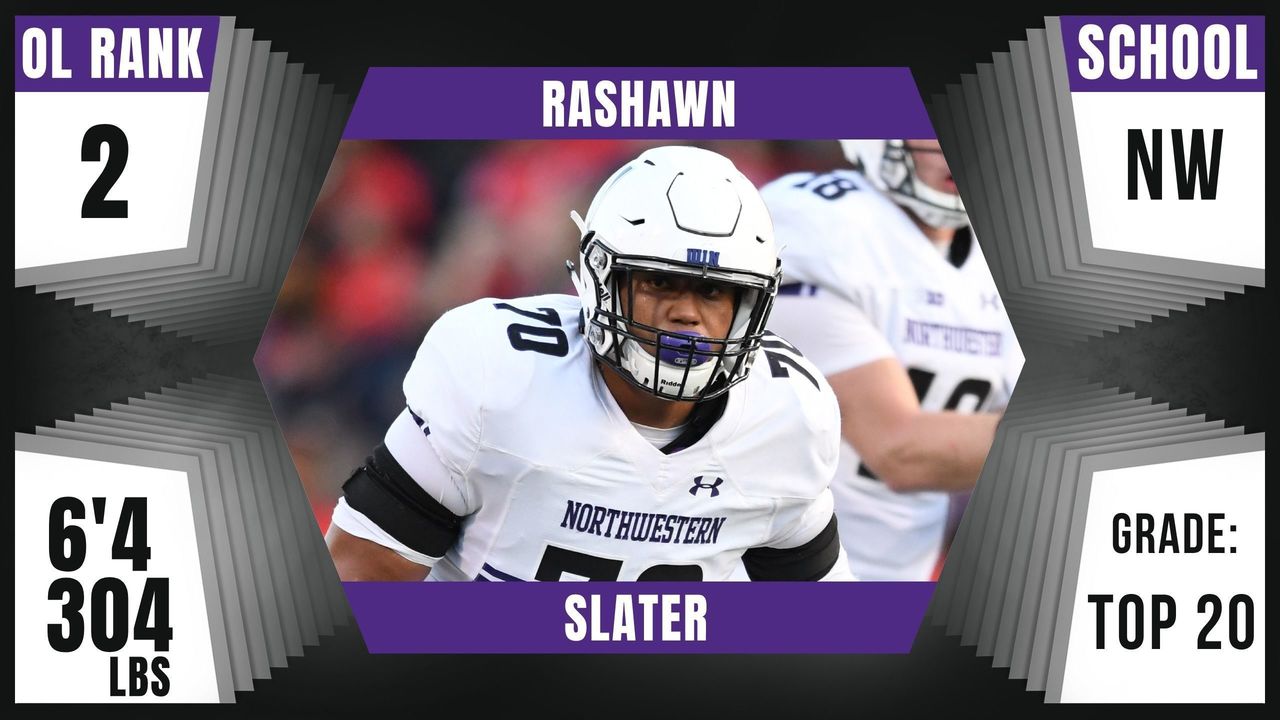 Ideal position: Left tackle
Like Sewell, Slater opted out of the 2020 campaign, but he showcased just how talented a prospect he his prior to last season. The athletic lineman was the only player who consistently shut down Chase Young at Ohio State, an impressive feat considering Young's play as an NFL rookie last year. Slater is the cleanest pass-blocker in this class thanks to his processing speed, smooth feet, and lateral agility. The only true knocks on his game involve measurables, as his size and arm length are below average for the position. Still, Slater can play - and dominate - at left tackle all day.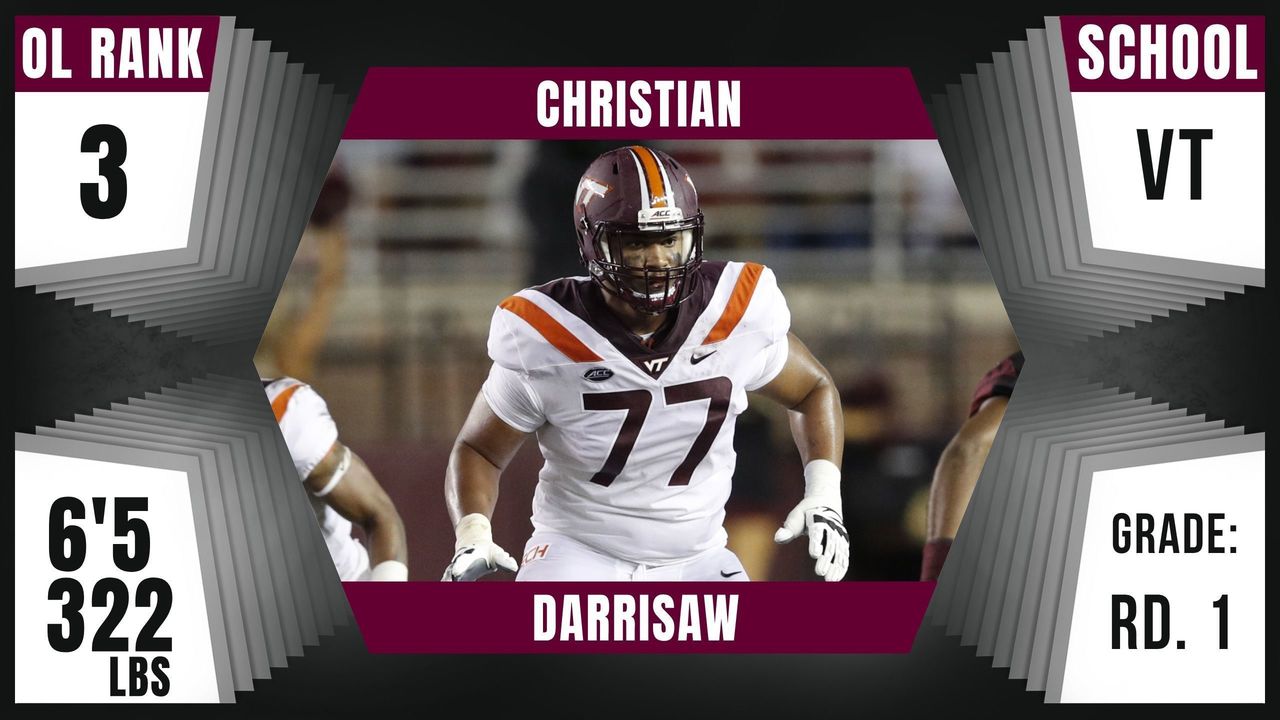 Ideal position: Left tackle, right tackle
A breakout 2020 season landed Darrisaw in the first-round conversation - he didn't allow a single sack and displayed a newfound level of patience. While the former Hokie improved in pass protection, he shines in the run game. Darrisaw moves defenders off their spot with ease and he never loses leverage due to excellent hand placement. His floor is quite high and he'll likely start as a rookie, but Darrisaw's average athleticism and movement skills may have some teams question whether he can consistently win versus explosive NFL pass-rushers. This puts him a step below this draft's top tier of blockers, but he's still a well-rounded tackle.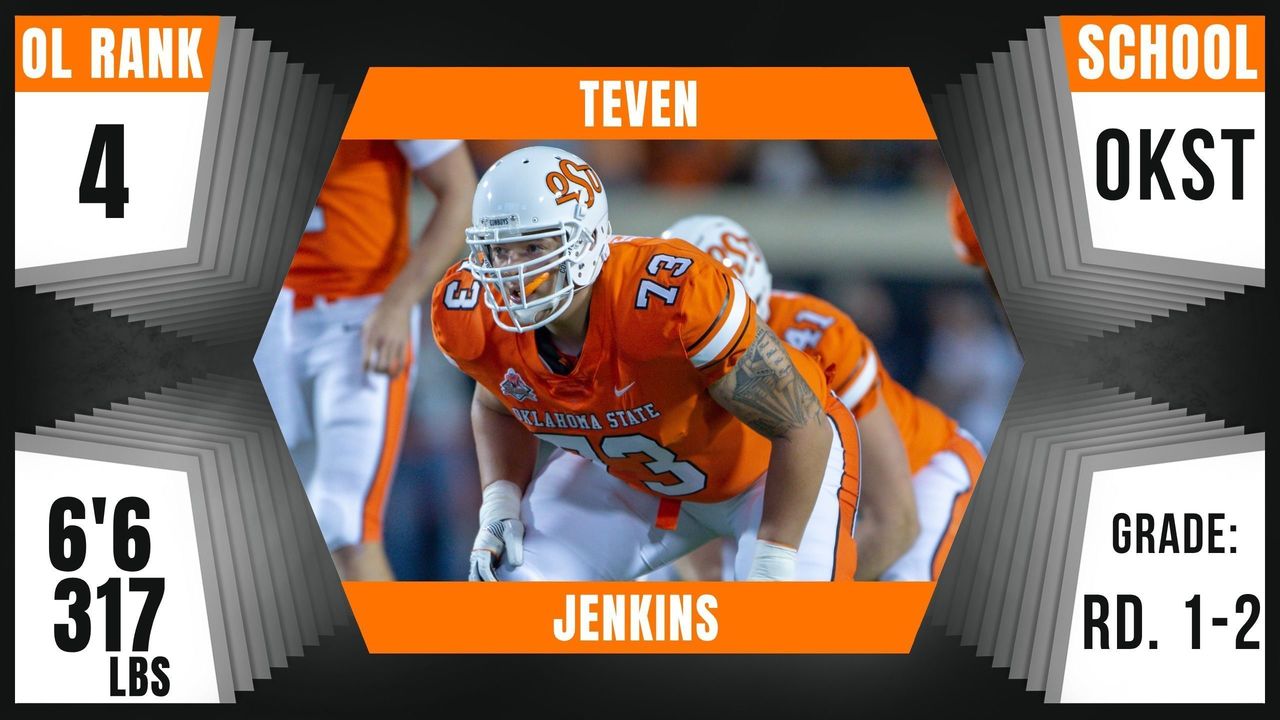 Ideal position: Right tackle
Any defensive lineman going toe-to-toe with Jenkins for an entire game likely felt it for the next week. The first-team All-Big 12 lineman is a physically dominant blocker, especially in the run game. There wasn't a single game over the last two years where he appeared overmatched. He's quite clean in pass protection for his size, shutting down quality edge rushers with vice grip-like hands, but his feet aren't always smooth in that phase of the game. Once Jenkins cleans that up, there's little doubt he can succeed in the NFL. He has too many natural tools not to.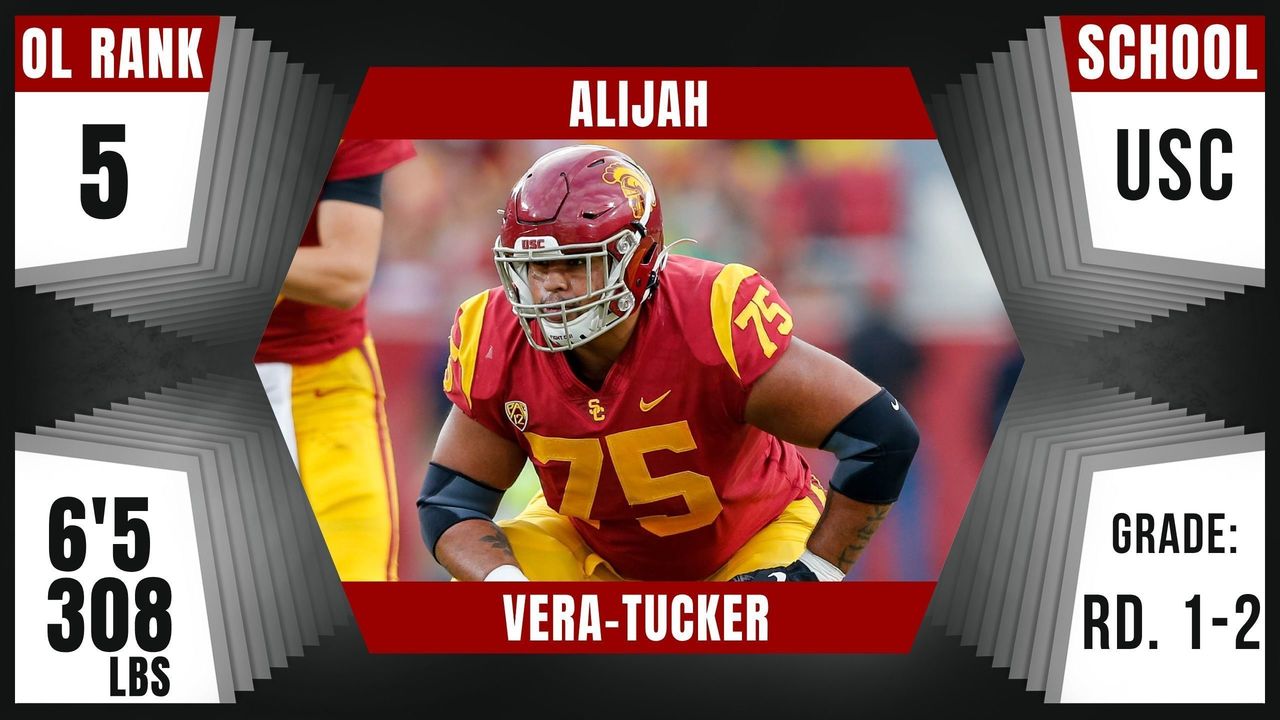 Ideal position: Guard, right tackle
Seeing snaps at both guard spots and left tackle in college, Vera-Tucker's versatility will be highly coveted. He was plenty effective protecting Kedon Slovis' blind side in 2020 and he possesses the football IQ to play anywhere on the offensive line, but his best fit likely comes at guard. Vera-Tucker offers excellent upper- and lower-body strength for the interior and already brings pass-blocking prowess to the table for the pros. With so few holes to poke in his game, Vera-Tucker profiles as an instant upgrade for a number of franchises at multiple positions.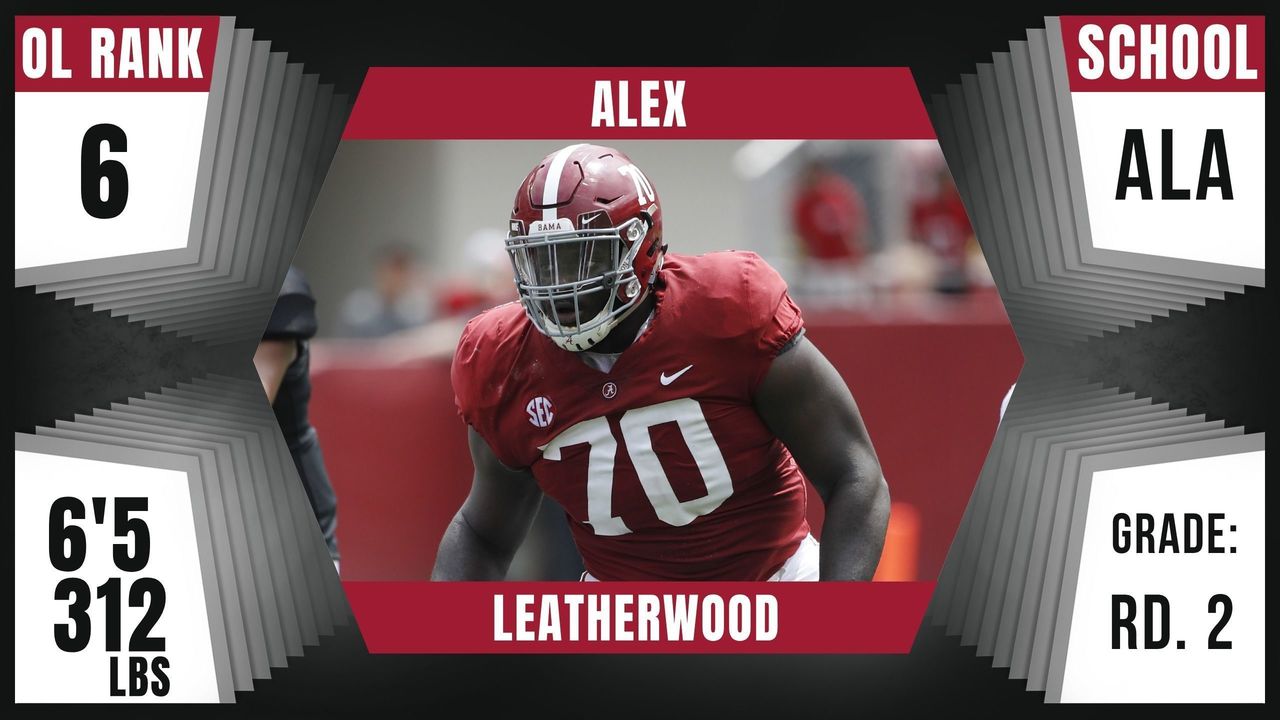 Ideal position: Left tackle, right tackle
A three-year starter at Alabama with long arms and a physical on-field presence, you'd be hard-pressed to find an offensive line coach that wouldn't fall in love with Leatherwood. The All-American tackle effortlessly paved holes in the run game, imposing his will against SEC defenders with raw power at the point of attack. He's a little stiff as a pass-blocker and his overall technique requires a bit of polish, but there are plenty of traits to mold here. Leatherwood isn't a space player - place him in a run-first offense that runs gap assignments and watch him shine.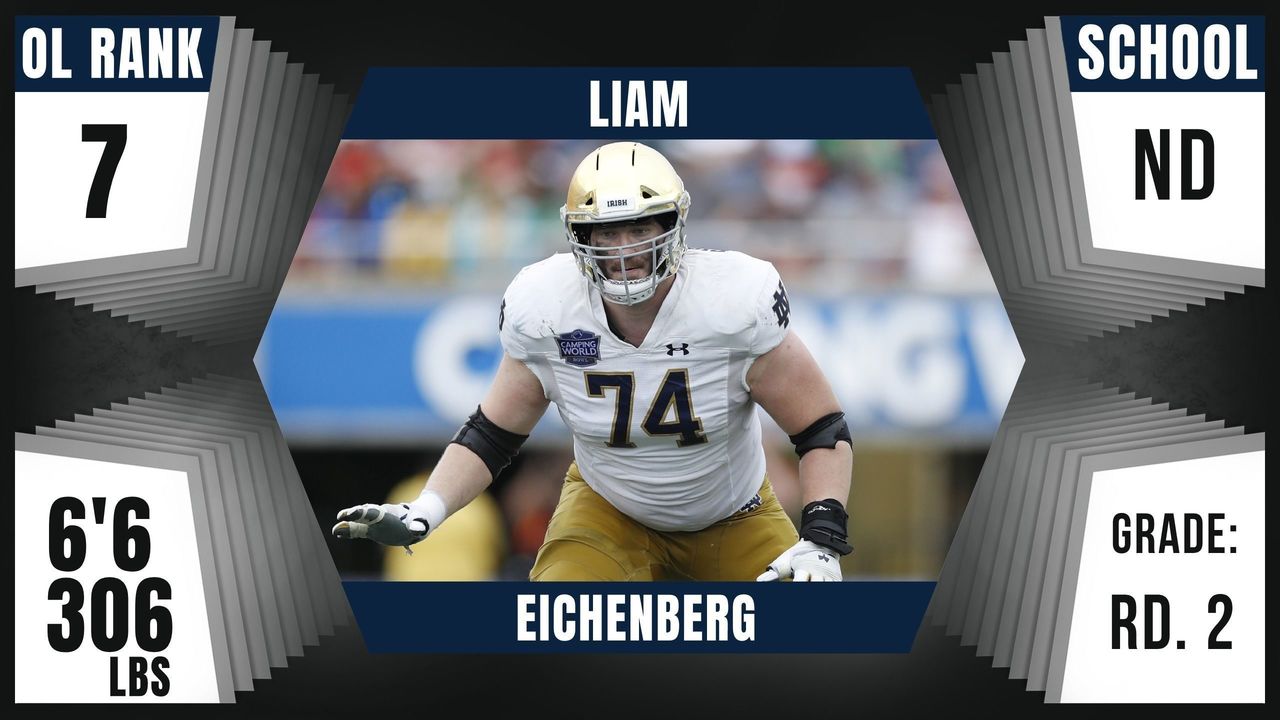 Ideal position: Left tackle
Eichenberg would've been a certain top-10 pick 10 years ago. But the league has changed and most clubs now prefer their offensive tackles possess explosive athleticism and fluid movement skills. Eichenberg isn't a top-tier athlete, and he might not develop into a perennial Pro Bowler in today's game as a result. However, he's one of the cleaner, NFL-ready prospects at his position this year. The Notre Dame product was extremely consistent in 2020, displaying advanced blocking techniques in both the pass and run game for a player his age. If NFL teams can mask some of his athletic limitations, Eichenberg projects as a quality long-term starter.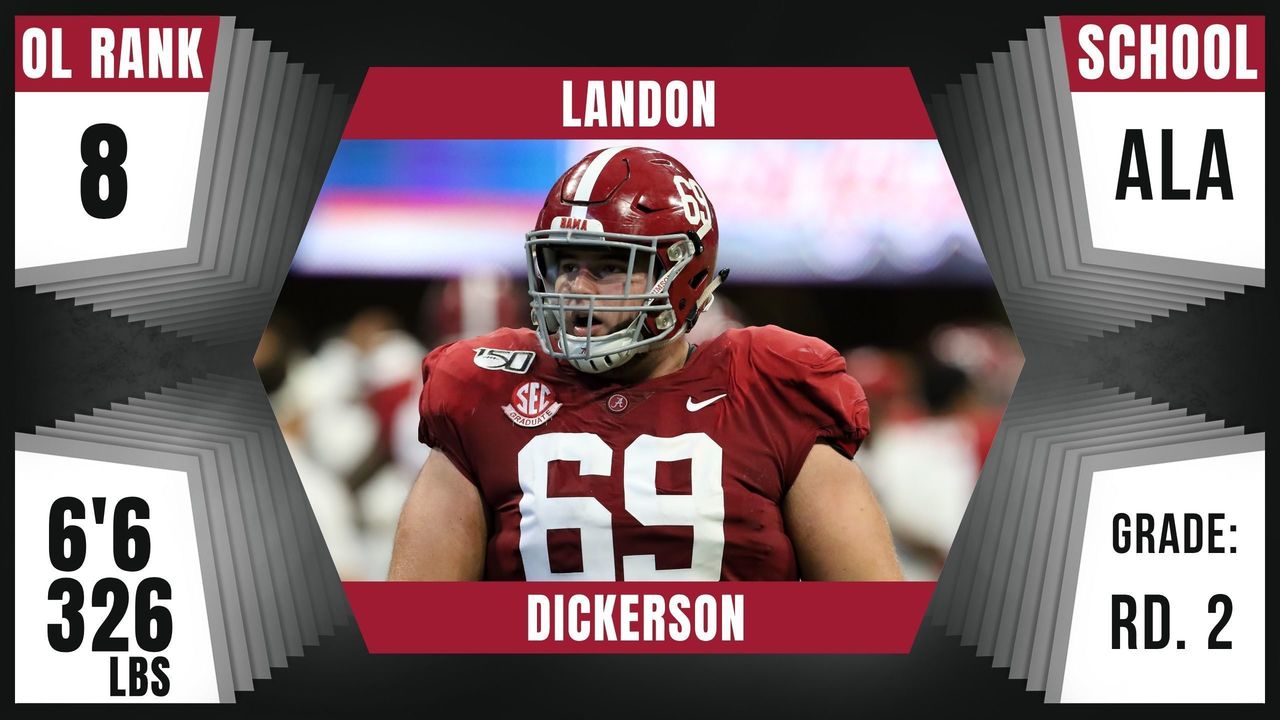 Ideal position: Center
You won't find many offensive line prospects with more collegiate pedigree than Dickerson. The former Crimson Tide star played snaps at all five positions and was a top-tier pass-blocker at center over the last two years. Dickerson is a bit tall for the spot, but he possesses bear-like strength and can take on a bull rush from even the most powerful defensive tackles. While he's not the most athletic blocker, his biggest hurdle involves his health - Dickerson tore his ACL in December's SEC Championship Game. If his level of play can return to pre-injury form, some team could be selecting its starting center for the next decade.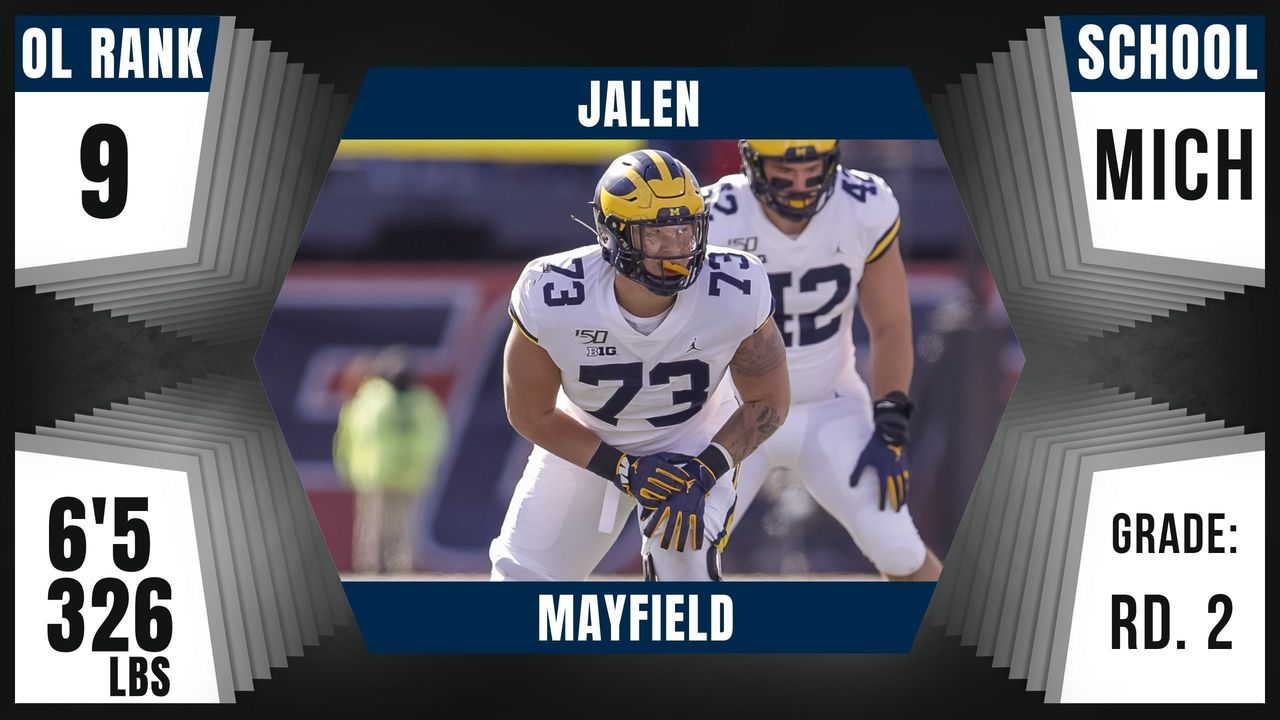 Ideal position: Right tackle, guard
With just 15 career starts under his belt, and two of those coming in 2020, Mayfield is a bit of a project. The tools are there, though, as most 20-year-old linemen don't possess his level of natural power. Plus, he moves quite well for his size at the second level. Mayfield's primary focus moving forward will be to clean up his technique, aligning his hands and feet in both pass protection and run blocking. With a solid offensive line coach in the pros, that's certainly doable. Mayfield can stick at tackle, but his average athleticism and raw strength lead us to believe he can thrive inside.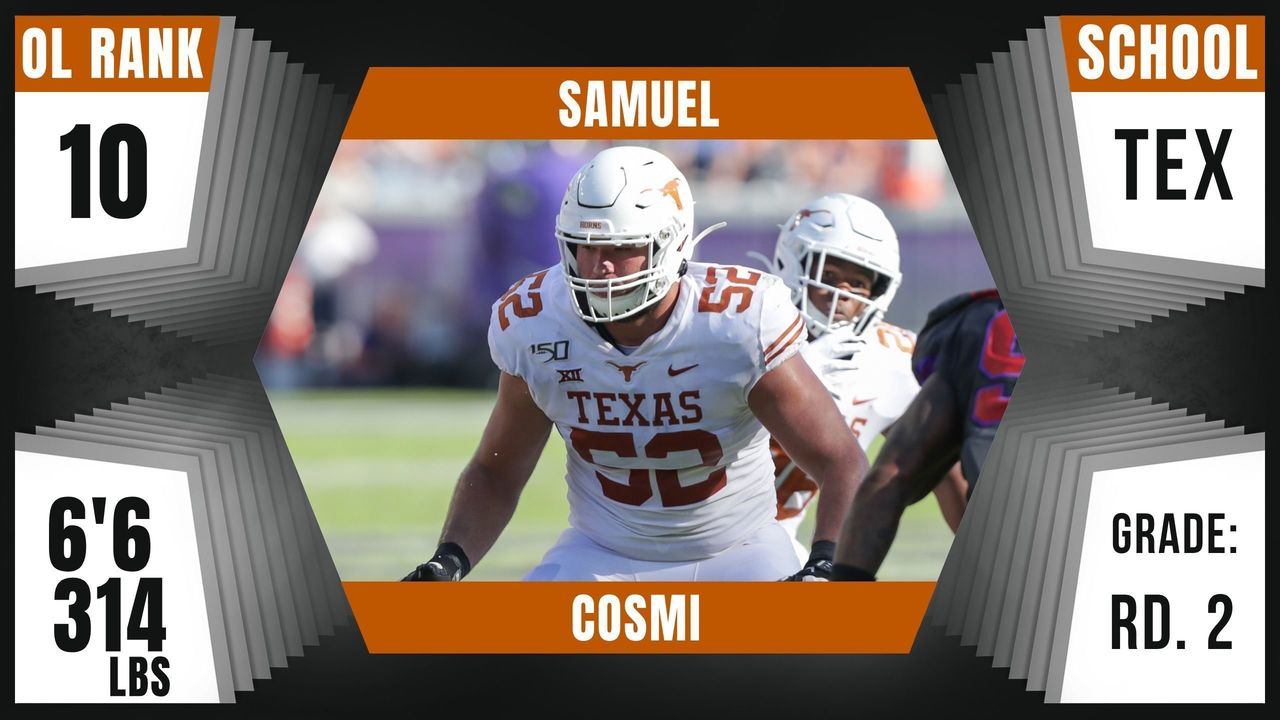 Ideal position: Left tackle
Cosmi is an out-of-this-world athlete for his position - he tested as a 94th percentile SPARQ athlete or higher in every drill aside from the vertical jump (69th percentile). But athleticism will only get you so far. The former Longhorn is a step or two below the 2021 class' elite because he lacks a complete game. Cosmi's pass-blocking technique is somewhat sloppy even after he started for three full seasons, leaving him susceptible to defenders using a bull rush or speed-to-power. Still, tackles like Cosmi don't enter the NFL every year. If he lands on the right team, there's high-end starter potential here.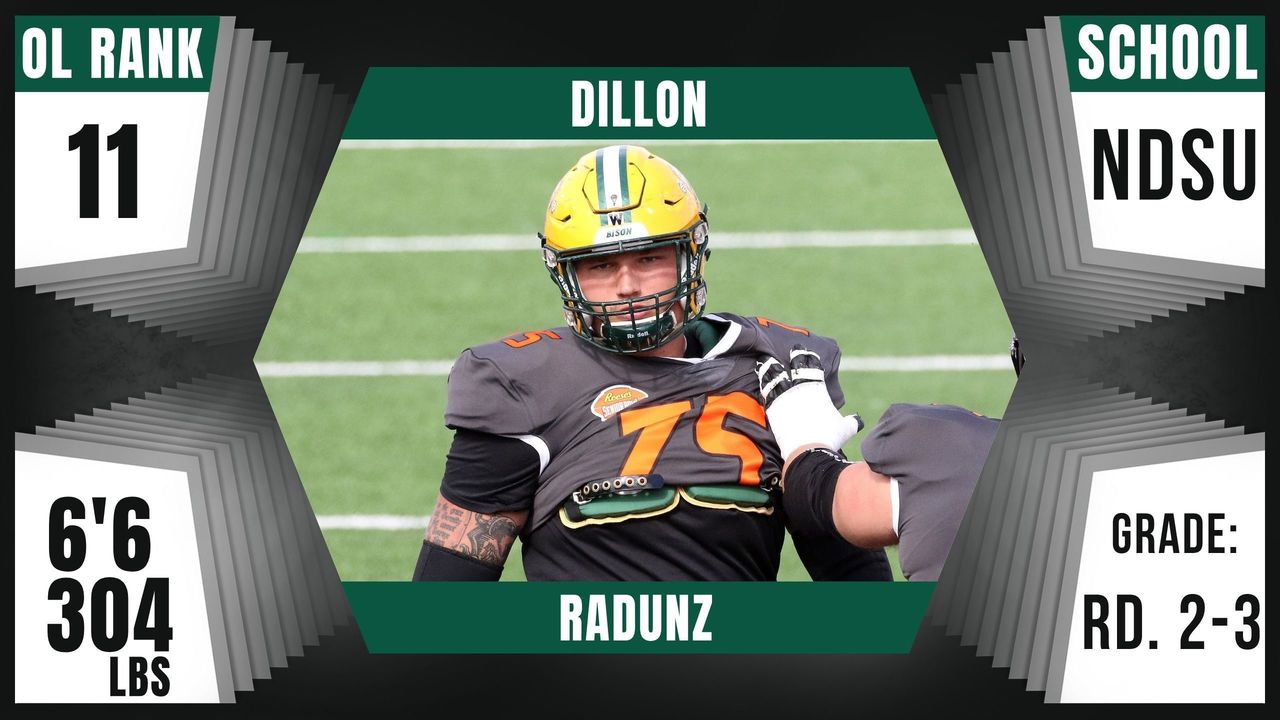 Ideal position: Left tackle, right tackle
Like many offensive tackles that enter the NFL from the FCS level, questions surrounding Radunz's level of competition and play strength are legitimate - he'll have to get stronger to combat high-quality rushers. Despite a thin frame and below-average power, the North Dakota State product got the job done in pass protection thanks to excellent processing speed and effortless movement skills. In the run game, what he lacks on the scale he makes up for in hand placement. Radunz comes with his fair share of red flags, but his natural athleticism leads us to believe there's plenty of untapped potential waiting to be realized in the correct system.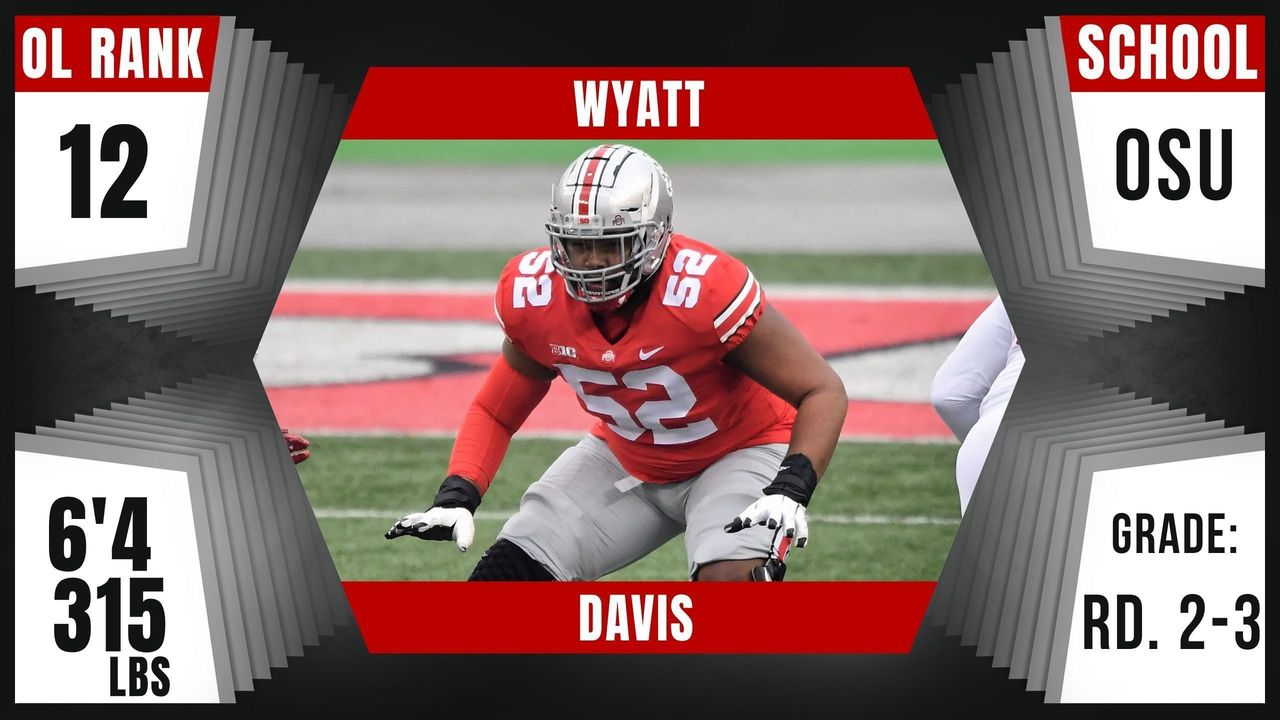 Ideal position: Guard
Davis is your classic high-floor, low-ceiling prospect. Following a successful collegiate career, the former Buckeye heads to the pros with an ideal blend of physicality, balance, and hand usage. Davis' biggest weakness comes in the mental aspect of the game, which is somewhat concerning considering he started two-plus years in the Big Ten. He was late identifying blitzes and often had difficulty making impact plays at the second level. Processing aside, Davis is a solid guard prospect who profiles as an early-career starter in the NFL. We just wish he dominated more in 2020 with his physical tools.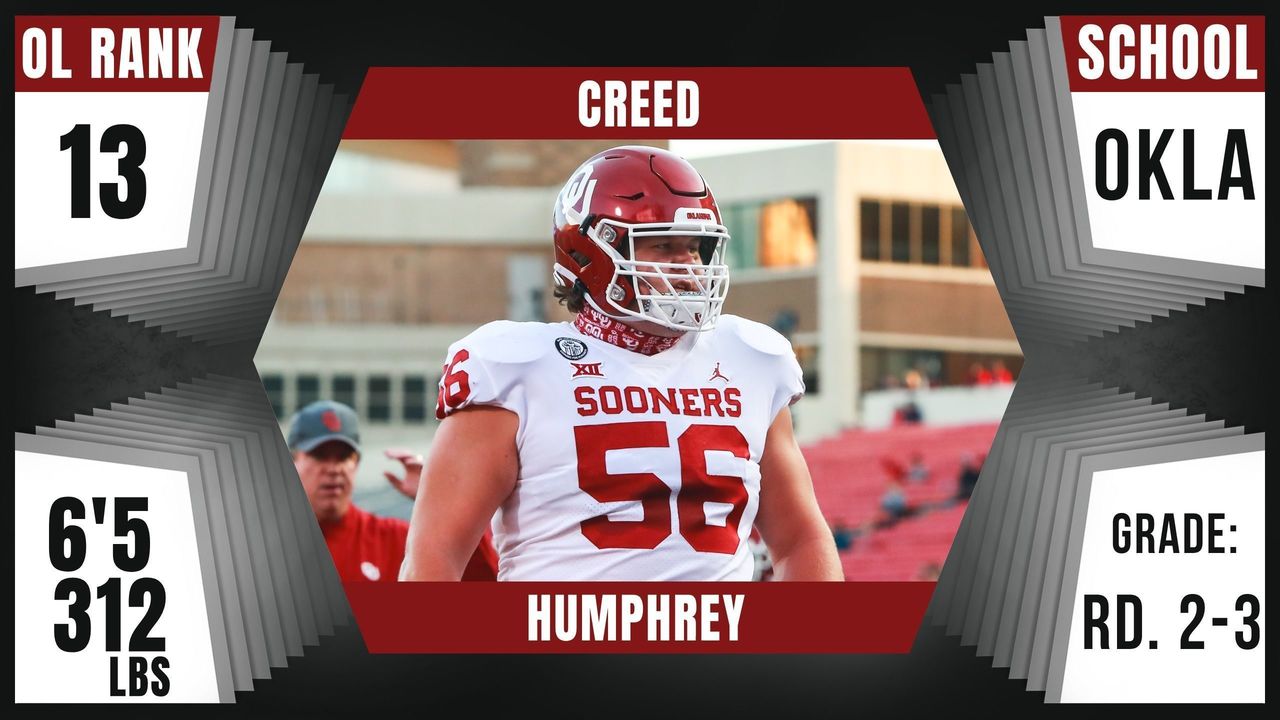 Ideal position: Center
A three-year starter in a versatile offensive scheme, Humphrey has the mental aspect of a key position down pat. His hands are some of the best in this class, and he's an excellent run-blocker as a result. Pass protection is more of a question mark, which is why we're lower on him than some evaluators. Humphrey's anchor and balance were compromised against elite rushers. While the two-time conference Offensive Lineman of the Year may never be an elite pass-protector, he's a prospect that many teams will value as a long-term, high-floor starter due to his football IQ and explosiveness in the run game.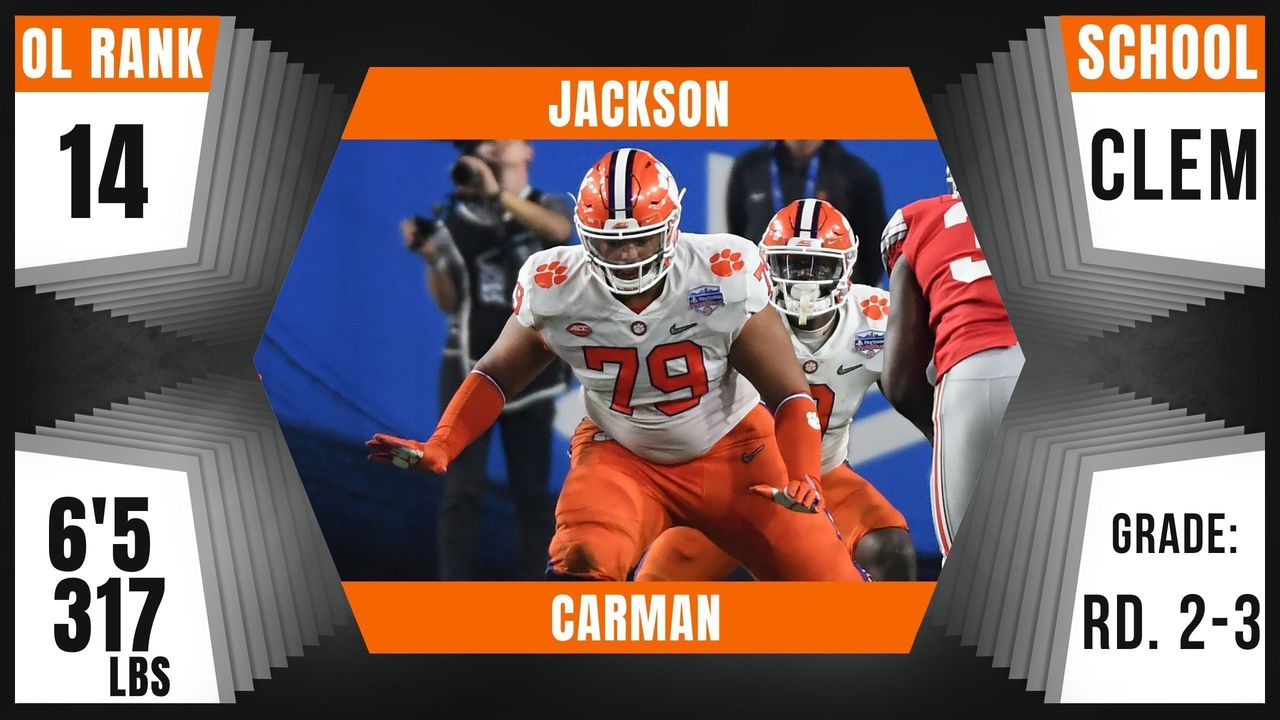 Ideal position: Guard, right tackle
Carman was a solid starting left tackle for Clemson over the last two seasons. His excellent size and flexibility make him an intriguing prospect. Carman has plenty of length to survive at tackle in the NFL, but we think his best fit is at guard. The former national champion offers plenty of power in his game and he struggles on tape against explosive speed rushers - they can either get around him or catch him off balance with inside counters. Carman's weaknesses can be masked in the interior and, more importantly, his strengths can be amplified.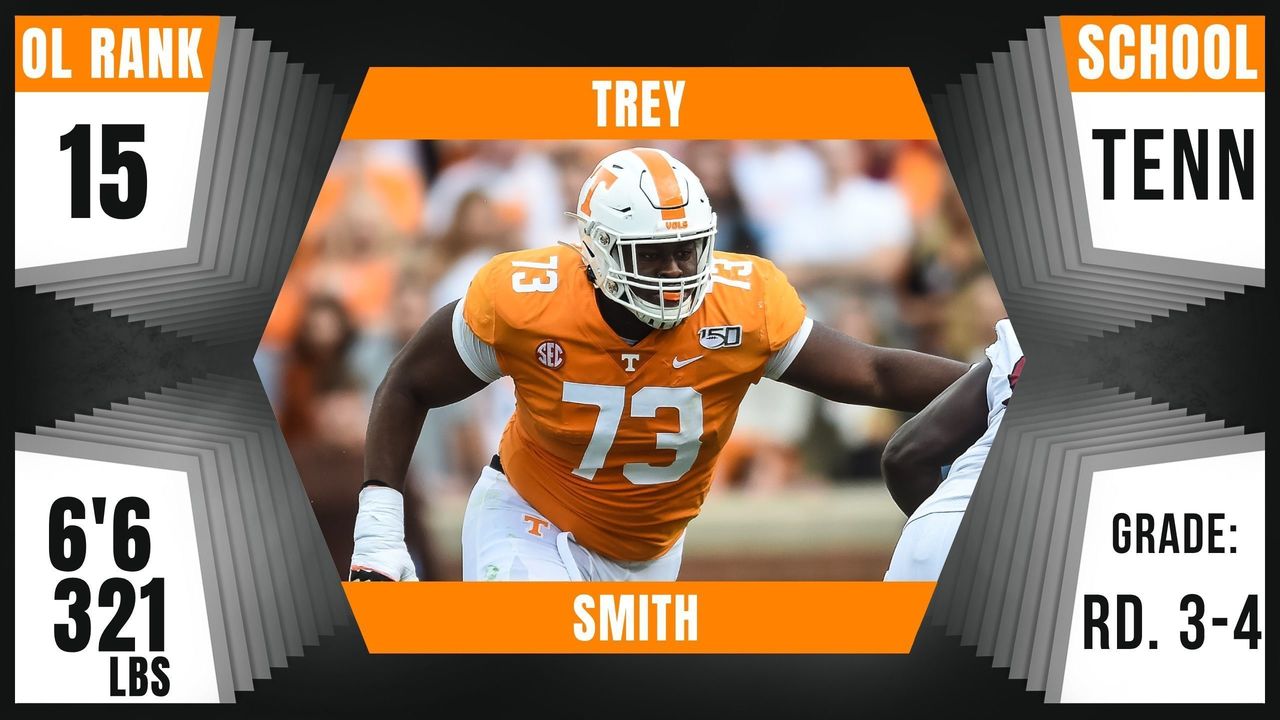 Ideal position: Guard
Smith is a former five-star recruit and multi-year starter at two positions, so he has the traits to succeed. The towering lineman's largest roadblock comes with his medical history. His history of blood clots in his lungs will take him off a handful of draft boards. While his heavy feet and processing skills are other areas of concern, Smith hasn't had as much time to develop as his peers with health issues resulting in limited offseason training. Overall, the Tennessee product's explosive hand strength is among a handful of transferrable skills that will show up in the pass and run game.
Other notable prospects
Walker Little (Stanford)
Spencer Brown (Northern Iowa)
Brady Christensen (BYU)
Josh Myers (Ohio State)
James Hudson (Cincinnati)
Ben Cleveland (Georgia)
Comments
✕
2021 NFL Draft prospect rankings: Offensive line
  Got something to say? Leave a comment below!