2021 NFL Draft prospect rankings: Interior defensive line
theScore's Mike Alessandrini breaks down the top interior defensive line prospects in the upcoming 2021 NFL Draft as part of a position-by-position series rolling out throughout April.
Top 50
QB | RB | WR | TE | OL
EDGE | DL | LB | CB | S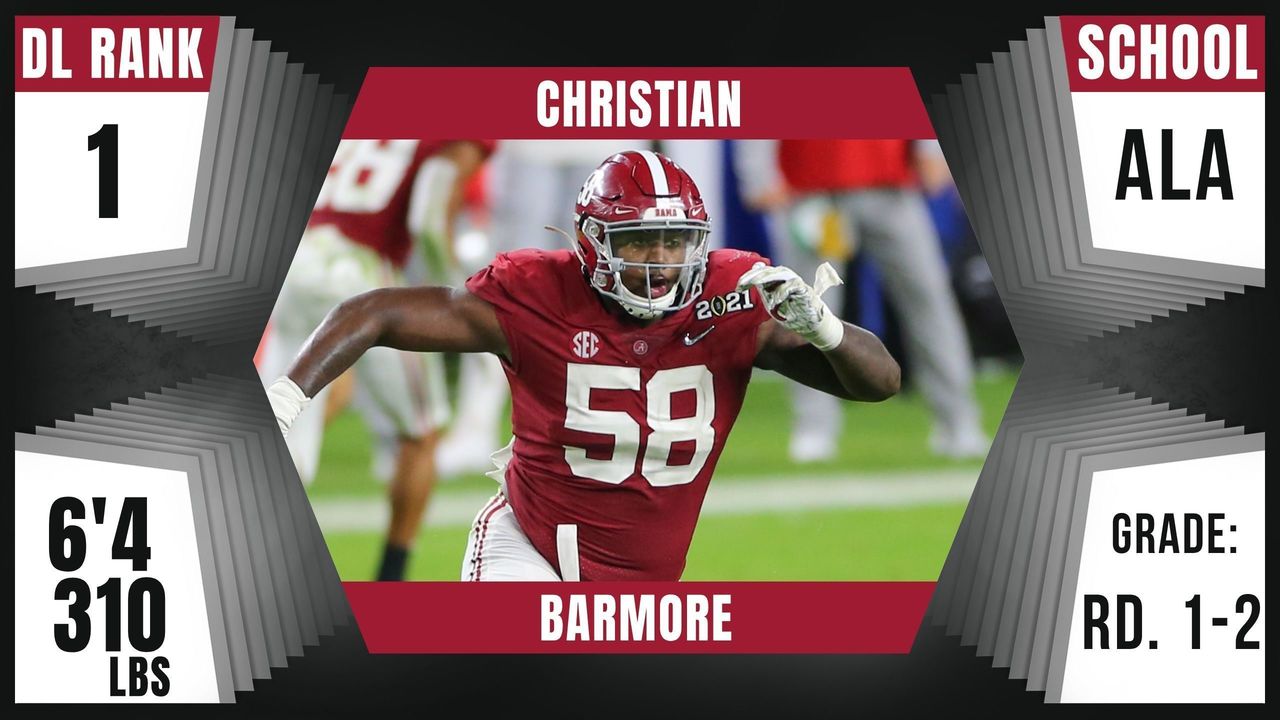 Key stats: 37 tackles, 8 sacks, 9.5 tackles for loss, 3 forced fumbles
After just one year as a starter in the SEC, Barmore's arrow is pointing up. He blossomed as the 2020 season progressed, playing elite football in Alabama's biggest games against Florida, Notre Dame, and Ohio State. Barmore offers the size and length for any defensive front, while his effortless agility and block-shedding abilities allow him to impact the pass and run game. You won't find a more complete player at the position this year. The 21-year-old is a natural disruptor, standing out in a relatively weak defensive tackle class. If Barmore can refine his pass-rush technique in the NFL, there won't be many offensive linemen who can slow him down.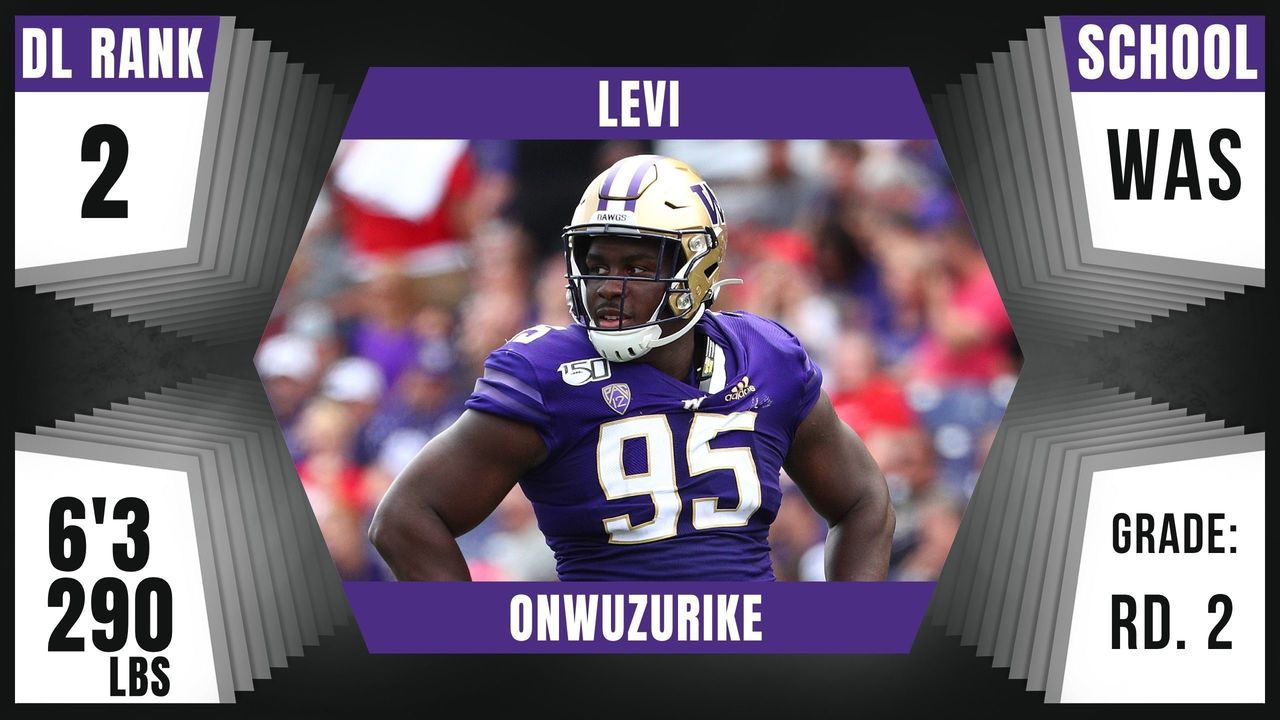 Key stats (2019): 45 tackles, 2 sacks, 6 tackles for loss
It's curious that Onwuzurike's college production never matched his talent. The former Husky opted out of the 2020 season, so we never got to see a true breakout. Still, Onwuzurike possesses unique traits for a defensive line prospect, most notably his burst off the snap, closing speed, and anchor despite mostly playing out of position at Washington. A handful of teams will want him to add weight and won't love his inconsistent processing speed, but it's clear where he fits at the next level. The NFL is a passing league, and Onwuzurike has every chance to be a consistent disruptor.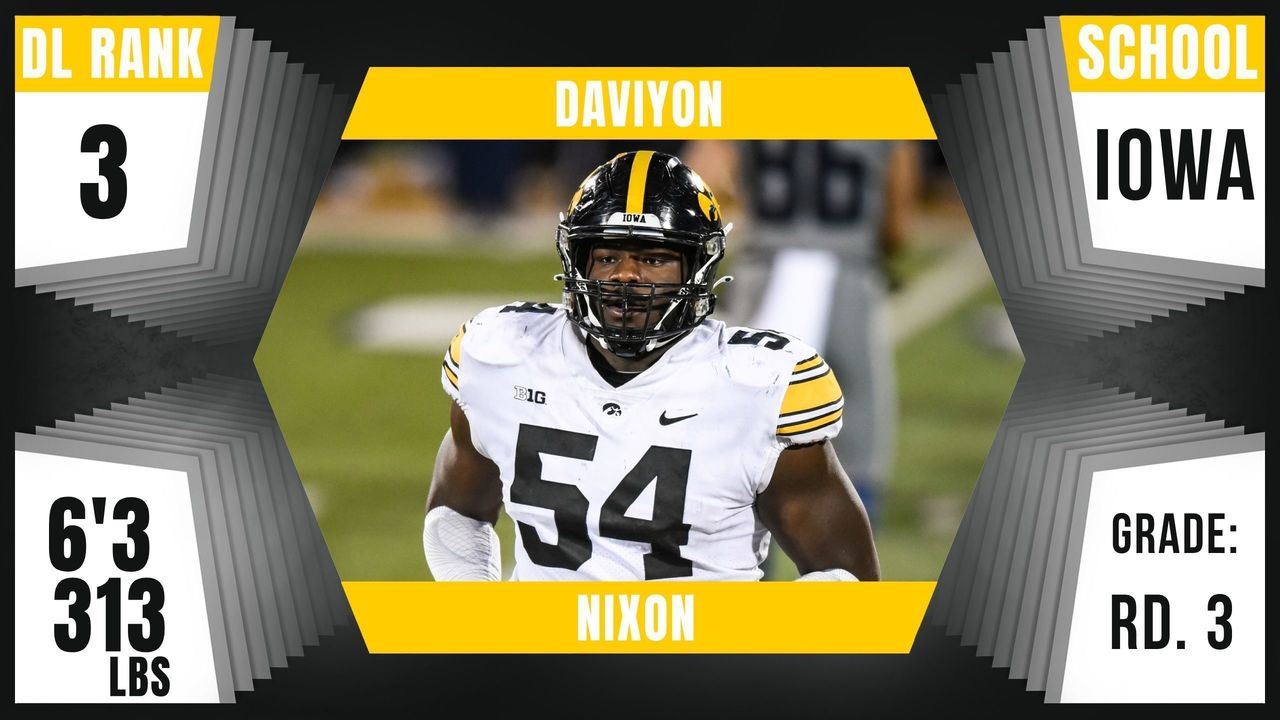 Key stats: 45 tackles, 5.5 sacks, 13.5 tackles for loss, 1 interception, 1 forced fumble
In a class of interior defenders ripe with question marks, Nixon provides stability that most of his peers lack. The Iowa product has excellent burst and movement skills for his size, and it showed up in the backfield a number of times on tape. His hand usage features plenty of power, though the number of snaps he was driven laterally in run defense is cause for some concern. Still, Nixon offers plenty of size, length, and pass-rush potential to get excited about as a long-term, above-average starter in most schemes. He just may never eclipse that.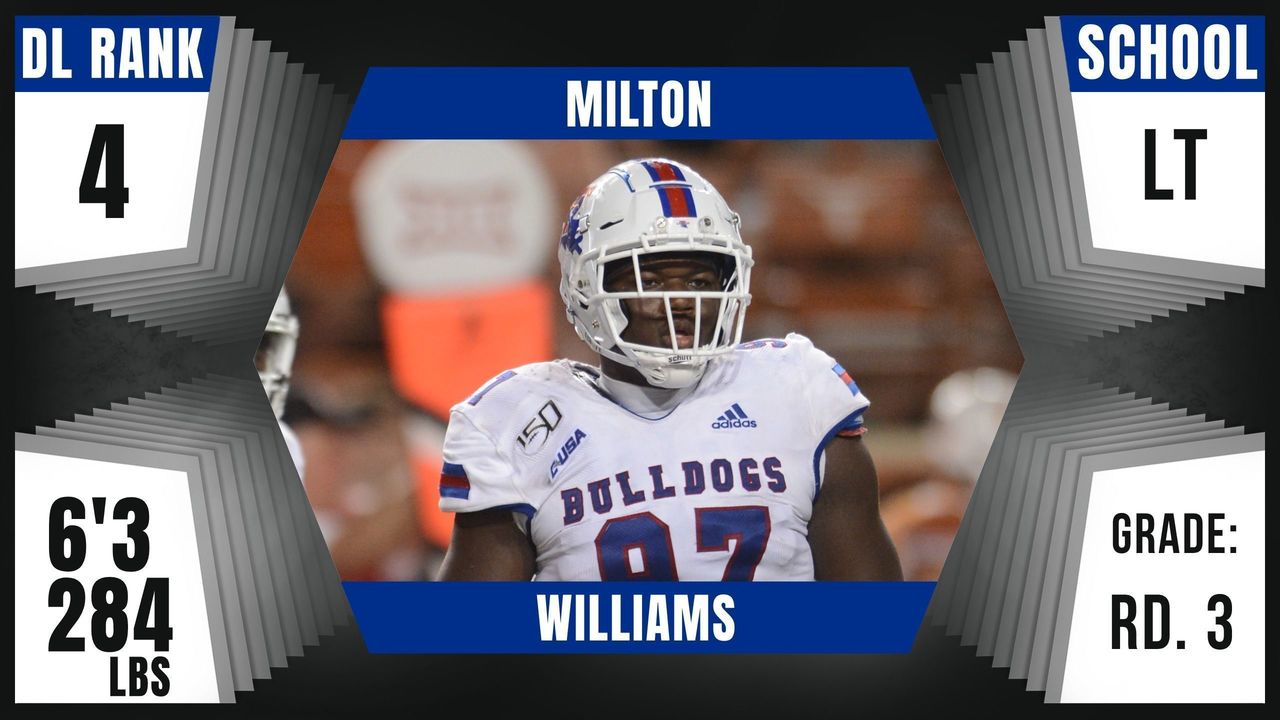 Key stats: 45 tackles, 4.5 sacks, 10 tackles for loss, 1 fumble recovery
If you're looking for upside, Williams is one to watch. The twitchy defender played on the edge to begin his career before moving inside last season. Williams was scary good at times in 2020, adding weight while maintaining his explosiveness. The issue was he didn't really utilize many pass-rush moves, often winning with pure strength and burst against inferior competition. Williams profiles as a versatile chess piece employed as an interior third-down rusher early on before receiving snaps on the edge after a bit of seasoning. Once coaches get their hands on him, look out.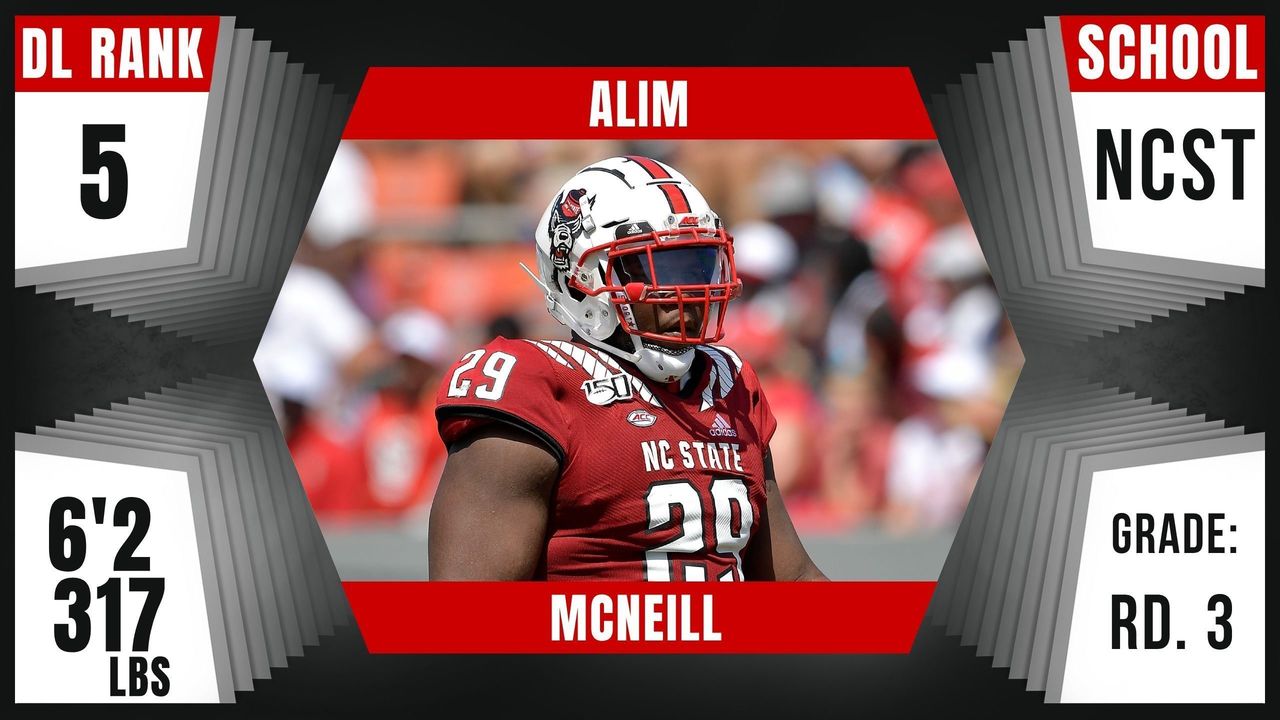 Key stats: 25 tackles, 1 sacks, 4.5 tackles for loss, 1 interception, 1 forced fumble
"Pocket pusher" is the name of McNeill's game. Whether it's against the pass or run, though more often it was the latter, the second-team All-American moved the line of scrimmage with relative ease thanks to excellent lower-body strength. Unfortunately, he wasn't able to consistently wrap up ball carriers after the fact either due to technique or his motor running colder late in the snap. Overall, McNeill projects as a key run defender in any scheme, eating up blocks and putting his teammates in better positions to succeed. He can thrive in that role, just don't ask him to produce double-digit sacks.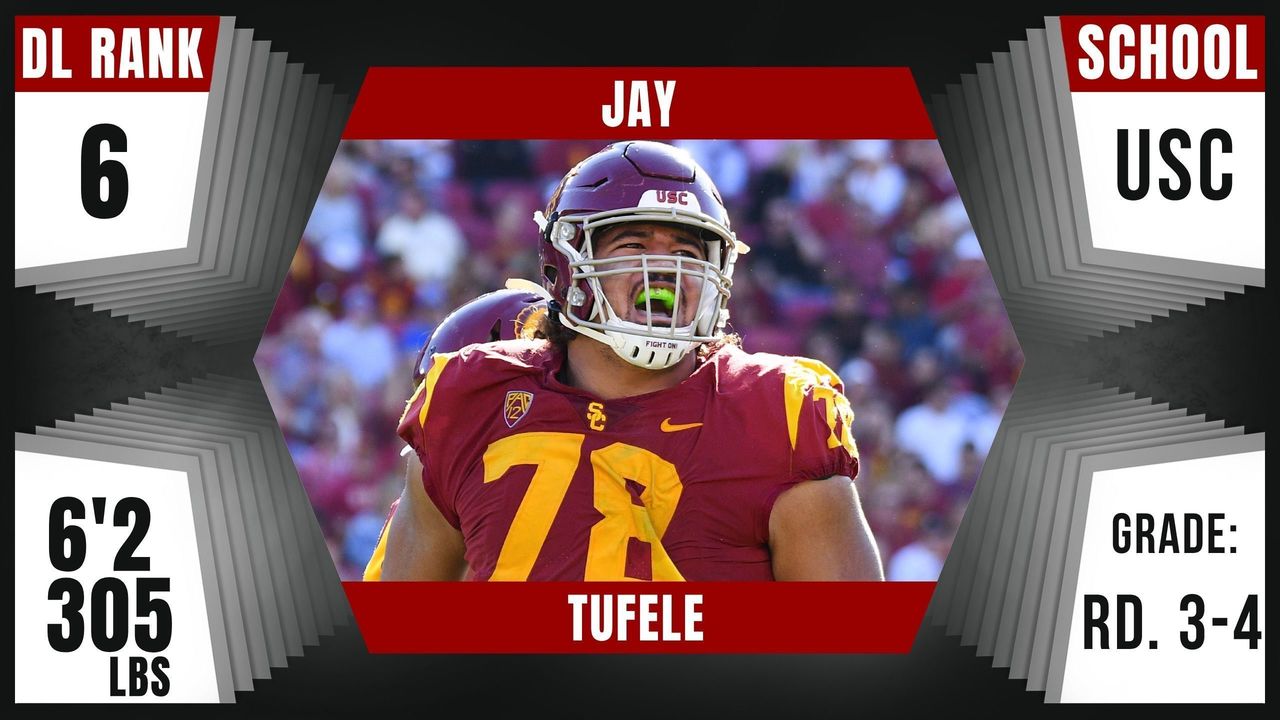 Key stats (2019): 41 tackles, 3.5 sacks, 5.5 tackles for loss
Opting out of the 2020 campaign made Tufele a bit of an afterthought in this class despite him being heralded as a potential top-tier prospect early in his collegiate career. The USC product never quite put together an elite overall game, though his advanced pass-rush technique, agility, and natural strength are tools to work with. His run defense still leaves something to be desired, however. Tufele's average size and length won't allow him to fit into any system, but there are enough transferrable skills here to warrant a mid-round selection.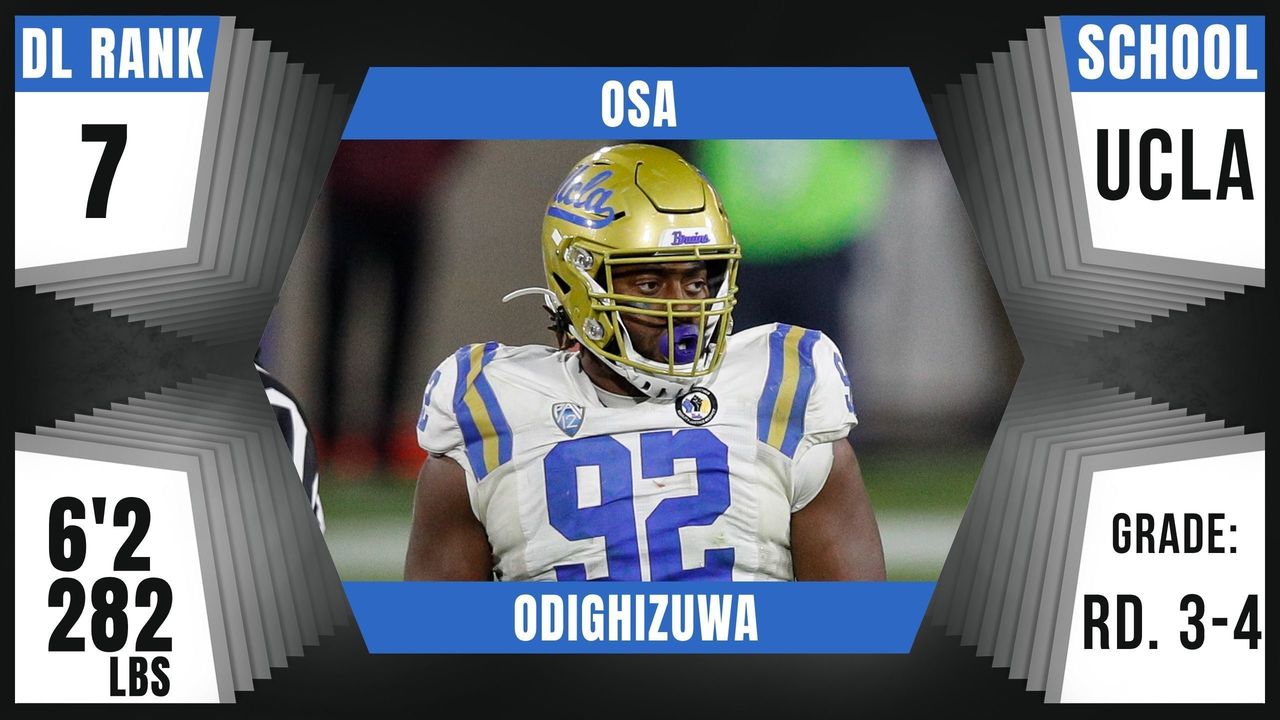 Key stats: 30 tackles, 4 sacks, 6 tackles for loss
Odighizuwa, the younger brother of former New York Giants third-round pick Owa, is an intriguing prospect who played all over UCLA's defensive line. The former Bruin is a strong run defender despite weighing on the lighter side for his position, thanks in large part to his pterodactyl wingspan. Odighizuwa has all the tools to succeed, so it's curious that he was never a consistent force as a pass-rusher. Some NFL teams will see a tweener, but we see a versatile defender who can excel against the run as a defensive end in any front and grow as a one-gap interior penetrator on passing downs.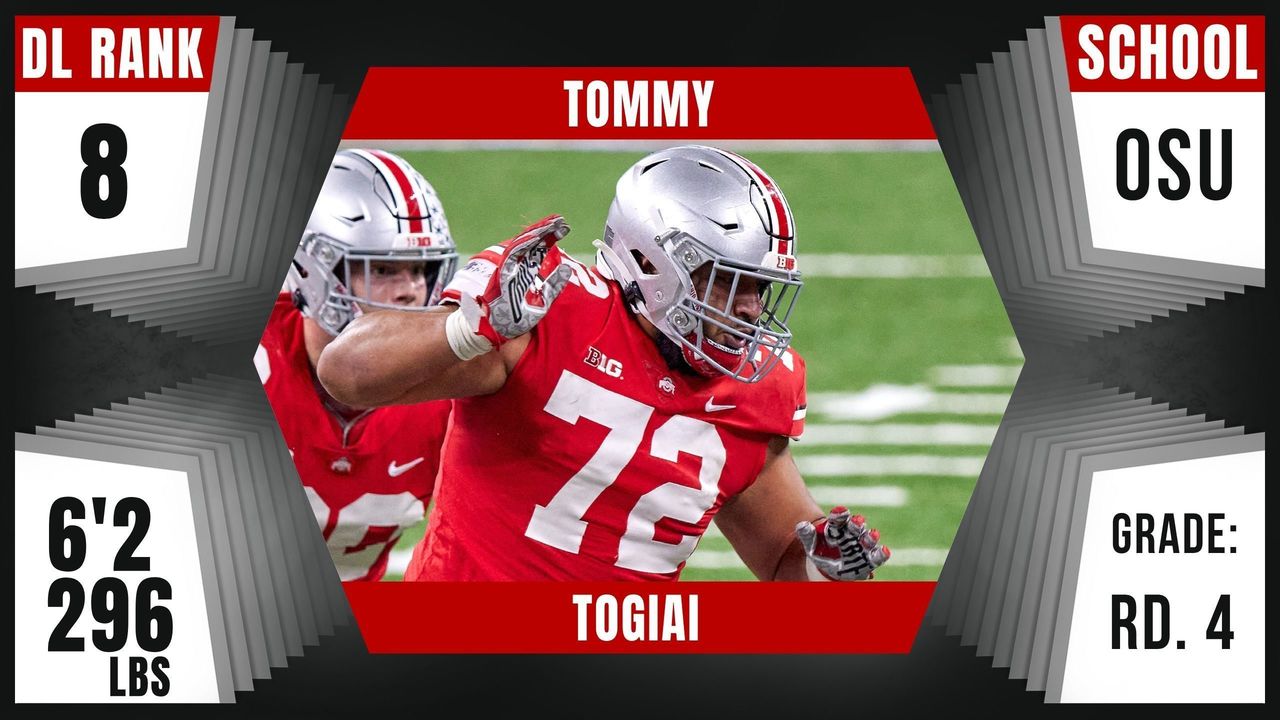 Key stats: 23 tackles, 3 sacks, 4.5 tackles for loss, 1 forced fumble
Togiai's size, weight, and length will have him pigeonholed into a specific role at the next level. But don't write him off due to his lack of versatility. Togiai offers quickness and flexibility to stop the run, while his stout build makes for a top-tier bull rush as a pass-rusher. With his raw power and field awareness, the former Buckeye profiles as a dependable early-career lineman who can instantly be part of a solid rotation. He just has a few holes in his game that must be addressed before he can evolve into a key defender for his club.
Other notable prospects
Tyler Shelvin (LSU)
Marvin Wilson (Florida State)
Marlon Tuipulotu (USC)
Darius Stills (West Virginia)
Comments
✕
2021 NFL Draft prospect rankings: Interior defensive line
  Got something to say? Leave a comment below!