2021 NFL Draft prospect rankings: Tight ends
Photo illustration by Nick Roy / theScore
theScore's Mike Alessandrini breaks down the top tight end prospects in the upcoming 2021 NFL Draft as part of a position-by-position series rolling out throughout April. Also included for offensive skill players is fantasy analysis from theScore's Justin Boone.
Top 50
QB | RB | WR | TE | OL
EDGE | DL | LB | CB | S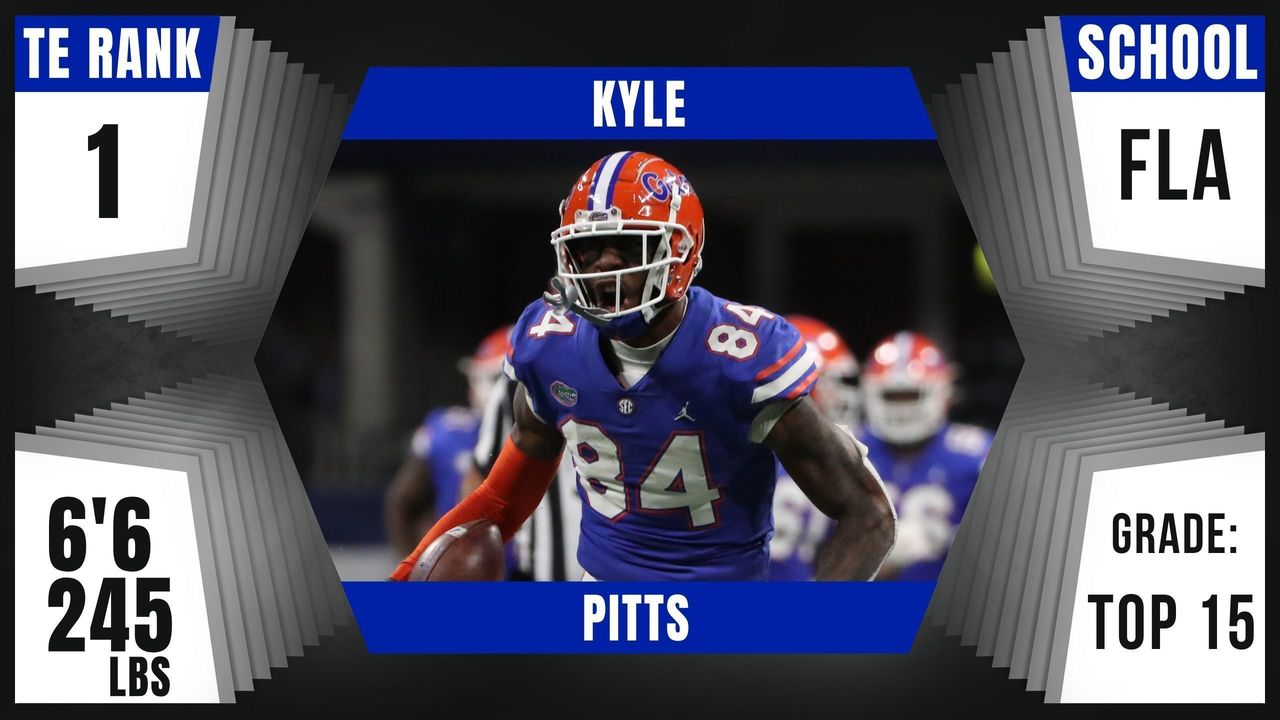 Key stats: 43 receptions, 770 yards, 12 touchdowns, 17.9 YPC
A true unicorn of the 2021 draft class, Pitts is as exciting a tight end prospect as you'll ever see. The Florida product dominated stingy SEC competition on a weekly basis last season thanks to explosive route-running, rare body control, and high football IQ, even winning one-on-one matchups against starting cornerbacks. There's no reason to think his success won't continue in the pros; he's an excellent athlete and already has many nuances of the position down pat. We're not worried about his blocking skills or that tight ends often take time to develop in the NFL, because Pitts is different. He'll be a top-tier player in no time.
Boone's fantasy spin: The value of an elite tight end has become a cheat code in fantasy with guys like Travis Kelce, George Kittle, and Darren Waller providing a massive weekly advantage. Pitts, who's one of the best prospects in this draft at any position, has a legitimate chance to join that group. Most tight ends require a few years to acclimate to the pros, but Pitts should be considered a threat to challenge for TE1 fantasy production even as a rookie. He's that good.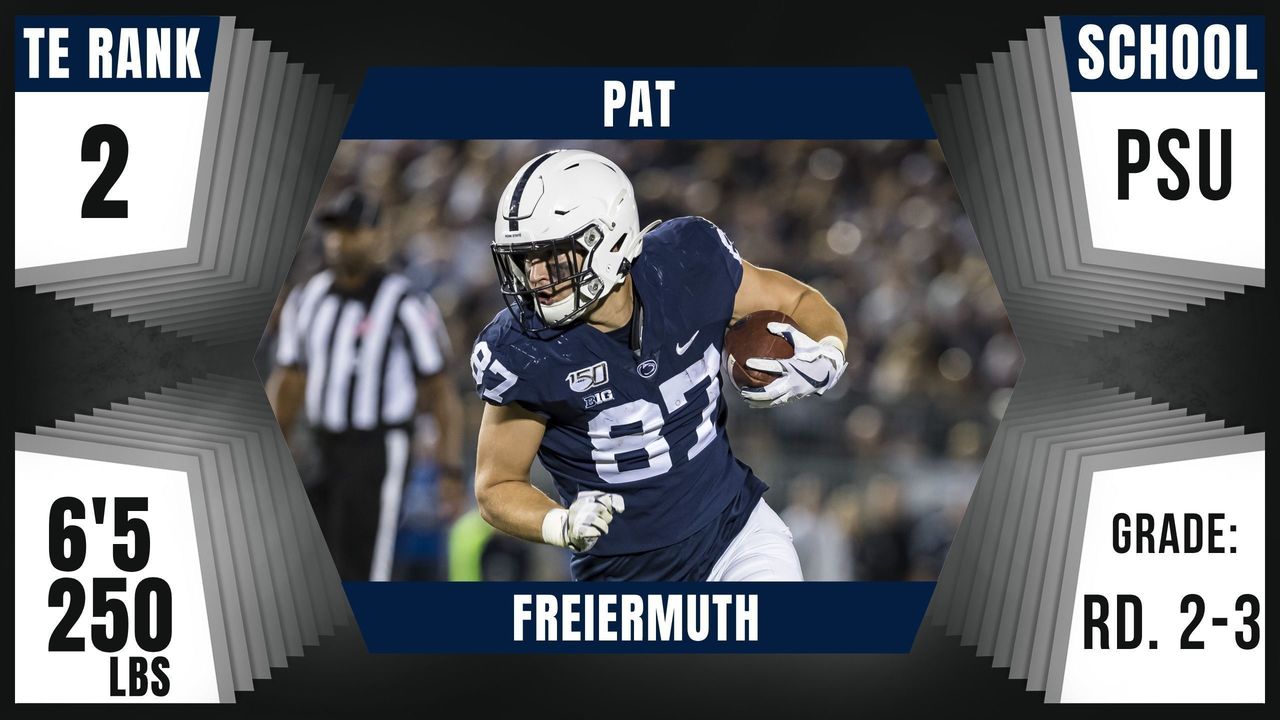 Key stats (4 games): 23 receptions, 310 yards, 1 touchdown, 13.5 YPC
Freiermuth is an intriguing prospect thanks to his potential to impact every phase of the game. He's already a solid run-blocker and possesses an ideal frame to add even more strength at the point of attack. As a receiver, Freiermuth's body control makes him a weapon in the red zone, and he can separate from linebackers and safeties in a number of different ways. He'll even create yardage after the catch. Freiermuth's draft stock is somewhat hurt by his pedestrian speed and athleticism, with the occasional drop on tape. But he's a solid all-around player and one of the safer bets at a position that's difficult to project.
Boone's fantasy spin: It's important to remember Pitts is the exception to the rule at tight end, so you should expect the rest of the names on this list to take some time before becoming fantasy relevant. Freiermuth is a high-floor prospect with an affinity for the end zone. He broke Mike Gesicki's record for touchdowns by a Penn State tight end and did it in 16 fewer games. Though dynasty managers may need to wait a season or two, Freiermuth is a lock to be in the fantasy conversation down the road.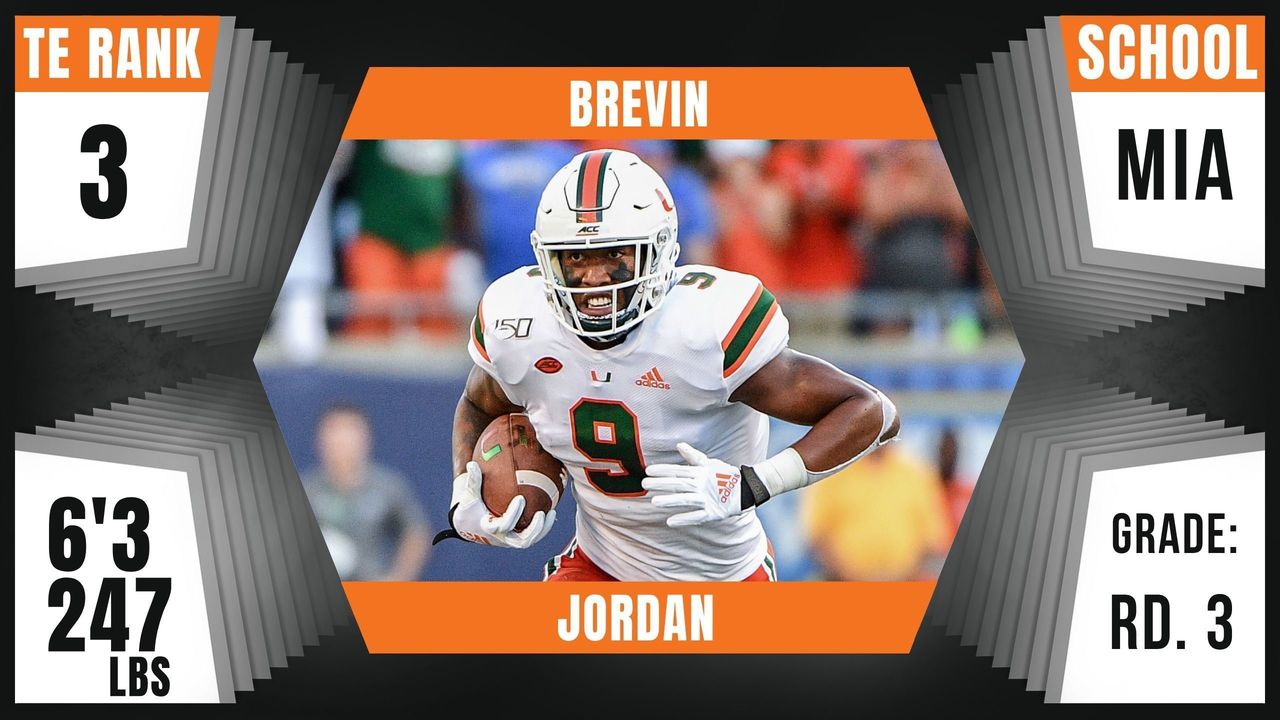 Key stats: 38 receptions, 576 yards, 7 touchdowns, 15.2 YPC
Jordan is probably a movable offensive weapon as opposed to a true tight end at this moment, but that doesn't mean he can't make an impact at the next level. The former Hurricane offers plenty of speed and may be the most productive after the catch among his peers - he often resembles an oversized running back with the ball in his hands. Jordan's largest hurdle in Year 1 will be earning enough snaps to make plays, as many teams value blocking prowess at the position. Still, there's enough upside and positional versatility as a matchup-winner here to warrant a Day 2 selection.
Boone's fantasy spin: Jordan is on the smaller side for a tight end and may need to find a team that's willing to get creative with his skill set for him to emerge as a fantasy asset. The 20-year-old has a long way to go to prove himself as a blocker and someone who can work over the middle of the field.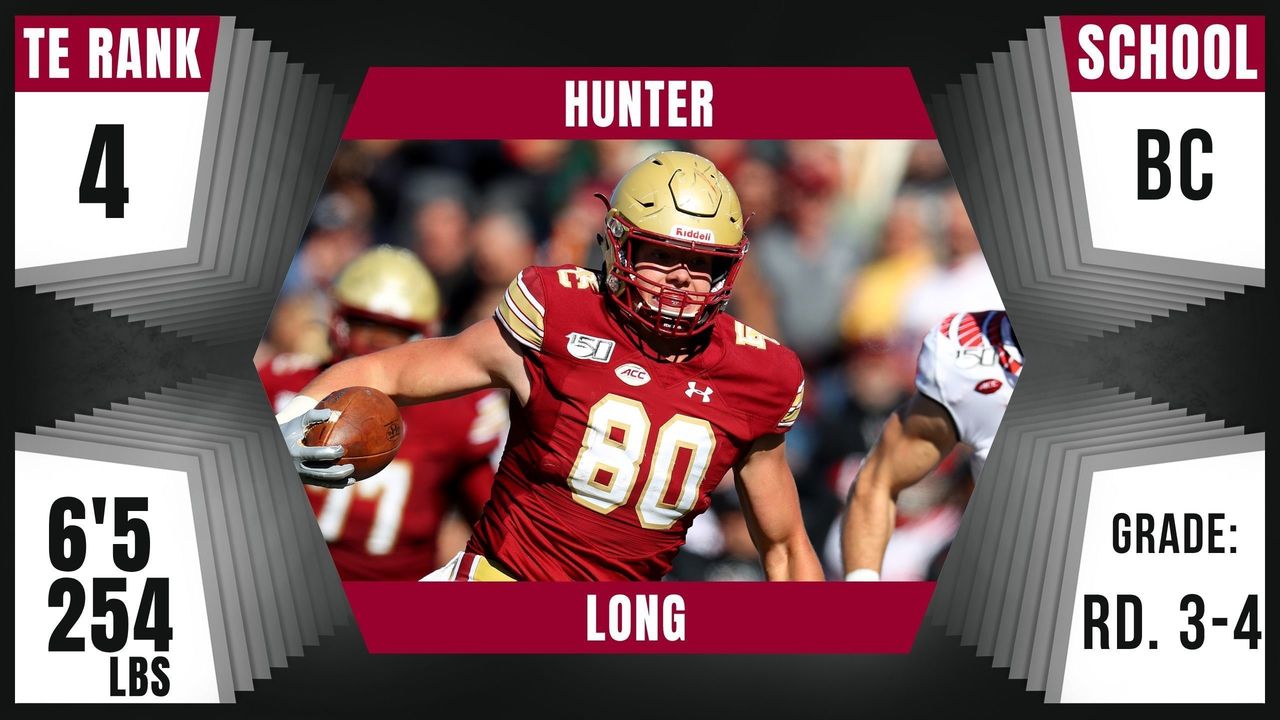 Key stats: 57 receptions, 685 yards, 5 touchdowns, 12 YPC
You know what you're getting with Long. He's not going to run past defenders and make big plays downfield, but the Boston College product is developed in areas of the game that his counterparts aren't. Long is already technically sound as a blocker and able to consistently haul in contested catches. His route-running is fine, though he'll see the field early and often in his NFL career by doing the little things extremely well. There are few true weaknesses in Long's game - he's just not Kelce, either.
Boone's fantasy spin: When fantasy managers are investing in the tight end position, they should be aiming higher than someone with Long's attributes. Though he should turn into a solid contributor at the next level, he'll need to fall into an ideal situation to be a fantasy option.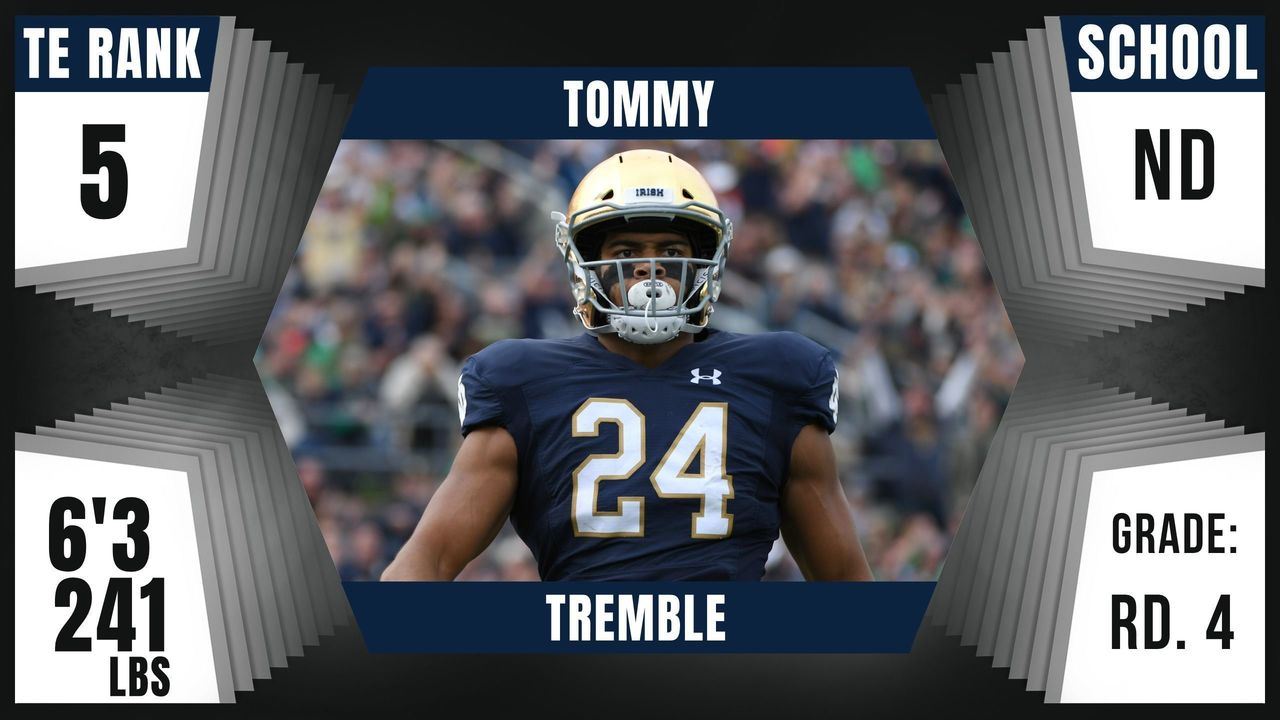 Key stats: 19 receptions, 218 yards, 11.5 YPC
The arrow is pointing up for Tremble. Already an excellent run-blocker, the former Fighting Irish tight end can be relied upon in phases of the game that other rookies often struggle with. Tremble's biggest area of concern comes with experience - he played in just 19 collegiate games and caught 35 passes. Though he's raw at separating downfield, the 20-year-old certainly possesses plenty of speed and natural athleticism to work with. Tremble's tools could help him develop into a movable chess piece, lining up on the line of scrimmage, in the slot, or even at fullback.
Boone's fantasy spin: Tremble doesn't have the production of these other players, but we've seen plenty of quality tight ends go underappreciated because they weren't used heavily in their college offenses. There's a lot to like about the 20-year-old, including his upside as a pass-catcher and strong run-after-catch skills. If you're digging deep at the position, this is the type of late-round dynasty stash to take a chance on.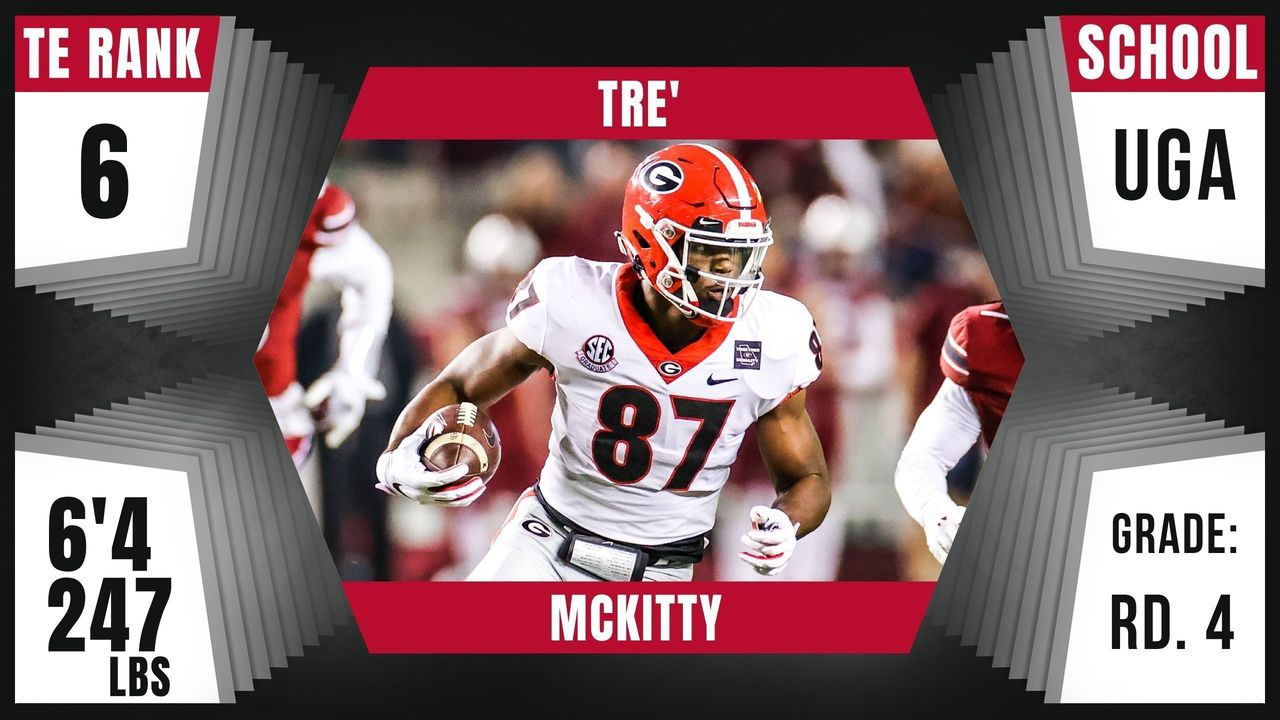 Key stats (4 games): 6 receptions, 108 yards, 1 touchdown, 18 YPC
McKitty transferred from Florida State to Georgia in 2020 in hopes of improving his game. With just six receptions on nine targets and a knee injury, that didn't come to fruition. However, he was able to round out his game by improving his run-blocking technique and flashing a few big plays. With above-average speed and athleticism, a large catch radius, and contact balance after the catch, McKitty's potential is noteworthy. He just has to learn to run crisper routes.
Boone's fantasy spin: Barring a string of injuries on his next team's depth chart, it's doubtful McKitty will become a fantasy factor. Only consider him in dynasty leagues with sizeable benches.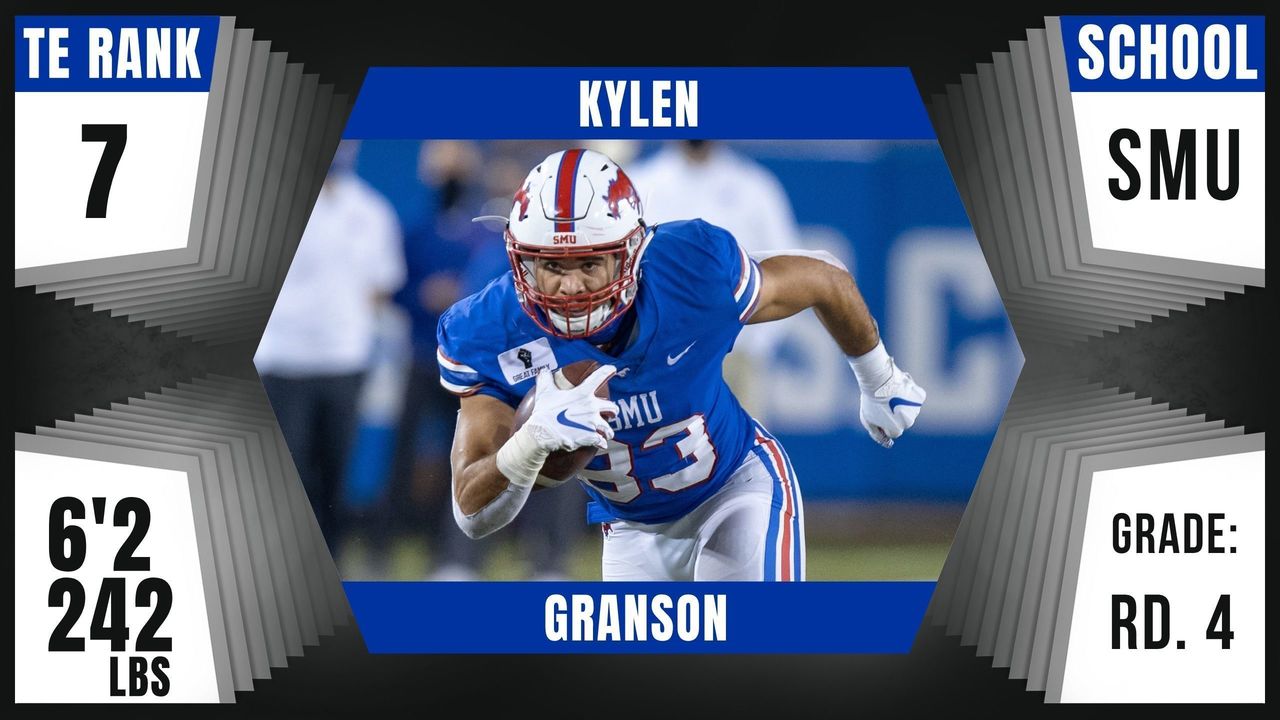 Key stats: 35 receptions, 536 yards, 5 touchdowns, 15.3 YPC
There's no way around it: Granson is undersized for the position and won't interest a handful of NFL teams due to that. But that doesn't mean there isn't plenty to like about his game. Granson ran a diverse route tree at SMU and offers legitimate speed and separation ability downfield - most tight ends in his class don't have that on their resume. Though he could struggle to earn snaps early in his career, Granson possesses natural skills to develop into a movable weapon who's used to win matchups in the passing game.
Boone's fantasy spin: When a tight end prospect is this far down the list, there's a reason he's being overlooked. Keep Granson on your watchlist and monitor his progress over the next few seasons, but don't use a roster spot on him.
Other notable prospects
Matt Bushman (BYU)
Kenny Yeboah (Ole Miss)
Quintin Morris (Bowling Green)
Noah Gray (Duke)
Comments
✕
2021 NFL Draft prospect rankings: Tight ends
  Got something to say? Leave a comment below!