Get ready for your season with theScore's 2019 Fantasy Football Draft Kit and subscribe to push notifications in the NFL Fantasy News section.
Every game night during the preseason, theScore gets you caught up on the most important fantasy performances from around the league.
Chiefs' backfield battle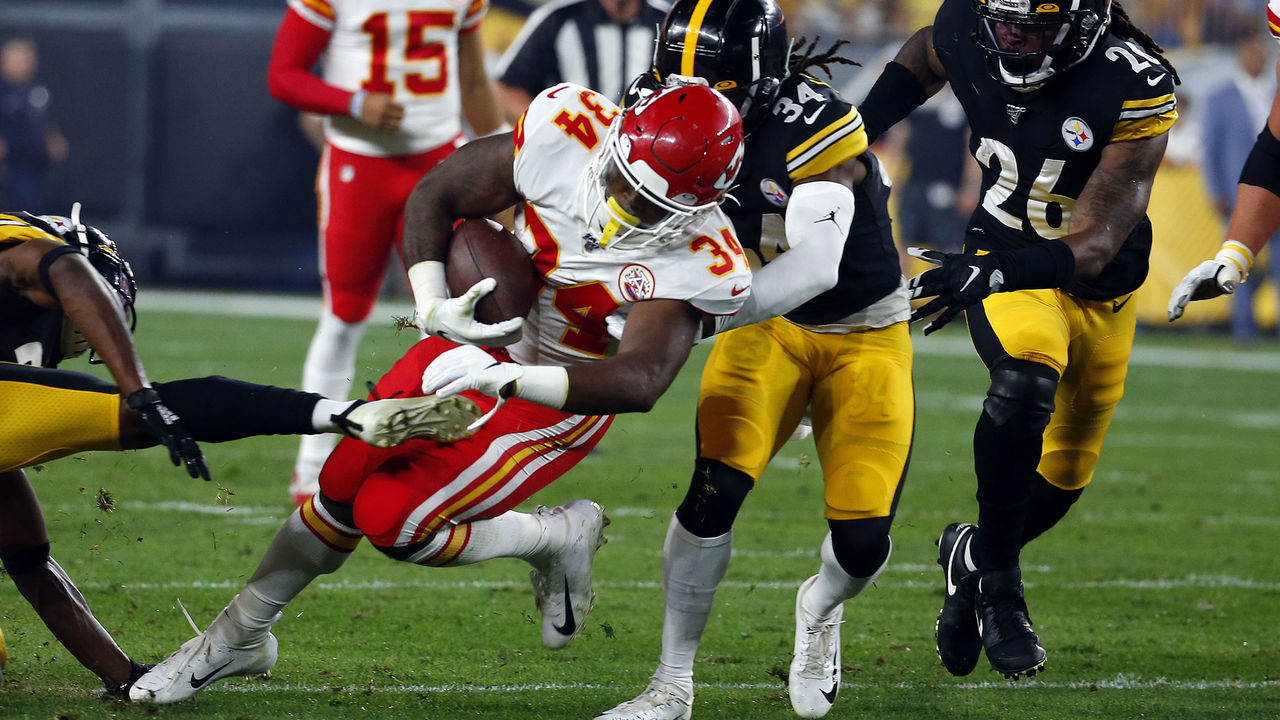 The Chiefs' lead back is an endless source of fantasy production, which is why managers are willing to take Damien Williams as a top-30 pick in drafts this year.
So it was nice to see him get the start for Kansas City, playing the entire first series on Saturday. Though he was held out of the box score, it's still great news for his status atop the depth chart and his overall health. If Williams' hamstring injury was a concern, he wouldn't have suited up.
It was a tough night for Carlos Hyde truthers, who have had to deal with several writers - both local and national - suggesting the 28-year-old might be left off the 53-man roster. That prediction may have inched closer to becoming a reality after Hyde fumbled against Pittsburgh.
Not only has Williams returned as the starter, but rookie Darwin Thompson continues to generate buzz and has outplayed Hyde through two exhibition contests. After racking up 51 yards from scrimmage and a touchdown last week, Thompson added another 30 rushing yards to his preseason resume Saturday.
One could even argue fourth-stringer Darrel Williams offers more juice than Hyde in this offense.
Damien Williams is a risky but worthwhile gamble at the Round 2-3 turn and Thompson is quickly becoming one of the highest-ceiling late-round running backs in fantasy drafts.
Come September, Hyde might be looking for his fifth new team in the last two seasons.
Pollard vs. Henderson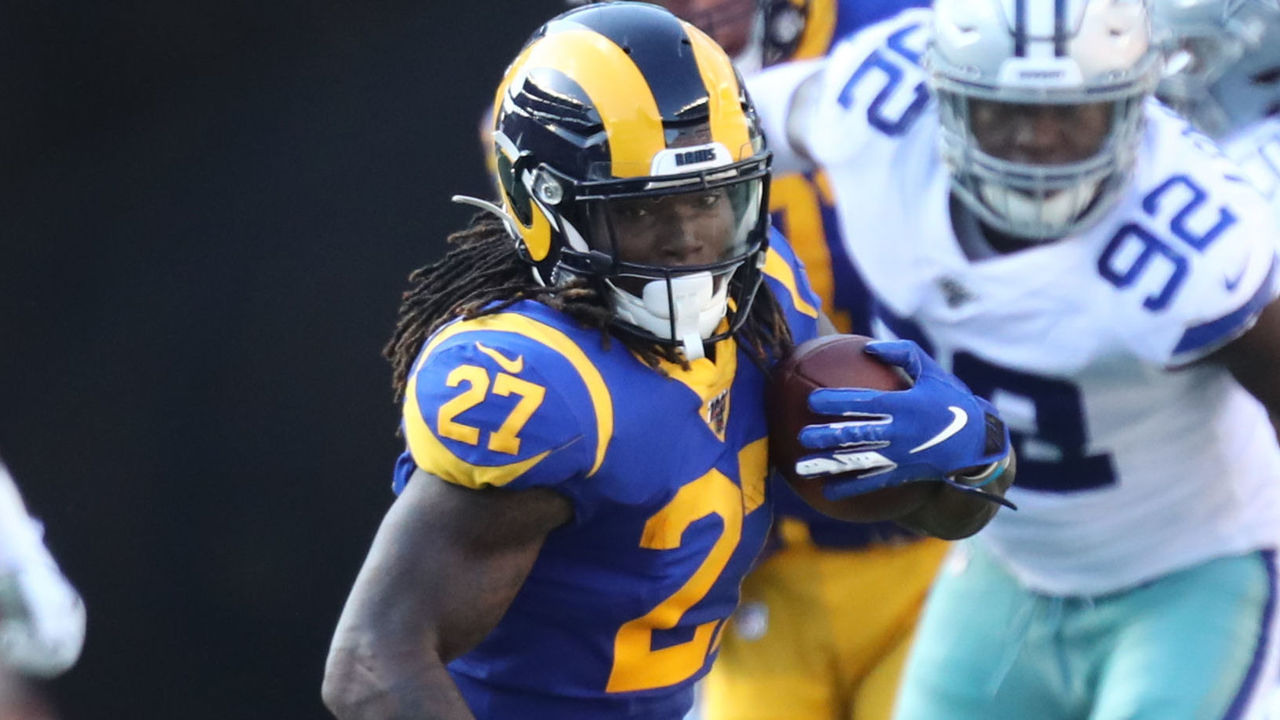 The former college teammates at Memphis took the field as opponents on Saturday, and if there's an immediate takeaway from the game, it's that their ADPs shouldn't be six rounds apart.
Darrell Henderson was the recipient of a shocking amount of fantasy hype as managers were unsure of Todd Gurley's health. Recent reports about Gurley lean more on the positive side, but his workload is still expected to be scaled back, allowing Henderson and perhaps Malcolm Brown to take on a portion of the touches.
Henderson didn't have a lot of room to run up the middle against the Cowboys amassing just 16 yards on six carries, however, he was able to do some damage as a pass-catcher with six receptions for 38 yards. His highlight of the night came on a wheel route that gained 26 yards in the opening quarter.
Meanwhile, on the other sideline, Tony Pollard wasn't doing Ezekiel Elliott any favors as he sliced through the Rams' defense for 42 yards and a score on five carries, adding another nine yards through the air. Pollard looked like he'd be able to handle lead back duties if called upon, especially on his 14-yard touchdown run. If Zeke's holdout extends into the regular season, that scenario might play out. Either way, it's going to be hard for the Cowboys to keep Pollard off the field this year, even if he's just a change-of-pace back behind Elliott.
Henderson's eighth-round ADP makes sense, but Pollard should be going off the board a round or two later, not in the 14th. This performance might help correct his perceived value.
Instant impressions
Deshaun Watson was sharp on his lone drive for the Texans Saturday, throwing a touchdown to his favorite target DeAndre Hopkins. That was all Bill O'Brien needed to see from his dynamic duo, who called it a night after the successful opening drive. Watson was 5 of 7 for 60 yards and the score, tacking on a seven-yard scamper, while Hopkins caught two balls for 17 yards, including the four-yard TD. Hopkins is well-deserving of his mid-first-round ADP, and though I normally advise waiting on a quarterback in fantasy, if Watson falls to the sixth round or later - which he does on occasion - I'm willing to draft him.
Despite some mixed reviews from the offseason program, James Washington has made the most of his opportunities for the Steelers. On a night where projected No. 2 wideout Donte Moncrief fumbled on his only reception, Washington posted his second monster stat line of the preseason. He followed up a four-catch, 84-yard, one-touchdown game with four catches and 78 yards on Saturday. Whatever it is that's holding Washington down on the depth chart, he's doing his best to overcome it. Moncrief is my preferred selection between the two, but Washington is also worthy of being chosen around his ADP in the 10th round.
Michael Gallup made another outstanding grab this week, a 31-yard gain thanks to an incredible adjustment he made on the ball. With the disclaimer that it was just one highlight, the drumbeat for Gallup has been relentless in 2019. Amari Cooper's plantar fascia irritation is an injury that could linger and create a need for Gallup to become an even bigger part of the Cowboys' offense. Dallas' sophomore wideout is a player you want on your bench this season.
While we don't want to overreact to the preseason, Kerryon Johnson looked explosive, powerful, smooth, decisive - and a flurry of other positive adjectives. It was a limited sample size as he rushed three times for 16 yards, but this is a continuation of what we saw from him last year before an injury prevented him from reaching breakout status. Though it was slightly odd to see him return to the game in the second quarter after backup C.J. Anderson had spelled him, we don't need to worry yet. The Lions ran the ball over 400 times last season, the first time the team hit that mark since 2013, so there's plenty of touches to go around. With an increased passing-down role, Johnson is on the verge of a massive fantasy campaign.
Chiefs rookie receiver MeCole Hardman caught his second touchdown in as many games. The hype around him has quieted since Tyreek Hill avoided a suspension, but Hardman is still an intriguing fantasy stash in the event Hill or oft-injured Sammy Watkins are sidelined at any point in 2019.
It was great to see Delanie Walker back on the field after the devastating ankle injury he suffered in Week 1 last season. The veteran pulled in two passes for 26 yards, including an 11-yard touchdown strike from Marcus Mariota. Walker is one of my favorite late-round tight ends to target. Remember, prior to 2018, he had four consecutive seasons with over 800 receiving yards, finishing as the TE8 or better in each of those years.
Dion Lewis ran well against his former team, amassing 25 yards on five touches. Until we see Derrick Henry practicing in full, Lewis holds a little extra fantasy value. Even when Henry does return, Lewis is locked into passing-down work, giving him value as a PPR option and an upside handcuff.
The Patriots aren't missing Lewis' presence in their backfield. New England is loaded after spending two early picks on the position in the last two seasons. Their 2018 first-round pick Sony Michel is healthy - for now - so this year's third-round selection Damien Harris is trying to secure backup duties. His 14-carry, 80-yard, four-catch, 23-yard performance on Saturday confirms what we already suspected - Harris is the handcuff to own in Foxborough. The rookie also nearly found the end zone on a 20-yard pickup where he was tackled at the one-yard line. Given the Patriots' rushing success in recent years and Michel's injury history, Harris is a high-value handcuff.
Undrafted rookie Jakobi Meyers continues to star in the Patriots' depleted receiving corps. This week's six-catch, 82-yard outing brings his two-game preseason total to 12 receptions, 151 yards, and two touchdowns. Meyers is all but guaranteed a roster spot at this point, however, with Julian Edelman expected to be healthy by Week 1 and Josh Gordon's reinstatement, Meyers would have to beat out first-rounder N'Keal Harry for a position in the starting lineup. Much like Harris, Meyers provides New England with excellent depth, but would need an injury in order to become fantasy relevant.
Marlon Mack had a six-yard catch on the Colts' first offensive play of the game Saturday. That might not sound very notable, but it is. One of the only knocks on Mack is his limited usage in the passing attack, so if Indy gets him more involved as a receiving threat, he could challenge for top-12 fantasy numbers behind one of the league's best offensive lines.
Jacoby Brissett is definitely a step down from Andrew Luck, but the Colts' backup looked comfortable at the helm Saturday afternoon, especially on the team's third drive, which resulted in a touchdown. Brissett avoided a sack and found Eric Ebron to convert a fourth-and-3 in enemy territory before hitting his tight end again in the corner of the end zone a few plays later. Even though it's only preseason, completing 8 of 10 passes for 100 yards and a score while running for another 11 yards provides some measure of relief to a worried Indy fan base. We still don't know if Luck will miss time, however, if he does, Brissett will be in the mix as a fantasy streamer.
Ebron's touchdown overshadowed a fairly even target distribution with the first-team offense. Ebron (2-28) caught both passes thrown his way, but so did big-bodied wideout Devin Funchess (2-27), who could eat into Ebron's role this season. Jack Doyle (1-19) is also looking healthy and hauled in one of two targets. With a more talented pass-catching corps in 2019, Ebron's volume will decline, meaning his hopes of remaining an elite fantasy tight end hinge on continued touchdown scoring - an area he's almost guaranteed to regress in this season. That's one of the reasons why Ebron is a low-end TE1 in my rankings and outside my top-100 fantasy players overall.
Though there weren't enough fantasy takeaways to warrant a full recap on Friday, there were a couple of items worth mentioning. Josh Allen is showing signs of development in his second season, taking shorter passes when they're available and throwing the ball away when nothing's there. His chemistry with Cole Beasley is evident, as Buffalo's new slot receiver caught all five of his targets for 44 yards. Allen also led the Bills on back-to-back scoring drives and finished 9 of 11 for 102 yards. Allen has completed 68 percent of his attempts through two preseason games, a promising stat after he connected on just 53 percent of his throws during his rookie season. Allen hasn't run much in these exhibition games, but that might be by design as the Bills try to keep their franchise quarterback healthy. He'll be on my list of late-round QB options with top-12 upside on draft day.
The Buccaneers' backfield battle continues with no real leader in sight. Peyton Barber and Ronald Jones have been exactly as advertised, which is to say not that impressive. Barber is the more reliable player, while Jones has a more explosive yet inconsistent element to his game. With both running backs being selected outside of the top eight rounds in fantasy drafts, they're definitely worth taking a shot on, but the odds of this turning into a disappointing committee increase every week. It wouldn't be surprising to see projected No. 3 back Dare Ogunbowale factor in as well, especially on passing downs.
It was hard to glean much from the Panthers with Cam Newton out of the lineup, but with eight carries for 35 yards and one catch for 14 yards, rookie running back Jordan Scarlett made his case for the No. 2 job behind Christian McCaffrey. Scarlett's hard-nosed running style has impressed head coach Ron Rivera, who said the team needs to give their fifth-round pick more opportunities moving forward. Keep him in mind as a deep bench stash.
Previous takeaways