Get ready for your season with theScore's 2019 Fantasy Football Draft Kit and subscribe to push notifications in the NFL Fantasy News section.
Every game night during the preseason, theScore gets you caught up on the most important fantasy performances from around the league.
Let's preface this by saying - don't overreact to the opening week of the preseason. Not only is it a small sample size, but it's also the first time these players are taking the field for NFL game action in seven or eight months.
It's also worth mentioning a lot of starters sit out the first week of exhibition contests, so we should get a more complete picture of where everyone stands over the next couple of outings.
That being said, there's still plenty of information to gather from these performances, especially when it comes to rookies.
Rookie runners shine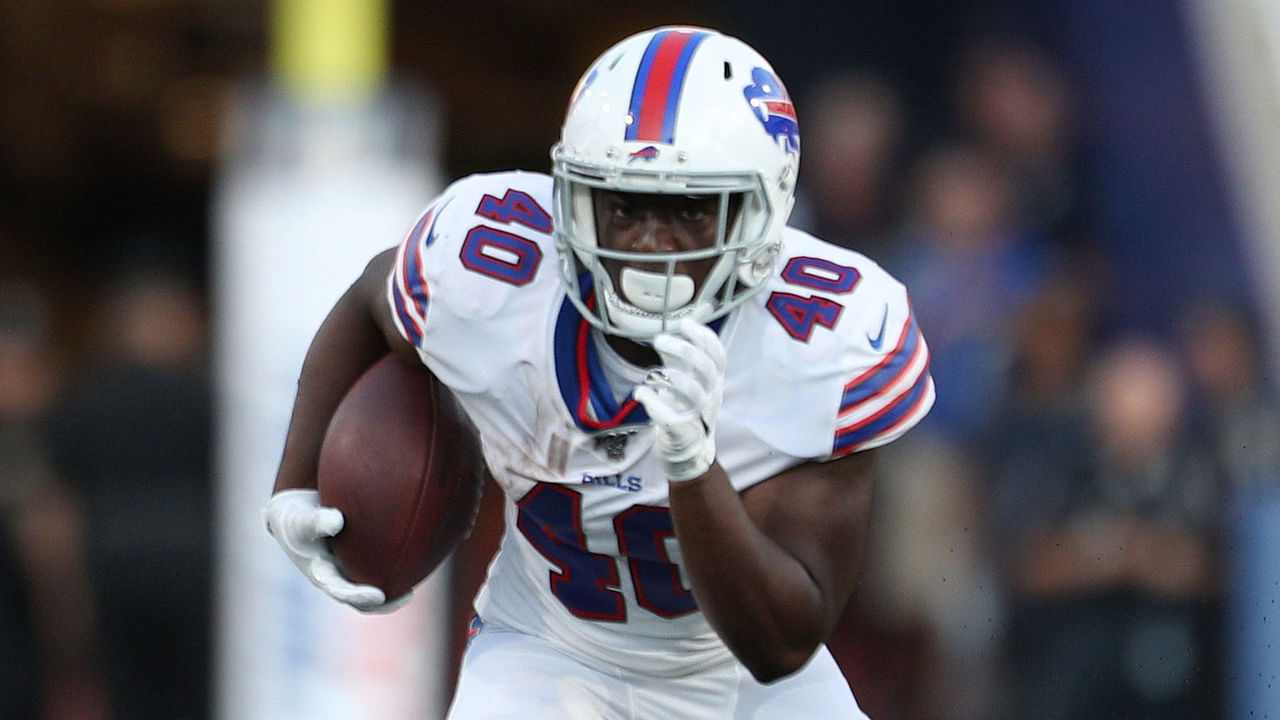 Several first-year running backs with intriguing fantasy outlooks took the field Thursday night and the results were overwhelmingly positive.
Any concerns over David Montgomery's skills translating to the pros are well on the way to being put to rest. After a solid training camp, the Bears' third-round pick rushed three times for 16 yards against the Panthers, seven of which came on this touchdown run. He also caught all three of his targets for another 30 yards. More importantly, Montgomery is succeeding the same way he did in college with a patient yet powerful running style that features plenty of broken tackles. His involvement in the passing game is particularly notable since the team expressed interest in having a three-down back. Montgomery's ADP will likely rise into the third round, while Tarik Cohen's stock could be headed in the opposite direction.
Miles Sanders' night wasn't nearly as eventful as he carried the ball just three times for three yards, but this wasn't a complete version of the Eagles' starting offense. The fact Sanders only saw a small amount of work before getting the rest of the night off is confirmation of his importance to the team moving forward. An early-season split with Jordan Howard will eventually lean in Sanders' favor as the season progresses.
It may only be a matter of time before Devin Singletary emerges as the lead back in Buffalo, as well. Though his stats (12 touches for 48 yards) might not jump out of the box score, he showed shiftiness and versatility with three receptions, and Bills' beat writer Matthew Fairburn of The Athletic suggested the team might want to limit his workload in the preseason to keep him fresh for when the games matter. Rumors that LeSean McCoy might not be with the Bills come Week 1 seem more realistic after tonight. After all, 36-year-old Frank Gore is already the perfect role model/running mate for Singletary, who's ADP is about to bump up a couple of rounds.
Justice Hill of the Ravens is another example of why you have to watch preseason games and not just stare at stat lines the next morning. Hill's 10 carries for 33 yards and two catches for 16 yards don't look that impressive. However, highlights like this 14-yard reception on third-and-3, where he made multiple defenders miss, provide more context. Hill should settle in as the Ravens' change-of-pace complement to Mark Ingram, a role that will be fantasy-friendly in Baltimore's run-heavy attack.
We'll get our first look at two other top rookie backs - Josh Jacobs and Darrell Henderson - when the Raiders host the Rams on Saturday.
Mayfield, Murray in midseason form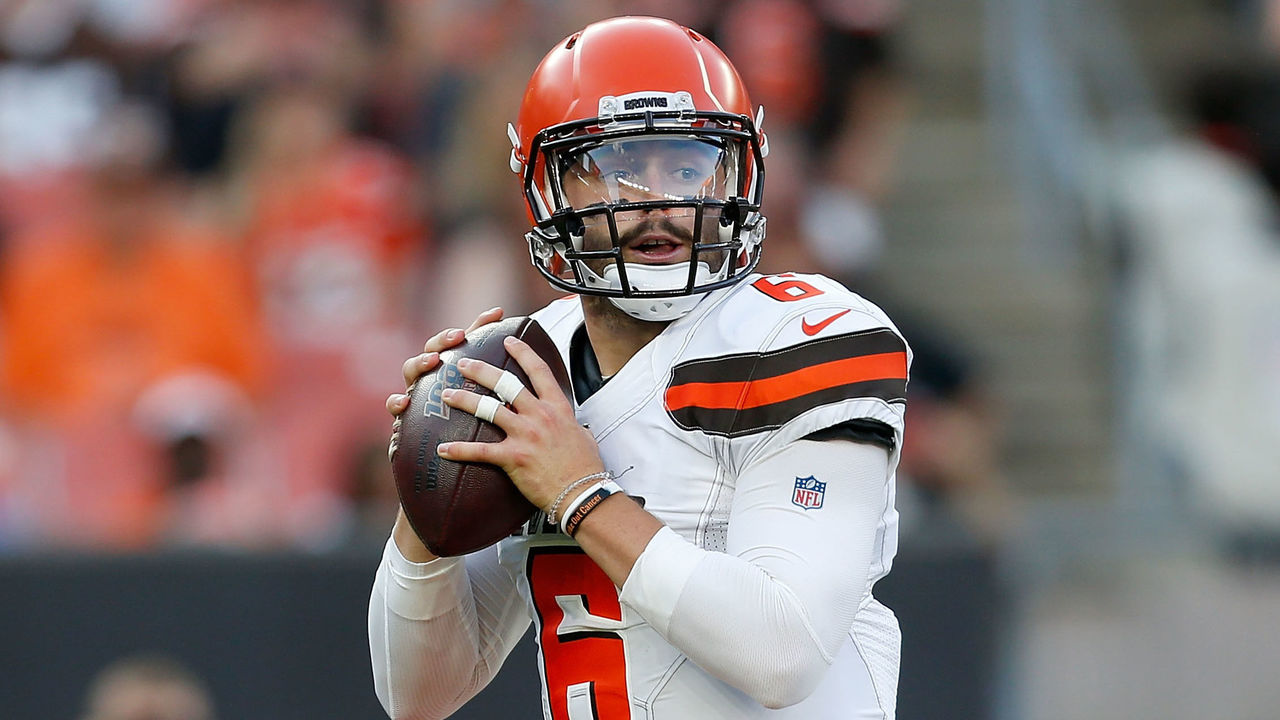 Former Oklahoma quarterbacks Baker Mayfield and Kyler Murray have a chance to be difference-making fantasy assets in 2019 as they attempt to rejuvenate a pair of organizations that have been searching for answers at quarterback for some time.
If the one series Mayfield played on Thursday is any indication, the Browns' offense is going to be lethal. Even with Odell Beckham Jr. and Jarvis Landry on the sidelines, Mayfield orchestrated a seven-play, 89-yard drive to open the game, capped off by a 24-yard touchdown strike to Rishard Higgins. Cleveland's long-awaited franchise quarterback went 5 of 6 for 77 yards and the score.
Mayfield was aided by Nick Chubb, who was responsible for a 12-yard run and a 14-yard catch on that same drive. Some people may not have realized it until the Duke Johnson trade occurred, but Chubb is a capable pass-catcher and a soon-to-be superstar. He's a first-round fantasy talent available at a second-round price tag.
Mayfield wasn't the only quarterback slinging it on Thursday. Murray looked the part of a poised veteran passer for the Cardinals, despite this being his NFL preseason debut. It was only one series, but he completed 6 of 7 passes for 44 yards and showcased elite accuracy, which sets him apart from other dual-threat quarterbacks. His seventh attempt was completed, only after the receiver had already stepped out of bounds.
We even caught a glimpse of some of Kliff Kingsbury's trickery as Murray executed a run-pass option that finished with a pass out wide to Larry Fitzgerald. The play was ultimately a failure, but it's a sign of the fun wrinkles to come in this revamped offense.
Mayfield will be a top-five fantasy quarterback and Murray has a chance to crack the top 10 even as a rookie.
Instant impressions
Though he didn't make the cut for the section above, Sam Darnold was equally impressive in his brief stint. The second-year quarterback completed 4 of 5 passes for 68 yards on a seven-play, 75-yard drive that ended with a touchdown pass to Jamison Crowder. With so many good fantasy quarterback options, the Jets' is often foolishly left out of the conversation as a breakout candidate. If you plan to pair two late-round quarterbacks in hopes at least one of them hits, Darnold should be on your list.
Thursday was a night for unheralded rookie receivers to turn their camp hype into a reality. Undrafted free agent Preston Williams might already be the best wideout on his team, which says a lot about the state of the Dolphins' receiving corps. Williams put up 97 yards on four catches, including some highlight-worthy grabs. He might single-handedly help salvage Josh Rosen's career. For now, Williams is a late-round stash, but that might not last long if he continues to stand out over the next month.
Sadly there's nothing definitive to take away from the Dolphins' backfield battle between Kenyan Drake and Kalen Ballage. Drake had four carries for 12 yards and Ballage rushed six times for 23 yards and a score. A timeshare is likely with Drake getting more work due to his receiving skills and the Dolphins' low projected win total.
The Broncos split their running back touches fairly even with the first-team offense. The only play worth mentioning was a 50-yard run by Royce Freeman, who then lost a yard on his next two carries combined. Phillip Lindsay turned his five touches into 19 total yards. Similar to the Dolphins, there's not much to glean from this game. A committee is coming even though Lindsay remains the better back.
Undrafted free agent Jakobi Meyers hauled in six passes for 69 yards and two touchdowns for the Pats as he tries to establish himself as a potential starter on a wide-open depth chart behind Julian Edelman. First-rounder N'Keal Harry had two receptions for 36 yards before limping off. Harry still has the inside track to start, but we'll be monitoring his injury and this battle even closer after tonight. The Patriots also lost projected starting tight end Matt LaCosse to a lower-leg injury. The severity of both ailments are unknown and it should be fun trying to extract any updates from New England.
Ravens' third-rounder Miles Boykin also turned his practice performance into a positive preseason debut with four catches for 39 yards. It took him nine targets to reach those totals, which is both good and bad. That's an awful catch rate, but the fact he saw as many targets as the rest of the team combined in the first half is a sign of where he stands already. His size and speed are going to be problematic for defenders.
Keke Coutee was the most notable fantasy name to go down with an injury on Thursday. The initial diagnosis is an ankle injury that's "not considered a major one," according to NFL Network's Ian Rapoport. That's a relief considering the way his leg twisted under him on the play. We'll be monitoring his situation with the hope he'll return for Week 1.
With Corey Davis, Delanie Walker, A.J. Brown, and Derrick Henry sitting out, we didn't exactly get a full view of the Titans' offense. Adam Humphries took advantage by soaking up six of Marcus Mariota's eight total targets on the night. Humphries only turned them into four catches for 24 yards, so there's not much to see here. It's reasonable to worry about Humphries having a negative impact on the fantasy ceilings for the other pass-catchers in Tennessee.
Whether it was the Chargers' strong rushing attack or the Cardinals' weak rush defense, Austin Ekeler and Justin Jackson had no problem picking up yards on Thursday. That certainly doesn't help Melvin Gordon's contract negotiations, but it does confirm Ekeler and Jackson as quality fantasy assets. Ekeler tallied 40 yards on five carries, adding 29 yards on three receptions. His lone mistake on the night was a goal-line fumble. Jackson found the end zone while rushing five times for 22 yards. This is exactly how touches would be distributed if Gordon's holdout continues into the regular season, making Ekeler a top-30 back with RB2 upside and Jackson a flex play.
Josh Allen had a calmer demeanor in his second year of preseason action. Unfortunately, he's never going to be as polished as some of the other sophomore passers like Mayfield and Darnold. Allen was off the mark on several throws, but pushed the ball downfield for a couple of big completions and picked up a first down with his legs. He also seemed more willing to settle for shorter throws to Cole Beasley and others, which was a rarity during his rookie season. Allen maintains significant fantasy upside with his rushing ability, but we need to see continued development from him in terms of decision-making and accuracy before we can treat him like a fantasy starter.
One of Allen's favorite targets down the stretch last season has fallen down the depth chart in Buffalo. Robert Foster played with the second and third-string offenses, something beat writers have been outlining throughout the offseason. John Brown is the top threat, Beasley occupies the slot, and Zay Jones has been rounding out three-receiver sets. Jones left the game after taking a shot to the head near the goal line but was eventually cleared to return. As for Foster, he'll likely need an injury to get back into the fantasy conversation.
Rookie quarterback Daniel Jones was surprisingly efficient, completing all five of his attempts for 67 yards and a touchdown. Eli Manning is going to start the year under center for the Giants, however, we should see Jones take over at some point this season. He's unlikely to be a fantasy weapon in 2019, but this performance is a small glimmer of hope for the rest of the Giants' skill position players.