Get ready for your season with theScore's 2019 Fantasy Football Draft Kit and subscribe to push notifications in the NFL Fantasy News section.
Every game night during the preseason, theScore gets you caught up on the most important fantasy performances from around the league.
The good, the bad, and the ugly
Let's start with some quality quarterback play from a pair of late-round fantasy targets in Lamar Jackson and Sam Darnold. After strong finishes to their respective 2018 campaigns, the sophomores have each excelled in their first two preseason outings.
Jackson completed 6-of-10 passes for 58 yards while adding 14 more on the ground. His best play of the night is one that won't end up on his final stat line, though, due to an illegal blindside block. Jackson stepped up in the pocket and took off running, sidestepping one defender and hurdling another as he covered 18 yards on his way to the end zone. His rushing numbers alone will help him challenge for low-end QB1 status, and if he can continue his development as a passer then he'll be a true difference-maker in fantasy. Not bad for a player you can currently draft in the 12th round.
Darnold doesn't have the dual-threat skills to lift his fantasy floor but seems very comfortable in the Jets' new system. Through two games, the 22-year-old has completed 75 percent of his attempts for 114 yards and a touchdown, and has deployed a no-huddle offense at times. He opened this week's game with an eight-play, 66-yard touchdown drive behind an offensive line consisting of four backups. Other young quarterbacks are getting more hype, but Darnold has just as good of a chance at a Year 2 breakout and he's going undrafted in fantasy.
On the opposite sideline from Darnold, veteran Matt Ryan had a much more trying evening in his first preseason action of 2019. The Jets' pass rush was getting to Ryan at will, leading to three sacks and a ton of pressure - which, for some reason, lasted into the second quarter before Dan Quinn mercifully removed his starting passer. Ryan connected on 10-of-14 throws for 118 yards, but the overhaul of the Falcons' offensive line is not yet anywhere close to a finished product. Atlanta's pass-catchers didn't do their quarterback any favors, either, with several drops in the game, including two straight in the end zone. Better days are coming for Ryan, who remains the QB8 in my rankings.
Of the fantasy-relevant quarterbacks playing Thursday night, no one had a worse outing than Kyler Murray and the Cardinals' first-team offense did. The first overall pick, who had a solid showing a week ago, wasn't able to manufacture much over the course of four series against the Raiders. Murray completed just 3-of-8 passes for a lowly 12 yards and rushed once for four yards. That resulted in three punts and a safety, with the latter coming when Murray had no choice but to accept his fate as Raiders defenders swarmed him at the goal line.
We can't overreact to positive preseason performances, and, in the same vein, we need to be level-headed about Murray's display here. There were always going to be growing pains with a rookie quarterback, an unproven head coach, and one of the weaker offensive lines in the league. Hopefully, the claim that this is a "vanilla" version of Kliff Kingsbury's offense turns out to be true and we begin to see Murray put it all together in the coming weeks. His ceiling is still a top-10 fantasy option, and a night like this is sure to bring down his ADP a bit.
Rookie runners rolling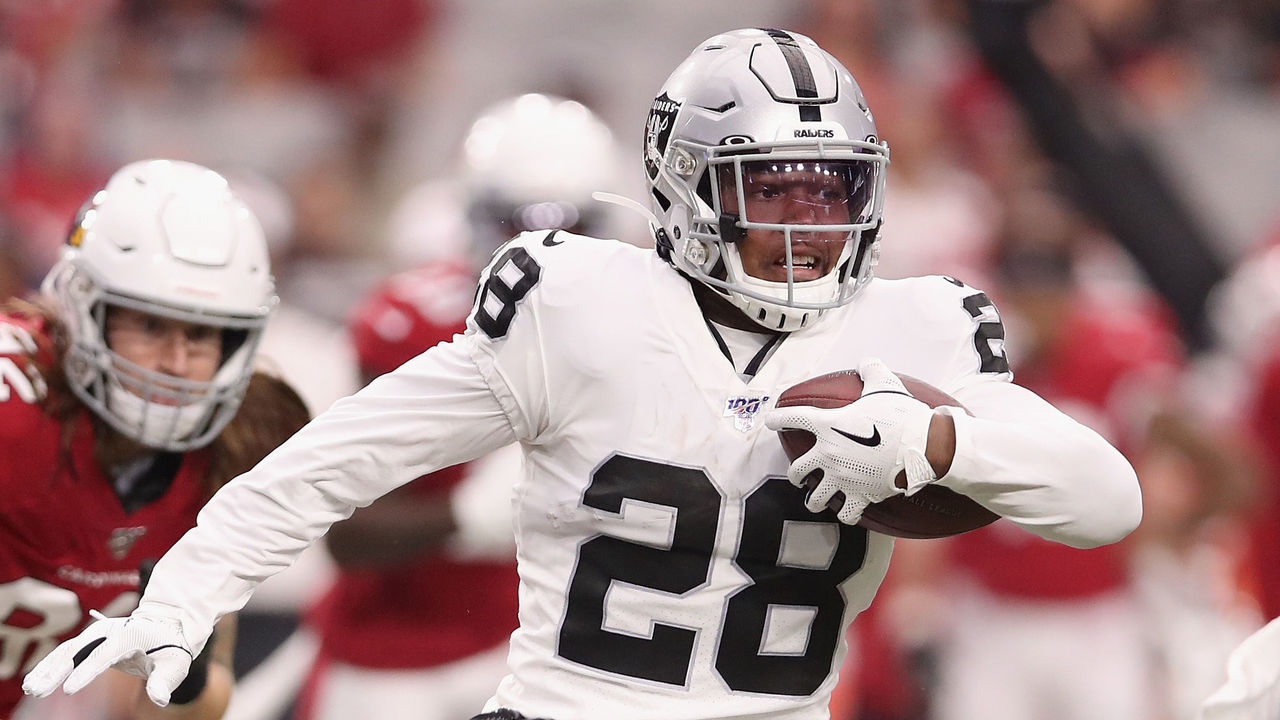 The Raiders torched the Cardinals on both sides of the field Thursday, and it all started when first-round back Josh Jacobs ran the ball on four of the team's opening five plays. He was decisive and determined, picking up 21 yards in the process. Jon Gruden isn't hiding his hand. Ever since the team selected Jacobs, Oakland has made it clear that it plans to unleash him as a workhorse back. Of this year's rookie runners, he has the clearest path to significant volume, which is why I have him ranked above Miles Sanders and David Montgomery.
Sanders also took the field on Thursday and was more effective than his three-carry, three-yard effort in last week's debut. The Eagles' second-rounder racked up 31 yards on five carries, outperforming his main competition, Jordan Howard, who rushed four times for 15 yards. More importantly, Sanders flashed the playmaking skills that have caused beat writers in Philly to gush over him. There's little doubt that Sanders will be the most valuable member of the Eagles' backfield, but Howard and Darren Sproles aren't going away and could cap the rookie's fantasy ceiling. He's still one of the best discounts on the board with his sixth-round ADP.
Justice Hill was the fourth running back in the game for the Ravens, but if the coaching staff is watching the same tape that the rest of us are then we should see him climb the depth chart soon. After Mark Ingram called it a night, Kenneth Dixon, Gus Edwards, and Hill all got some work with the first-team offense, though the latter stayed in the game into the second half. The rookie totaled 49 yards on 10 rushes, highlighted by one of the best 1-yard touchdown runs you'll see. That gives Hill 22 touches for 98 yards and a score this preseason, making me feel confident in my pre-draft evaluation, in which I described him as a player with immense heart, who has a willingness to battle on every play and a shifty running style that makes him dangerous in the open field. Hill's an excellent fantasy option in the later rounds as the soon-to-be change-of-pace back behind Ingram.
Instant Impressions
Ty Montgomery got the start as we await Le'Veon Bell's debut with the Jets. There has been a lot of talk throughout the offseason that Montgomery has emerged as the primary backup and could be given a weekly role. Through two preseason games, we can see why. Of anyone on the roster, Montgomery's skills most closely resemble Bell's, especially his receiving background. If used correctly, Montgomery could be a dangerous weapon, though it's safe to doubt whether he would hold up to a full workload if Bell were to miss time. For now, he's the handcuff to own on the Jets.
Devonta Freeman made his first appearance of 2019, and while he carried the ball just once for two yards, it was nice to see the veteran back in uniform after he was sidelined for the bulk of last year's campaign. The more interesting storyline to follow in the Falcons' backfield is the battle for the No. 2 job between Ito Smith, Brian Hill, and rookie Qadree Ollison. Hill made the biggest impression up to this point, but remember those drops I mentioned in the Ryan section? Hill was responsible for one of them during what was a forgettable night for the young back. Smith and Ollison were far better in this game, with the former tallying 58 yards and a score on eight touches while the latter rumbled for 44 yards on nine carries. This is one of the toughest camp battles to project and will go down to the wire.
For anyone questioning why Joe Mixon is a top-10 fantasy back despite playing in a banged-up and potentially bad Bengals offense, I present this short clip of him obliterating Josh Norman with a stiff arm.
As much as I will stay away from anyone on the Redskins' running back depth chart, Adrian Peterson continues to impress. The former All-Pro bounced outside for 26 yards on his team's first offensive play in Thursday's game. His next three carries went for a total of five yards, but you have to accept some lows with the highs from a 34-year-old rusher. Until Derrius Guice is cleared and proves he can stay healthy, Peterson will remain an active part of this backfield. But unless you're desperate, the uncertainty over roles in what we expect to be one of the league's weaker offensive attacks makes this a situation to avoid in fantasy.
We discussed Darnold's performance off the top, but we didn't mention his connection with top wideout Robby Anderson. The duo started to develop chemistry late last season and it has carried over. Anderson has been on the field for all of Darnold's preseason snaps and Thursday hauled in all three of his targets, including a nice back-shoulder grab down the sidelines. If head coach Adam Gase is focused on finding ways to scheme him open, which he claims to be, we might get another top-20 fantasy season from Anderson.
Though he still needs to significant development, Dwayne Haskins will be starting in Washington sooner rather than later. His 55-yard bomb to Robert Davis was one of the highlights of Thursday night's action. He's not a draftable in fantasy, but he could become a streaming option in the second half of the season.
With Aaron Rodgers not in the lineup, there weren't many takeaways from the Packers' offense. I'm locked on Geronimo Allison as the second-best fantasy receiver in Green Bay, ahead of Marquez Valdes-Scantling. When he's healthy, Allison always seems to make plays and Thursday was no different as he caught two passes for 29 yards both of which helped convert on third downs. Allison is a sneaky WR3/flex who can be drafted in the eight round or later.
Rookie Andy Isabella made his first splash of the preseason with a 59-yard touchdown catch late in the fourth quarter. The fact Isabella was on the field that deep into the game is a sign he has work to do before we can consider for fantasy. He'll likely go undrafted unless he can build off this big play and finish the month strong. Keep him on your watchlist for now.
Miles Boykin got the start in Baltimore, but it was a bit of a humbling night for the rookie who failed to come away with a single reception despite seeing three targets thrown his way. Preseason hype can be fickle. There's a reason why Boykin is a late-round upside pick and not a guarantee fantasy starter yet. He remains a better asset in dynasty than re-draft.
Previous Takeaways