College football is sport at its zaniest.
The coaches, the college towns, and the fact that games are played (mostly) by those between 18 and 21 years old contribute to Saturdays that are never dull. And with 130 teams in the Football Bowl Subdivision, you can't predict where the most memorable moments of the weekend will occur.
Each week this season, theScore is here to break it all down - from the good to the bad to the weird. Here's what happened in Week 8 and why it matters.
The good
Oregon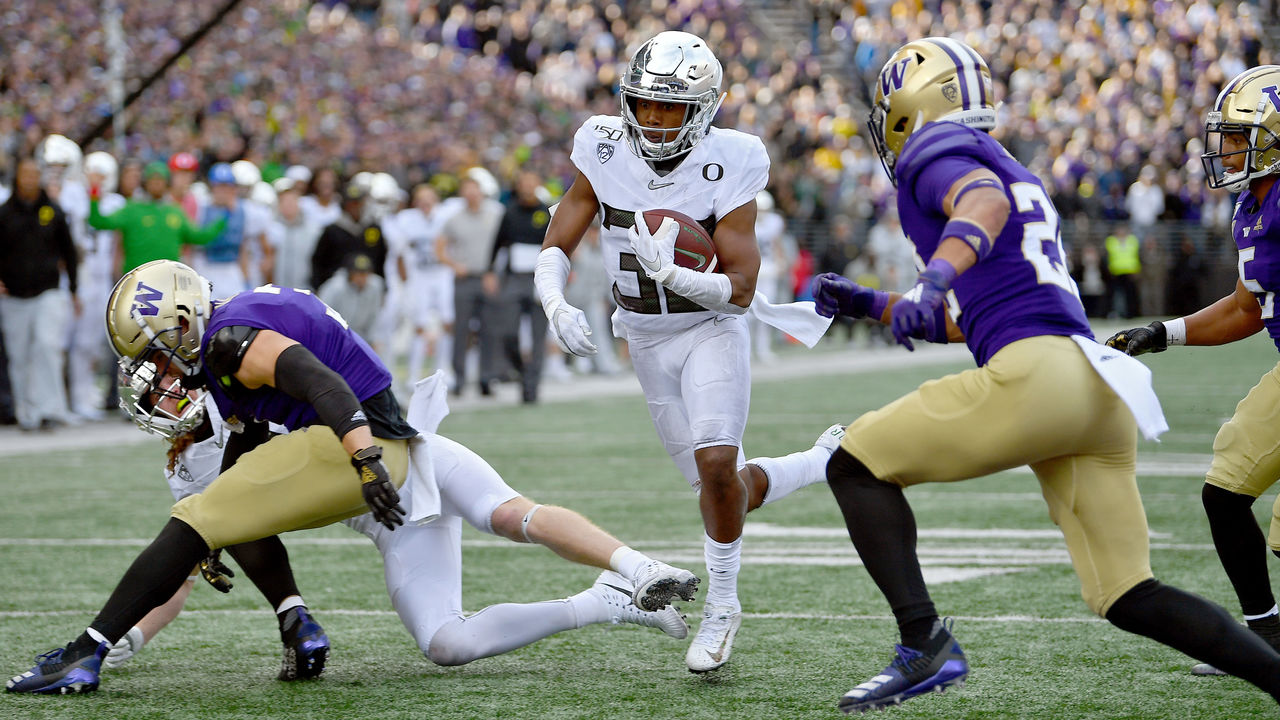 As we mentioned Saturday, Oregon isn't entirely out of the College Football Playoff picture.
The Ducks, ranked 11th in Sunday's AP poll, picked up their best win of the season at Washington, coming back from a 28-14 deficit early in the third quarter to win 35-31. Justin Herbert, whose stock keeps rising, threw four touchdown passes.
If Oregon continues winning, it will likely be favored in each of its final five games: Washington State, at USC, Arizona, at Arizona State, Oregon State. If the Ducks win out, they'll get a 13th game - perhaps against a top-15 Utah team - in the Pac-12 championship and a chance to add an important data point to their resume. Credit to Mario Cristobal and his coaching staff for keeping the Ducks on track after a heartbreaking loss to Auburn in the season opener. Had they been able to maintain their 21-6 second-half lead, or had they merely stopped Auburn on its final drive, we'd be talking about a 7-0 Oregon team as one of the best in the country.
The Ducks' defense, led by first-year coordinator Andy Avalos, is one of the top 10 (or five) in the country. And Herbert continues to prove he can play with the best quarterbacks. This is a team to watch down the stretch.
Shane Buechele
Of all the transfer quarterbacks succeeding in starting roles this season, is anyone talked about less than Shane Buechele?
The SMU quarterback and his team are one of the best stories of the college football season, and their run continued Saturday with a 45-21 dismantling of Temple. The Mustangs, ranked 16th, are 7-0 for the first time since 1982. Boise State's loss to BYU puts them in the driver's seat for the Group of 5 berth in a New Year's Six bowl game.
Buechele is a story of his own. He threw for a career-high 457 yards and six touchdowns Saturday, increasing his totals to 2,122 and 18 for the season. Three years ago, Buechele arrived at Texas as the quarterback expected to turn around the Charlie Strong-led Longhorns. He famously guided Texas to a season-opening win over Notre Dame in his first career start as a true freshman but lost his job to Sam Ehlinger in Year 2.
As a transfer at SMU with two years of eligibility, he's making the most of his second chance. The Mustangs are ranked one spot behind his former team in the AP poll.
Casey O'Brien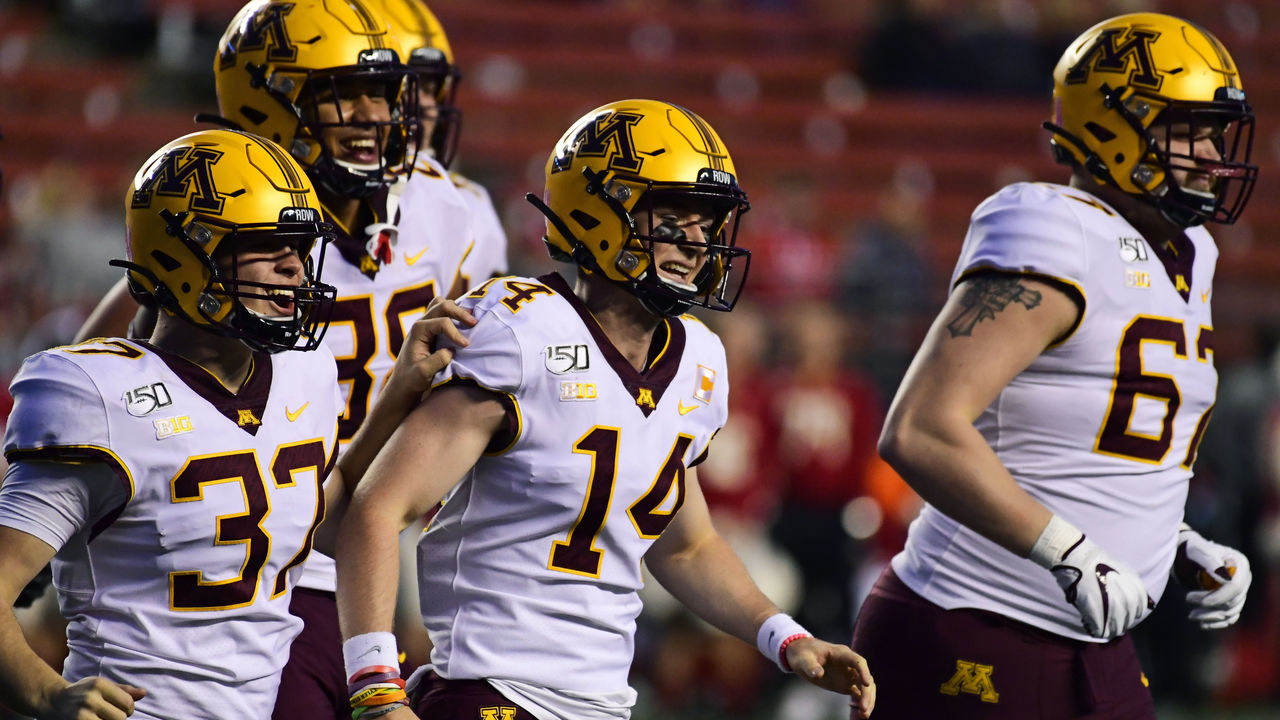 The best moment of the weekend came in Piscataway, New Jersey.
Casey O'Brien is a sophomore walk-on holder for Minnesota. He's also a four-time cancer survivor. He was diagnosed with osteosarcoma, a rare form of bone cancer, at 13 years old.
Through bouts of cancer and rounds of chemotherapy, he remained part of the Minnesota football program, but he hadn't appeared in a game. Until Saturday.
With Minnesota leading Rutgers 27-0, an extra point away from going up 28, O'Brien trotted out onto the field to hold his first kick as a collegiate athlete.
There will be plenty of big moments in the final weeks of the season, but this - this is as powerful as it gets.
The bad
Wisconsin
Illinois hadn't beaten a top-10 team since 2007. Wisconsin had won 13 of its last 14 against the Fighting Illini. The Badgers shut out four of their first six opponents and entered Saturday's game in Champaign having allowed only four touchdowns all season.
Then Illinois scored three touchdowns in its 24-23 stunner, putting Wisconsin on the periphery of any College Football Playoff discussion.
Some might explain it as a look-ahead performance with Wisconsin set to face No. 3 Ohio State this Saturday. But the Badgers don't seem to have any excuse. They were sloppy (three turnovers) and allowed a season-high 141 rushing yards to a team that ranks 89th in rushing offense.
The Badgers, and perhaps Penn State, looked like the only teams in the Big Ten that could give Ohio State a challenge. But how can Wisconsin recover in time for its trip to Columbus?
Injuries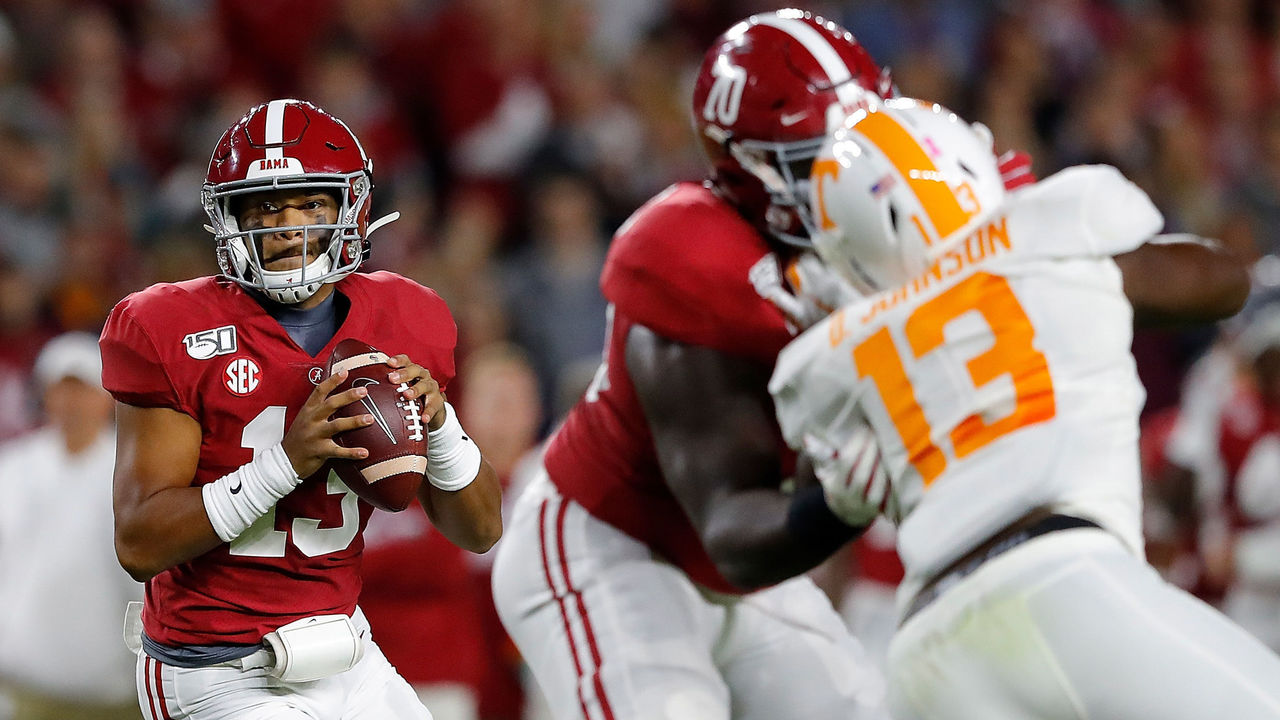 We're talking about one injury: the one to Tua Tagovailoa's ankle.
Tagovailoa left Alabama's 35-13 win over Tennessee in the second quarter with an ankle injury and did not return. Crimson Tide coach Nick Saban said that Alabama's physicians performed a "tightrope procedure" on the quarterback's right ankle and that he would be out against the Razorbacks.
The prognosis is OK - it leaves open the possibility Tagovailoa will return for the No. 1 versus No. 2 matchup with LSU on Nov. 9. And that's good. Because it would be a shame if we were denied a back-and-forth battle between Tagovailoa and Tigers quarterback Joe Burrow.
Tagovailoa has thrown 27 touchdowns and only two interceptions this season. He's third nationally in quarterback ranking and touchdowns.
Without him, Alabama's offense was pedestrian against Tennessee. The offense managed just one touchdown drive in the second half. Sophomore Mac Jones, who completed 6 of 11 passes against the Volunteers, will start against Arkansas.
Missouri
Georgia's loss to South Carolina and Florida's loss to LSU last week opened the door for a third team in the SEC East - Missouri - to contend for the division. The Tigers, winners of five in a row, looked like an intriguing alternative.
Then Saturday happened. The Tigers went to Vanderbilt - a team that got blown out by UNLV last week - and fell 21-14. Missouri's offense generated a season-low 4.4 yards per play. It missed two field goals and punted seven times. The Tigers were able to tie the game at 14 in the third quarter, but Vanderbilt won its first SEC game of the season when Riley Neal found Cam Johnson for a go-ahead touchdown with 8:57 left in the fourth quarter.
The Tigers look great at home this season, but atrocious on the road. Missouri is 5-0 in Columbia, winning by an average of 28.8 points. In its two ventures away from home, it has lost to Wyoming and Vanderbilt. Three of the Tigers' final five games are on the road.
That said, some good did come out of this game: Commodores coach Derek Mason's comments afterward.
The weird
Sooner Schooner takes a tumble
Fortunately, there were no serious injuries - to humans or horses - when Oklahoma's Sooner Schooner fell over after a touchdown in OU's 52-14 win over West Virginia.
The university said the accident was caused by "weight distribution among riders in the rear of the wagon."
It's one of the more bizarre moments of the regular season.
Lane Kiffin's Twitter account
Week 8 wasn't great to Florida Atlantic.
The Owls' four-game winning streak ended Friday with a 36-31 home loss to Marshall. FAU was penalized nine times for 90 yards, compared to six and 68 for Marshall. But that's not the strange part.
Here's what's weird: Only one coach in America would express his ire with the officials by sharing a "blind referee" meme.
Kiffin embraced the $5,000 fine he received, tweeting ESPN's story about it (and tagging LeBron James). It's a good reminder to make sure you're following Kiffin, if you aren't already.
A penalty for ... dancing?
If there was an officiating-related story stranger than Kiffin's posting, it was the Georgia Southern-Coastal Carolina game.
At the end of the third quarter in Statesboro, Georgia, both teams got hyped by the playing of "Mo Bamba" - the viral Sheck Wes hit that became a staple for college basketball pep bands last season - through the stadium speakers.
Players from both teams danced onto the field. Officials flung their flags in the air.
Officials penalized every player from both teams for unsportsmanlike conduct. In college football, a player is ejected if they receive two unsportsmanlike conduct penalties in the same game.
That means three previously penalized players were ejected - one from Georgia Southern and two from Coastal Carolina. Georgia Southern eventually won the game in three overtimes (!), 30-27.