theScore breaks down the top storylines from Saturday's college football games and what they might mean moving forward.
Penn State holds on, but is it ready for Ohio State?
Let's get this out of the way first: Penn State's defense is elite, KJ Hamler is ridiculously explosive, and the atmosphere in Beaver Stadium on Saturday was downright electric.
All three of those things led to the result, a 28-21 Nittany Lions win over No. 16 Michigan. Penn State is now 7-0, and one of three Big Ten undefeated teams after Wisconsin lost earlier in the day (Minnesota also improved to 7-0 on Saturday).
The Nittany Lions have proven they are better than most expected them to be back in August. They frustrated Michigan's offense early, holding it scoreless through the first 27 minutes of the game. Quarterback Sean Clifford (14 of 25, 182 yards, three touchdowns) continues to get better in his first year as a starter. The aforementioned Hamler (six receptions, 108 yards, two touchdowns) is one of the hardest covers in all of college football.
All of this is true, and Penn State will be ranked in the top six on Monday.
But are the Nittany Lions ready for Ohio State?
After taking a 21-0 lead, Penn State failed to find a way to push the Wolverines out of the game completely. The offense punted on six of its final seven drives with the exception being a 53-yard touchdown pass to Hamler - one big play in a second half of struggles.
Michigan slowly climbed back into the game. The Wolverines nearly - and perhaps should have - tied it. They reached the Penn State 3-yard line, where, on fourth and goal, Shea Patterson's pass over the middle went through the arms of Ronnie Bell.
That won't fly against the Buckeyes on Nov. 23. Ohio State has scored at least 34 points in every game. A lull like Penn State had Saturday might not work at Minnesota in three weeks, a potential battle of undefeated teams. Penn State leaves its White Out weekend happy to be undefeated, but with plenty of room for improvement.
Kansas nearly beat Texas. Again
Sam Ehlinger and Cameron Dicker saved Texas from a second consecutive loss, and plenty of Internet mockery.
Ehlinger led the Longhorns on a 10-play, 60-yard drive in the final minute, and Dicker made a 33-yard field goal as time expired to give the No. 15 Longhorns (5-2, 3-1 Big 12) a 50-48 win over Kansas (2-5, 0-4). The late rally denied Kansas its first-ever win in Austin.
But three years after Kansas beat Texas in one of the lowlights of the Charlie Strong era, it nearly happened again.
Kansas effortlessly cut through Texas' depleted defense. Carter Stanley, the quarterback who architected KU's shocking win over the Longhorns three years ago, made throws on the money and found open receivers. He threw for 310 yards and four touchdowns.
With 71 seconds left, it was Stephon Robinson on the receiving end of a 22-yard Stanley pass - bringing the Jayhawks within one point at 47-46. Moments later, Stanley found Daylon Charlot for the two-point conversion that caused Texas fans to put their hands on their heads in disbelief.
One late drive saved Texas, but the game showed plenty about both teams.
The Longhorns will have their hands full getting back to the Big 12 championship game. With Oklahoma and Baylor undefeated, Texas might need to win out to have a chance. At worst, it will need to play better than it did Saturday. The Longhorns committed two turnovers in the fourth quarter that put the game in peril.
For Kansas, which also scored 48 points in a road win at Boston College in September, this was a step in the right direction. It was the first game since Les Miles named Brent Dearmon his new offensive coordinator. Dearmon, who was the head coach at NAIA Bethel College at this time last year, outdueled Texas defensive coordinator Todd Orlando.
A 12-1 Oregon would make for a fascinating discussion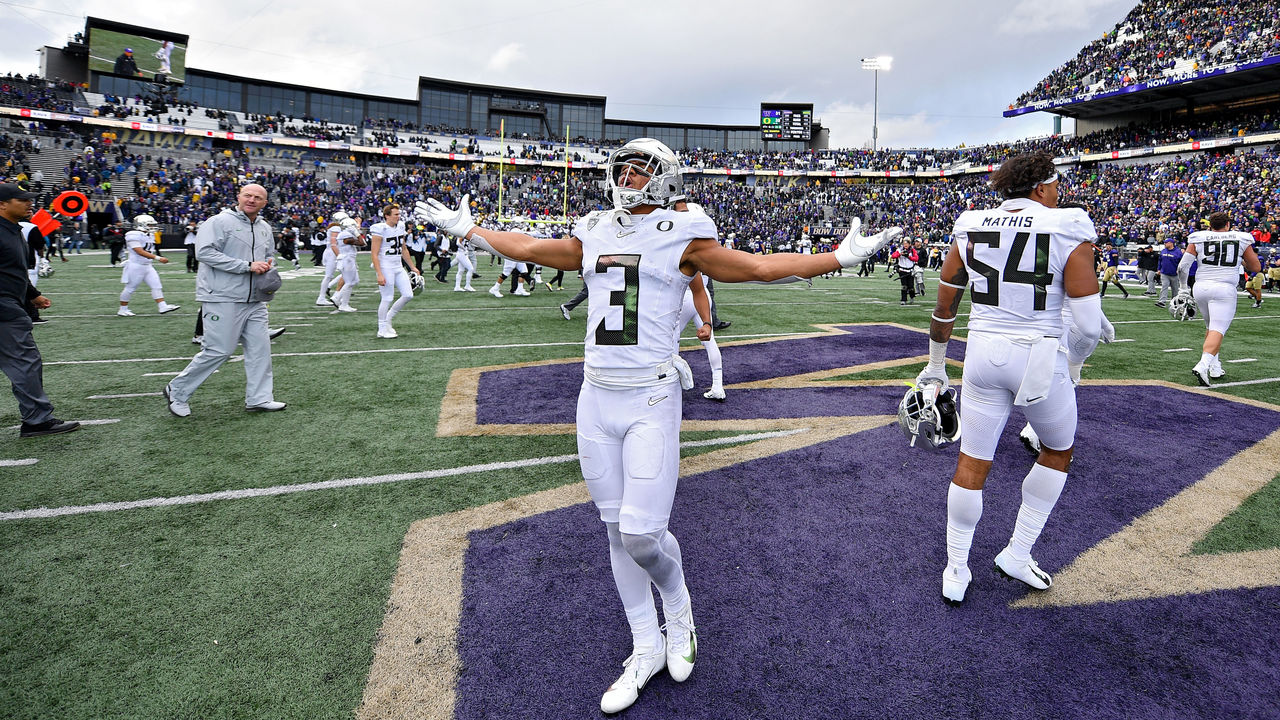 Oregon has a long way to go before it becomes a serious contender for one of the four spots in the College Football Playoff.
But it only took until Oct. 19 for the No. 12 Ducks to take a commanding lead in the Pac-12 North.
Oregon (6-1, 4-0 Pac-12) was as impressive Saturday as it's ever been under Mario Cristobal, storming back from a 14-point deficit to win 35-31 at No. 25 Washington. The Ducks outscored the Huskies 21-3 down the stretch, with Justin Herbert's 5-yard touchdown pass to Jaylon Redd being the difference.
Herbert threw for 280 yards and four touchdowns in arguably his best game in a big moment of his career. And Oregon's defense, one of the best in the country entering Saturday, shut out Washington (5-3, 2-3) in the fourth quarter.
The win, barring catastrophe, means Oregon will win its division for the first time since 2014. The Ducks are 4-0 in the Pac-12. Oregon State is 2-2. Every other team has three-plus losses.
But what about the playoff?
There is a long line of undefeated teams ahead of Oregon: Alabama, LSU, Clemson, Ohio State, Oklahoma, and Penn State are just some of them. But what if Oregon runs the table?
The Ducks will be 12-1, and their only loss will have come way back in August - at a neutral site, to a good Auburn team, in a game Oregon controlled.
A lot must happen first ... but don't count the Ducks out yet.
Baylor's rising, Oklahoma State's falling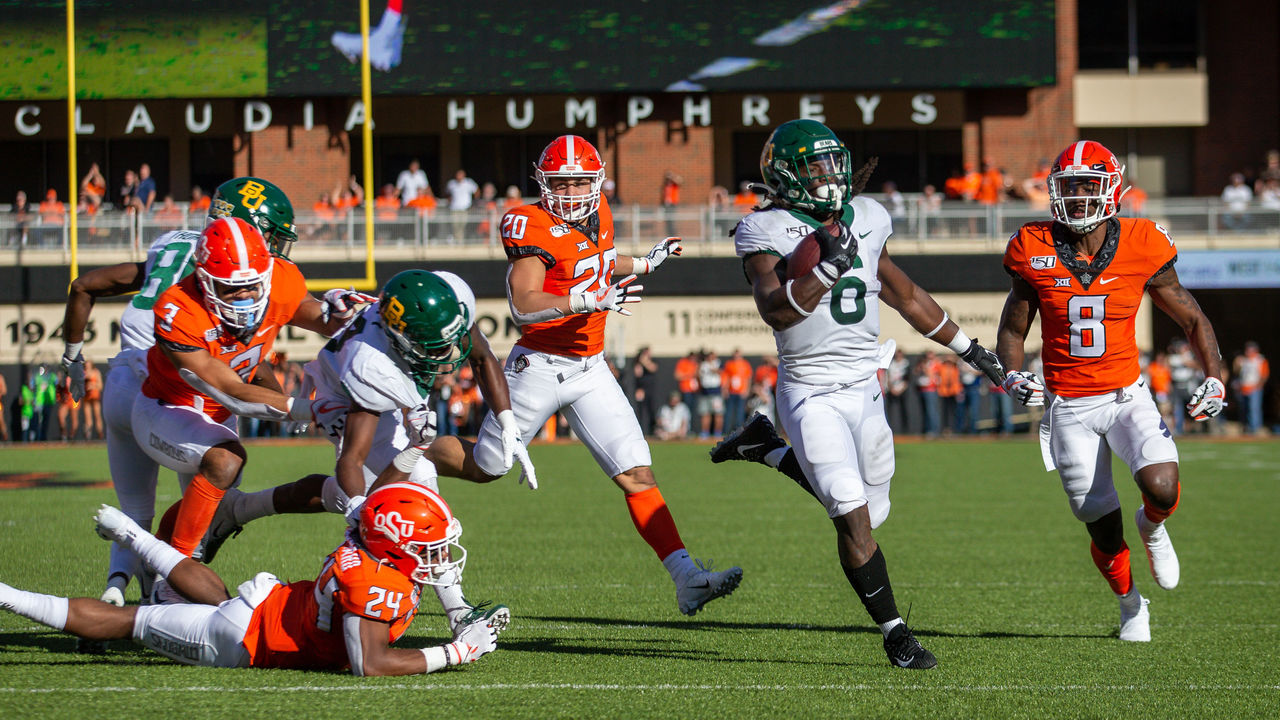 If Matt Rhule wasn't already the front-runner for national coach of the year, he should be now.
With his No. 18 Bears as ranked underdogs at Oklahoma State on Saturday, he coached his team to a masterful 45-27 win. Baylor's offense capitalized on a leaky OSU defense, producing four plays of 60-plus yards. The defense, despite the loss of leading tackler Clay Johnston, forced three turnovers.
Baylor (7-0, 4-0 Big 12) is going to be a factor in the national title picture. The Bears have a capable quarterback in Charlie Brewer (312 yards passing) and maybe the best defense in the Big 12.
Then there's this: Baylor hosts Oklahoma and Texas in back-to-back weeks in November. If the Bears can beat West Virginia and TCU, they'll be 9-0 for the OU game.
For Oklahoma State, this marks the eighth season since its lone Big 12 championship (2011). At 4-3, the Cowboys should still make a bowl game, but they feel far removed from the three consecutive 10-win campaigns they enjoyed with Mason Rudolph at quarterback. Redshirt freshman Spencer Sanders has potential, but a minus-9 turnover margin for the season has been backbreaking.
VT-UNC comes down to 2-point conversions
College football altered its overtime rules this offseason after LSU and Texas A&M played seven frames a year ago. Beginning in the fifth overtime, teams now rotate two-point conversions - a sudden-death scenario akin to penalty kicks.
Virginia Tech and North Carolina put the new format to the test Saturday.
In a silly yet riveting way to decide a football game, neither team converted on their two-point attempts in the fifth overtime. North Carolina defensive back Storm Duck - the best name in college football? - broke up a pass, but UNC's run play was stuffed in the backfield.
In the sixth overtime, North Carolina quarterback Sam Howell was tackled for a loss. The Hokies walked off with the 43-41 win when Quincy Patterson ran into the end zone.
The game had it all. Both kickers missed two field goals, including chances to win in the third (UNC) and fourth (Virginia Tech) overtimes.
Wisconsin gives one away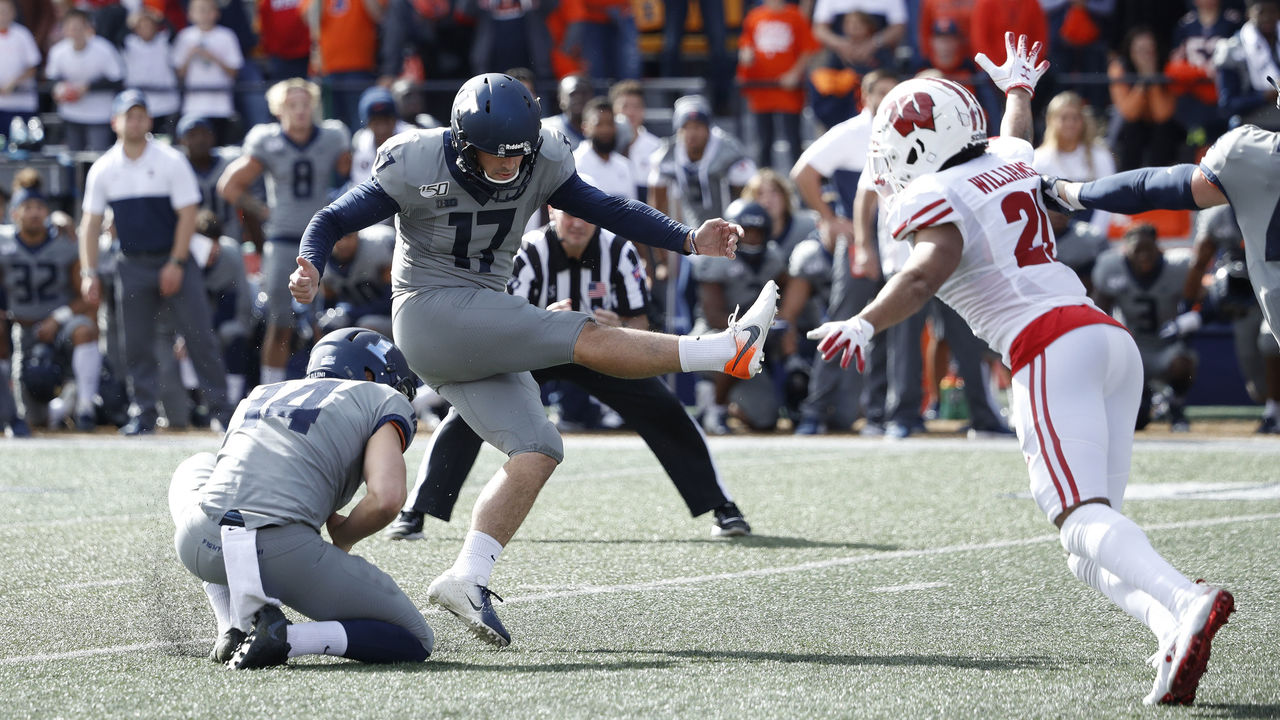 With the game on the line, Wisconsin went away from its strength.
Leading 23-21 with 2:32 left and facing a third-and-5 from their own 45-yard line, the Badgers elected to throw. Quarterback Jack Coan, who went 24-of-32 for the game, threw an interception to Tony Adams.
It was the No. 6 Badgers' third turnover of the game - one of which came on a rare fumble by star running back Jonathan Taylor, who rushed for 132 yards on 28 carries. Three giveaways proved one too many.
Illinois' James McCourt drilled a 39-yard field goal, giving the Fighting Illini a 24-23 victory in the upset of the 2019 season. Illinois hadn't defeated a ranked opponent since 2011 and hadn't won against a top-10 team since upsetting No. 1 Ohio State in 2007 (shout-out to Juice Williams).
Wisconsin (6-1, 3-1 Big Ten) outgained Illinois 420-315. It held the football for over 40 minutes - more than two-thirds of the game. When Taylor scored his lone touchdown from 5 yards out, Wisconsin took a 20-7 lead early in the third quarter. The Badgers looked sluggish a week ahead of their trip to Ohio State but had still seemed to have enough defensively to put away Illinois.
But in his fourth season, Lovie Smith finally delivered a signature win to the Illinois program. And an inexplicable loss for a Wisconsin team that looked like a playoff contender through its first six games.
Credit to Illinois (3-4, 1-3), which outscored Wisconsin 17-3 in the final 16 minutes of the game. The Badgers' final three offensive drives, meanwhile, lost them the game. Early in the fourth quarter, Wisconsin settled for a field goal after failing to punch it in on three tries from inside the 3-yard line. Taylor fumbled on the next drive. Coan turned it over on the final drive.
Clemson shakes off early turnovers in dominant win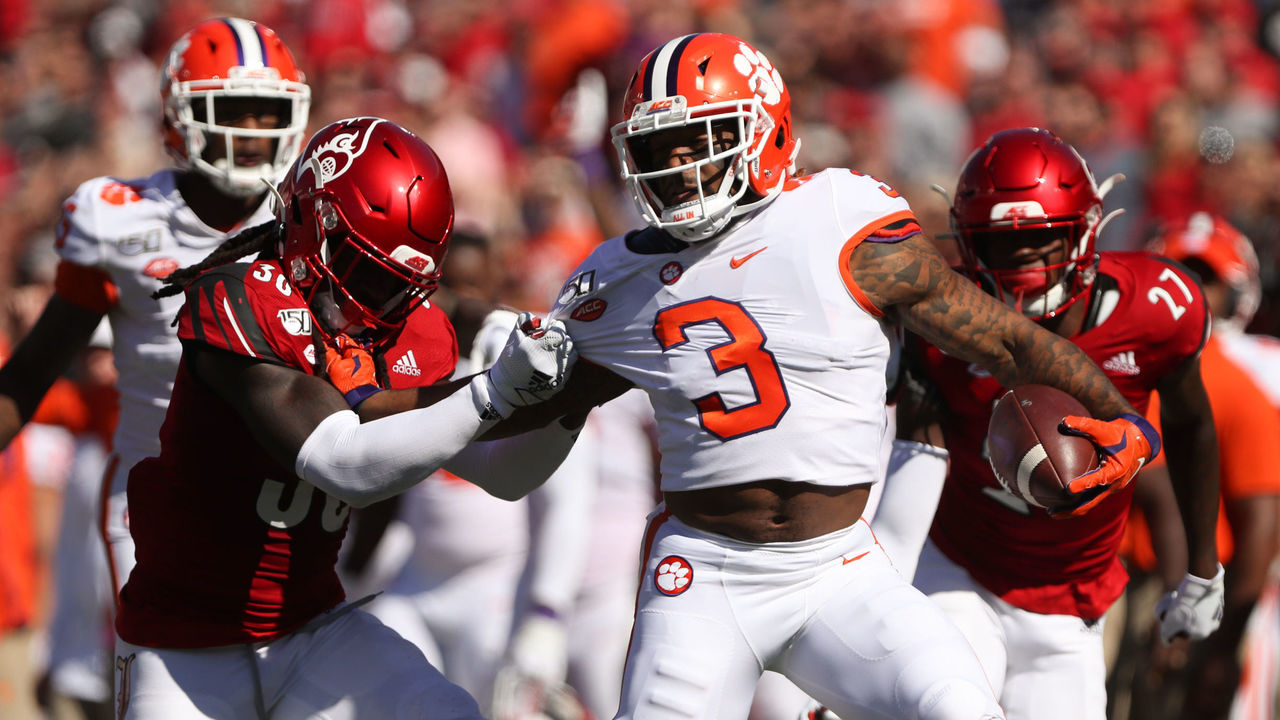 Clemson (7-0, 5-0 ACC) did what Wisconsin could not Saturday: win despite not playing its very best.
The No. 3 Tigers overcame two red-zone interceptions by Trevor Lawrence and pummeled Louisville 45-10 for their 22nd consecutive win.
Both teams combined for five turnovers in the first six possessions of the game: Lawrence was intercepted twice throwing to the end zone as Louisville threw a pick and lost two fumbles.
Lawrence eventually straightened out, completing 20-of-29 passes, including three touchdowns, and running back Travis Etienne exploded for 192 yards on 14 carries.
While Clemson's offense took some time to get going, its defense never let up. Louisville quarterbacks Micale Cunningham and Evan Conley combined to complete just 8-of-22 passes for 107 yards and two interceptions as the Cardinals (4-3, 2-2) averaged 4 yards per play.
Don't sleep on Iowa State
With Oklahoma and Baylor undefeated and Texas still ranked, Iowa State has fallen out of the national discussion regarding the Big 12 title race. But don't forget about the Cyclones - especially sophomore quarterback Brock Purdy.
The catalyst for ISU's midseason five-game winning streak last year delivered again Saturday, passing for 378 yards and three touchdowns in a 34-24 victory at Texas Tech. The Cyclones (5-2, 3-1 Big 12) amassed 560 yards on 56 plays for their third consecutive win.
Iowa State's two losses this season came by a combined three points. Matt Campbell's team looks strong heading into a three-game stretch against Oklahoma State, Oklahoma, and Texas.
Florida fights off rain, South Carolina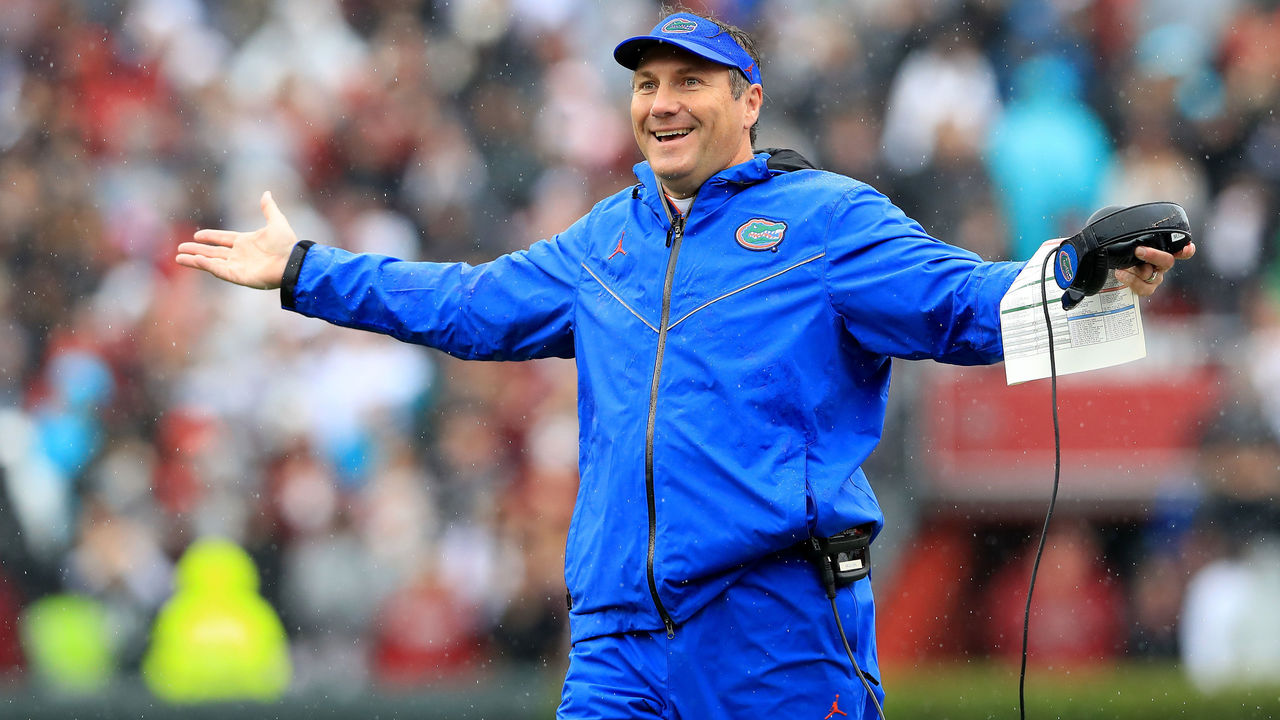 Despite last week's loss to LSU, No. 9 Florida (7-1, 4-1 SEC) is still very much in the race for the SEC East title and has a chance to go up a game on Georgia next week in Jacksonville.
First, though, the Gators had to beat the team that beat the Bulldogs. And despite an ugly start, Florida found a way to top South Carolina 38-27 on Saturday.
Quarterback Kyle Trask didn't play his best but threw four touchdowns. Entering the fourth quarter trailing 20-17, Florida scored three touchdowns in six minutes to seize control on the road.