NBA offseason grades: Breaking down the moves in the Atlantic Division
Nathaniel S. Butler / National Basketball Association / Getty
A flurry of noteworthy trades and signings dominated the NBA offseason, but this summer was also notable for the moves that didn't materialize. With a new campaign on the horizon, we look at how each team fared over the past few months.
We begin in the Atlantic Division, which may be shaping up to be one of the toughest groups of teams across the NBA. Three heavyweights are all candidates to lead the crop, including one that fell just two wins shy of the NBA title this year.
Be sure to check back in the coming days for the remainder of the divisions.

Atlantic | Central | Southeast
Northwest | Pacific | Southwest
Boston Celtics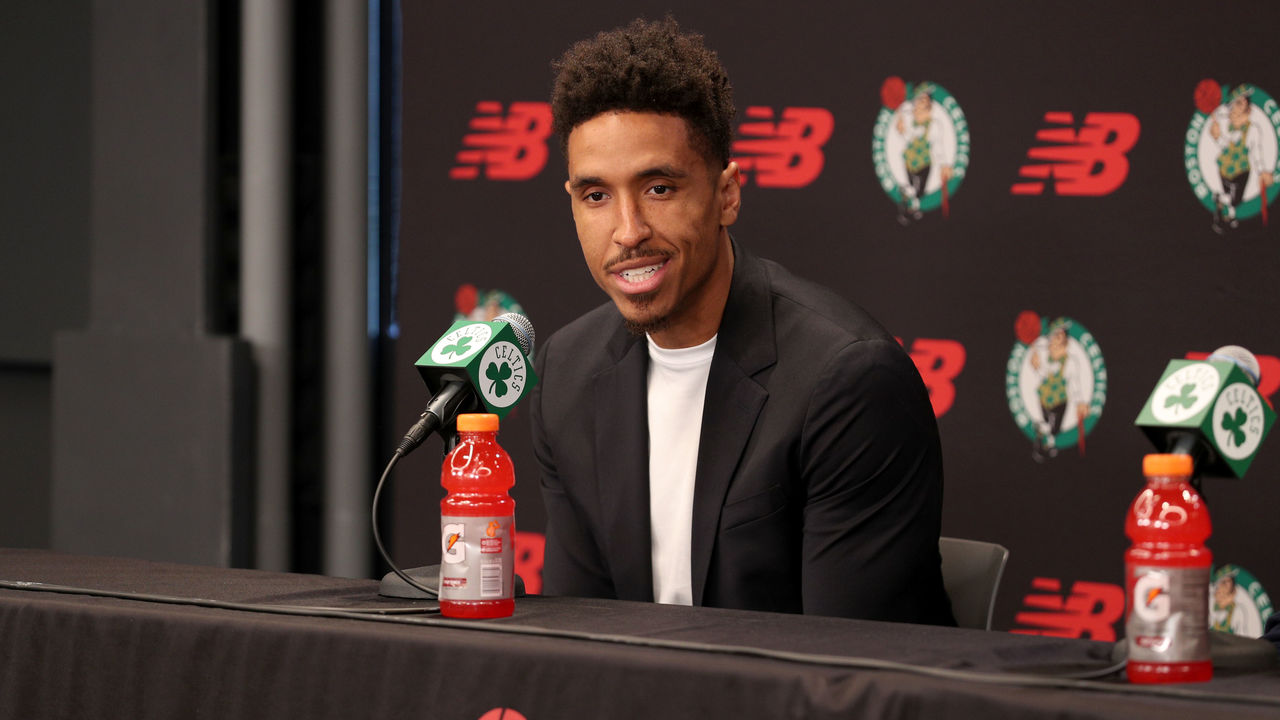 Last season: 51-31 (.622), lost in NBA Finals
Departed: Daniel Theis (IND); Aaron Nesmith (IND); Malik Fitts (FA); Juwan Morgan (FA); Matt Ryan (FA); Brodric Thomas (FA)
Drafted: JD Davison (No. 53)
Re-signed: Sam Hauser; Luke Kornet
Added: Malcolm Brogdon (IND); Danilo Gallinari (ATL); Jake Layman (MIN); Denzel Valentine (UTA); Noah Vonleh (BRK); Justin Jackson (PHX); Mfiondu Kabengele (HOU)
The Celtics' sound offseason acquisitions have been overshadowed by the suspension of head coach Ime Udoka, and it'd be remiss not to take the fallout into account here.
In terms of the roster specifically, Boston unsurprisingly made minimal changes. The losses of Theis and Nesmith will hurt the team's production slightly off the bench, but it's a small price to pay for Brogdon, who can balance out the Celtics' starting lineup with a crucial injection of playmaking.
The injuries to new signee Gallinari and starting center Robert Williams are obviously detrimental to the squad's goals. Gallinari tore his ACL in a freak non-contact play while representing Italy, while Williams is expected to be out until at least mid-November after a recent knee scope. Their absences come down more to misfortune than poor planning, but the Celtics aren't exactly rushing for replacements.
With a thinned-out squad to start the season, coupled with legitimate concerns over the Udoka situation and how the Celtics organization handled it, it's been a nightmare offseason for a franchise that was two wins away from a title in June.
Grade: C-
Philadelphia 76ers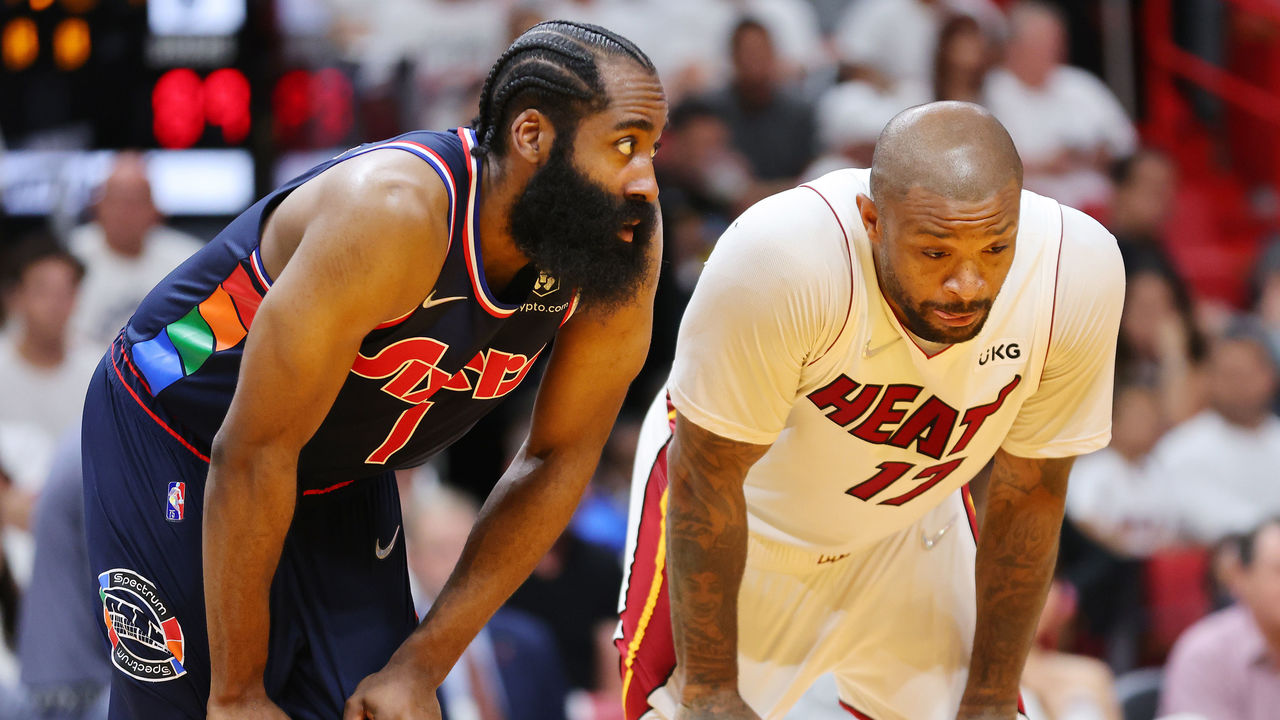 Last season: 51-31 (.622), lost in second round
Departed: Danny Green (MEM); DeAndre Jordan (DEN); Paul Millsap (FA); Myles Powell (FA)
Drafted: N/A
Re-signed: James Harden
Added: De'Anthony Melton (MEM); P.J. Tucker (MIA); Montrezl Harrell (CHA); Danuel House (UTA); Trevelin Queen (HOU); Julian Champagnie (UDFA); Michael Foster Jr. (UDFA)
Superstars who willingly take a sizable pay cut to give their team financial wiggle room to improve the roster are a rarity today, but Harden had no issue placing his trust in the 76ers. Rather than guarantee himself a salary north of $47 million next season, he delayed signing a new two-year contract worth $68.6 million, a decision that was surely made much easier thanks to his lengthy relationship with team president Daryl Morey.
Harden's sacrifice could become his biggest assist in a Philadelphia jersey. Because of him, the 76ers were able to add a couple of his former teammates in Tucker and House. They should bring shooting and, in Tucker's case specifically, another big defensive presence off the bench. Harrell may not be as impactful defensively, but he'll jolt that second unit with needed energy.
Melton may be Philadelphia's most understated addition. The 24-year-old carved out a solid bench role over the last three seasons on the Memphis Grizzlies, yet all he cost the 76ers was an injured Green's expiring contract and the 23rd pick in the draft.
Fleshing out the depth was clearly Morey's goal for the offseason. With a little help from his star, he succeeded.
Grade: A
Toronto Raptors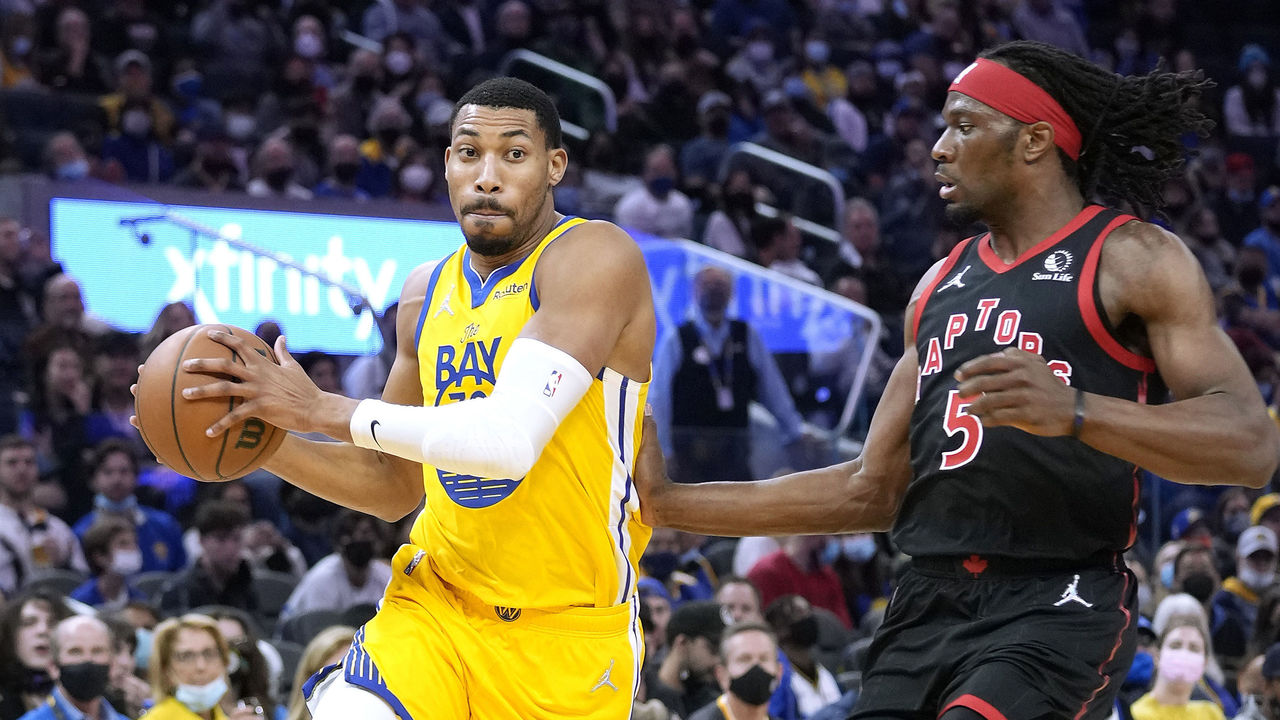 Last season: 48-34 (.585), lost in first round
Departed: Svi Mykhailiuk (NYK); Yuta Watanabe (BRK); Isaac Bonga (Germany); Armoni Brooks (FA)
Drafted: Christian Koloko (No. 33)
Re-signed: Chris Boucher; Justin Champagnie; Thaddeus Young
Added: Otto Porter (GSW); Juancho Hernangomez (UTA); Josh Jackson (SAC); D.J. Wilson (OKC); Jeff Dowtin (ORL); Ron Harper (UDFA); Gabe Brown (UDFA)
Equipped with the reigning Rookie of the Year in Scottie Barnes, the Raptors weren't in any hurry to overhaul their roster.
Two-time All-NBAer Pascal Siakam is still their central star and Fred VanVleet, who earned his debut All-Star nod last season, once again figures to serve as Toronto's play-calling leader. When you factor in rising sharpshooter Gary Trent Jr., 3-and-D wing OG Anunoby, and third-year big man Precious Achiuwa, Toronto still boasts an impressive short rotation.
That said, the team's offseason activity still elicits some questions about its direction. The reported refusal to part with Barnes in a deal for Kevin Durant suggests the 21-year-old is pivotal to everything the front office does from here on out, which is a valid blueprint. But while the Raptors likely won't miss any of their offseason departures, everything else they did implies a "wait and see" approach.
Porter is a fine veteran addition on an inexpensive deal, but he's slightly underwhelming as their offseason headliner. Koloko is a great second-round find for a team bereft of true 7-footers, and retaining Boucher and Young ensures a better bench than last season, but what's the goal? A championship is likely out of reach for the current roster, and Toronto will have to make crucial contract decisions regarding VanVleet and Trent next summer.
Grade: B-
Brooklyn Nets
Last season: 44-38 (.537), lost in first round
Departed: Blake Griffin (FA); Goran Dragic (CHI); Andre Drummond (CHI);
LaMarcus Aldridge (FA); Bruce Brown (DEN)
Drafted: N/A
Re-signed: Patty Mills; Nicolas Claxton; David Duke; Kessler Edwards
Added: Markieff Morris (MIA); Royce O'Neale (UTA); T.J. Warren (IND); Yuta Watanabe (TOR); Chris Chiozza (GSW); Alondes Williams (UDFA); Edmond Sumner (FA)
How do you even begin to assess the chaos that was the Nets' offseason? On paper, this team remains absolutely stacked and should be the popular pick to win it all. Except Brooklyn is anything but predictable, as we've all come to learn.
The massive elephant in the room staring everyone in the face is this summer's dramatic Durant saga. The former MVP stunningly requested a trade in June, gave team owner Joe Tsai an ultimatum between him or the duo of coach Steve Nash and general manager Sean Marks, and then sheepishly walked it all back in August. Of course, immediately prior to Durant's request, there was an air of mystery about Kyrie Irving's future before he picked up his $36.9-million player option.
A lot has happened.
But the thing is, amid all the bedlam, the Nets didn't get worse. The exits of veterans like Griffin, Dragic, Drummond, and Aldridge will be felt most in the locker room, but Morris and O'Neale are solid frontcourt replacements. Warren is a question mark as he hasn't played since the first four games of the 2020-21 season, but he could be a valuable bench contributor if healthy.
However, Brooklyn's most significant "additions" will be the healthy returns of both Joe Harris and Ben Simmons. Harris' hot shooting was severely missed after ankle surgery ended his campaign just 14 games in. Simmons, who missed all of last season, will give the Nets exactly the kind of complementary playmaking and shut-down defense they need around Irving and Durant.
Grade: B
New York Knicks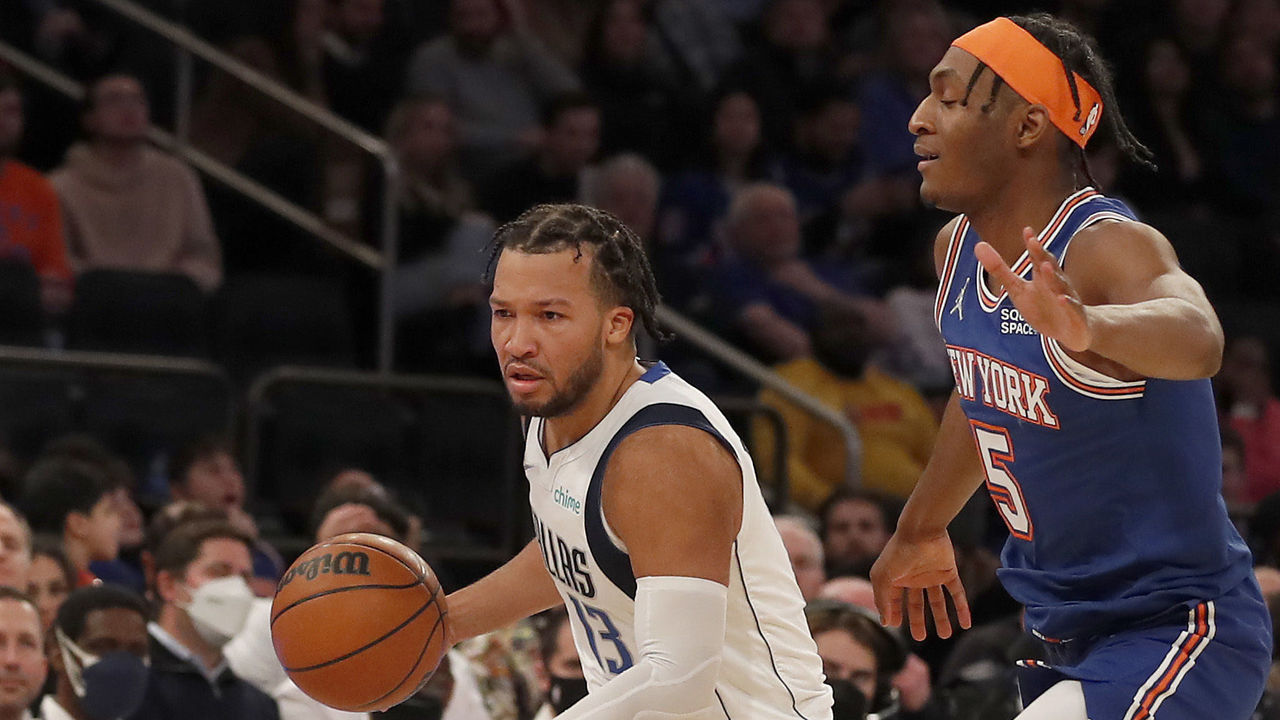 Last season: 37-45 (.451), missed playoffs
Departed: Kemba Walker (DET); Alec Burks (DET); Taj Gibson (WAS); Nerlens Noel (DET)
Drafted: Trevor Keels (No. 42)
Re-signed: RJ Barrett; Mitchell Robinson; Ryan Arcidiacono; Jericho Sims
Added: Jalen Brunson (DAL), Isaiah Hartenstein (LAC), Svi Mykhailiuk (TOR), DaQuan Jeffries (FA)
Following arguably the summer's worst-kept secret, the Knicks finally secured a top free-agency priority by prying Brunson from the Dallas Mavericks. The 26-year-old didn't come cheap, but his $104-million contract ended New York's nefarious streak of yearly strikeouts in the open market.
Contract terms aside, Brunson's a solid pickup who should form an exciting one-two punch with Barrett, who signed his own lucrative deal this offseason with a $107-million extension. But it's also fair to question if Brunson's addition alone will make the team that much better. After finishing six games out of a play-in spot last season, the four-team pre-playoff tournament feels like this roster's ceiling with how loaded the rest of the East is.
There's also the question of Julius Randle's long-term fit with the franchise. The former Most Improved Player showed discontent on multiple occasions last season, including a tense exchange with an assistant coach and some strong words for Knicks fans.
Finally, New York might've been better off using its draft capital to get the team younger rather than effectively burning the 11th pick just to offload Walker's $9.2-million salary.
Grade: C+