Anthony Edwards holds the Wolves' present and future in the palm of his hand
Getty Images / Photo illustration by Nick Roy / theScore
With the 2022-23 campaign approaching, we're diving deep into some of the players we're most interested to watch in the season to come. Next up is one of the NBA's brightest young stars who leads one of its most interesting teams.
Previous entries: Tyrese Maxey, James Wiseman
The Minnesota Timberwolves' massive swing for Rudy Gobert was an expression of their front office's belief in a number of things. Belief in Gobert himself and his ability to address the team's biggest needs; in Karl-Anthony Towns' ability to slide down to power forward and handle the skill demands of that position at both ends of the floor; in D'Angelo Russell's ability to spearhead a dynamic pick-and-roll attack with an elite dive man alongside him; and, as much as anything, in the promise of Anthony Edwards, the electric 21-year-old wing who took a big step forward in his sophomore season and should be primed for bigger and better things in Year 3 and beyond.
The Wolves traded four first-round draft picks (three of which are fully unprotected) along with an unprotected first-round swap and the player they picked in the first round of the 2022 draft in exchange for a 30-year-old lower-rung star. That wouldn't have been palatable if they didn't feel they could be very well in the present while their future remained, to a certain extent, secure. That has a lot to do with Towns, who's still just 26 and now locked up through at least 2027 on a super-max extension. But it's Edwards who'll really dictate the team's upward mobility in both the near and long term.
Towns is clearly the team's best player for now, but he is what he is at this point - which is still probably the second-most skilled offensive big man in basketball. But his shortcomings are likely to remain shortcomings, even if there are ways Minnesota can get more out of him. Gobert definitely is what he is at this point; his floor and ceiling have merged into one second-story slab. Russell might be similarly maxed out, though he did make strides as a defender last year. Third-year forward Jaden McDaniels has plenty of untapped upside, but given his offensive limitations, it's hard to see real star potential.
In Edwards, though, the Wolves have a franchise cornerstone with boundless potential to dream on.
He's one of the most athletic players in the league, and his feel for the game, while still a bit raw, has come a long way in a very short amount of time. His jump shooting has also significantly improved over the course of his two seasons, especially his pull-up 3-ball, which he's already hoisting at huge volume. His shot selection could benefit from a bit more discipline, and there are still holes in his offensive profile, but he's a few refinements away from being an efficient, scoring-champ-caliber bucket-getter. Whether he can actually make those refinements - and how soon he can make them - will have a huge impact on what the next few years look like for the win-now Wolves. This season should tell us a lot.
Edwards' explosive first step and vertical athleticism allow him to live at the rim, but to make the most of that natural habitat, he needs to hone his finishing craft. That might seem like an absurd thing to say about someone who's authored more posters in two seasons than 90% of players do in their entire careers, but Edwards runs into issues when he can't hit the right takeoff point for a dunk. He struggles to modulate his pace and keep his layup attempts under control, and he's still figuring out how to initiate and sell contact. His free-throw attempt rate remains vexingly low for someone with his attacking style.
He shot a respectable 63% at the rim last season, which was right around average for a wing and a notable improvement from the 59% mark he registered as a rookie, per Cleaning the Glass. But it certainly feels like a player with Edwards' size, leaping ability, and raw power should be a better-than-league-average finisher at the rim. His in-between game is similarly underdeveloped, with a spotty mid-range stroke and no floater to speak of. He shot just 33% on non-rim 2-pointers last season, including 32% from floater range.
Improving the latter would probably help with the former because it would allow him to be more selective on his drives rather than banging his head against a wall of defenders at the rim. It would also force rim-protectors to account for him further from the basket, whereas now they can simply wait for him near the dotted line. It doesn't help that Edwards is also a limited playmaker who's prone to tunnel vision. Of the 47 players who drove to the basket at least 10 times per game last season, his assist-to-turnover ratio on drives ranked dead last, according to NBA Advanced Stats.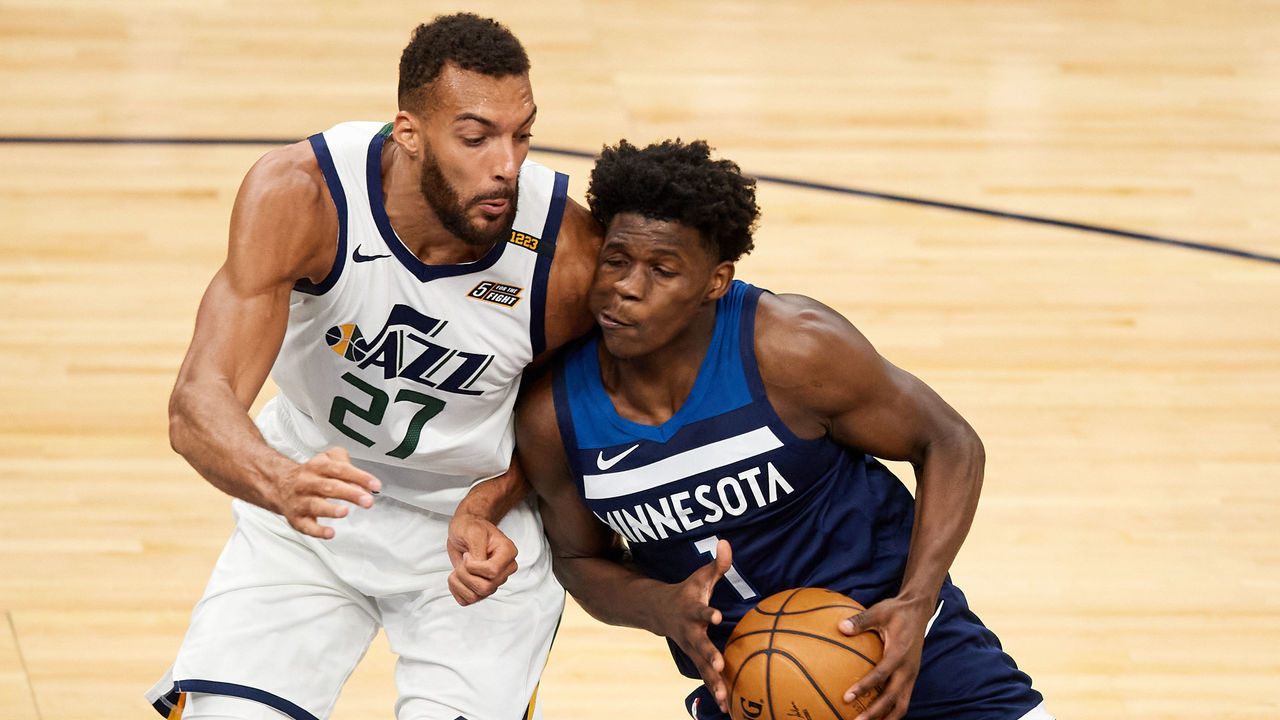 Given those limitations, it will be interesting to see how the Gobert addition impacts him. We already know Edwards jells with Towns and Russell; with those three on the court together, the Wolves outscored teams by 7.4 points per 100 possessions last season, posting an elite 117.0 offensive rating. On paper, Gobert looks like a natural offensive complement to Towns and Russell, but his fit with Edwards is more of a question mark - and not just because Edwards has gone out of his way to downplay Gobert's abilities in the past.
With Gobert carving out big swaths of space as a screener and either dragging drop bigs to the rim or drawing in weak-side taggers as a roll man, Edwards should get ample opportunity to workshop his pick-and-roll playmaking and mid-range scoring. Whether that process actually leads to him sharpening those skills is another matter.
Towns will probably always be the more sensible pick-and-roll/pop partner for Edwards because of the way his shooting can open up the floor for Edwards' wrecking-ball drives. But linking up with Gobert could challenge Edwards to round out his offensive arsenal in a way the pop-happy Towns won't. On paper, Gobert pairs better with Russell, a vastly superior passer to Edwards who puts much less pressure on the rim. We'll see if coach Chris Finch's substitution patterns for his top four guys reflect that.
There are no such fit concerns on defense, where Gobert will simply make Edwards' life easier and give him more license to take risks on the perimeter. While offense is Edwards' primary calling card, his bigger leap as a sophomore actually came on the other side of the ball. He became way more alert as a team defender than he was as a rookie, making timelier rotations and getting a better feel for tracking his man and the ball at the same time.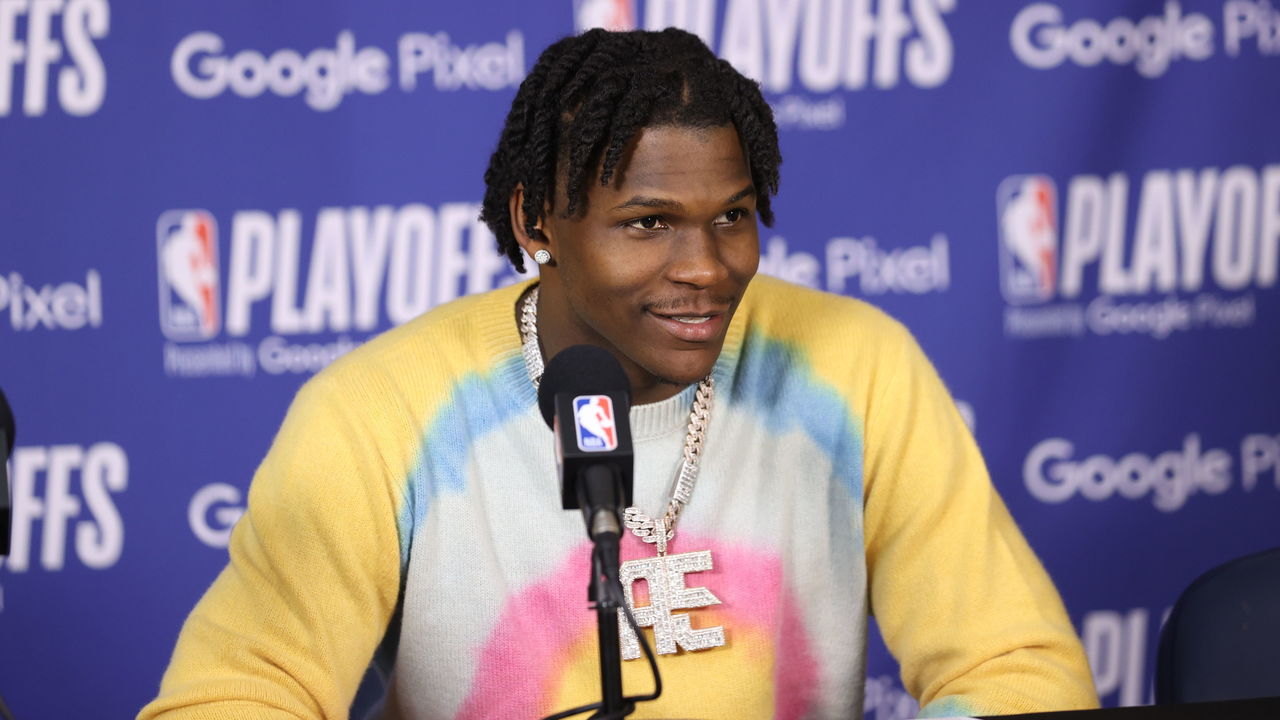 He still has plenty of room to improve, especially when it comes to staying balanced on closeouts and making secondary, help-the-helper rotations. But he already has the makings of an above-average on-ball defender, and he's so fast and athletic that he's often able to recover after getting beat or blowing a help assignment. The progress he made from his first year to his second suggested he's just scratching the surface of his defensive potential.
It sounds trite, but part of the reason it's so easy to believe in Edwards (apart from the rationale above) is the extent to which he clearly believes in himself. Whether he's expressing that unbridled confidence in his own abilities or bestowing it on his teammates, he just oozes the kind of moxie you associate with superstars. Not every second-year player would challenge his team's ostensible alpha to be more assertive. Whatever critiques one might have about his game, his magnetism is undeniable.
Couple that with the sheer aesthetic joy of watching him play, and he should be one of the league's most interesting players for at least the next decade. But this season will be particularly enthralling as the revamped Wolves embark on their twin-big experiment and look to reward their front office's faith. This is a team that just made the playoffs for the second time in the last 18 years and has still only escaped the first round once in its entire 33-year history. Not since Kevin Garnett stalked the Twin Cities have expectations been this high or the lights at Target Center this bright. Is Edwards ready to meet the moment?
What do you think he'd tell you?