This postseason proved that defense still rules the NBA
Boston Globe / Getty Images
One of the biggest misconceptions about today's NBA is that it's an offense-driven league in which defense has been de-emphasized. While offense has never been as potent as it is now, that's entirely due to factors beyond the defense's control, and it's only intensified the need for connectivity at that end of the court.
Between rule changes designed to declutter the floor, 3-point proliferation, shot-location optimization, the electrification of pace, and the continuous increase in shooting and ball skill, it's taken all manner of defensive ingenuity to keep up with the league's radically shifting offensive landscape. Even amid the great scoring boom, that defensive ingenuity defines the NBA's contender class and its champions. This past postseason proved it beyond a shadow of a doubt.
To wit: All four of this year's conference finalists, and six of its eight conference semifinalists, had top-seven defenses during the regular season. The Bucks, who won the title last year on the strength of their defense, were one of the two teams that didn't fit that criterion. But they proved once again they could defend at a championship level when competing at top gear with a healthy Brook Lopez, finishing with the best defensive rating of any playoff team.
The Mavericks put up historic offensive numbers in some of Luka Doncic's early seasons, but they didn't make a deep playoff push until they got serious about defense, even as their offensive efficiency tailed off. The Grizzlies' rise was powered in large part by the actualization of Jaren Jackson Jr., a skeleton key who can unlock any kind of defensive lineup or play style. Before they collapsed in the second round, the Suns ran maybe the most precise, late-switching drop coverage in the league.
None of those teams defended the same as any other, but, crucially, all of them were able to succeed in playing multiple styles. They could go big or small, play man-to-man or zone, run shallow or deep drop, early or late switch, handle pick-and-rolls two-on-two or engage a third defender and handle the shorthanded scenarios on the back side. All of them featured elite screen navigation, an increasingly important skill in today's pick-and-roll-dominated league.
At the other end of the spectrum, the Nets had more success scoring against Boston's defense than any other postseason team despite one of the worst series in recent memory from Kevin Durant. But Brooklyn's own defense was tissue paper, making a relatively pedestrian Celtics offense look like a buzzsaw en route to a first-round sweep.
You also had the Jazz, who shifted their priorities toward the offensive end in recent years. In doing so, they became a playoff cautionary tale after their inflexible defensive scheme got picked apart in the postseason due to the lack of complementary defenders around back-line fireman Rudy Gobert.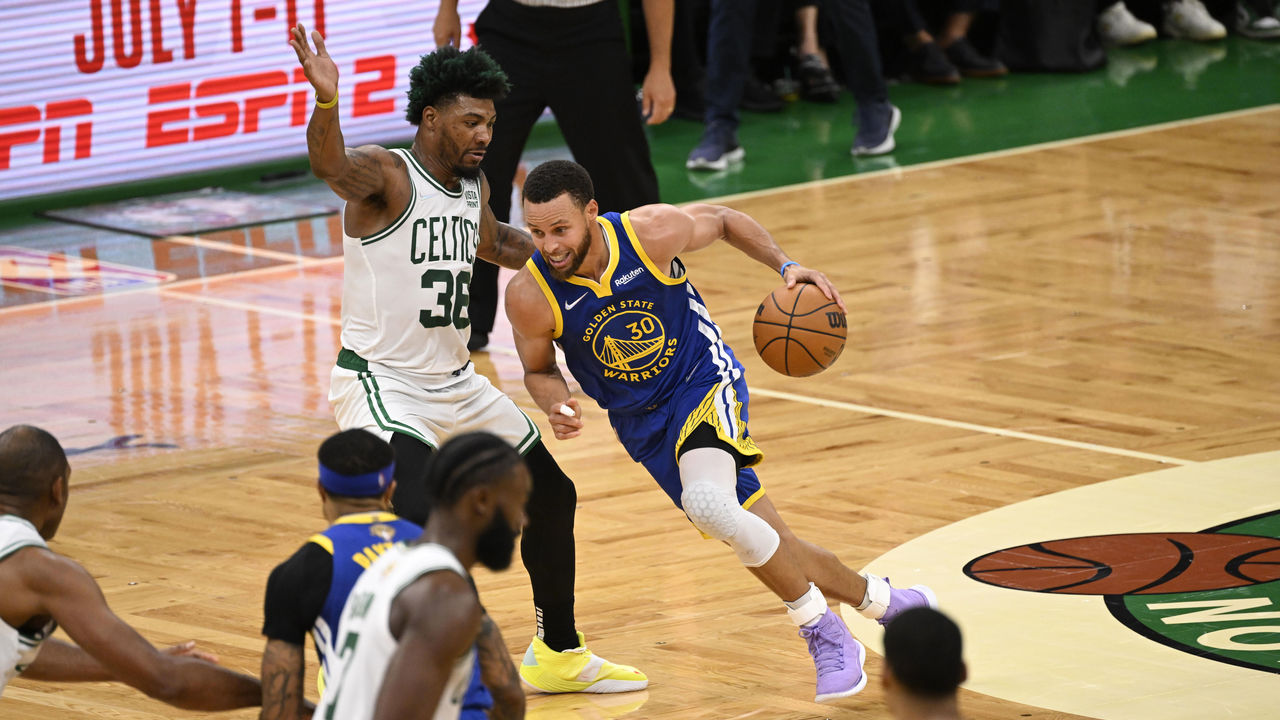 In the end, the league's two best defensive teams were left standing. It's not quite fair to say Golden State's defense outperformed Boston's in The Finals, because the Warriors had the luxury of not having to defend Steph Curry. But still, for all the deserved plaudits Curry received for his transcendent offensive performance, the Warriors struggled to score overall. It was primarily at the defensive end where they managed to grind out a championship. The Celtics' 105.6 offensive rating in The Finals was eight points per 100 possessions worse than their regular-season mark and equivalent to that of the 28th-ranked Pistons.
Draymond Green provided cyclonic help rotations and do-it-all brilliance, Andrew Wiggins offered blanketing on-ball work, Gary Payton II showcased passing-lane thievery, Kevon Looney combined rim protection and switchability, and the whole team excelled with hivemind-like synchronicity in help-and-rotate scenarios. As a result, the Warriors blockaded the Celtics' paths to the rim, put traffic in their dribbling avenues, scrambled their usual playmaking reads, and turned them over at an astronomical rate.
Golden State made hay early in the playoffs by downsizing often and uncorking an explosive lineup that featured Green at center with Curry, Wiggins, Klay Thompson, and Jordan Poole flanking him. That worked like gangbusters against the undermanned and defensively challenged Nuggets, but the Warriors increasingly found themselves having to play bigger and lean into defense in order to win as the playoffs progressed. Looney, and later Payton II, played big minutes and proved invaluable despite an inability to space the floor.
The Celtics were no slouches on defense themselves. Even with their offense sputtering and Curry raining hellfire on their heads, they actually finished The Finals with a slightly better offensive rating than the Warriors on first-shot halfcourt possessions (92.1 to 91.9, which would've ranked 23rd and 24th in the regular season, respectively). Though in fairness, Golden State chose to lean all the way into defense-oriented lineups.
More than anything, the latter stages of the playoffs showcased the need to be scheme-versatile. It's no longer enough to do one thing well. Drop coverage, for instance, remains a perfectly acceptable base scheme. Indeed, if executed correctly, particularly by the on-ball chasers, there's a strong case to be made that it's the best base (consider what the 2021 Bucks and this year's Celtics accomplished with their drops). But that base, like any other, needs to be heavily supplemented with alternatives to either adapt to an opponent or anticipate their plan of attack and keep them guessing. Milwaukee recognized this last year, which played a big part in its title run.
Even within a team's preferred scheme, there are myriad variations required to counter offenses of all stripes. The Celtics primarily played a deep drop against Miami in the conference finals and in some scenarios in The Finals. But against Curry, they mostly had their bigs coming up above the 3-point line before dropping back. They reacted to off-ball screening actions a bit differently than on-ball actions, and to dribble-handoffs differently than standard pick-and-rolls. They toyed with varying degrees of secondary and tertiary help.
The Warriors were even more unpredictable, tweaking their coverages from possession to possession and constantly changing the timing and location of their help to bamboozle Jayson Tatum, Jaylen Brown, and Marcus Smart.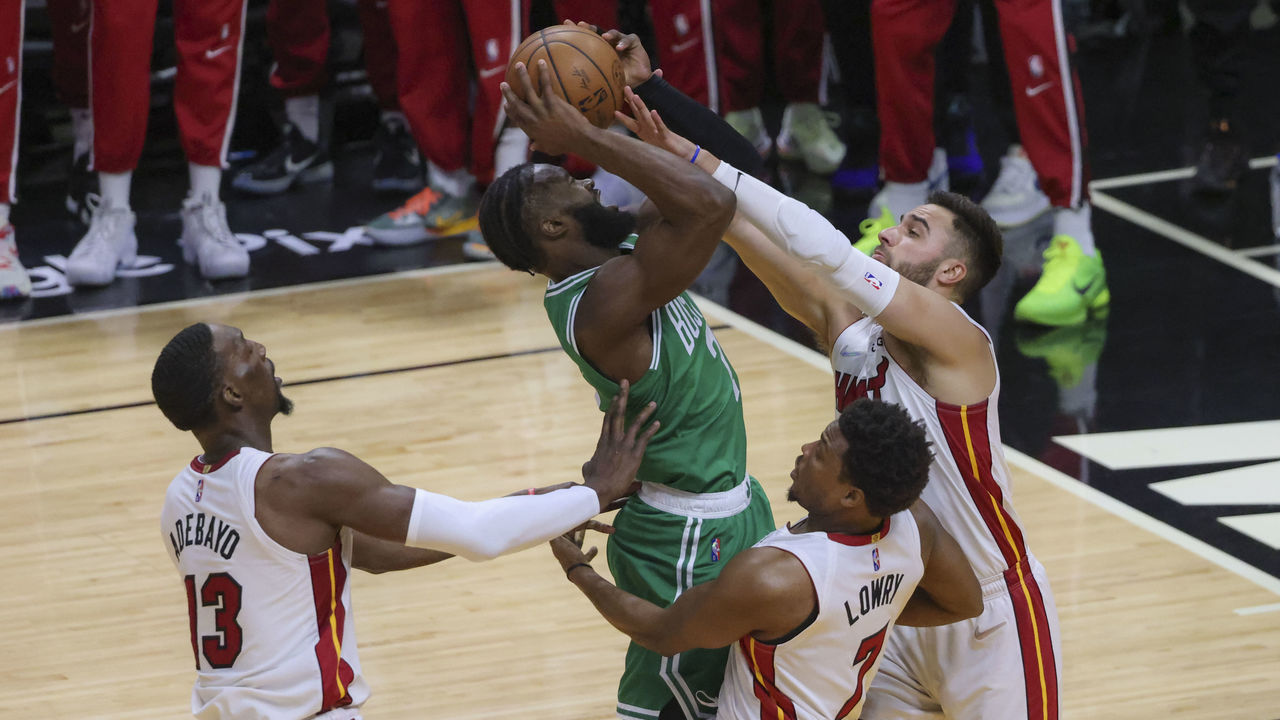 Switching has become a major component of playoff defense, but doing it effectively is far easier said than done. Being a great switching team requires selectivity - knowing when not to switch - and the ability to execute a ton of different kinds of switches. There are on-ball and off-ball switches, switches before the switch (pre-switches), switches after the switch (scram switches), peel switches, veer switches, jump switches, and switches that flow directly into blitzes.
The Warriors and Celtics put on a clinic in all those switching varieties in The Finals. Before that, the Heat nearly overcame significant offensive limitations to win the East on the strength of their ability to nail every aspect of their multi-pronged switching scheme.
We've also seen the proliferation of zone defenses to the point where all four conference finalists broke out variations of them at one time or another to throw knuckleballs at their opponents. When those teams weren't running standard zones, they were deploying hybrid zones or incorporating zone-adjacent help concepts.
Playoff basketball is always a tug-of-war between proactivity and reactivity. This postseason, it felt like offenses reacted to what defenses were doing more often than the inverse. The rise of those types of proactive and versatile defenses has amplified the importance of similarly versatile offensive players who can bust any coverage they see.
Part of what made Curry's NBA Finals performance so extraordinary and so necessary for Golden State was that he did it against a shape-shifting, floor-shrinking defense that seemed to have an answer for just about everything and everyone else.
All-purpose coverage-busters like Curry are obviously extremely rare. Those who can simultaneously hold their own on defense are even more uncommon. Curry may have been the weakest link in the Warriors' defensive chain apart from Poole, and thus the player opponents game-planned to attack whenever Poole was on the bench. But Curry was solid enough at both defending on an island and rotating within the team system that he didn't compromise the defensive infrastructure around him.
The current environment complicates the value of elite offensive engines who significantly compromise their teams at the other end, guys like Ja Morant, Trae Young, Dame Lillard, Donovan Mitchell, and even Nikola Jokic. (Yes, Jokic was a plus defender during the regular season, and he's currently the best offensive player in the world. But he's harder to cover for as a center, and his limitations as a rim-protector and horizontal mover in space can render Denver's playoff defense one-dimensional and exploitable.)
That's not to say those players can't win rings with the right pieces around them. However, it's going to be a serious uphill battle for their teams as long as they continue to be liabilities at the end of the floor that separates contenders from pretenders year after year. Even as scoring continues to increase across the league, the teams making deep playoff runs and hanging banners are the ones that play lockdown defense in a variety of different schemes. That's rarely been more evident than it was this year.