Jaren Jackson's defensive leap is powering the Grizzlies' rise
Getty Images / Photo illustration by Nick Roy / theScore
Jaren Jackson Jr. has already worn many hats in his young NBA career. He's shuttled between frontcourt positions, shape-shifted to adapt to various big-man partners, and moved from inside the arc to beyond it at both ends of the floor.
As a rookie, he displayed a credible 3-point stroke but still took nearly 80% of his shots inside the arc, largely operating beneath the stretchy, high-post stylings of Marc Gasol. In his second season, playing next to rim-assaulting rookie point guard Ja Morant and post bruiser Jonas Valanciunas, Jackson migrated out to the perimeter, taking nearly half his shots from long range and functionally becoming a shooting guard on offense, rocketing off of pindowns and catching and firing like a 6-foot-11 version of Klay Thompson.
All the while, his eye-popping defensive tools could be glimpsed in flashes but didn't amount to a positive impact on the whole. For all his length, lateral mobility, and vertical burst, Jackson couldn't stop fouling people, couldn't secure rebounds, and provided middling rim protection. The Grizzlies frequently had him switch or hard-hedge in pick-and-roll coverage, which seemed as much a concession to his limitations as a drop defender as it did an embrace of his strengths on the perimeter.
His ideal position became a topic of debate, as the Grizzlies consistently defended better when he shared the floor with a center. He was a tweener with an uncertain long-term role. It didn't help that his sophomore campaign was cut short at its apex when he tore his meniscus in the Disney bubble, or that the injury also wiped out nearly all of his third season, or that he struggled to find his footing on both sides of the ball when he returned late in the year.
All the promise and mystery surrounding Jackson - his health, his flexible skill set, his stymied defensive development, his positional ambiguity, his importance to the Grizzlies' future - made him one of the league's most interesting swing players coming into the 2021-22 season. And true to form, Jackson has delivered on that promise and mystery in equal measure, authoring an unconventional breakout that has helped Memphis make a massive leap on its development track. In doing so, he's trying on another new hat: that of a defensive linchpin.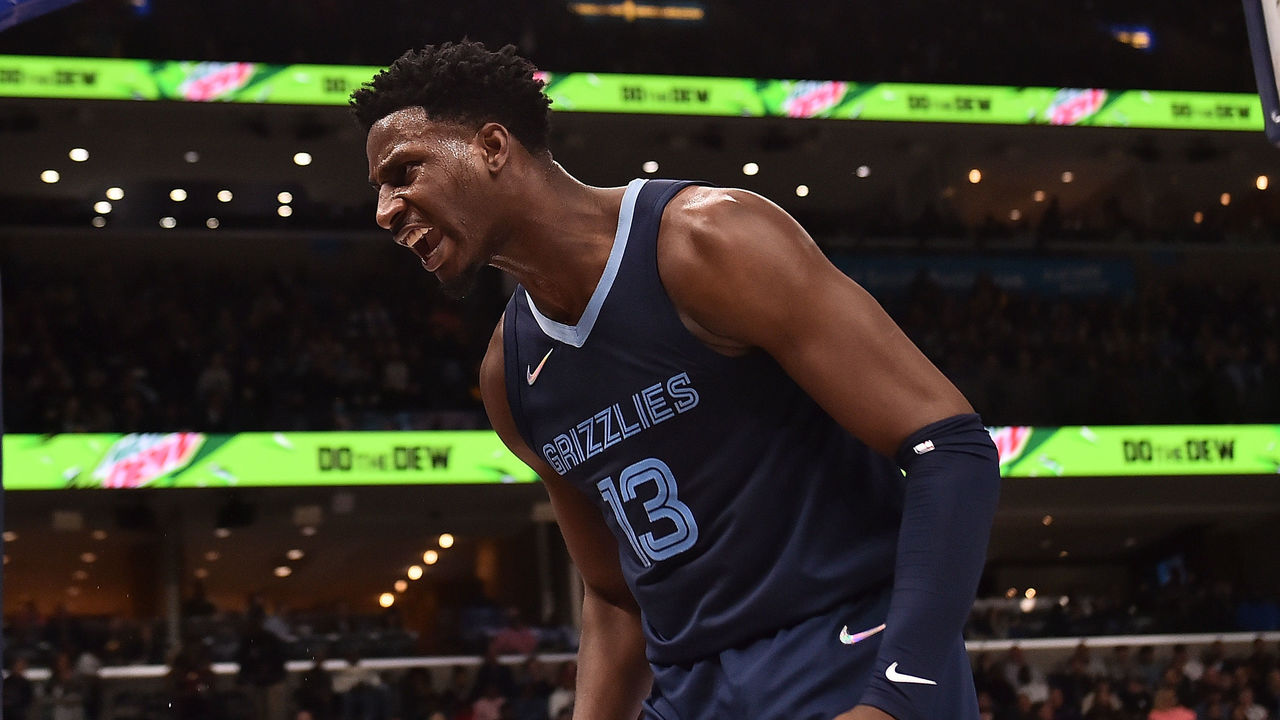 The Grizzlies are very much an ensemble cast that thrives on the strength of the collective, so it would be misguided to assign credit for Memphis' rapid ascent to any individual player. But Jackson's stunning defensive progression belongs right at the top of the long list of contributions. Ja Morant has obviously been spectacular as the team's offensive engine and emotional leader, but it's Jackson who's been the common denominator in all of Taylor Jenkins' best lineups. The Grizzlies outscore opponents by nine points per 100 possessions when Jackson plays without Morant.
Even early in the season, when they owned the league's worst defensive rating by a mile, they defended well when Jackson was on the court. The team has since completely turned its defensive fortunes around - a trend that began with Morant's knee injury in Game 19 but has continued since his return to the lineup. Before that inflection point, the Grizzlies were allowing nearly four more points per 100 possessions than any other team. Since then, they've allowed more than a point per 100 less than anyone else, bumping their defensive rating for the season all the way up to ninth.
Along with some overdue opponent shooting regression, Jackson has been the driving force behind that resurgence. The Grizzlies allow 4.1 fewer points per 100 with him on the floor, thanks largely to the fact that opposing teams shoot 9.2 percentage points worse at the rim. Jackson holds opponents to just 48.9% on at-rim attempts when he's in the vicinity, the fourth-best mark among players challenging at least four such shots per game, behind only Giannis Antetokounmpo, JaVale McGee, and Rudy Gobert. He's tamped down some of his jumpier tendencies and economized his movement, letting his 7-foot-4 wingspan do the talking.
There's an important distinction between being switchable and being versatile as a big-man defender, and while Jackson has been pretty switchable since entering the league, he wasn't a truly versatile defensive big until this season. He's not only gotten better at navigating switches and hedges away from the basket, he's also been a far more effective drop defender and all-around back-line anchor.
There are times when he'll demonstrate all those sharpened skills on the same possession, showing at the level of the screen, recovering to his man, then stepping up to help at the rim and hounding a shifty ball-handler on a late switch:
Jackson has also been an excellent low man, putting out all manner of fires behind the first layer of defense. He thwarted this Mavericks possession with an early rotation followed by a Draymond Green special:
There are few more precarious defensive scenarios than playing one-on-two against Luka Doncic. (Sidenote: nice to see the Mavs using Doncic as a ball-screener. More of that, please!) Doncic is one of the game's great master manipulators, but Jackson led the dance on that play, stunting at the ball and baiting the lob pass before immediately retreating and breaking it up. That's a challenging twin assignment to navigate in any situation, but doubly so when the ball is in the hands of a lob passer and floater artist of Doncic's caliber.
Opponents also shoot quite a bit worse on 3-pointers with Jackson on the floor. Though it's hard to gauge how much of that is attributable to him rather than Memphis' point-of-attack defenders or plain dumb luck, there are plenty of instances in which his ability to close space significantly muddies a seemingly clean long-range look. His combination of agility and length allows him to stunt at the nail and then recover to the wing, or tag the roller before closing out to the corner.
His foot speed also allows him to stick with basically any type of player. It's no small thing for a big man to track a waterbug like Jordan Poole through a split-action flare screen and offer up a strong contest:
Jackson can also more than hold his own against ball-handlers in space. We've seen him hound Steph Curry even after giving up a step, slide with Doncic all the way to the rim, and make DeMar DeRozan's life a misery by blotting out his shooting sightlines without conceding any driving angles or biting on his pump fake:
With his ability to deter shots at all three levels of the court, Jackson has become the platonic ideal of the "portable rim-protector," a term Mike Prada once coined in reference to peak Anthony Davis. That may seem like a fanciful comparison, but it shouldn't to anyone who's been paying close attention to the Grizzlies this season. (To be clear, that strictly applies to defense.)
Opponents have scored a paltry 0.64 points per possession on isolations against Jackson. Perhaps most impressively, he's committed shooting fouls on just 4% of those possessions, which is down from 16% in his last healthy season. That speaks to a huge component of his breakout, which is that his foul rate - 4.4 per 36 minutes - is a career low by far. Some added muscle mass has helped him better absorb bumps on drives and physicality in the post without becoming excessively handsy, but mainly he's just become more disciplined and far more balanced.
His blocks in transition provide good cases in point. In them you see all the refined footwork, patience, timing, and intuition. These almost certainly would've been fouls in the past:
As to the burning question of which position he should occupy, Jackson has provided an answer in the form of another question: Why not both? If he was a tweener big before, he's very much a combo big now.
In lineups with Jackson at center, Memphis allows just 102.9 points per 100 possessions, just a shade more than the Warriors' league-best mark. The rebounding in those lineups is still a major issue, with the Grizzlies recovering just 70.4% of opponent misses, but that just tells you how airtight those units have been on first-shot possessions.
Lineups with both Jackson and Steven Adams on the floor are slightly worse defensively overall despite being far better on the boards. (Those lineups also compensate by being considerably more productive on offense.) Jackson has clearly been up to the task of defending at the four, and having Adams behind him allows him to take more liberties on the perimeter (and vice versa). The pair's collective size can hit opponents in overwhelming waves.
It's worth noting that in most of the minutes Jackson plays without Adams, he's accompanied by another big man, the most effective of whom is Brandon Clarke - a hyperkinetic pogo stick who offers some switchability of his own, along with strong secondary rim protection. The Grizzlies have been dominant with either Adams or Clarke playing next to Jackson, but when he plays with neither of them, the team has struggled.
In other words, Jackson still isn't the type of five man capable of anchoring lineups featuring four perimeter players, with a wing occupying the power-forward spot. And that's perfectly fine. It just puts a bit of a spotlight on his inconsistent offense.
There've been plenty of positives there from a process perspective this season; he's driving the ball more frequently than he ever has, generating a career-high rate of self-created 2-point baskets, drawing heaps of free throws, and scoring effectively out of the post. But his jump shot has been frustratingly erratic, and he's had an inexplicably hard time finishing at the rim, which has led to a career-low 53.5% true-shooting mark. You might think Jackson's individual production sees a bump when he shifts to center, but his numbers are almost identical whether he plays the four or the five.
Jackson has become a different version of himself yet again, and this iteration hews far closer to his idealized form than any we've seen. Sure, it would be nice if he could pair his newly elite defense with the deadly 3-point shooting and interior finishing he brandished in his sophomore campaign, while also beefing up his rebounding in the process. But hey, that's what the development runway is for. The Grizzlies may have arrived well ahead of schedule, but they're a long way from their peak with this young core.
Jackson and Morant are both just 22. Jackson signed a four-year extension this past offseason, and a max extension is surely coming for Morant this summer. They have plenty of time to grow together. In the meantime, it's beyond encouraging to see Jackson actualizing his defensive potential, and giving the team a long-term bedrock at that end of the floor. He looks like a player who's capable of making annual appearances on All-Defensive teams, possibly starting this year.