In a volatile East final, Celtics find stability with pick-and-roll defense
Nathaniel S. Butler / NBA / Getty Images
The Eastern Conference final between the Miami Heat and Boston Celtics has been defined by volatility.
Knotted at two games apiece, it's ostensibly a close series, but it's been defined by extended stretches of wildly lopsided basketball on either side. The series has featured three minutes of clutch time, all of which came at the end of a chaotic Game 3 that saw the Celtics claw back from 26 points down, with the bulk of their near-comeback occurring after Jimmy Butler was ruled out at halftime with a knee injury. Miami still led wire to wire, and the game remained unsuspenseful save for those three minutes.
The series has also been a war of attrition, with injuries and illnesses knocking key players out of each team's lineup at various points. For the Celtics, Al Horford and Marcus Smart missed Game 1, Derrick White missed Game 2, Robert Williams III missed Game 3, and Smart sat out again in Game 4. For the Heat, Kyle Lowry missed Games 1 and 2, Butler missed the second half of Game 3 and looked compromised in Game 4, and Tyler Herro missed the tail end of Game 3 and all of Game 4. There's been almost no game-to-game consistency in terms of style, personnel, or performance.
But amid all the chaos, Boston has been steadily working toward an optimized, matchup-specific approach to pick-and-roll defense. Though they were the most switch-happy team in the NBA this season, and switching typically amps up in the playoffs, the Celtics have actually leaned away from their bread and butter in favor of a more selective, more multifaceted approach to ball-screen coverage.
They're still doing their fair share of switching, of course, but they're also playing a ton of drop, and having their on-ball defenders duck under picks against certain ball-handlers (particularly Butler). They adjust their coverage based on who's handling, who's screening, which help defenders they have on the floor, and where those help defenders are positioned. It's a perpetually moving target. And the outcome of the series will hinge on the banged-up Heat's ability to crack those coverages.
The Celtics' adaptive approach hasn't always produced ideal results against Miami, and there have been times when the coverages they've chosen for certain actions have felt wrongheaded. (See: Game 1, when the Heat posted a 112.2 first-shot half-court offensive rating in a decisive win.) But as the series has gone on and Boston's scheme has solidified, it's become a puzzle in which the Heat either aren't sure what coverage they're going to see or struggle to solve the one they know is coming. In the last three games, that half-court offensive rating has plummeted to 83.5.
One big reason is that Miami's jump shooting has dried up, specifically the off-the-bounce shooting required to beat drop coverage. The Heat went 13-for-24 on pull-up jumpers in Game 1 but are 28-for-89 in the three games since. Meanwhile, Boston's mix of drops and unders forced Miami into 28 shots from floater range in Game 4, compared to only 17 shots at the rim.
For the Heat, breaking that drop isn't just about hitting shots, it's about freeing up Bam Adebayo. Adebayo can do damage by slipping screens and diving to the rim or by working the back end of switches in the post. But the Celtics have made a point of taking those opportunities away from him by having his defender lay way back into the paint, and Miami's bricky shooting is doing nothing to dissuade them from that approach. Without the pull-up threat to draw the screen defender higher, it becomes extremely difficult for Adebayo to find rolling lanes.
The Heat can hope to see him counter by doing more of what he did in Game 3: Attacking in early offense, dribbling into deep post-ups, and taking and making a bunch of mid-range jumpers out of face-ups and short rolls. But that performance looks far more like the exception than the rule for Adebayo, not only in this series but in the postseason as a whole. He had 31 points in Game 3 and only 25 points in all three other games combined.
This is where Herro's Game 4 absence was so pronounced. The Celtics treat him as a threat even when he's in the midst of a cold shooting spell (as he has been for much of this series), and his on-ball magnetism makes a world of difference for Miami's roll men.
Getting two on the ball also allows Miami to pick on one of Boston's few defensive weaknesses: Jaylen Brown's negligent off-ball defense. Brown tends to arrive late as the low man and to fall asleep on back-side rotations. On the first play below, he was late to tag and allowed Adebayo to score on the roll. On the second, he neglected to sink down to Grant Williams' man in the dunker spot after Williams stepped up to help:
If Herro can't play or is limited when he does, Victor Oladipo is the obvious candidate to step into that void, especially after he was the only Heat player who could do anything offensively in the first half of Game 4. (At one point in that game, with slightly over two minutes left in the second quarter, the Heat had 28 points and Oladipo had 18 of them.) But the Celtics aren't going to treat Oladipo the way they do Herro. They'll keep challenging him to beat them with his inconsistent off-the-bounce game, and live with the results.
Here's a good example from Game 4 of why they're happy sticking with that coverage. Williams III was in a drop, his presence was enough to deter the Oladipo drive, and then he recovered after the pocket pass to annihilate P.J. Tucker's short-roll floater:
Boston also tweaked its drop coverage in Game 4, incorporating more aggressive nail help to combat Adebayo's short rolls. The Celtics had no qualms straying off of the likes of Tucker and Oladipo in order to make Adebayo see more bodies in the middle. Below are a pair of examples, the first of which ended in a Horford steal and the second a missed double-clutch Adebayo jumper: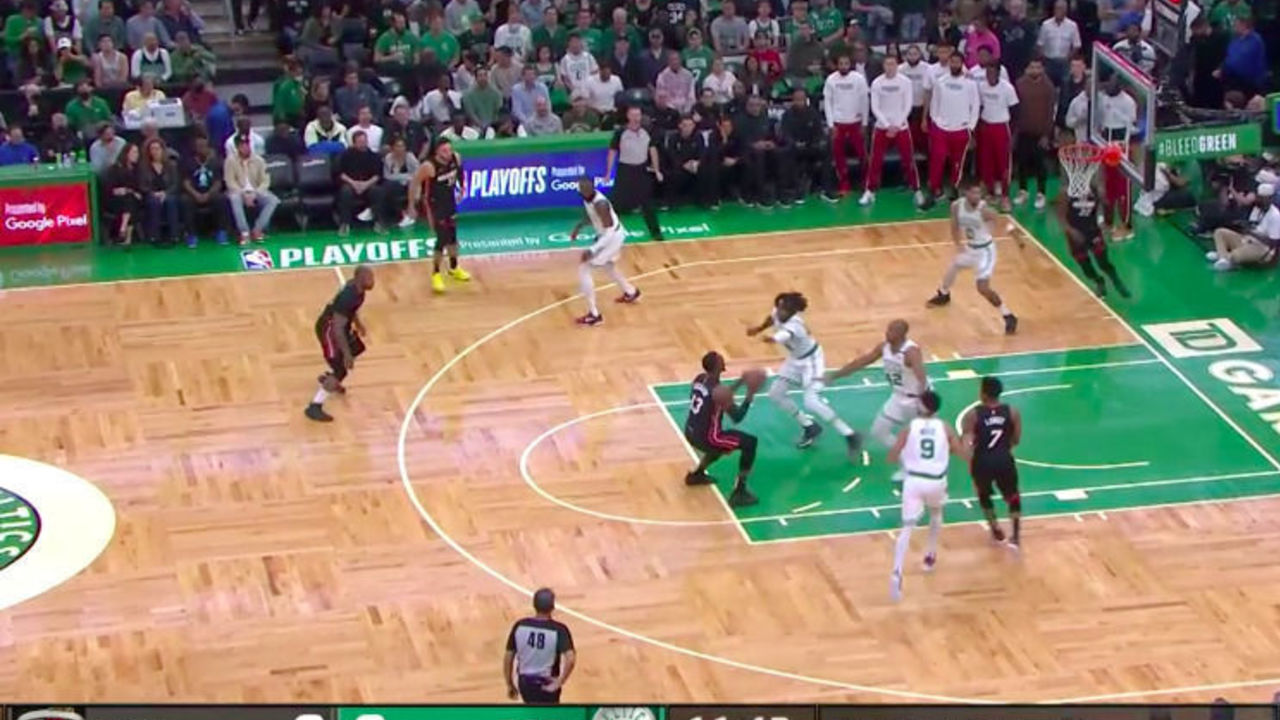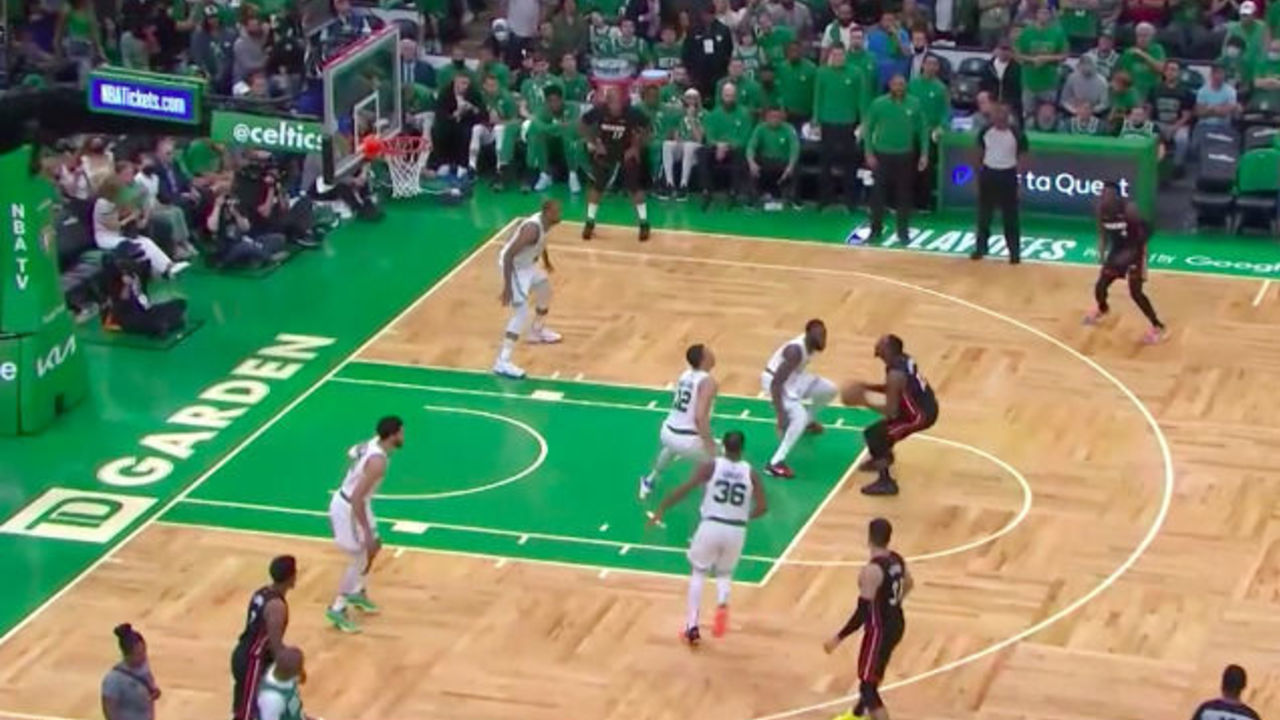 Williams III's return to the lineup in Game 4 was obviously huge - his importance to Boston's defense can't be overstated. His impact is felt in his own excellent work in ball-screen coverage, but also in the ways his presence acts as a safety net that empowers every other Celtics defender - especially Horford - to be the most forceful and aggressive versions of themselves. (The Celtics have played only 23 minutes in this series with both Horford and Williams III on the court and they've held Miami to an 84.4 offensive rating and nabbed 57.1% of available rebounds in those minutes.)
With Smart injured, Williams III also spent time as Butler's primary defender, with the Celtics avoiding potential screen navigation issues by having him slide way under to meet Butler on the other side. It's not dissimilar to what the Lakers did with Anthony Davis on Butler in the Finals two years ago, and this helped limit the hobbled star to six points on 3-of-14 shooting in Game 4.
The Heat's counter to that defensive alignment in the series against L.A. was to use Butler more as a screener, and they tried that on a few occasions in this case, too. But that only works if his teammates knock down shots, which in Game 4 they very much did not.
There are other ways for Butler to counter unders - like with re-screens and zig-zagging drives - that we haven't seen much of in the last two games, probably because he isn't fully healthy. The Heat can also help him by setting the initial screen lower down on the floor, which makes it harder for Boston to go under without allowing Butler to get all the way to the rim. This empty-side action with Lowry screening at the elbow actually worked nicely, Lowry just clanked the open three:
For all the volatility of this series, the same things that were true at the outset remain true now: Boston has more options to guard Miami than vice versa, doubly so if Butler continues to struggle physically and can't solve the under coverages that have limited his downhill scoring punch since his volcanic Game 1. After piling up 26 free-throw attempts across Games 1 and 2, Butler went to the line twice in Games 3 and 4 combined.
As ever, Miami's best bet is to play with pace and to avoid half-court possessions whenever possible. But even with Lowry returning and juicing their transition attack in Game 3, the Heat have become overly reliant on Celtics turnovers to get out on the break. Their transition frequency off of live-ball rebounds in Game 1 was 37% but has been just 18% in the three games since, according to Cleaning the Glass.
Many of the Heat's issues can be corrected by simple positive regression. They've banked two wins already, so the two hot-shooting games required to win the series fit comfortably within the range of realistic outcomes. Duncan Robinson was dusted off once Game 4 was already out of reach, but deploying him during the competitive portion of future games could be necessary if the rest of the Heat continue to miss shots and Boston keeps choking off the middle of the floor.
It's now a best of three, and Miami's offense faces a significant challenge. But it hasn't run out of answers just yet.