How the Bucks' defense is trying to evolve
Jared C. Tilton / Getty Images Sport / Getty
The Milwaukee Bucks aren't nearly as under the gun this season as they would've been had Giannis Antetokounmpo not inked a five-year extension in the offseason. But still, after consecutive years in which they failed to reach the Finals despite finishing with the NBA's best record, there's a ton of pressure on them - and particularly head coach Mike Budenholzer - to prove they can translate their regular-season success to the playoffs.
One of the biggest knocks on Budenholzer and the Bucks in their past two postseason flameouts was their lack of schematic flexibility. They leaned so heavily on the play style and structural principles that brought them regular-season success that when well-prepared playoff opponents dictated new terms of engagement, the Bucks hadn't accumulated enough reps or confidence to play a different way. After an offseason roster overhaul, this season represents an opportunity for them to rectify that; an opportunity to test out a bunch of different things to better prepare for adverse playoff scenarios when adjustments inevitably become necessary.
So far, we've seen a few promising signs. Their shift in offensive philosophy has been well-documented, with the team making more prominent use of the dunker spot and using Antetokounmpo as a screener in pick-and-rolls more often than they have at any point in the Budenholzer era. But what about the defensive end?
The Bucks' base scheme hasn't changed much. They still primarily play a deep drop coverage when defending high screen actions, which dictates that on-ball defenders scurry overtop of screens while their big men (Brook Lopez and offseason addition Bobby Portis) sink below the free-throw line to protect against the roll and the drive while positioning themselves for defensive rebounds. The benefits of that scheme (rim protection, denying second-chance opportunities) won out over the drawbacks (surrendering above-the-break threes, leaving the mid-range wide open) in each of the last two regular seasons. Their defensive rating relative to the league average last year was the sixth best in NBA history, according to Basketball Reference.
But while offensive failures in the postseason have doomed the Bucks more than anything, their defense also failed them to an extent last year. In their ill-fated second-round series against a Miami Heat team built to exploit their blind spots, their 102.5 defensive rating ballooned to 113. This isn't to say that drop defense can't work as a base coverage. Far from it. It's just that locking yourself into any one style of play is asking to get exposed in a playoff series. As the Heat rained threes from above the break and dropped in floaters and mid-range jumpers, the Bucks had no viable schematic alternative to fall back on.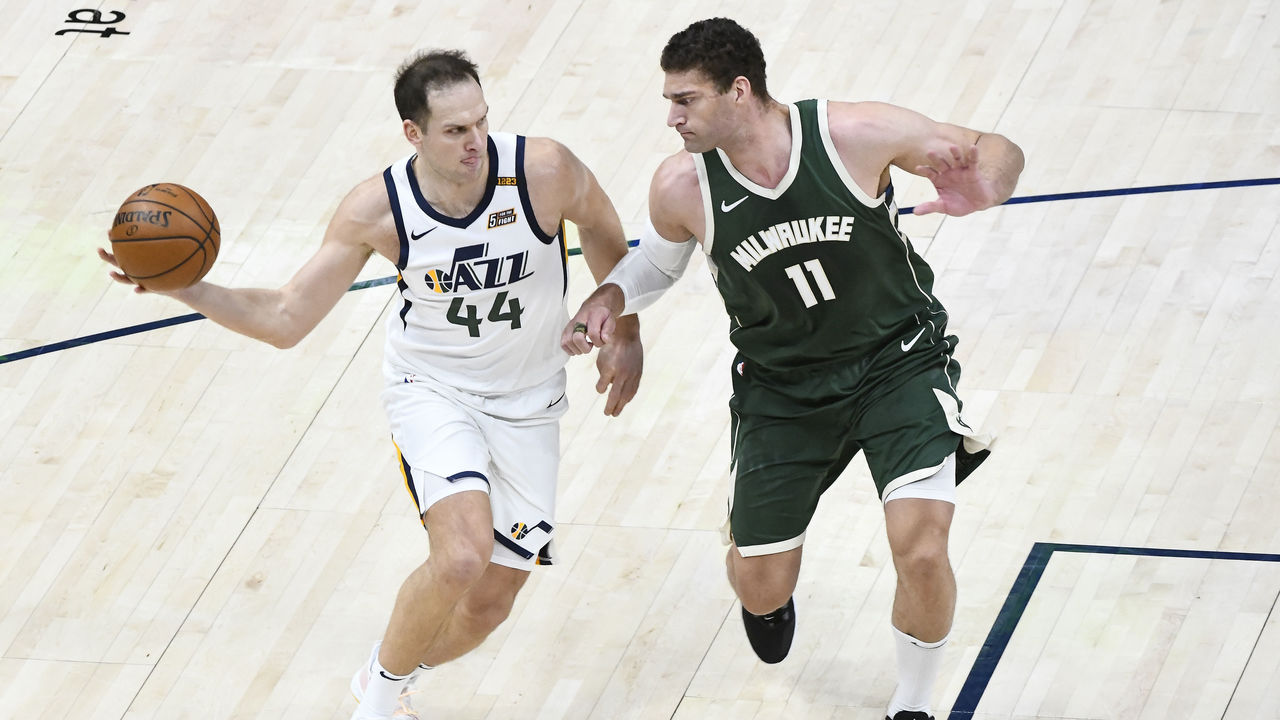 That's why it's interesting and potentially significant that the Bucks have recently started to experiment with different defensive coverages, especially late in games. They've struggled in a lot of those coverages, but simply seeing them try out new stuff has been encouraging.
One of their biggest philosophical changes is an increased willingness to switch, after avoiding doing so like the plague over the past two seasons. That's primarily manifested itself in small-small screening actions, but Antetokounmpo and Lopez are also switching out onto the perimeter far more often. They've already defended as many isolations born of pick-and-roll switches as they did all last season, according to Synergy.
Perhaps some of that has come about by necessity. Point-of-attack defense is arguably the most important component of drop coverage, and while Jrue Holiday is obviously a tremendous defender, he isn't quite the over-the-screen hawk that Eric Bledsoe was. Holiday is more effective as a switch guy, which is another reason the shift makes sense. In crunch time against the Lakers last month, for instance, the Bucks readily switched LeBron James-Anthony Davis pick-and-rolls, letting Lopez try his luck on James while Holiday wrangled with Davis on the back end.
The sheer variety of coverages that the Bucks threw out in their fourth quarter against the Phoenix Suns earlier this week was particularly notable. It offered a look at some of the adjustments that the Bucks might make against sophisticated playoff offenses, and some of the counter-adjustments those offenses can throw back at them. There were positive takeaways in spite of the Suns putting up a 128.6 offensive rating in the quarter.
Looking to counteract the pull-up shooting capabilities of Chris Paul and Devin Booker, the Bucks hardly dropped their bigs in that fourth quarter. When they weren't deploying switches, they had Lopez and Portis show high, with uneven results:
It was a similar approach against the sweet-shooting Utah Jazz on Friday night, with the Bucks switching liberally and regularly sending two to the ball. The Jazz carved them up, as they've done to virtually every defense they've seen this season. Jordan Clarkson dusted them on switches, Donovan Mitchell turned the corner easily against hedges, and the Jazz beat Milwaukee's back-line rotations with tic-tac-toe passing.
There were also possessions in which Milwaukee switched multiple times in quick succession and managed to keep the ball in front:
Just ignore the fact that Utah recovered the loose ball and scored on that possession.
You can understand why the Bucks are doing what they're doing, even as they take some lumps in the process. Drop coverage will continue to form the backbone of their defense, but it can't be considered a fail-safe. There are too many good pull-up shooters around the NBA now who can exploit it.
That's more true than ever this season when 3-point percentages have spiked across the league, whether due to the benefits of shooting in empty gyms or simple evolutionary advancement. Bucks opponents are shooting 38.6% from 3-point range this season, up from 35.5% last year, which is the biggest reason their defensive rating has slipped to 12th.
Some of that comes down to luck in both directions, but given the way shooting is tending league-wide, it's clear the risk-reward calculus of protecting the paint at the cost of surrendering threes has tilted. Over the previous two seasons, preventing shots at the rim correlated more strongly with good overall defense than preventing 3-point attempts did. This season, it's been the opposite. Plenty of teams who've primarily dropped their bigs in recent years, like Philadelphia, Indiana, and Utah, are now having those bigs spend more time playing at the level of the screen.
Whether doing so actually makes sense for the Bucks is another matter. Lopez remains an excellent interior defender, but he frankly hasn't looked very good playing high on the floor, whether hedging or switching. Portis isn't much of a rim protector so there's some sense in having him pressure the ball rather than hanging back at the rim, but he isn't doing much for them at the level of the screen, either. On a bunch of these possessions, they're just putting themselves in rotation and giving up open catch-and-shoot threes rather than pull-ups.
Where things really got interesting against Phoenix was in crunch time, when the Bucks started pre-switching repeatedly in an attempt to keep Lopez out of the central screening action. They executed it perfectly on a couple of occasions. On the possession below, Lopez passed Deandre Ayton off to Khris Middleton as Ayton came up to screen for Paul, then Middleton recovered back out to Booker and forced him into an incredibly difficult step-back. Booker made the shot because he's an amazing shotmaker, but the defensive process was on point:
Eventually, Paul solved the coverage altogether. He motioned for a series of ghost screens from one Sun after another, leaving the Bucks with fewer and fewer options to defend the actual screen action until Lopez had no choice but to jump into the fray. This time, it was Phoenix's good process that went for naught, as Paul missed a pair of clean mid-rangers:
It turned into a compelling chess match, and while the Suns ultimately prevailed, it was encouraging to see the Bucks continuously changing their strategy on the fly in a battle of adjustments and counter-adjustments.
The one thing we still haven't seen Milwaukee experiment much with is leaving Lopez on the bench in crunch time and closing with Antetokounmpo at center. Like other tweaks that the Bucks have tried, those lineups haven't been particularly successful. But the sample size is still tiny (36 total minutes), and Giannis-at-center lineups proved quite effective last season. That doesn't mean benching Lopez is objectively the right approach, but it might be worth finding out over a more meaningful sample.
That's really the point of all this at the end of the day: to get those reps in; to see if switching can be a viable fall-back scheme with the Bucks' personnel; to see if Lopez can get comfortable playing up high or if that's truly a lost cause; to see if they can find workarounds to keep Lopez on the floor in high-leverage moments against elite competition, or if they're better off downsizing. This is the time to throw shit at the wall and see what sticks.
After two years of hewing to a clearly defined identity, the Bucks are tinkering and clearly still figuring themselves out. It hasn't always been pretty but learning what works and what doesn't is the point. For teams with championship ambitions, that's what the regular season is for.