The 4 most interesting teams of the offseason
Steph Chalmers, Ezra Shaw, Scott Audette / Getty Images
With the Bucks' championship in the rearview, and the NBA set to return to its regularly scheduled programming in 2021-22, it's time to look ahead to another condensed offseason. With the draft and free agency on deck, here's a look at four teams that have huge decisions to make in the coming days and weeks:
Toronto Raptors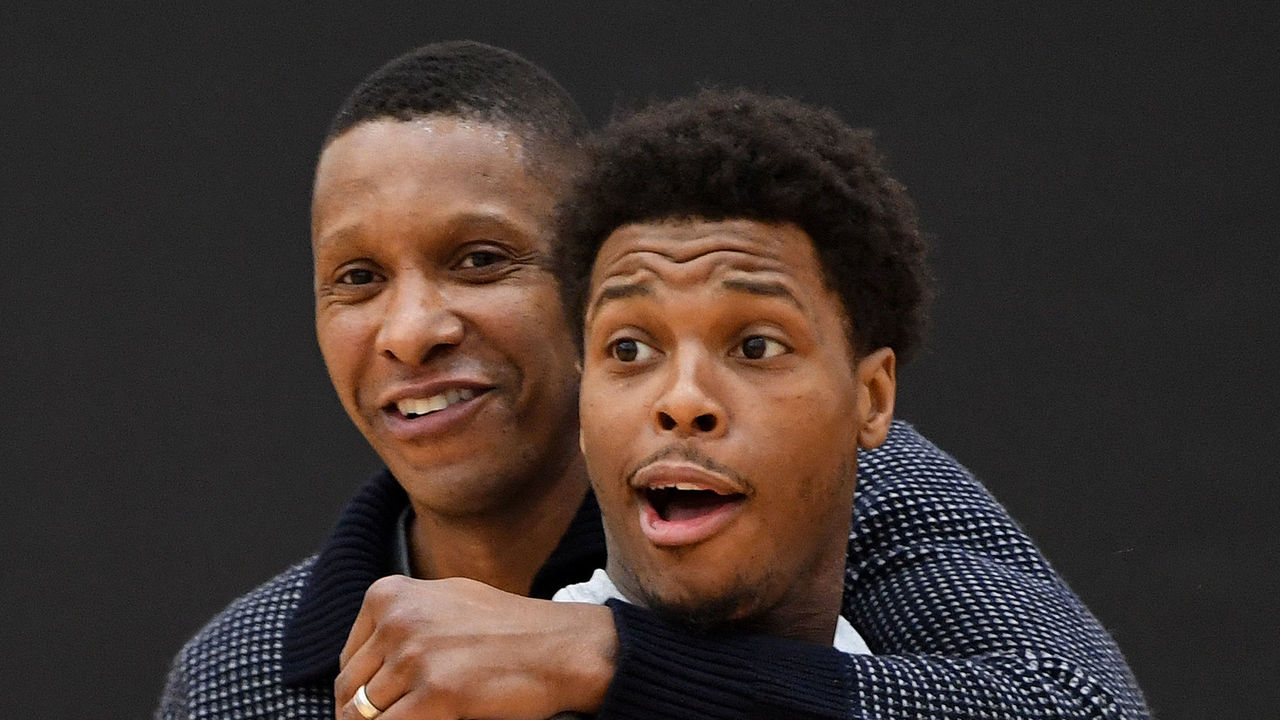 To say the Raptors are at an inflection point may not be a strong enough way to characterize their situation after a nightmarish, displaced season that saw them miss the playoffs for the first time in eight years.
To begin with, Kyle Lowry, the greatest player in franchise history and arguably still the best player on the team, is set to become an unrestricted free agent. For the Raptors, deciding whether or not to re-sign the 35-year-old floor general means deciding how quickly they think they can return to contention. Retaining him would mean betting on the present while letting him go would mean shifting focus more to the future. (Though given the ages of the Raptors' non-Lowry core players, they'd still likely be aiming for a competitive window spanning the next three or four years.) They can open up max space simply by letting Lowry's $43-million cap hold come off their books.
Of course, this is just as much Lowry's decision as it is the Raptors'. He's suggested that the chance to win another championship will be the biggest factor in choosing where he signs his next contract. Does he believe he can do so in Toronto? If not, the Raptors can try to sign-and-trade him to bring back something of value rather than lose him for nothing. But going that route would probably have to bring back a real impact player to justify losing Lowry and nuking their potential cap space.
Either way, it's hard to envision a scenario in which the Raptors can be a better team without Lowry than with him next season. Even with a max salary slot available, they likely aren't adding anyone who'll have a bigger impact on winning than Lowry will in 2021-22. Kawhi Leonard isn't walking back through the door.
What the front office needs to decide is whether they can be good enough with Lowry to be worth punting on an opportunity to add an impactful free agent who can be part of their long-term future. Lowry's still excellent, but his defense slipped last year, his advanced numbers cratered, and Toronto was outscored with him on the floor for the first time in his nine-year tenure with the team.
The Raptors' cleanest course of action might be to let Lowry walk and use their No. 4 pick to draft heady guard Jalen Suggs (widely expected to be the best player available at that slot) in the hopes that he can grow into a foundational backcourt piece. Then they can use their cap space to acquire a long-term answer at center, perhaps by signing Richaun Holmes or throwing a big offer sheet at a young RFA like Jarrett Allen, as some reports suggest they're interested in doing.
They have a lot of options with that No. 4 pick. Popular consensus suggests Suggs should be the guy, but the Raptors may take a different view, and their front office has earned the benefit of the doubt when it comes to prospect evaluation. If they aren't enamored with Suggs, perhaps they can trade down. Or maybe there will be an opportunity to trade up and take big man Evan Mobley, who'd fit their roster perfectly whether Lowry's still there or not.
Is there a universe in which they trade the pick outright? Since Leonard's departure, the Raptors' need for a high-end shot-creator has been evident. With Lowry in gentle decline, that role increasingly fell to Fred VanVleet and Pascal Siakam last year, and for all the leaps those guys have made as playmakers - and, in VanVleet's case, as a pull-up shooter - neither looks the part of primary initiator for a championship-caliber offense. If the Raptors don't believe they can add that type of player in the draft, maybe they can try to use their plum pick in a package featuring a member of the Siakam-VanVleet-Anunoby trio to swing a deal for an established player of that ilk.
There have been rumblings that Siakam is available, though that may be a situation where "available" really means "available for a price that will prove prohibitive for any potential suitor." There's also restricted free agent Gary Trent Jr., an intriguing if fairly one-dimensional sharpshooter who could be a trade chip or a piece of the future puzzle if he's retained on a mid-market deal.
And looming over it all is the continued haziness around the guy ostensibly tasked with making all the aforementioned decisions: lead executive Masai Ujiri, whose expiring contract has been a source of consternation and anxiety among Raptors fans for more than a year. Can you imagine the Raptors saying goodbye to both Lowry and Ujiri - the two tentpoles of by far the greatest era in franchise history - in the same summer?
Oh, and in case things weren't unsettled enough, the team is still operating out of Florida and hasn't yet received clarity about whether it'll be playing home games in Toronto next season. Chaotic times for the 2019 champions.
Golden State Warriors
Last season's Warriors provided a good illustration of the perils of trying to build along parallel tracks. They found themselves caught between two imperatives: needing to be patient and foster the development of James Wiseman, their raw rookie big man, and needing to do justice to the outrageous age-33 season Steph Curry put together.
Despite some promising flashes from Wiseman, the Warriors were by any objective measure a significantly worse team with him on the floor in 2020-21. His season-ending knee injury in April took the dilemma out of the coaching staff's hands, and Golden State went 14-5 without him the rest of the way. All told, they performed 13.5 points per 100 possessions better with him on the bench.
This offseason, the Warriors once again have to decide how much they value building a bridge to the future, versus using all the materials on hand to construct a present-day roster that can maximize what remains of Curry's prime. They own the seventh and 14th picks in the coming draft, which they can use to inject their aging core with more young talent (preferably with an emphasis on shooting and off-the-dribble creation), or to take the route they avoided with the No. 2 pick last year by dangling one or both as trade chips.
The Warriors made what many believed to be the safest choice in selecting Wiseman second overall. He's still just 20, and still in possession of immense physical tools. Big men notoriously take a long time to hone their defensive instincts in today's era of layered, spread pick-and-roll offense. But there's no getting around the fact that Wiseman's rookie season was borderline disastrous, and that he almost certainly carries less trade value than that No. 2 pick did before it was made.
That isn't to say the same thing will happen with this year's picks, or even that Wiseman won't ultimately prove worthy of his draft slot. But can the Warriors really afford to wait? We talk a lot about timelines in NBA team-building, and Curry's is basically the Sacred Timeline in Golden State. For as long as he's there and playing at the MVP level he exhibited last season, the team should be doing everything it can to put the best possible team around him.
It helps that Klay Thompson will be back at some point, though on the heels of a torn ACL and ruptured Achilles, how closely he resembles the player we last watched in the 2019 Finals is anybody's best guess. Draymond Green proved last season that he still has the defensive juice to anchor the Warriors at that end of the floor, and the playmaking chops to amplify Curry as an off-ball threat. But the complete evaporation of Green's scoring ability became problematic with so little supplemental scoring behind him. Thompson should mitigate that to an extent, but it's hard to rely on him too much after a two-and-a-half-year hiatus.
Between their picks, Wiseman, and Jordan Poole (who made huge strides as a second-year player last season), the Warriors can put together some pretty strong trade packages. They have Andrew Wiggins to provide salary ballast in a deal, and it helps that he's developed into a productive enough player that absorbing the remainder of his contract no longer feels like a dead-weight burden.
Bradley Beal is the player Golden State is reportedly targeting, but it's unclear if he's even available at this point, or if the Warriors can make the most compelling offer for him. They can still set their sights lower and make a deal involving the No. 7 pick - possibly in a move-back scenario - that meaningfully upgrades the roster and helps put them back in the title mix. Someone like Kyle Anderson, for example, could be attainable and help them a ton. Myles Turner would also be a snug fit, though he might come at the cost of Wiseman's development.
If the Warriors' trade assets can't net them the type of player they envision adding to Curry, Green, and Thompson, they may decide they're better off simply going the draft-and-develop route, staying the course with Wiseman, and continuing to build along multiple timelines. That could be a fine outcome if the picks hit and if Thompson is still Thompson. Worst case, it would set them up well for a rebuild in the event that things stall out and trading Curry eventually becomes necessary.
Portland Trail Blazers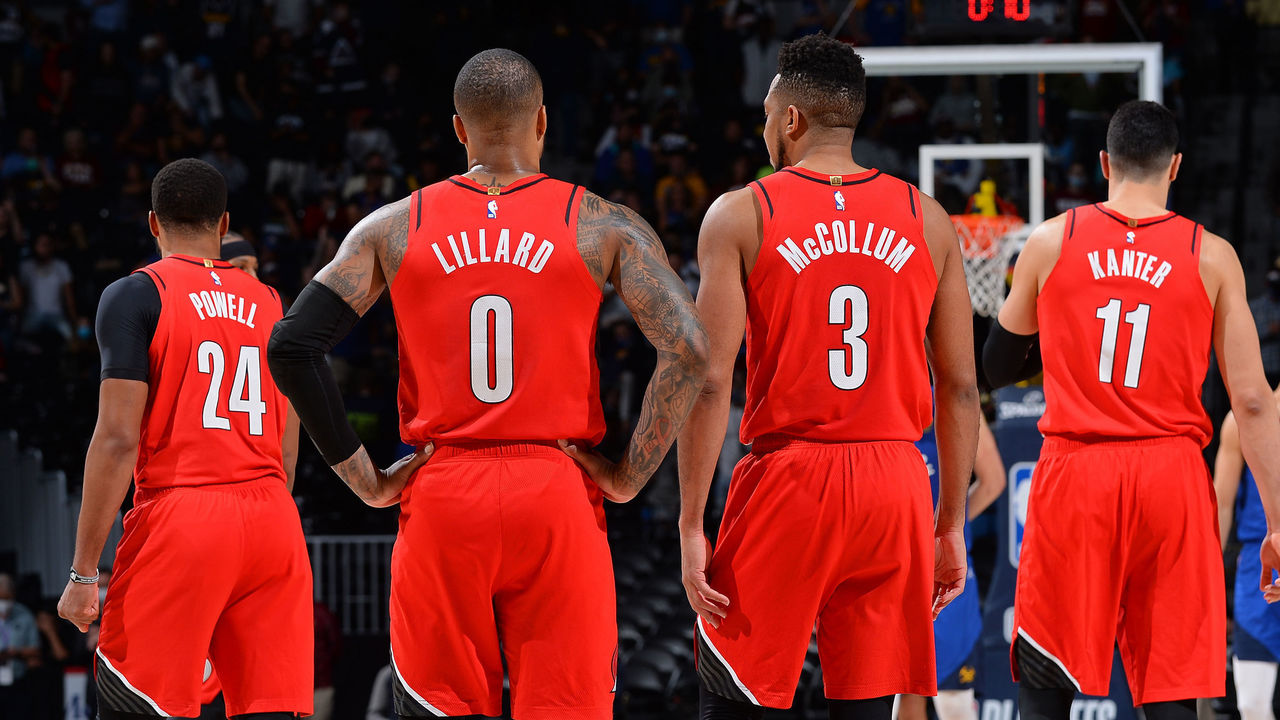 Damian Lillard may not have formally requested a trade, but he's certainly holding the team's feet to the fire.
"I think if you look at our team as it is going into next season, I don't see how you can say, 'This is a championship team, we just need a new coach,'" Lillard told reporters shortly after longtime coach Terry Stotts was fired and Chauncey Billups was clumsily introduced at a queasy press conference, and shortly after Truehoop's Henry Abbott reported that Lillard was prepared to force his way out.
"I think the best way to put it is just to be more urgent," Lillard added. "Be more urgent about what our next step is and how we move forward."
It's hard to argue Lillard's point given that the Blazers just finished 29th in defensive rating during the regular season before losing to a Nuggets team playing without its starting backcourt in the first round of the playoffs. Because of the four years remaining on Lillard's supermax contract, and how difficult it will be for any team to meet Portland's asking price for its beloved franchise player, a trade feels exceedingly unlikely. A roster shakeup around him feels far more plausible, especially in light of his recent comments.
The problem with that is the Blazers don't have many cards to play. They're capped out, with virtually all their space tied up in the quartet of Lillard, CJ McCollum, Jusuf Nurkic, and Robert Covington before factoring in a potentially lucrative new contract for impending free agent Norman Powell. They don't have a first-round pick this year, and they have an extremely shallow pool of prospects to draw on for the purposes of internal development or trades. Seriously, who's their most promising player still on a rookie-scale deal? Anfernee Simons? Zach Collins? Nassir Little? How, exactly, are they supposed to improve?
Could a McCollum-for-Ben Simmons swap blossom from fanfic into reality? And would such a trade be enough to vault Portland up a level? Maybe. The Blazers plainly need to improve defensively, especially on the perimeter. It's probably not a great sign that their point-of-attack defense got exposed by a Denver backcourt consisting of Monte Morris, Facundo Campazzo, and Austin Rivers. (And yes, Lillard deserves a huge share of the blame for that.) Simmons is one of the five best perimeter defenders in the league, and his limitations as a half-court creator would be mitigated by playing next to Lillard.
But if that trade doesn't materialize, how many other palatable options are available to the Blazers? How many other teams are pining for McCollum, a soon-to-be 30-year-old on a massive contract who brings value at one end of the floor and isn't an efficient enough scorer or a dynamic enough playmaker to quarterback an offense? Nurkic, for his part, probably has more value to Portland than he would to any other team, so trading him wouldn't make much sense. What Lillard deems a lack of urgency feels more like the Blazers simply being out of moves.
After effectively delivering the franchise an ultimatum, what's Dame's next move if its offseason stagnates due to the lack of options? The tension between what Lillard wants and what's actually possible make this a particularly fascinating team to watch over the next few weeks.
Philadelphia 76ers
If it wasn't already evident how desperately the Sixers needed a legitimate lead guard, it became blindingly obvious when they lost to an inferior Atlanta Hawks team in the second round, repeatedly crumbling in crunch time as Joel Embiid did his damnedest to carry them on one good leg. With much of the blame falling on Simmons after a series in which he missed two-thirds of his free throws and reached stunning new levels of offensive passivity, the Sixers are now in the unenviable position of having to shop one of their core players while he's at the rock bottom of his value.
They aren't in this position solely because of Simmons' limitations, or his purported inability to coexist with Embiid. The Sixers outscored opponents by 15.5 points per 100 possessions during the regular season and 18.8 points per 100 in the playoffs with both of them on the floor. The two pearls of the Process would have no issue contending together if they had a proper initiator to tie the half-court offense together. But barring a huge leap from Tyrese Maxey (not impossible), it's hard to see how the capped-out Sixers can acquire said player without parting with Simmons.
Even if there was a way to make that kind of trade happen - using Tobias Harris' salary and some combination of Maxey, Matisse Thybulle, and draft picks - bringing Simmons to training camp after both Embiid and coach Doc Rivers effectively threw him under the bus following that second-round loss would likely require a good deal of trust-building and relationship repair.
The Sixers reportedly want an "All-Star-caliber player" in return for Simmons, which could mean any number of things. Does McCollum fit that bill? Does VanVleet? Does Malcolm Brogdon? It's hard to imagine any team offering a player who resides above that tier. Beal would obviously be the dream, but Simmons alone isn't coming close to getting that deal done. Zach LaVine may become available midseason if things go sideways for the Bulls, but they aren't going to move him right now. How hard a bargain is Daryl Morey willing or able to drive, given the position of desperation from which he's negotiating?
The Sixers cropped up in the sections above because their summer feels as if it's tied to those of Toronto and Portland. Between Lowry's Philly roots and the long-rumored mutual interest there, and the recent noise about the Raptors' interest in Simmons, it feels like those two teams could ultimately shape each other's offseasons. If Lowry stays put, a VanVleet-for-Simmons swap could make sense for both sides. For now, Morey doesn't appear to be negotiating in good faith, reportedly asking for VanVleet and Lowry and Anunoby and the No. 4 pick in exchange for his distressed asset. If that's his starting point in negotiations with Toronto, odds are he's a long way from accepting McCollum for Simmons straight up.
The Sixers also have work to do along the margins, namely in shoring up a bench that flopped catastrophically in the playoffs for the zillionth year in a row. That's obviously less sexy than the prospect of a splashy Simmons trade, but crafting a reserve unit that won't consistently cough up leads is arguably just as important. (In a best-case scenario, a Simmons trade could address both areas of need by bringing back a strong perimeter creator and some depth pieces, but that feels a bit pie-in-the-sky for the time being.)
The only thing that's certain is that the Sixers need to make some significant structural changes. They just finished first in the Eastern Conference and got MVP-caliber play out of Embiid only to once again fall short of the conference finals for basically all the reasons they've fallen short in the past. Embiid is two years away from free agency. They need to get this offseason right.
Comments
✕
The 4 most interesting teams of the offseason
  Got something to say? Leave a comment below!