This season is demonstrating what makes Draymond Green special
Noah Graham / NBA / Getty Images
The knock on Draymond Green has always been that he's a system player. Which is to say, he's less a star player on his own than a specialist whose abilities are amplified by the star players around him. What those criticisms always ignore is that Green has had a bigger hand than anyone not named Steph Curry in making that system possible.
That's not to say Green hasn't benefited from the gravity and intelligence of teammates like Curry, Klay Thompson, and Kevin Durant over the years. Green's enduring image as a member of the Warriors dynasty of the 2010s may be of him barreling toward the rim while surveying a buffet of tasty options in a four-on-three, an enviable scenario created by the magnetism of three of the best shooters the world has ever seen. But those players were amplified by Green as well.
His ability to man the five on defense, as a switchable rim protector and back-line quarterback, is what made the famed Death Lineup so lethal. Some of the most explosive open-court teams in league history were powered by Green's propensity for racing the ball up the floor, and the processing speed that allows him to make good decisions while playing at a breakneck pace. His canny and relentless screening creates huge swaths of space for others. His passes guide his teammates to openings they often don't see themselves.
This season, even with his declining scoring ability reaching a new low, even with age eating into his athleticism, and even with the Warriors mired in mediocrity, Green has demonstrated what makes him special.
With Thompson sidelined, the Warriors are stretched painfully thin. They sorely lack shooting and scoring punch outside of Curry, and the fact that their second-best player can't provide any kind of boost in those areas (with a ghastly 46.3% true-shooting mark and a paltry 12.8% usage rate) is part of the problem. But it's also clear the 19-16 club would have little hope of even contending for a playoff spot if not for Green's presence.
If anything, the fact that putting the ball in the basket is no longer part of his purview has only served to highlight the myriad other ways he impacts basketball games. He's possibly having the best season ever for a player averaging 5.7 points. (Or, at the very least, the best since Dennis Rodman's heyday.)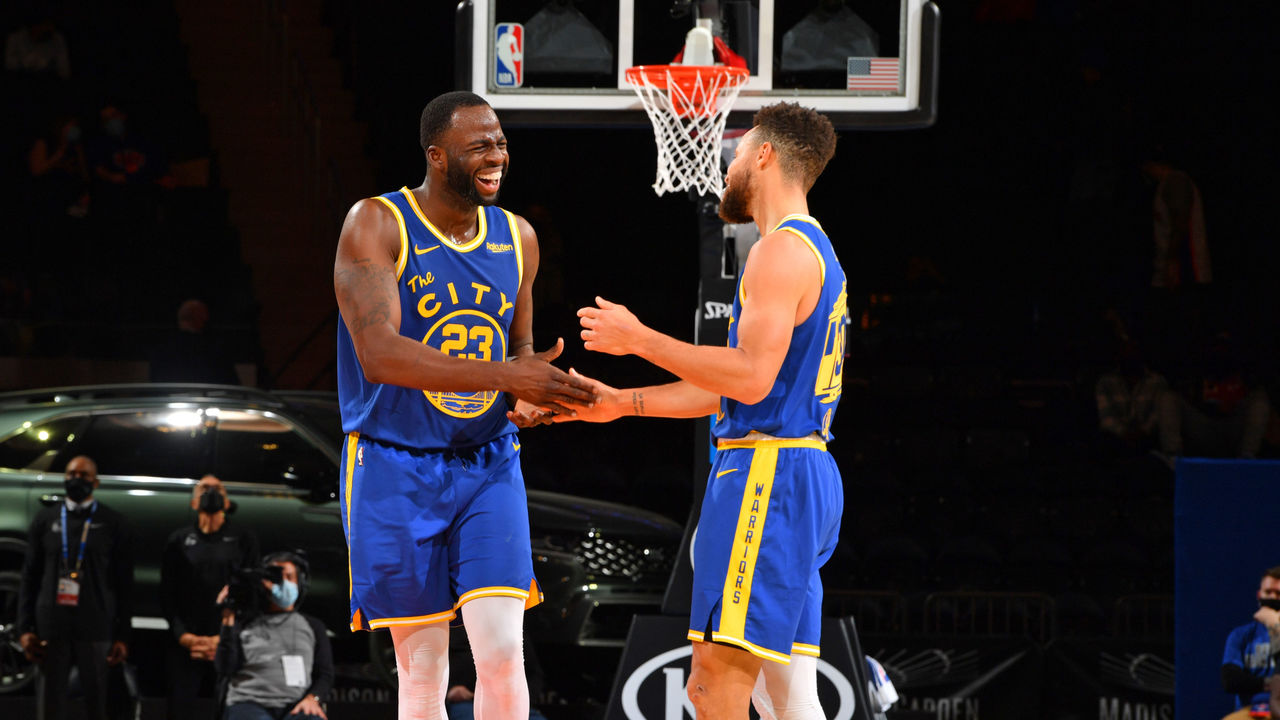 Green's playmaking ability is the only thing allowing the Warriors to keep deploying Curry as a marauding off-ball menace rather than saddling him with a zillion on-ball possessions. Fans have long wondered what Curry could do if coach Steve Kerr opted to unleash him as a heliocentric string-puller the way the Rockets used to do with James Harden. But Curry performs miles better with Green creating for him than he does when tasked with creating for himself and others:
| Curry | Pts/100 possessions | Turnovers/100 | EFG% | Net rating |
| --- | --- | --- | --- | --- |
| With Green on | 40.1 | 3.5 | 63.4 | 5.1 |
| With Green off | 36.6 | 6 | 51 | -3.3 |
Courtesy: NBA Advanced Stats
Curry struggled with Green sidelined to start the season but has since been let loose thanks largely to Green's knack for disguising and flipping the direction of his screens. The mind-meld the two share constantly leads to Curry springing open even when the opposing defense's game plan revolves around preventing him from finding daylight. Recognizing how symbiotic the two are, Kerr has made a point of tethering them together. Green has played just 41 of his minutes this season with Curry on the bench.
Green-to-Curry is the most prolific assist combination in the league. It would take days to break down all the instances this season where their unspoken connectivity resulted in a perfectly timed screen, cut, or pass, but here are a select few:
It's not ideal that Green isn't a threat to shoot from outside or even score on the drive. The extent to which defenders ignore him on the perimeter, and his frequent inability to punish them for it, makes things more challenging for Golden State's offense than they'd be if Green was the 32% career 3-point shooter he was coming into this season, rather than the bricklayer who's shooting 22.4% on the rare occasions he even looks at the rim from beyond the arc. But he and the Warriors are still finding ways to bend those situations to their advantage.
One well-established method is for Green to pivot into a dribble-handoff with Curry, bumping off Curry's defender on the exchange to create a clean look as his own defender sags too far back to challenge Curry's shot. It's no surprise the Warriors lead the NBA in scoring efficiency on handoffs, according to NBA Advanced Stats.
Even when they aren't running handoffs, having Green handle and distribute from the top of the floor or the high post while Curry zips around off-ball, both setting and flying off screens, is a great way to maximize Curry's gravity while mitigating Green's lack of it.
Here's what a typical defensive coverage looks like when Green has the ball up top: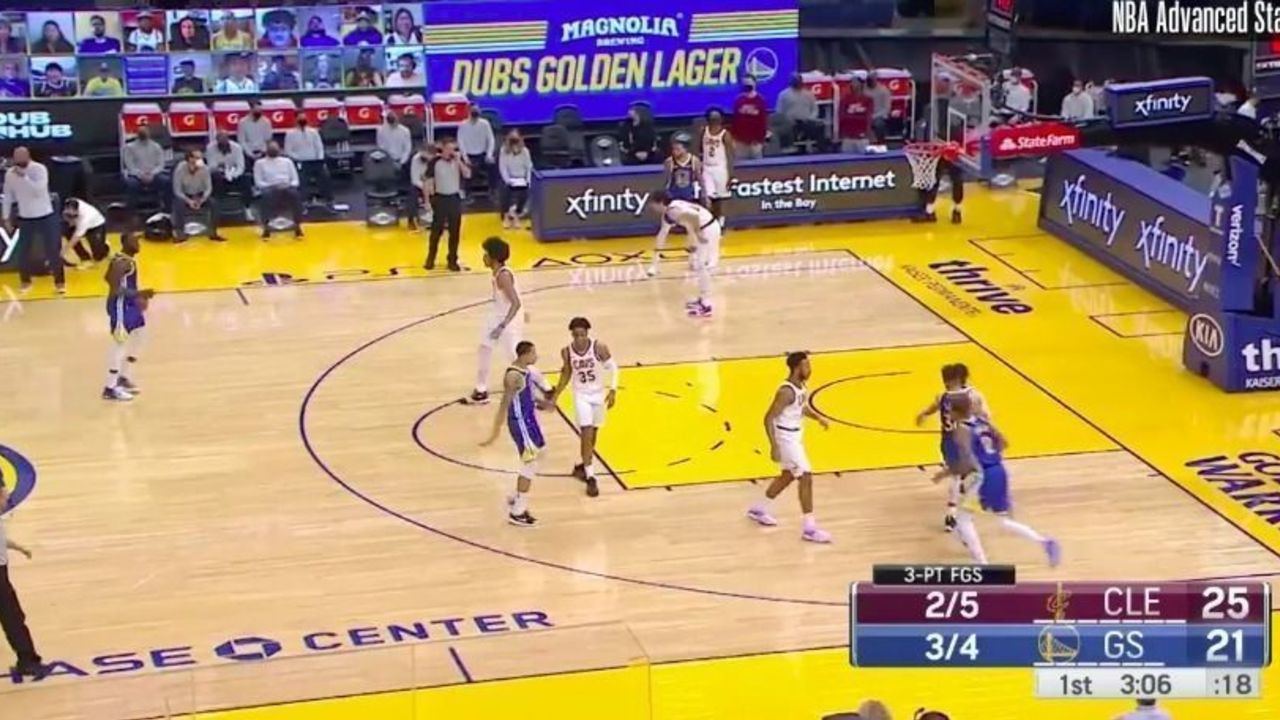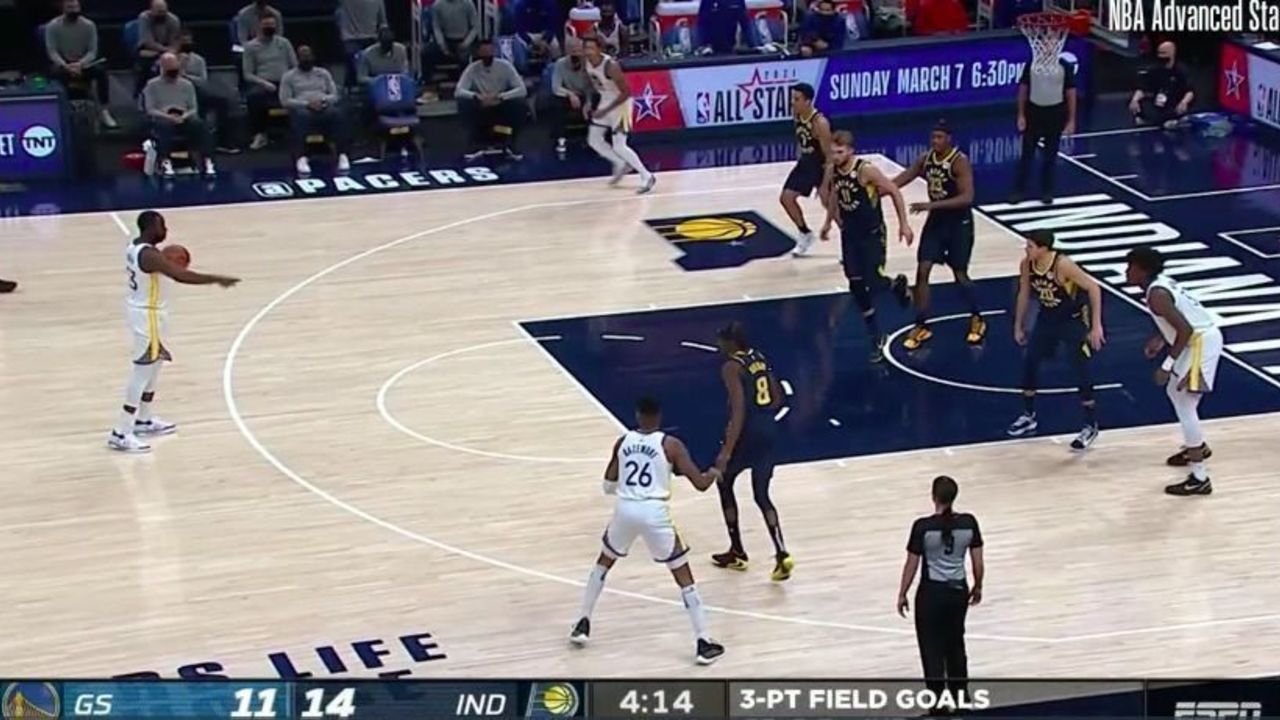 And here's how those possessions frequently play out:
Note in the second clip how Green motions for Brad Wannamaker to set the pin-in screen, which forces the slow-footed Domantas Sabonis to stick with Curry.
None of this would work if Curry didn't constantly induce breakdowns with the panic he induces as a shooter, which opens up back-cuts and slips to the rim. But it also wouldn't work if Green wasn't an elite floor-mapper and pinpoint passer. He's in the midst of his best season as a playmaker, one in which he's initiating possessions and creating advantages for his teammates far more frequently than he's exploiting advantages his teammates create for him.
The Warriors don't have the firepower to torch teams in the open floor the way they used to, but with Green pushing the pace off makes and misses alike, they're spending more time in transition than all but four teams. They average 20.6 more points per 100 transition possessions with him on the floor than they do with him on the bench, per Cleaning the Glass.
The benefits of his facilitating have been felt all the way down the roster. You can do the with-or-without-Green exercise for basically any player in the Warriors' rotation and find similar results. Kelly Oubre's effective field-goal percentage jumps from 45.3% to 53.2% with Green on the floor. James Wiseman's goes from 44.6% to 59.9%. Andrew Wiggins' spikes from 46% to 58.5%. The Warriors as a team score 114.1 points per 100 possessions when Green is in the game, compared to 102.7 when he sits. That number jumps to 116.3 when he plays center.
Oubre has been perhaps the biggest beneficiary. He's an explosive off-ball mover but can't really create his own shot and sometimes requires guidance on how to move within Golden State's motion offense. Green has made Oubre's job a thousand times easier by routinely delivering him the ball in advantageous positions.
In recent games, as he's developed a keener sense of how to play off of Curry's gravity and Green's passing, Oubre has been feasting off of this corner action, in which he slips a screen for Curry and darts to the rim:
Green is also by far the biggest reason the Warriors rank fourth in the league in defensive efficiency.
While effort may have been the chief culprit in his drop-off at that end last season, that situation exposed the fact that Green isn't quite the same defensive floor-raiser as someone like Rudy Gobert, whose interior presence can patch any number of leaks in front of him. Green's defensive genius requires a certain measure of cooperation. Switching across every position is arguably his most valuable skill, but that skill lost its value when opposing teams could target and attack the likes of D'Angelo Russell or Jordan Poole on the other end of those switches.
Similarly, Green's communication and ability to sniff out opponents' sets are less impactful when his teammates lack the awareness or defensive acumen to take his cues. This season's team still has defensive weak spots but is a far more capable unit on the whole, allowing Green's quarterbacking to flourish once again.
To use but one example, look at the way he frantically directed traffic, then switched twice in quick succession, to blow up a Raptors end-of-game inbounds play and force a tough Pascal Siakam isolation. Wiggins still had to get the stop to seal the win, but Green put him in position to succeed:
Like any player, Green relies on talent around him. But you can't reduce his contributions this season to being a product of the system he's part of, nor accuse him of riding the coattails of other stars. Sure, you can deride him for only averaging two made baskets a game, but then you'd have to explain how, in spite of that piddling scoring output, Golden State as a team - and nearly all of its rotation players individually - perform significantly better when he's on the floor.
These Warriors are a far cry from the league-altering juggernaut they once were; they're at best a low-rung playoff team that likely won't see the second round. Green, truthfully, isn't nearly the player he used to be, either. And yet, this season, more than any other, has elucidated his hard-to-quantify value. This season has shown exactly what makes Draymond Draymond.
Comments
✕
This season is demonstrating what makes Draymond Green special
  Got something to say? Leave a comment below!