The Sixers owe Joel Embiid something better than this
David Dow / NBA / Getty Images
Joel Embiid chose to focus on a single moment.
"I'll be honest," Embiid told reporters after his Philadelphia 76ers were bounced from the second round of the NBA playoffs with a 103-96 loss to the Atlanta Hawks on Sunday night. "I thought the turning point was when we - I don't know how to say it - but I thought the turning point was just we had an open shot and we made one free throw and we missed the other and then they came down and scored."
He was referring, of course, to the crunch-time possession in which Ben Simmons spun past Danilo Gallinari in the post and gave himself a clean look at a dunk or layup that would've tied the game, but passed out to Matisse Thybulle in the opposite dunker spot when he saw Trae Young (all 6-foot-1, 180 pounds of him) sliding over to "contest." Thybulle got fouled and split the pair of free throws, and the Sixers trailed the rest of the way.
Simmons was the easiest target. His annual postseason disappearing act achieved a new level of translucency in this series, in which he used just 14.7% of his team's possessions, shot 33.3% from the free-throw line, and attempted a grand total of three fourth-quarter field goals over the entirety of the seven games. Passing out of that open shot three feet away from the basket on a monumental late-game possession was the most glaring instance, but it was just one example of many in which Simmons' passivity crippled Philadelphia's offense. This series was his moment to prove himself, and he proved to be every bit the playoff liability he's been in the past.
The truth is there were any number of moments Embiid could've pointed to in explaining why his 76ers lost Game 7 at home to a less experienced Hawks team whose star player shot 5-of-23 from the field. There were countless blown bunnies from Tobias Harris, a back-breaking three-shot foul by Thybulle, a costly Dwight Howard flagrant amid a sea of costly minutes from Philly's beleaguered bench corps, several instances in which Seth Curry proved incapable of stopping Kevin Huerter, and some questionable rotation decisions from coach Doc Rivers.
And, yes, Embiid could've also cited his own mistakes - namely his eight turnovers, capped by his sloppy drive in the final minute that ended with Gallinari picking his pocket and going the other way for a game-icing dunk. He could've pointed out that the Sixers wouldn't have been in the position they were in had he not shot 0-for-12 in the second half of Game 4 or faded down the stretch as Philly blew a 26-point lead in Game 5. But let's be real: even if it's a bad look for Embiid to throw a teammate under the bus, it would be patently insane to lay any of the blame for this latest Sixers playoff failure at his feet.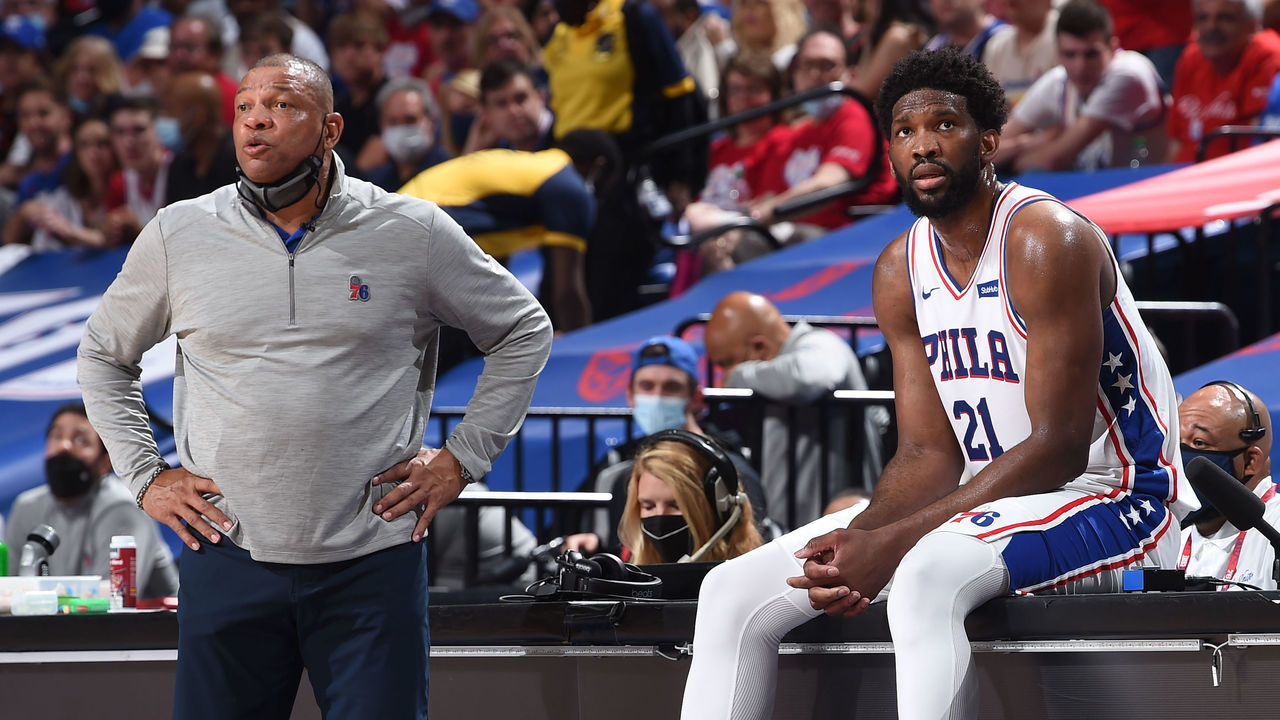 Playing on a partially torn meniscus in his right knee, Embiid averaged 30.4 points, 12.7 rebounds, 3.9 assists, a steal, and two blocks in the series. The Sixers outscored the Hawks by 51 points during his 262 minutes on the court, and were outscored by 31 in the 75 minutes he sat. Their offensive rating with him on the bench was 88.8, compared to 116.6 with him in the game. We've seen several versions of this movie before. The remakes aren't getting any more original.
Embiid was a monster at both ends for basically the entire series. Even in his catastrophic Game 4, he was the most impactful defender on the floor. Of course he was out of gas by the time crunch time rolled around. Of course he turned the ball over a ton. In Game 7, as in every other close game in the series, nobody else outside of Curry was able or willing to do anything offensively down the stretch. And for as instrumental as Curry's shooting and off-ball creation proved to be, he's not the kind of playmaker or self-creator who can truly relieve pressure from Embiid in the half court. He relied on Embiid to create advantages for him, rather than vice versa.
Embiid's fourth-quarter usage rate against the Hawks was 41.5%, second only to Donovan Mitchell among all players in the second round. That wasn't a sustainable formula for the Jazz, either, and Mitchell's a guard who shot freaking 45% on 11.5 pull-up threes a game against the Clippers. Embiid made extraordinary strides as a jump shooter and face-up scorer this year, but it turns out asking a 7-foot-2 center to create everything for himself and everyone else on offense, while anchoring the defense, while playing on one good knee, is not a recipe for postseason success. Shocking, I know.
As a team, the Sixers seemed to be progressing in some important areas during the regular season, the biggest being that Harris made major strides as a creator and decision-maker. He was frequently Philly's go-to option in crunch time, and he frequently came through in big spots. He played quite well for most of the postseason, too. But we saw very clearly the limitations that come with relying on him to be your best pick-and-roll ball-handler. He's still not an adept playmaker or even an efficient scorer. There's still too much mid-range in his game, not enough downhill pressure or free-throw creation, and generally not enough variability in his attack methods. He shouldn't be more than a tertiary option on a contending team.
That he's had to be more than that for this iteration of the Sixers is an indictment of their roster construction. To wit: Rivers was asked after Game 7 if Simmons is still capable of being a point guard on a championship-caliber team, and responded: "I don't know the answer to that right now."
Which was a lie. He does know, even if he can't say it out loud. Anyone with eyes should know the answer to that question by now. Simmons can be a crucial contributor to a championship-level team - but absolutely not as a point guard. Even referring to him as such feels disingenuous, because that's not the position he actually plays for Philly when it matters. In the playoffs, in the half court, Embiid is closer to being the team's point guard than Simmons is.
The Sixers are very clearly at a crossroads, but it's unclear if any of the routes that branch out from where they currently stand actually lead anywhere exciting.
If nothing else, it seems exceedingly likely that Simmons has played his last game as a member of the team. It's never been more obvious that he isn't the right co-star for Embiid - which is saying something, because it's been pretty obvious for a while; at least not without a proper offensive initiator to tie things together and bump them both into more idealized roles. And the capped-out Sixers don't have a way to acquire said player without parting with Simmons. It's unclear at this point if they can even get a high-level version of that player in exchange for Simmons.
It's not like they haven't tried. They aggressively pursued James Harden by dangling Simmons early this year but were rebuffed by a stubborn Rockets team and an owner with a grudge. They went after Kyle Lowry at the trade deadline but deemed the Raptors' asking price (which did not include Simmons) too high. The rationale seemed to be that they wanted to keep their powder dry for a future trade with more long-term upside, as opposed to pushing all their chips in for a 35-year-old on an expiring deal. They settled for George Hill, who posted a 35% true-shooting mark on 11.2% usage in the Hawks series and was a minus-15 in 21 minutes in Game 7.
The Sixers will be shopping Simmons at the absolute nadir of his value this offseason, which puts them in a terrible negotiating position and sets them up to lose a trade. But losing a trade in the big picture for the sake of a short-term upgrade is something Daryl Morey and the front office have to be willing to live with. Trying is no longer an option for them.
Embiid is squarely in his prime, just had an MVP-caliber season, and played his guts out in the playoffs only to come up short of the conference finals once again. He deserves better. At the least, he deserves a supporting cast that features one (1) lead guard who can handle the ball, pass, and shoot off the dribble. (A bench that can be counted on to win its minutes in a series once would also be nice, but let's not get greedy.)
Embiid has two years left on his contract, and while there hasn't yet been any indication that he's preparing to pull the ripcord, it's become standard practice for disgruntled superstars on stagnating teams to force trades with that kind of term remaining. The clock is ticking loudly in Philadelphia.
Comments
✕
The Sixers owe Joel Embiid something better than this
  Got something to say? Leave a comment below!